Axios China
July 26, 2022
Welcome back to Axios China. Over the weekend, I attended civil defense training in Taipei. Keep reading for more on that, Nancy Pelosi's potential Taiwan trip, and a whole lot more.
🎧 This morning I discussed civil defense in Taiwan with Axios Today podcast host Niala Boodhoo. Listen here.
Nearly 100 Axios China readers emailed me last week with warm wishes on my move to Taiwan and to offer suggestions for newsletter topics from the region. Thanks so much for all of your feedback! I've made a list and will work on including the topics you suggested.
Today's newsletter is 1,625 words, a 6-minute read.
1 big thing: Taiwanese seek civil defense training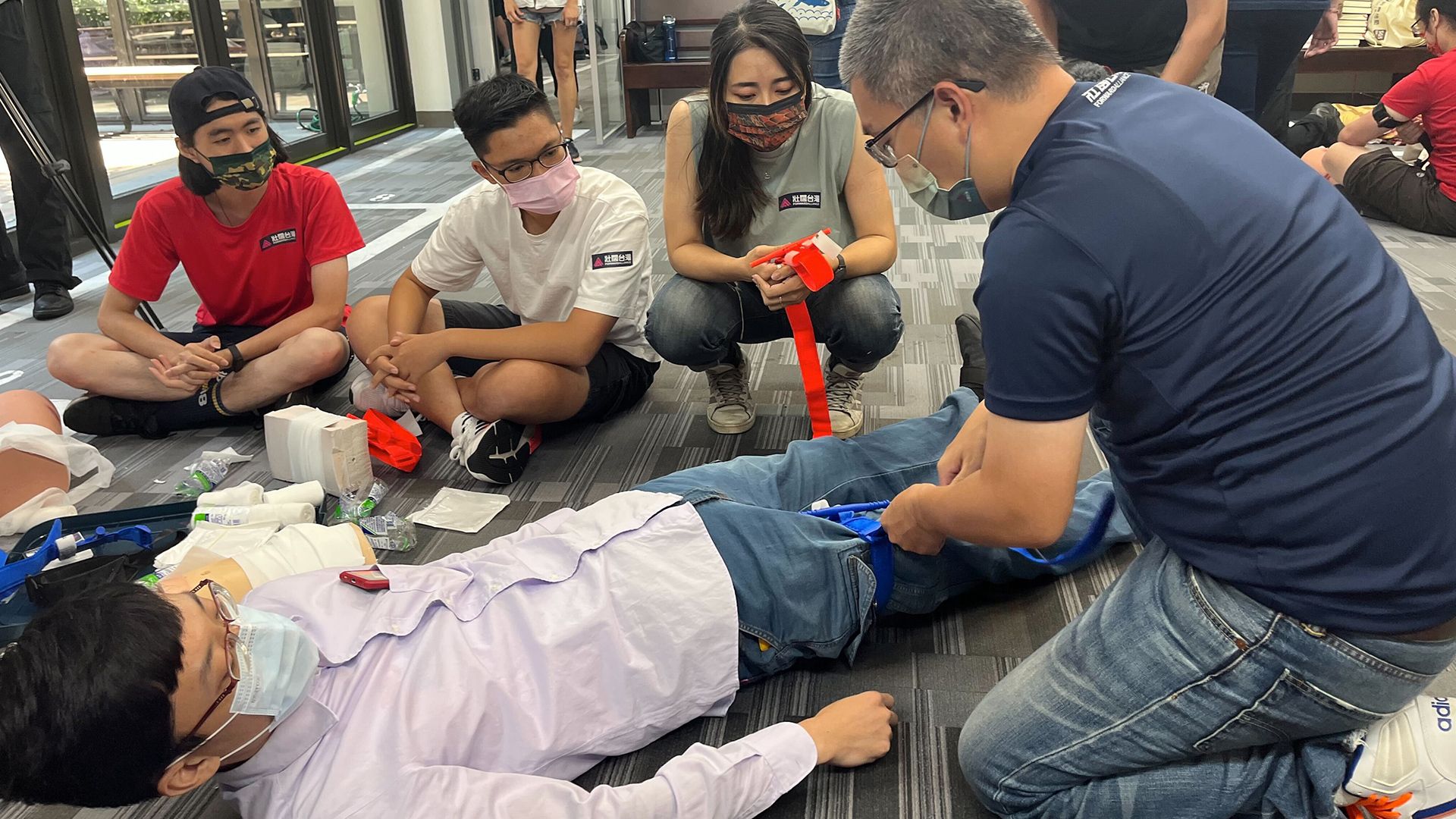 Russia's invasion of Ukraine, and the full mobilization of Ukrainian society to fight back, has caused many Taiwanese to think seriously about how they would respond if China were to invade.
The big picture: Since the war in Ukraine began, the demand for civil defense training — which teaches people how to help victims in the case of a military attack or natural disaster — has skyrocketed in Taiwan, according to Forward Alliance, a national security and defense think tank that organizes the trainings.
Forward Alliance had originally planned to launch the training programs in August. But after Russia invaded Ukraine in February, the organization decided to launch immediately, and soon there were more than 1,000 people registered on its waiting list.
The organization is now hosting around 15 sessions monthly, with around 400–500 participants each month.
The training: On Saturday morning, around 30 people wearing face masks gathered in the basement of a Presbyterian church in Taipei. They were divided into small groups, each circled around a box of bandages, gauze and tourniquets.
The trainers, first responders who work as medics and firefighters in their day jobs, demonstrated how to put pressure on a wound, pack it with gauze, and then wrap it tightly to staunch the bleeding.
"Pull it tight, pull it tight!" urged one trainer as he showed a group of participants how to put on a tourniquet. "It should hurt a lot."
In another activity, trainers used an adult-sized dummy and a weighted wooden board to simulate how to rescue a person trapped under a concrete slab, such as might occur if a building collapsed in an earthquake or bombing.
What they're saying: "I think the Russian war had a deep effect on some Taiwanese people," Pei Zhen, a young Taiwanese woman who participated in the training, told me.
"Before the war, people I talked to thought that if the Chinese Communist Party attacked us, we would just have to surrender. ... But after the war, I noticed this thinking changed," she said, as people realized they could learn to defend themselves as Ukraine has.
Forward Alliance founder Enoch Wu, who is also a former member of Taiwan's special forces, said they started training civilians because "civil preparedness is a whole-of-nation approach to defense and security."
"Our mission is to teach citizens how to respond in an emergency. In peacetime, this means disaster response. In wartime, the same skills form the backbone of civil defense."
2. Report: Xinjiang paramilitary group has "central role" in genocide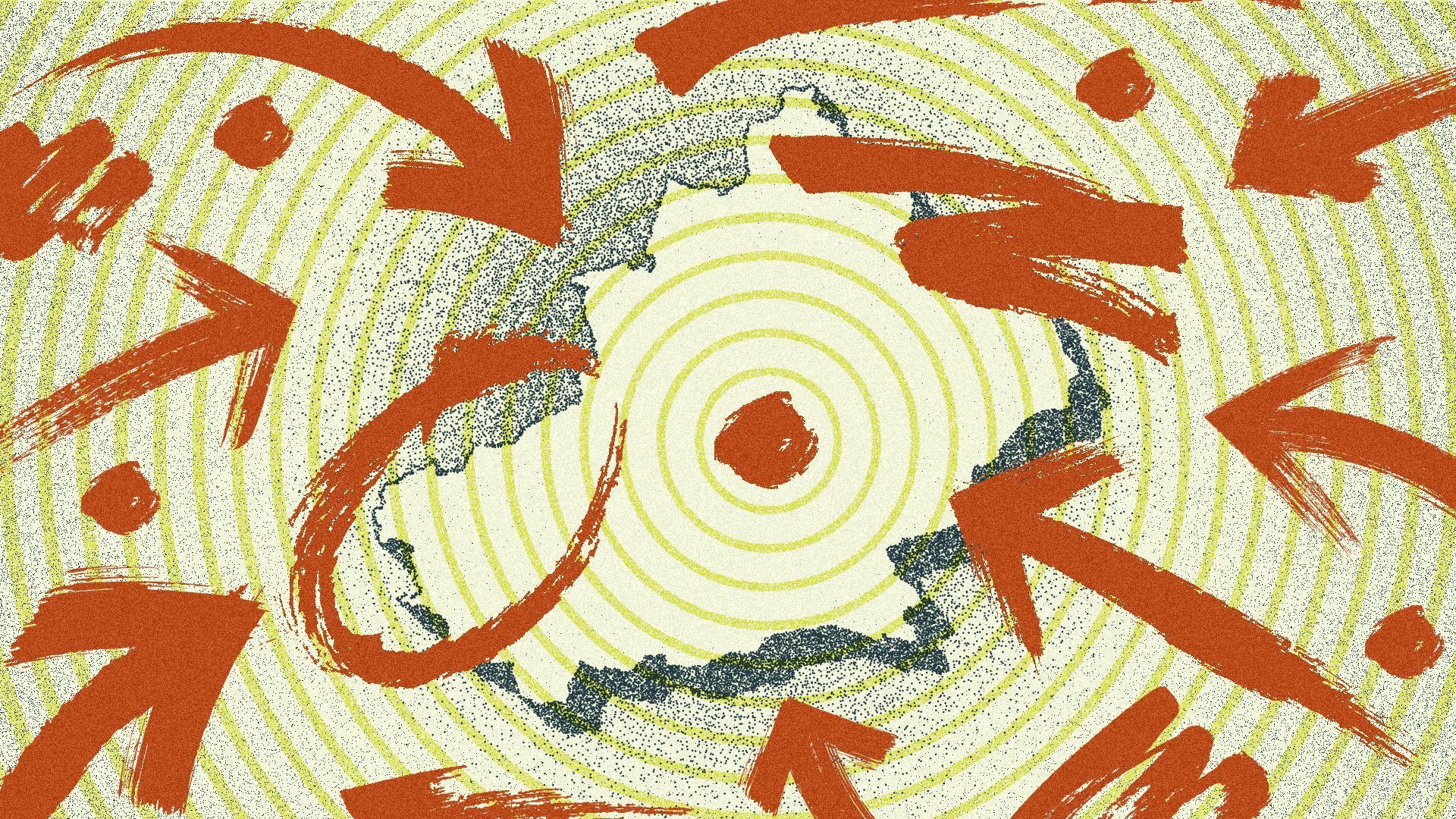 A Chinese state-run paramilitary group in Xinjiang is more deeply involved in the regional government's repressive policies toward Uyghurs and other ethnic minorities than previously understood, a new report found.
Why it matters: The Xinjiang Production and Construction Corps (XPCC) manages large swaths of the region's agriculture and industry and holds shares in thousands of companies — meaning its products are connected to supply chains throughout the world.
The group is already sanctioned by the U.S. government.
What they found: The report lays out how the XPCC is responsible for systematic forced migration, forced labor, mass internment, land expropriation, repressive policing and religious persecution targeting Uyghurs in Xinjiang.
"The XPCC has operationalized these programs in the last five years to create a reign of terror," says the report, published Tuesday by the Helena Kennedy Centre for International Justice at Sheffield Hallam University in the United Kingdom.
The group was "dispatched by the top levels of the party-state to act as a military and industrial force to suppress Uyghur dissent" and "plays a critical and central role" in the genocide now underway in Xinjiang.
Here's how the group enables the repression, per the report:
1. Land expropriation: XPCC officials pressure rural Uyghur landowners to transfer their land ownership to others and instead work in factories or other industries. In one village, the report found, 70% of the land had been transferred from Uyghur owners.
This serves two purposes: destroying traditional Uyghur culture and communities tied to their ancestral land and enriching the XPCC or others who receive the land and then use it for industrial or agricultural development.
2. Diluting Uyghur population: The Chinese Communist Party tasked the XPCC with "expand[ing] the proportion of the population" that is Han Chinese, the majority ethnic group in China, the report states.
In 2018, the XPCC began offering special employment and housing opportunities for Han Chinese workers in other parts of China to settle in Xinjiang's majority-Uyghur south, where the Uyghur population has been most affected by mass internment.
3. Mass internment: The XPCC has always operated prisons. But around 2016, under orders from the government, the XPCC began filling those prisons with Uyghurs and building new prisons to accommodate even more detainees.
By the numbers: The XPCC has corporate holdings that may be linked to up to 862,000 entities around the globe, according to business intelligence firm Sayari Labs.
The XPCC also holds a majority stake in at least 2,873 companies, according to research organization C4ADS.
The organization manages a quarter of Xinjiang's arable land.
What they're saying: "It is clearer than ever that governments need to ban the import of goods made by the XPCC or any of its subsidiaries," said Laura Murphy, co-author of the report and professor of human rights and contemporary slavery at Sheffield Hallam University.
The Chinese Embassy in Washington, D.C., did not respond to a request for comment.
What to watch: The report calls for governments around the world to publicly disclose customs data and to share lists of XPCC-owned companies.
"The whole architecture of repression in Xinjiang should be enough for other countries to sanction the XPCC too," said Luke de Pulford, director and co-founder of Arise, a nonprofit that combats slavery and co-funded the report. "But they haven't."
3. Catch up quick
1. The U.S. is convening today the first ministerial-level meeting of the Indo-Pacific Economic Framework, Politico reports.
2. China tried to build a network of informants inside the Federal Reserve and obtain inside information about U.S. economic policies, the Wall Street Journal reports.
3. Hong Kong is planning a new cyber crime law, raising fears of a mainland-style internet censorship regime, Radio Free Asia reports.
4. Online game platform Roblox planned to incorporate Chinese censorship into games, Vice reports.
5. The bipartisan Congressional-Executive Commission on China urged President Biden to sanction Hong Kong justice department prosecutors for human rights violations. Read the letter.
4. View from Taiwan: China's threats shouldn't dissuade Pelosi from visiting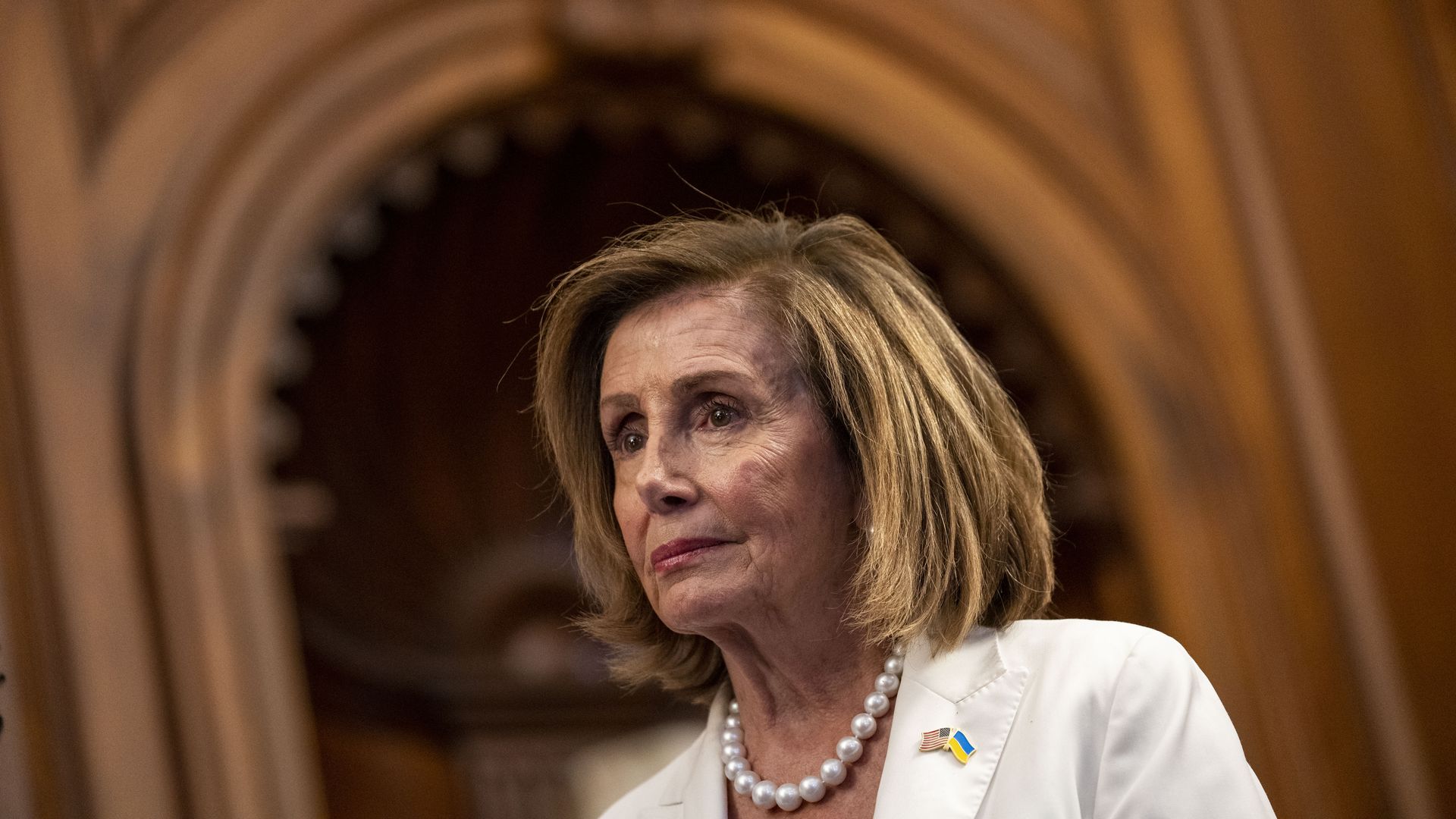 Threats from China shouldn't stop U.S. House Speaker Nancy Pelosi from visiting Taiwan, analysts on the self-governing island say.
Why it matters: The news of Pelosi's potential trip to Taiwan has sparked heated rhetoric from Beijing and concerns among Biden administration officials that the dispute could spiral into a cross-strait crisis.
Catch up quick: President Biden said the U.S. military thinks the still-unconfirmed trip is "not a good idea right now." The Chinese Foreign Ministry threatened "forceful measures" if it goes ahead.
Pelosi said last week that she believes "it's important for us to show support for Taiwan." Republican Sen. Ben Sasse is among those calling on her to go, no matter what Beijing says.
What they're saying: In Taiwan, analysts and policymakers have welcomed news of Pelosi's possible trip.
"It would be a very positive step forward in building up our relationships ... and a symbol of how strong the U.S.-Taiwan relationship is," said Vincent Chao, who previously directed the political division of Taiwan's de facto embassy in Washington.
Between the lines: The news of Pelosi's potential visit comes at a sensitive time for China, as the ruling Chinese Communist Party is preparing for a national Party congress held only once every five years.
Yes, but: "When it comes to China's pressure over Taiwan's engagement in the international space, there's never a good time. And that's by design," Chao told Axios.
"The Chinese have a vested interest at this point in potentially increasing the risk and cost of high-level interaction between Taiwan and the U.S.," he said.
5. What I'm reading
China in Eurasia: The Belt and Road adapts to Russia's war (Radio Free Europe/Radio Liberty)
"The Kremlin's invasion of Ukraine has upended Russia's importance as an overland shipping route along China's Belt and Road (BRI), forcing Beijing to pursue alternatives in Central Asia and the Caucasus."
"The main alternative is the roughly 6,500-kilometer network of roads, railroads, and ports stretching across Kazakhstan, the Caspian Sea, Azerbaijan, Georgia, Turkey, and into Europe known as the Trans-Caspian International Transport Route or the Middle Corridor of the BRI."
6. 1 fun thing: Breakfast makes the news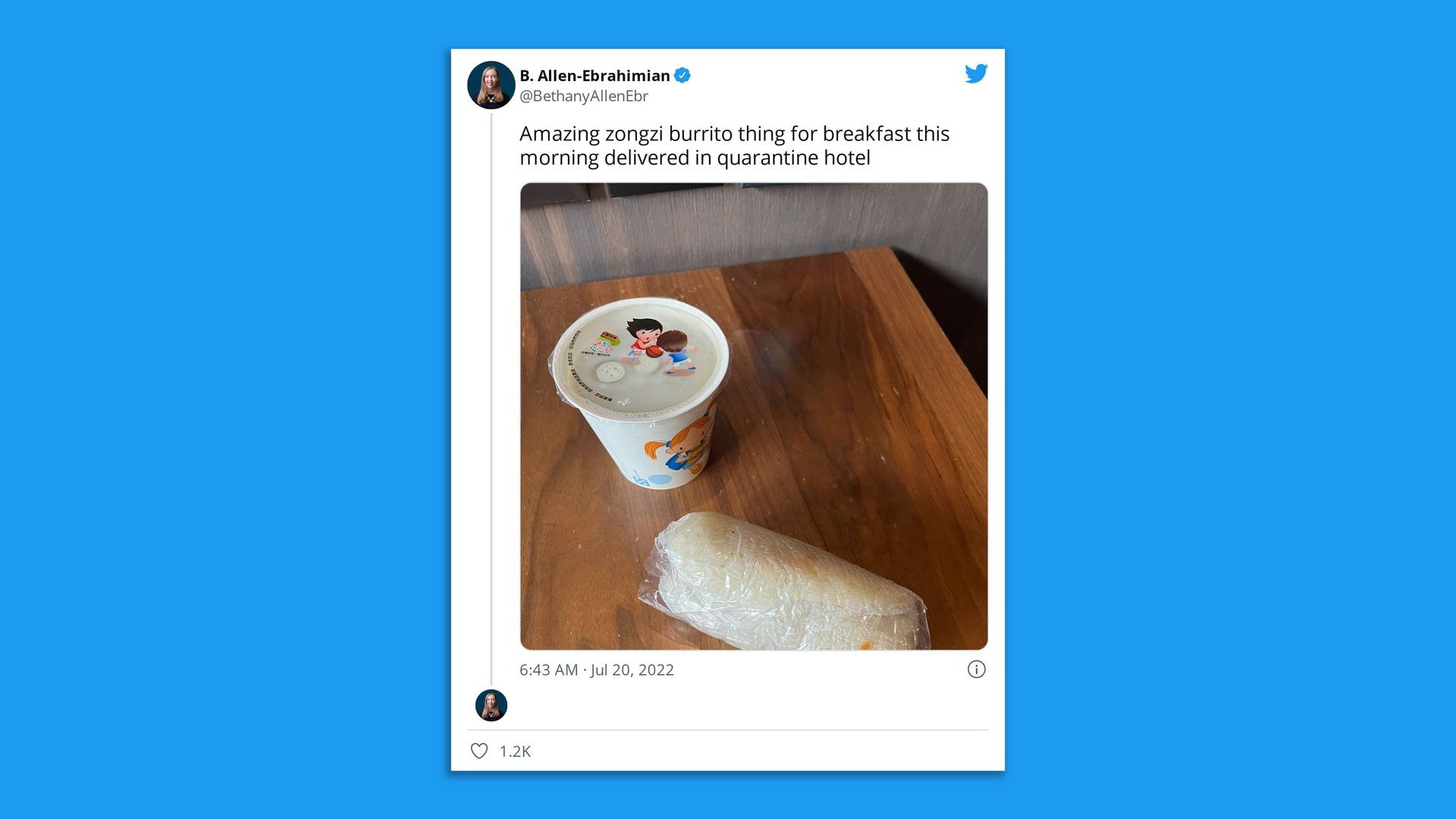 Within three days of landing in Taiwan, I had already made local news, simply by tweeting enthusiastically about breakfast.
The quarantine hotel delivered all my meals, and I never knew what I was going to get.
One morning I got what looked like a burrito, but the outside was rice instead of a tortilla and the inside had a seasoned boiled egg, a fried dough stick (like a churro without sugar), pickled radish, and meat floss. I didn't know what it was called but I ate it anyway.
It was good. Like really, really good. So I tweeted a photo and called it a "zongzi burrito thing," which was the best description I could muster (a zongzi is a triangle-shaped rice ball stuffed with various fillings), and said it was amazing and that "I've landed in paradise."
This seemed to make people happy! The tweet was posted to a large Facebook group in Taiwan and then got picked up by several local media outlets, with headlines saying that it was "too cute."
So what is this food of the gods? It's called a "fantuan" and is apparently a quintessentially Taiwanese breakfast item.
In my interactions with Taiwanese Foreign Ministry staff in the past few days, to my great embarrassment, several people recognized me and asked if I was the "journalist who likes fantuan."
A big thank you to Laurin-Whitney Gottbrath and David Nather for edits, Sheryl Miller for copy edits, and Aïda Amer for illustrations.