Axios China
May 16, 2023
Welcome back to Axios China. I'm writing to you from Okinawa, Japan, where I've been reporting on the anti-U.S. base protests that were held over the weekend.
Today we're looking at the DOJ's campaign against transnational repression and the first Japanese Uyghur politician elected to the country's National Diet.
Today's newsletter is 1,785 words, a 7-minute read.
1 big thing: DOJ indictment alleges China's United Front involvement in repression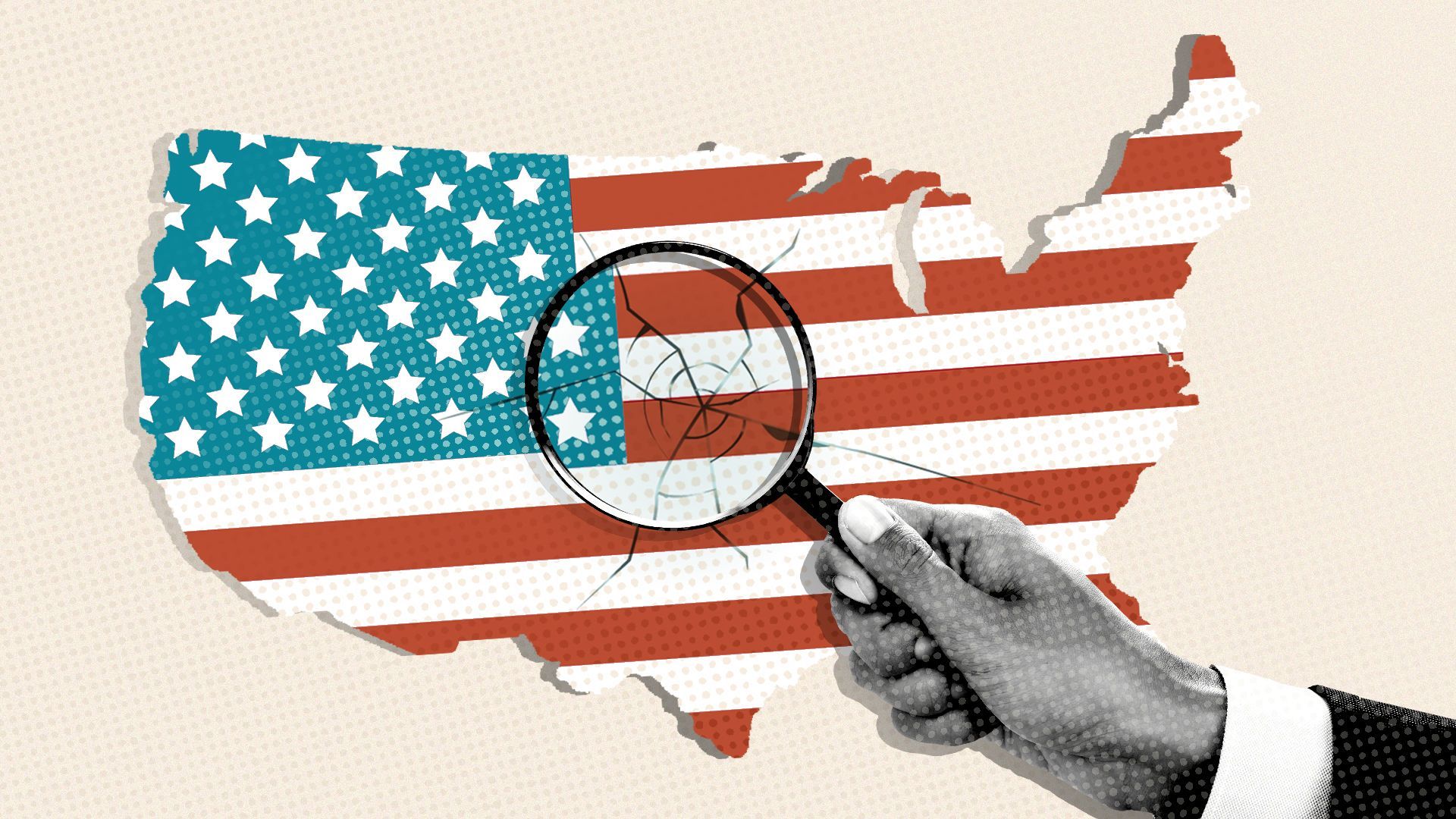 A U.S. Department of Justice case against a U.S. citizen accused of working with Chinese government and party officials to surveil local residents could help provide new details about how the Chinese Communist Party allegedly operates in the United States.
The big picture: The Chinese government has long sought to silence global dissent by surveilling, harassing and threatening its critics abroad, and in some cases forcibly bringing them back to China, as part of a phenomenon known as transnational repression.
In recent years, the U.S. government has begun to systematically investigate and issue indictments for instances of transnational repression in the U.S., and the FBI now has an office dedicated to transnational repression.
The May 4 indictment of Liang Litang, a U.S. citizen living in Brighton, Massachusetts, highlights the alleged role of the United Front Work Department (UFWD), a Chinese Communist Party bureau that promotes the party's interests, in transnational repression that is perpetrated in the United States.
What they're saying: "Attempts to repress constitutionally protected rights here in the United States will never be tolerated. Anyone who infringes upon those rights on American soil will be identified and held to account," U.S. Attorney Rachael S. Rollins for the District of Massachusetts said in a May 15 statement.
The Chinese Embassy in Washington did not immediately respond to a request for comment.
Driving the news: Liang was arrested on May 9 and charged with serving as an unregistered agent of a foreign government under Title 18, U.S. Code, Section 951, a statute U.S. intelligence officials informally call "espionage lite."
That charge is distinct from a violation of the Foreign Agents Registration Act, which requires that lobbyists working on behalf of foreign governments register with the Department of Justice.
Details: Beginning in 2018, Liang allegedly handed over information about the identities, activities and organizations of pro-democracy activists and Taiwan supporters to Chinese government officials, including some based in the Chinese Consulate in New York, according to the indictment, which was filed in the U.S. District Court in Massachusetts.
Around January 2019, Liang founded the New England Alliance for the Peaceful Unification of China (NEAPUC) after months of communicating with Chinese government and UFWD officials about his plans and proposed board members. He had also traveled to China at the invitation of a UFWD-affiliated organization.
Peaceful unification associations function as UWFD foreign outposts. They are present in more than 70 countries, and there are chapters in more than 30 cities in the United States, according to information from the website of the Beijing-based China Council for the Promotion of Peaceful Unification, the umbrella organization for these associations that is itself formally overseen by the UFWD.
In October 2020, the U.S. State Department designated the National Association for China's Peaceful Unification as a foreign mission and noted that it was directed by the UFWD.
Between the lines: Links between peaceful unification associations and suppression of anti-Beijing sentiment have long been documented by analysts. Association members have been known to attend pro-party demonstrations and counterprotests against pro-Taiwan and pro-democracy activities. But whether the Chinese government itself has directed those activities has been unclear.
The new indictment alleges Liang communicated directly with Chinese government officials as he founded NEAPUC, informing them regularly of his progress and sending them the organization's incorporation documents.
Then, after Chinese officials told him of an upcoming rally to be held in August 2019 in Boston to support the Hong Kong pro-democracy protests, Liang directed NEAPUC members to show up at the rally and "denounce the 'Hong Kong independence activists,'" according to messages obtained by U.S. prosecutors. A Chinese government official then thanked Liang for his "hard work."
The indictment accuses Liang of "establishing NEAPUC in order to appear to be acting as a member of a local community organization unconnected to the PRC government, when in fact he was acting at the direction or control of the PRC government."
Go deeper: Read the indictment
2. Okinawa protesters call for closure of U.S. military bases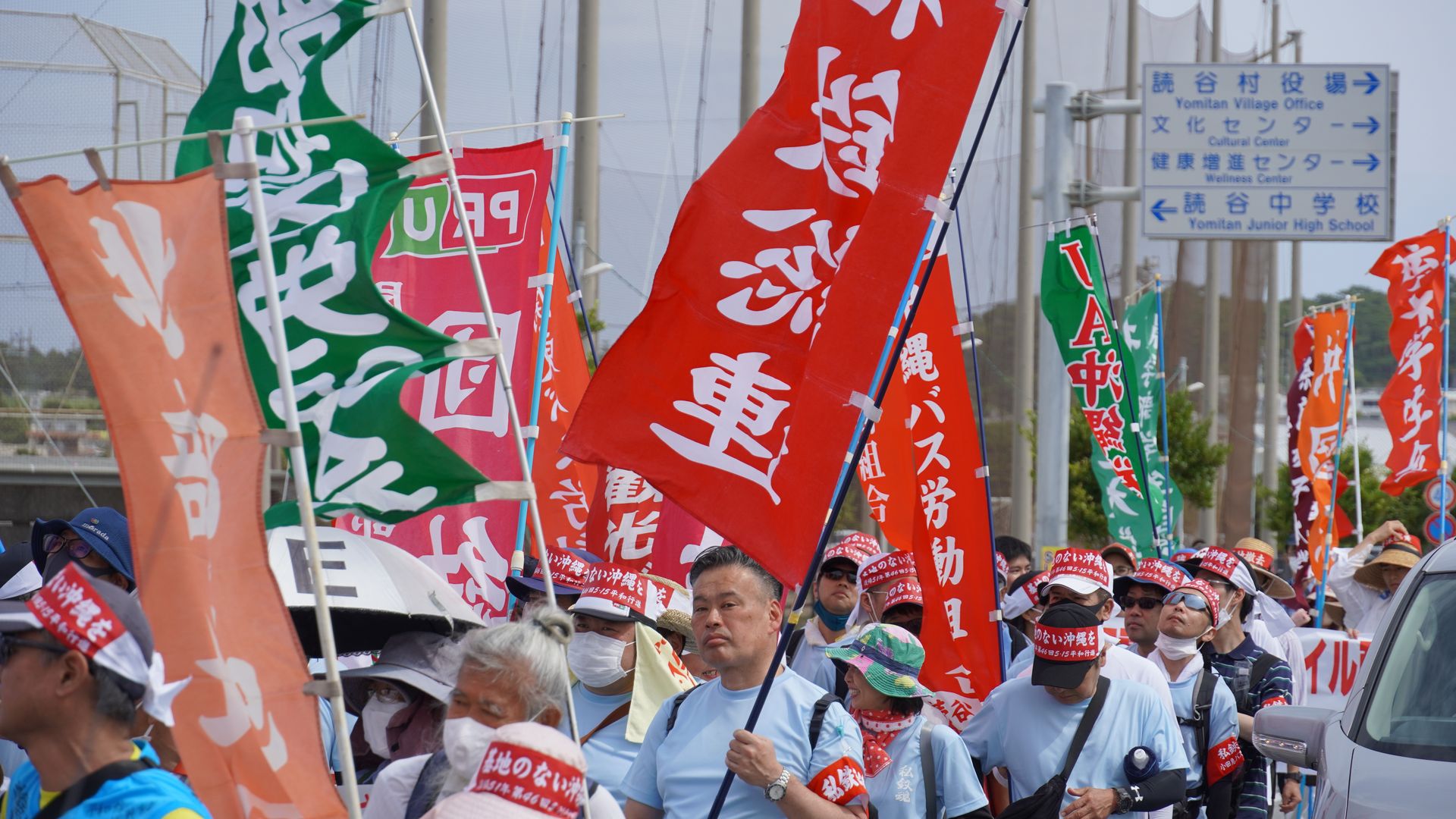 This story is part of a series supported by the Pulitzer Center for Crisis Reporting.
OKINAWA, Japan — Thousands of protesters gathered near Kadena Air Base in Okinawa on Saturday to call for the closure of U.S. military bases on the Japanese island.
Why it matters: The annual protests, which have been held for 46 years, come as Okinawa is increasingly at the center of a possible superpower showdown in the Pacific.
The island's location — just a one-hour flight east of Taiwan — makes it key to any U.S. military response if China were to attack Taiwan.
What they're saying: Protesters chanted "Give us back our peaceful life!" and "Osprey get out!" — a reference to the military helicopters often seen in the skies over the island.
Background: The U.S. military has had an extensive presence on the island since 1945 and occupied it until 1972, when it was returned to Japanese sovereignty.
Chemical contamination in areas close to the bases, noise pollution and crimes committed by U.S. servicemen, including rape, have in the past enraged the population and sparked massive protests.
Protesters told Axios they feel they have long been forced to bear a disproportionate burden of the U.S.-Japan military alliance. Okinawa makes up less than 1% of Japan's total land area but hosts more than 70% of all U.S. military facilities in Japan.
Okinawa Gov. Denny Tamaki has lobbied the Japanese and U.S. governments to reduce the military presence on the island.
President Biden said last year that he was "profoundly grateful for Japan's resolute support for democracy, freedom, and the rule of law and for Okinawa's contribution to advancing these ideals."
3. Catch up quick
1. More than five dozen experts, including former national security officials, are asking the House China Select Committee to address "immigration bottlenecks" for international science and engineering graduate students and workers. Go deeper
The experts warn a talent gap is emerging between the two countries as China heavily invests in training advanced science and tech talent.
2. China sentenced a 78-year-old U.S. citizen to life in prison on spying charges, a move that could further complicate U.S.-China diplomatic ties. Go deeper
3. China's Family Planning Association, which implements government policies, has launched projects in 20 cities across the country to promote a culture that is friendly to marriage and childbearing, Reuters reports.
The measures will include curbing the practice of "bride prices" and encouraging Chinese women, many of whom are now delaying childbearing due to career and financial considerations, to have children earlier.
4. The EU's revised China strategy warns of the risk of conflict over Taiwan and says Europe shouldn't isolate China, Politico reports.
EU leaders read and discussed the new strategy at a meeting in Stockholm over the weekend.
5. China has agreed to transfer some of its high-speed rail technology to Thailand, the South China Morning Post reports.
The tech transfer is part of the long-delayed China-Thailand High-Speed Railway project, which was first proposed in 2010 and plans to connect Bangkok to Laos and southern China.
4. Japan's first Uyghur representative says Uyghurs "deserve to thrive"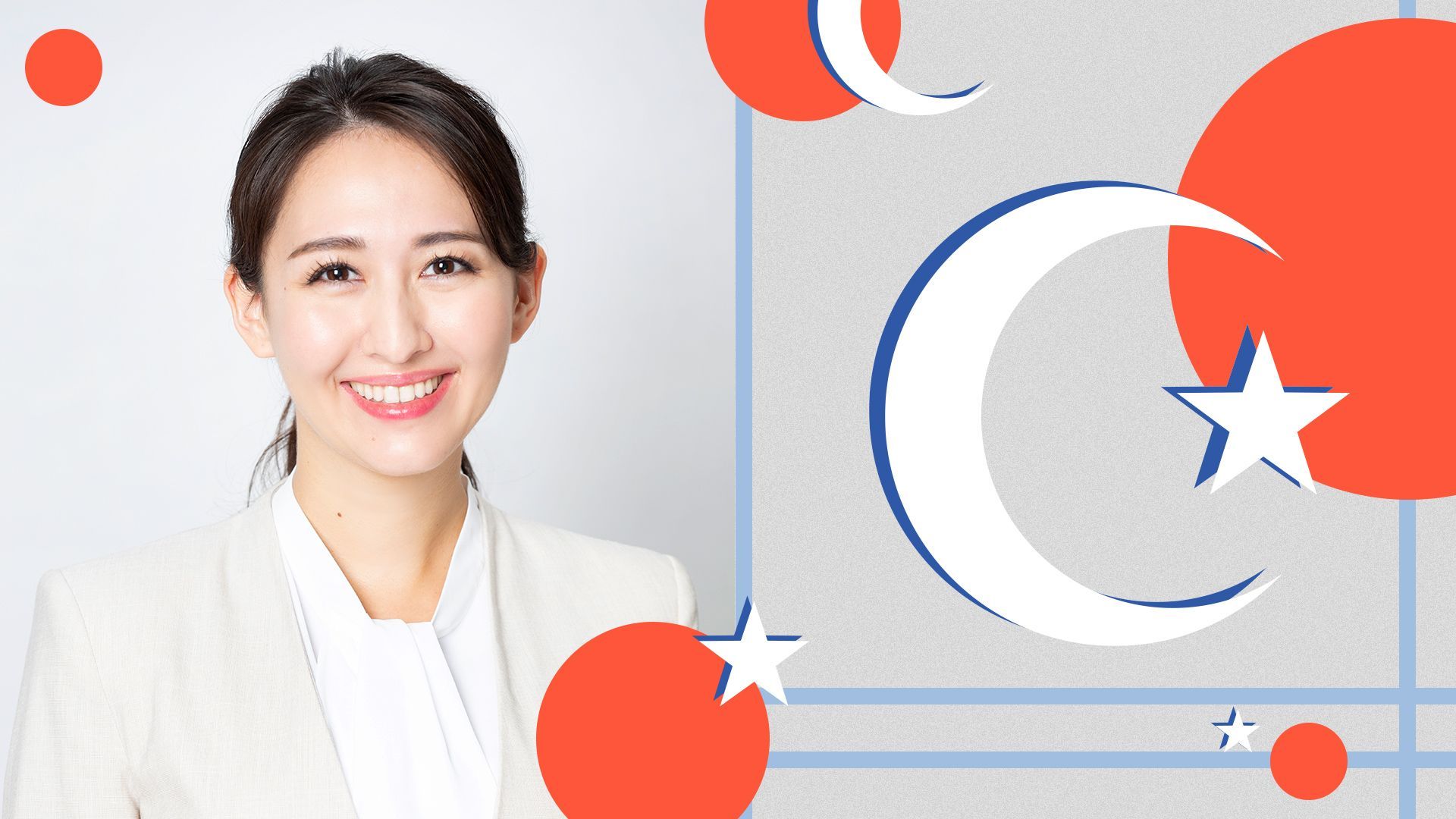 Arfiya Eri, who last month became the first Japanese person of Uyghur heritage to be elected to the country's National Diet, hopes to show the world that while Uyghurs face genocide in China, elsewhere they are succeeding in politics, business and other fields, she told Axios in an interview.
What she's saying: "We are of course victims of genocide. But we are so much more than that. We also deserve to succeed and we deserve to thrive, and that's something I hope to model through my work," Eri told Axios.
The Chinese government has put more than 1 million ethnic Uyghurs into mass internment camps in the country's northwest region, according to estimates by human rights groups, as part of a sweeping campaign of repression that several governments have designated a genocide.
What's happening: In April, Eri was elected to the Diet, Japan's representative assembly, as a member of the Liberal Democratic Party for Chiba, which is near Tokyo.
Eri was born in Japan, attended Georgetown University, and later worked for the United Nations.
Details: Her main goals in office include:
Improving disaster preparedness in case of earthquakes and tsunamis.
Strengthening child care support, including free lunch programs and free national health care for all children in Japan.
Stronger national security and constitutional reform, meaning changing Japan's pacifist constitution to allow for a stronger military.
Improving mental health support for refugee communities and the Uyghur community.
Eri also said her experiences as a member of the Uyghur community have motivated her to push for greater diversity and inclusion in Japanese society, long perceived as highly homogenous.
"When I talk about representation, I'm definitely referring back to my own experience with seeing what happens when we don't take democracy seriously, when we don't take representation seriously."
There are approximately 2,000 Uyghurs in Japan, according to some estimates.
Despite the grief that Uyghurs carry every day, Eri said, she hopes also "to celebrate our life and celebrate our successes."
5. What I'm reading
G-7 leaders expected to take aim at Chinese "economic coercion" (Wall Street Journal)
"The U.S. and its allies are poised to increase pressure on China at this week's Group of Seven summit in Japan, with an expected joint statement rejecting use of economic retaliation against nations over policy disputes and other disagreements, according to people familiar with the situation," the Journal reports.
"The anticipated statement isn't expected to mention any country by name, the people said, but comes as concerns mount among the U.S. and its allies over Beijing's increasing use of what its critics call 'economic coercion' to show its displeasure with other countries."
Sexual harassment debate breathes new life into China's #MeToo movement (CNN)
"A heated online debate on the definition of sexual harassment has broken out in China in the wake of a series of allegations made against an influential screenwriter, rekindling interest in the country's struggling #MeToo movement," Nectar Gan writes.
"The controversy has underscored the resilience of China's #MeToo movement, which has suffered frequent setbacks due to censorship and an ongoing crackdown on feminist activism."
6. 🌶️ 1 fun thing: Sriracha vending machine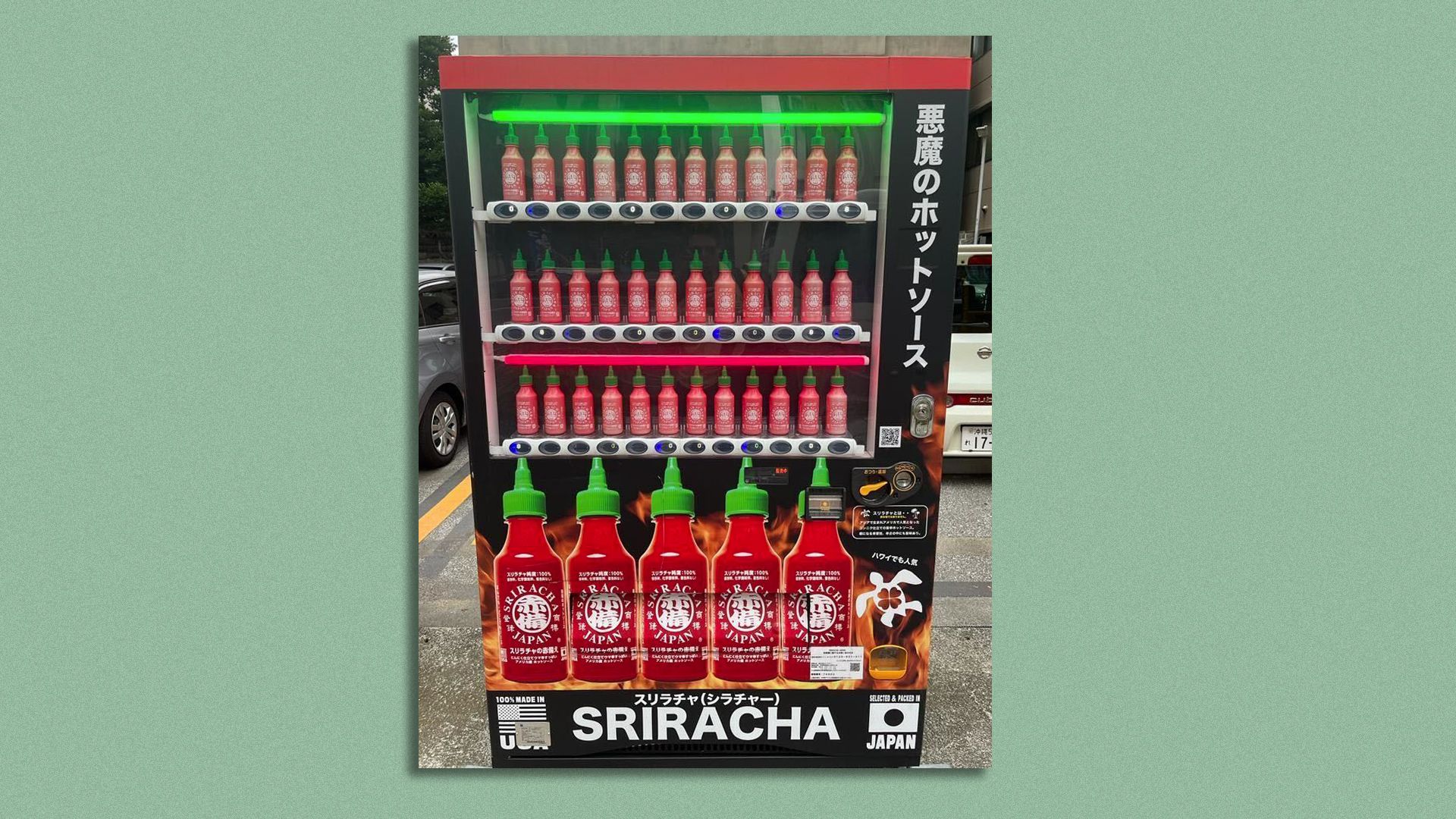 Spotted while reporting in Okinawa this week: A vending machine that sells bottles of Sriracha, the popular hot sauce.
The big picture: Japan has the most vending machines per capita of any country in the world, with machines offering drinks, noodles, popcorn, toys, electronics and even soup stock.
The country had one machine per 35 residents in 2016, according to Japan Vending Machine Manufacturer's Association.
Low crime, as well as the premium that Japanese society places on convenience, has helped make the machines so ubiquitous, Deutsche Welle reports.
A big thank you to Alison Snyder for edits, Sheryl Miller for copy edits, and Sebastian Kjeldtoft for photography.
Editor's note: The third item in last week's newsletter was corrected to reflect that Qin Gang is China's foreign minister (not China's ambassador to the U.S.).