Axios China
May 10, 2019
Situational awareness: The U.S.-China talks Friday did not reach a deal, so tariffs increased at 12:01am this morning. The Chinese have promised "countermeasures" but have not yet announced anything specific.
Some personal news: This is my last issue of Axios China. Thanks for reading the last 18 months. I look forward to continuing to contribute to Axios coverage of China, and you can catch my regular writing on China by signing up for Sinocism here. For more Axios coverage of international issues you can sign up for Axios World here.
Thanks for reading, and make sure you are reading all of Axios' excellent newsletters.
1 big thing: Rethinking the market in the trade war's next phase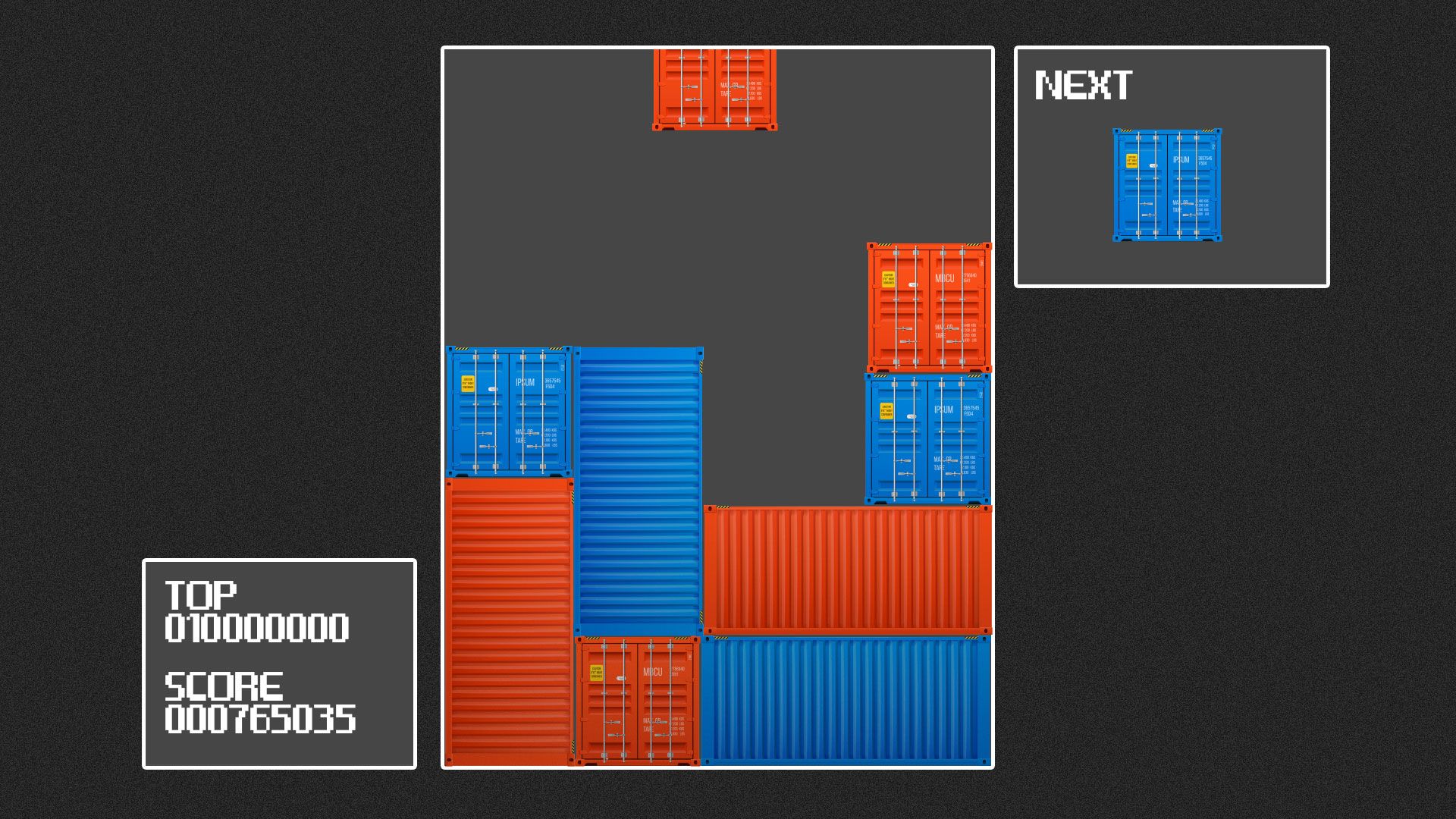 From Dion Rabouin's must-read Axios Markets newsletter (sign up here):
President Trump raised tariffs on $200 billion worth of Chinese goods Friday morning to 25%. The president also is expected to tax nearly all of China's imports as punishment for Beijing's attempt to "renegotiate" a trade deal.
China's ministry of commerce said it "deeply regrets" the U.S. tariff hike and will retaliate, though it didn't say how.
Why it matters: Having long priced in a happy ending to the trade war, the market will need to reassess U.S. businesses and the state of the U.S. economy. Further, supply chains may need to be rethought and entire businesses may have to be re-evaluated.
UBS Global Wealth Management's CIO Mark Haefele announced the bank would reduce risk exposure, noting further escalation could lead to a 10–15% decline in U.S. equities and 15%–20% fall in the Chinese market.
"Trade-exposed sectors could suffer the most, including technology, industrials, and energy," he said in a note.
Details: Lingling Wei and Bob Davis of the Wall Street Journal report that Beijing was emboldened by the perception that the U.S. was ready to compromise because of Trump's lobbying for rate cuts by the Federal Reserve, a sign the U.S. economy is weak and in need of stimulus.
What's next? The global economy is so complex and interdependent that the second-, third-, and fourth-order effects are effectively unforeseeable, Axios' Felix Salmon writes.
The first-order effects of Trump's tariff hikes will be felt by any U.S. companies importing goods from China, since they're going to have to pay the tariffs.
Second-order effects would include things like U.S. companies passing increased costs on to U.S. consumers, as well as retaliatory tariffs from China on U.S. goods.
Third-order effects might include U.S. companies relocating operations to Vietnam and other Asian countries if they think these tariffs are going to be here to stay. But at this point we're in the realm of speculation. 
The big picture: On the U.S. side, the big question will be whether Trump is serious about taxing all incoming goods from China or whether he will continue to give carve-outs for products like the iPhone, as he did when he first began announcing tariffs last year.
On the Chinese side, authorities will likely target U.S. industries with political importance. Ahead of the 2018 midterms it was Harley-Davidson motorcycles, whiskey, cranberries, soybeans and pork, which hit — among other places — the home states of Senate Majority Leader Mitch McConnell and then-House Speaker Paul Ryan.
Expect tariffs this round to be just as targeted, and for the Chinese government to start taking aim at U.S. businesses that operate in China with home bases in important swing states.
Go deeper: America's biggest trade war losers
2. Nationalism and the trade war
The breakdown in trade negotiations came during a week that saw the 100th anniversary of the May 4th Movement and the 20th anniversary of the U.S. bombing of the PRC embassy in Belgrade, an incident that set off a wave of protests in China against the U.S.
Why it matters: The trade war is just one component of a rapidly deteriorating U.S.-China relationship. Even if there is a deal, the deeper tensions will only intensify, and the risk of a surge in anti-American sentiment is real.
The impact: One result of the trade war, even if there is a deal in the near-term, will likely be the attempts to increasingly harness nationalism and anti-American sentiment. There have been some glimmers in the last few days.
"Taoran Notes 陶然笔记," a WeChat account connected to the official Economic Daily newspaper, wrote Wednesday that China is willing to talk if the U.S. is, and is also willing to fight a trade war if that is what the U.S. wants.
That post went on to say that in 2 of the nearly 3 years of the "War to Resist U.S. aggression and aid Korea" (China's name for the Korean War) the U.S. and Chinese sides were both talking and fighting.
Several well-known hawks have been quite vocal in their desire to see the trade talks fail (Financial Times):
"I very much hope that the negotiations will break down," said Dai Xu, a professor at China's National Defence University and a retired air force colonel.
"Once the negotiations are over, the United States will be finished, for sure ... we kick out all the American companies and bring all of ours back.... No way will Trump be re-elected."
"The US openly sees us as their biggest enemy," said Tan Yungang, an air force colonel. "The United States will block China more than they did the former Soviet Union."
"Chinese people need to have backbone," said Prof Dai. "I am very opposed to one of our traditional concepts, which is that no matter how much others have hurt China, we are educated to forget ... what's the meaning of remembering the history without the hatred? It's meaningless."
Go deeper:
3. A new type of Cold War
Views are hardening among the elites in both countries. Trump clearly has bipartisan support in Congress for tougher policies towards China and the mood in D.C. is increasingly unforgiving to anyone who is not very hawkish on the PRC.
Along those lines, GOP Rep. Mike Gallagher has just written "The Sources of CCP Conduct," an essay modeled on George Kennan's 1947 "The Sources of Soviet Conduct" at the beginning of the U.S.-USSR Cold War.
Among the highlights from Rep. Gallagher's essay:
As Vice President Mike Pence argued in his October speech outlining America's strategic competition with China, decades of well-meaning U.S. engagement have emboldened China's rulers...
The free world faces a threat unlike anything seen since Kennan's time.
CCP policies reflect a remarkably clear and comprehensive agenda to overtake the United States, displace us in the Indo-Pacific, and corrupt our foremost institutions. As Kennan said of the Soviets, they show a "cautious, persistent pressure toward the disruption and weakening of all rival influence and rival power."
Context: Earlier this week, "PBS Frontline" aired Trump's Trade War on the U.S.-China relationship.
The last word went to Da Wei, assistant president and professor at the University of International Relations in Beijing and a very connected and influential PRC scholar of America. His downside scenario for the relationship is quite pessimistic too, saying it is possible that...
"[W]e will have another type of Cold War..I think it is a comprehensive confrontation. ... If that happens it will last for quite a long time. That's a tragedy for everyone"
The bottom line: The U.S.-China relationship looks to be heading towards far more problems than just trade issues.
Go deeper:
Calls to harden the West's defences against China suggest despair - The Economist
4. FBI opens investigation into Trump donor Cindy Yang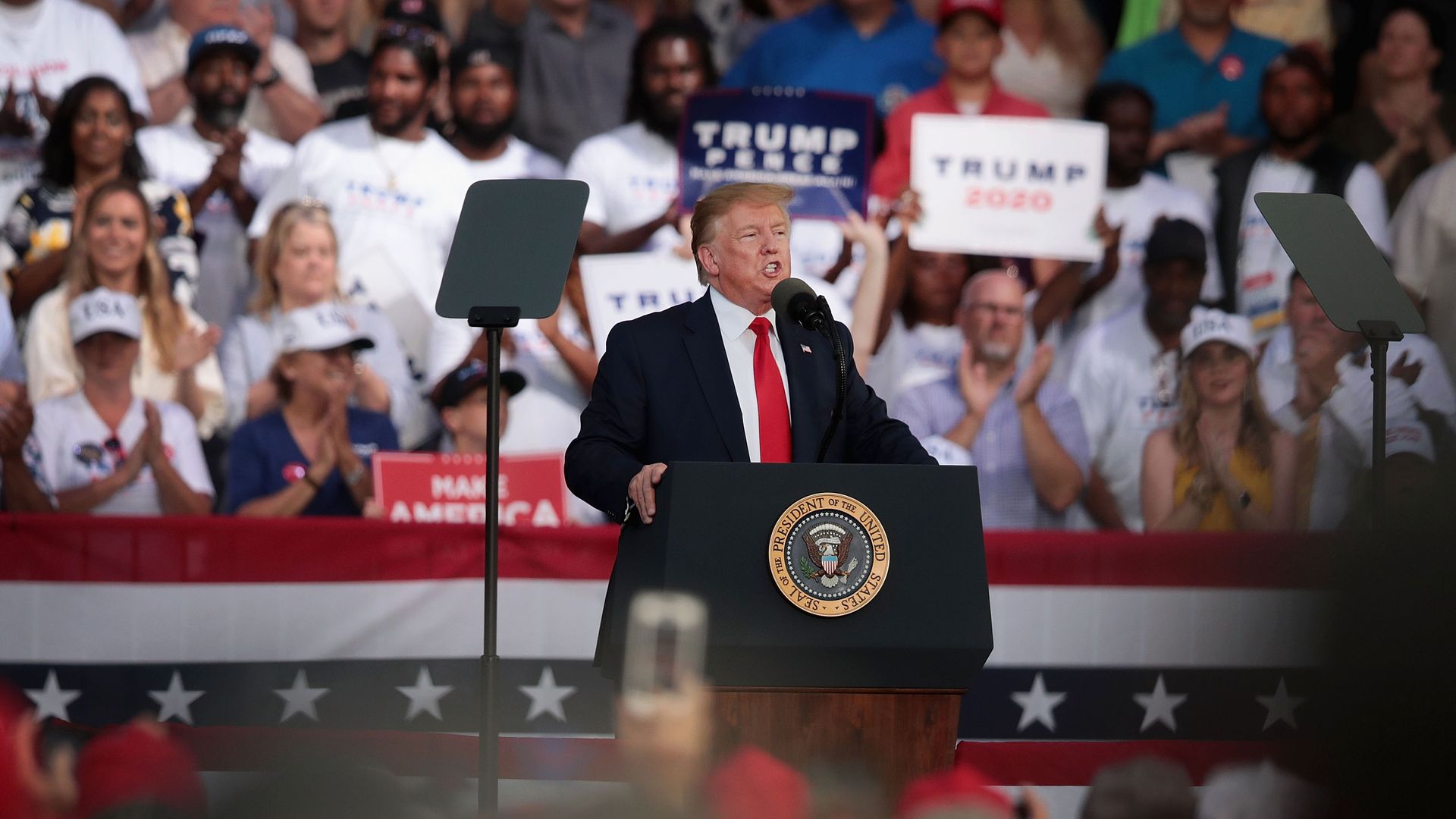 The FBI has opened a campaign finance investigation into Li "Cindy" Yang, a donor to Trump and founder of a Florida massage parlor chain caught in a human trafficking investigation, the Miami Herald reports.
Driving the news: The FBI subpoenaed records this week related to a donation to Trump's 2020 campaign from an employee of Yang's massage parlors who wrote a $5,400 check, the maximum allowed under federal law, with Yang's help, as reported by the New York Times. It's unclear if that employee was reimbursed by Yang for the donation.
The backdrop: Top congressional Democrats asked the FBI to launch criminal investigations into "credible allegations of potential human trafficking, as well as unlawful foreign lobbying, campaign finance and other activities" by Yang in March. She was photographed with Trump at a Super Bowl party earlier this year and has been accused of selling access to the president.
As a member of the "Florida Association for China Unification," Yang is part of a global network of pro-government groups backed by the Chinese Communist Party.
5. DOJ charges Chinese citizen with historic Anthem breach
By Axios' Joe Uchill. Sign up for his Codebook Newsletter here.
The Department of Justice announced on Thursday that it indicted Fujie Wang, a 32-year-old Chinese citizen, and an unnamed accomplice for stealing personal information on nearly 80 million Anthem clients.
Why it matters: The data breach revealed in 2015 was a historic event in cybersecurity, as evidenced by Anthem being on the hook for record penalties — a $16 million fine from the Department of Health and Human Services and a class action law suit settled for $115 million.
Details: The Chinese hacker group targeted Anthem and several other companies, according to the indictment, including unidentified communications, technology and materials companies.
The attackers used spearphishing emails to install malware on target computers.
6. Podcast: Silence for the Uighurs
Dave Lawler joined Axios' Dan Primack on his Pro Rata podcast to talk about why the position of so much of the world on China's detention of over 1 million Uighur Muslims is, "no comment."
Go deeper:
7. Nepal has a front-row seat to the great power competition in Asia
By Axios' Phanindra Dahal and Dave Lawler:
The Trump administration says Nepal is "central" to its strategy in the Indo-Pacific, but the small South Asian country is already home to a battle for influence between its giant neighbors: China and India.
Why it matters: Nepal is a signatory to Beijing's Belt and Road initiative, and the government sees a railway deal with China as a "game changer" for the country, Foreign Minister Pradeep Gyawali tells Axios. The U.S. is also flexing its muscles, though, while India is desperate to keep Nepal in its sphere of influence. Gyawali says investment from the big powers is welcome, but Nepal won't take sides in their great power contest.
The big picture: "Nepal has geographical limitations. It can't antagonize India and it can't abandon China," says Sridhar Khatri, former executive director of the South Asia Center for Policy Studies.
"When you have two strong and growing economic powers as neighbors, even leakages can benefit. Soon, India-China annual trade will hit the $100 billion target. There is a massive opportunity for Nepal."
But, but, but: Khatri says the India-China rivalry, and the greater U.S. attention, has made for "a complicated quadrangle relationship" for a country which lacks a "clear foreign policy" and where policies can be "whimsical and personality driven."
What to watch: The benefits of the planned infrastructure projects are far off, and many Nepalis are skeptical they'll ever match what's being promised. Meanwhile, there's some bemusement that great powers seem to be putting so much emphasis on Nepal.
U.S. Secretary of State Mike Pompeo's statement declaring Nepal "central" to U.S. strategy also noted that he and Gyawali had discussed "global issues, including North Korea." Some Nepalis wondered what a small country 2,500 miles from Pyongyang could be expected to do.
8. Worthy of your time
China.org.cn - SCIO briefing on the Conference on Dialogue of Asian Civilizations
Caixin - Former Yunnan Leader Surrenders in Corruption Probe
South China Morning Post - China's whistle-blower judge in custody of anti-corruption agency and facing accusations of theft and fabrication
Colombo Telegraph - Gota's Intelligence Czar Caught Red Handed As Chinese Mole
Reuters - How a Chinese venture in Venezuela made millions while locals grew hungry
Inkstone - Top Chinese sites erase "The Good Fight" show amid censorship row
National Geographic - China's new panda park will be three times bigger than Yellowstone
The Information - Huawei Targets Database Market in Challenge to Oracle — The Information
BuzzFeed - Watch Awkwafina Amaze In The New Trailer Her New Film "The Farewell", a movie about saying goodbye to a sick grandmother in China
This week's issues of my Sinocism China Newsletter