Axios China
January 26, 2021
Welcome back to Axios China. Today we've got an initial look at Biden's China policies, a strategy for U.S.-China tech competition, an MIT professor indicted, and lots more.
Axios Local is here! Daily local news by Axios in America's hometowns starting with Tampa Bay and the Twin Cities. Newsletters for Charlotte, Denver and Des Moines coming soon. Sign up here.
I love hearing from readers. You can send tips, feedback or suggestions to

[email protected]

.
This newsletter is 1,736 words, a 6½-minute read.
1 big thing: Biden sets his sights on China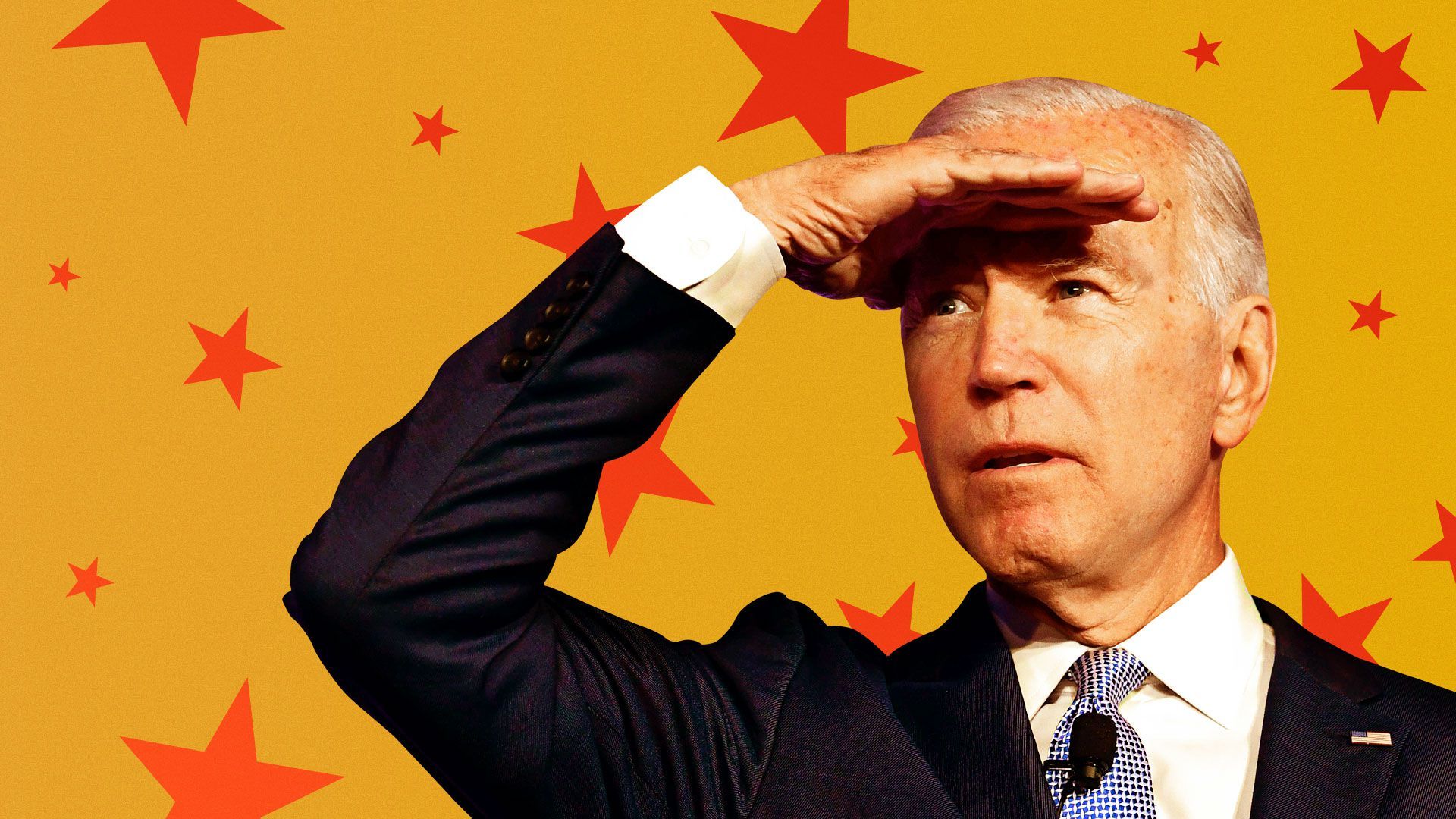 The new administration's first moves and statements on China suggest that President Biden may continue some of the Trump era's most assertive policies.
Why it matters: China's severe domestic repression, its dramatic rise as a technological superpower, and its increasingly aggressive actions around the globe mean that the world expects the American president to take action.
What they're saying: "Strategic competition with China is a defining feature of the 21st century. China is engaged in conduct that hurts American workers, blunts our technological edge, and threatens our alliances and our influence in international organizations," White House press secretary Jen Psaki said on Monday.
Between the lines: The White House rhetoric on China so far is remarkably similar to the Trump administration's, in substance if not tone.
In addition to the emphasis on "strategic competition," Psaki also mentioned "China's economic abuses," its influence over international organizations, its forced technology transfers, and "holding China accountable" — all issues Trump administration officials repeatedly highlighted in their public remarks.
Yes, but: One major difference from Trump-era rhetoric is Biden's strong emphasis on multilateralism. In her remarks on Monday, Psaki answered almost every China question with a reference to America's "allies and partners."
Here's a closer look at some of the actions and statements from the Biden administration so far:
Taiwan: Bi-khim Hsiao, the de facto Taiwanese ambassador to the U.S., attended Biden's inauguration after receiving a formal invitation — the first time since 1979 that the Taiwanese representative has attended a presidential inauguration.
The unprecedented move suggests the Biden administration may uphold the Trump administration's Jan. 9 lifting of all self-imposed bureaucratic restrictions on the U.S.-Taiwan relationship.
Hsiao's attendance "reflects the consideration of the new administration to treat Taiwan's de facto diplomatic mission here in the United States with more dignity and respect than previously afforded to them by excessively proscriptive protocols," Russell Hsiao, executive director of the D.C.-based Global Taiwan Institute, told Axios.
Defense: New Defense Secretary Lloyd Austin has come out swinging on China.
"China presents the most significant threat going forward because China is ascending," Austin said during his Senate confirmation hearing last week.
He also said the 2018 National Defense Strategy, which the Trump administration published and which presents China and Russia as serious threats, is for the most part "absolutely on track for today's challenges."
Tech: Austin said the U.S. needs a stronger response to China's growing ascendance in AI and other emerging technologies, and Psaki said that "technology is at the center of the U.S.-China competition."
What to watch: Without offering specifics, Psaki hinted that Biden might keep Huawei and several other Chinese companies on the export blacklist, or adopt similar measures: "We need to play a better defense, which must include holding China accountable and making sure that American technologies aren't facilitating China's military buildup."
Trade: The Biden administration may be moving away from negotiating access to Chinese markets for big American financial and pharmaceutical companies, and instead focus on trade policies that help workers more directly, the Wall Street Journal reports.
"The point of further trade negotiation isn't to make the world safe for multinational corporation investment," Biden's national security adviser Jake Sullivan told WSJ. "It's about jobs and wages."
What to watch: It's still unclear how Biden will deal with the billions of dollars in tariffs that remain after the phase one trade deal was signed, though Psaki said Biden "will take a multilateral approach to engaging with China, and that includes evaluating the tariffs currently in place."
The bottom line: When it comes to China, Biden seems unlikely to adopt the open-armed engagement policies of the Obama years. But it's still too early to tell exactly how tough he'll be.
2. Scoop: Former Google CEO and others call for tech "bifurcation"
A new set of proposals by a group of influential D.C. insiders and tech industry practitioners calling for a degree of "bifurcation" in the U.S. and Chinese tech sectors is circulating in the Biden administration. Axios has obtained a copy.
Why it matters: The idea of "decoupling" certain sectors of the U.S. and Chinese economies felt radical three years ago, when Trump's trade war brought the term into common parlance. But now the strategy has growing bipartisan and even industry support.
The report, called "Asymmetric Competition: A Strategy for China & Technology," was written by an informal working group formed last summer with 15 participants, including:
Eric Schmidt, former CEO of Google and technical adviser at Alphabet. (Google exited China in 2010 while Schmidt was CEO).
Jared Cohen, CEO of Jigsaw, a tech incubator created by Google, and former adviser to Condoleezza Rice and Hillary Clinton.
Richard Fontaine, the CEO of the Center for a New American Security, whose co-founder Kurt Campbell now occupies a top position on Biden's National Security Council.
Liz Economy, China scholar at the Council on Foreign Relations and Stanford University's Hoover Institution.
Alexandr Wang, CEO and founder at Scale AI.
Marissa Giustina, a quantum electronic engineer at Google.
What they're saying: "America's technological leadership is fundamental to its security, prosperity, and democratic way of life. But this vital advantage is now at risk, with China surging to overtake the United States in critical areas," the authors write.
The report "advances policies that position the United States to out-compete China without inviting escalatory cycles of confrontation, retaliation, or unintended conflict."
The nature of the challenge, according to the report:
​The competition is "asymmetric," meaning "China plays by a different set of rules that allow it to benefit from corporate espionage, illiberal surveillance, and a blurry line between its public and private sector."
We're heading toward separate tech spheres. "Some degree of disentangling is both inevitable and preferable," the authors write. "In fact, trends in both countries — and many of the tools at our disposal — inherently and necessarily push toward some degree of bifurcation." That's because the alternative to bifurcation is a world in which China's non-democratic norms have "won."
There will be trade-offs, such as between "creating risk-tolerant research environments that encourage innovation versus security/espionage risks."
Their proposed solutions:
The creation of a national tech analysis and forecasting center.
Building more resilient supply chains by investing in domestic infrastructure and "ally-centric production."
Improving education and reducing immigration bottlenecks to ensure a strong supply of highly skilled labor.
A government redesign across the executive branch to guide a "new era of technological statecraft."
New multilateral initiatives, including an alliance of democracies called the "T-12" to coordinate responses to tech competition, an "International Technology Finance Corporation," and the creation of "multilateral trust zones" where integration can be safely achieved.
What to watch: Whether or not the proposal gets traction in the Biden administration, its emphasis on multilateralism fits with the administration's goals and priorities.
3. Catch up quick
1. China has surpassed the U.S. as the world's top destination for foreign direct investment, the Wall Street Journal reports.
2. China sent warplanes into Taiwan's airspace for the second day in a row, the BBC reports.
3. Hong Kong has placed tens of thousands of residents on lockdown to contain a new coronavirus outbreak. Go deeper.
4. China sanctioned 28 former U.S. officials after the U.S. declared China is committing genocide against Uyghurs. Go deeper.
5. Rescuers have freed 11 of the 22 miners trapped some 2,000 feet underground at a gold mine in Shandong province, northern China. Go deeper.
4. DOJ considering amnesty for foreign funding disclosure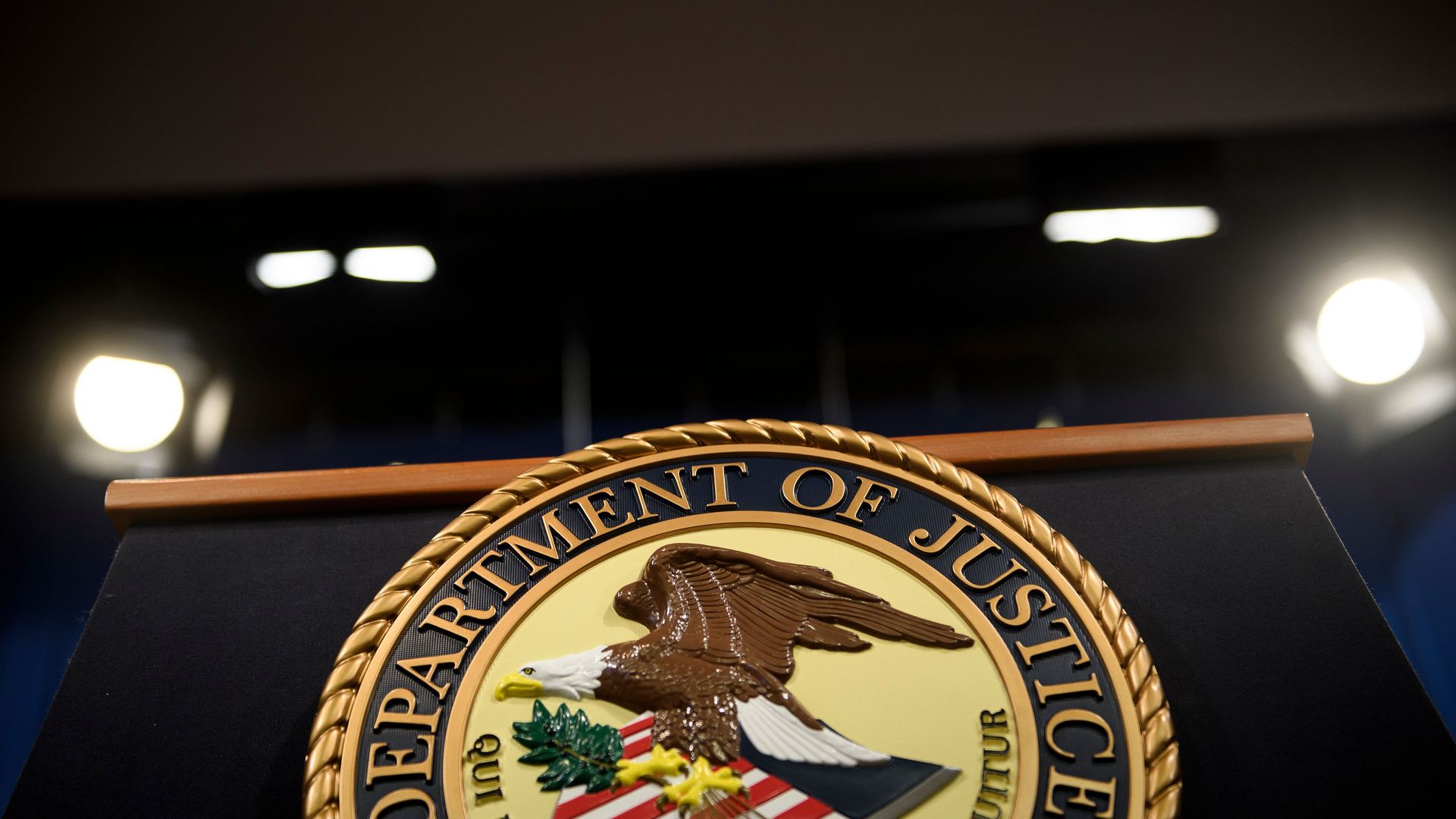 The Department of Justice is considering an amnesty program that would allow researchers to disclose previous foreign funding without penalty, the Wall Street Journal reports.
Why it matters: The department is facing mounting criticism that its prosecutions of academics who failed to disclose China ties is too harsh.
Driving the news: Gang Chen, a professor of engineering at MIT, was arrested and charged with grant fraud on Jan. 14.
The latest in a string of similar indictments, this arrest has produced perhaps the most significant pushback so far. The MIT president and nearly 100 faculty members have signed a letter defending Chen, and a GoFundMe account has been opened to support him.
Some fear racial profiling. And some critics say the DOJ may be putting too many resources toward a relatively small issue compared to other threats, such as that posed by violent right-wing extremism.
"For years it's been an open secret that some researchers with ties to China have been committing grant fraud and double-dipping," says Mara Hvistendahl, author of "The Scientist and the Spy," a book about Chinese industrial espionage and the FBI.
"But just because someone has dual appointments doesn't mean that they're leaking sensitive technology or even spending a lot of time in China. The problem is that these investigations are very resource-intensive and can have a chilling effect on research."
Go deeper:
5. Xi Jinping warns against "new cold war" in Davos speech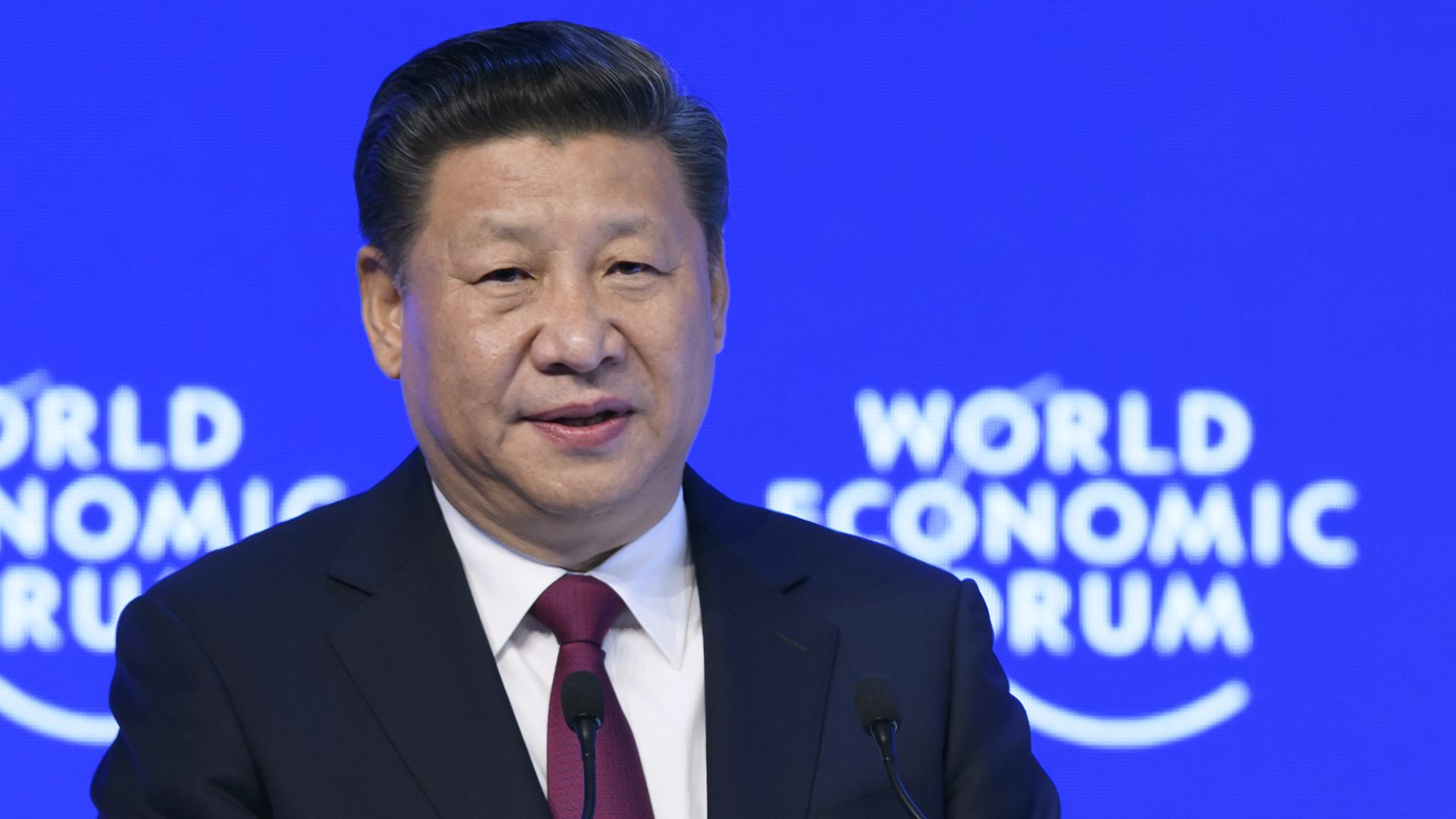 Chinese President Xi Jinping warned that a "new cold war" could turn hot, and must be avoided, in a speech on Monday at World Economic Forum's virtual "Davos Agenda" conference, Axios' Dave Lawler writes.
Why it matters: Xi didn't refer directly to U.S.-China tensions, but the subtext was clear. These were his first remarks to an international audience since the inauguration of President Biden, whose administration has already concurred with Donald Trump's determination that China is committing "genocide" against Uyghur Muslims, and issued a warning about China's aggression toward Taiwan.
What he's saying:
"We should respect and accommodate differences, avoid meddling in other countries' internal affairs and resolve disagreements through consultation and dialogue. History and reality have made it clear time and again that the misguided approach of antagonism and confrontation — be it in the form of a cold war, hot war, trade war or tech war — will eventually hurt all countries' interest and undermine everyone's well-being."
—
Xi Jinping
Xi also laid out a four-step approach to ensuring the world emerges stronger from the COVID-19 crisis.
It includes "macroeconomic policy coordination," the avoidance of "arrogance, prejudice and hatred" in favor of "peaceful coexistence," the reduction of global inequality, and the strengthening of global institutions on issues like public health and climate change.
Throughout the speech, Xi repeatedly returned to the importance of international cooperation on nearly every issue — except on those, like human rights, that he deems "internal affairs."
Between the lines: Xi's speech extolling the virtues of multilateralism would have come across differently just a few months earlier, before Biden's victory.
Unlike Trump, Biden also speaks frequently about the need for international cooperation, including on issues cited by Xi like the pandemic and global development.
But Biden also emphasizes the need for Western democracies to work together to confront China — posing a new challenge for Beijing.
6. 1 podcast thing: Conspiracy theories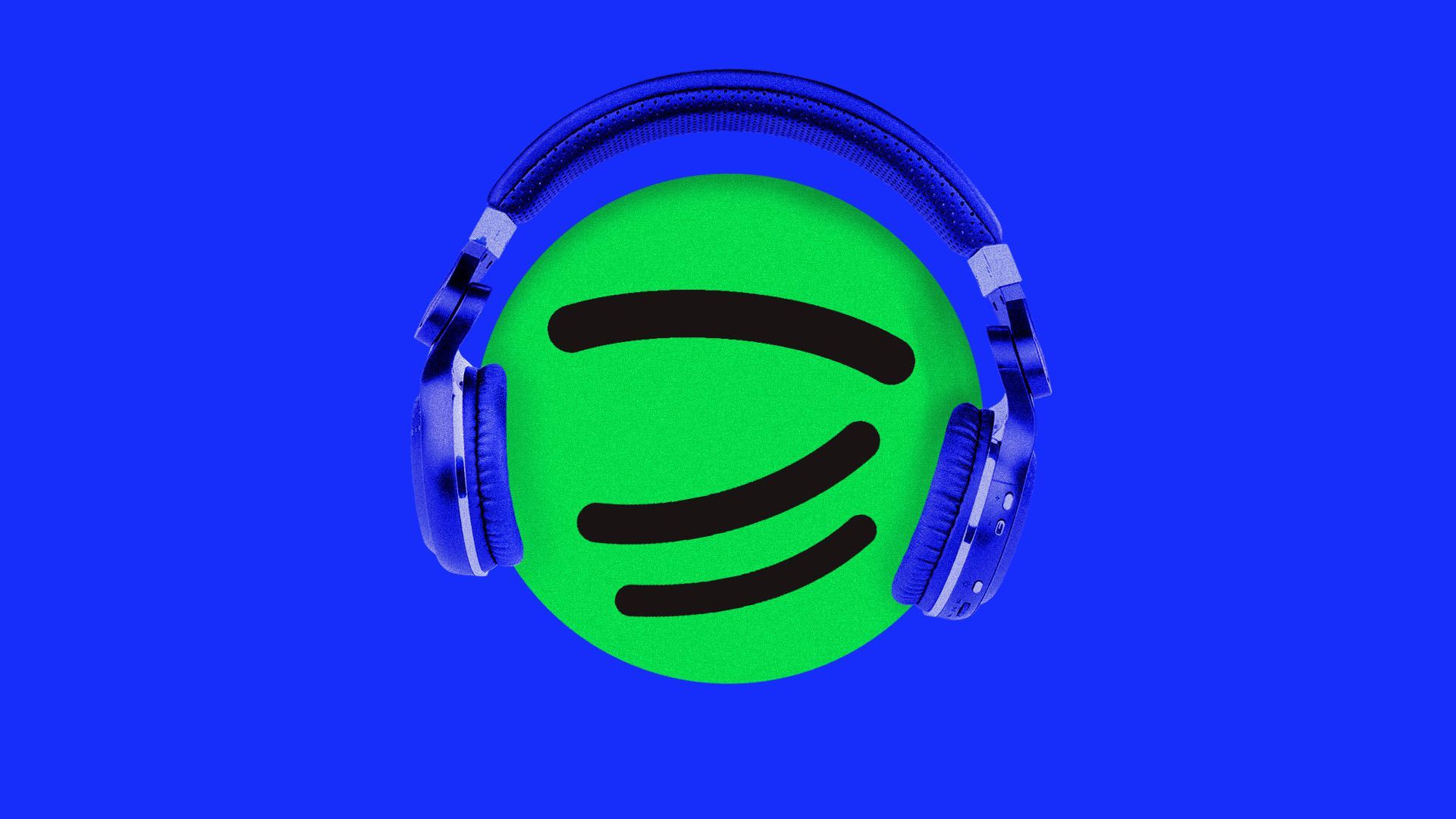 For the Chinese speakers out there, I recently enjoyed this Chinese-language podcast, available on Spotify, on the nature and history of conspiracy theories and what makes today's conspiracy theories different.
Historically, conspiracy theories have been based, loosely at least, on stringing together real facts with false logic.
But today's conspiracy theories, such as QAnon, have abandoned adherence to facts entirely and are closer to a social movement than simply a theory.
(Hat tip to journalist Tony Lin for the recommendation).