Axios Navigate
May 08, 2019
Good morning! Thanks for reading. Please share this newsletter and tell your friends they can subscribe here. If you have tips or feedback, just reply to this email.
Today, Expert Voices contributor Beau Woods assesses the cybersecurity risk of remote kill switches.
1 big thing: Tesla's long-shot robotaxi plan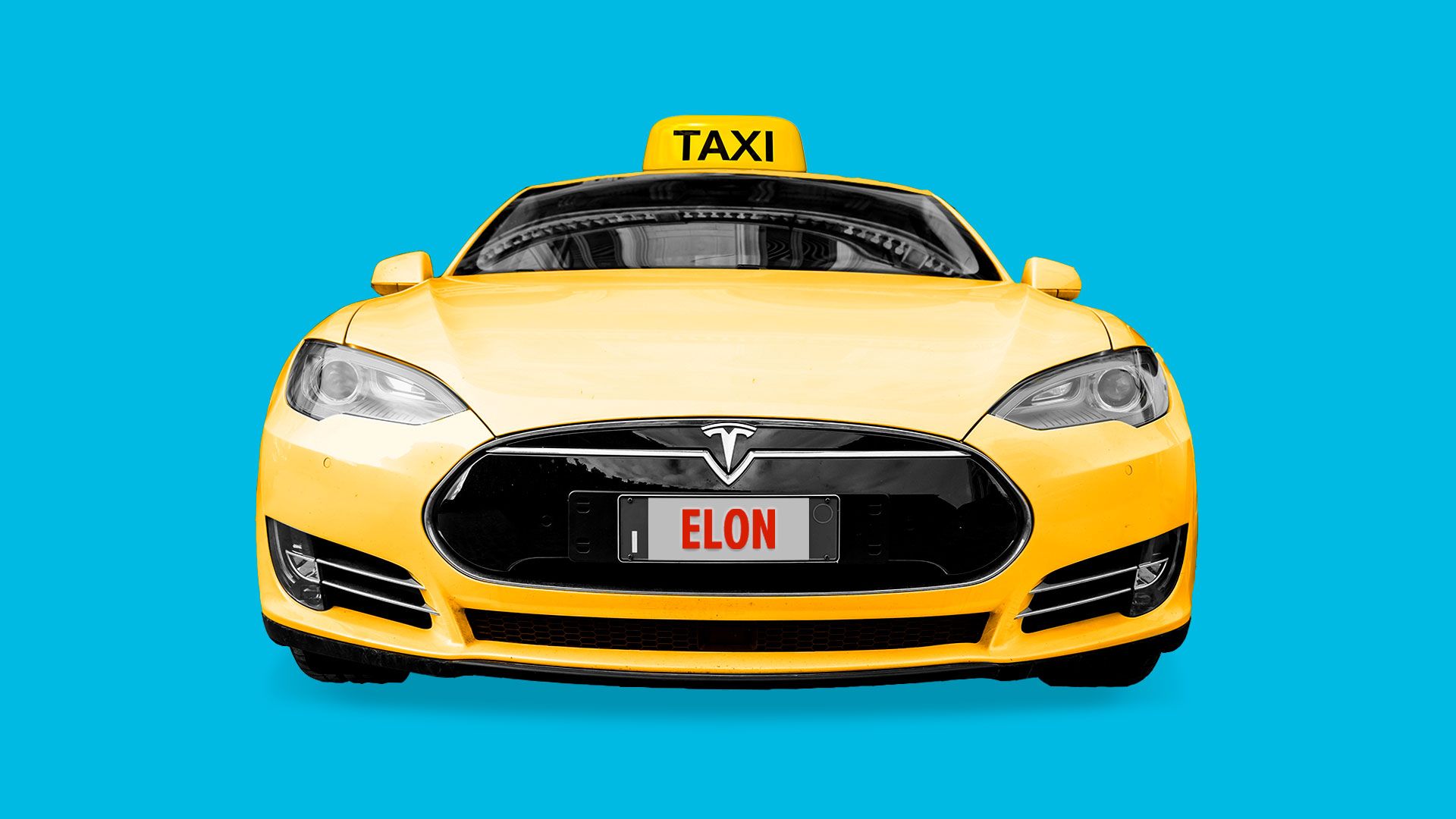 Tesla CEO Elon Musk is banking on a risky new strategy for the electric automaker: a robotaxi service that he argues will transform Tesla into a $500 billion company.
The big picture: Like other AV companies, Musk is fixated on a potential $3 trillion market opportunity for autonomous mobility as a service.
But while most say fully self-driving cars are still a decade away, Musk is telling investors they'll be here by next year and that Tesla will have first mover advantage with a million robotaxis on the road.
Between the lines: Investors are eager to fund his plans — witness last week's fresh $2.7 billion equity and bond deal.
Musk's track record is spotty, though — even he admits to blowing his self-imposed timetables — but in the end, he insists, "I get it done."
Still, his latest idea — for Tesla owners to rent out their cars via a vast Tesla robotaxi network — seems "half baked," as Cowen analyst Jeffrey Osborne put it to CNBC.
Driving the news: Musk touted the Tesla car-sharing network at an investor event on April 22.
Then, according to CNBC and Bloomberg, he doubled down a week later on a private investor call, saying AVs are now the fundamental driver of value for Tesla and making his case for that $500 billion market cap.
How it will work, according to Musk:
Tesla owners can offer their cars for rent on Tesla's car-sharing network.
They could pocket up to $30,000 a year (Tesla would keep 25% to 30% ) and their cars will rise in value — up to $250,000 within 3 years, Musk claims — as more self-driving capabilities are added via software updates.
Tesla would supplement the fleet with company-owned cars as needed.
Yes, but: The economics of the plan seem dubious and there are a host of serious legal, logistical and technology questions that remain unanswered.
Tesla says it made a technological leap by replacing a Nvidia processor with a new proprietary AV computer chip, which will enable self-driving capabilities starting in 2020.
"I feel very confident predicting autonomous robotaxis from Tesla next year. Not everywhere. But we will have regulatory approval somewhere," Musk says.
But there are no federal regulations on AVs and no prescribed validation methods, so states are still trying to figure out how to govern self-driving cars.
What they're saying:
The new focus on autonomy could push out the path to profitability even further, Barclays analyst Brian Johnson wrote in a research note Tuesday.
Patient investors will be rewarded, ARK Invest analyst Tasha Keeney tells Axios. "It's not too wild to say the company be worth $500 billion in the next 5 years."
"Let's count how many truly autonomous (no human safety driver) Tesla taxis (public chooses destination & pays) on regular streets (unrestricted human driven cars on the same streets) on December 31, 2020. It will not be a million. My prediction: zero. Count & retweet this then," tweeted robotics pioneer Rodney Brooks.
My thought bubble: Tesla's strategy is far-fetched, but plausible, if, as Osborne says, they are better than GM at manufacturing, better than Nvidia at hardware, better than Google at software, and better than Uber at running a taxi service. That's a lot of ifs.
2. Tesla owners already share their cars on Turo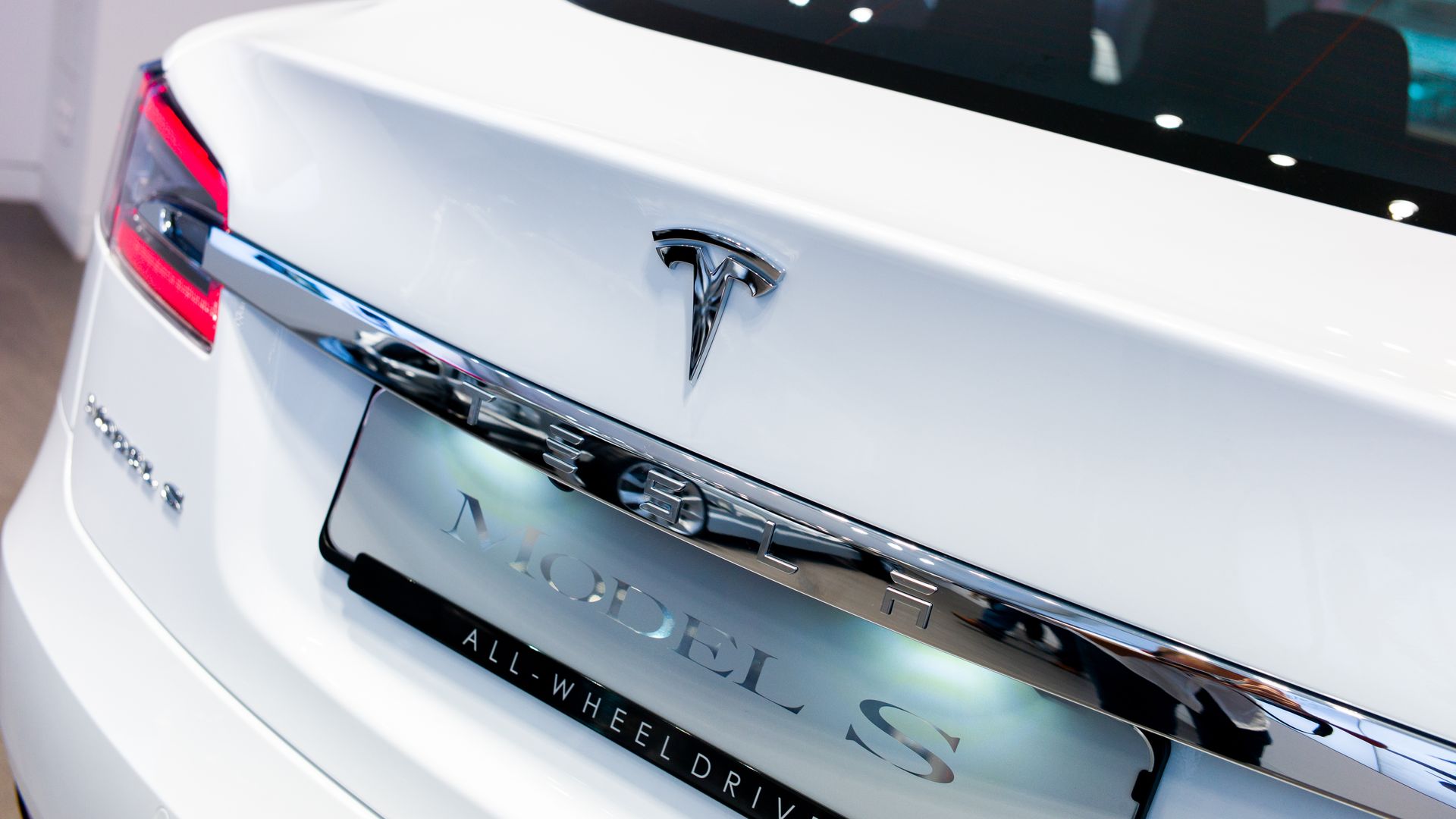 If it seems unlikely that wealthy Tesla owners would want to share their high-tech cars with the masses, think again. Teslas are already among the most popular cars rented on Turo, the original peer-to-peer car-sharing site.
Why it matters: There's an established market for occasional use of a Tesla, and owners can make good money renting out their car when they're not using it. Instead of a side hustle, Turo pitches car-sharing as a way to "car up" to a premium vehicle you might not otherwise afford.
By the numbers, per Turo:
Tesla's Model S is the 6th most popular car rented on Turo, and Models X and 3 are 10th and 11th.
Turo lists 6,000 Teslas for rent.
Model S owners earn $1,200 per month by renting their cars an average of 11 days.
The average monthly finance cost to purchase a Tesla is $1,020, which means "you can essentially get a free Tesla if you're willing to share it on Turo 10 days a month," Turo CMO Andrew Mok tells Axios.
My thought bubble: If self-driving Teslas are going to appreciate the way Musk promises, savvy entrepreneurs ought to to build up their own mini-fleets to rent via both sites.
3. Cruise's big funding is recruitment tool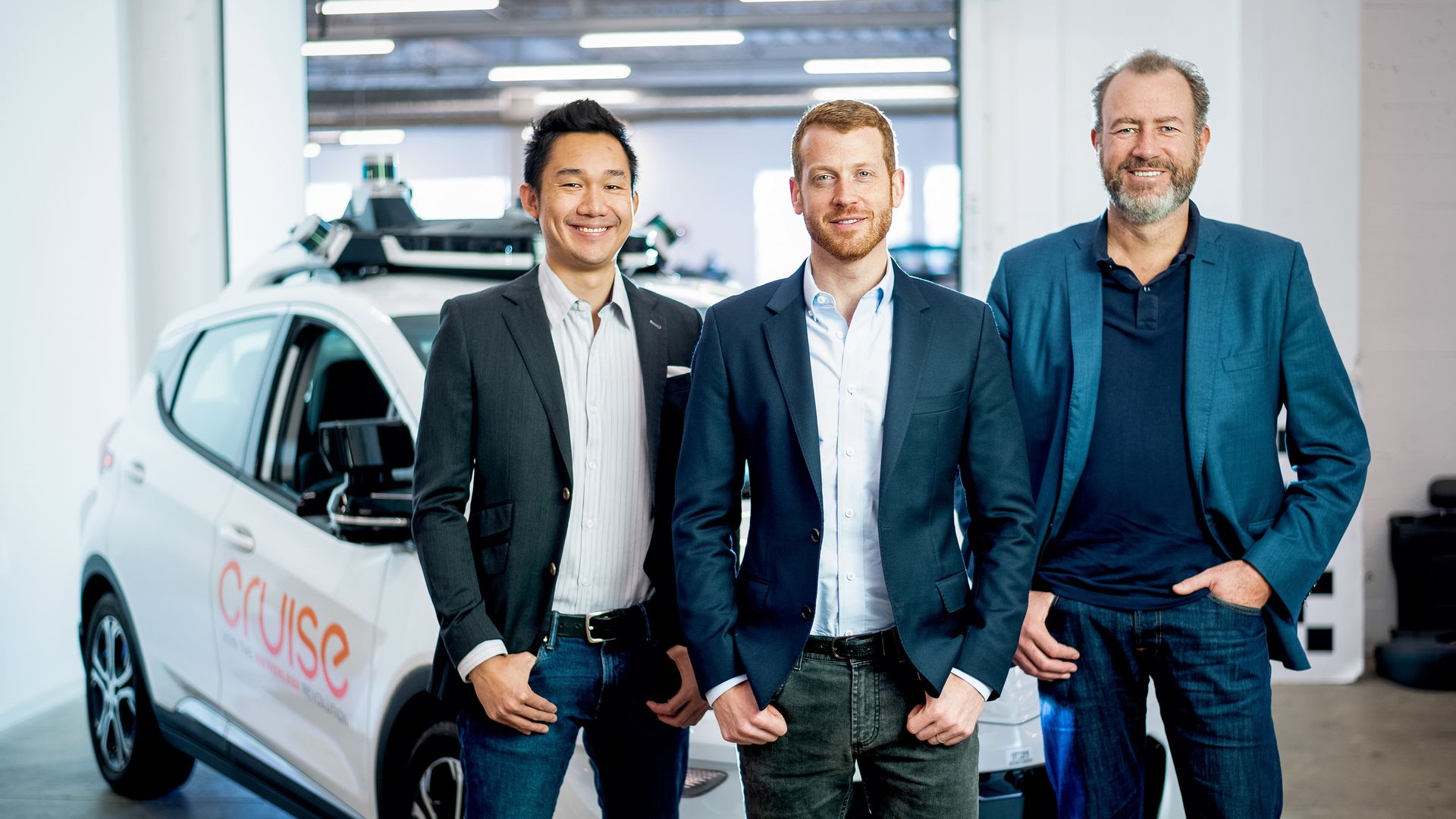 Cruise Automation raised another $1.15 billion in equity this week from T. Rowe Price Associates and existing partners GM, SoftBank and Honda, bringing its total capital raised for the year to $7.25 billion.
Why it matters: Cruise received the 3 biggest AV funding commitments over the past year, a sign that investors believe it is among those with the best shot at successfully deploying self-driving cars. The company is already using it as a recruiting tool in Silicon Valley, where there's a war for talent.
Cruise already has 1,200 people working on AV technology in San Francisco, but is expanding to Seattle to tap into that area's rich talent pool.
As consolidation continues to play out, engineers will be looking to join the most promising teams.
"Developing and deploying self-driving vehicles at massive scale is the engineering challenge of our generation. Having deep resources to draw on as we pursue our mission is a critical competitive advantage."
— Dan Ammann, CEO, Cruise
The bottom line: The latest investment puts Cruise's post-money valuation at $19 billion.
4. The dangers of kill switches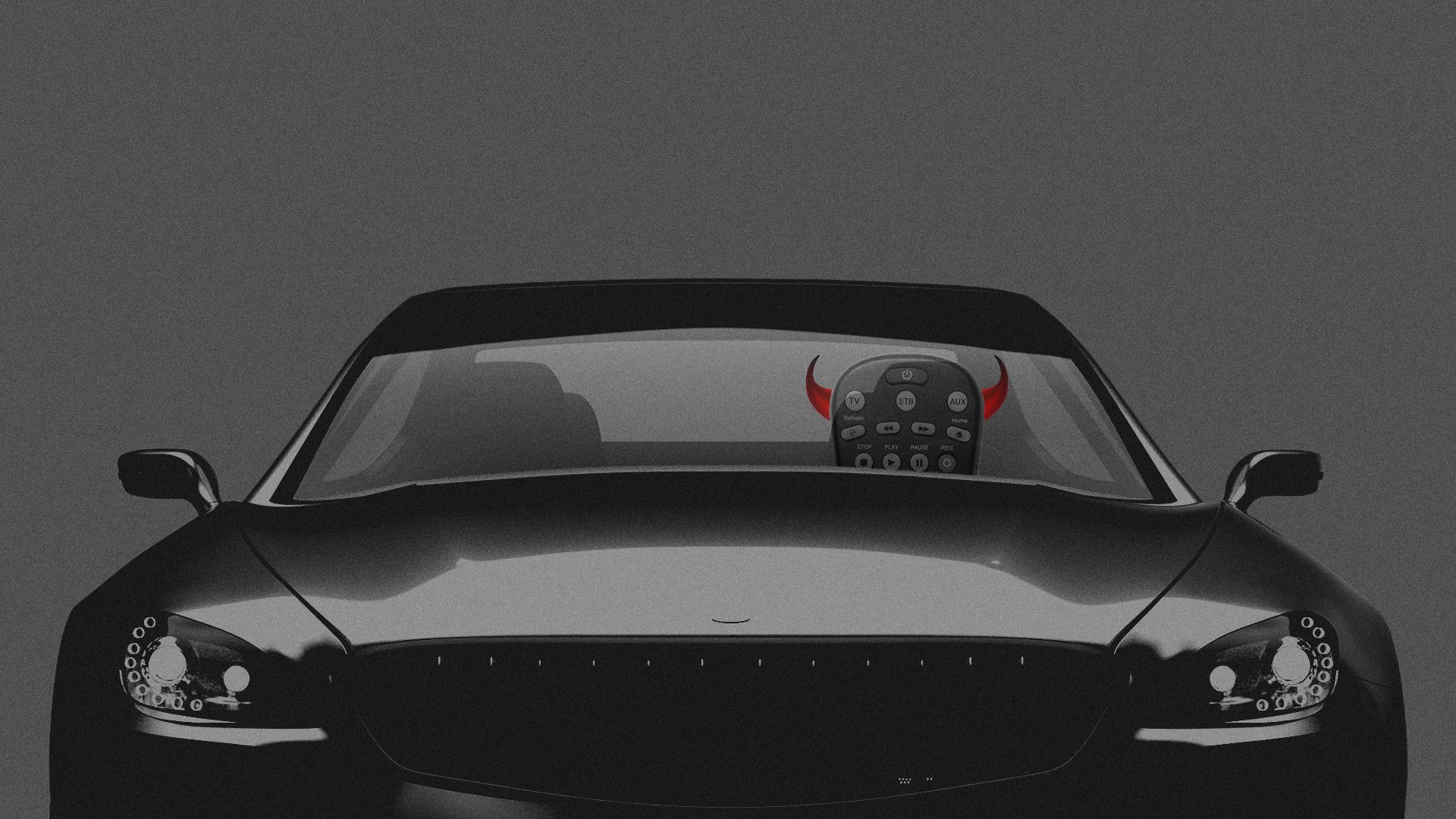 Recent reports have revealed that 2 remote GPS tracker and immobilizer products for vehicles, known as remote kill switches, are vulnerable to attack due to guessable default passwords, Atlantic Council fellow Beau Woods writes for Axios Expert Voices.
The big picture: Remote kill switches were designed to prevent theft, but can be compromised and used to steal or hijack cars, target high-profile individuals in their private vehicles, or shut down roadways through mass immobilization.
The more complex a connected car's systems are, the more potential points of vulnerability it has, making the stakes especially high for AVs.
How it works: Remote immobilizers allow an owner to shut off a car's engine by using an app to access the car's CAN bus, the central communication network that controls everything from vehicles cameras to the accelerator.
Security researchers have examined only a few GPS trackers and security systems, but most on the market share the same design, and the same potential to give adversaries virtually unfettered access to the engine, brakes and steering.
Between the lines: Vulnerabilities can exacerbate the problems these systems were designed to solve, exposing vehicle owners, passengers and others on the road to new dangers.
While the increased capabilities of AVs promise enormous benefits, adversaries could also benefit if vehicles — and the technologies that remotely support them — are not secured.
Attackers could target not just a single car but potentially all vehicles in a defined area, according to research from Georgia Tech. Simultaneously activating kill switches on millions of cars could trigger chaos, shutting down traffic and choking off deliveries of food, gas and other essential resources.
What's needed: Among the most promising solutions are adversarial resilience modeling, which helps avoid foreseeable issues such as weak default passwords, and secure software updates that fix issues as companies detect them.
The U.S. government has taken only baby steps on AV cybersecurity, but could accelerate its leadership by helping to standardize privacy-preserving "black box" data recorders and updating laws whose requirements may inadvertently deter automakers from adopting more securable technologies.
Woods is a cyber safety innovation fellow at the Atlantic Council's Scowcroft Center for Strategy and Security.
5. Driving the conversation
Friends: Waymo inks autonomous driving partnership with Lyft (Kia Kokalitcheva — Axios)
Why it matters, per Kia: It's a small deal (just 10 Waymo AVs, with safety drivers, available through Lyft) but it's another avenue for Waymo to test its vehicles with more customers and it fits Lyft's strategy to offer a variety of self-driving cars on its network.
Frenemies: Uber floors Travis Kalanick on IPO day (Dan Primack — Axios)
Our thought bubble, from Dan: Co-founder Kalanick had asked during a recent board meeting to participate in the bell-ringing, alongside CEO Dara Khosrowshahi and a group of longtime Uber executives and drivers, but the new boss told him he could be on the floor of the NYSE instead.
No word yet on if he plans to attend.
Unbundled: What If Tesla Pursued Micromobility? (Courtney Ehrlichman — The Drive)
The big picture: "Is it safe to say that Tesla has secured the seat of electric vehicle segment incumbent? What happens to incumbents? According to Clayton Christensen's Disruptive Innovation Model, they get disrupted," Ehrlichman writes.
6. 1 virtual thing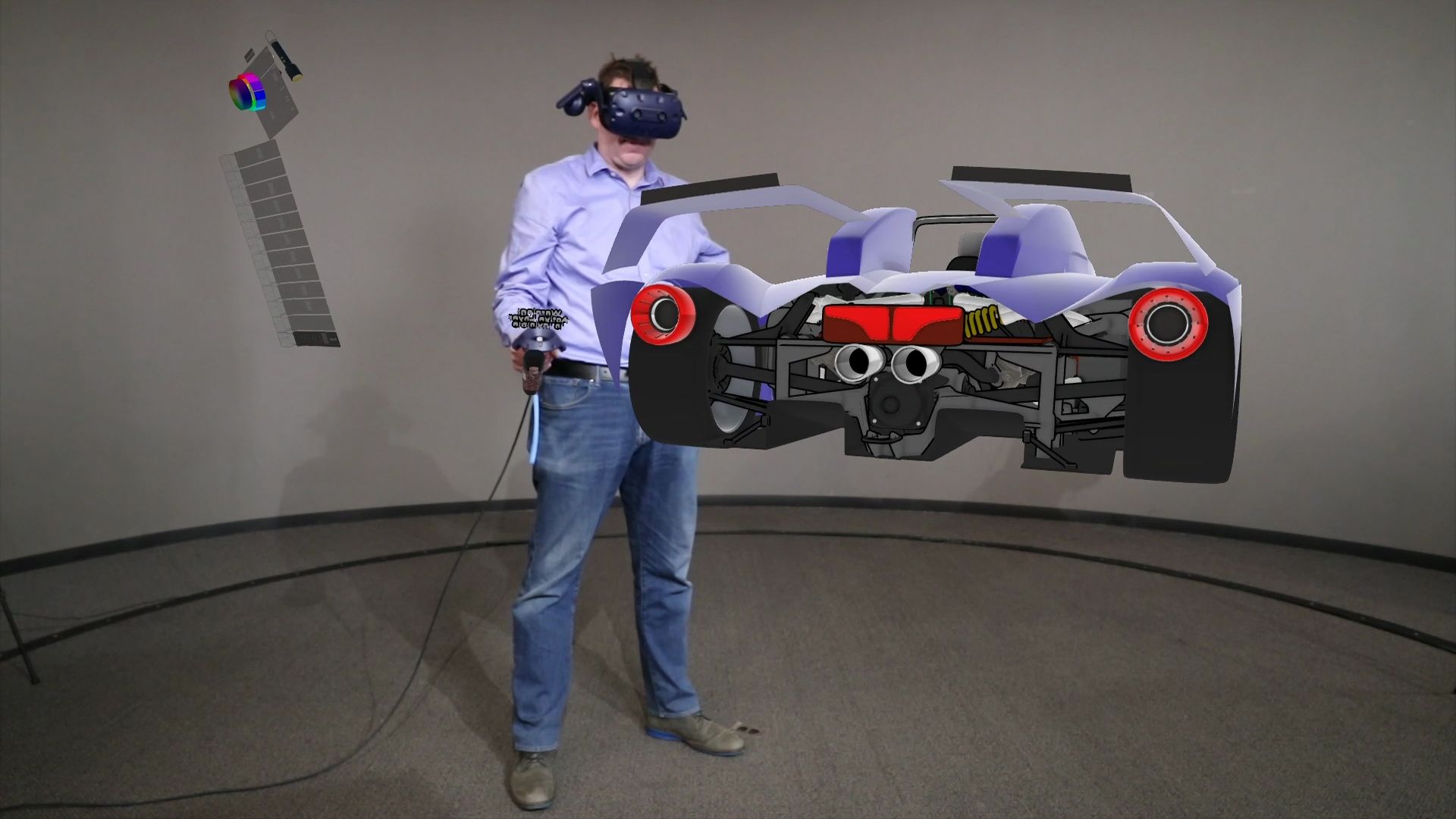 Ford is using new technology that puts designers from opposite sides of the globe in the same virtual room and with the same virtual car so they can easily work together, writes Stephen Edelstein at The Drive.
Why it matters: Consumer tastes vary by country, so it's important for regional design studios to collaborate on models before they go to market.
What's happening: Ford worked with Gravity Sketch to develop a feature called Co-Creation, which allows designers on different continents to work on a vehicle simultaneously.
It features a controller that acts like a pen, allowing designers to easily draw lines in virtual reality to create a car and make changes as they go.
The bottom line: VR is a cool way to design cars that shortens development time and ensures a variety of voices in the process.