Axios AM
April 28, 2017
1 big thing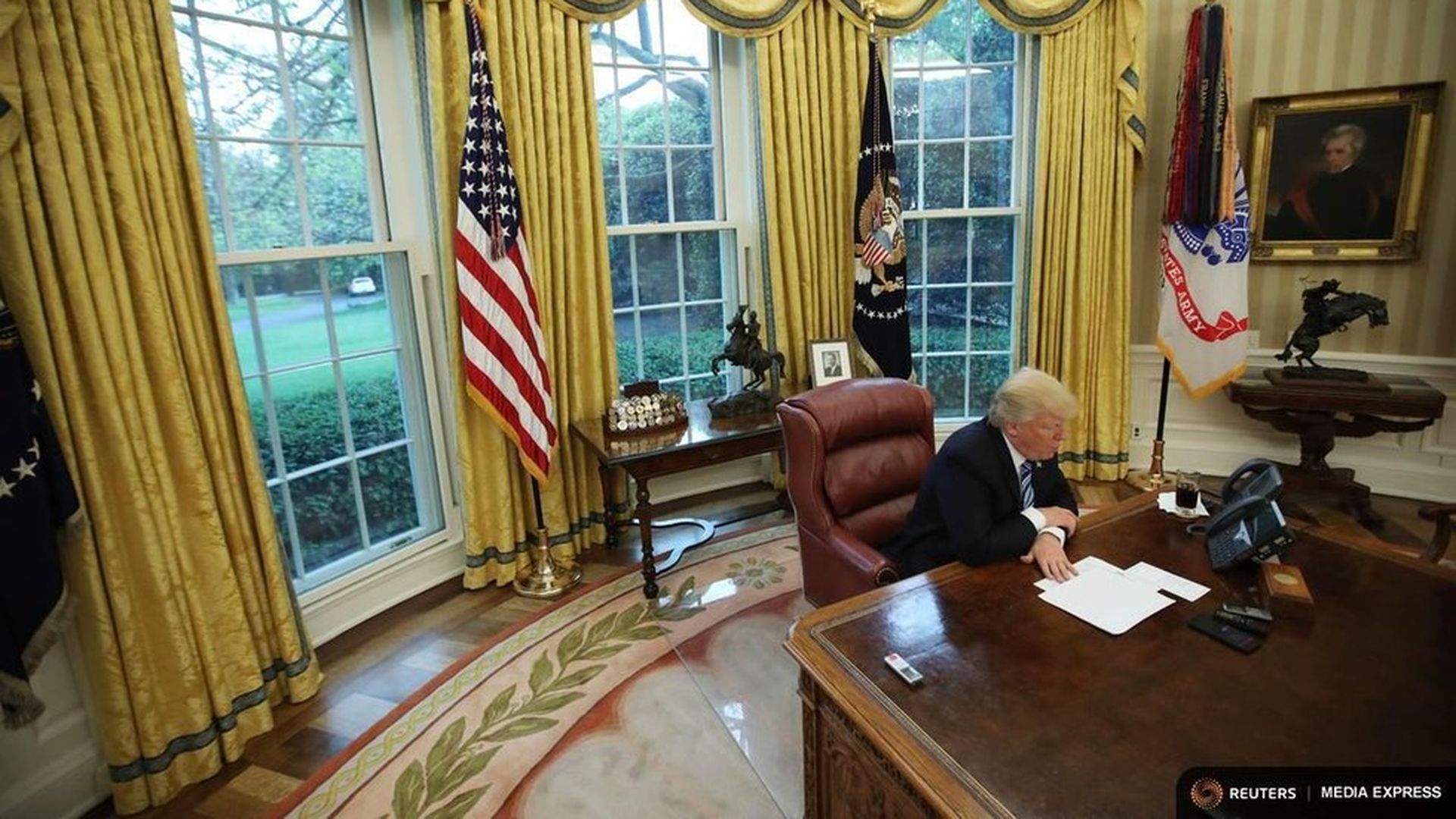 Good morning, Day 99! A save-that-tape moment during a Reuters interview with President Trump reminds us: For all the century's worth of news we have had under President Trump, there has yet to be a massive, transcendent crisis — foreign or domestic — to test him, his team and this divided nation.
Trump told Reuters' Stephen Adler, Steve Holland and Jeff Mason: "There is a chance that we could end up having a major, major conflict with North Korea. Absolutely."
"We'd love to solve things diplomatically but it's very difficult."
On North Korean leader Kim Jong-un, now 33: "He's 27. His father dies, took over a regime. So say what you want but that is not easy, especially at that age. I'm not giving him credit or not giving him credit, I'm just saying that's a very hard thing to do. As to whether or not he's rational, I have no opinion on it. I hope he's rational."
That pairs nicely with this priceless lead of an interview with Trump in tomorrow's Financial Times Magazine, by Washington bureau chief Demetri Sevastopulo:
"Sitting across from Donald Trump in the Oval Office, my eyes are drawn to a little red button on a box that sits on his desk. 'This isn't the nuclear button, is it?' I joke, pointing. 'No, no, everyone thinks it is,' Trump says ... before leaning over and pressing it to order some Cokes. 'Everyone does get a little nervous when I press that button.'"
2. 100 looooong days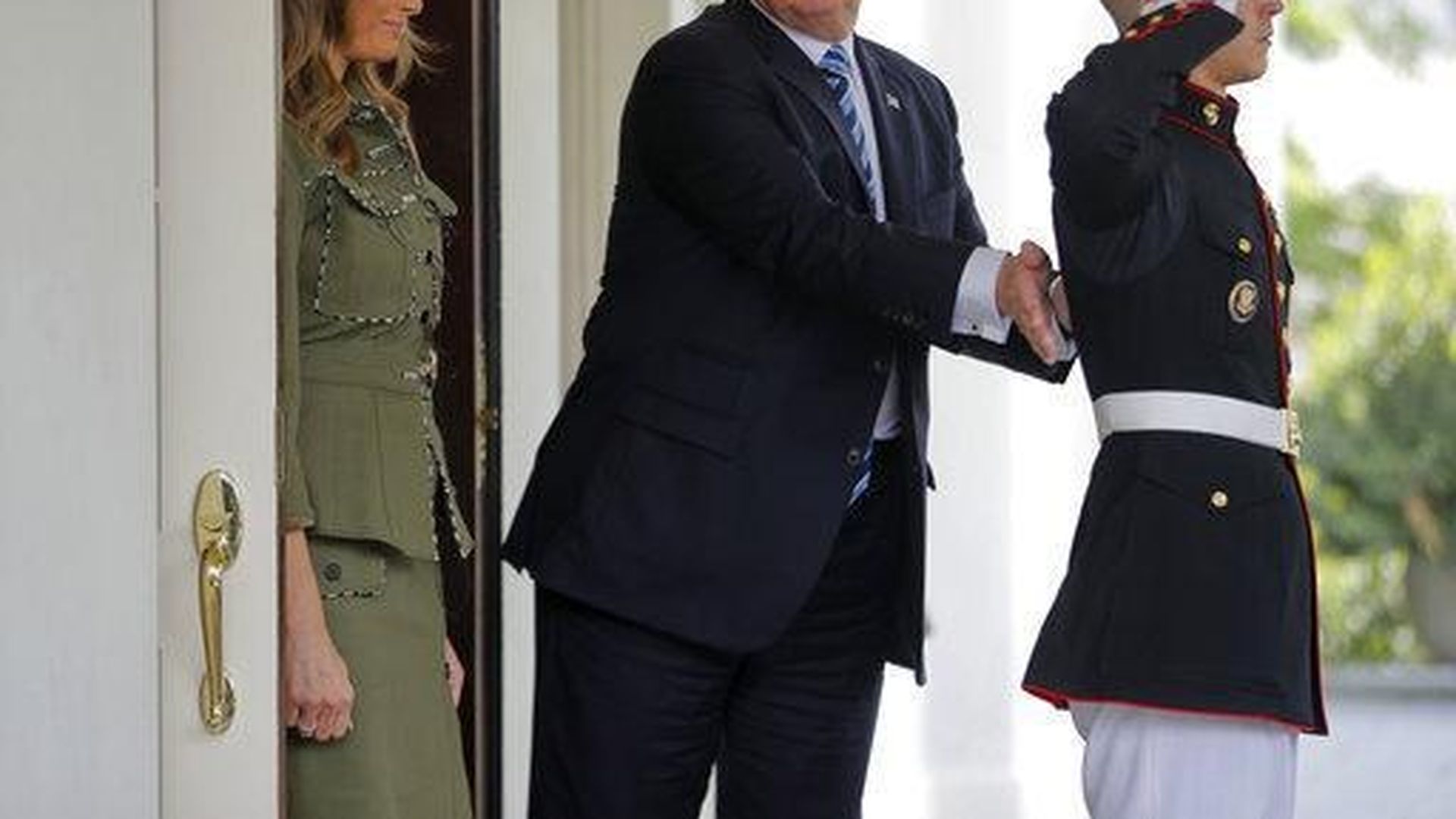 Big theme ... USA Today lead story, "One thing is certain: United we're not," by Rick Hampson: "The USA TODAY Network spent time with people around the nation and across the political spectrum ... Although they agreed on little, there's virtual unanimity that political division has worsened since the president took office. ... Some people would like to see America made whole again."
CEO President ... "Trump finds that CEO-as-president isn't always a natural fit," by AP Economics Writer Josh Boak: "Asked to assess his tenure so far, management experts point to a stream of missteps that run counter to the clarity, discipline and consistency of message typical of the best executives. Blustery speeches have given way to fuzzy policies that have weakened the president's negotiating hand on such complex challenges as revamping taxes and health insurance.
Clicker ... "(Almost) 100 Days of Page One Headlines ... [How] the print front page of The New York Times that covered the first 100 days of President Trump's administration, as well as a look at what former Presidents Barack Obama and George W. Bush were going through at the same point in their first terms."
Hot shot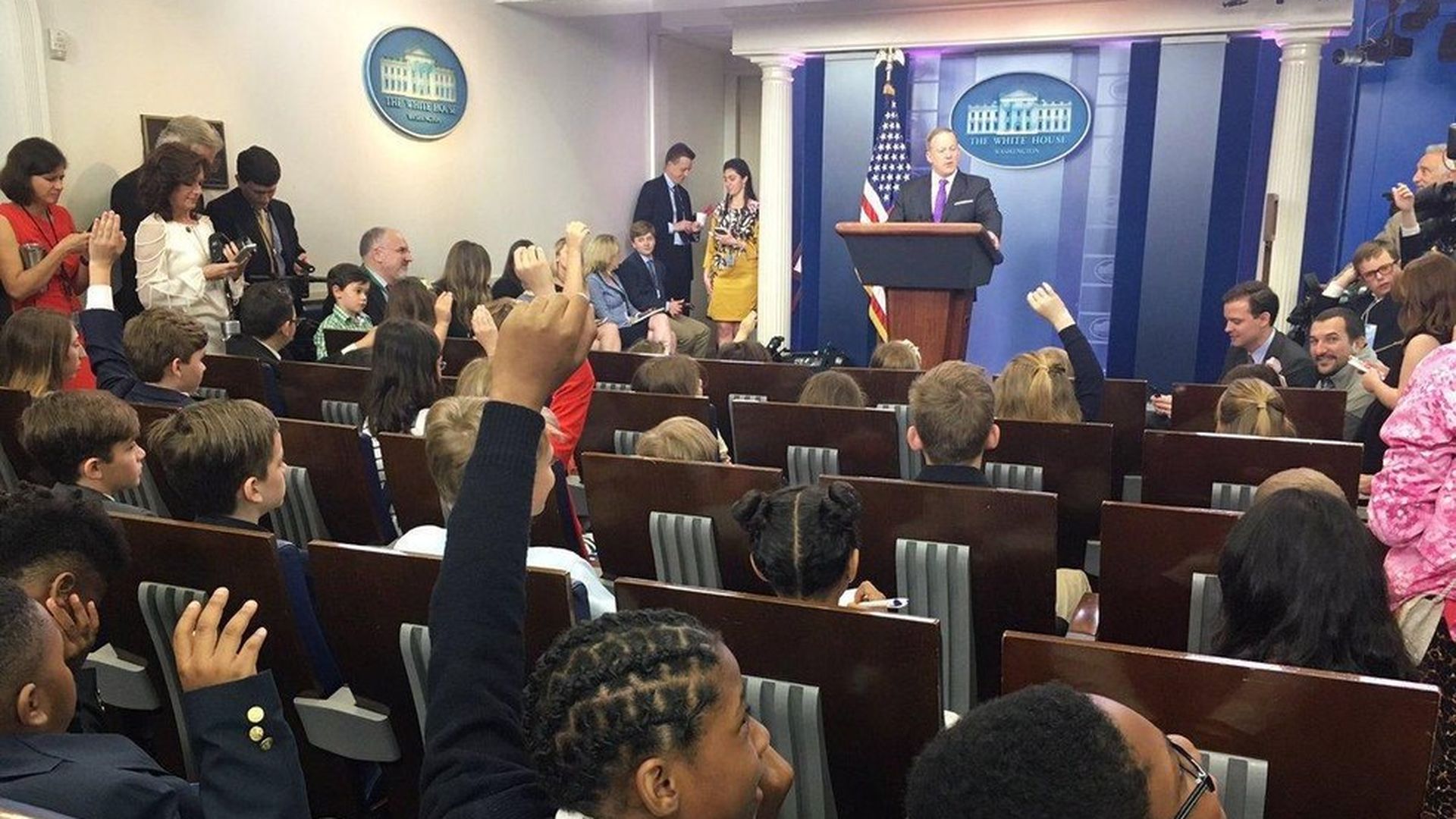 Carolina Hurley, White House director of regional media, tweets this pic: "@PressSec briefing children on Bring Your Kids To Work Day ... Kids asking the tough questions - specific terms of NAFTA renegotiation and @POTUS' favorite color."
CNN's Brian Stelter labeled it "Caption contest!" in his Reliable Sources newsletter.
3. Charlie Brown and the football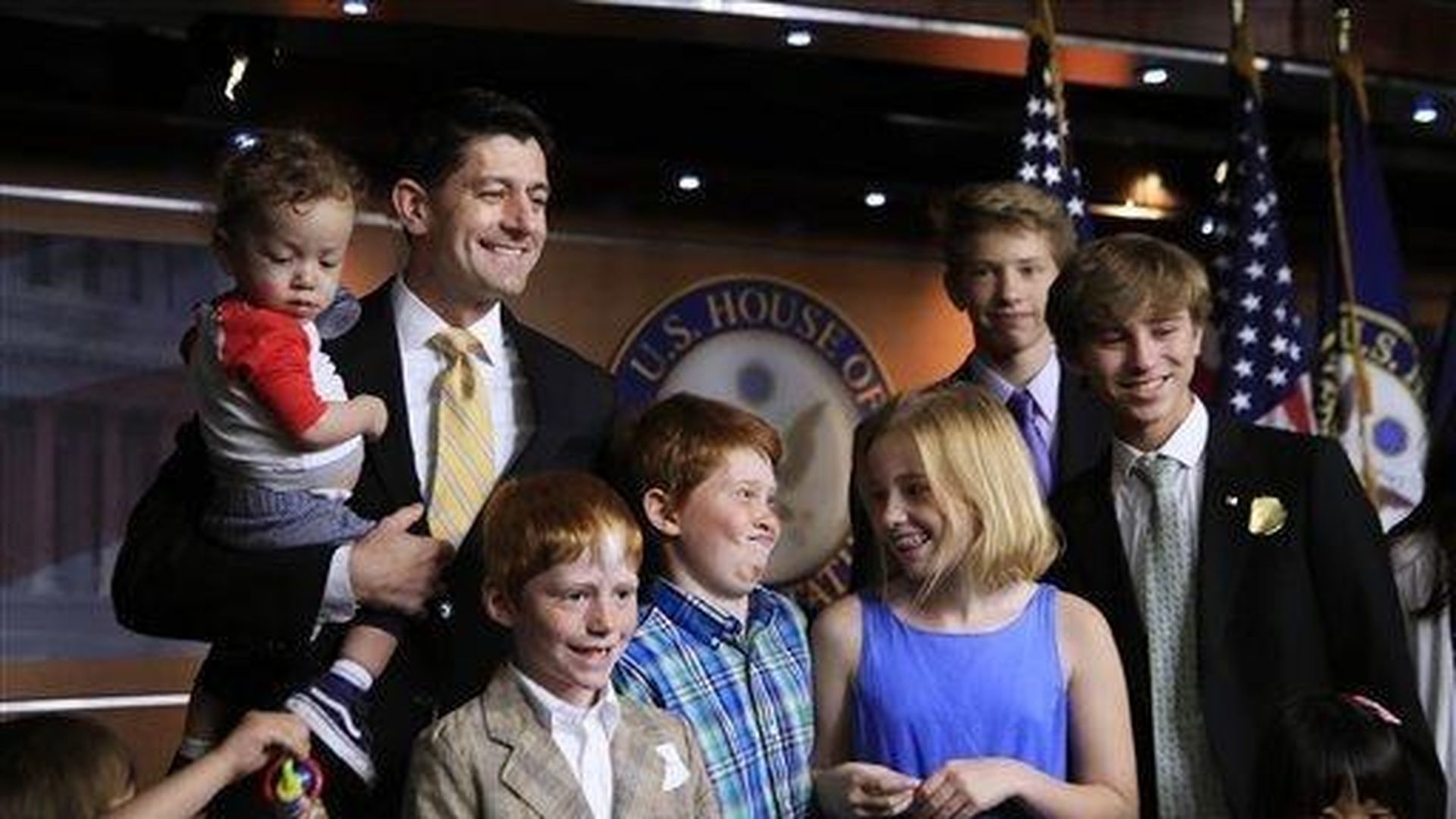 Despite authentic hopes at both ends of Pennsylvania Avenue that the House would jam a health-care vote in before Day 100, leaders admitted last night that it's not happening.
A House Republican leadership aide emails: "It's tracking positive but never was there commitment or even expectation to vote this week. Always whenever we had the votes we would vote."
Axios' David Lawler posts this trifecta:
What they're saying: House Majority Leader Kevin McCarthy said leadership was "still educating voters" about what's in the amended bill.
What really happened: The votes aren't there yet. If more than 22 Republicans oppose the bill, it will fail. So far at least 15 have come out against it and many more are undecided.
The silver lining: This removes an obstacle to funding the government, with that deadline looming, though the current plan is to pass a stopgap measure that will only last one week.
4. Bite of the day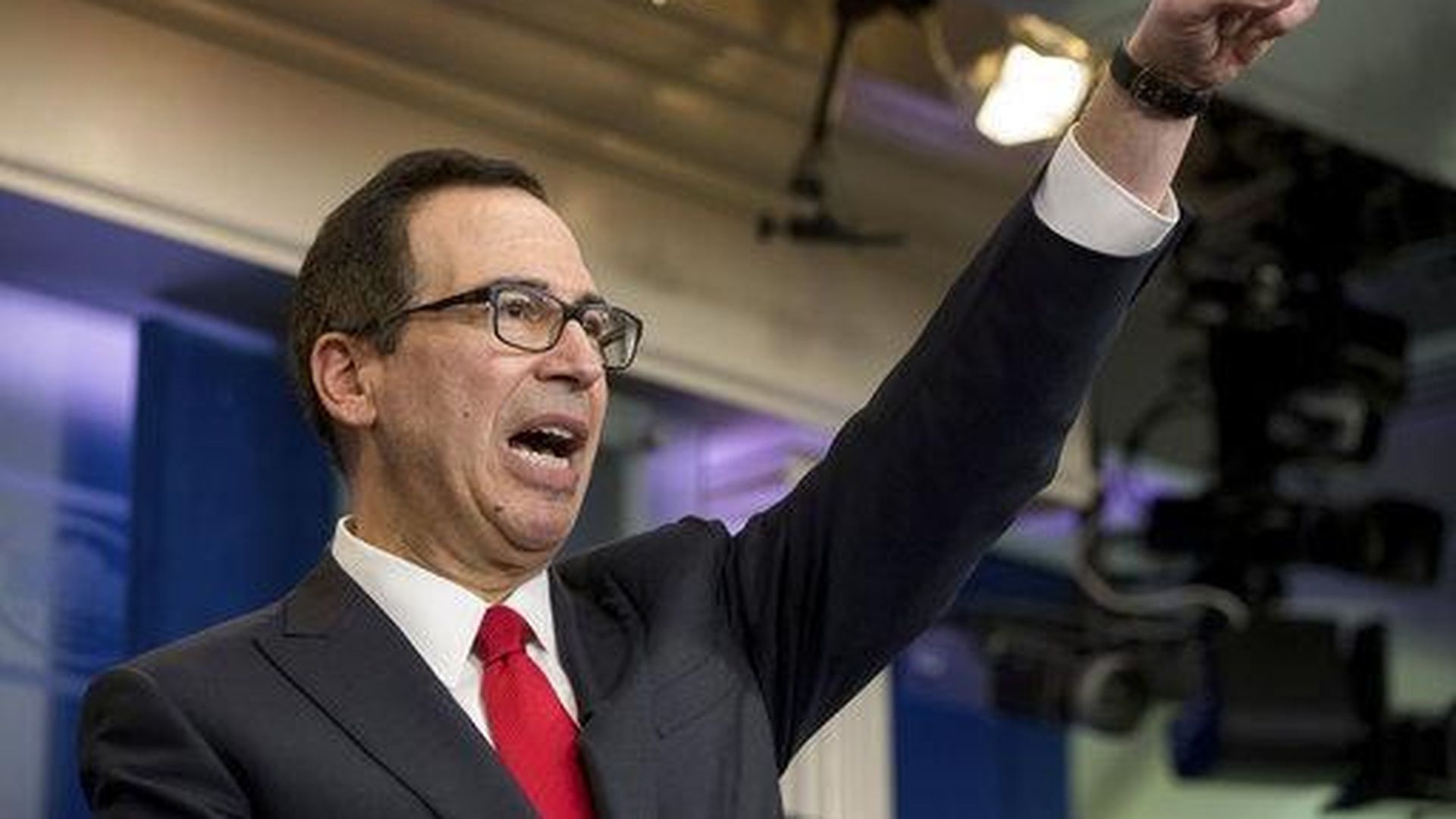 Steve Rosenthal, a business tax expert and senior fellow at the Urban-Brookings Tax Policy Center, in James Stewart's column on the N.Y. Times Business front:
"Mr. Trump's plan basically is tax cuts for everyone. Real reform, with revenue neutrality, is difficult. There are winners and losers, but Trump apparently just wants winners."
The narrative ... N.Y. Times, top of column 5: "Trump's Plan Shifts Trillions To Wealthiest: Despite Lack of Details, Impact Is Clear."
5. Diplomacy on a diet
Bloomberg's Nick Wadhams has details on how SecState Rex Tillerson plans to implement President Trump's order to reverse the expansion of the State Department under Obama:
State will cut 2,300 U.S. diplomats and civil servants -- about 9 percent of the Americans in its workforce worldwide.
The majority of the job cuts, about 1,700, will come through attrition, while the remaining 600 will be done via buyouts. may be phased in over two years,
William Inglee, a former Lockheed Martin Corp. official and policy adviser in Congress, was hired to help oversee the budget cuts and briefed senior managers on the plan Wednesday.
FYI ... "Alex Acosta [the son of Cuban immigrants] has been confirmed as ... labor secretary, filling out President Donald Trump's Cabinet ... 60-38 vote by the Senate." (AP)
6. What Michelle and Barack said in paid $peaking debuts
Former President Obama — a day after news that he'll be paid $400,000 to speak at a September health-care conference run by the Wall Street firm Cantor Fitzgerald — was paid the same amount for a "History Makers" luncheon speech at the A&E Networks advertising upfront yesterday in New York, per the N.Y. Post's Claire Atkinson:
"He was interviewed over 90 minutes ... by presidential historian Doris Kearns Goodwin in front of the cable network's advertisers."
"Obama, who got a standing ovation when he entered the room, asked about what he missed most about the White House, said it was sitting on the Truman balcony on summer nights and gazing at the Washington Monument and the Lincoln Memorial."
"Obama also told the crowd that in his three months out of office he has not yet been behind the wheel of a car ... [H]e's learning how to use the coffee machine in the Obamas' new home in Washington."
"Goodwin asked Obama how, while president, he handled frustrating moments. She mentioned Lincoln would write angry letters and then put them in a desk and not mail them. Obama responded: 'For starters, by not having a Twitter account.'"
Michelle Obama made her paid-speaking debut yesterday in Orlando at American Institute of Architecture's annual conference, the WashPost's Krissah Thompson writes in the Style section lead, "For Obamas, paid-speaking circuit can pose risks to their brand":
"She spoke with authority about her experience as a lawyer and executive — topics she often seemed reluctant to address in her husband's administration."
"She shared a story about her emotional final day at the White House. Her daughters were in tears as they said goodbye to the staff, and she felt herself choke up, too — but she resolved to keep her emotions hidden before the Inauguration Day cameras. 'I didn't want to have tears in my eyes because people would swear I was crying because of the new president,' she said, as the crowd laughed."
7. Tech legends Chambers, Doerr talk Trump
For the past 20 years, Cisco Chairman John Chambers and Kleiner Perkins Chairman John Doerr have been bringing tech execs to Washington to meet with government officials about the issues Silicon Valley cares about, like corporate tax reform, high-skilled immigration and science education.
Axios Tech Editor Kim Hart writes that despite the tech industry's overall skeptical view of Trump, the two longtime Silicon Valley leaders see positive momentum for driving pro-business policies that will spur startup investment and, most of all, jobs.
Chambers: "We realize we have to change — I think Republicans and Democrats know it. And we've finally got somebody who's going to be bold and go for it. ... We've been through three presidencies in the past 20 years trying to get corporate tax rate changes. At least we're starting to move. The scary part is our counterparts around the world are moving much faster."
8. The talk of tech
"Qualified executives usually believe they can handle a difficult leader" ... A Wall Street Journal front-pager goes inside San Francisco's highest-profile COO hunt, "Uber Seeks Seasoned No. 2 to Mind Its CEO," by Greg Bensinger, Betsy Morris and Georgia Wells:
CEO Travis "Kalanick and at least two Uber directors ... have interviewed ... Thomas Staggs, the former Walt Disney Co. COO, Karenann Terrell, former chief information officer of Wal-Mart Stores Inc., and Helena Foulkes, executive vice president of CVS Health Corp. ... Ms. Foulkes and Mr. Staggs are no longer in discussions with Uber."
"Uber is also seeking prospects with experience in fields with complicated labor and operational structures, such as airlines."
"Uber is describing the new COO to candidates as a partner to the 40-year-old Mr. Kalanick, not merely a deputy such as he has had in the past."
What you're getting into: "A Kalanick hallmark has been night jam sessions — 'sashes,' in Uber parlance — that could last until 2 a.m. The CEO sometimes summoned employees with little warning, causing them to delay other projects and scramble to prepare for session topics such as how to capitalize on Uber's size. A topic might be debated each night for a week."
9. Nicolle Wallace gets MSNBC show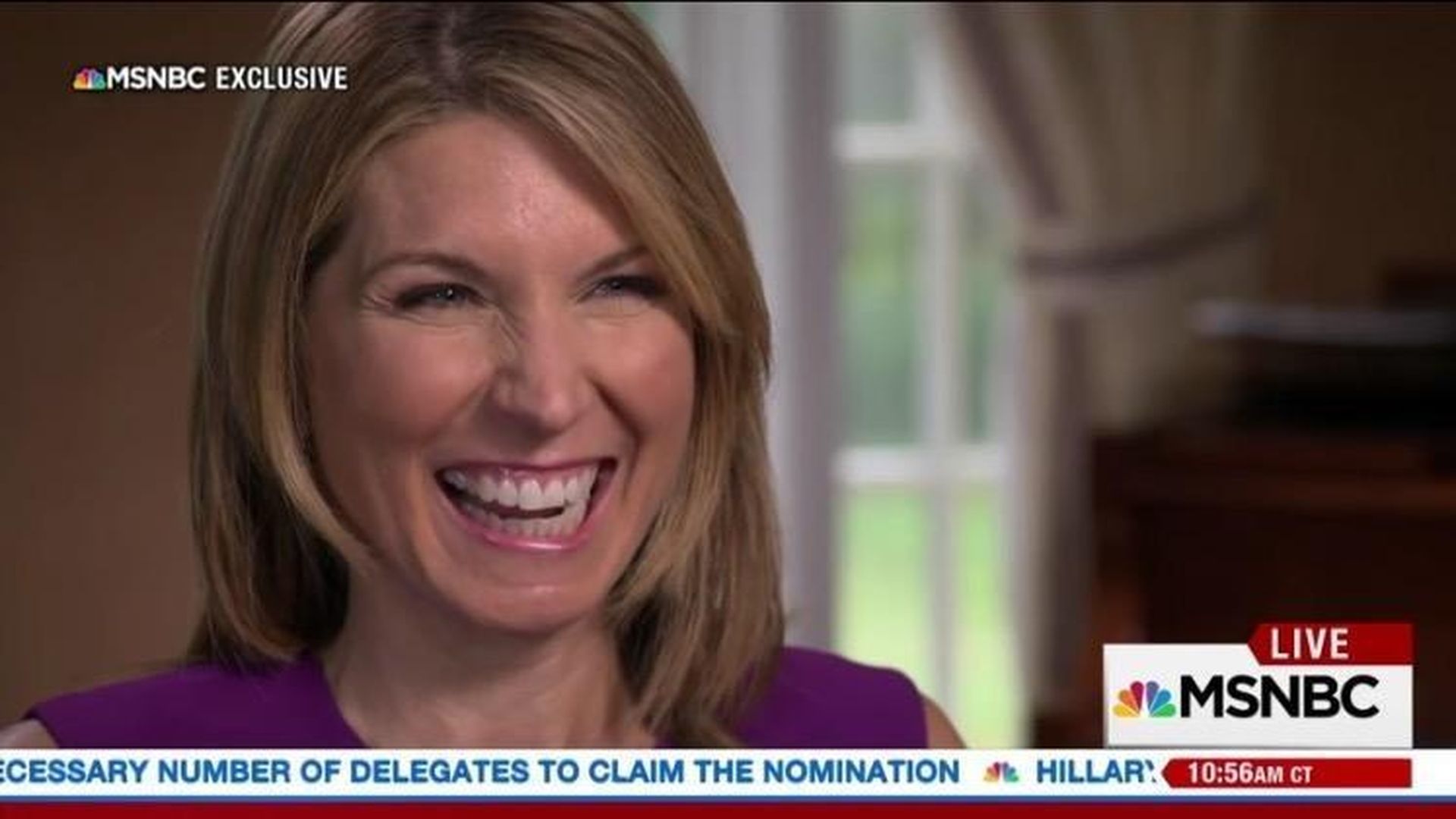 MSNBC will announce today that NBC News political analyst Nicolle Wallace will expand her role to host a new program that will air weekdays from 4 to 5 p.m. ET. The New York City-based program will premiere in May.
From the forthcoming release: "Wallace, a [novelist and] former White House Communications Director, will tackle the latest political developments and conduct interviews with leading newsmakers. MSNBC host and political correspondent Steve Kornacki will continue his presence in the hour, providing in-depth discussion and analysis."
10. 1 fun thing: "Moon eating"
A new food fad harkens back to Hawaiian traditions of eating, farming and fishing according to the lunar cycles, per Bloomberg's Brandon Presser:
[C]enturies-old civilizations recognized ... that the human body and our behavior operate on roughly monthly loops like the menstrual cycle. ... [T]he primary goal of mindful consumption is truer connection to our planet and thus a heightened sense of well being—both emotionally and physically. It's a lifestyle. ...
A look at the hundreds of images tagged #moonphaseproject on Instagram will reveal the neonatal stages of the food fad throughout [Hawaii]. ... [M]oon eating affects not only how vendors serve fresh fare, but also how they grow it, when they procure it, and how they harvest it ..
By starting and ending the cycle on the eve of the full moon, the produce is noticeably more plump and much more delicious and vitamin-rich when harvested in the correct season (breadfruit during April's lunar month, mango throughout the summer).