https://www.axios.com/newsletters/axios-am-f843d8e4-0ee9-4ccc-b50e-01e044204ecf.html?chunk=0#story0
​1 big thing: Roger Stone book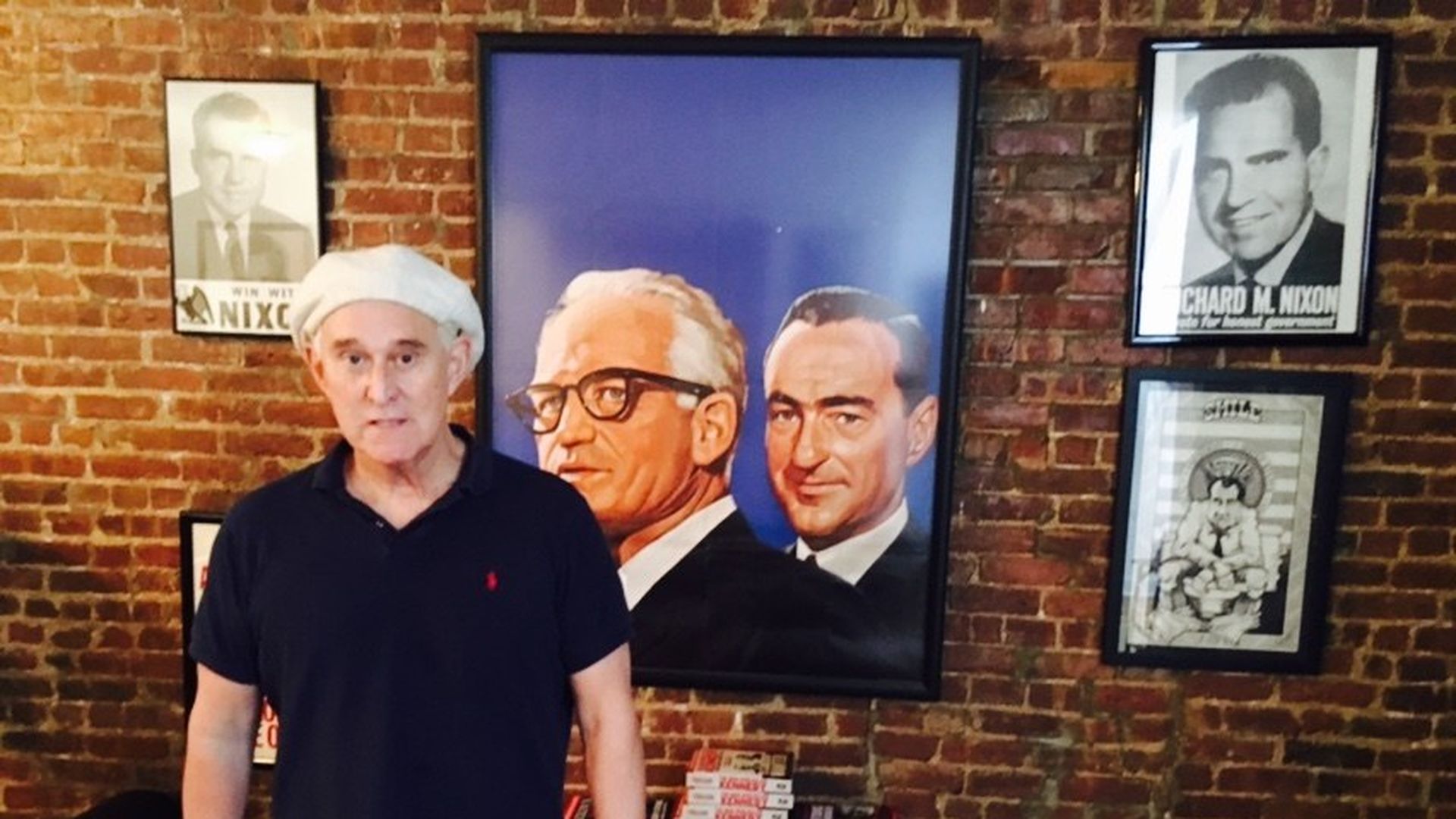 Sneak peek ... Roger Stone, the flamboyant Republican operative known for light suits and dark arts, met President Trump in 1979, when they were introduced by Roy Cohn, one-time counsel to Joseph McCarthy. Stone, an alumnus of Nixon and Reagan campaigns, was a top adviser to Trump in the early months of this presidential campaign, then departed amid personality conflicts in August, 2015, with each side claiming to have fired the other. Stone stayed in touch with Trump, and kept notes on the advice he quietly gave Trump Tower throughout the campaign (some solicited, some not).
Stone will be out Jan. 31 with a campaign memoir, "The Making of the President 2016: How Donald Trump Orchestrated a Revolution" — the title cheekily echoing the Teddy White classics. A copy of the book was "leaked" to Axios AM. Among the memorable passages:
A 17-year quest: "It was mid-September 1999 and the two of us just sat in his office on the twenty-sixth floor at Trump Tower ... I sat there and waited as he pored over the morning newspapers. ... 'I'm pretty sure it's going to be Bush and Gore … They are both absolutely terrible—just terrible. What's going on in this country?"
"He looked me squarely in the eyes and, with a hint of a smile, said: 'Roger, I want to take the next step. I want to see if Donald Trump can win the White House. Is this country ready for President Trump? The one thing I do know is that I'm better than any of those assholes who are running.'"
"Drudge led the charge, posting a top center headline and photograph on June 16, 2015, the day Trump declared his candidacy, proclaiming 'Donald Goes for White House.'"
"On the Friday before Easter [2016], Trump called me at my south Florida home. 'Can they really steal this thing from me?' ... What should I do?' 'Call my former partner, Paul Manafort.' ... Trump asked for Manafort's cell phone number and I provided it."
"[I]n the final phase, Trump found Steve Bannon had genius ability to get his messages packed into the powerful mantras the thousands attending rallies planned on chanting, while Kellyanne Conway displayed equal acumen in keeping Trump's temperament level through the long airplane rides." Amazon pre-order: $19.49
https://www.axios.com/newsletters/axios-am-f843d8e4-0ee9-4ccc-b50e-01e044204ecf.html?chunk=1#story1
​2. How Stone sees Trump
Stone is rightly controversial, reviled on the left and even by some on the right. But he has worked for the Trump Organization, the Trump Shuttle, Trump Hotels & Casino Resorts, and several Trump political explorations. So in the current rush to understand Trump, Stone stands as a longtime insider:
"Donald … has always had an exceptional eye for female beauty. He has the same eye for architecture, preferring towering buildings with clean lines, lots of brass, and always large signage. … Notwithstanding the glitter and gold of his buildings, there really is nothing fancy or pretentious about Donald Trump. He likes meatloaf, cheeseburgers, and diet coke."
"Trump waged the first modern 'all communication' campaign, eschewing polling, expensive television advertising, sophisticated analytics, and all of the traditional tools of a modern presidential campaign. At the same time, Trump's campaign was centered around a 'set piece rally,' just as Richard Nixon's campaign had been."
"Trump … understood that politics is about big issues, concepts, and themes, and that the voters didn't really care about wonkish detail. If they had, then Newt Gingrich would have been president."
"The danger for President Trump is if he fails to recognize the machinations of the establishment-types who didn't support his candidacy but now kiss his ass while they seek appointments and other favors. They are not committed to a reform agenda and will do their best to derail his."
https://www.axios.com/newsletters/axios-am-f843d8e4-0ee9-4ccc-b50e-01e044204ecf.html?chunk=2#story2
​3. Doubts on tax reform?
Important gossip on Capitol Hill: Some conservative lawmakers are worried that tax reform might NOT get done this year, because Obamacare repeal plus Supreme Court fight will take way more time than the Trump White House anticipates -- plus paying for it will be more contentious than supporters think. Some fear Mitch McConnell will move too slow in Senate. Others warn this is much more complicated than Trump thinks. Still, GOP leadership insiders say Paul Ryan's obsession with it will help jam it through.
Jonathan Swan reports from the Republican congressional retreat in Philadelphia that House Ways and Means chair Kevin Brady made a forceful pitch behind closed doors for the border adjustment tax, which boosts taxes on imports and reduces them on exports. The tax could raise $1 trillion, and Republican leadership believes tax reform depends on it.
But some members made clear in their questioning that they don't like it, and a number of advocates are getting wise to the fact that the tax needs to be rebranded. "Trump is all about the branding," a senior House member told Axios. This member now calls it a border adjustment "fee." Others, he says, are calling it a "mechanism."
https://www.axios.com/newsletters/axios-am-f843d8e4-0ee9-4ccc-b50e-01e044204ecf.html?chunk=3#story3
​4. The full Trump
The president continues to use his first week in office to plunge into controversy, relishing the blockback rather than trying to round the edges:
Trump didn't just order an investigation of voter fraud to try to push the issue out of the headlines — he's diving in, and plans to make a big deal of the topic when he speaks to the congressional retreat in Philadelphia this afternoon. "He'd like THEM to investigate, too," ABC's Jon Karl reported on "World News" last night, adding that the White House plans to have a memo as early as today directing either Justice or Homeland Security to begin an investigation into dead people still on voting rolls, and people who are (often accidentally) registered in multiple states.
When he announced his plan for the Mexican-border wall yesterday, it was very Trumpian, as described by Axios' Justin Green: "a 1,000 mile wall, constructed of concrete and steel, between 35-60 feet high. … Trump says the wall will cost $8-12 billion, but the MIT Technology Review … predicts between $27-40 billion." Trump's proposal was popular with congressional Republicans and we're told he'll get the money he needs -- probably a down payment soon, with more money this fall. That's, of course, ahead of any reimbursement from Mexico, which Trump admitted to ABC's David Muir could be "in … a complicated form."
And is Trump thinking of bringing back CIA "black site" prisons where terrorism suspects were tortured? It sure sounds like it. The NYT's Mark Mazzetti got his hands on a draft executive order on detainee policy: "The White House disclaimed the document, … but three administration officials said the White House had circulated it among National Security Council staff members for review on Tuesday morning.
Trump told ABC's David Muir: "I have spoken as recently as 24 hours ago with people at the highest level of intelligence, and I asked them the question, 'Does it work? Does torture work?' and the answer was, 'Yes, absolutely.'"
Caveat, from Justin: Trump said that he'd go along with his Secretary of Defense and CIA Director's belief that the United States does not torture.
https://www.axios.com/newsletters/axios-am-f843d8e4-0ee9-4ccc-b50e-01e044204ecf.html?chunk=4#story4
​5. Trump on Peyton Manning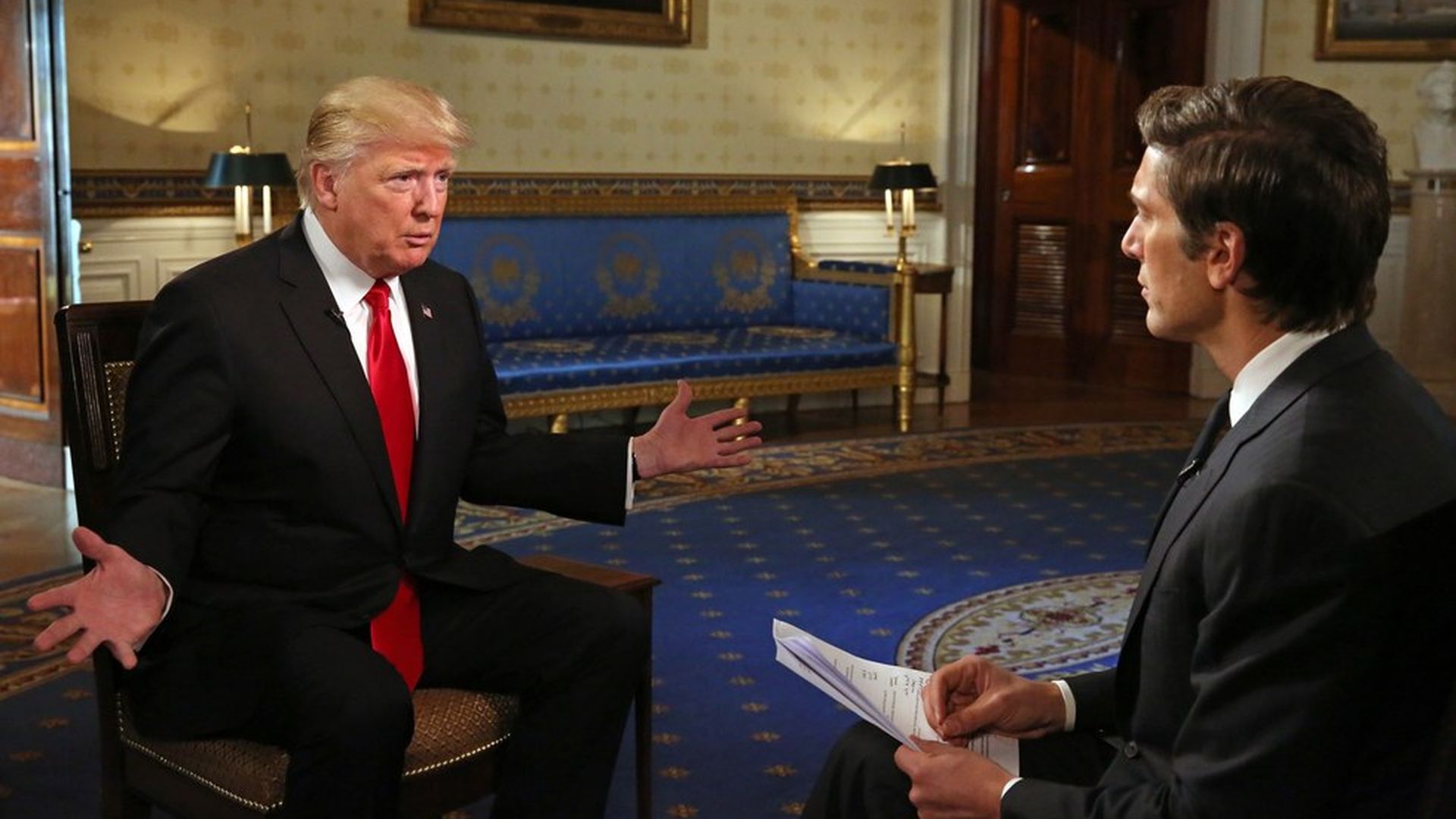 The president to ABC's David Muir yesterday, in his first network interview since the inauguration, on his self-indulgent remarks at the CIA on his first full day in office: "I got a standing ovation. In fact, they said it was the biggest standing ovation since Peyton Manning had won the Super Bowl and they said it was equal. I got a standing ovation. It lasted for a long period of time. … Take out your tape -- you probably ran it live. I know when I do good speeches. I know when I do bad speeches. That speech was a total home run. They loved it."
Sentence of the day … Peter Baker in an NYT front-page analysis, "An Itchy Twitter Finger in the Oval Office": "Rarely if ever has a president been as reactive to random inputs as Mr. Trump."
Maggie Haberman has a phoner with Trump on life in the White House, which he seems to be savoring: "[T]he president … called his press secretary a 'superstar.' … The kitchen has been stocked with the same types of snacks that Mr. Trump had on his private plane, including Lay's potato chips. …
"Trump is in the meantime pondering his first break away from the White House, a potential trip to Mar-a-Lago, his private club in Palm Beach, Fla., possibly the weekend of Feb. 3."
https://www.axios.com/newsletters/axios-am-f843d8e4-0ee9-4ccc-b50e-01e044204ecf.html?chunk=5#story5
​6. Tracking Trump heat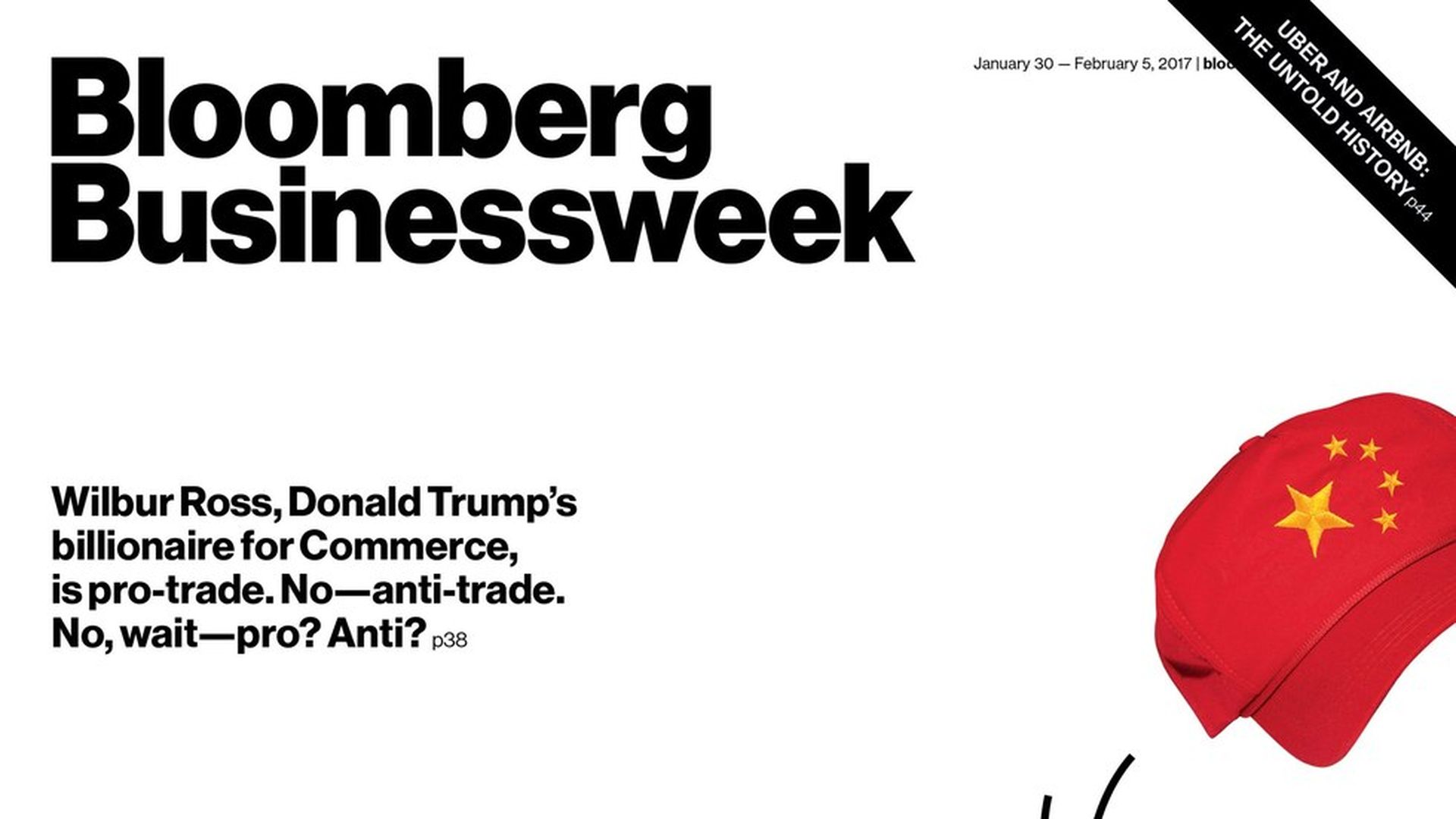 Because of his friendship with the president, one of the most powerful Cabinet secretaries will be Commerce's Wilbur Ross, a 79-year-old Wall Streeter who has been put in charge of trade negotiations and policy. Ross is on the cover of the forthcoming issue of Bloomberg Businessweek, in a profile by Max Abelson:
"Trump's proposed cabinet has a net worth of more than $6 billion. Ross is by far the richest, worth $2.9 billion … Ross is positioned to become the most powerful Commerce boss in years. … To the extent that the Trump administration is an experiment in government by—and possibly for—the ultrawealthy, Ross would be its public face."
https://www.axios.com/newsletters/axios-am-f843d8e4-0ee9-4ccc-b50e-01e044204ecf.html?chunk=6#story6
7. Tops in tech
Bloomberg's Brad Stone — author of the juicy Amazon book, "The Everything Store" — will be out Jan. 31 with "The Upstarts: How Uber, Airbnb, and the Killer Companies of the New Silicon Valley Are Changing the World." Bloomberg Businessweek this morning posts an excerpt: "Few companies have altered city life as deeply and as swiftly … Airbnb and Uber, their headquarters only a mile apart in San Francisco, are among the fastest- growing startups in history by sales, market value, and number of employees."
Sound smart: "Together they embody the third phase of internet history, the post-Google, post-Facebook era of innovation. They've attained these heights, and a combined worth of $99 billion." Amazon preorder: $21.33 ... Excerpt
Axios' Kim Hart has a handy "What to expect" guide to ways the Trump administration may regulate and try to influence the media: "There is a faction inside the White House, including chief strategist Steve Bannon, who do not have a romantic view of Silicon Valley and want to find ways to punish companies that create wealth, not jobs, or move too many jobs overseas." Check out her easy-to-scan, bulleted piece, "How Trump's media obsession could collide with regulation of it."
https://www.axios.com/newsletters/axios-am-f843d8e4-0ee9-4ccc-b50e-01e044204ecf.html?chunk=7#story7
​8. Trending in business
The paradox of Dow 20,000 … Greg Ip, one of the smartest thinkers in journalism, nails it in a Wall Street Journal front-pager: "Britain is leaving the European Union, a protectionist is in the White House, the front-runner in France's presidential election wants out of the euro. Yet paradoxically, investors have concluded the world is getting less risky, not more … It is hard to explain this with economic fundamentals … What has changed is how investors assess the balance between upside and downside risks."
Investors don't seem too spooled up about populist trends or rising threats to the euro and EU.
Instead, they are jazzed about pro-business cabinet and president; promises of lower taxes and more infrastructure spending and boost to banks, oil producers, and others.
Several stories have examined what it means for Trump to have so many Goldman Sachs alumni in top positions. The WashPost today looks through the other end of the telescope at what it mean for the bank:
"At Goldman Sachs, executives go from 'persona non grata' to White House insiders," by WashPost's Renae Merl: "After spending the presidential campaign as a punch line for progressive groups — and Trump — Goldman Sachs has found itself in a tricky position: How to take advantage of a new, less adversarial attitude towards Wall Street likely to bubble through Washington during Trump's presidency, while not becoming the focus of lingering populist anger at big banks."
"Already, protesters have spent several nights sleeping outside the Goldman's headquarters in New York, waving signs using the bank's dreaded nickname 'Government Sachs.' … Protesters, who have also descended on Goldman offices across the country, say they will return once a week during Trump's first 100 days in office."
https://www.axios.com/newsletters/axios-am-f843d8e4-0ee9-4ccc-b50e-01e044204ecf.html?chunk=8#story8
​9. Tops in media trends
Screen-time shocker: … Bloomberg gets cheeky: "Get off Facebook, Dad. No, really, you're spending, like, seven hours a week on there." Don't tell your kids but, middle-aged men spend more time than millennials on social media, according to Nielsen."
https://www.axios.com/newsletters/axios-am-f843d8e4-0ee9-4ccc-b50e-01e044204ecf.html?chunk=9#story9
​10. 2 fun things
Funny video, "A Bad Lip Reading of Donald Trump's Inauguration"
The Wall Street Journal's A-hed is "It's Not You: Hotel Thermostats Really Are Rigged": "The humble hotel wall thermostat … has become an infrared heat and motion detector wirelessly networked into building controls that cut costs by reducing energy consumption. … Sensors can be fooled by sound sleepers and erroneously shut off air in the middle of the night. Hotels are retrofitting wireless wall thermostats and door switches …The advantage is that they can be centrally controlled. Guests may still fiddle with old knobs, … but it won't get cooler or warmer."
I LOVE YOUR NOTES, rants, tips, leaks, links. Just reply to this email: It's my real/only e-dress, and no one else sees it.