https://www.axios.com/newsletters/axios-am-f338e7e3-d95d-488d-b10c-fc9eeb86b5e9.html?chunk=0#story0
1 big thing: The GOP's women problem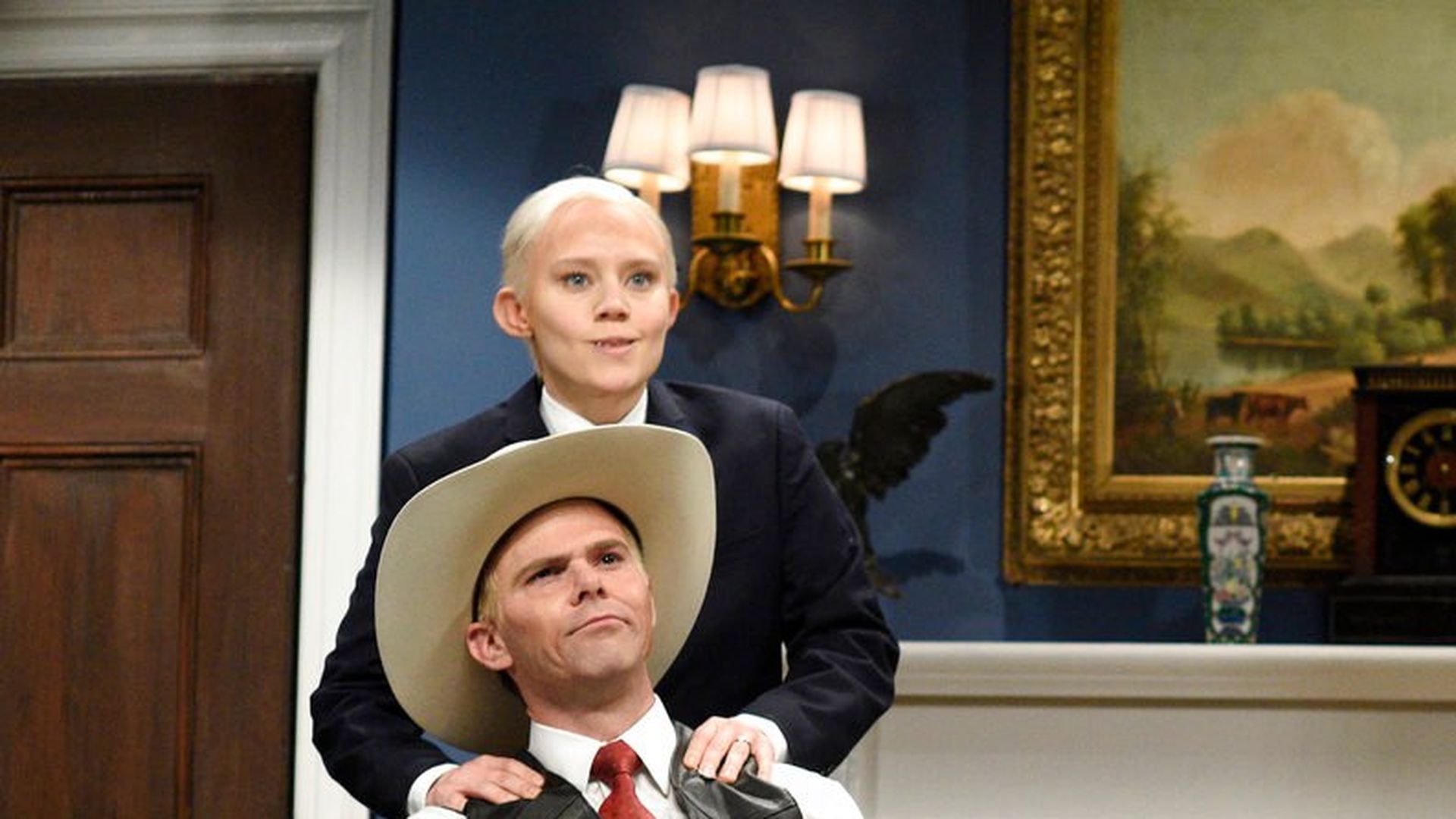 Women make up half the country and more than half of voters, and Republicans suddenly have an even worse problem than the historic gender gap between the parties:
In Alabama, Republican Senate candidate Roy Moore, 70, yesterday threatened a lawsuit against the WashPost for its story saying he made advances on teenage girls when he was in his 30s. It's another sign that he's going to try to stay in the race, worsening the predicament for baffled, furious GOP leaders who aren't sure if it's worse for the party if he wins or loses.
A Washington Post-ABC News poll released last week found 55% of Americans think Trump is biased against women.
Virginia exit polls found that Democrat Ralph Northam, landslide winner of the governor's race, carried female voters by 22 points — more than Hillary Clinton's 17-point advantage in the Old Dominion last year.
Democratic women, many of them women of color, won big across the map last Tuesday.
The Boston Globe: "After a year of indignities, from the stinging defeat of the nation's first female major-party presidential nominee to devastating revelations of sexual harassment by men in power, women this week made dramatic strides in municipal elections across the country," from New Hampshire to Massachusetts to Charlotte to Seattle.
In Virginia, Democrat Danica Roem became the nation's first openly transgender person to be elected to a state legislature. She plans to work to require insurance companies to cover the costs of hormone surgery.
The big problem: Trump won narrowly, and his unprecedented coalition included many suburban and exurban women who couldn't stomach Hillary Clinton. If those voters were to tip dramatically to Democrats in 2020, Republicans would suddenly have a massive math problem.
Be smart: Women are better voters. In every presidential election since 1980, more women voted than men. Trump proved a Republican can win by running up the score with dudes. But alienating women is a big, growing problem for Trump-era Rs.
Go deeper: "Gender gap worsens in the U.S. & globally," by Axios' Stef Kight.
https://www.axios.com/newsletters/axios-am-f338e7e3-d95d-488d-b10c-fc9eeb86b5e9.html?chunk=1#story1
2. Worse than Snowden: "World in Danger"
"Deep Security Breach Cripples N.S.A.," says the stark headline atop today's N.Y. Times front page. "Mysterious Group Steals Powerful Hacking Weapons, Putting World in Danger ... A serial leak of the agency's cyberweapons has damaged morale, slowed intelligence operations and resulted in hacking attacks on businesses and civilians worldwide."
I can't remember a newspaper sounding an alarm at quite that decibel before. The article by Scott Shane, Nicole Perlroth and David E. Sanger explores the unsolved massive theft and leak, perhaps by Russia, from the National Security Agency, America's secret international electronic spying authority.
The hackers, calling themselves the Shadow Brokers, are a "mysterious group that ... somehow obtained many of the hacking tools the United States used to spy on other countries":
"[T]here is broad agreement that the damage from the Shadow Brokers already far exceeds the harm to American intelligence done by Edward J. Snowden, the former N.S.A. contractor who fled with four laptops of classified material in 2013."
A brilliant distillation: "Snowden released code words, while the Shadow Brokers have released the actual code."
Why it matters: "[T]he flood of digital secrets ... is raising profound questions. Have hackers and leakers made secrecy obsolete? Has Russian intelligence simply outplayed the United States, penetrating the most closely guarded corners of its government?"
P.S. Wall Street Journal front page: "Surveillance Cameras Made by China Are Hanging All Over the U.S. ... Company 42%-owned by the Chinese government [Hangzhou Hikvision Digital Technology] sold devices that monitor U.S. Army base, Memphis streets, sparking concerns about cybersecurity." (Subscription)
https://www.axios.com/newsletters/axios-am-f338e7e3-d95d-488d-b10c-fc9eeb86b5e9.html?chunk=2#story2
3. Trump embraces Duterte as Asia trip winds down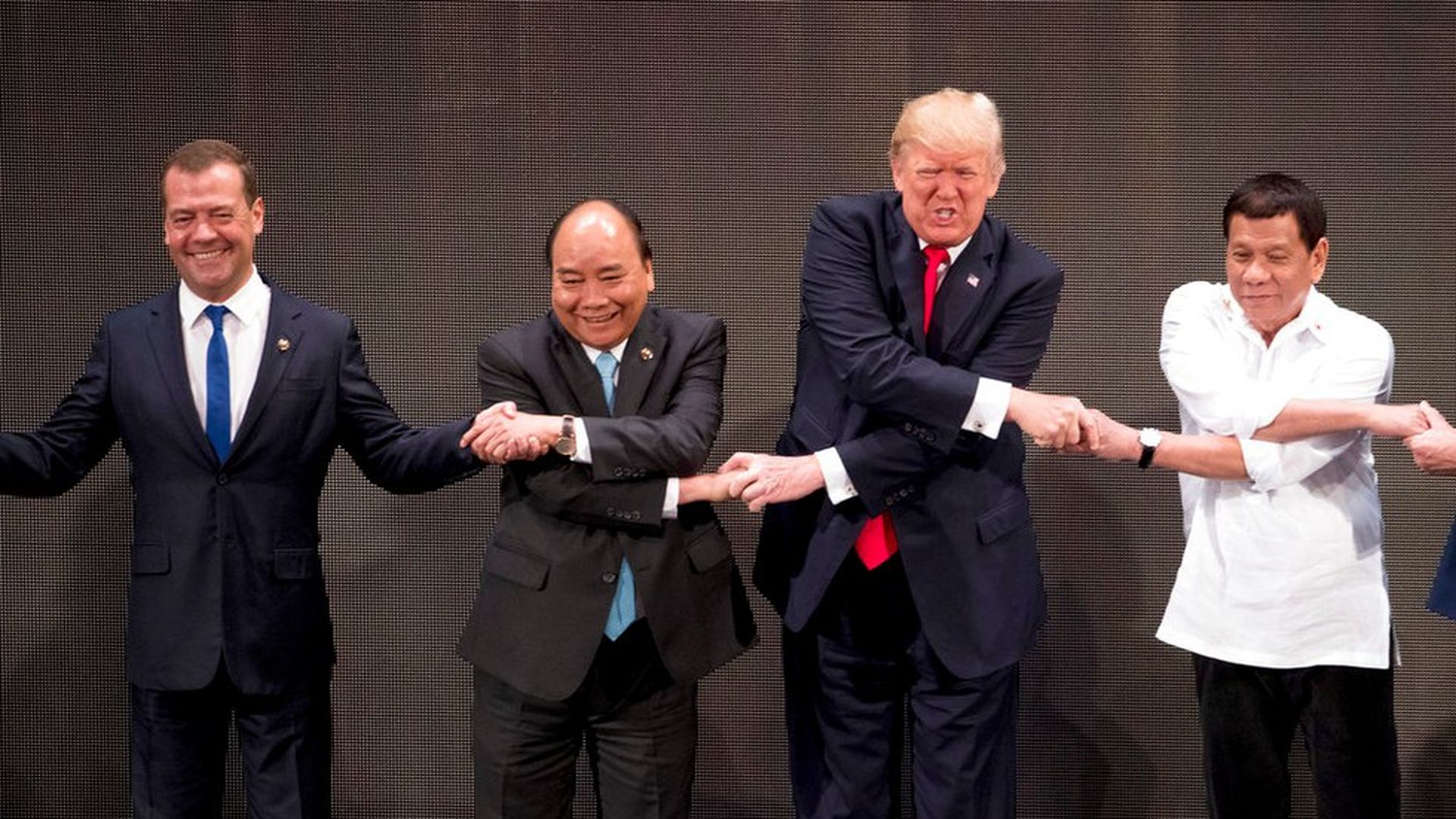 "Trump repeatedly praised Philippine President Rodrigo Duterte, pointedly calling him by his first name, sharing a joke about the media," AP reports from Manila, the Phillippines:
"What he did not do was what many predecessors have done before: highlight human rights abuses while overseas."
"Duterte has overseen a bloody drug war that has featured extrajudicial killings."
Trump is showing he "can be played" by Vladimir Putin when he doesn't acknowledge Russian interference in the election, John Brennan, CIA director under Obama, told Jake Tapper on CNN's "State of the Union." (Bloomberg)
Brennan: "It demonstrates to Mr. Putin that Donald Trump can be played by foreign leaders who are going to appeal to his ego and to try to play upon his insecurities, which is very, very worrisome from a national-security standpoint."
James Clapper, director of national intelligence under Obama, said he thinks "both the Chinese and the Russians think they can play" Trump with flattery.
https://www.axios.com/newsletters/axios-am-f338e7e3-d95d-488d-b10c-fc9eeb86b5e9.html?chunk=3#story3
Bonus: Pic du jour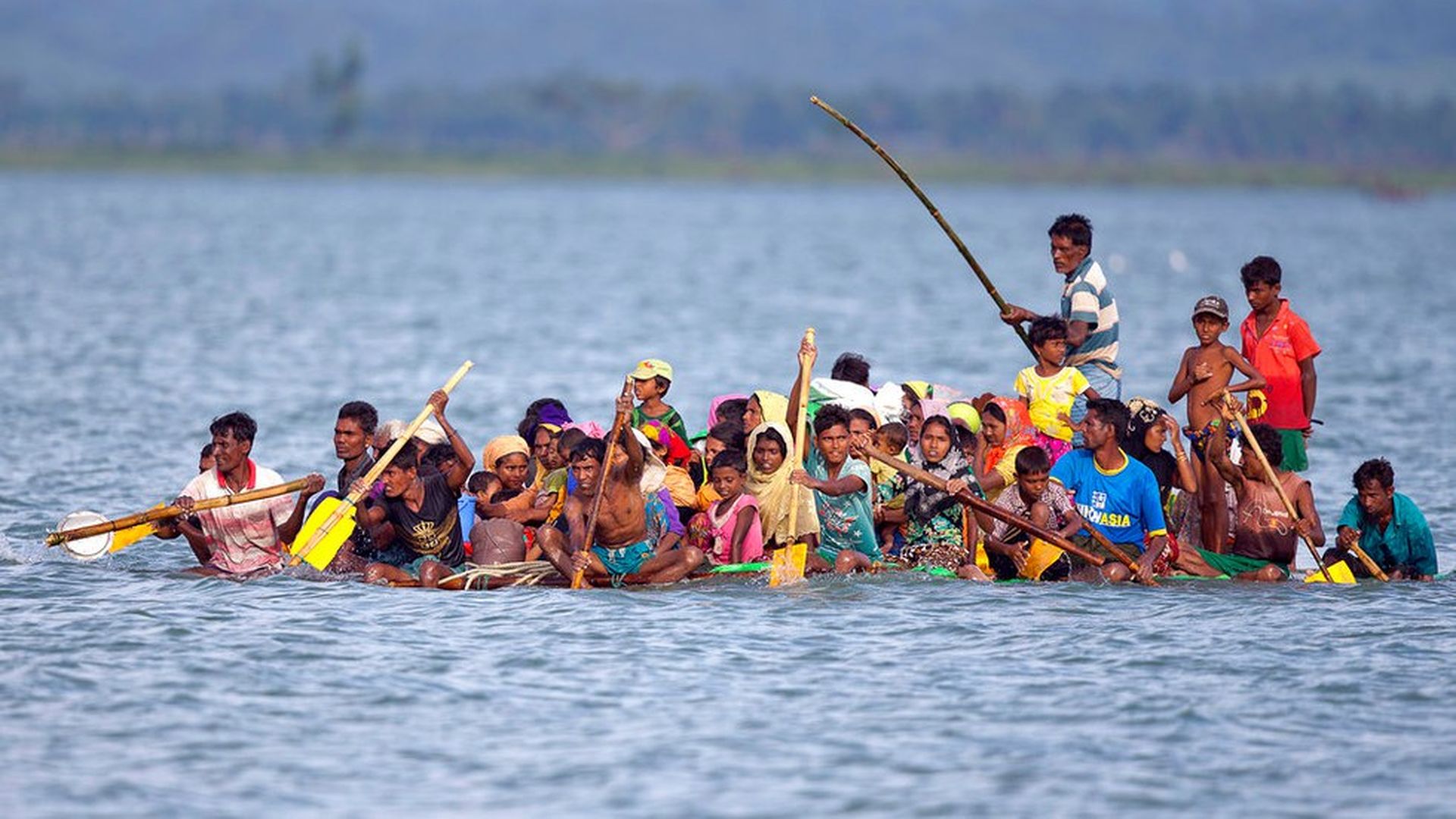 This raft is made of plastic containers. Rohingya Muslims crossed the Naf river from Myanmar into Bangladesh yesterday.
This is a common form of escape. Some of the "rafts" are even longer and more weighted down, but I chose this picture because it shows the people closer up.
https://www.axios.com/newsletters/axios-am-f338e7e3-d95d-488d-b10c-fc9eeb86b5e9.html?chunk=4#story4
4. How guns move across state lines
Working on behalf of local and state law enforcement, the feds last year traced more than 211,000 guns back to their original point of purchase.
This interactive map by Axios' Chris Canipe shows the pattern of how guns move.
States with stricter gun laws tend to have more traces originating in neighboring state.
For instance, Illinois requires background checks for private sales and a 72-hour waiting periods for handgun purchases. Neighboring Indiana doesn't 30% of out-of-state guns in Illinois originated from Indiana.
https://www.axios.com/newsletters/axios-am-f338e7e3-d95d-488d-b10c-fc9eeb86b5e9.html?chunk=5#story5
5. Tech women find "a path that produces results"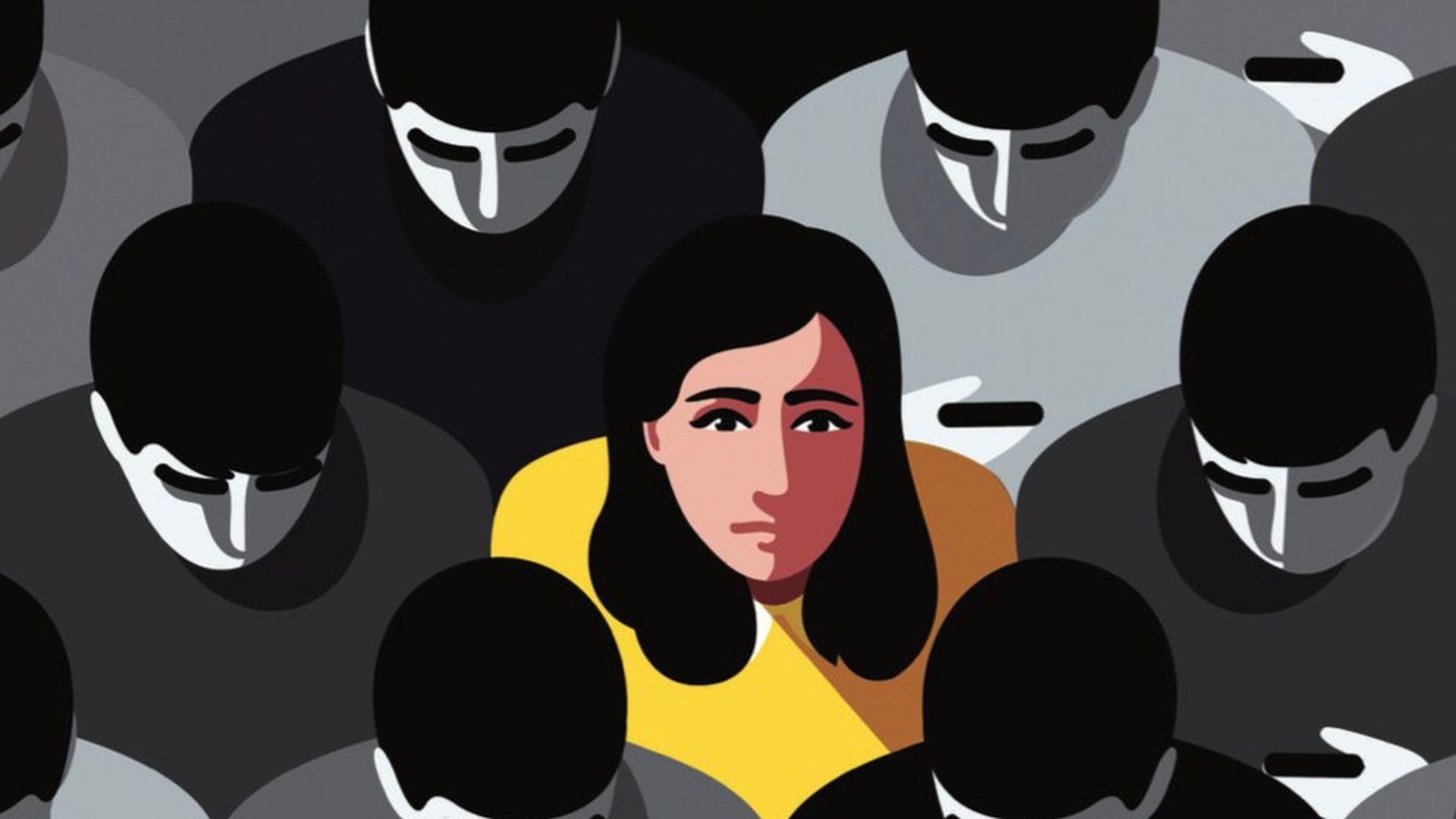 "The Tech Industry's Gender-Discrimination Problem: The dramatic imbalance in pay and power has created the conditions for abuse. More and more, women are pushing for change," by The New Yorker's Sheelah Kolhatkar (The Tech Issue):
"Almost half the women who go into technology eventually leave the field, more than double the percentage of men."
"This inhospitable climate is partly a result of tech's hugely imbalanced gender ratio. Studies estimate that women make up only a quarter of employees and eleven per cent of executives in the industry."
"There have, of course, been other male-dominated fields notorious for similar behavior, including Wall Street and Madison Avenue. But part of what differentiates tech is the industry's self-regard, as a realm of visionary futurists and tireless innovators who are making the world better."
"[A]fter years of attempting to resolve harassment and discrimination complaints through ineffectual human-resources departments, or through lawsuits kept quiet by powerful attorneys, women have found a path that produces results: gathering an unimpeachable number of witnesses and going public."
The key sentence: "According to women I spoke with in Silicon Valley, more allegations have yet to emerge."
https://www.axios.com/newsletters/axios-am-f338e7e3-d95d-488d-b10c-fc9eeb86b5e9.html?chunk=6#story6
6. First look: Frank Rich on "After Trump"
In the new issue of New York magazine, Frank Rich cautions liberals about getting too ecstatic over last week's election. As we've been telling you, this is Trump's GOP ...
"The idea that the pre-Trump GOP will make a post-Trump comeback to vanquish these forces is laughable."
"Old-line Establishment Republicans in the Senate and the House, even very conservative ones like [Arizona's Sen. Jeff] Flake, are engaging in self-deportation, as Mitt Romney might say, rather than face a firing squad in the primaries."
"The remains of Establishment Republicanism are at best a Potemkin village."
"By illuminating a pathway to power that no one had thought possible, and demolishing the civic guardrails that we assumed protected us, ... Trump has paved the way for far slicker opportunists."
https://www.axios.com/newsletters/axios-am-f338e7e3-d95d-488d-b10c-fc9eeb86b5e9.html?chunk=7#story7
7. Axios reports from Bonn
Axios' Amy Harder reports from international climate talks in Bonn, Germany, on "Trump's conflicting climate agenda":
"Trump's team here has a point: Most studies show that without nuclear power and technology making fossil fuels much cleaner, it's nearly impossible to cut greenhouse gas emissions to levels scientists say we must at reasonable costs. But the administration's broader posturing on the issue is not conducive to any coherent strategy."
"Top White House adviser George David Banks is bringing together several experts, including executives at coal and nuclear companies and a former energy adviser under President Barack Obama now at a natural-gas company, to talk to the conference about how more efficient fossil fuels and nuclear power can help fight climate change."
https://www.axios.com/newsletters/axios-am-f338e7e3-d95d-488d-b10c-fc9eeb86b5e9.html?chunk=8#story8
8. Leisure read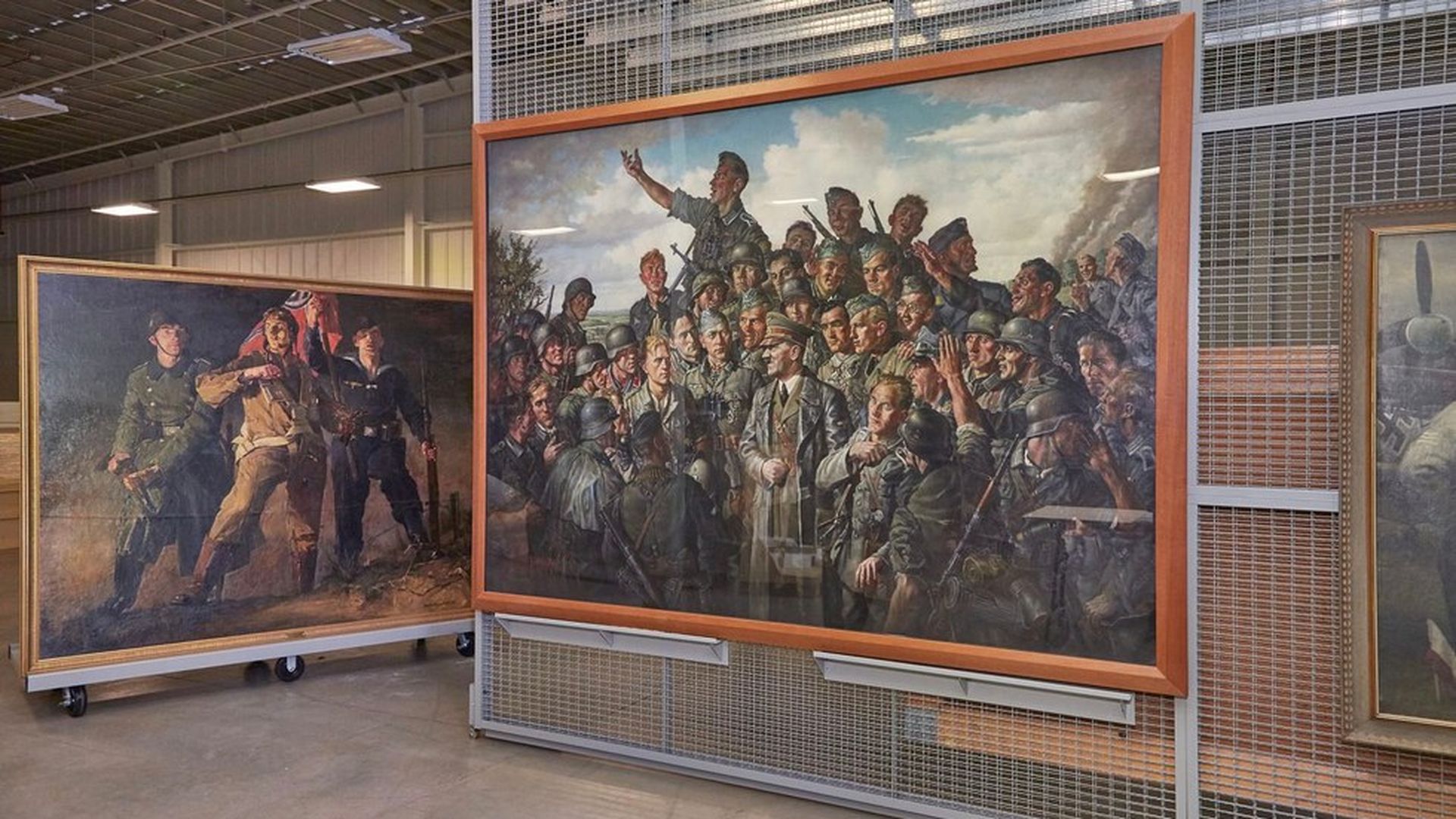 "How a Trove of Nazi Art Wound Up Under Lock and Key on an Army Base [Fort Belvoir] in Virginia: The 70-year odyssey of a collection that few want and even fewer get to see," by Washingtonian's Andrew Beaujon:
At the end of World War II, Allied soldiers seized it from the Eagle's Nest, the Führer's Austrian mountaintop redoubt. It was more than a simple piece of war booty. Seventy-two years after V-E Day, the Army still owns the statue as well as hundreds of other pieces of German propaganda and wartime art ... The collection includes four watercolor paintings by Hitler himself. They're under lock and key in a flat file inside a vault.
https://www.axios.com/newsletters/axios-am-f338e7e3-d95d-488d-b10c-fc9eeb86b5e9.html?chunk=9#story9
9. The talk of media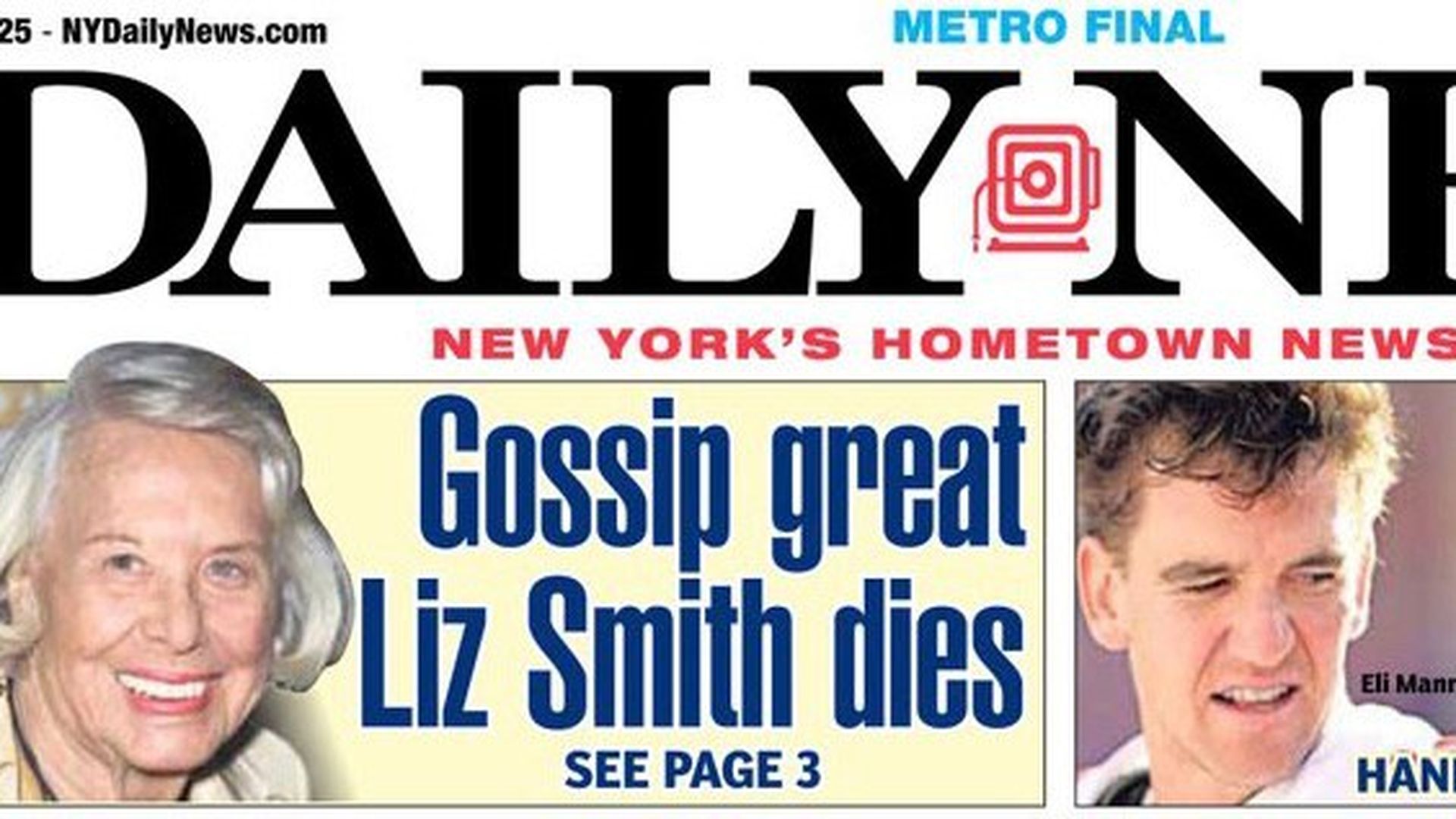 "Grand dame of dish" ... Liz Smith — occasional lunch companion of President Trump, one of her most valuable sources — "won her own A-list status with her witty chronicling of the glitterati," the N.Y. Post reports. She died of natural causes yesterday at 94.
"Smith wrote a column that celebrated her famous friends, from Tom Hanks to Liza Minnelli to Madonna, and was read around the world for more than a quarter-century."
"The column ... reportedly earned her more than $1 million a year."
"Her scoops included Donald Trump's 1990 split from first wife, Ivana."
ESPN launches SportsCenter on Snapchat, per Axios' Sara Fischer:
"ESPN is replacing its Publisher Story on Snapchat, which used to feature more magazine-like content, with a fast-paced SportsCenter show on Snapchat's featured content platform, Discover."
"The show launches today at 5 p.m. and will feature a new slate of anchors and content catering to a younger, mobile audience."
Why it matters: "Snapchat''s high millennial reach gives ESPN a unique opportunity to reimagine its flagship show for the next generation of sports fans, and gives Snapchat its first foray into daily live sports programming on Discover."
https://www.axios.com/newsletters/axios-am-f338e7e3-d95d-488d-b10c-fc9eeb86b5e9.html?chunk=10#story10
10. 1 fad thing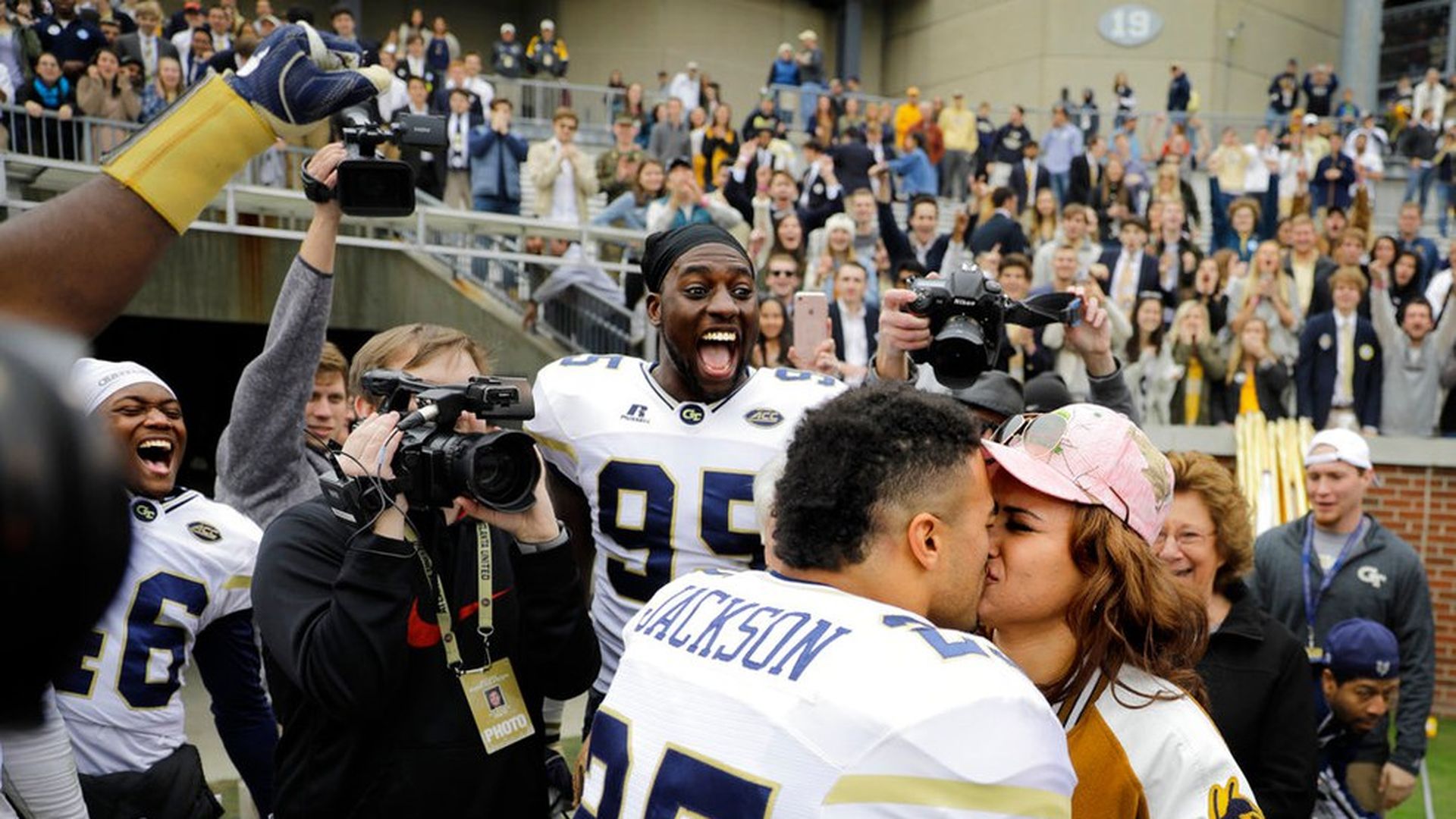 Several college football players popped the question on-field Saturday, AP Sports Writer Anne Peterson reports:
Houston shortstop "Carlos Correa ... proposed to girlfriend Daniella Rodriguez on the field after the Astros won the World Series. ... [A] few college football players followed his lead."
"In the midst of the on-field celebration following Georgia Tech's 28-22 upset win over No. 17 Virginia Tech, Yellow Jackets linebacker Tre' Jackson proposed to girlfriend Desi Nathe. His teammates chanted 'Yes! Yes! Yes!' as he slipped the ring on."
"Jackson asked coach Paul Johnson a couple of weeks ago if he could propose on the field — assuming the Yellow Jackets pulled out the victory."
"In Boulder, Colorado's Trent Headley didn't wait until after the Buffaloes' game against USC to ask cheerleader Lizzie Trujillo to marry him. She said yes to the linebacker after he veered away from Senior Day player introductions and dropped to one knee."
"South Carolina State linebacker Darius Leonard also celebrated Senior Day by proposing to girlfriend Kayla Michelle Sanderson after the Bulldogs' 33-15 win over Hampton."
"[A]t Penn State, former offensive lineman Chance Sorrell proposed to his girlfriend Kayla Lonergan following the Nittany Lions' 35-6 victory over Rutgers. Even the public address system was involved, playing 'My Girl.''