Axios AM
September 29, 2017
Hap-PY Friday. Retiring Sen. Bob Corker, Republican of Tennessee and member of the Senate Budget Committee, questioning the deficit effects of the party's proposed tax cuts: "I think the greatest threat to our nation is us. The way we handle our finances, we as a nation are the greatest threat to our nation. It's not ISIS. It's not North Korea. It's not ascendant China. It's not Russia. We are the greatest threat." (N.Y. Times)
Situational awareness: "Private equity transactions have hit a post-financial crisis high this year as cheap debt and record sums of ready cash lifted the value of deals to $212bn," per the Financial Times (subscription).
1 big thing: How a leader sounds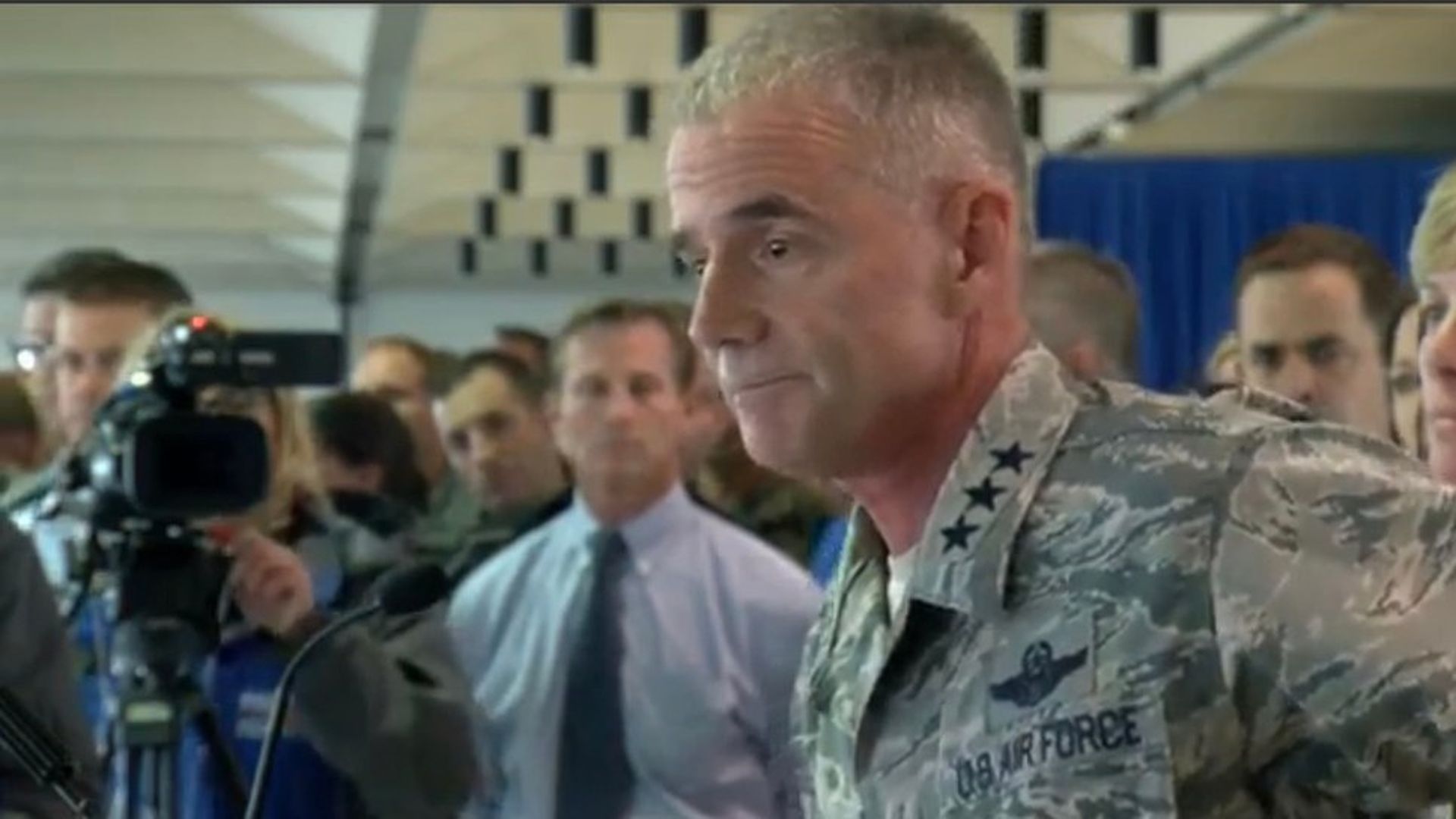 If you're starting to forget what a leader sounds like, we have a refreshing reminder to start your Friday:
Lt. Gen. Jay Silveria, superintendent of the Air Force Academy, yesterday "stood all of his 4,000 cadets at attention ... [c]hins in and chests out ... to deliver a message on racial slurs found written on message boards at the academy's preparatory school," The (Colorado Springs) Gazette reports.
At the culmination of his five-minute lecture on "the power of diversity" of race and gender, the general barked: "Reach for your phones. I'm serious: Reach for your phones. ... Grab your phones. I want you to videotape this — so that you have it, so that you can use it, so that we all have the moral courage together."
Then he said: "If you can't treat someone with dignity and respect, then get out." The general turned and left.
The academy says in a release that "five black students woke up Tuesday to find 'Go Home' followed by an epithet scrawled on message boards outside their rooms."
More from Silveria, an '85 graduate of the academy: "If you're outraged by those words, then you're in the right place ... We would ... be tone deaf not to think about the backdrop of what's going on in our country — things like Charlottesville and Ferguson, the protests in the NFL."
" [W]hat we should have is a civil discourse and talk about these issues. That's a better idea."
Why it matters: This is very much of a piece with the camera-phone video we brought you last month, in which Defense Secretary Jim Mattis tells troops aboard, in impromptu remarks: "Hold the line until our country gets back to understanding and respecting each other."
Be smart: If you have the privilege of leading, you know what to do.
2. Hill wants open hearings with Facebook, Twitter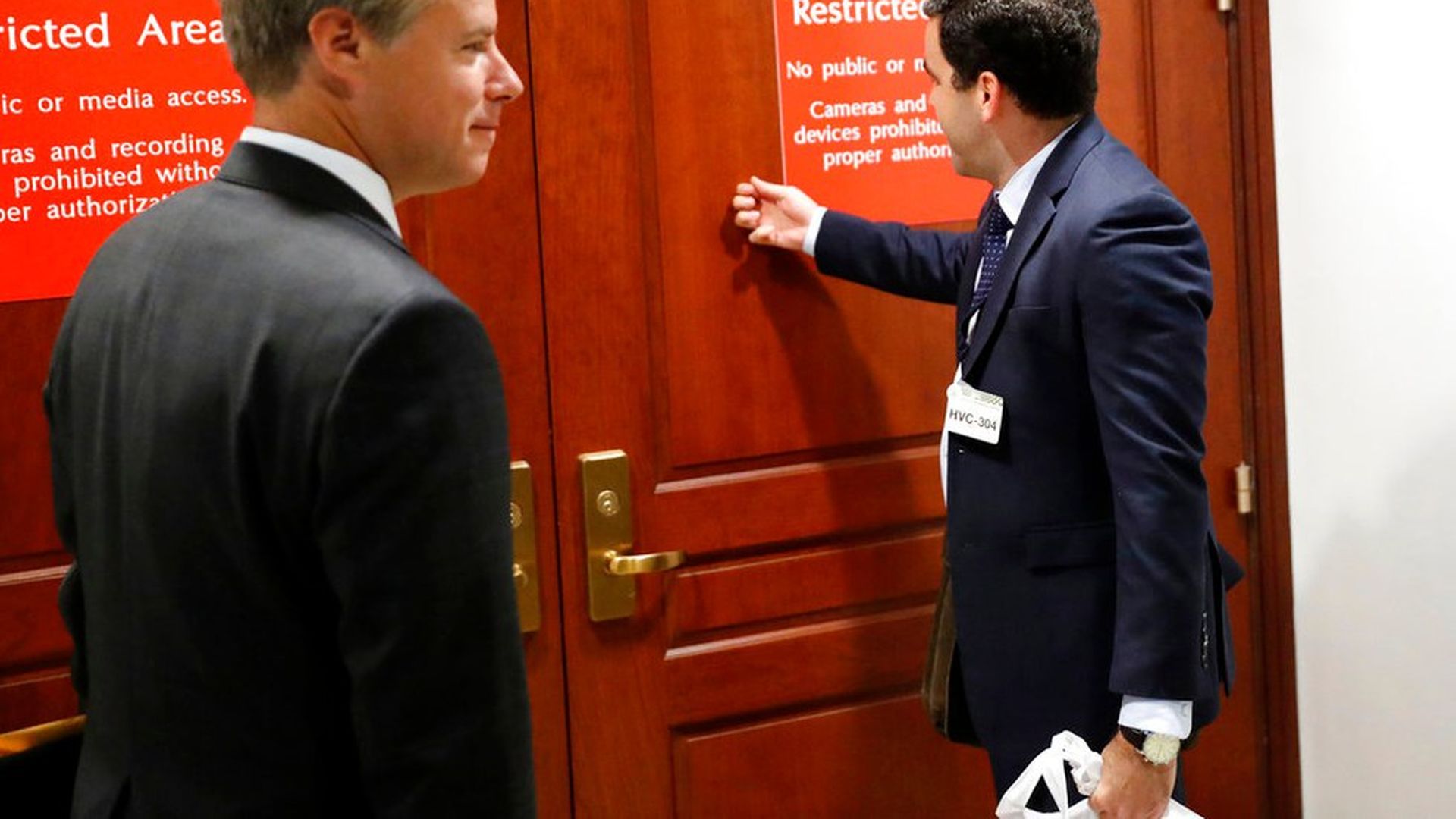 After Twitter executives briefed staffers of the House and Senate intelligence committees yesterday, Sen. Mark Warner of Virginia, the Senate committee's top Democrat, laid into the social network for a briefing he called "frankly inadequate on almost every level."
Warner said the company's answers "showed an enormous lack of understanding from the Twitter team of how serious this issue this, the threat it poses to democratic institutions."
Why it matters, from Axios' David McCabe and Kim Hart: Twitter and Facebook are finding themselves out of their depth.
What's next: Lawmakers like the usually even-keeled Warner will keep hammering this issue for months to come. This is an active probe into foreign espionage — not a wonky regulatory issue that can be swept aside by savvy lobbyists.
Tweet du jour, from CNN's Dylan Byers: "I cannot stress how little Facebook, Twitter have disclosed re Russian-linked accounts, ads vs. what's likely out there. Tip of the tip."
Be smart: Hill sources tell me the intelligence committees are going to insist on opening hearings, probably later this fall, with Facebook and Twitter executives.
3. Mainland cities expect Puerto Rican arrivals
"Mainland US cities with large Puerto Rican populations are warning that they will need federal help to cope with an anticipated influx of [fleeing] island residents," per the Financial Times (subscription):
"The bulk of the Puerto Rican population lives off the island, an estimated 5m people. Officials are waiting to see how many of the remaining 3.4m in Puerto Rico will leave and where they will go."
"The hope is that many people leaving the island will be able to find shelter with friends and relatives in places such as New York City and Florida, which are both believed to boast Puerto Rican populations of 1m or more."
Food, medicine stuck at port ... Wall Street Journal front page: "More than a week after Hurricane Maria devastated Puerto Rico, truckloads of vital supplies are moving at a crawl, as widespread damage stymies efforts of companies, government agencies and relief groups to restore basic services." (Subscription)
"Wal-Mart ... flew in satellite phones to communicate with its store managers."
"Crowley Maritime Corp., ... a major operator of cargo ships to Puerto Rico, had 4,100 containers with both relief supplies and commercial cargo waiting at San Juan's port."
Bonus: The ex-presidents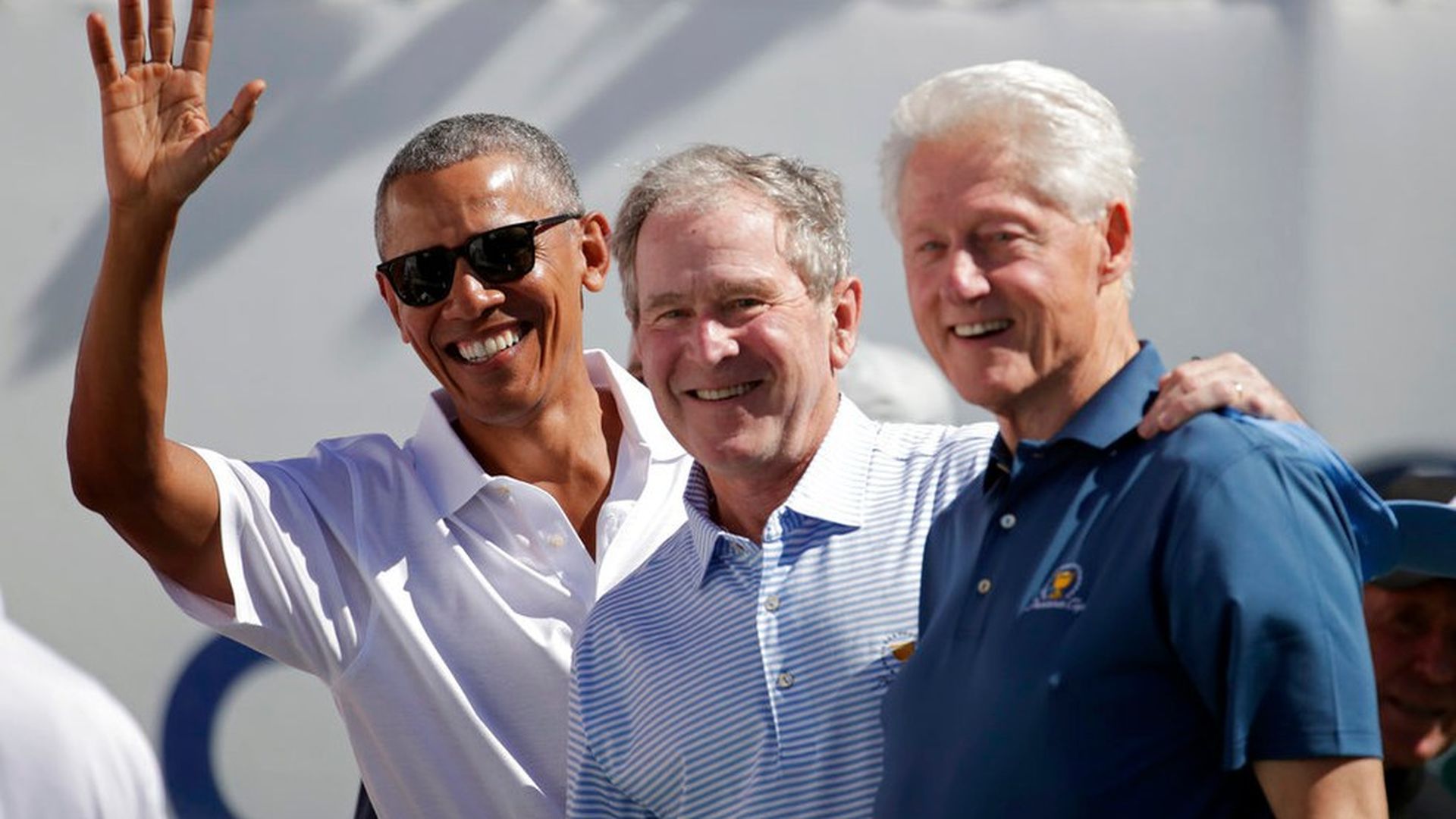 Former U.S. Presidents Barack Obama, George W. Bush and Bill Clinton greet spectators yesterday on the first tee, before the first round of the Presidents Cup at Liberty National Golf Club in Jersey City, N.J.
4. Data du jour
"Despite President Trump's push for tougher immigration enforcement, U.S. agents are on pace to deport fewer people in the government's 2017 fiscal year than during the same period last year," per the WashPost's Nick Miroff in the print paper's lead story, "Fewer deported under Trump":
"[T]he most recent figures from Immigration and Customs Enforcement (ICE) indicate the government may be having a hard time finding enough eligible 'bad hombres.'"
"As of Sept. 9, three weeks before the end of the 2017 fiscal year, ICE had deported 211,068 immigrants ... ICE removed 240,255 people during the government's 2016 fiscal year."
"The lower totals are not for lack of effort. According to ICE, its agents have made 43 percent more arrests since Trump took office versus the same period last year."
5. Day 253: What Trump has done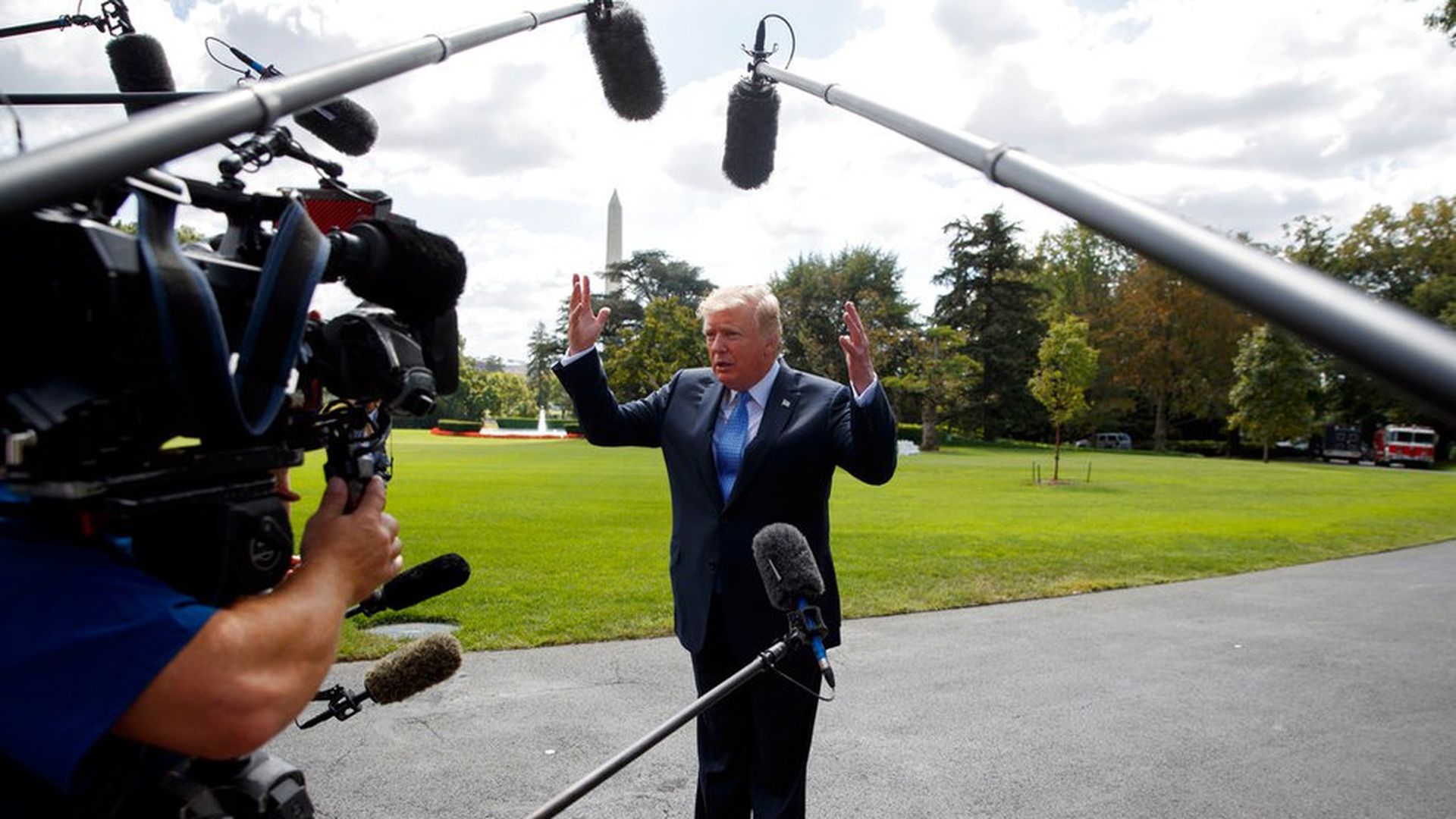 Pulling back the camera ... "Even without delivering on his biggest campaign promises, President Donald Trump has begun to reshape American life in ways big and small," Reuters political correspondent John Whitesides writes in "Beyond the daily drama and Twitter battles, Trump begins to alter American life":
"[O]il is flowing through the Dakota Access Pipeline. Arrests of immigrants living illegally in the United States are up. More federal lands are open for coal mining."
"Those kinds of low-profile policy shifts are far from the dramatic change promised by the headline-loving Trump, who won the White House with a vow to fundamentally reshape Washington."
"He has rolled back hundreds of rules and regulations, signed 47 executive orders and used a previously obscure legislative tool, the Congressional Review Act, 14 times to undo regulations passed in the final months of Obama's presidency. The law had only been used once before, 16 years ago."
"The Trump administration has withdrawn or delayed more than 800 Obama-era regulatory actions."
6. NFL: Message being lost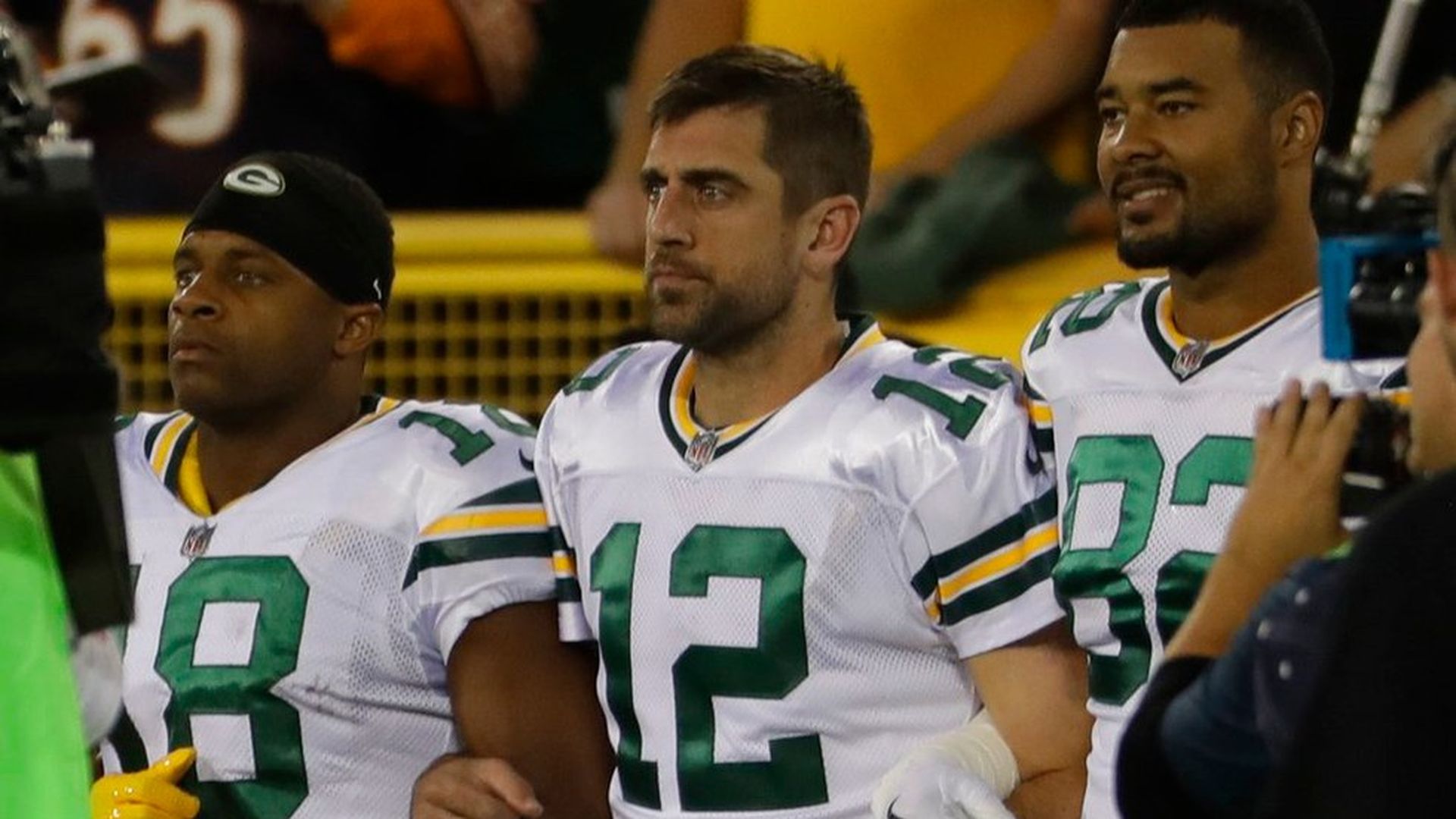 "The [NFL players'] issues have been 'overtaken by political forces,' NFL spokesman Joe Lockhart said," per AP Pro Football Writer Barry Wilner:
"More than 200 players either knelt or used other means as expressions of unity last weekend. Lockhart said such actions are not a protest against the anthem or the flag. ... The players knelt ... in response to social injustice."
"Lockhart insisted there will be no 'leaguewide directive' for future demonstrations."
At Lambeau Field in Green Bay, Wis., last night, "Packers and Chicago Bears players, coaches and other staffers locked arms on the sidelines during the national anthem ... Many fans ... chanted 'USA! USA!' while a large American flag was unfurled at midfield before the anthem."
"Packers players released a statement this week saying they would intertwine arms before the game as a show of unity. They asked fans to join in the stands and at home, though it didn't appear that many fans locked arms. Many people in the crowd held up small flags during and after the anthem."
P.S. "Golden State Warriors star Stephen Curry says Colin Kaepernick's omission from a Sports Illustrated cover featuring sports figures linking arms in protest solidarity is 'terrible.' ... SI executive editor Steve Cannella [said the cover] attempted to capture 'new voices' in the debate." See the cover.
7. Scalise: "I'm back"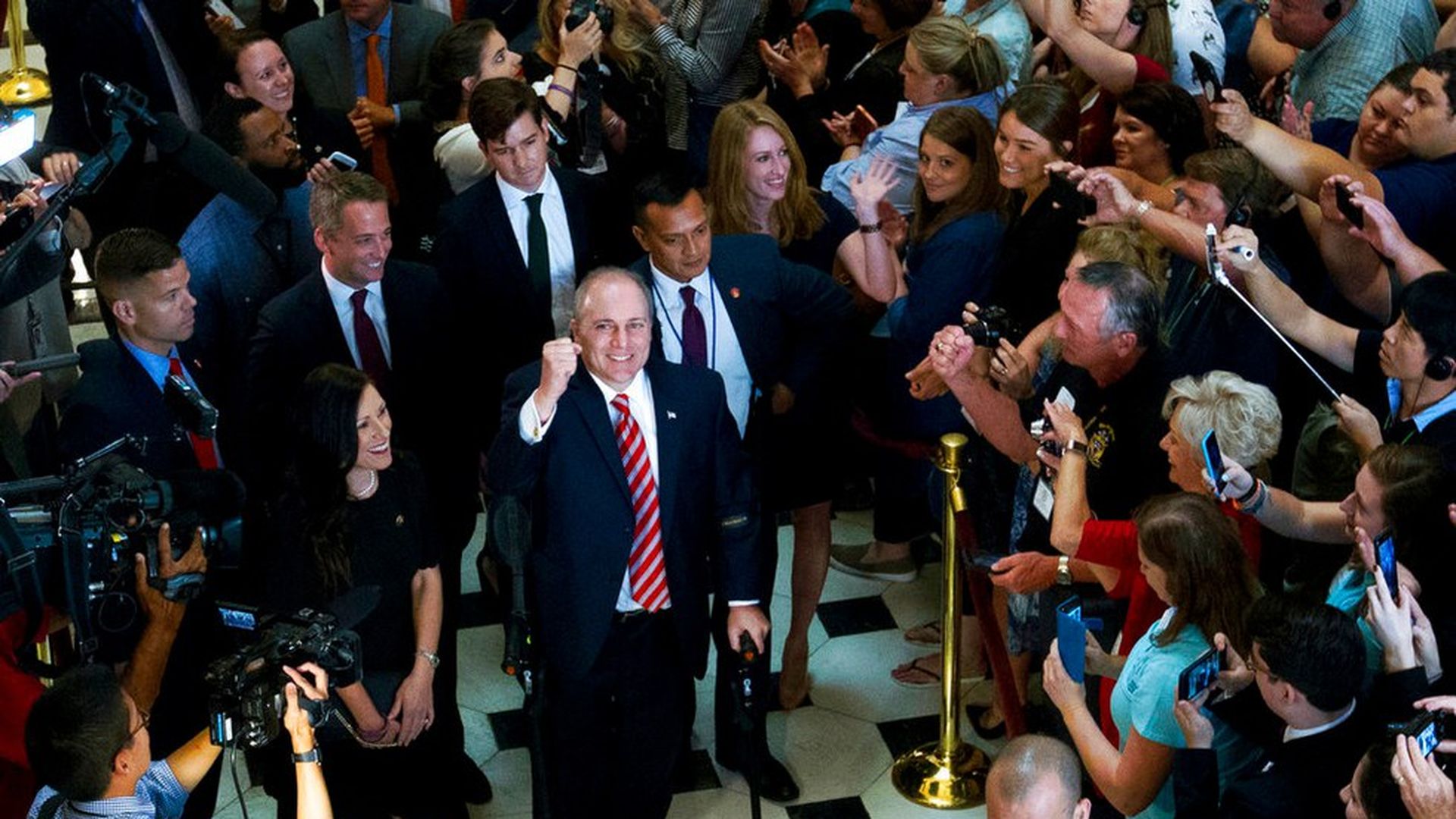 House Republican Whip Steve Scalise (R-La.), returning to the Capitol for the first time since he was shot 15 weeks ago at a congressional baseball practice, was greeted by a thunderous ovation.
"I am definitely a living example that miracles really do happen." See the video.
CNN: "He is planning to resume his job at the Capitol while continuing out-patient rehabilitation ... A source close to Scalise [said] he is now well enough to travel home to Louisiana."
8. Running Europe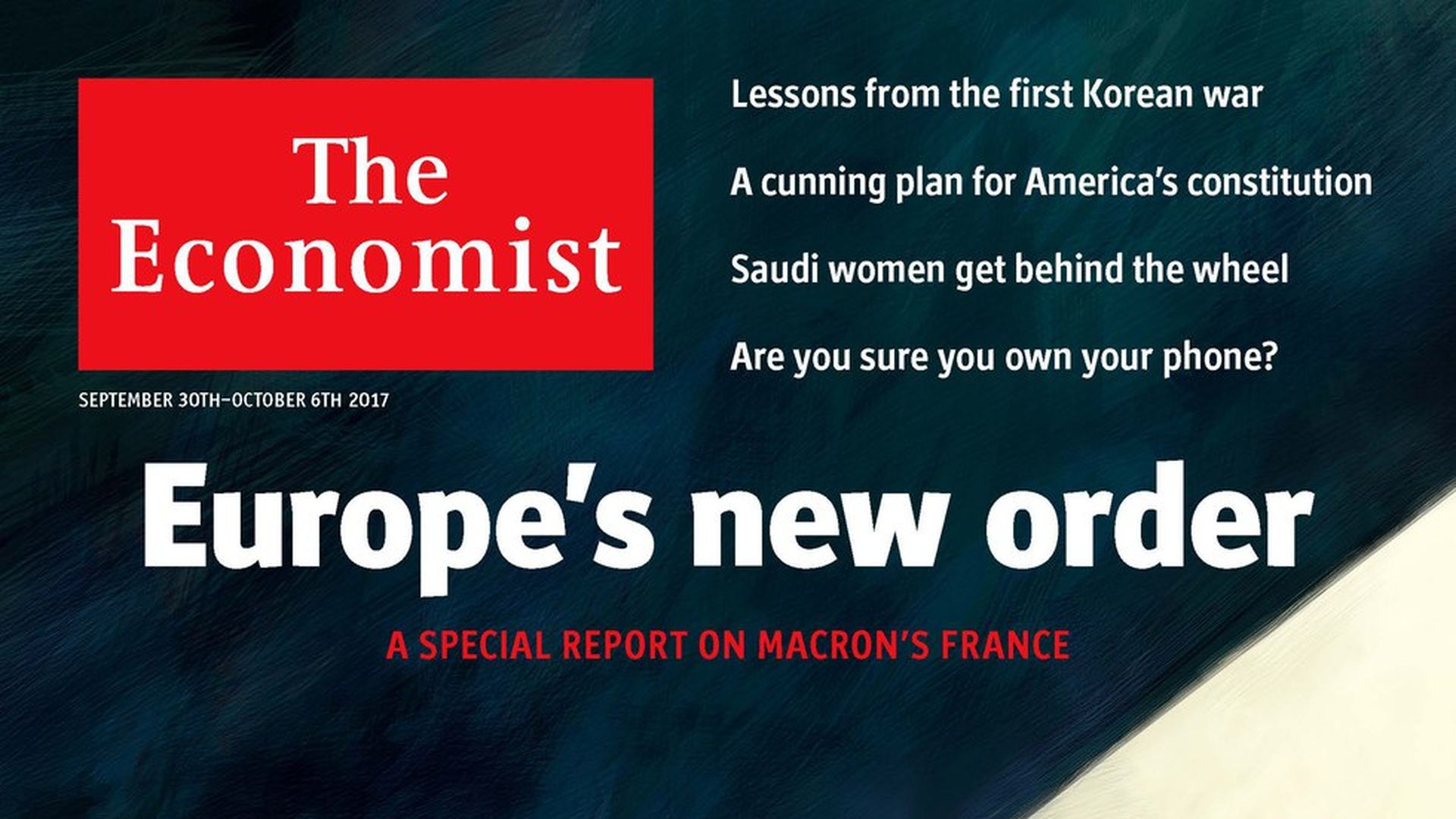 What's new: "The spotlight shifts from Germany to France: A dynamic Emmanuel Macron and a diminished Angela Merkel point to a new order in Europe," per The Economist's lead editorial:
"Who leads Europe? At the start of this year, the answer was obvious. Angela Merkel was trundling unstoppably towards a fourth election win, while Britain was out, Italy down and stagnating France gripped by the fear that Marine Le Pen might become the Gallic Donald Trump."
"This week, it all looks very different. Mrs Merkel won her election on September 24th, but with such a reduced tally of votes and seats that she is a diminished figure ... Some 6m voters backed a xenophobic right-wing party, many of them in protest at Mrs Merkel's refugee policies."
"Yet west of the Rhine, with a parliament dominated by his own new-minted and devoted party, France's President Emmanuel Macron is bursting with ambition."
Why it matters: "[A] leader is emerging who seems to be at once brave, disciplined and thoughtful. Brave, because labour reforms, as Germany and Spain know, take time to translate into job creation, and usually hand political rewards to the successors of those who do the thankless work of getting them through."
9. Hollywood salaries
"There's tons of money to be made in Hollywood — just not necessarily by boom operators or key grips," The Hollywood Reporter writes in its "Salary Report 2017":
Movie star: "Even in these belt-tightening times, it's still possible for film stars to get paid like it's 1999. A-listers hover around $20 million a picture — like Jennifer Lawrence for Red Sparrow, Will Smith for Netflix's Bright and Dwayne Johnson for Jumanji: Welcome to the Jungle — and can take home tens of millions more in backend" (cut of box office).
Director: "Ridley Scott received $10 million to $12 million up front for Alien: Covenant."
TV host: "Ryan Seacrest ... is getting ... $12 million for his return as host of American Idol ... Alec Baldwin is earning $3 million for ABC's Match Game ... Jamie Foxx is getting $4 million for Fox's Beat Shazam. ... Travel Channel's non-famous hosts make about $40,000 per episode."
Studio chief: "[A]verage base salary at the chairman level — think Disney's Alan Horn or Fox's Stacey Snider — is $5 million. Total annual compensation ... can amount to $15 million to $20 million when factoring in stock grants and bonuses. ... The major perks[:] ... access to a private jet and a posh home theater."
TV star: "[T]he Game of Thrones cast each make about $500,000 an episode ... Netflix's highest-paid star, Kevin Spacey, also earns $500,000 an episode for House of Cards."
Digital talent: "[S]tars who own merch businesses, like Logan Paul and Jeffree Star, can make as much as $15 million."
10. 1 fun thing: "Hillary has great timing"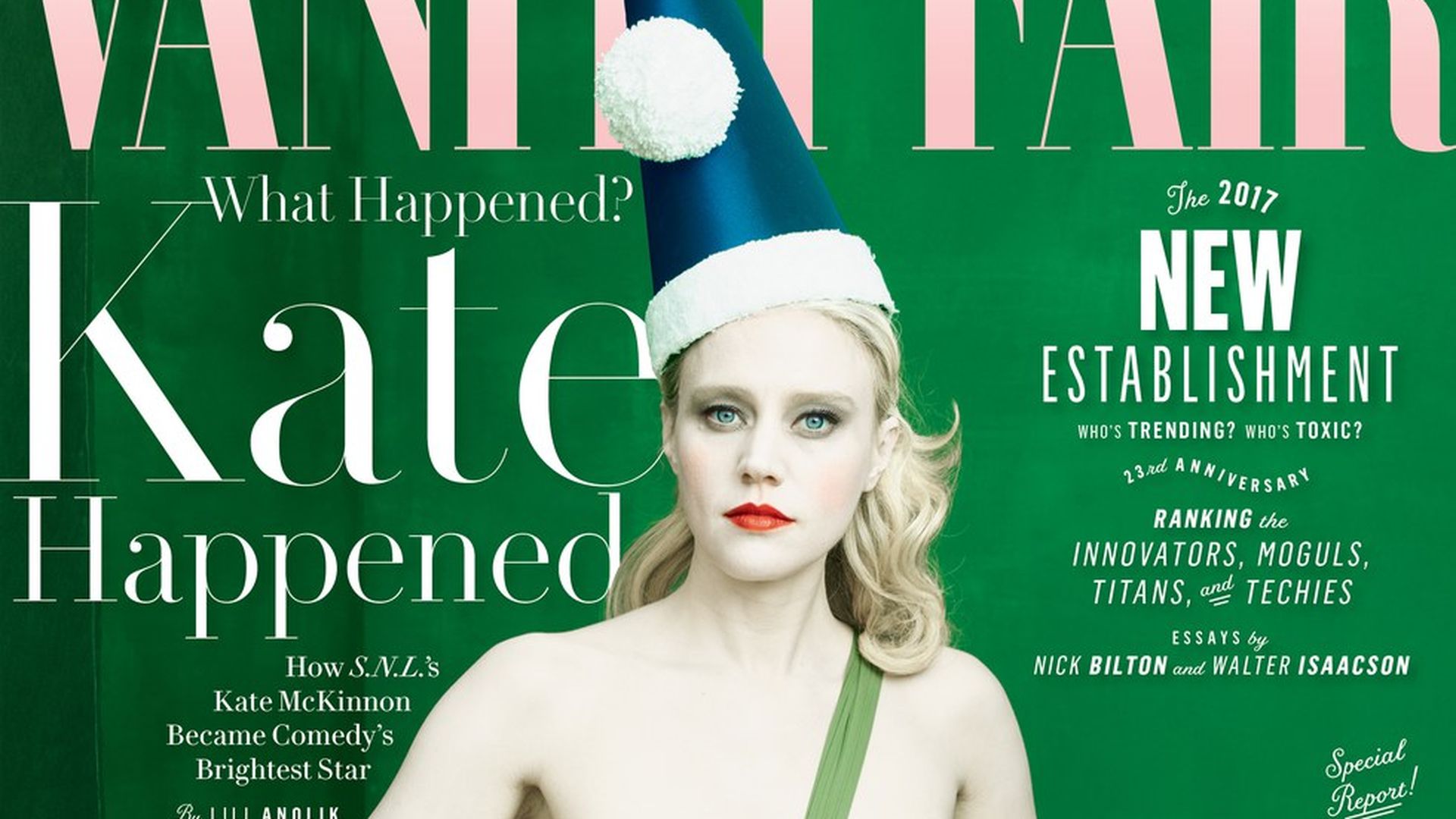 "With a resurgent Saturday Night Live providing weekly catharsis for a politically obsessed America, Emmy-winning Kate McKinnon has hit a new level of fame," Vanity Fair's Lili Anolik writes in the November cover story:
"There's pathos in Kate's Hillary. You laugh at her, but you feel for her, too. And the sketch that Kate and Hillary did together, Kate as Hillary, Hillary as a seen-it-all barkeep named Val, was, I thought, Hillary's best moment of the entire election, certainly her warmest."
"Last season's co-head writer Chris Kelly: 'The real Hillary was very game. ... She read [the script] and laughed and was like, "O.K."' Says Kate, 'Hillary has great timing.'"
Kate: "I love doing impressions of politicians because the task is always to imagine the private lives of these people whose job it is to project an image of staunch, unflinching leadership and grace, and that's just not how human beings, in their heart of hearts, work."
"In doing that for Hillary Clinton, who I admire so much, I started to feel very close to her, just trying to imagine her inner life."
Quote of the day ... Alec Baldwin: "My thought was that if I did a good impression of Trump it would be dull. So I ran towards this idea that I'm going to do a horrific caricature. When you're doing an impression, you can suggest the voice, or the way the guy looks, but you've really got to think of who he is, and get that right, and I think I did. In terms of the media, I'm Trump now. He's not even Trump anymore — I am."