Good Friday morning. Situational awareness ... Senate Judiciary Committee asks Jared Kushner for documents "related to his security clearance and ... whether the Trump campaign colluded with Russia" ... James Stewart column on N.Y. Times business cover: "If the government goes to court to block the merger of AT&T and Time Warner, as seems increasingly likely, it may well be the antitrust case of the decade."
https://www.axios.com/newsletters/axios-am-e6100c22-98f0-4a32-a2f1-08772f3e1e08.html?chunk=0#story0
1 big thing: What happens when North Korea launches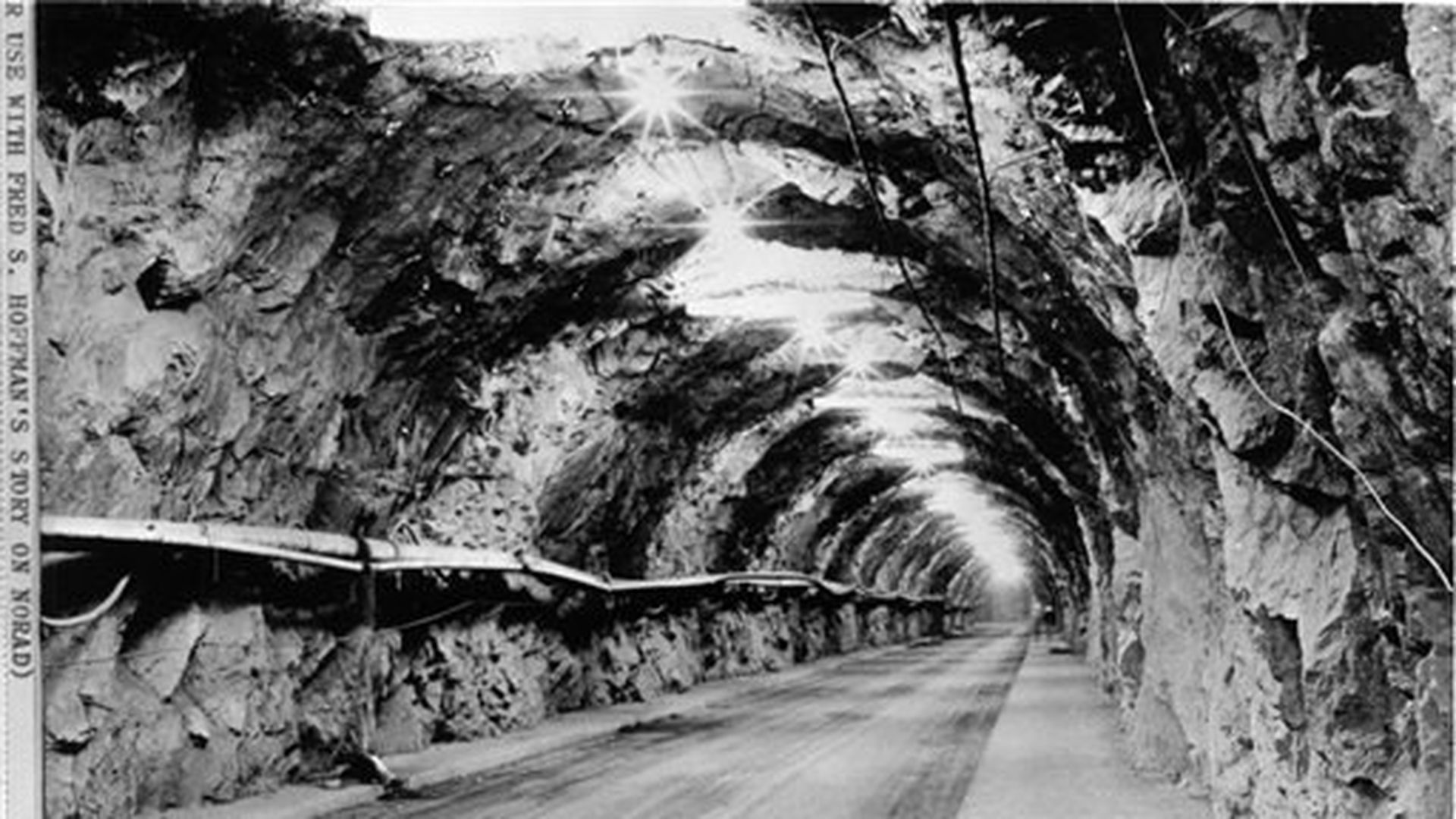 Axios' Jonathan Swan files from his hotel in San Diego, after a day with Secretary of Defense James Mattis in the Rocky Mountains ... Kim Jong-un has gone two months without a ballistic missile test. That's unusual for the guy President Trump calls "Rocket Man." The portly dictator fired missiles every month between February and September — 22 in total, and he detonated the most powerful nuclear bomb in North Korea's history.What we're hearing: Secretary Mattis won't say he's encouraged by Kim's pause — only that he's watching closely. Mattis won't publicly discuss even the possibility of preemptive strikes to take out North Korea's nuclear facilities.I asked Mattis whether he agreed with National Security Adviser H.R. McMaster that a "preventive war" was a viable option — in McMaster's words, "a war that would prevent North Korea from threatening the United States with a nuclear weapon.""You'll have to ask him [McMaster]," Mattis replied, adding, "I'm not going to answer the question."Between the lines: That response isn't unusual for Mattis; he always avoids discussing military plans. But it's telling that he's not publicly endorsing the more bellicose talk coming from the White House.What we're seeing: I flew with Mattis yesterday to the Rocky Mountains, where he spent the day visiting U.S. Northern Command (USNORTHCOM) and the joint U.S.-Canadian North American Aerospace Defense Command (NORAD). While Mattis attended classified briefings, the traveling press went inside the Cheyenne Mountain Complex (a Cold War era fortress made famous in the movie "WarGames"). We also visited the Peterson Air Force Base, the hub for monitoring threats to the homeland.The military officials who work here are responsible for defending America's airspace. The command centers they work in are the hubs for tracking North Korean missiles — which appear on the giant screens as a red donut that expands into a fan that shows which part of the world the missile threatens. Underneath the screens a sign with giant black block letters: "WE HAVE THE WATCH."When North Korea launches a missile, a white light starts shining and a horn starts honking. They gave us a trial run.Bottom line: After a day with these military officers, you can't help but be struck by the breadth of U.S. assets around the world and in space. But if this war of words between Trump and Kim becomes a real war, those radars, satellites and missile interceptors won't be able to prevent death on a scale the world has rarely seen.
Be smart: We have no idea why Kim has paused tests. All the North Korea experts are just guessing when it comes to this secretive man / regime.
https://www.axios.com/newsletters/axios-am-e6100c22-98f0-4a32-a2f1-08772f3e1e08.html?chunk=1#story1
2. Trump's Jekyll/Hyde approach to Asia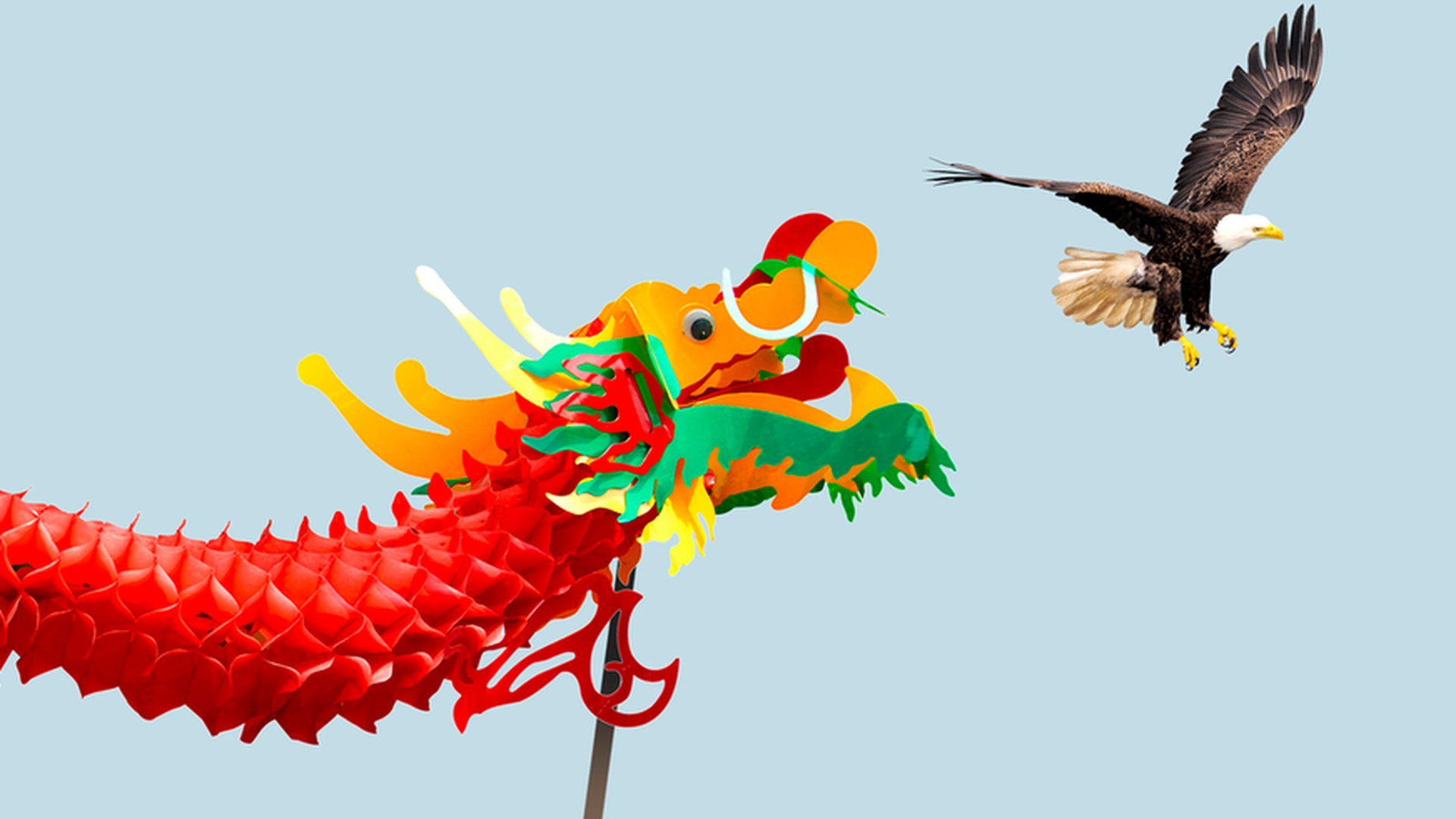 Bill Bishop of Sinocism, author of the weekly Axios China newsletter, writes in his new issue: Militarily, Trump is reassuring allies to stand against China's growing military might, but economically Trump is turning his back on broad trade pacts with those same allies.
Our thought bubble: Asian nations worried about China's rise want both strong military and economic ties with the U.S.
Subscribe free to Axios China.
P.S. Barak Ravid of Israel's Channel 10 News writes for Axios, "Why Israel is nervous about the Syria ceasefire deal":
The big picture: Israeli officials see the deal as a sign that the Trump administration is too eager to pull out of the Middle East, and not willing to back up its rhetoric about confronting Iran's negative regional behavior with action.
https://www.axios.com/newsletters/axios-am-e6100c22-98f0-4a32-a2f1-08772f3e1e08.html?chunk=2#story2
3. House passes Tax Cuts and Jobs Act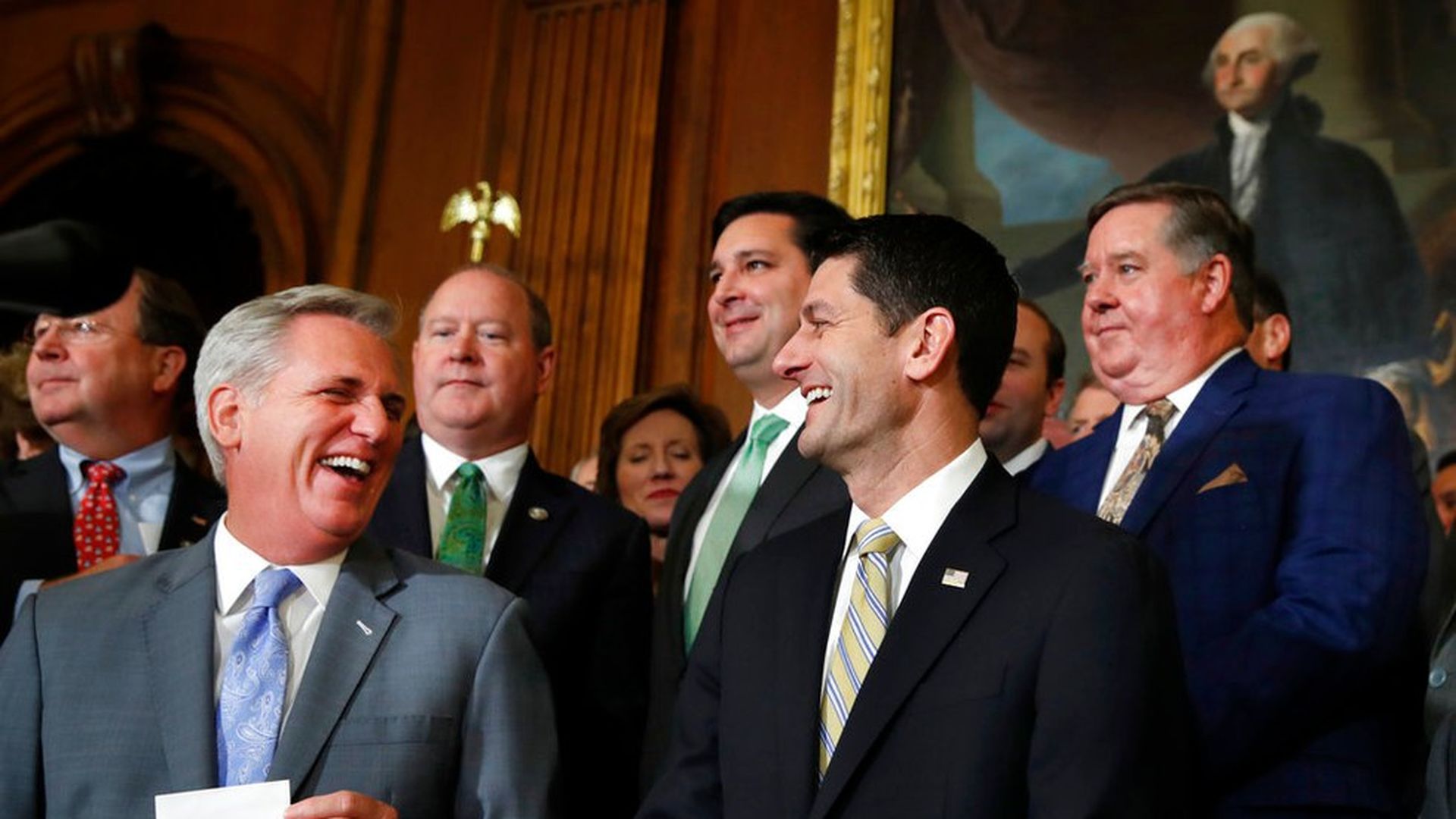 "House passes GOP tax bill, upping pressure on struggling Senate effort," the WashPost writes in its lead story:
"The bill passed with 227 votes in favor and 205 against, a comfortable margin in the divided chamber. Thirteen Republicans voted against the bill, while no Democrats voted for it."
"Congress's nonpartisan tax analysts dealt the Senate an additional setback Thursday when they concluded the bill would, by the end of a decade, raise the average tax burden for households making less than $75,000 a year."
"Much of the hit to poor and working-class Americans would stem from the changes to the health-care law."
The Senate math: "Republicans hope to pass the measure with 50 votes ... Republicans control only 52 of the chamber's 100 seats, and Democrats' opposition appears unanimous, meaning the bill would probably go down to defeat if only three GOP senators vote against it."
https://www.axios.com/newsletters/axios-am-e6100c22-98f0-4a32-a2f1-08772f3e1e08.html?chunk=3#story3
Bonus: Pic du jour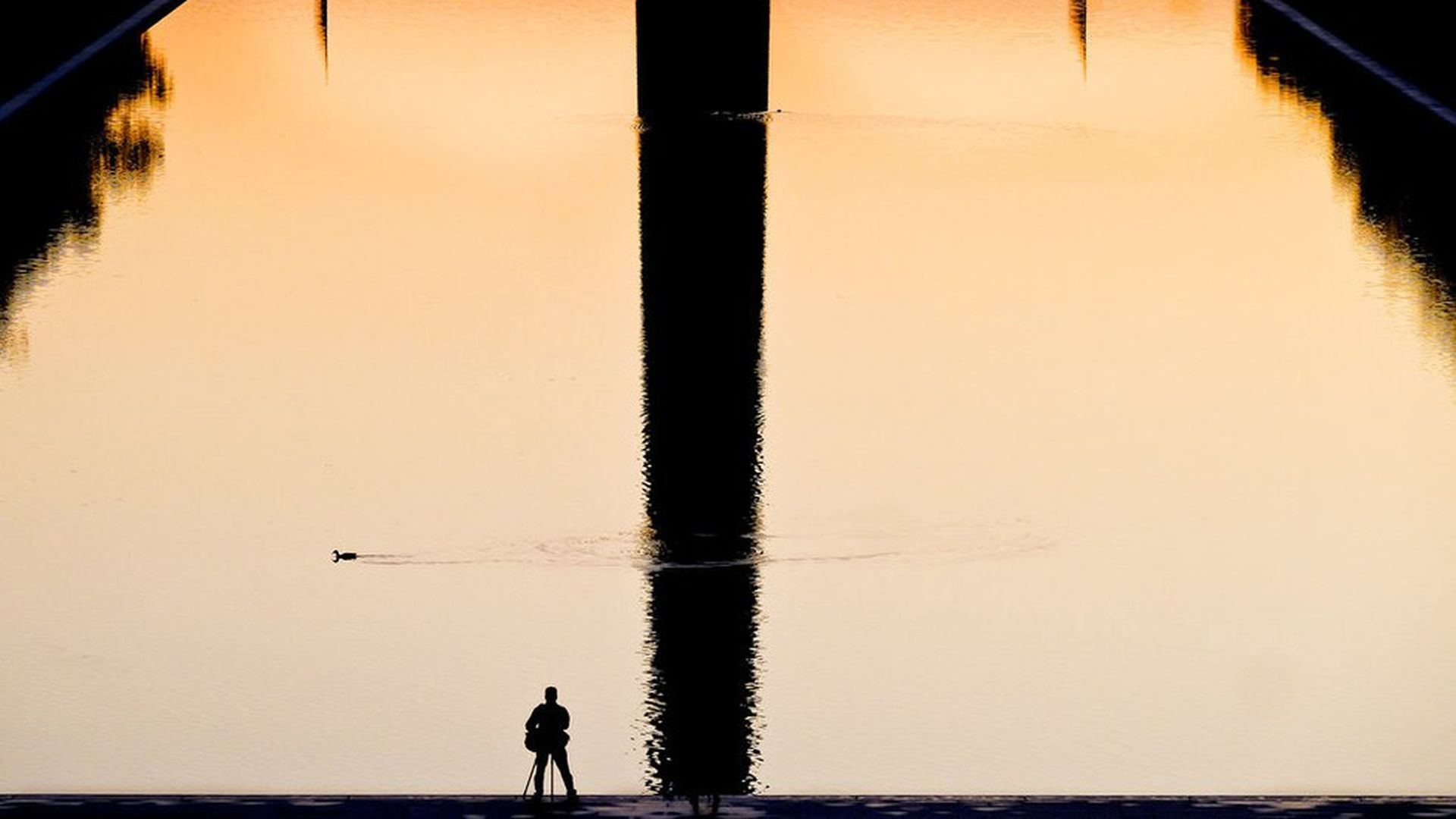 A photographer captures the sunrise in the National Mall reflecting pool yesterday.
https://www.axios.com/newsletters/axios-am-e6100c22-98f0-4a32-a2f1-08772f3e1e08.html?chunk=4#story4
4. "I am sorry ... There's no excuse"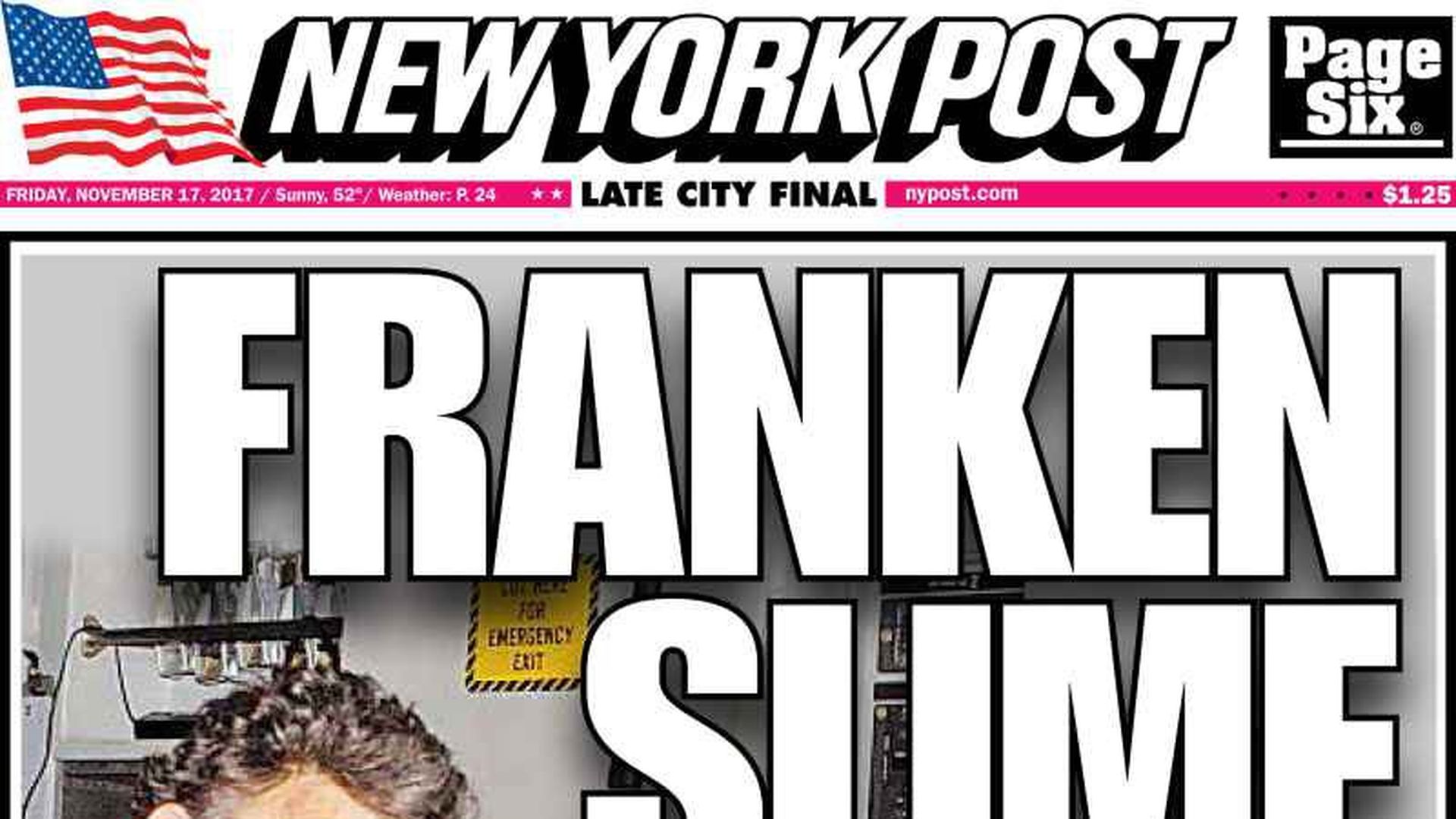 Sen. Al Franken (D-Minn.) "is facing an investigation by the Senate Ethics Committee after a Los Angeles radio host revealed ... that Franken kissed and groped her against her will in 2006," the Minneapolis Star Tribune writes:
"Franken did not deny the account by Leeann Tweeden that he kissed her without consent while they were rehearsing a comedy skit during a 2006 USO tour of the Middle East and Afghanistan, about two years before Franken was elected."
"She also posted a photograph [N.Y. Post cover above] — which she learned about after the fact — of a grinning Franken, his hands reaching at her breasts as she slept.
"Franken first issued a brief apology before releasing a much longer statement of remorse, saying women like Tweeden 'deserve to be heard, and believed when they share these stories.'"
Trump tweets: "The Al Frankenstien picture is really bad, speaks a thousand words. Where do his hands go in pictures 2, 3, 4, 5 & 6 while she sleeps? ... .And to think that just last week he was lecturing anyone who would listen about sexual harassment and respect for women."
P.S. "Senator Kirsten Gillibrand, Democrat of New York, who holds Hillary Clinton's former seat, [told the N.Y. Times' Jennifer Steinhauer that] Bill Clinton should have resigned the presidency after his inappropriate relationship with an intern came to light ... 'Yes, I think that is the appropriate response.'"
N.Y. Times' Peter Baker, "Reviving a Question: 'What About Bill?'": "[S]ome liberals say it may be time to rethink their defense of the 42nd president. ... Chris Hayes, the liberal MSNBC host, said on Twitter that 'Democrats and the center left are overdue for a real reckoning with the allegations against him.'"
https://www.axios.com/newsletters/axios-am-e6100c22-98f0-4a32-a2f1-08772f3e1e08.html?chunk=5#story5
5. Sneak peek: Axios' Year 2 expansion plan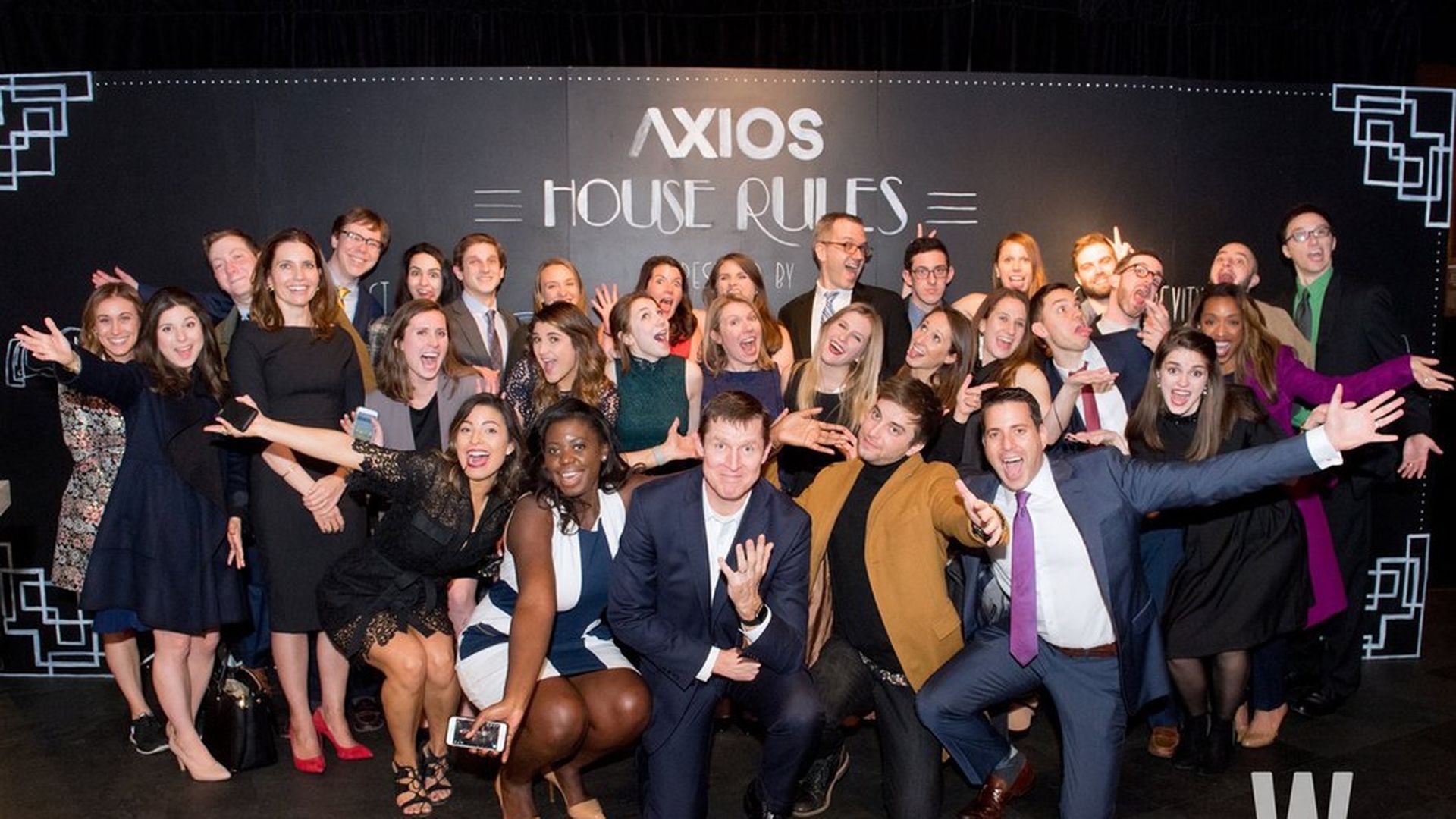 "Axios Raises $20 Million to Fund Newsroom Expansion: The 10-month-old media startup plans to increase staffing to 150 by the end of 2018, develop new coverage areas, and expand its data analysis and product offerings," The Wall Street Journal's Benjamin Mullin scoops:
"Less than a year after Politico co-founder Jim VandeHei launched the media startup Axios with plans to upend the way news organizations deliver stories and advertising, the company is plotting a major expansion of its newsroom."
"To fund the expansion, Axios has raised $20 million, according to Axios co-founder and President Roy Schwartz. The funding round, Axios's second, was co-led by venture-capital firms Greycroft Partners and Lerer Hippeau Ventures, which both participated in Axios's initial $10 million round last year."
"Other backers from last year also increased their investment, including NBCUniversal, Laurene Powell Jobs's Emerson Collective and Wal-Mart Chairman Greg Penner. WndrCo, a media-and-technology firm founded by Hollywood executive Jeffrey Katzenberg, is the only new investor in the round."
"Axios plans to use some of the financing to expand its capacity for data analysis, product development and audience growth, as well as developing new coverage areas ... By the end of 2018, Axios plans to have roughly 150 staffers, up from its current staff of 89."
Why it matters: We will use this money to better serve you with more smart (new content areas, deeper coverage) and more brevity (enhanced technology, an app).
Be smart: The first line of the Axios Manifesto is "Reader first." That's you! So please shoot me ideas (mike@axios.com) for helping you get smarter, faster on the topics that matter most.
https://www.axios.com/newsletters/axios-am-e6100c22-98f0-4a32-a2f1-08772f3e1e08.html?chunk=6#story6
6. Elon Musk unveils Tesla truck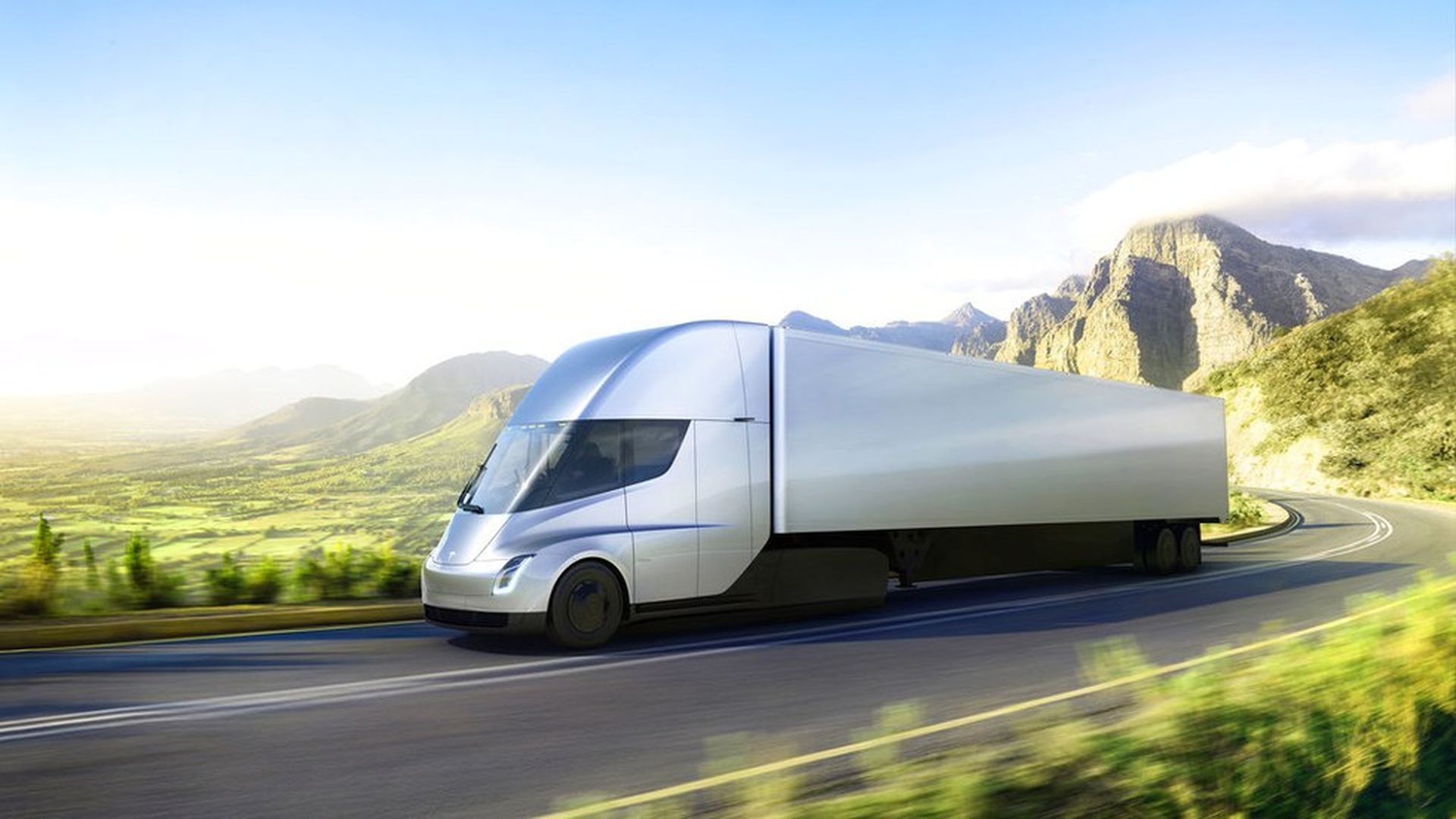 "Tesla unveiled its new semi-truck, which CEO Elon Musk said can go zero-to-60 in five seconds with an empty trailer. That's a figure usually associated with luxury sedans, not big trucks," per CNN's Peter Valdes-Dapena:
"With a full load, the truck can still reach that speed in 20 seconds, according to Musk, much faster than any diesel-powered truck. ... It can go up to 500 miles with a full load at highway speeds, ... allowing [the average] driver to make a round trip before recharging.
"Inside the Tesla semi's cab, the driver is seated in the center ... with a large touch screen on each side. Without a large diesel engine, the driver will have a roomier cab than in other trucks ...The truck will also have an enhanced version of Tesla's semi-autonomous driving system, AutoPilot."
"It is not clear yet what the final price of the truck will be."
AP: "Musk said customers can put down a $5,000 deposit ... now and production will begin in 2019."
Go deeper: Axios Future Editor Steve LeVine watched Musk's live feed.
https://www.axios.com/newsletters/axios-am-e6100c22-98f0-4a32-a2f1-08772f3e1e08.html?chunk=7#story7
7. Data du jour
https://www.axios.com/newsletters/axios-am-e6100c22-98f0-4a32-a2f1-08772f3e1e08.html?chunk=8#story8
8. Another form of climate denial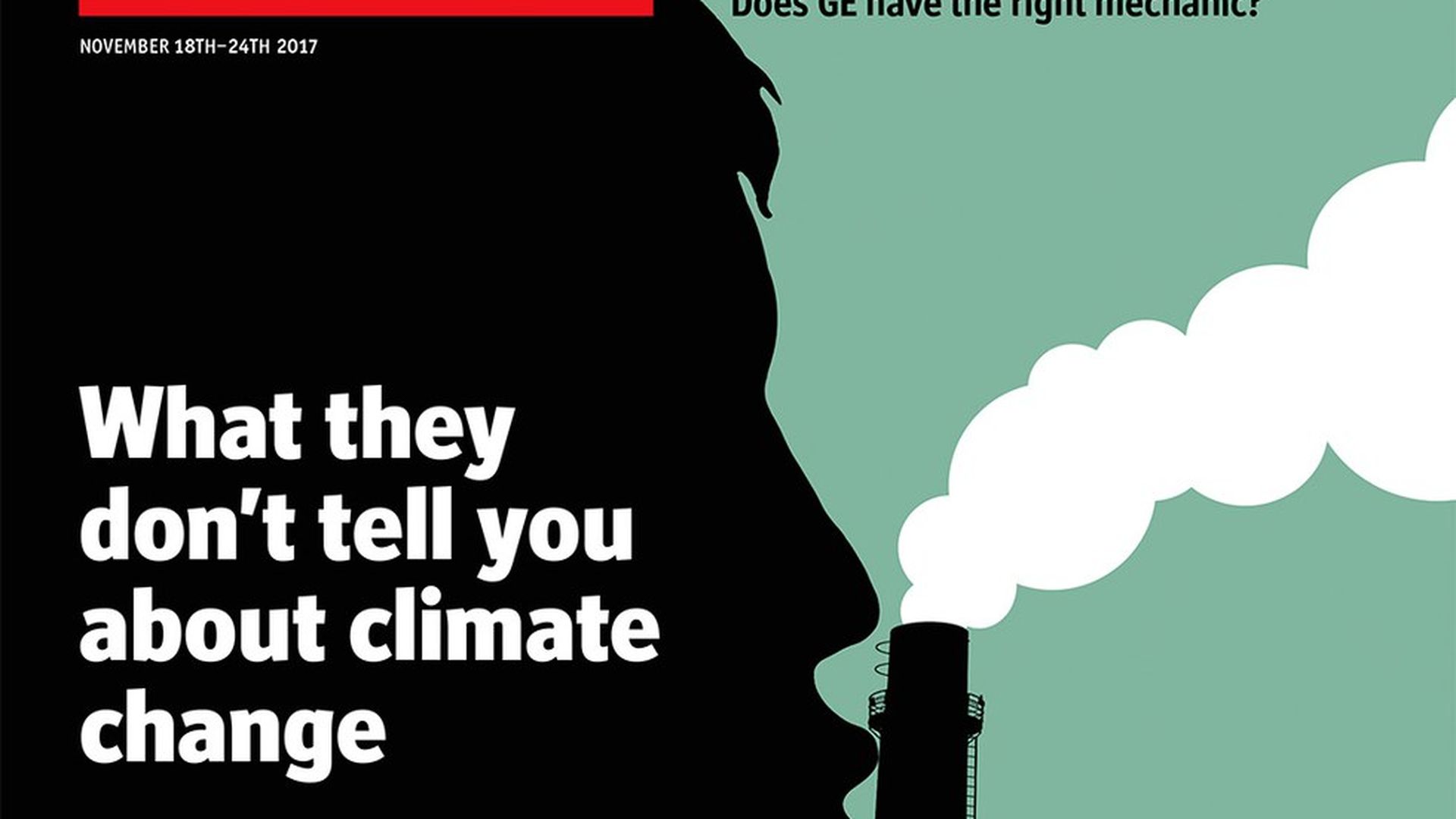 "Negative-emissions technology ... Stopping the flow of carbon dioxide into the atmosphere is not enough. It has to be sucked out, too" — The Economist's cover leader (editorial):
The problem: "The Paris agreement assumes, in effect, that the world will find ways to suck CO2 out of the air. That is because, in any realistic scenario, emissions cannot be cut fast enough to keep the total stock of greenhouse gases sufficiently small to limit the rise in temperature successfully. But there is barely any public discussion of how to bring about the extra 'negative emissions.'"
Solutions: "One option is to plant more forests (which act as a carbon sink) or to replace the deep-ploughing of fields with shallow tillage (which helps soils absorb and retain more CO2). Another is to apply carbon capture and storage to biomass-burning power plants, stashing the carbon sucked up by crops or trees burnt as fuel."
Why it matters: "When the need is great, the science is nascent and commercial incentives are missing, the task falls to government and private foundations. But they are falling short."
https://www.axios.com/newsletters/axios-am-e6100c22-98f0-4a32-a2f1-08772f3e1e08.html?chunk=9#story9
9. Coup de Grace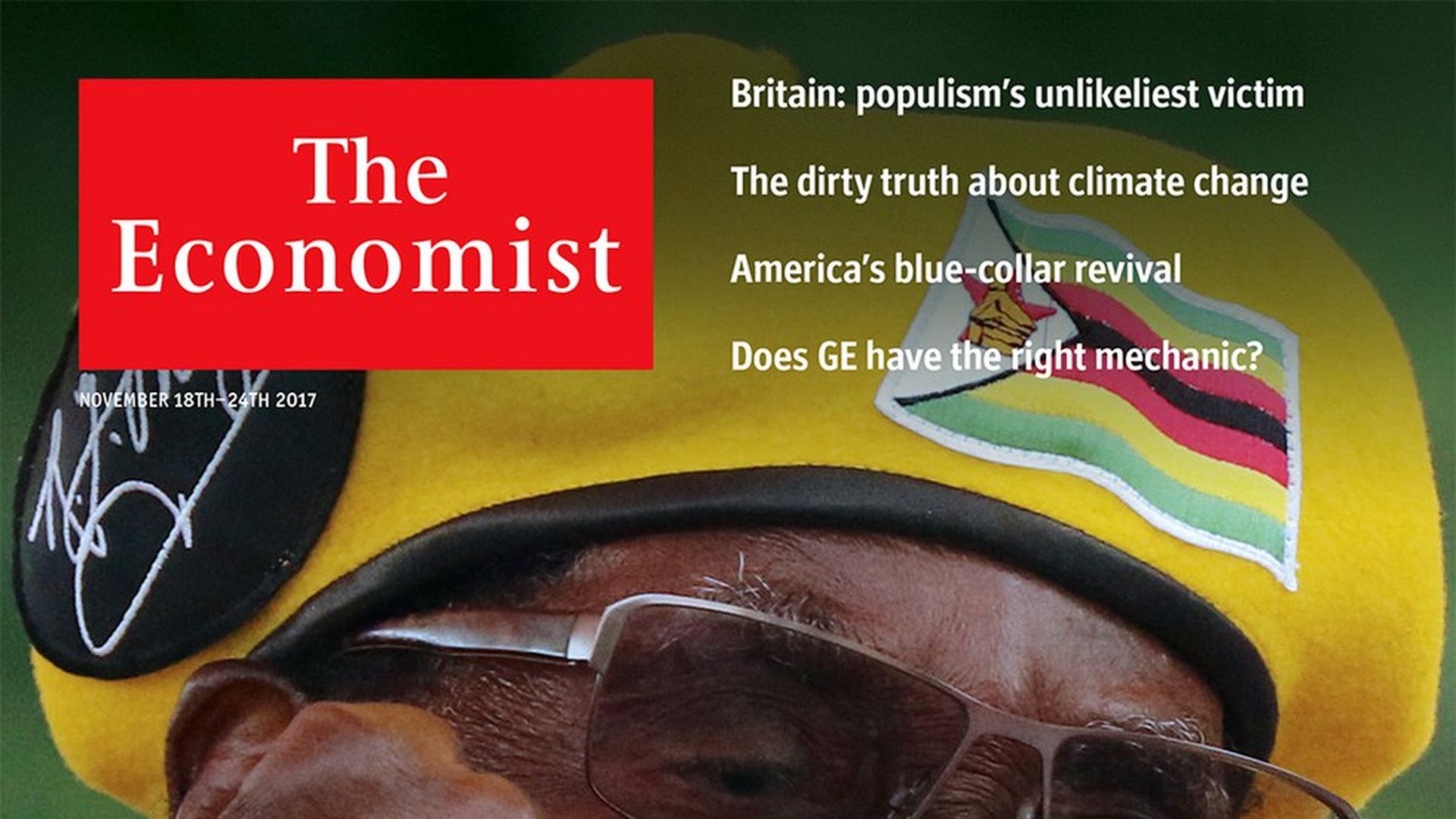 The Economist cover for Britain, the Middle East and Africa ... "The army sidelines Robert Mugabe, Africa's great dictator ... The world should learn from his misrule, and help Zimbabwe recover from it ":
"Robert Mugabe wanted his wife, Grace, to take over from him as president of Zimbabwe. ... Her ambitions were thwarted this week when the army seized power, insisting that this was not a coup while making it perfectly clear that it was.
"Thus, sordidly, ends the era of one of Africa's great dictators. Mr. Mugabe has misruled Zimbabwe for 37 years. ... At 93, frail and forgetful, he has finally lost control of the country he ruined."
"There are two morals to draw from Mr Mugabe's long, ignominious career. The first is that bad policies, corruptly implemented, can wreck a country with alarming speed and go on wrecking it long after you would have thought there was nothing left."
"The second moral is that, for all its disappointments, democracy remains the best antidote for bad rulers."
https://www.axios.com/newsletters/axios-am-e6100c22-98f0-4a32-a2f1-08772f3e1e08.html?chunk=10#story10
10. 1 fun thing: Behind scenes of viral pic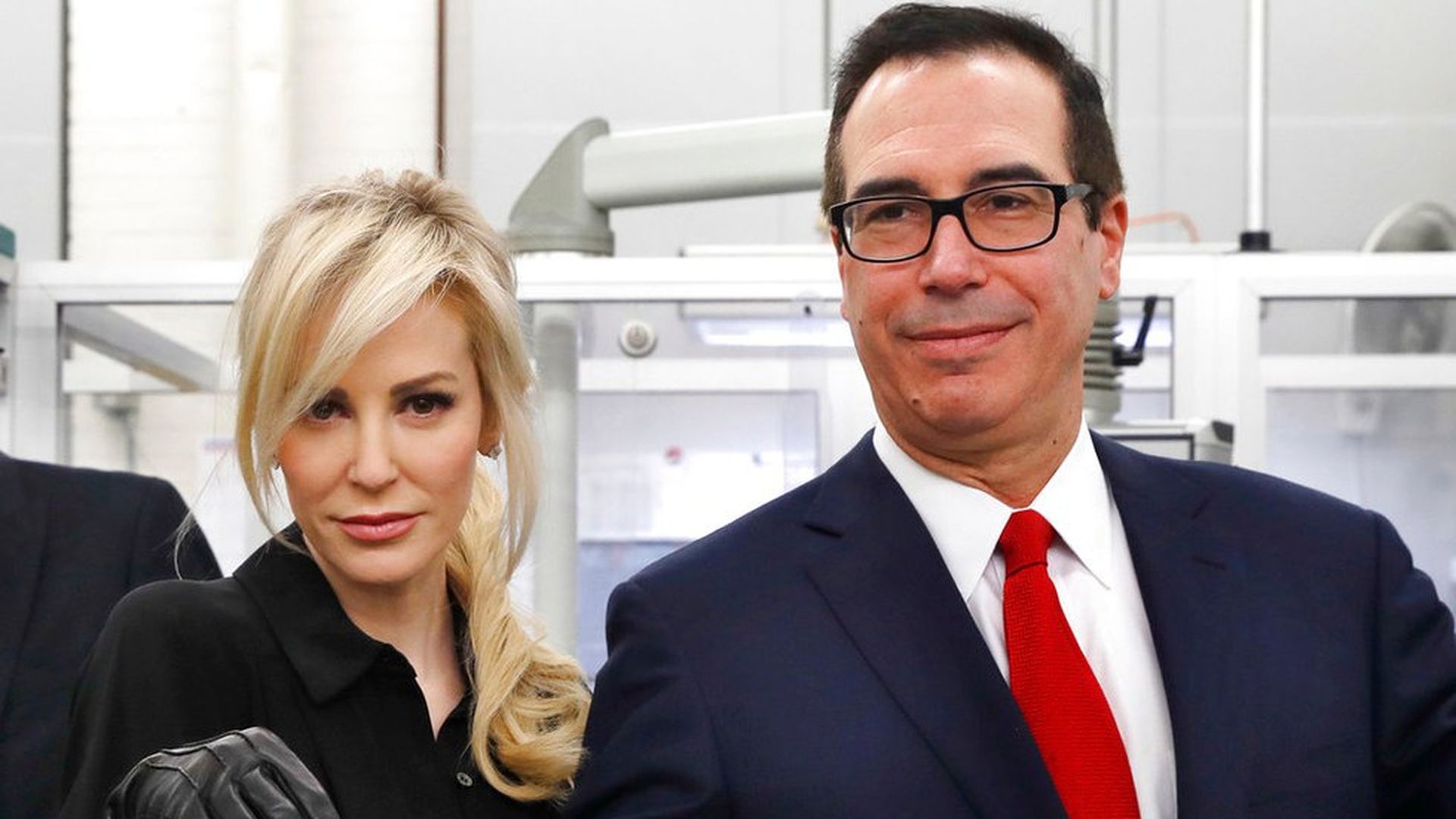 A photo Wednesday of Treasury Secretary Steven Mnuchin and his wife, Louise Linton, posing with a sheet of new $1 bills — the first notes bearing his signature — prompted a frenzy online. Some remarked that the pair resembled James Bond villains. Here is how AP's Jacquelyn Martin, who took the photo, tells it:
"My assignment ... was to photograph Treasury Secretary Steven Mnuchin and U.S. Treasurer Jovita Carranza at the Bureau of Engraving and Printing, getting a glimpse of the first dollar notes with their signatures on them."
Mnuchin "walked down the hall with his wife, Louise Linton, who I was surprised to see with him, and she was wearing full-length black leather gloves. ... [H]e turned to the camera and held up the bills, which I hadn't expected him to do so early in the tour. Mnuchin turned his head and gestured to Linton to join him. He then had her help him hold up the sheet of bills for the photo.
When Mnuchin "gestured for Linton to come over and be in the photo op, ... I knew for sure this image would get some interest. Based on their history and previous images that have been put out there — I had a feeling that this would take off. There is something about this couple that people are just fascinated by."
"Her direct gaze at the camera and the touch of her gloved hand on his as they hold a sheet of money together seems to have struck a chord."