August 30, 2019
⚡ The DNC will reject Iowa's plan for virtual caucuses, which would allow registered Democrats to vote by phone, because of concerns about hacking. (Des Moines Register)
🕶️ Happy Friday! Today's Smart Brevity count: 1,190 words ... 4 minutes.
Does your travel companion get Axios AM and PM? Invite 'em to sign up!
1 big thing: America's worker deserts
The U.S. unemployment rate is so low that some cities and states have turned into "worker deserts" — places where companies can't find people to hire, Axios markets reporter Courtenay Brown reports.
Why it matters: The "good news" story of the strong labor market has a big downside that is playing out in places like Iowa, New Hampshire and Florida. Companies say they won't be able to keep up with business demand — hampering growth — unless they find more workers.
Across the country, more than 1 million more jobs are available than there are people to fill them.
The number of small businesses that said finding qualified workers was their single most important problem hit a 46-year high last month, according to the National Federation of Independent Business.
Vermeer, an industrial equipment manufacturer in Iowa, has asked assembly-line employees to volunteer to work Saturdays to keep up with customer demand. But Vermeer board chair Mary Andringa says a weekend shift isn't "as agreeable to team members as it was 30 to 40 years ago."
In New Hampshire, unemployment is close to a 30-year low:
"There are 20,000 jobs waiting to be filled, with no one to fill them," said David Juvet of New Hampshire's Business and Industry Association.
In Florida, companies are "bringing back retirees ... increasing the use of interns and apprenticeships," wrote Mark Vitner, a Wells Fargo economist.
He also noted how heavily the state relies on immigration to refuel its working-age population.
What's next: In some states critical to the 2020 election, business leaders are pushing for more immigration to create bigger labor pools.
Mini-scoop: On Wednesday, the Iowa Business Council — a coalition of Iowa's biggest companies — will release pro-immigration recommendations, taking a position on the issue for the first time.
2. 2020 Attention Tracker: The Warren wave
When negative coverage is excluded, stories about Elizabeth Warren are going farther online than coverage of any other 2020 Democratic presidential candidate, according to NewsWhip data provided exclusively to Axios.
Why it matters, from Axios' Neal Rothschild: Warren has been able to strike a balance of being discussed a lot without being the target of sustained criticism or media pile-ons that other top candidates have endured. And many of the biggest stories about her have been downright glowing.
The big picture: Running on a platform to remake the economy with ambitious proposals like her wealth tax, Warren has steadily climbed in the polls.
Her political record has shielded her from criticisms that have dogged Joe Biden and Kamala Harris.
To the left, Bernie Sanders has insulated her from the brunt of attacks on redistributive policies.
Between the lines: While many of the stories about other candidates that have generated the most interactions are straightforward news articles, more of Warren's biggest articles have been commentary with positive overtones:
See past editions of the 2020 Attention Tracker here.
3. Tech wants to extend life beyond grave
With "virtual beings," a "new generation of companies is hawking some approximation of virtual immortality — the opportunity to preserve one's legacy online forever," the WashPost's Peter Holley writes:
Andrew Kaplan, 78, will live in the cloud indefinitely in an "AndyBot."
This "virtual person" is designed to allow future generations "to interact with him using mobile devices or voice computing platforms such as Amazon's Alexa, asking him questions, eliciting stories and drawing upon a lifetime's worth of advice long after his physical body is gone."
Why it matters: For decades, beginning with the cryonics movement, "Silicon Valley futurists have sought to unchain humanity from the corporeal life cycle."
4. Pics du jour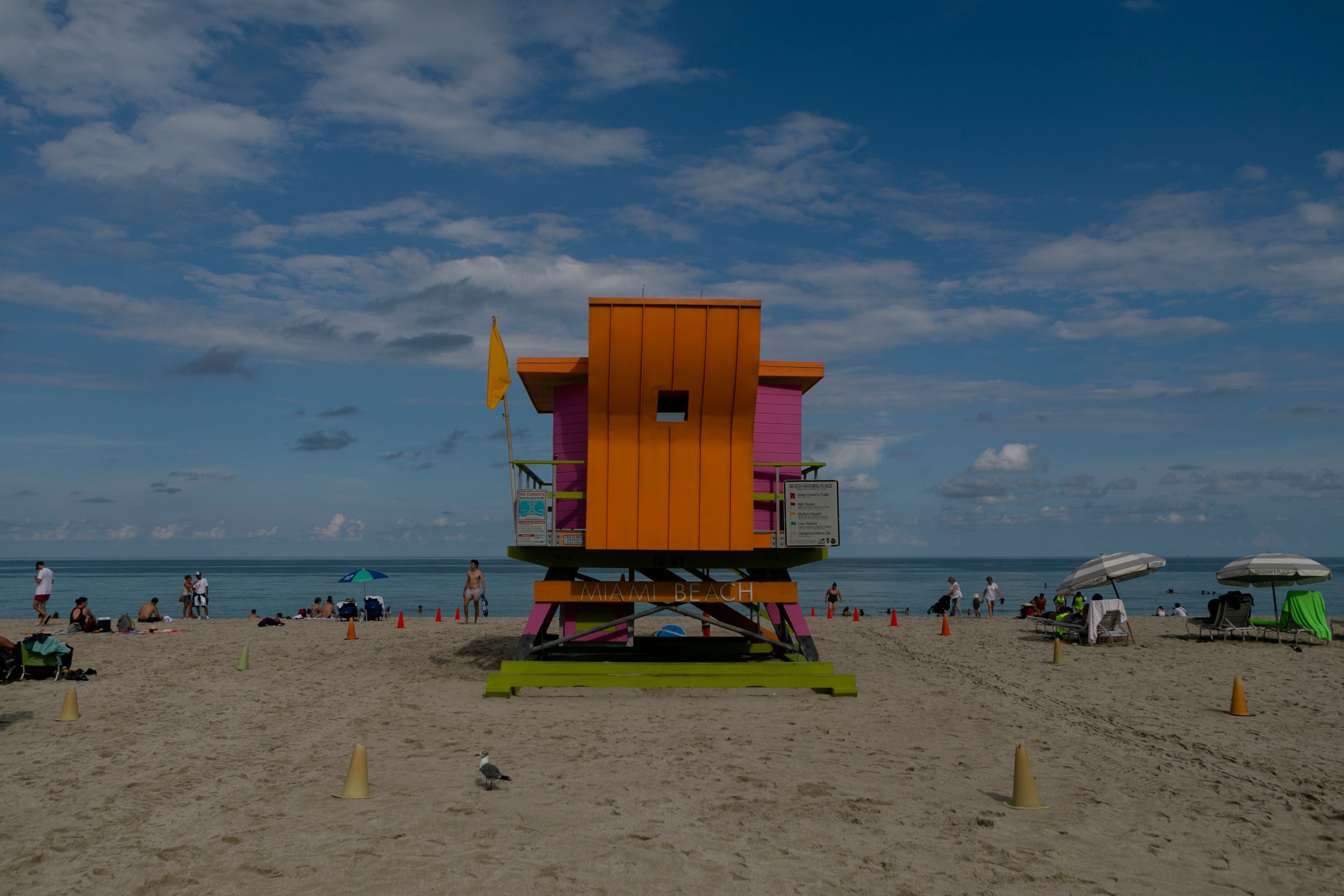 South Miami Beach lifeguard towers sported a warning flag as Floridians prepared for the Labor Day weekend arrival of Hurricane Dorian, which President Trump said could be an "absolute monster."
The Category 2 storm is expected to strengthen into a potentially catastrophic Category 4, with winds of 130 mph, and slam into the U.S. on Monday somewhere between the Florida Keys and southern Georgia.
With that 500-mile strike zone and an unclear track, no mass evacuations were ordered. (AP)
Below, over 100 vehicles lined up for free sandbags being filled by trustees from the jail in Brevard County, Fla.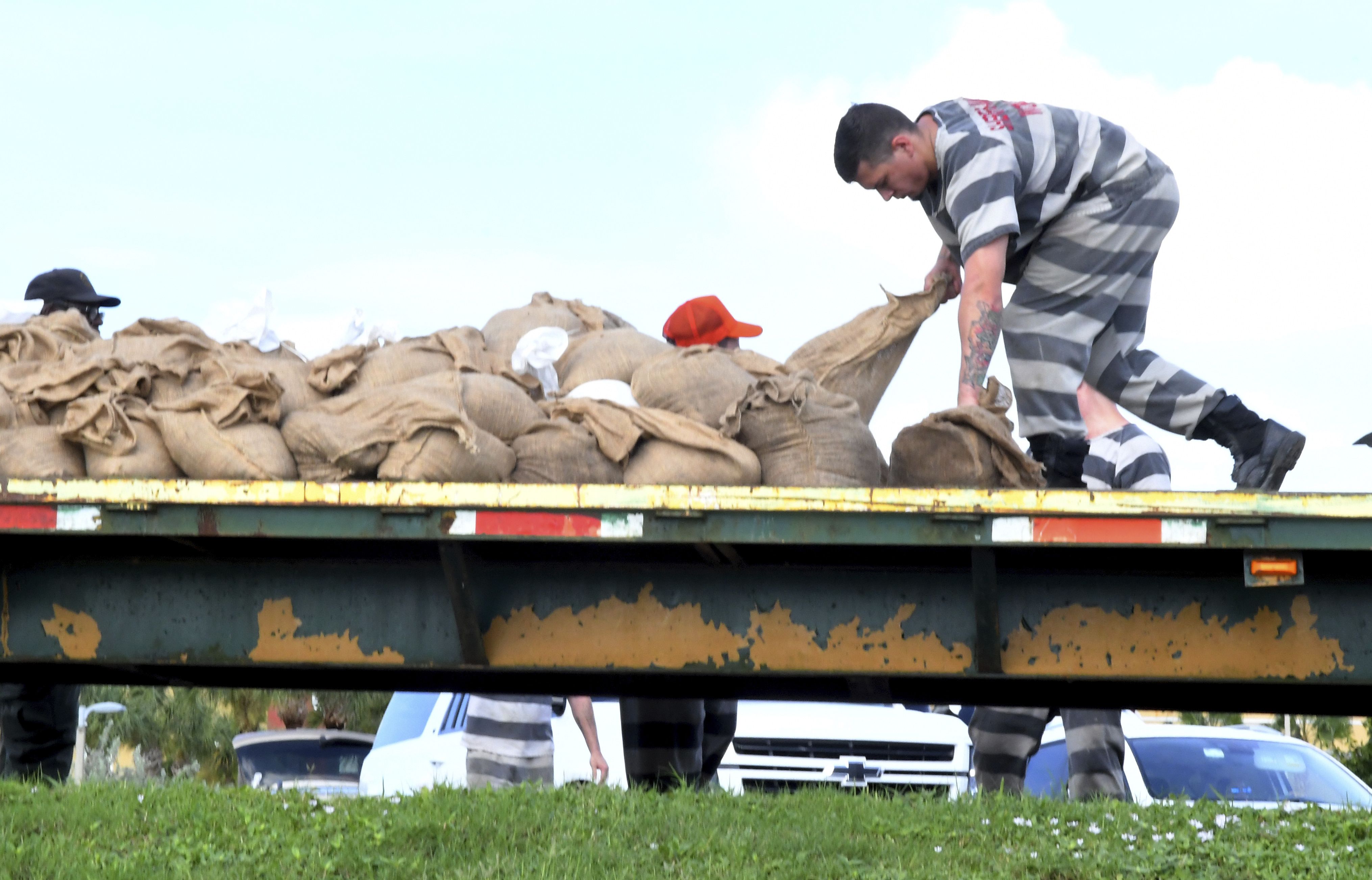 5. Biden defends faulty telling of heroism story
Joe Biden defended his faulty description of a tale of military heroism after the Washington Post found that an emotional anecdote Biden told while campaigning in New Hampshire contained inaccuracies, AP reports.
Biden's telling of "a moving but false war story" appeared to conflate multiple events, the Post reported.
That yielded a single story about pinning a Silver Star on a Navy captain in Afghanistan's Konar region for his efforts trying to save another service member while Biden was vice president.
However, there's no military record of that specific ceremony, and Biden's records as a senator show he traveled to Konar when he was Senate Foreign Relations Committee chairman.
Biden told The (Charleston) Post & Courier that the "essence" of his recollection is correct:
"The central point is it was absolutely accurate what I said. ... He refused the medal. I put it on him, he said: 'Don't do that to me, sir. He died. He died.'"
6. Off-the-record dinner got back to Trump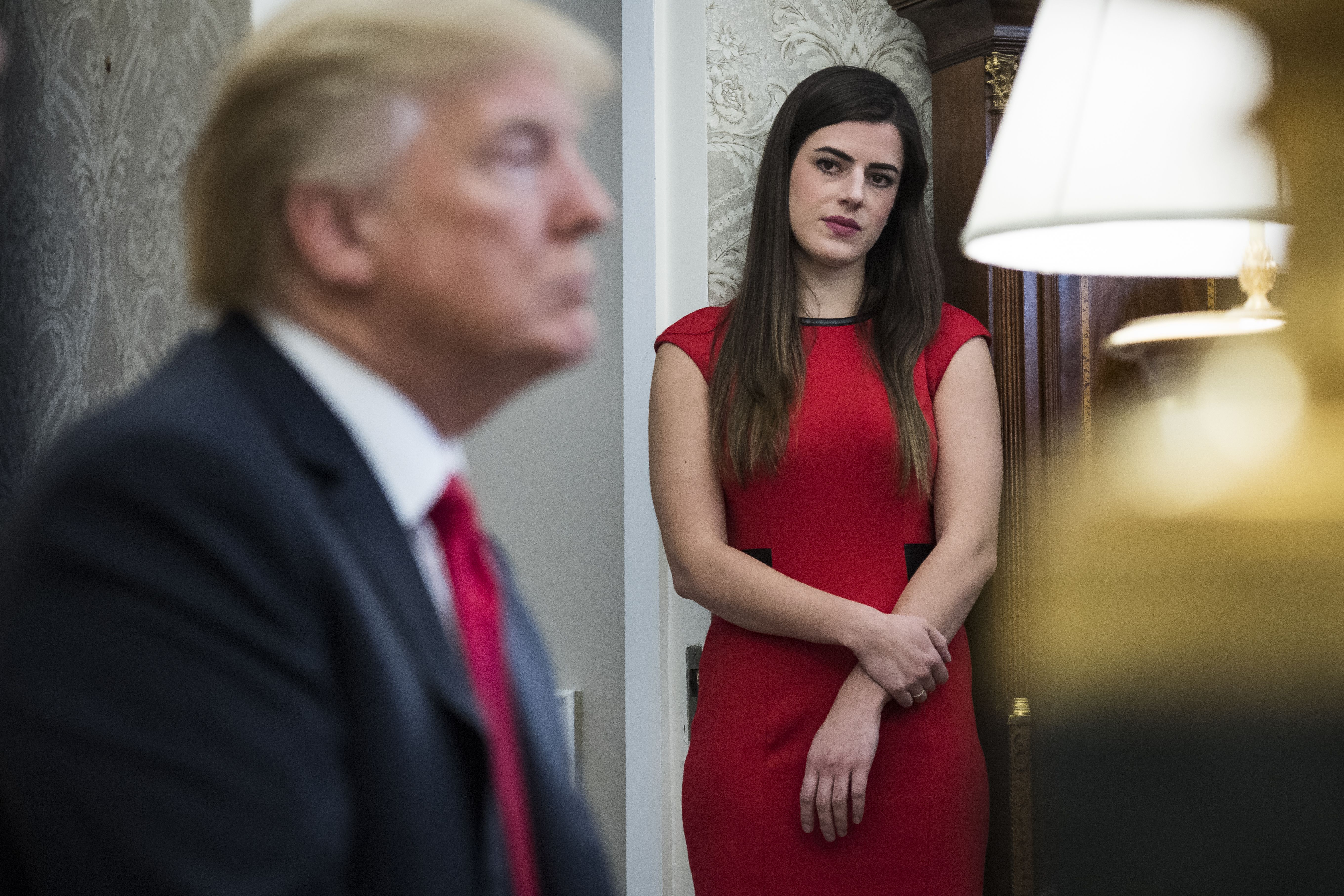 "President Trump's personal assistant, Madeleine Westerhout, whose office sits in front of the Oval Office and who has served as the president's gatekeeper since Day 1 of his administration, resigned" yesterday and won't be allowed in the White House today, the N.Y. Times' Annie Karni and Maggie Haberman report.
😱 "Trump learned ... that she had indiscreetly shared details about his family [during an] off-the-record dinner with reporters ... near Bedminster, N.J., during the president's working vacation."
7. Trump: Space is "the next war-fighting domain"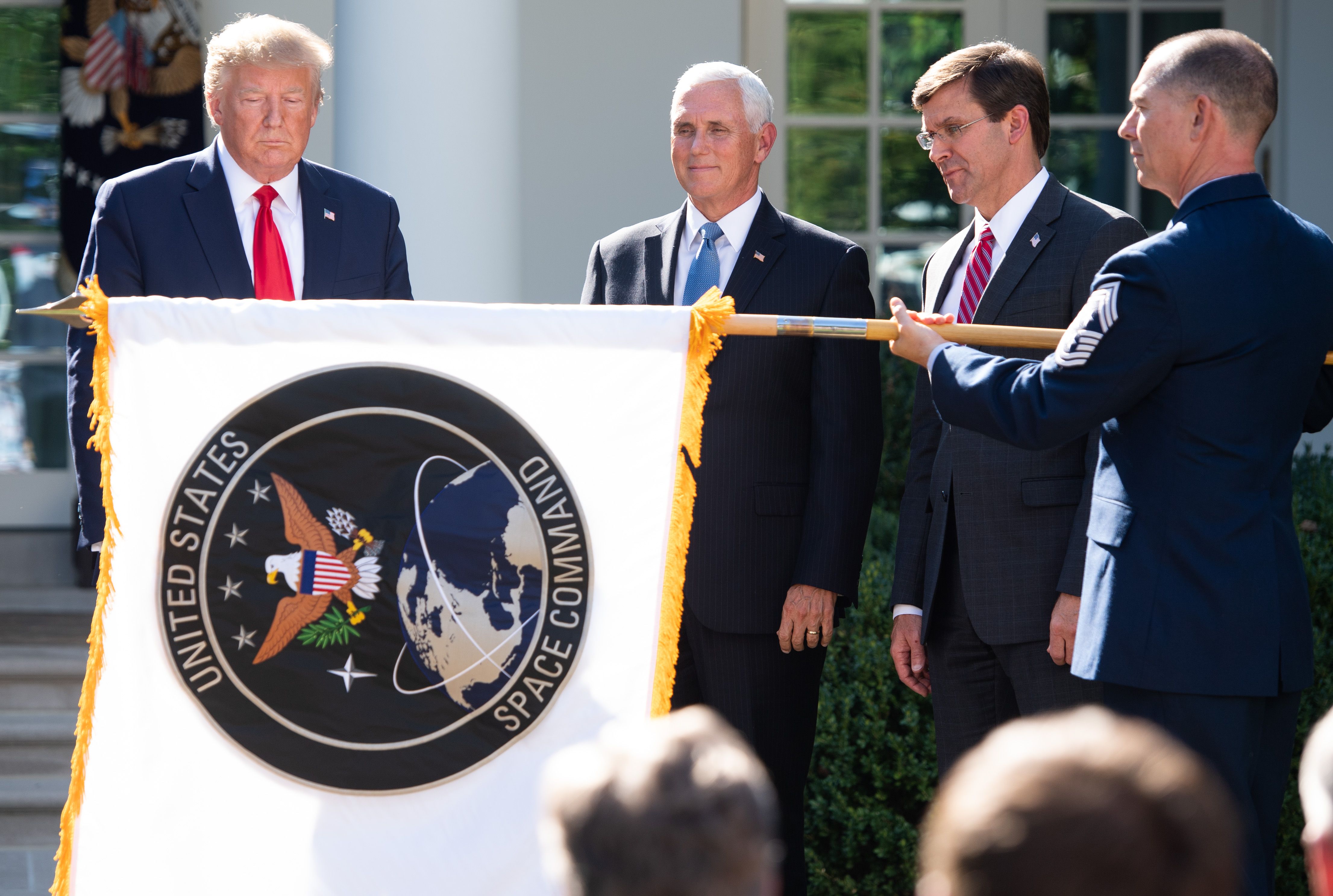 President Trump's Space Force, a reliable applause line at his campaign rallies, hasn't won final approval by Congress.
But Trump yesterday re-established the U.S. Space Command, headed by a four-star Air Force general:
It's a big deal. As the newest combatant command, SPACECOM will defend America's vital interests in space — the next war-fighting domain. And I think that's pretty obvious to everybody. It's all about space.
8. Cover du jour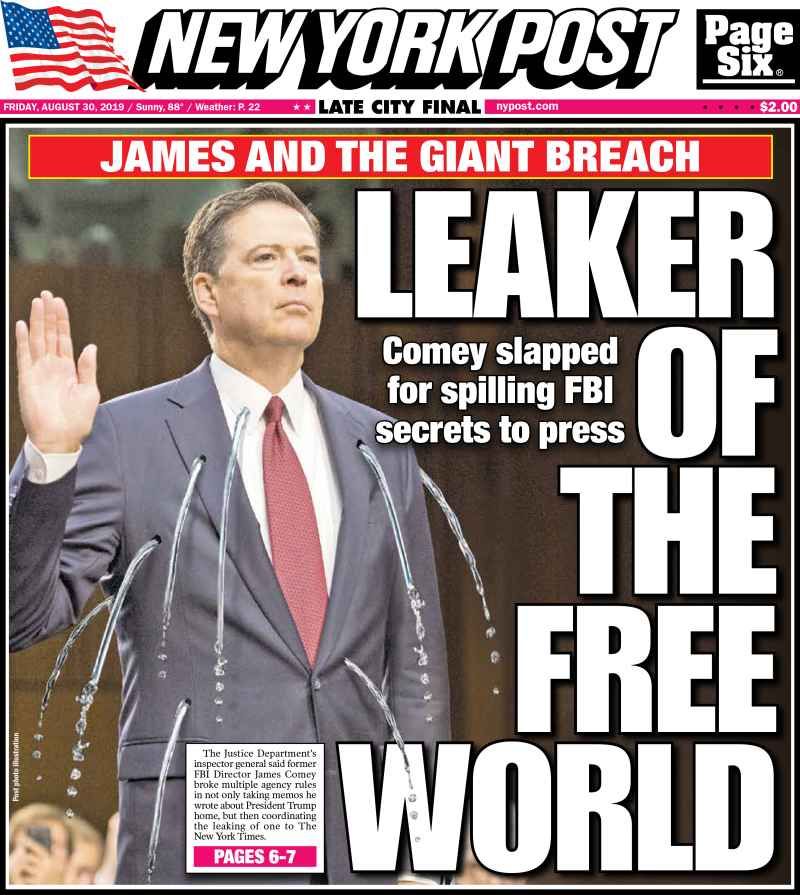 9. California gig war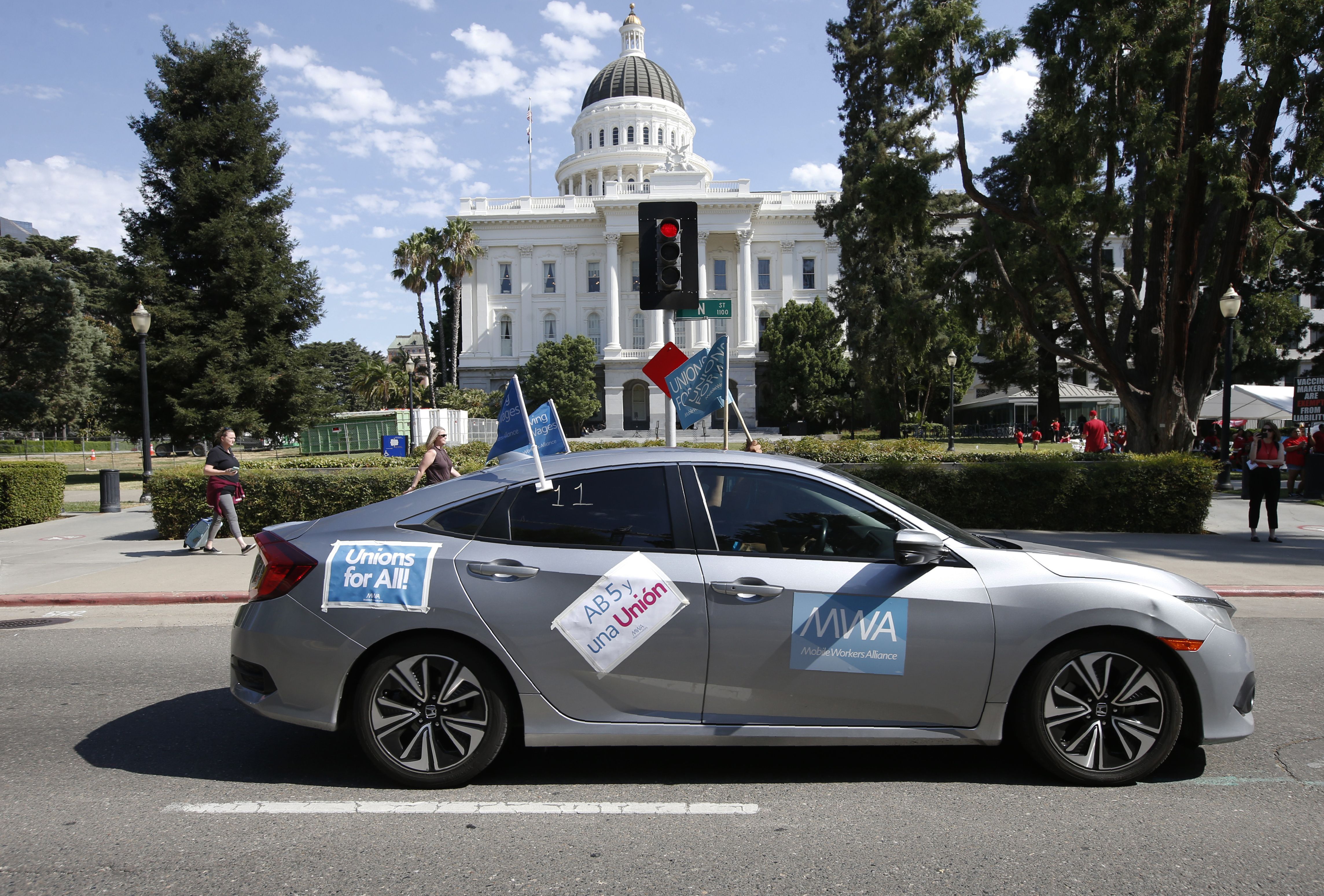 Uber, Lyft and DoorDash are threatening to spend $90 million on a California ballot measure if they can't reach a deal with unions and lawmakers on changing the rights of their drivers and other so-called gig workers, AP reports.
The bill would make it harder to classify workers as independent contractors instead of employees.
Why it matters: As employees, workers are entitled to more wage protections and benefits. But the ride-sharing and on-demand delivery companies say labeling workers as such would upend their business model.
10. 1 dress thing
"Female trailblazers — both real and fictional — have been forgoing suits in favor of form-fitting, no-nonsense dresses," writes the Wall Street Journal's Katharine K. Zarrella (subscription).
"A power dress has a sense of poise to it. It can go from day to night, makes you feel confident, and allows you to take ownership of your femininity," fashion designer Zach Posen told the Journal.
Why it matters: "Women are now more confident in the workplace, and that allows for fearless self-expression, argues real estate mogul and shrewd 'Shark Tank' investor Barbara Corcoran."
📱 Thanks for reading Axios AM. Invite your friends, relatives, co-workers to sign up here.