October 29, 2019
🎃 Good Tuesday morning. Today's Smart Brevity count: 1,371 words ... 5 minutes.
If you're in Chicago: Please join me tomorrow at 8 a.m. at the Merchandise Mart for conversations on criminal justice reform and other top issues in American cities.
I'll sit down with Illinois Gov. J.B. Pritzker ... Cook County State's Attorney Kim Foxx ... and Eddie Bocanegra of READI Chicago, a "violence interrupter" who brings the lessons of 14 years in prison to helping vulnerable people.
1 big thing: The GOP's nightmare scenario
A growing number of Republicans are privately warning of increasing fears of a total wipeout in 2020: House, Senate, and White House.
House Republicans in swing districts are retiring at a very fast pace, especially in the suburbs of Texas and elsewhere. (Republicans talk grimly of the "Texodus.") Rep. Greg Walden — the top Republican on the House Energy and Commerce Committee, and the only Republican in Oregon's congressional delegation — yesterday shocked the party by becoming the 19th GOP House member to not seek re-election.
The Republican Senate majority, once considered relatively safe, suddenly looks in serious jeopardy. Democrats are raising more money, and polling better, than Republican incumbents in battleground after battleground.
President Trump trails every major Democratic candidate nationally and in swing states — and his favorable ratings remain well under 50%.
Why it matters: All of this is unfolding while the economy still looks strong, and before public impeachment proceedings have officially begun.
The biggest recent change is Republicans' increasingly precarious hold on the Senate.
National Journal's Josh Kraushaar writes in his "Against the Grain" column (subscription) that "the pathway for a narrow Democratic takeover of the upper chamber is looking clearer than ever": "If Trump doesn't win a second term, Democrats only need to net three seats to win back the majority."
Scott Reed, the U.S. Chamber of Commerce senior political strategist, tells me that third-quarter fundraising reports showing three Republican senators being out-raised by Democratic challengers (in Arizona, Iowa and Maine) "are a three-alarm fire."
"The party was shaken by that," Reed said. "We're all worried."
The well-funded Chamber started TV ads in Arizona last week, launches an ad today in Maine, and will add a third state next week.
That's the earliest the group has ever gone on the air: Ads typically begin after Thanksgiving or New Year's.
"We have to spend early because the climate stinks," Reed said. "All these incumbent senators have terrible job approvals and terrible favorables."
But Reed thinks Trump has a better than 50-50 chance of hanging on: "He's still wildly popular in the middle of the country."
Between the lines: Axios' Alayna Treene reports that, across the board, struggling Republican Senate campaigns are more concerned about lousy fundraising than they are with poor polling.
Republican strategists and campaign staffers said that with the polarization of the Trump era, key House and Senate races will depend even more than usual on the presidential race.
What to watch: Senate races look so tight that control could be decided by a January 2021 runoff in Georgia.
2. Exclusive: Steve Bannon's $1 million deal linked to a Chinese billionaire
Steve Bannon has made China his signature issue since leaving the White House. Now we're seeing the beginning of a money trail behind it, Axios' Jonathan Swan and Erica Pandey scoop.
The mystery of who's funding the former Trump official's work has been at least partly solved: Guo Media, a company linked to a Chinese billionaire, has contracted Bannon for at least $1 million for "strategic consulting services," according to contracts obtained by Axios.
Why it matters: The billionaire fugitive — a man named Guo Wengui, also known as Miles Kwok — is embroiled in the U.S.-China conflict.
Guo has been living in New York while he awaits a decision on his U.S. asylum application. The Chinese government has asked the Trump administration to extradite him.
A contract, signed between Bannon and Guo Media, gives Bannon $1 million for one year of consulting services beginning in August 2018.
Bannon is contracted to introduce Guo Media to "media personalities," and advise the company on "industry standards."
Bannon declined to comment.
Daniel Podhaskie, a spokesperson for Guo, tells Axios by email: "Mr. Bannon's work in these areas was complete and he is currently not retained."
"Mr. Guo has no financial interest in Saraca Media Group or its media platform known as 'Guo Media.' Mr. Guo is merely the face of Guo Media."
3. 📊 Kids' appetite for online video doubles in 4 years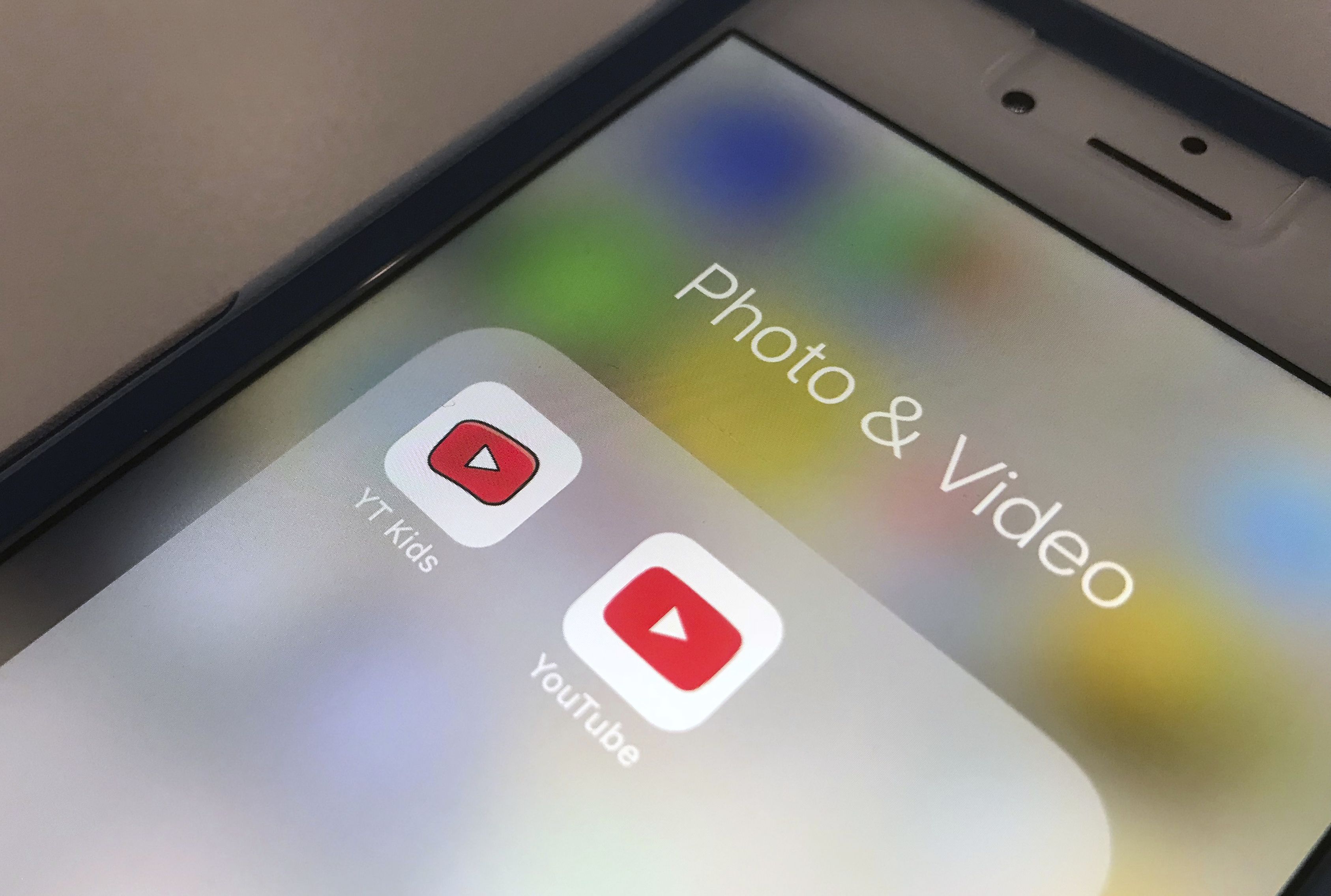 A survey out today says the number of American kids watching online videos every day has more than doubled, and they're glued to them for nearly an hour a day — twice as long as they were four years ago, AP's Martha Irvine reports.
"It really is the air they breathe," said Michael Robb, senior director of research for the nonprofit Common Sense Media, which issued the report. The group tracks young people's tech habits and offers guidance for parents.
The survey of American youth included the responses of 1,677 young people, ages 8 to 18.
It found that 56% of 8- to 12-year-olds and 69% of 13- to 18-year-olds watch online videos every day.
In 2015, the last time the survey was conducted, those figures were 24% and 34%, respectively.
The margin of error was +/- 3 points.
Overall screen time didn't change much in those four years:
The average tween (8 to 12) spent 4 hours, 44 minutes with entertainment media on digital devices each day.
For teens, it was 7 hours, 22 minutes.
That didn't include time using devices for homework, reading books or listening to music.
What to watch: YouTube said that, in the coming months, it will share details on ways the company is rethinking its approach to kids and families.
4. Cover du jour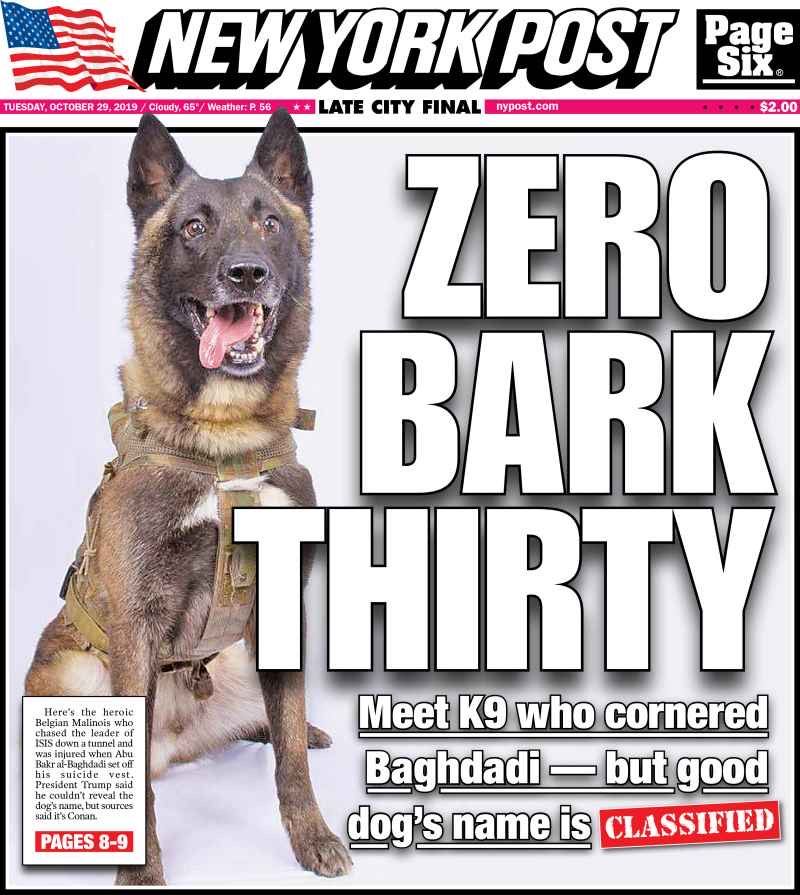 President Trump tweeted the photo above:
"We have declassified a picture of the wonderful dog (name not declassified) that did such a GREAT JOB in capturing and killing the Leader of ISIS, Abu Bakr al-Baghdadi!"
What's next: "Pentagon leaders indicated Monday that the United States could carry out more operations targeting Islamic State figures, aided by video and other information gathered during the raid in Syria that led to the death of Islamic State leader Abu Bakr al-Baghdadi," the WashPost reports.
5. ⚖️ White House official to testify today about sounding alarm on Ukraine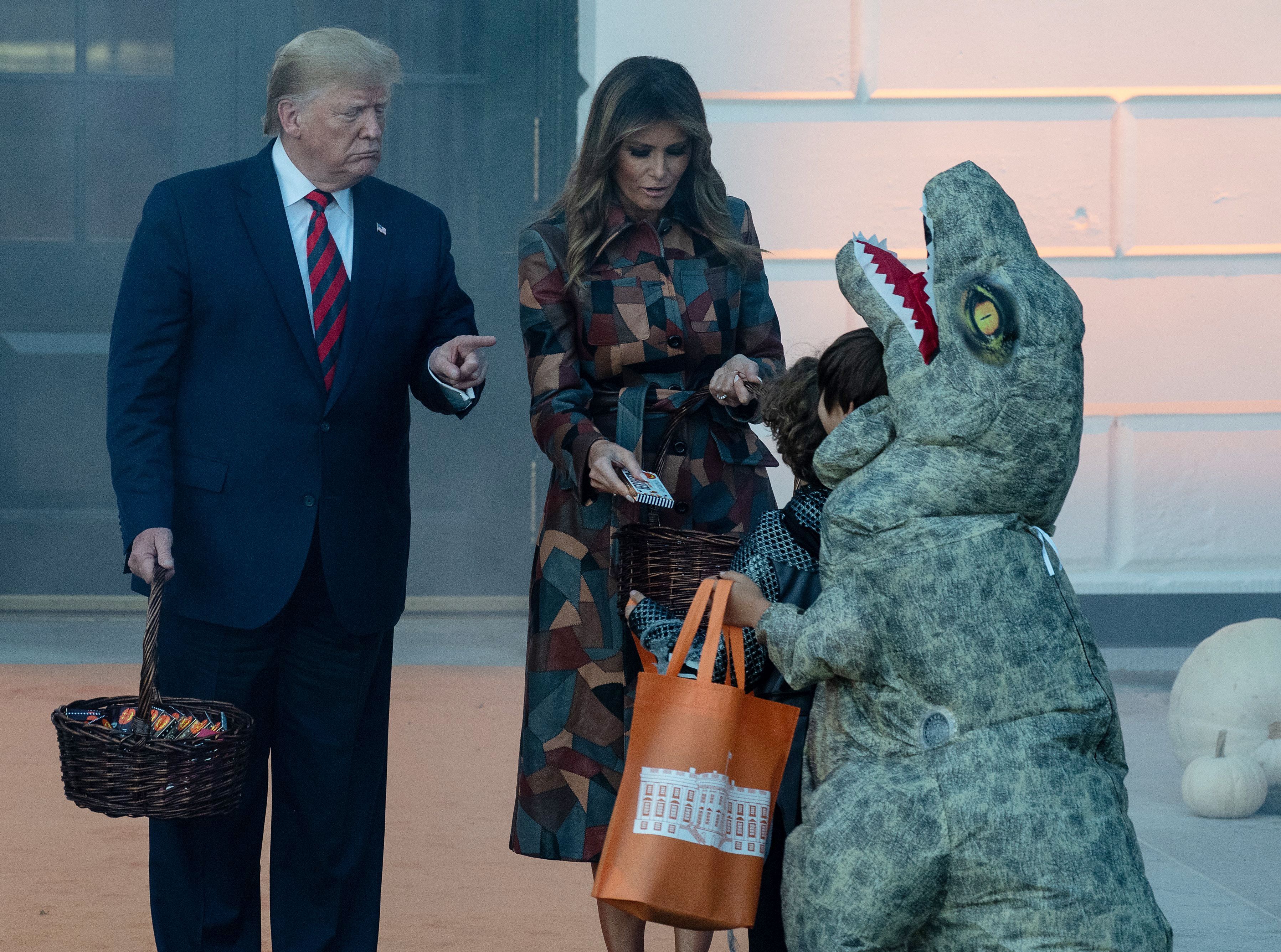 "A White House national security official who is a decorated Iraq war veteran plans to tell House impeachment investigators [today] that he ... considered [Trump's call for Ukraine to investigate political rivals] so damaging to American interests that he reported it to a superior," the N.Y. Times' Danny Hakim reports.
"Lt. Col. Alexander S. Vindman of the Army, the top Ukraine expert on the National Security Council, twice registered internal objections about how Mr. Trump and his inner circle were treating Ukraine, out of ... a 'sense of duty,' he plans to tell the inquiry, according to a draft of his opening statement."
Why it matters: "He will be the first White House official to testify who listened in on the July 25 telephone call" between Trump and Ukraine's president.
6. Pic du jour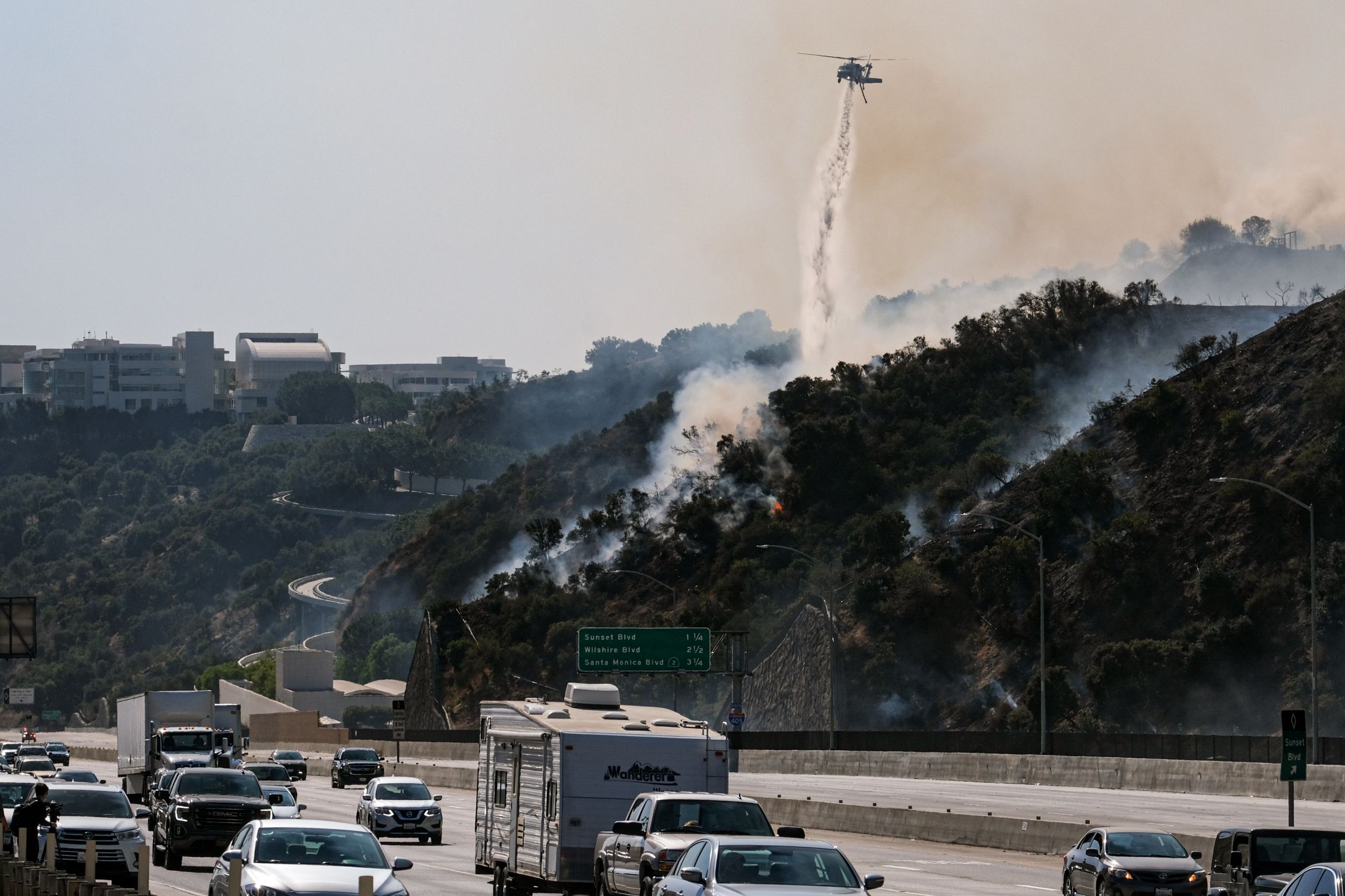 🗞️ L.A. Times lead headline today:

The Getty Fire "licked the edges of the Getty Center campus ... but the art and archives are safe," per the L.A. Times.
"The deleterious effects of air pollution on the art is the main concern, but the museum's sophisticated air filtration system is doing its job just fine, the museum said."
"The system works something like a reverse air conditioner, forcing filtered air through the galleries while maintaining the necessary temperature and humidity levels."
7. ✈️ Boeing CEO: "We made mistakes"
On the anniversary of the first of two deadly crashes of Boeing 737 MAX jets, CEO Dennis Muilenburg will tell Congress that the company is throwing everything into fixing the plane, AP's David Koenig writes:
"We have learned and are still learning from these accidents," Muilenburg says in his opening statement for the Senate Commerce Committee.
"We know we made mistakes and got some things wrong. We own that, and we are fixing them."
8. Juul to cut jobs in reset effort
Bracing for a ban on flavored vaping products, "Juul Labs Inc. plans to cut roughly 500 jobs by the end of the year," writes the Wall Street Journal's Jennifer Maloney (subscription).
Why it matters: "The cuts are part of a broader reorganization aimed at mending the company's damaged relationship with regulators."
9. ⚡ Breaking: What we're hearing about a comeback play
Well-wired Republicans tell Axios that former Attorney General Jeff Sessions is making calls in Alabama, and will decide soon whether to enter the Republican primary to take back his old Senate seat from Sen. Doug Jones (D).
What we're hearing: Sessions could lose the primary.
Trump, who soured on Sessions amid the Mueller probe, can be expected to attack him.
"He couldn't help himself," an outside adviser said.
The context: Politico calls Jones, who won in the deep-red state against the disgraced Roy Moore, "the Senate's most vulnerable incumbent."
Sessions would upend an already competitive primary that includes U.S. Rep. Bradley Byrne, former Auburn University football coach Tommy Tuberville, Alabama Secretary of State John Merrill, Moore and others. (AP)
10. 1 sink thing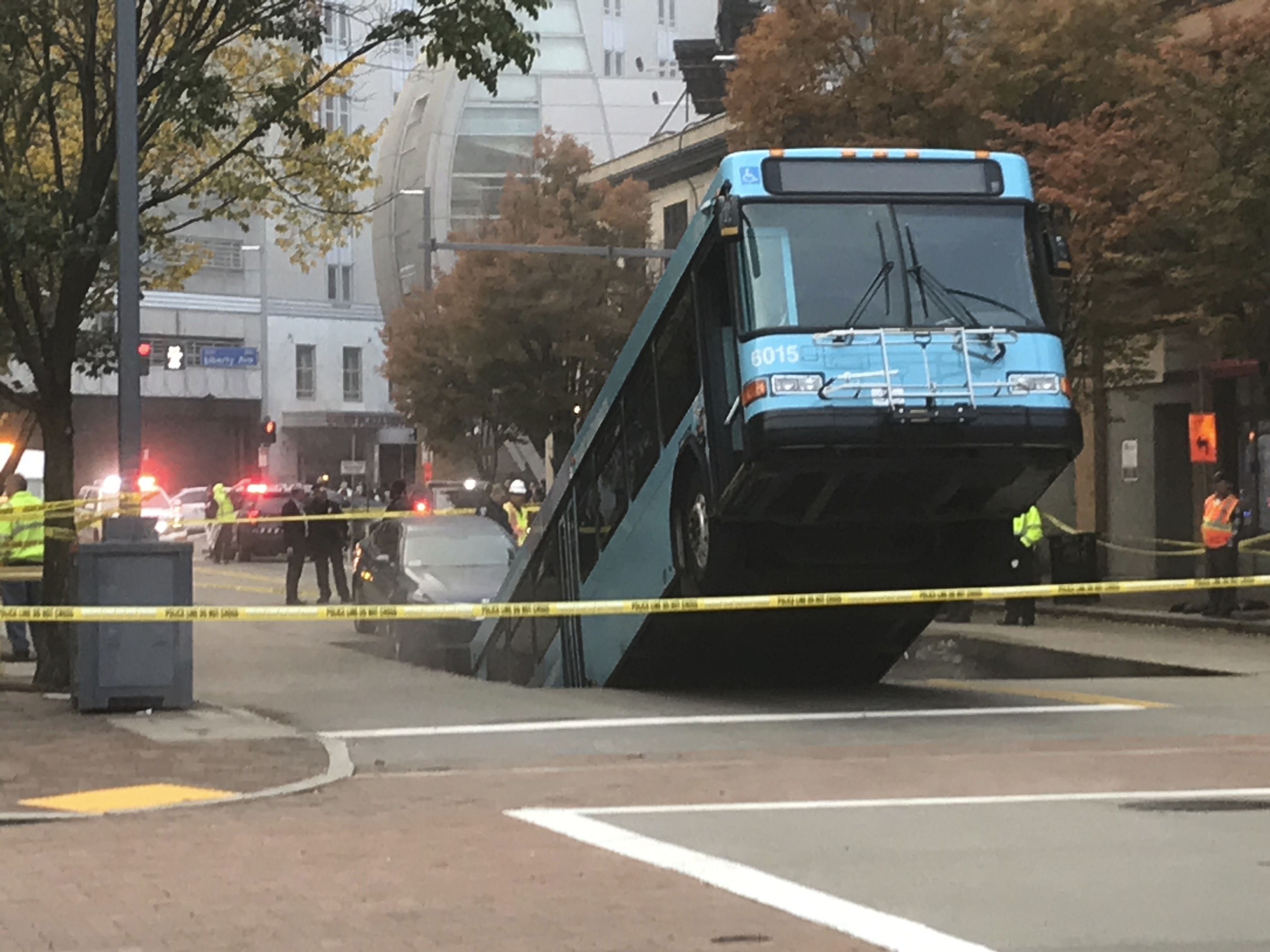 This bus, partially swallowed when a sinkhole opened during morning rush hour in downtown Pittsburgh, has been removed from the hole by two cranes.