Good Thursday morning, and happy Day 100 to Axios readers and my 70 colleagues, bringing you smart brevity worthy of your time, attention and trust. We're grateful for your passionate support, and are anxious to serve you even better in our next 100 days together. How're we doing? Just reply to this email, or drop me a line at mike@axios.com.
You're invited! Tuesday at 8 a.m. in D.C. ... Axios hosts a "Maximizing Impact" breakfast on ways business can contribute to society — through products, technology and investment decisions. I'll moderate a series of fascinating one-on-one interviews, and we'll include you in the conversation. RSVP here.
https://www.axios.com/newsletters/axios-am-de7e8449-cded-4169-b376-c0f142696c3e.html?chunk=0#story0
1 big thing: Understanding Trump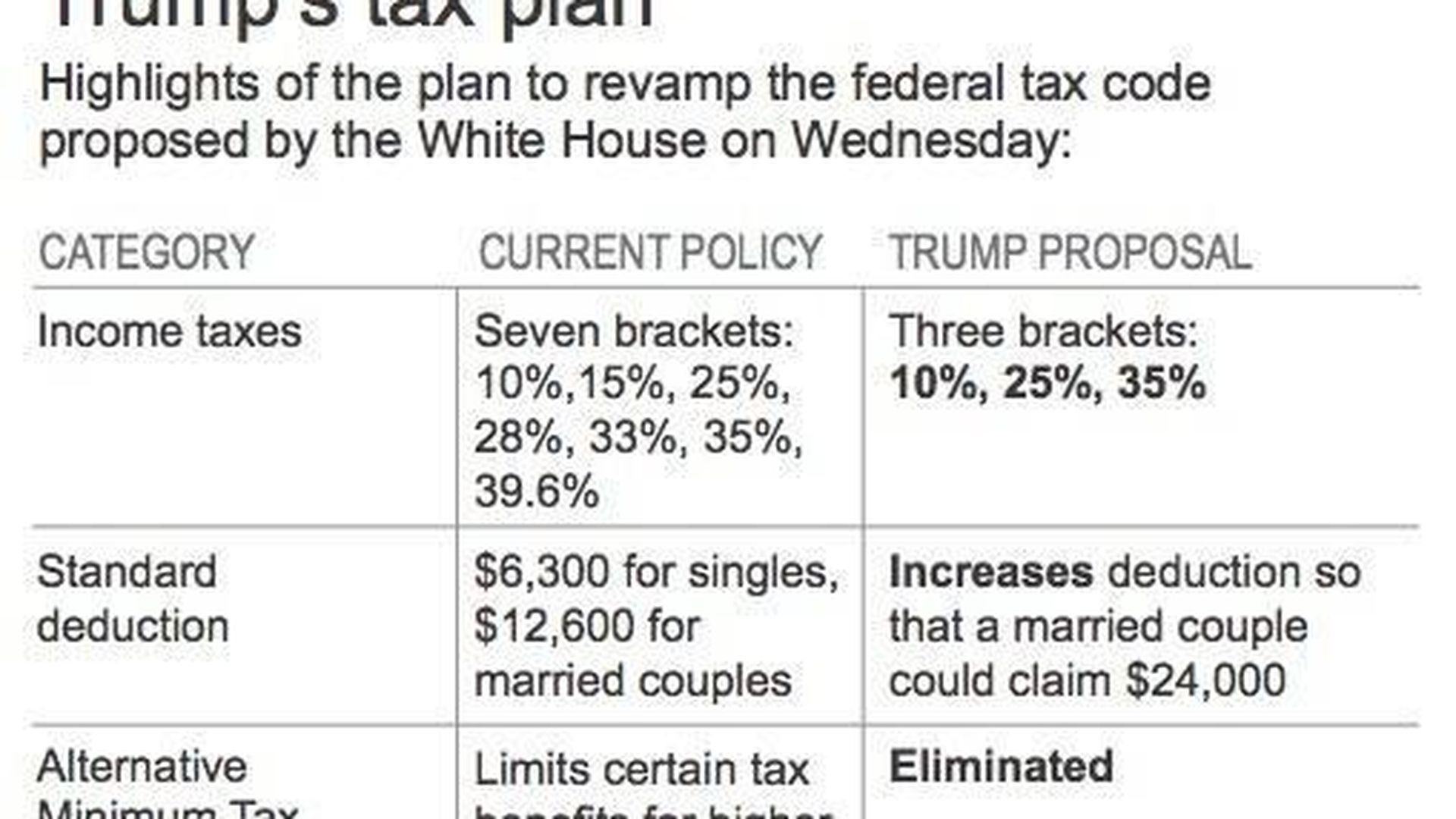 In a whirlwind of White House leaks, prods and announcements leading up to Saturday's 100-day milestone, one unifying characteristic explains everything President Trump is doing. Aides say he is still the dealmaker — pragmatic and practical, rather than ideological.
Axios' Jonathan Swan tells me after a visit to the West Wing yesterday that aides think Trump now understands the system better and how to work it, with the revival of health reform as a shining example of a classic Trump move. His dealmaker roots have surfaced repeatedly this week:
He announces a tax "plan" that's one page, so he has plenty of room to negotiate details with the Hill, and give lots of wins.
Aides debate renouncing NAFTA but say it'll be a process, not something sudden. The N.Y. Times reports: "Trump told the leaders of Mexico and Canada on Wednesday that he would not immediately move to terminate the North American Free Trade Agreement, only hours after an administration official said he was likely to sign an order that would begin the process of pulling the United States out of the deal."
Rather than playing heavy-handed broker on health care, the White House pushes toward a House vote as soon as tomorrow by letting conservatives and moderates work out internal differences on terms that are partly self-initiated. Swan explains that instead of bullying holdouts, Trump let the air drain out of the initial attempt, then let the factions start again themselves.
Get smart fast ... "Revival of unpopular health care plan divides GOP," by Axios' David Nather: "They're closer to the goal of fulfilling a campaign promise, but they're about to take a vote that will be perceived, rightly or wrongly, as abandoning sick people."
The narrative ... N.Y. Times' striking 5-column (out of 6) lead headline: "TAX OVERHAUL WOULD AID WEALTHIEST."
https://www.axios.com/newsletters/axios-am-de7e8449-cded-4169-b376-c0f142696c3e.html?chunk=1#story1
2. Breaking: United admits failures, makes changes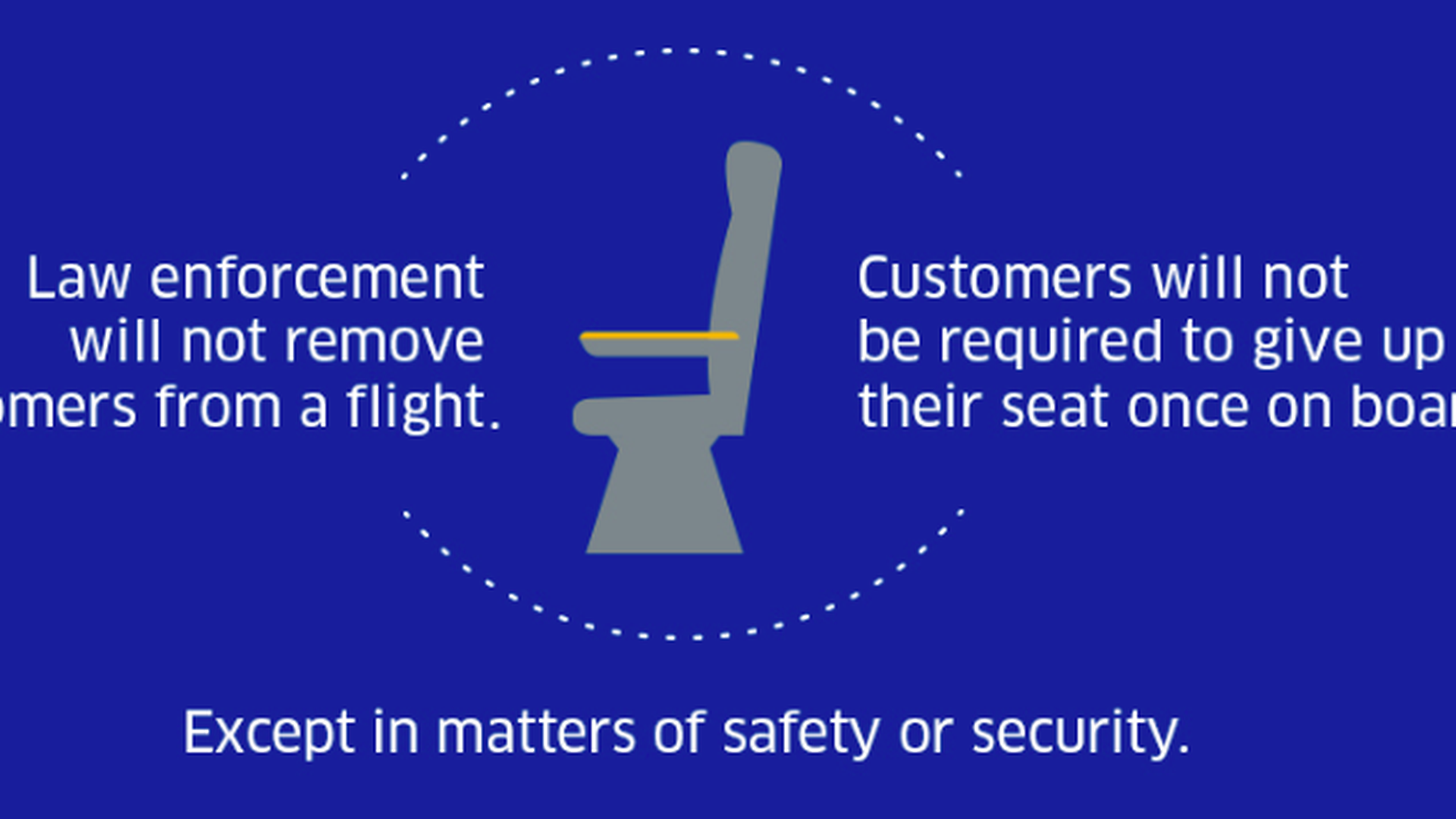 Ahead of United CEO Oscar Munoz's appearance Tuesday before the House Transportation Committee, the airline today releases a report admitting "four key failures" aboard flight 3411 from Chicago to Louisville on April 9, and 10 "significant customer-centric changes" to prevent such an incident from recurring.
Key quote: "We can never apologize enough for what occurred and our initial response that followed."
As part of an effort to "begin to earn back your trust," the 11-page reports cites these failures:
"Calling on law enforcement to assist with policy enforcement when a security or safety issue didn't exist."
"Rebooking crew at the last minute."
"Offering insufficient compensation and not providing transportation/destination options to entice more customers to give up their seats willingly."
"Providing insufficient employee training and empowerment to handle a situation like this."
Admitting "[a]ctions speak louder than words," United announces changes that include:
"Increase customer compensation incentives for voluntary denied boarding up to $10,000.""Create an automated system for soliciting volunteers to change travel plans": "Later this year, United will introduce a new automated check-in process ... that will gauge a customer's interest in giving up his or her seat on overbooked flights in exchange for compensation.""Reduce the amount of overbooking.""Eliminate the red tape on permanently lost bags by adopting a 'no questions asked' policy on lost luggage."What's next: NBC's Lester Holt will have a United "exclusive" in the first half hour of the "Today" show this morning. Disclosure: United is launching an advertising campaign that includes Axios.Editor's Note: This item was updated at 6:31 AM.
https://www.axios.com/newsletters/axios-am-de7e8449-cded-4169-b376-c0f142696c3e.html?chunk=2#story2
3. ESPN cuts foreshadow cable doom
In laying off as many as 100 personalities and writers yesterday, ESPN cited "changes in technology and fan behavior," meaning social media and highlight consumption.
Axios' Sara Fischer and Neal Rothschild write that signs point to an eventual newspaper-like revenue collapse for cable as viewers migrate to streaming and social media:
The number of U.S. households that subscribe to cable has decreased by 25% to roughly 52 million homes from 68 million at its peak in 2000.
ESPN has lost 12% of the 100 million subscribers it had in 2011.
Over the past 10 years, the network has committed to comprehensive coverage of many prof teams and college conferences, hiring digital-focused reporters as experts. But the layoffs show that the network is cutting back on the localized digital footprint.
Debate as sport: The rise of social media caused the network to focus its TV programming away from highlights readily available on Twitter, Instagram, etc. to more provocative, personality-driven analysis. But interest has still waned.
What's next: Disney is taking strategic steps to pivot its strategy towards creating new streaming opportunities on top of existing ones with companies like Hulu. Iger touted Disney's $1 billion investment in MLB's streaming division called BamTech, which will work with Disney to create an ESPN-branded subscription streaming service.
https://www.axios.com/newsletters/axios-am-de7e8449-cded-4169-b376-c0f142696c3e.html?chunk=3#story3
4. Drumbeats, but not imminent war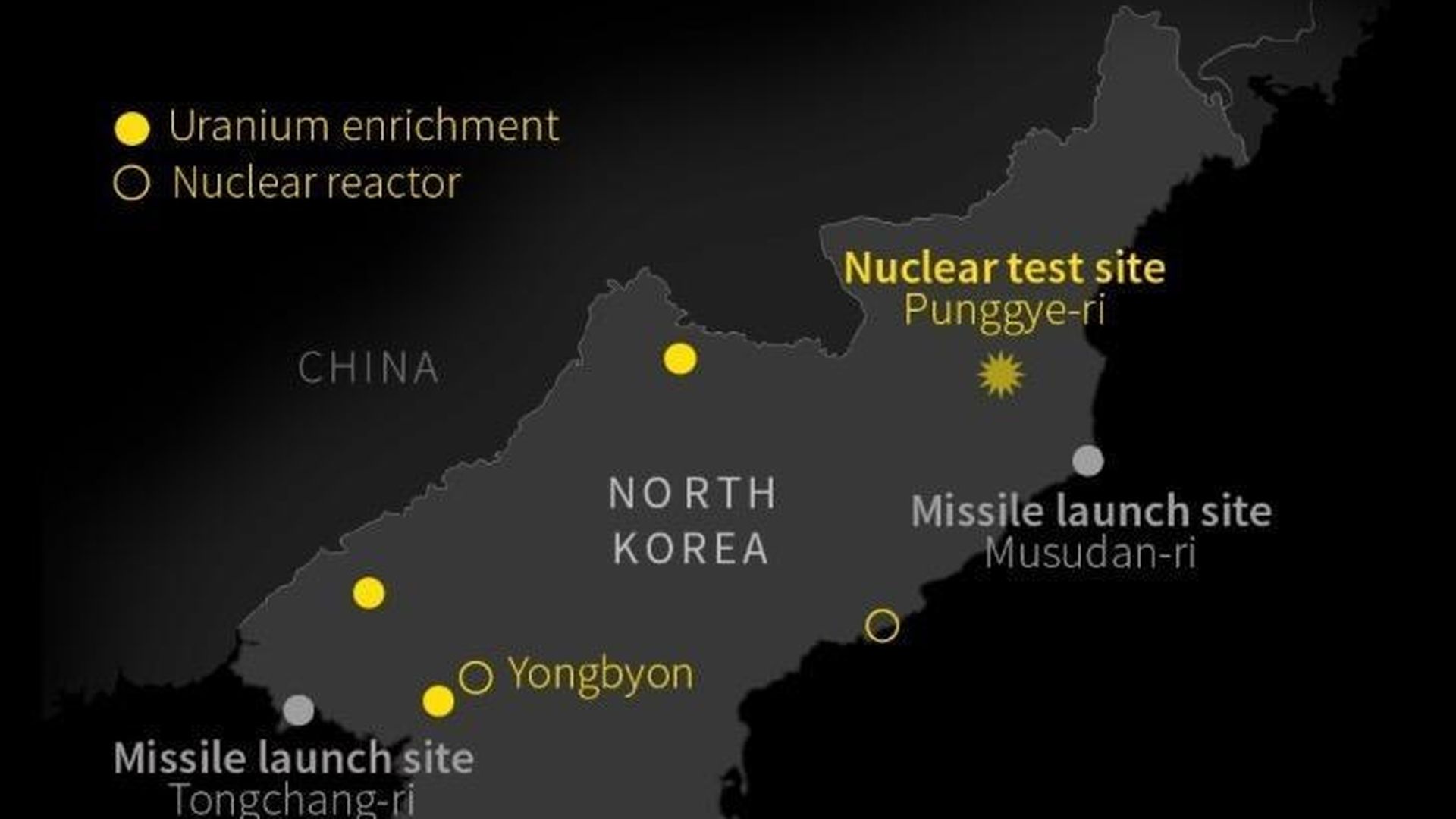 At an unusual classified briefing at the White House for all senators yesterday, the "Trump administration said it is launching an urgent push, combining diplomatic pressure and the threat of military action in a bid to halt North Korea's advancing nuclear-weapons program," the Wall Street Journal reports.
SecState Tillerson "is considering harsh measures such as asking other countries to shut down North Korea's embassies and other diplomatic facilities."
The bottom line, from N.Y. Times' Mark Landler: "Americans could be forgiven for thinking that war is about to break out. But it is not."
https://www.axios.com/newsletters/axios-am-de7e8449-cded-4169-b376-c0f142696c3e.html?chunk=4#story4
Tweet du jour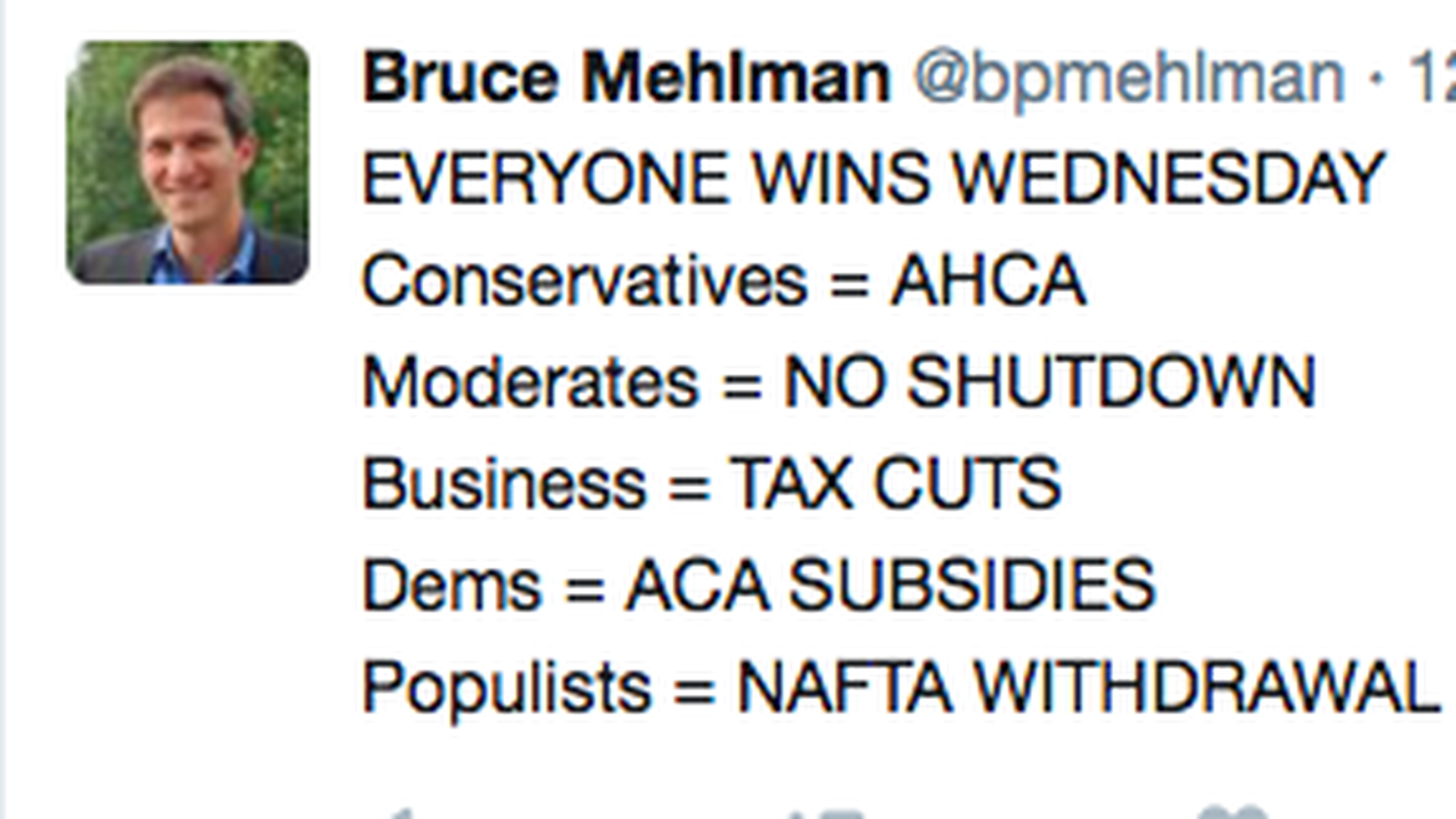 With so much news yesterday, lobbyist Bruce Mehlman wrote me to say: "You may need to go to 11 tomorrow!!"
Don't tell, but: Notice that this item sneakily doesn't have a number.
https://www.axios.com/newsletters/axios-am-de7e8449-cded-4169-b376-c0f142696c3e.html?chunk=5#story5
5. A D.C. tale
From a WashPost front-page article by Amy Argetsinger, a Style section editor, "The rise and fall — or maybe rebirth? — of the White House correspondents' dinner":
In 2004, John Fox Sullivan, [then] the publisher of National Journal, ... was on the dais, overlooking some 3,000 guests in the ballroom of the Washington Hilton. So he was just a couple feet away when President George W. Bush strolled onstage to "Hail to the Chief" to join his fellow guests at the head table, including Jay Leno, the entertainer for the night.
Walking behind the table where the guests where standing for him, Bush "takes his right hand and gooses Leno," Sullivan recalled. Leno jumped. "It happened so fast, very few people saw it," he said. Bush took his seat with a huge grin on his face — and Sullivan's been dining out on the story ever since.
https://www.axios.com/newsletters/axios-am-de7e8449-cded-4169-b376-c0f142696c3e.html?chunk=6#story6
6. World Bank likely to run women's global fund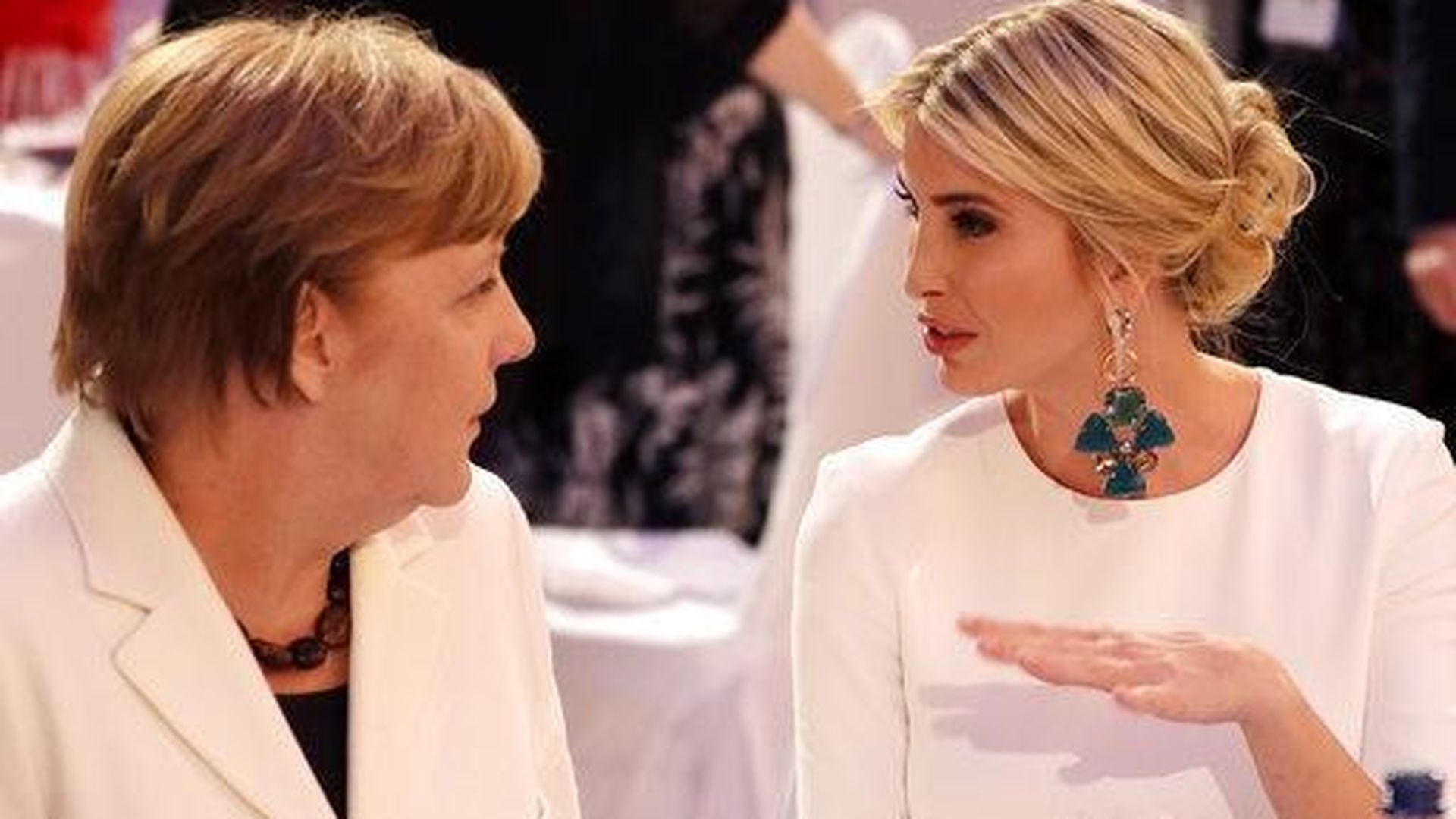 After the Twitters erupted with questions and criticism (including comparisons to the Clinton Foundation), the White House said Ivanka Trump will play a limited role in the global fund for women's empowerment that she told me about from Berlin:
An aide says: "She had the idea and recommended it to [World Bank Group President] Jim Kim but they are ... the implementer ... She will be its most advocate and supporter and will work closely with [German Chancellor Angela] Merkel and [IMF Managing Director Christine] Lagarde and Kim etc."
World Bank Group President Jim Yong Kim said his role is still being worked out: "The World Bank Group is working with partners on the details around creating a facility for women's economic empowerment ... We are very grateful for the leadership Ms. Trump and Chancellor Merkel have demonstrated."
https://www.axios.com/newsletters/axios-am-de7e8449-cded-4169-b376-c0f142696c3e.html?chunk=7#story7
7. The Wilderness
Sen. Elizabeth Warren debuts at #1 on the N.Y. Times bestseller list of May 7: "THIS FIGHT IS OUR FIGHT, by Elizabeth Warren. (Metropolitan/ Holt) The Massachusetts senator calls for restored financial regulation, stronger social programs, and renewed investment in education, research and infrastructure."
https://www.axios.com/newsletters/axios-am-de7e8449-cded-4169-b376-c0f142696c3e.html?chunk=8#story8
8. Instagram explodes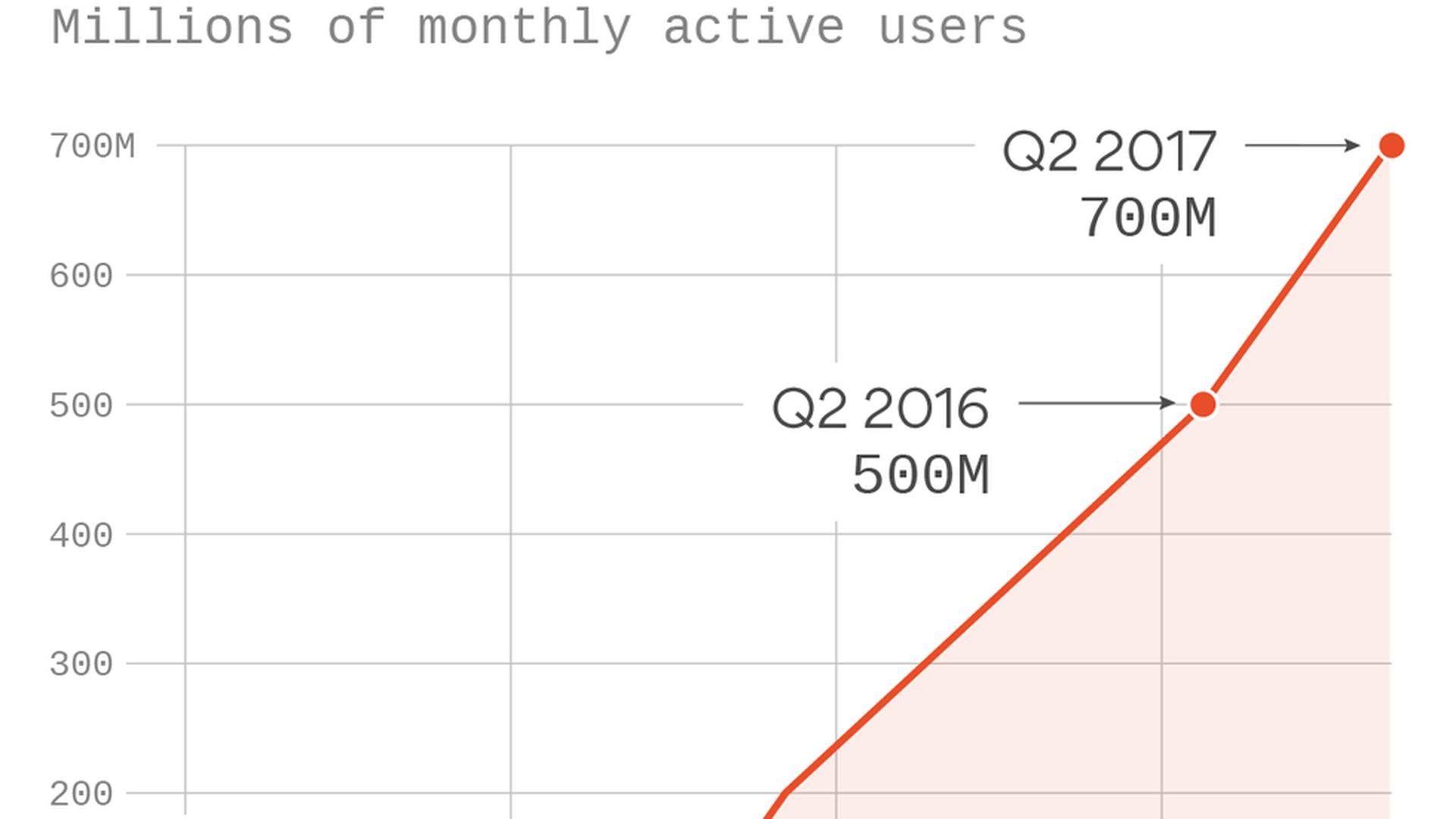 Instagram announced that it has amassed 700 million monthly active users since launching in 2010, a more than 16% increase in just four months, and a 40% increase in one year, Axios' Sara Fischer writes:
Between the lines: Instagram announced the growth achievement the same day Twitter reported its Q1 earnings, where it touted a 2.8% quarterly increase in monthly active users to to 328 million — still less than half of the user base of Instagram, which is four years younger. Instagram rival Snapchat has seen its audience has dwindled since Instagram launched a copycat stories feature in August.
https://www.axios.com/newsletters/axios-am-de7e8449-cded-4169-b376-c0f142696c3e.html?chunk=9#story9
9. First look: New BuzzFeed News slogan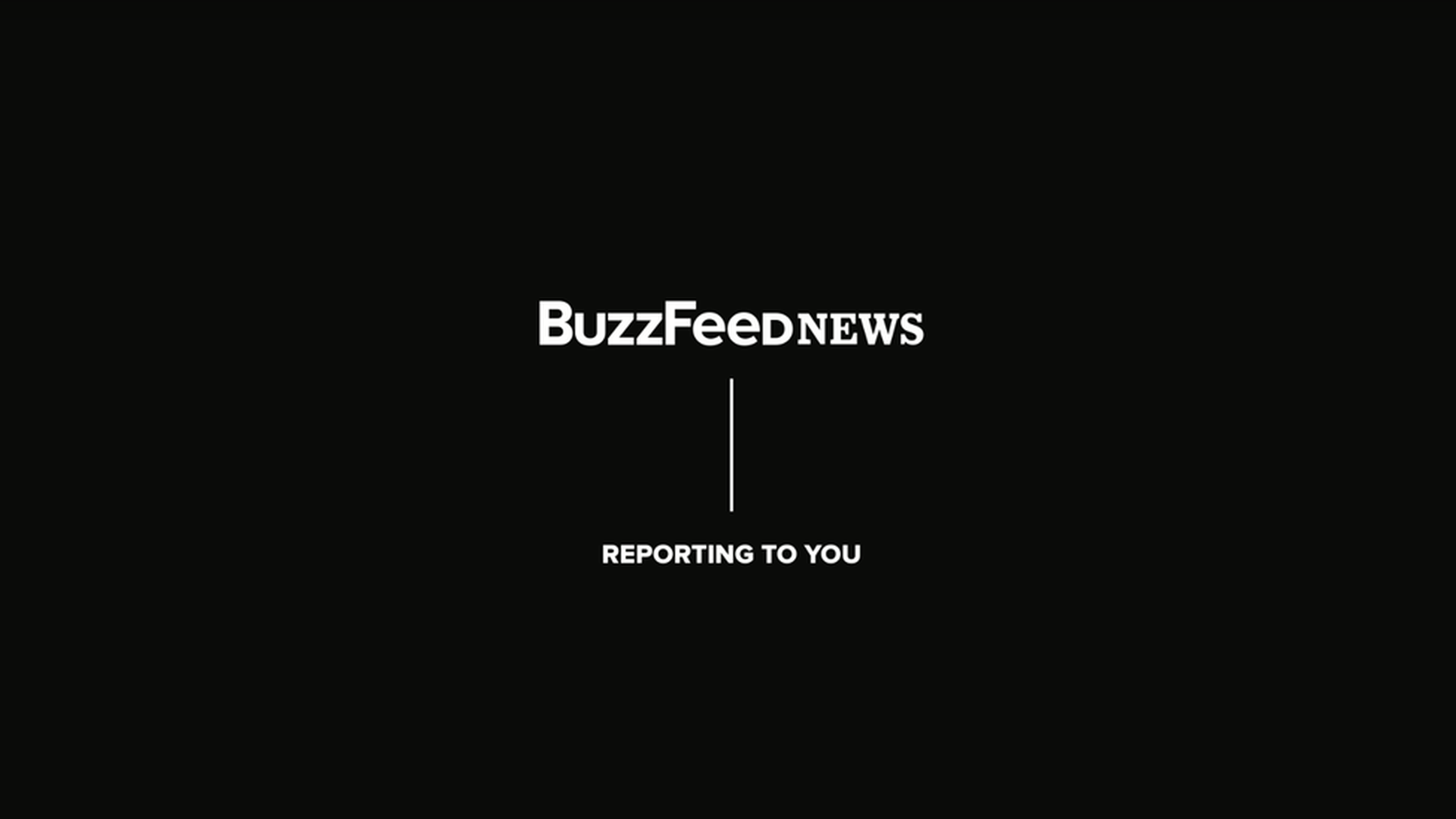 BuzzFeed Editor-in-Chief Ben Smith told his staff yesterday about a new slogan for BuzzFeed News, "Reporting to You." His all-hands email makes an implicit contrast with the stentorian marketing of the N.Y. Times and WashPost:
This is a moment when people are more concerned about the state of news than they've ever been. That's inspired some our competitors to launch campaigns that stress that they have earned trust over many decades, and that appeal to people's nostalgia for a simpler media age dominated by trusted gatekeepers. These outlets are doing spectacular work, by the way, and there's nothing wrong with their leaning on well-earned reputations.
But that isn't us. We were born of this very chaotic new ecosystem, and our opportunity is to serve a huge audience through it, not by retreating from it. ... We speak the native language — whether English or Portuguese — of the web, in text and video. ... We are committed to sharing what we know with our audience, from being clear about corrections to sharing documents with our audience, including the famous dossier. ...
We are ... testing some technical features aimed at getting even more feedback from our audience on what they want reporting on.
https://www.axios.com/newsletters/axios-am-de7e8449-cded-4169-b376-c0f142696c3e.html?chunk=10#story10
10. 1 fun thing