Good Tuesday morning. Situational awareness ... "Weinstein effect" ripples across globe: Nearly half the "#metoo" mentions have come from outside the U.S., and decades-old accusations have brought down powerful men from the U.K. and Israel to India and Peru, AP reports.
https://www.axios.com/newsletters/axios-am-dc987c28-388d-4167-8c90-4f978bd9d364.html?chunk=0#story0
1 big thing: How American politics went batshit crazy
There are lots of reasons American politics went off the rails, but Axios CEO Jim VandeHei breaks out six seminal events in the past 24 years that steered us here:
Newt Gingrich, in the early 1990s, weaponized warfare politics in a methodical and sustained way. In tactics and rhetoric, Gingrich ushered in a good-vs.-evil style that persists today.
Fox News, created in 1996, televised and monetized this hard-edged combat politics. This created the template for MSNBC to do the same on the left, giving both sides a place to fuel and fund rage 24/7. CNN soon went heavy on politics, all day, making governance a show in need of drama.
Facebook and later Twitter, both products of the post-2000 Internet revolution, socialized rage and argument. Now every nut with an opinion could find fans and followers to cheer/egg him or her on. This happened as the middle in politics was officially purged from Congress.
John McCain picking Sarah Palin as his running mate in 2008 celebritized rage politics. Until that moment, Republicans typically picked conventional, next-in-line candidates. Palin, made for cable and social media, was the precursor to Trump.
Facebook, with command of so much of most voters' time and attention, algorithm-ized rage starting around 2015. The more emotion you felt and sought, the more the newsfeed machine pumped at you. With no one looking, fake news was born and metastasizing.
Twitter + Trump, igniting in 2016, habitualized and radicalized the moment-by-moment rage and reaction of politicians, voters and the media. This created more froth and more fog, and resulted in a spike of people who don't believe real news, much less the fake news pulsing through the system.
Now, all of this has been institutionalized. No wonder people don't trust, like or believe politicians — or often each other.
Fun fact: A Pew poll on partisanship found Republicans and Democrats no longer even want to live near each other.
75% of conservatives want to live where "houses are larger and farther apart, but schools, stores, and restaurants are several miles away."
75% of liberals want to live where "houses are smaller and closer to each other, but schools, stores, and restaurants are within walking distance."
Sound smart: Politics is growing more personal, polarized and pugnacious. This dynamic is particularly acute on the right. This will likely get worse before it gets better as these trends gain more momentum.
https://www.axios.com/newsletters/axios-am-dc987c28-388d-4167-8c90-4f978bd9d364.html?chunk=1#story1
2. Special crazy edition: Moore craziness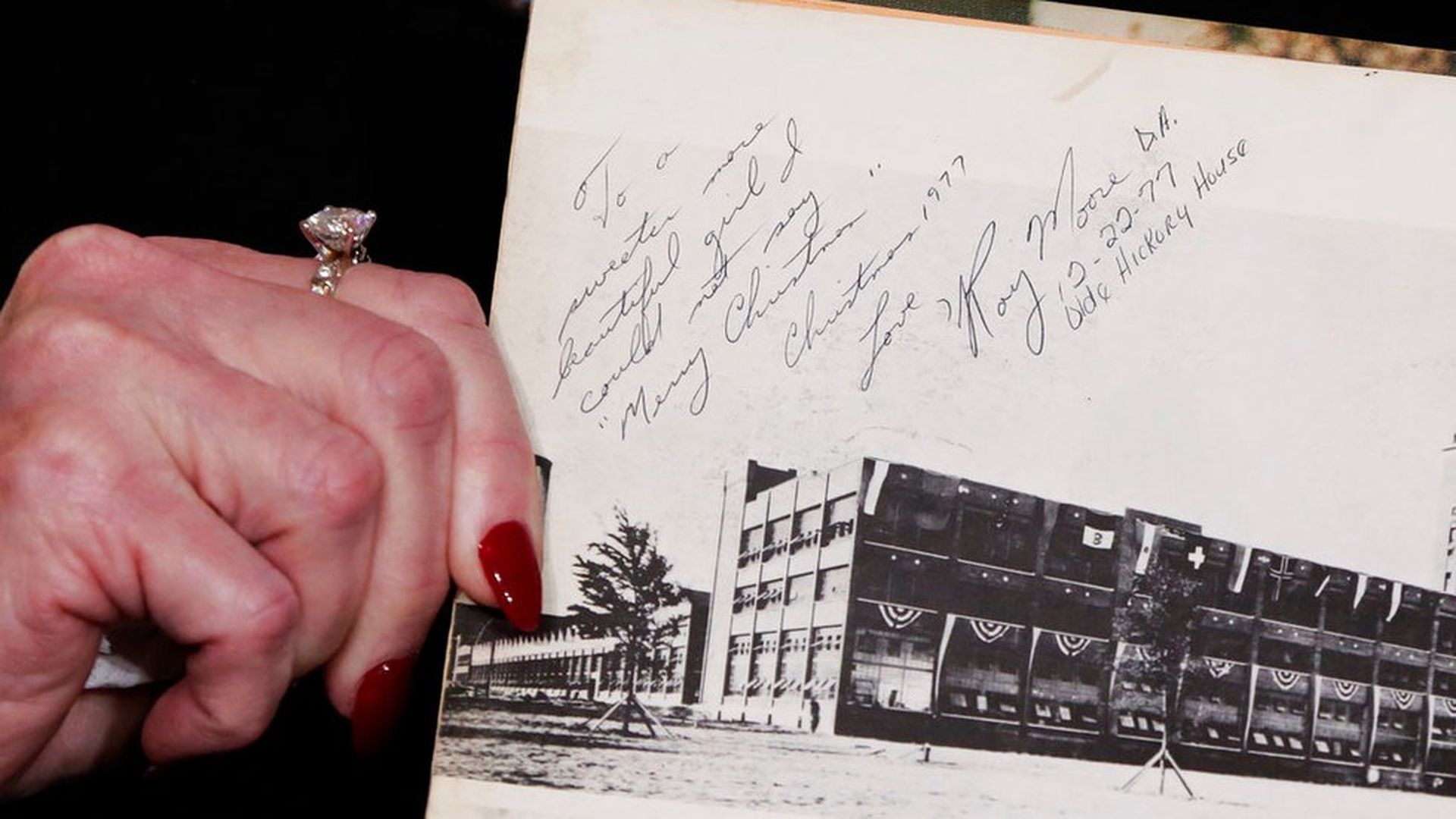 "Senate Republican leaders ... waged an urgent campaign to pressure GOP nominee Roy Moore to withdraw from the Alabama Senate race, ... declaring him 'unfit to serve' and threatening to expel him from Congress if he were elected," the WashPost reports in its lead story:
"But Moore showed no signs that he was preparing to step aside, even as another woman came forward, accusing him of sexually assaulting her in the late 1970s when she was 16."
"[N]ational Republican leaders and their allies were left without a clear path forward, with no way to remove Moore's name from the ballot for the Dec. 12 special election."
Why it matters: "The intensifying effort against Moore reflected a growing sense that his candidacy is becoming a national emergency for the Republican Party."
The upshot, from the N.Y. Times' Jonathan Martin and Sheryl Stolberg: "The day's events seemed to harden the resolve of Senate Republicans to avert what they fear would be a nightmare situation going into the midterm elections next year: being associated with a man accused of preying on children."
https://www.axios.com/newsletters/axios-am-dc987c28-388d-4167-8c90-4f978bd9d364.html?chunk=2#story2
3. Justice Dept. considers special counsel on Clinton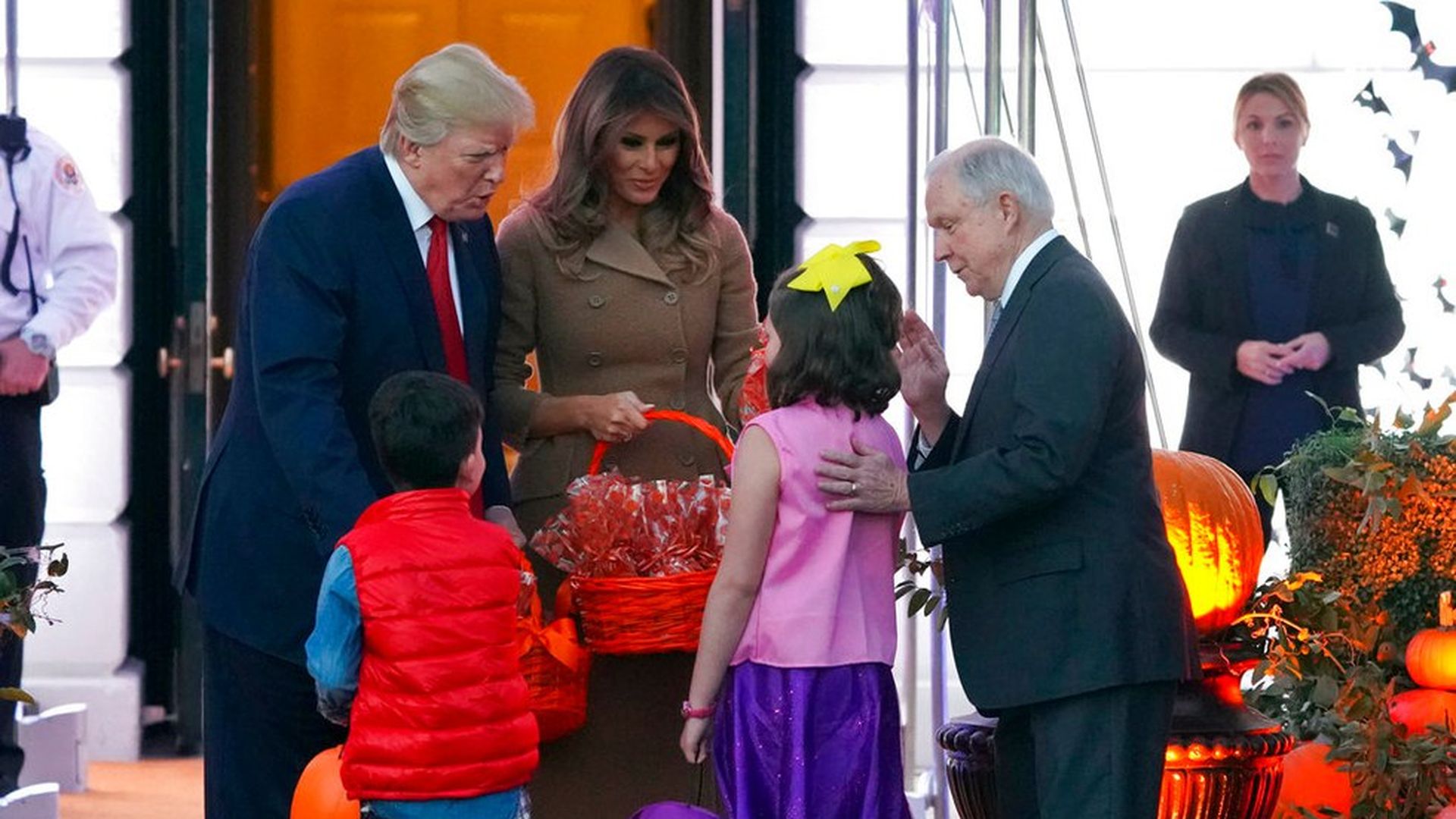 Jeff Sessions' Justice Department has given the strongest hint yet that it may turn a harsher spotlight on the sale of Uranium One and "alleged unlawful dealings related to the Clinton Foundation," Axios' Jonathan Swan reports:
Sessions is even leaving the door open to appointing a Special Counsel to investigate these issues, according to a letter from Assistant Attorney General Stephen Boyd to House Judiciary Chairman Bob Goodlatte.
Per a senior administration official: "This Justice Department under this Attorney General is not going to play the James Comey game and confirm, or even deny, the existence of criminal investigations — but this letter makes it clear that Sessions is taking the Uranium One issue very seriously."
Why it matters, from N.Y. Times, top of column 1: "The letter appeared to be a direct response to Mr. Trump's statement on Nov. 3, when he said he was disappointed with his beleaguered attorney general, Jeff Sessions, and that longstanding unproven allegations about the Clintons and the Obama administration should be investigated."
Go deeper: See excerpts of the letter.
Facts Matter, from Axios ... "Background on the U.S.-Russia Uranium deal."
https://www.axios.com/newsletters/axios-am-dc987c28-388d-4167-8c90-4f978bd9d364.html?chunk=3#story3
Bonus: Data du jour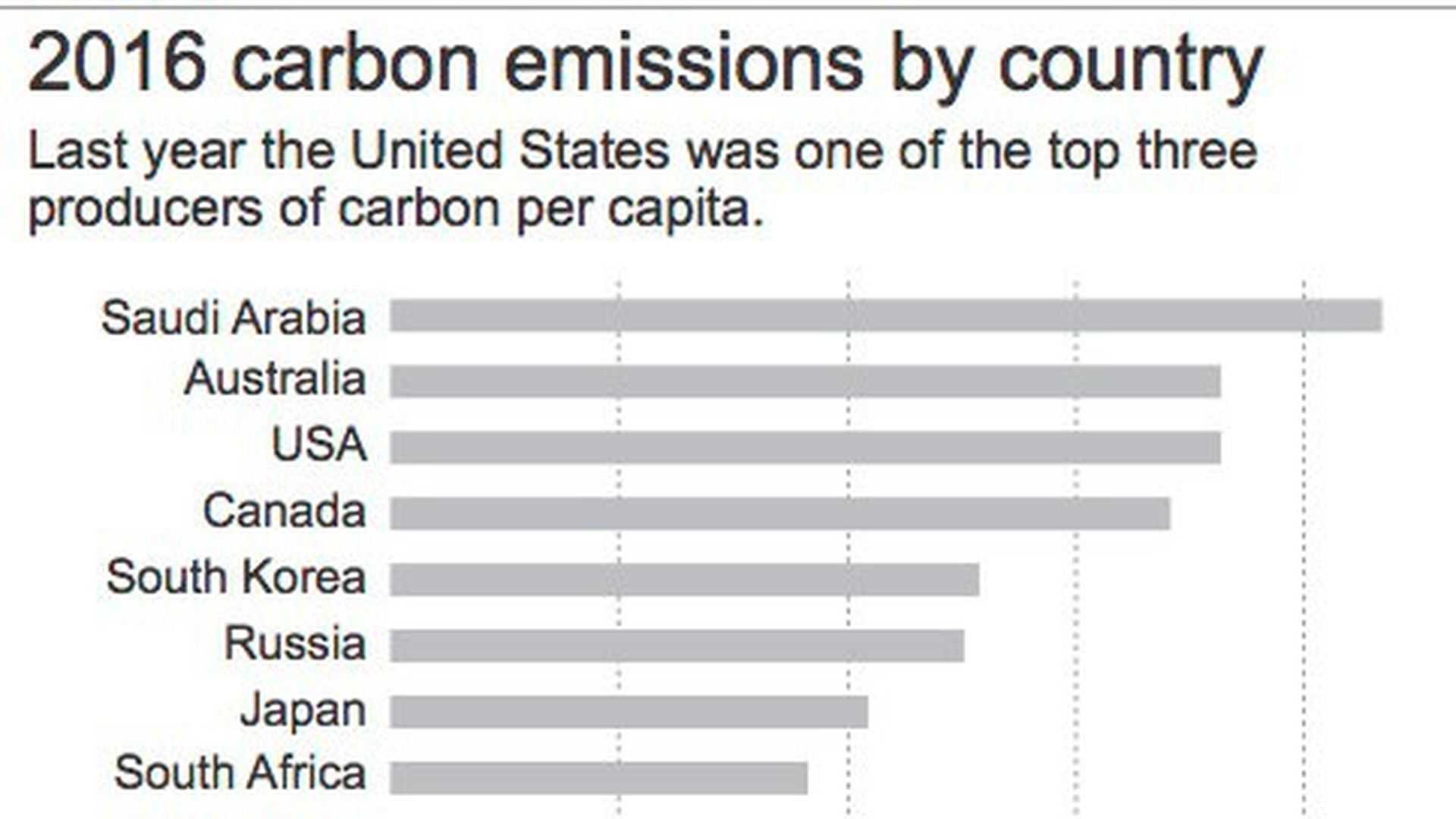 https://www.axios.com/newsletters/axios-am-dc987c28-388d-4167-8c90-4f978bd9d364.html?chunk=4#story4
4. Don Jr. messaged with WikiLeaks during campaign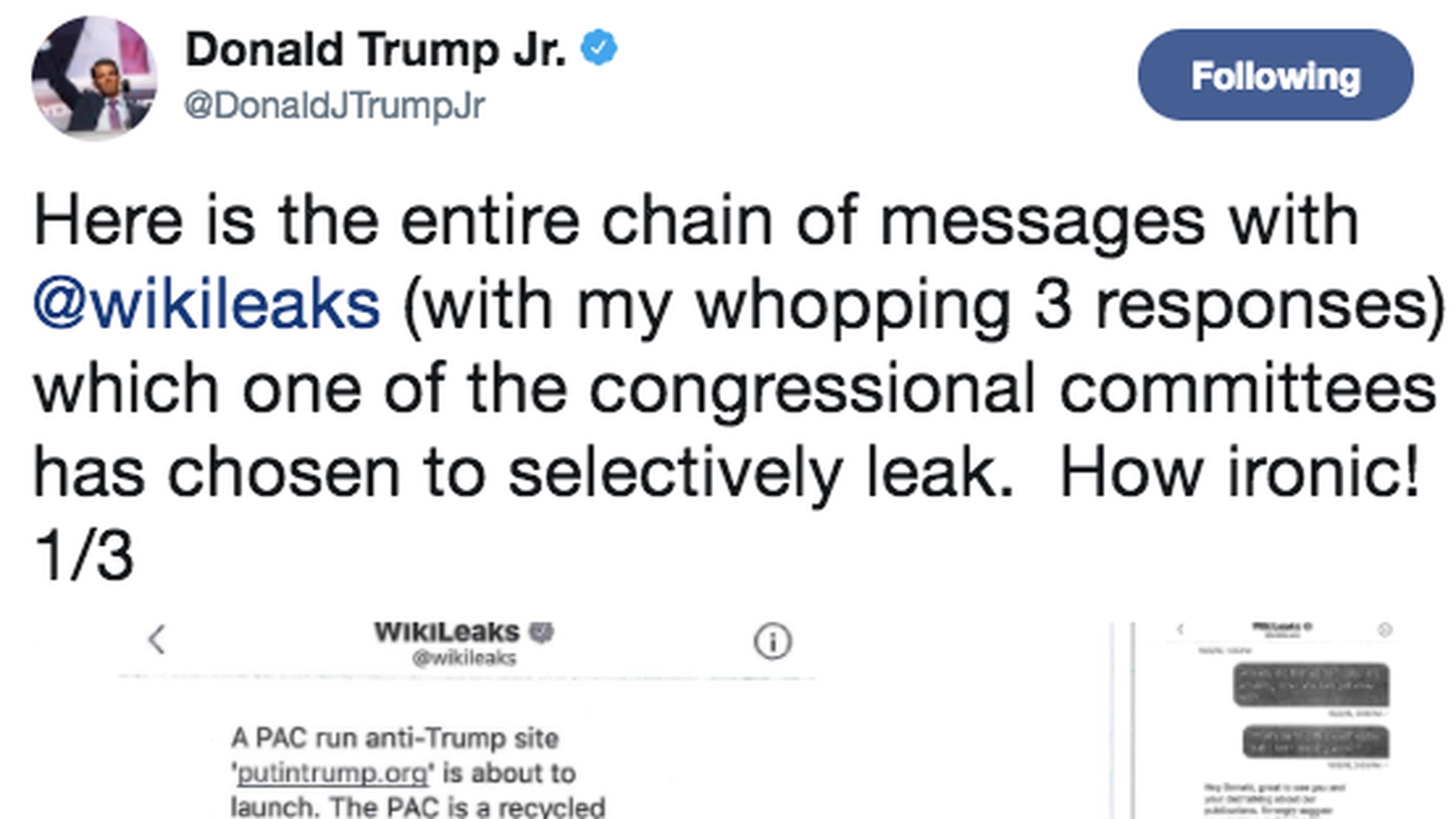 WikiLeaks sent Donald Trump Jr. a series of Twitter direct messages between September of last year and this past summer, with the president's son responding to a few of the messages sent ahead of November's election, the Atlantic's Julia Ioffe reports.
The messages were turned over by Don Jr.'s lawyers to congressional investigators.
Why it matters, per Axios' David Lawler: It was WikiLeaks that published emails stolen by Russian actors from Hillary Clinton's campaign and the DNC. In the messages to Don Jr., WikiLeaks seems to be offering to help the Trump campaign.
https://www.axios.com/newsletters/axios-am-dc987c28-388d-4167-8c90-4f978bd9d364.html?chunk=5#story5
5. Haass makes Axios debut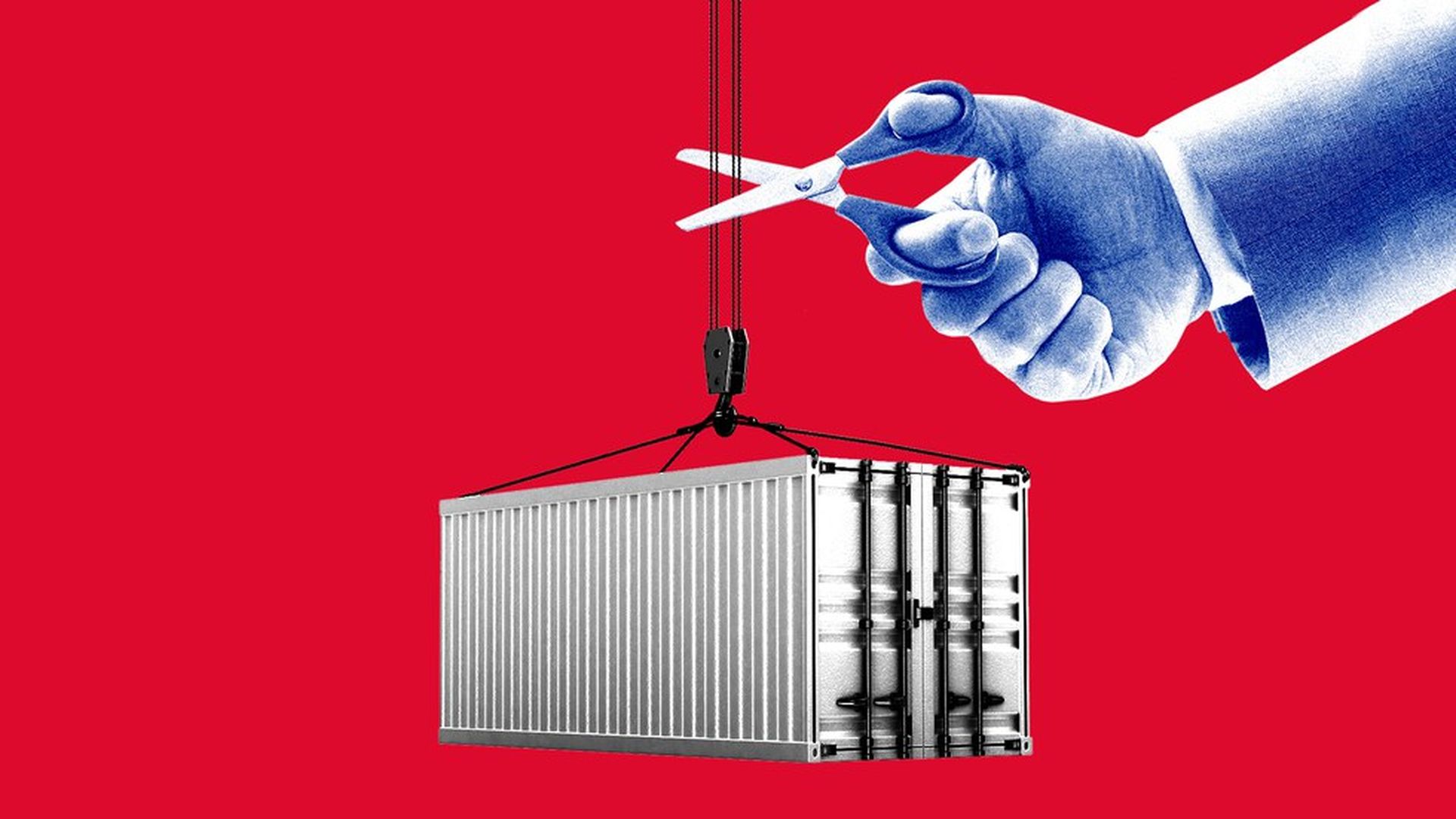 Richard Haass, president of the Council on Foreign Relations, makes his Expert Voices debut on Axios with "Trump's biggest mistake in Asia: rejecting trade":
"Reactions to President Trump's Asia trip have focused on a few key themes: his continued unwillingness to confront Vladimir Putin, his public trashing of U.S. intelligence officials, his exchange of personal insults with Kim Jong-un, and his uncritical embrace of Filipino president Rodrigo Duterte."
"But when the history of Trump's trip is written, it will be his decision to opt out of an Asian trade framework, the Trans-Pacific Partnership, that has the gravest and most lasting consequences."
Why it matters: "His approach marginalizes the United States in a region that will define the 21st century. American businesses will find themselves unable to compete in Asian markets, and no laundry list of one-off deals and bilateral accords will compensate for the losses."
Go deeper, share the post.
https://www.axios.com/newsletters/axios-am-dc987c28-388d-4167-8c90-4f978bd9d364.html?chunk=6#story6
6. Inside West Wing: "Fire and Fury" detonates Jan 9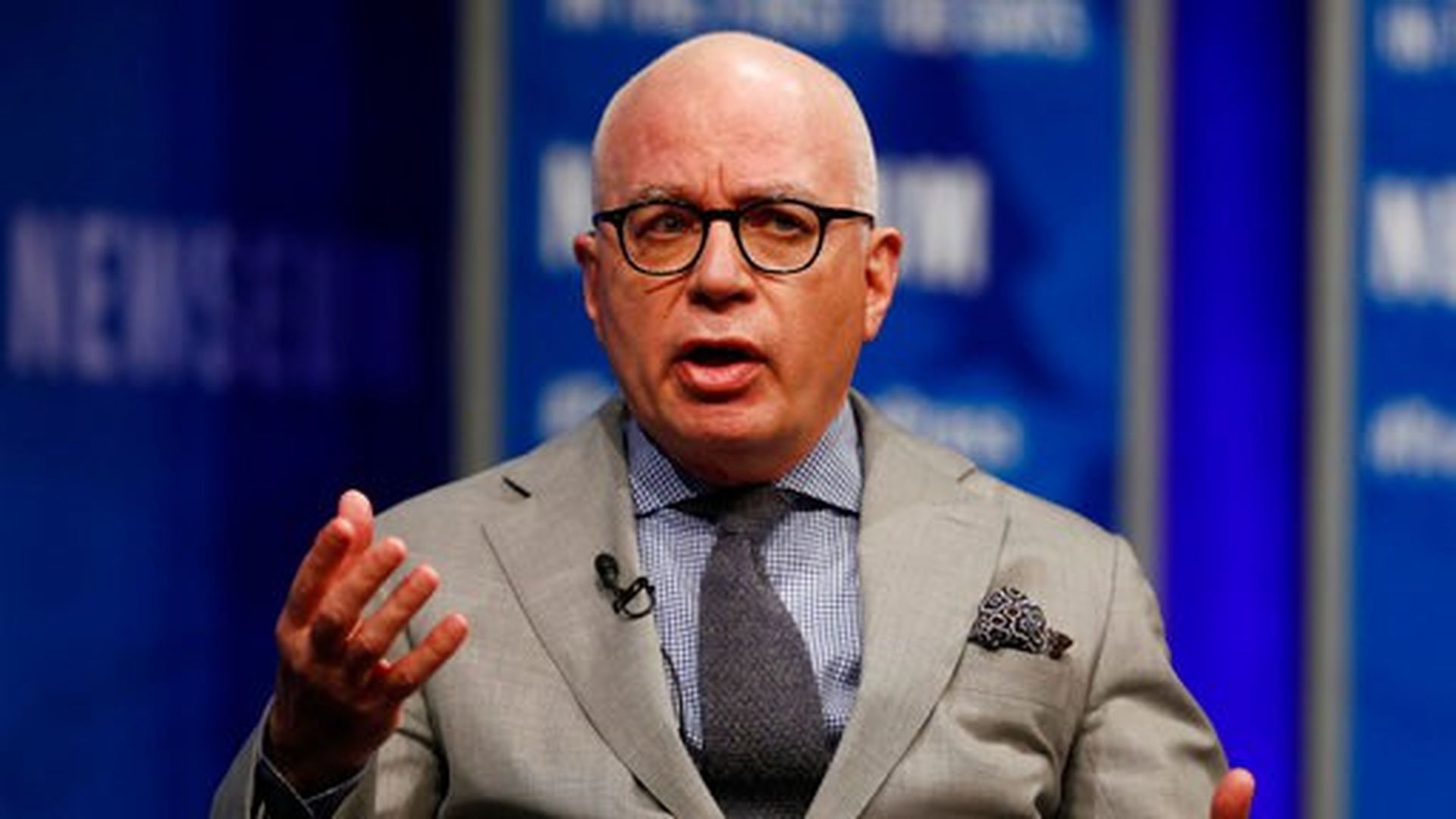 Best-selling author Michael Wolff has spent months inside President Trump's West Wing (often unsupervised!), listening to senior officials pour out real-time accounts of their internal battles, maneuvering and frustrations.
The result is a juicy, explosive book, "Fire and Fury: Inside the Trump White House," to be published Jan. 9 by Henry Holt.
My conversations with the West Wing show there's already a frenzy inside to figure out who told Wolff what.
Wolff, who lives in New York and has known Trump for years, talked to nearly everyone, resulting in what the publisher calls "searing, intimate portraits" of Steve Bannon, Jared Kushner, Ivanka Trump, Reince Priebus, Sean Spicer, Kellyanne Conway, Gary Cohn, Stephen Miller, Dina Powell, Hope Hicks and more.
Wolff — the author of six prior books, including the bestselling "Burn Rate" and "The Man Who Owns the News," a Rupert Murdoch biography — the minute Trump threatened "fire and fury" on North Korea, he knew that was the title.
Wolff tells me key players have been barraging him with calls, trying to figure out what his sources said about them: "It's the fundamental dynamic of this White House — people divided against each other."
From a forthcoming release: "Based on more than 200 interviews with the president, most members of his senior staff, and many of the people they in turn spoke to, Wolff shows how Trump and his team careened from one crisis to the next during the administration's first nine months."
The theme: "Many of Trump's closest advisers were politically inexperienced and untested; from the start, bitter rivalries if not open warfare paralyzed the new presidency. And at the center of the White House was Trump himself: impulsive, fiery, and wholly new to the world of politics."
Wolff: "The United States is in the midst of the most intense political storm since Watergate."
Wolff's best quote: "Perhaps not since the Tudors has palace intrigue been so corrosive and lethal, nor the king so volatile and so in need of instant gratification."
Stephen Rubin, Holt's president and publisher, today will announce the book, edited by John Sterling, editor at large for Macmillan. Rubin acquired North American rights from Andrew Wylie of The Wylie Agency.
https://www.axios.com/newsletters/axios-am-dc987c28-388d-4167-8c90-4f978bd9d364.html?chunk=7#story7
7. Hate crimes rise again
FBI stats out yesterday show increases last year in attacks motivated by bias against blacks, Jews, Muslims and LGBT people, AP's Sadie Gurman reports:
There were more than 6,100 hate crimes last year, up about 5% over 2015.
More than half the 4,229 racially motivated crimes were against black people; 20% were against whites.
Jews were targeted in more than half the 1,538 crimes motivated by religion.
Crimes fueled by bias against LGBT people rose from 203 in 2015 to 234.
There were 307 crimes against Muslims in 2016, up from 257 in 2015, which was the highest number since the aftermath of 9/11.
Why it matters: "The numbers likely reflect an uptick recorded by civil rights groups in harassment and vandalism targeting Muslims, Jews, blacks and others amid the presidential campaign."
https://www.axios.com/newsletters/axios-am-dc987c28-388d-4167-8c90-4f978bd9d364.html?chunk=8#story8
8. Media trends: Taking on Google, Facebook video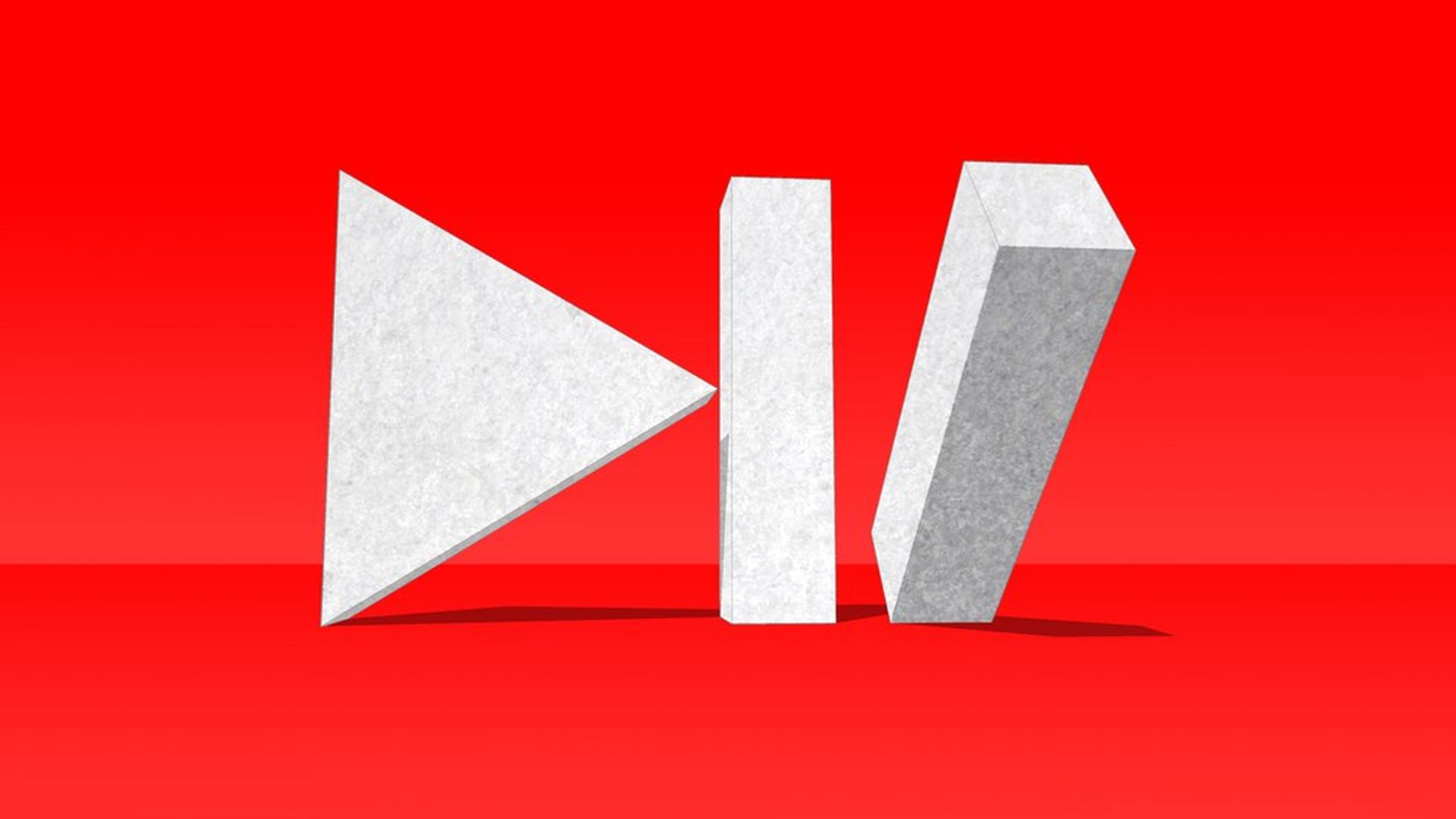 Axios' Sara Fischer reports in her weekly Media Trends newsletter that new players (including Amazon!) are taking on Google and Facebook in ad-supported videos. It's an attempt to break down what has been an overwhelming dominance by the two companies. (Sign up free here for Media Trends.)
Why it matters: "Video is the thing that will ultimately chip away at the duopoly," says Mike Kelly, former president of AOL Media Networks and current CEO of Kelly Newman Ventures.
Among the new entrants:
Amazon is developing an ad-supported video streaming service, per Ad Age. "To get its new effort off the ground, Amazon may share both audience information and ad revenue, even linking payments for content to the number of hours people watch."
Twitter has launched dozens of ad-supported live video sponsorships, ranging from news shows to entertainment shows to sport highlights.
Musical.ly, an ad-supported lip-syncing video app, was bought last week by Toutiao, a Chinese personalized news app. Musical.ly is one of the first big Chinese social apps to gain traction in the U.S., and Recode's Peter Kafka says it "may be the most successful video app not owned by an internet giant like Facebook or Google."
Be smart: Google and Facebook's grip on digital advertising won't be stopped soon. But as digital video consumption eventually slows down due to saturation, they'll have to fend off competitors more aggressively.
P.S. "Scoop: Bloomberg expects eight figures for new Twitter network."
https://www.axios.com/newsletters/axios-am-dc987c28-388d-4167-8c90-4f978bd9d364.html?chunk=9#story9
9. Tracking power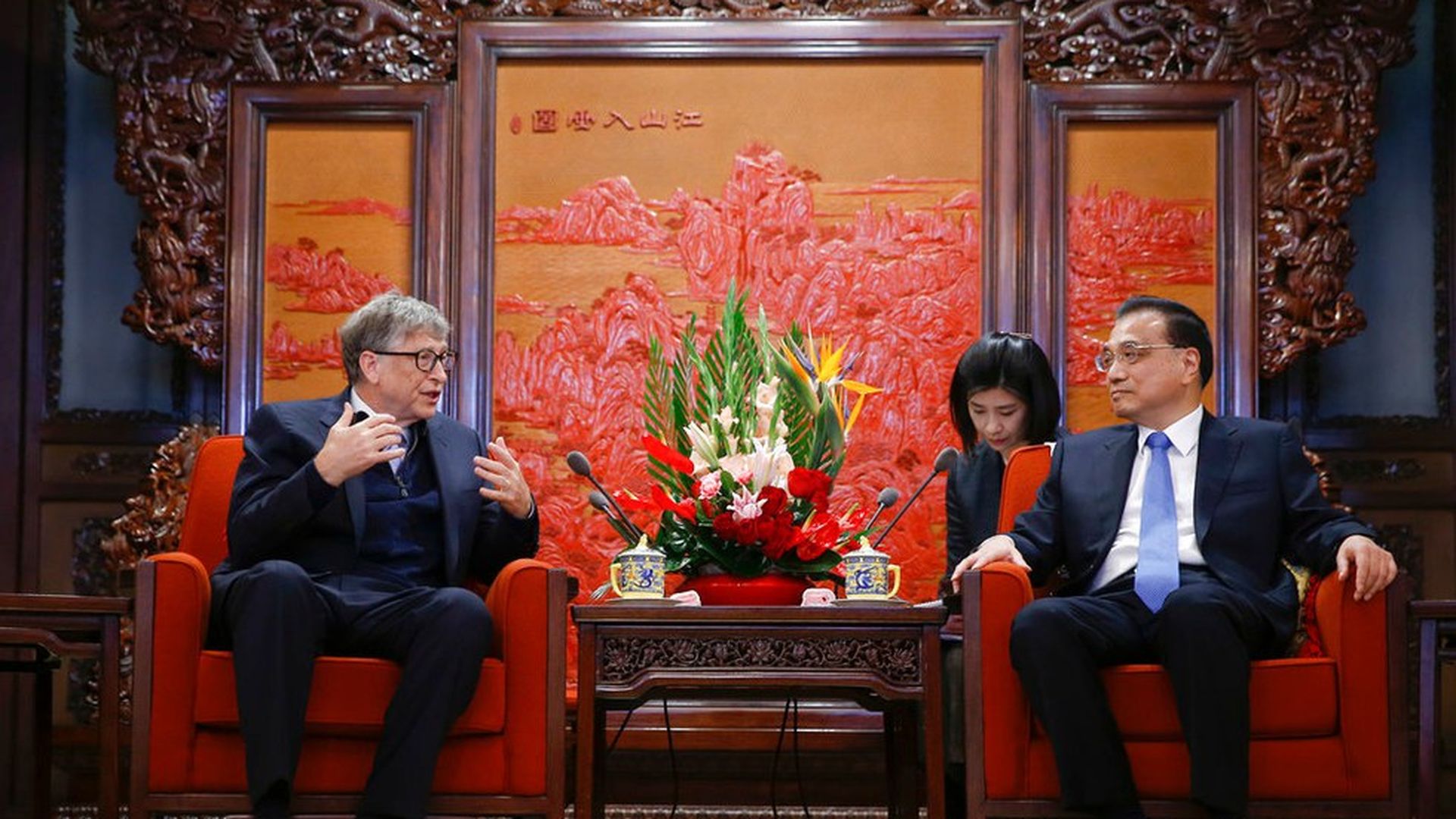 Bill Gates commits $50 million to what CNN's Dr. Sanjay Gupta calls "one of the holy grails of science: a cure for Alzheimer's":
"He is investing ... his own money into the Dementia Discovery Fund, a private-public research partnership focused on some of the more novel ideas about what drives the brain disease, such as looking at a brain cell's immune system. It's the first time Gates has made a commitment to a noncommunicable disease."
"He told me he has spent the past year investigating and talking to scientists, trying to determine how best to help move the needle toward treatment of the disease itself rather than just the symptoms."
Mark Zuckerberg and his wife, Priscilla Chan, are giving Harvard University $12.1 million through their Chan Zuckerberg Initiative to help low-income undergraduate students pursue public service jobs:
Boston Globe: "Quincy native Priscilla Chan ... was in Dorchester over the weekend to visit the public-housing projects where she ran an after-school program while a student at Harvard."
First look ... Maria Comella, chief of staff to New York Gov. Andrew Cuomo, will leave in January after his State of the State address to join WeWork at the office-sharing giant's New York headquarters. She'll report to Jennifer Skyler, global head of public affairs, to oversee day-to-day policy and communications in regions around the world.
The addition of Comella, with her 15 years of bipartisan strategic planning experience, is an effort by the rapidly scaling WeWork to get ahead of public-policy issues at the local, state, national and global levels. She has worked for Rudy Giuliani, Chris Christie, John McCain and the 2004 Bush-Cheney campaign.
WeWork is in 58 cities, 16 countries and 170 locations. Comella joins a team of over 50, including corporate communications, the Creator Awards team, Regional Pubic Affairs as well as Policy and Social Impact teams.
https://www.axios.com/newsletters/axios-am-dc987c28-388d-4167-8c90-4f978bd9d364.html?chunk=10#story10
10. 1 phone thing
Cellphone debate goes younger and younger: "Should they be allowed in elementary schools? What about middle-schoolers using them at lunch?"
In a WashPost front-pager, Donna St. George writes that "[w]hat has become a more settled matter for high school students is sparking questions and controversy in lower grades":
"[I]n Maryland's biggest school system — in suburban Montgomery County — ... some of the rules have been relaxed in recent months. It used to be that students through fifth grade could carry cellphones only with special permission. But over the years, an increasing number of parents wanted their elementary-age children to take phones to school, often believing kids would be ­safer — walking home or in an emergency."
"As the Maryland district recently moved to do away with the old rule, other parents objected — shocked that children as young as 6 or 7 would be permitted to bring smartphones to school. One father recalled his child's school banning fidget spinners and Pokémon cards. Why allow cellphones?"
Why it matters: "Researchers are exploring possible negative effects related to concentration, academic focus and overstimulation ... On the positive side, he said, educators are using devices in classrooms as a way to engage students in course material."