You're invited ... to Treasury Secretary Steve Mnuchin's first public onstage event — Friday at 8 a.m. in downtown D.C., as the debut headliner of my new News Shapers series. Would love to have you: Click here to RSVP.
https://www.axios.com/newsletters/axios-am-db86a802-5eeb-46f8-944d-32934bf40b48.html?chunk=0#story0
1 big thing: A momentous, ominous day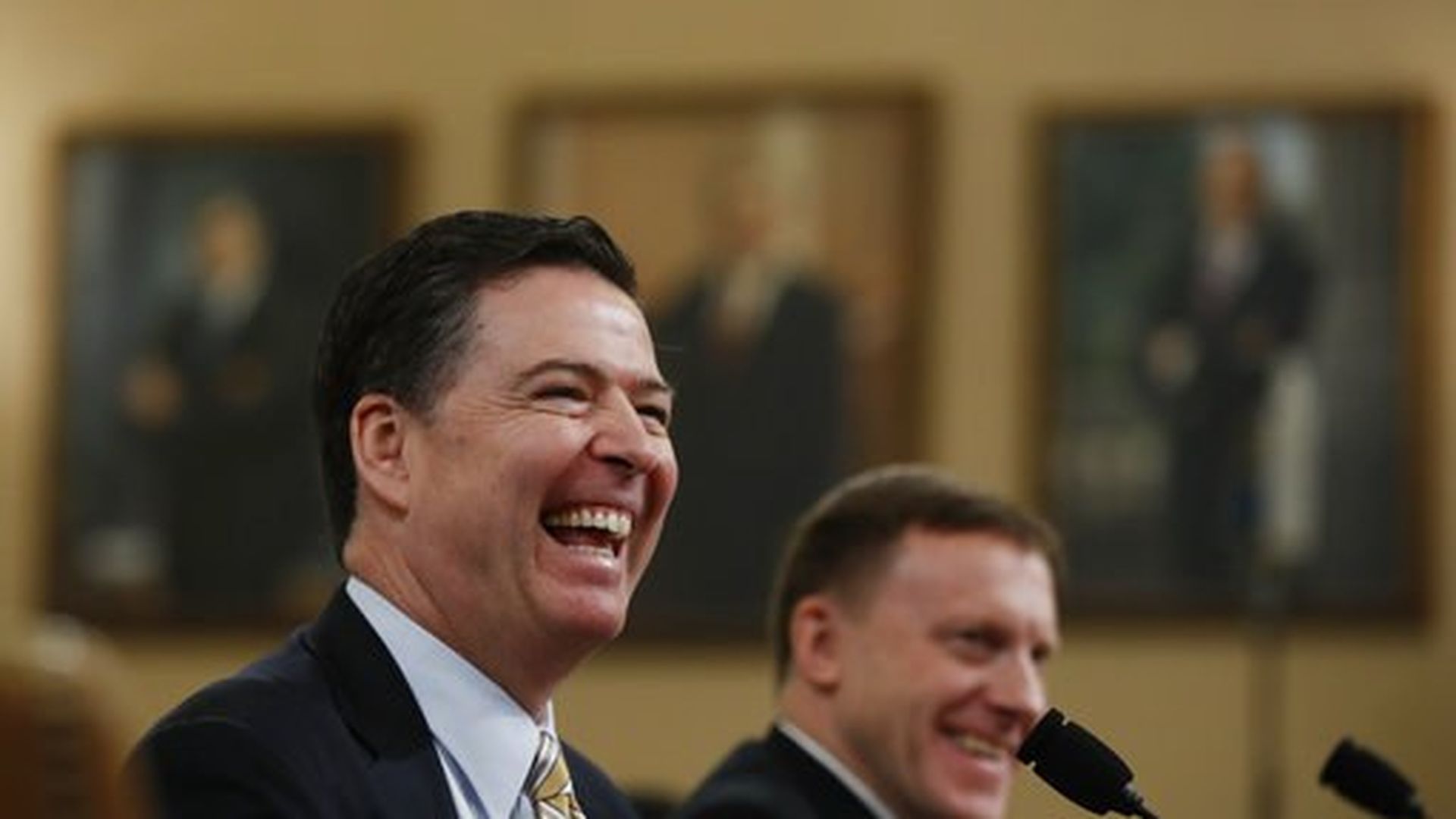 Republicans already thought the day couldn't have gone worse. As David Leonhardt begins his column in today's paper, "All the President's Lies": "The ninth week of Donald Trump's presidency began with the F.B.I. director calling him a liar."
And then a final exchange, ending FBI Director Jim Comey's astonishing five hours of testimony, was considered by insiders to be the most devastating of all. House Intelligence Chair Devin Nunes (R-Calif.) asked for "any evidence that any current Trump White House or administration official coordinated with the Russian intelligence services."
Comey: "Not a question I can answer."
Nunes persisted: "How about counselor to the president, Kellyanne Conway?"
Comey: "It's the same answer. ... I'm not going to comment on anybody."
By saying that, Comey was putting everyone under Nunes' "big gray cloud." It's a sign that the cloud will last at least for months, maybe longer.
A Trump insider told me: "You flush people out by making a comment like that. You let it sit there, then later go get everybody's email and texts [to see how they reacted to it]. This is how you get a lot of people having to hire lawyers. ... It's what makes people ask: Why do you want to work in a place like that?"
Matt Miller, a Justice Department official under Obama, told me to always take the "over" in how long a federal investigation is going to last:
"The underlying thing is huge (potentially) ... Even if the underlying thing ends up not being real, investigations can still produce leaks and charges over cover-up (lying to investigators, obstruction of justice, etc.)."
First look ... David Brock will announce this morning: "American Bridge is calling on the U.S. Senate to hit the pause button on the Supreme Court nomination hearings until such time as the investigation is complete ... If the Judiciary Committee will not halt the hearings, Democrats should walk out and refuse further participation."
https://www.axios.com/newsletters/axios-am-db86a802-5eeb-46f8-944d-32934bf40b48.html?chunk=1#story1
2. Tops in tech: Augmented reality to iPhone
"Apple's Next Big Thing: Augmented Reality... CEO Tim Cook is betting on augmented reality, a cousin of VR that he believes will keep his company on top and may even supplant the iPhone," by Bloomberg's Mark Gurman, longtime Apple scoop machine:
"Apple has embarked on an ambitious bid to bring the technology to the masses — an effort Cook and his team see as the best way for the company to dominate the next generation of gadgetry and keep people wedded to its ecosystem."
"Apple has built a team combining the strengths of its hardware and software veterans with the expertise of talented outsiders ... [T]he group includes engineers who worked on the Oculus and HoloLens virtual reality headsets sold by Facebook and Microsoft as well as digital-effects wizards from Hollywood."
"Apple is working on several AR products, including digital spectacles that could connect wirelessly to an iPhone and beam content — movies, maps and more — to the wearer. While the glasses are a ways off, AR features could show up in the iPhone sooner."
https://www.axios.com/newsletters/axios-am-db86a802-5eeb-46f8-944d-32934bf40b48.html?chunk=2#story2
3. Ivanka moving in to West Wing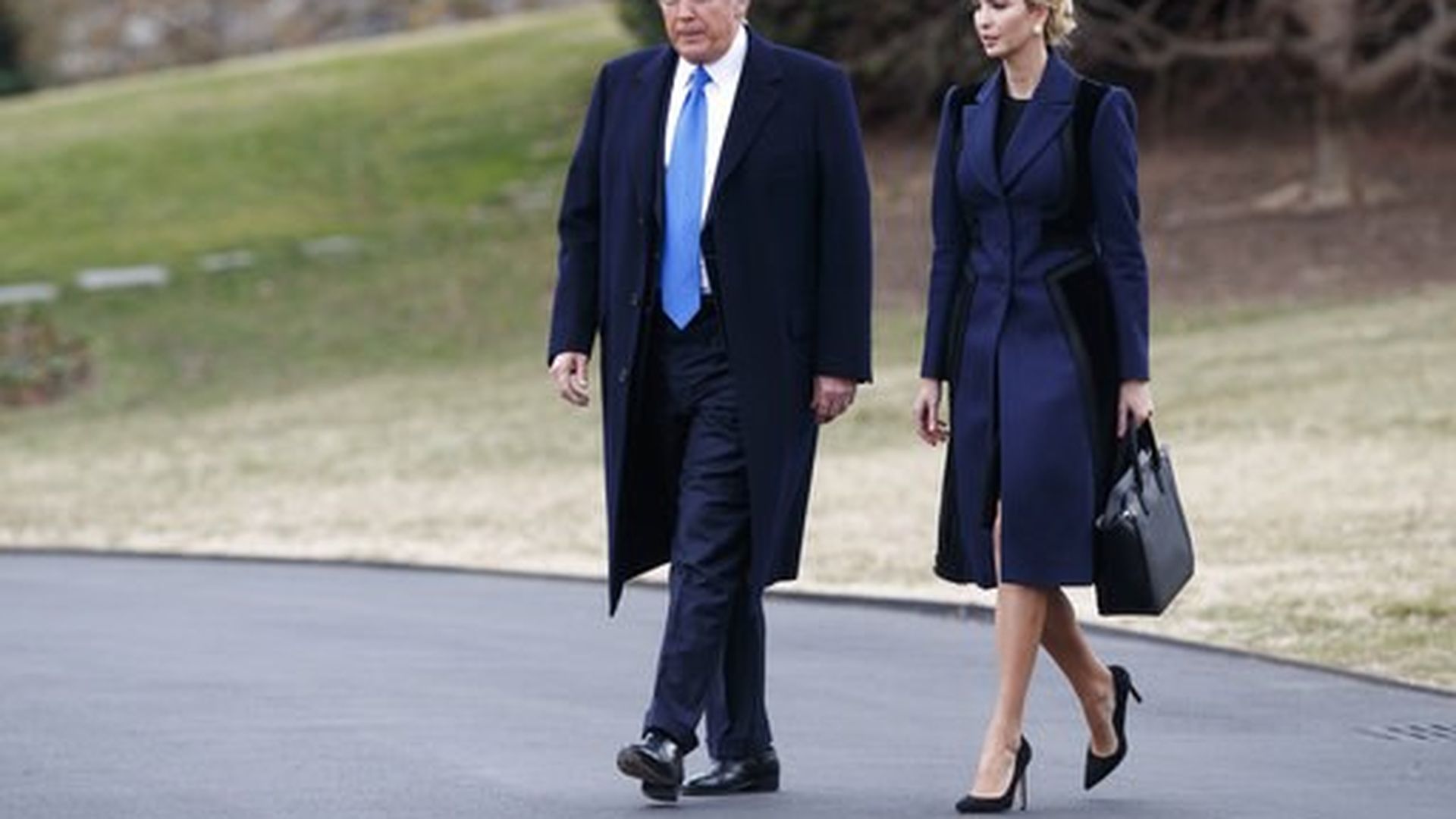 https://www.axios.com/newsletters/axios-am-db86a802-5eeb-46f8-944d-32934bf40b48.html?chunk=3#story3
4. High drama ahead of Thursday health vote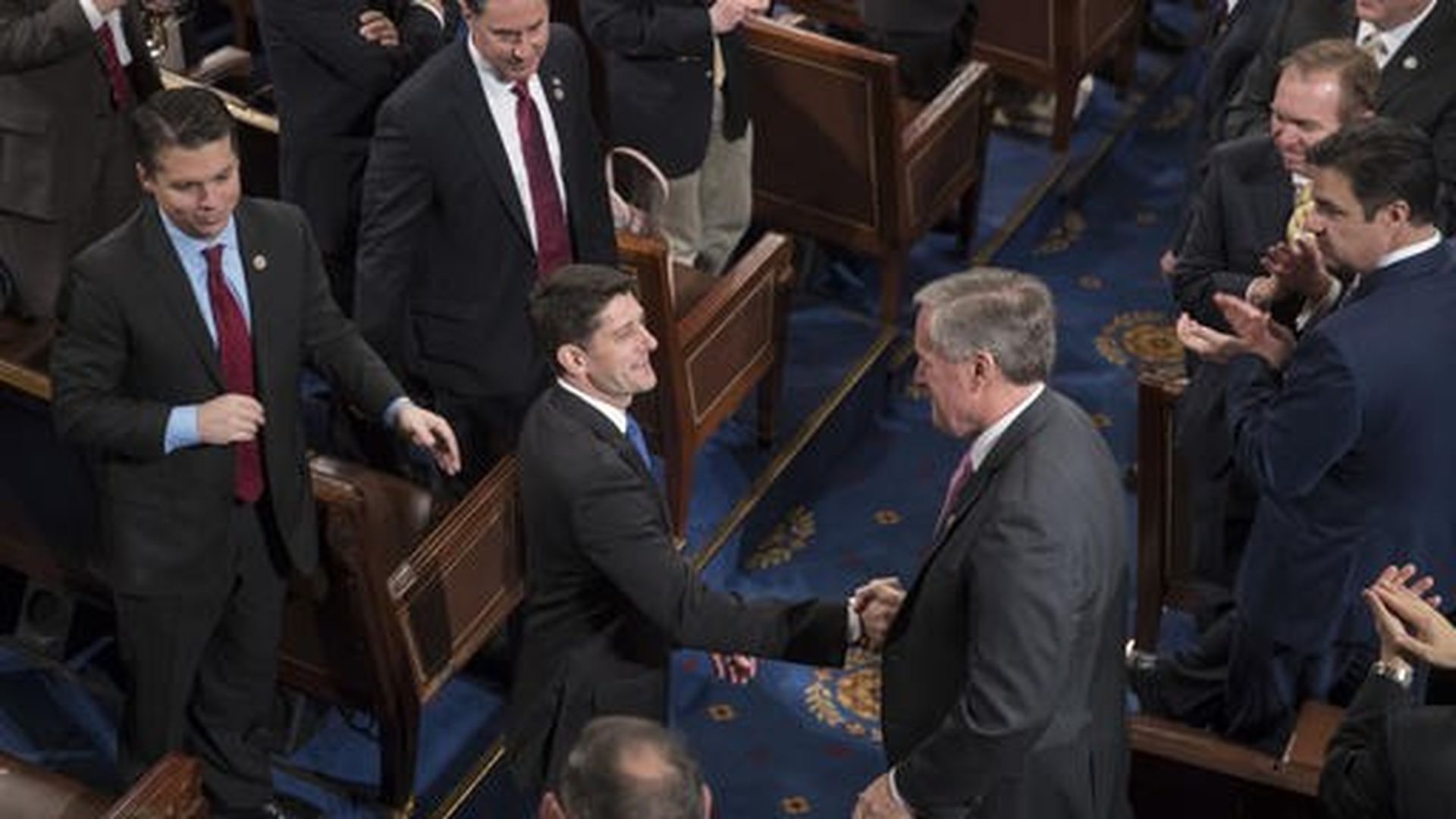 Axios' Jonathan Swan reports that ahead of the nip-and-tuck health-care vote planned Thursday night, Trump's team is intensely courting Rep. Mark Meadows (R-N.C.), chair of the House Freedom Caucus. He was invited to Mar-a-Lago over the weekend, and is in regular touch with Steve Bannon — they text regularly and have 90-second phone calls.
Although other Republicans remain optimistic that Speaker Ryan will pull out a win, Swan talked to Meadows last evening and then posted: "Freedom Caucus chair pessimistic about health bill."
Meadows: "I've now reached a conclusion that our leadership ... will dare us to vote against it."
Why this matters: If the White House loses most of the Freedom Caucus members they can't pass this bill. Meadows was only speaking for himself tonight, but his is a voice to move votes.
House Republicans last night announced "Updates to Strengthen American Health Care Act."
AP's Alan Fram and Ricardo Alonso-Zaldivar: "Their proposals were largely aimed at addressing dissent that their measure would leave many older people with higher costs. ... Included was an unusual approach: language paving the way for the Senate ... to make the bill's tax credit more generous for people age 50-64."
The closer: Trump travels to the Capitol to meet with House Republicans at 9:15 this morning.
Sam Geduldig and his CGCN Group lobbying firm will email clients today, "Trump's New 'Art of the Deal'": "A victory on the House floor would ... serve as another powerful reminder ... that the noise created by our unconventional president often obscures the real action playing out right in front of us."
https://www.axios.com/newsletters/axios-am-db86a802-5eeb-46f8-944d-32934bf40b48.html?chunk=4#story4
5. Laptop ban
Homeland Security plans to bar passengers on certain flights originating in eight Middle Eastern countries from bringing laptops, iPads, cameras and most other electronics in carry-ons starting today, AP reports:
"The ban was revealed ... in statements from Royal Jordanian Airlines and the official news agency of Saudi Arabia."
"A U.S. official [said] the ban will apply to nonstop flights to the U.S. from 10 international airports serving ... Cairo in Egypt; Amman in Jordan; Kuwait City in Kuwait; Casablanca in Morocco; Doha in Qatar; Riyadh and Jeddah in Saudi Arabia; Istanbul in Turkey; and Abu Dhabi and Dubai in the United Arab Emirates."
U.S. officials told Reuters the new ban was "in response to an unspecified terrorism threat."
https://www.axios.com/newsletters/axios-am-db86a802-5eeb-46f8-944d-32934bf40b48.html?chunk=5#story5
6. Hot spots
"Trump administration weighing broad sanctions on North Korea," by Reuters' Matt Spetalnick and David Brunnstrom:
"U.S. officials, including [SecState] Tillerson, had privately warned China about broader 'secondary sanctions' that would target banks and other companies that do business with North Korea, most of which are Chinese.
"The move under consideration would mark an escalation of Trump's pressure on China to do more to contain North Korea."
"[E]xpected to reach the president's desk within weeks, possibly before a summit with Chinese President Xi Jinping in early April ... North Korea is expected to top the agenda at that meeting."
https://www.axios.com/newsletters/axios-am-db86a802-5eeb-46f8-944d-32934bf40b48.html?chunk=6#story6
7. Futurecast: The coal industry is sick — and it's terminal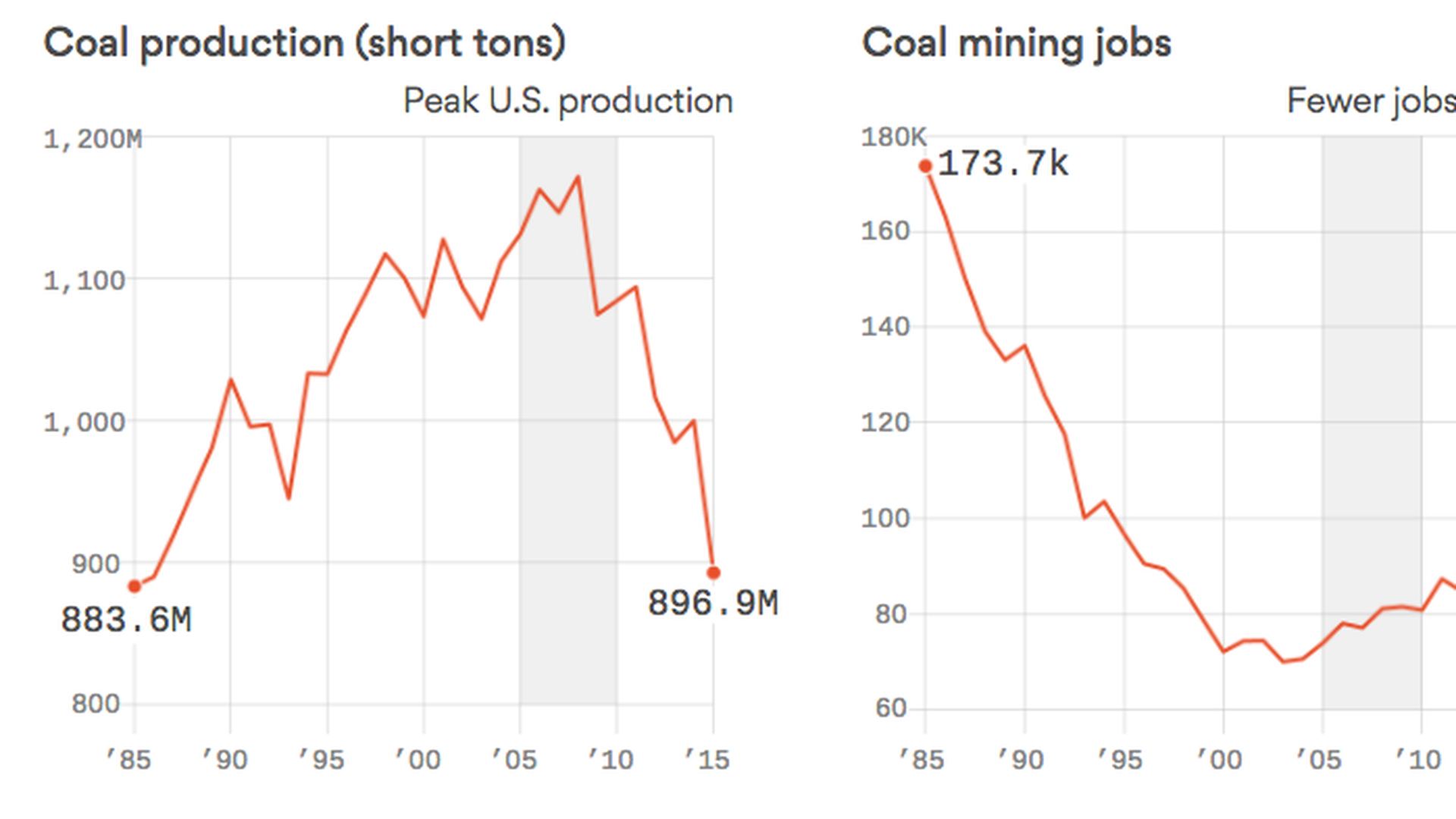 Like much of Trump's rhetoric surrounding the manufacturing industry, talk of a resurgence of coal jobs ignores economic realities, Axios' Shane Savitsky writes:
The energy market has moved past coal, and those jobs simply aren't coming back.
Robots are more of a threat than regulation: Any coal revival would mean putting autonomous trucks to work in Wyoming — rather than miners in West Virginia.
https://www.axios.com/newsletters/axios-am-db86a802-5eeb-46f8-944d-32934bf40b48.html?chunk=7#story7
8. Fox pulls Judge Napolitano
"Fox News senior judicial analyst Judge Andrew Napolitano is being kept off the air indefinitely amid the controversy over his unverified claims that British intelligence wiretapped Trump Tower at the behest of former President Obama," per L.A. Times reporter Stephen Battaglio.
"Napolitano was conspicuously missing from the network's coverage of the confirmation hearings on Supreme Court nominee Neil Gorsuch — an event in which he typically would have played a significant role. He has not been on the air since Thursday. People familiar with the situation ... said Napolitano is not expected to be on Fox News Channel any time in the near future."
https://www.axios.com/newsletters/axios-am-db86a802-5eeb-46f8-944d-32934bf40b48.html?chunk=8#story8
9. Joe and Mika interview with Variety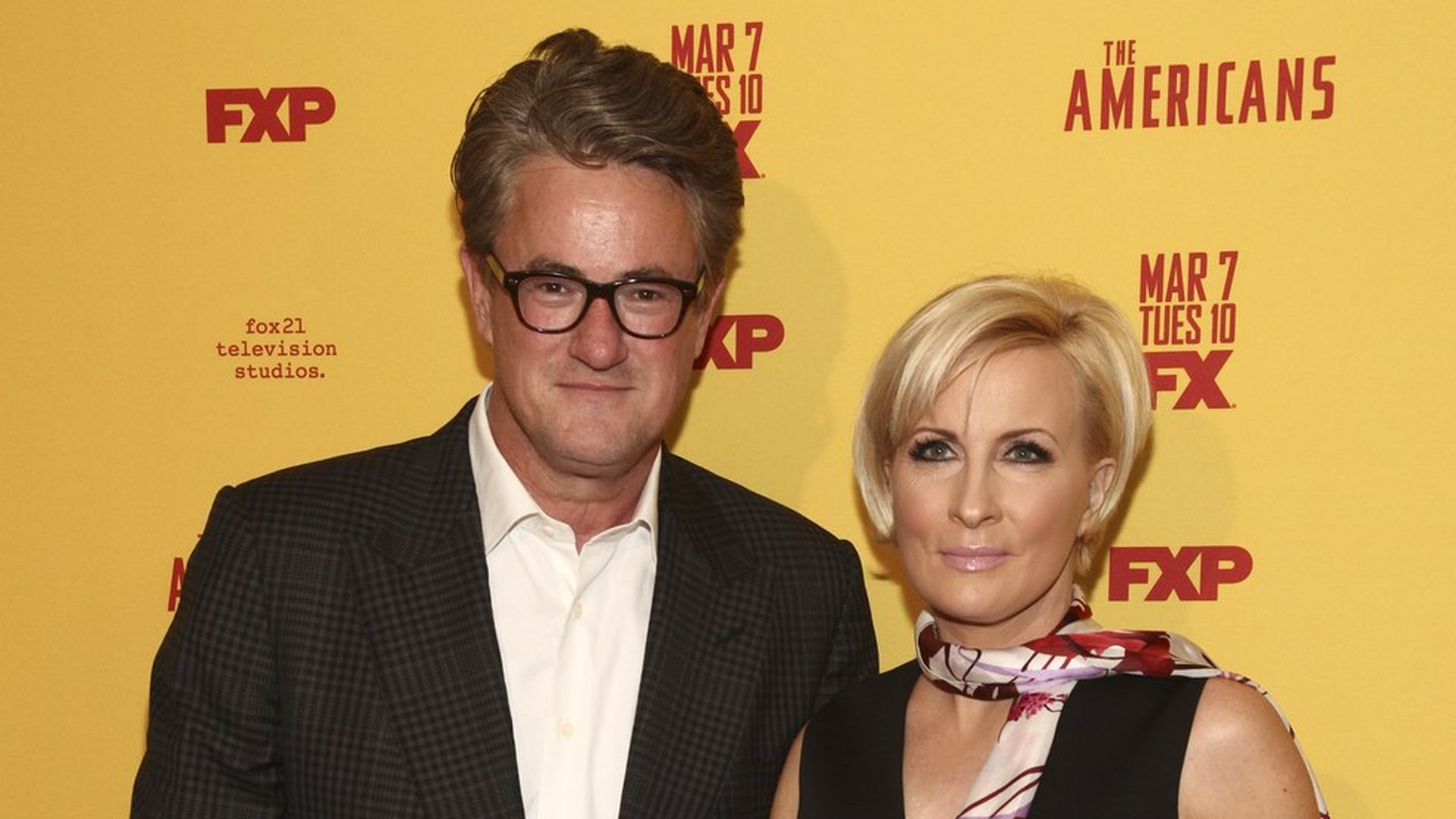 "'Morning Joe' Duo Reach Tipping Point: What was it that made MSNBC's Joe Scarborough and Mika Brzezinski finally turn on Donald Trump?" by Brian Steinberg in Variety:
Brzezinski, on Kellyanne Conway's comment that a microwave can be a surveillance camera: "[N]ow my microwave is named Kellyanne. And every time I open it, which is frequently, because I don't cook, I say, 'Thank you, Kellyanne!'"
How do you feel about reports that the president has stopped following you on Twitter?
Scarborough: "That's good news."
Brzezinski: "It's probably healthy."
Scarborough: "He doesn't understand that you step into the White House and you get ripped to shreds whether you are Barack Obama or Bill Clinton or George W. Bush."
You've been on the air for nearly a decade. Do you have any new ideas or concepts you'd like to try?
Brzezinski: "I like vintage 'Morning Joe.' Tweaking a show is always the death of the show."
Scarborough: "Every time we think of trying a new concept, or every time a consultant has come in with their ideas, if we ever move off center course, things always go badly. We always go back to basics, and the basics are Willie [Geist], Mika, and Joe talking about whatever we want to talk about."
Full Variety interview will post here this morning.
https://www.axios.com/newsletters/axios-am-db86a802-5eeb-46f8-944d-32934bf40b48.html?chunk=9#story9
10. 1 fun thing: Red Bull courage