https://www.axios.com/newsletters/axios-am-d8897baf-5538-4c36-9a2b-4c29bfaca523.html?chunk=0#story0
1 big thing: ​The sunny side of Trump?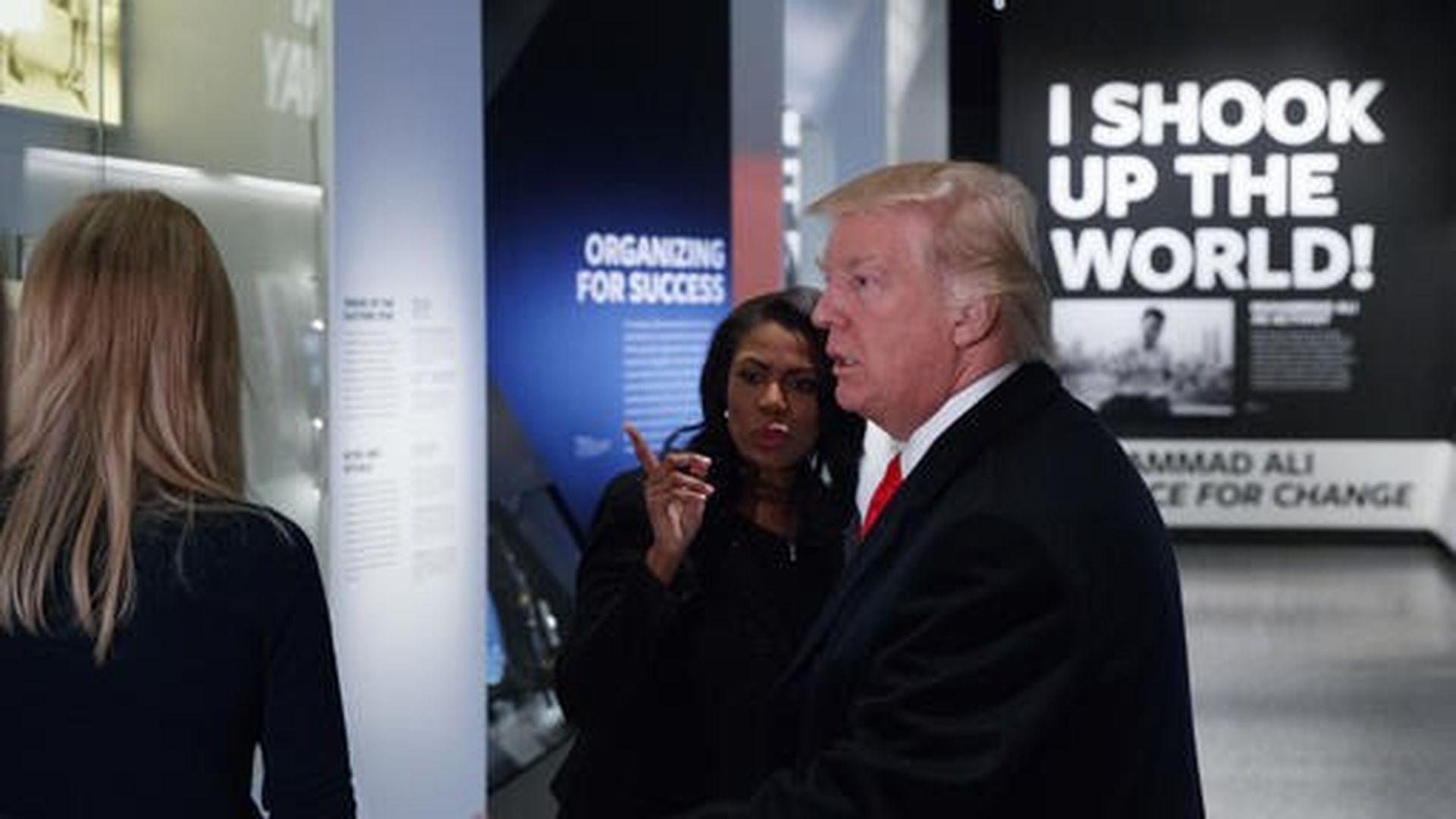 We wrote yesterday what the president SHOULD do in his address to Congress next Tuesday, and got hit with calls and emails from top White House officials about what Trump WILL do. The news: Officials swear the speech, written by Stephen Miller and other with heavy input from POTUS, is decidedly more upbeat than his inaugural address — "optimistic and uplifting."
A top adviser said: "President Trump is determined to capture the sunny optimism of Reagan to temper the populist anger reflected in his core policies."
While aides dispute that Trump's inaugural address was dark in tone and substance, they concede it was viewed that way by all but true believers. For the Joint Session address, they are self-consciously trying to strike a happier tone for a broader audience, with lots of emphasis on what has been done to date — and what can be done in Congress this year (health care, tax reform and a new partial wall on Mexican border).
But, but, but ... We heard this same spin before his inaugural, and Trump's mostly red-meat campaign rally was supposed to be a message of "unity." So let's see if it's Charlie Brown and the football — or a real shift, even for one night.
Sound smart: They won't say it publicly, but Trump officials are actually TRYING to be normal. They feel good about their pushback against the Russia scandal, the pick for national-security adviser winning rave reviews from Rs and Ds, yesterday's shockingly ordinary tour of the National Museum of African American History.
In private, West Wing aides say the media should cut them slack, given this is a non-politician staffed by a lot of people new to Washington politics.
https://www.axios.com/newsletters/axios-am-d8897baf-5538-4c36-9a2b-4c29bfaca523.html?chunk=1#story1
2. Unstoppable stock market?
Record highs yesterday for three big stock indexes — Dow (now at 20,743), S&P 500 index and Nasdaq — with the "Trump bump" driving the Dow up 12.5% since Election Day. Axios' Chris Matthews emails from New York with three reasons investors are chipper:
The promise of corporate tax cuts: No government policy as much of a direct effect on corporate profits as income taxes. With Republicans promising a 15-point decrease in the headline corporate tax rate, investors are betting Washington will soon increase corporate earnings without managers having to lift a finger.
Rising wages: Years of Federal Reserve stimulus has finally gotten the job market hot enough that firms are giving out significant, broad-based wage increases.
The end of an earnings recession: Overall corporate earnings fell for 15 straight months before the trend reversed in the third quarter of 2016. The turnaround coincided with a renewed hope for business-friendly federal policy.
Risks abound: Chris notes that there's plenty of evidence that investors are getting ahead of themselves.
Market expectations ... David Ignatius column in WashPost, "Moscow's Trump sell-off": "After Trump's election, investors seemed to be betting that sanctions against Moscow would soon be eased. But this confidence collapsed in late January, and Russian stocks plummeted."
"These issues don't just interest journalists or Trump's critics in Congress. They move markets. The Trump trade was looking like a winner for Moscow, but now, not so much."
https://www.axios.com/newsletters/axios-am-d8897baf-5538-4c36-9a2b-4c29bfaca523.html?chunk=2#story2
3. Rise of robots will hit Trump country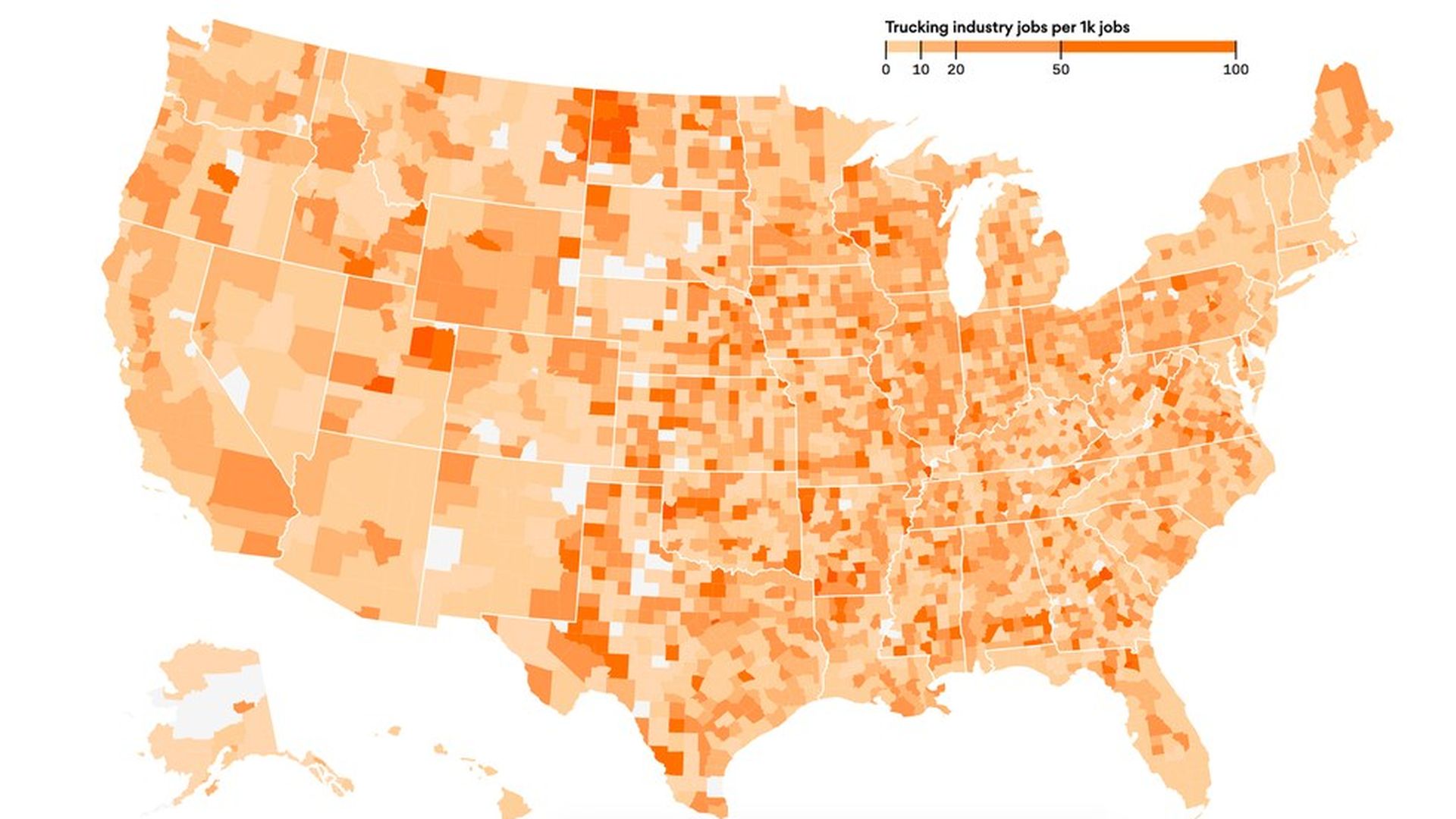 "Where jobs will be lost when robots drive trucks," by Axios' David McCabe: "A push by companies like Uber to automate heavy trucks through a combination of artificial intelligence and robotics raises questions for millions of drivers brought into the profession by the promise of a steady job."
Who'll be hurt: "The impact of self-driving trucks would be felt in communities around the country — especially Trump country."
The bottom line: "ATMs replaced bank tellers, switchboards replaced telephone operators and industrial robots have become fixtures in factories."
https://www.axios.com/newsletters/axios-am-d8897baf-5538-4c36-9a2b-4c29bfaca523.html?chunk=3#story3
4. The big read
In Vanity Fair's forthcoming issue ... "The true story of the Comey letter debacle," by Bethany McLean: "When F.B.I. director James Comey reopened the investigation into Hillary Clinton's e-mails in the final days of the campaign, many saw it as a political move that cost Clinton the presidency. But some insiders suspect Comey had a more personal concern: his own legacy."
https://www.axios.com/newsletters/axios-am-d8897baf-5538-4c36-9a2b-4c29bfaca523.html?chunk=4#story4
5. Deportation nation
"U.S. COULD DEPORT MILLIONS OF PEOPLE." That's USA Today's above-the-fold headline following the Trump administration's release yesterday of a pair of enforcement memos from the Department of Homeland Security that greatly expand the number of illegals who are a deportation priority.
Alan Gomez writes: "Immigration advocacy groups were crushed. Although Trump recently said his focus would be to deport undocumented immigrants with criminal histories or who pose a threat to national security, the new memos make clear that nearly all undocumented immigrants are at risk."
Sean Spicer at yesterday's briefing, on whether one of the goals is mass deportation: "No, not at all."
"Major Elements of Trump's New Immigration Policies," by six N.Y. Times reporters:
Who will be deported: "Immigration agents can now focus on picking up and removing anyone charged with or convicted of any criminal offense, even minor ones, as well as anyone already ordered deported, regardless of whether they have a criminal record.
No judge required: "Two decades ago, Congress passed a law allowing the government to quickly deport undocumented immigrants who have not been in the United States very long ... [T]he government has used this process ... narrowly because of concerns about whether it violates constitutional rights of due process that are granted to anyone in the United States, regardless of immigration status. ... The Trump administration is now planning to use expedited removal as extensively as the original law allows."
Statistics and sanctuaries: "The administration is trying to significantly expand the amount of information available on the enforcement of immigration laws and, in particular, unauthorized immigrants who commit crimes."
https://www.axios.com/newsletters/axios-am-d8897baf-5538-4c36-9a2b-4c29bfaca523.html?chunk=5#story5
6. Trump tweet du jour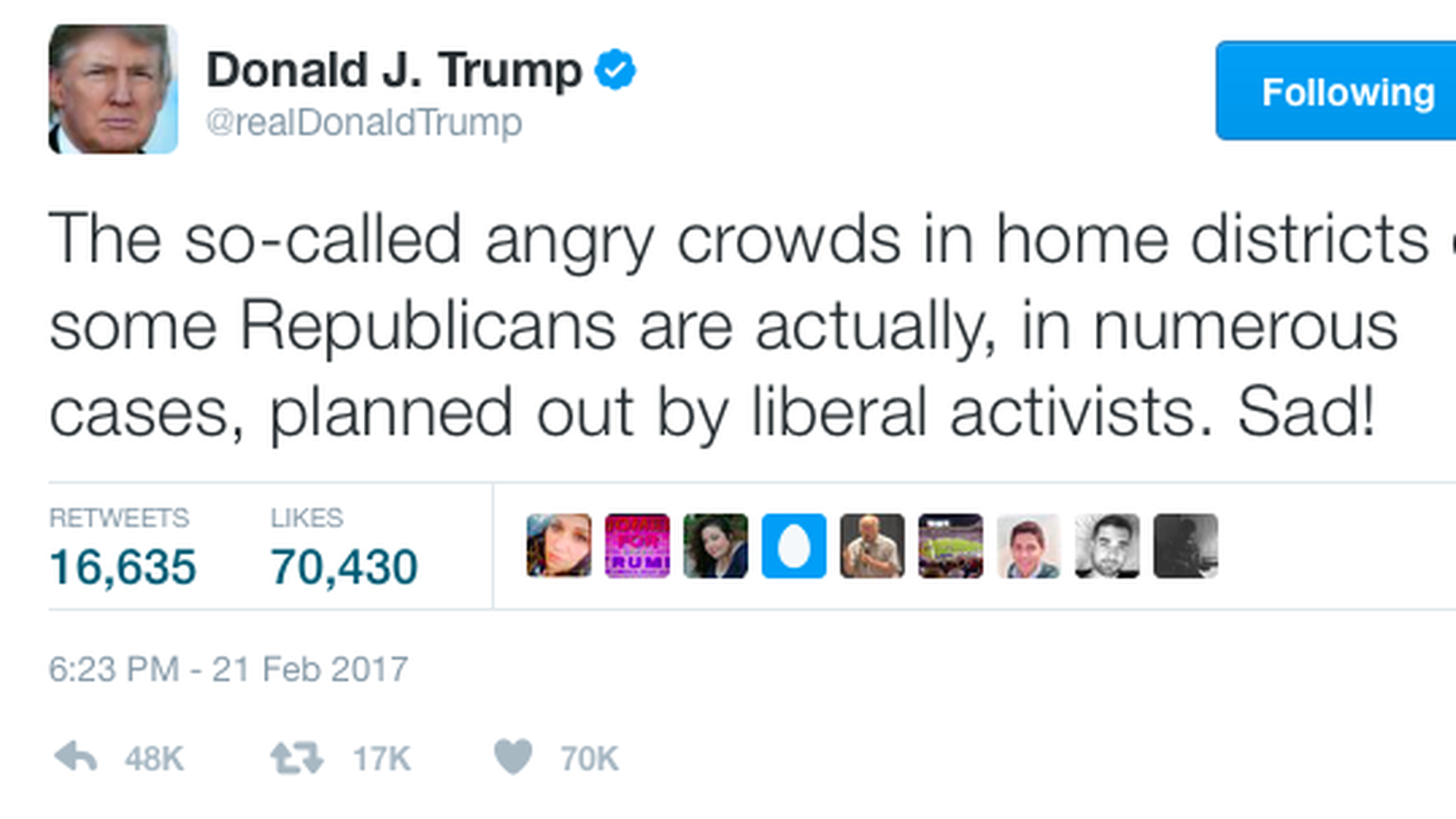 New overnight ... "GOP members of Congress face Trump foes at town halls," by AP's Alan Suderman in Blackstone, Va. (60 miles southwest of Richmond):
"Republican U.S. Rep. David Brat, who rode voter anger to a historic political upset [of Eric Cantor] nearly three years ago, was on the receiving end of constituent angst about the Trump administration as he held a town hall in Virginia. ... He was loudly heckled and booed when he defended ... Trump."
"At the town halls, protesters are probing their lawmakers to see if they will veer from some of Trump's more controversial stands, and if they will promise coverage for those currently served by the Affordable Care Act."
N.Y. Times Quotation of the Day ... CHRIS PETERSEN, a pig farmer in Iowa, responding to comments by Senator Charles Grassley (R-Iowa) about the repeal of the Affordable Care Act: "With all due respect, sir, you're the man that talked about the death panels. We're going to create one great big death panel in this country."
https://www.axios.com/newsletters/axios-am-d8897baf-5538-4c36-9a2b-4c29bfaca523.html?chunk=6#story6
7. Top-ed: Trump's pick-up basketball team
Tom Friedman, "Meet the 5 Trump Administrations": "It should be clear by now that there are five different Trump administrations swirling before our eyes — Trump Entertainment, Trump Cleanup, Trump Crazy, Trump G.O.P. and the Essential Trump."
"When I add up all these Trumps I do not get a good team feeling; I get the feeling of a pickup basketball team. It doesn't start with a shared vision of what world we're living in and what are the biggest forces shaping this world. It starts with the conclusions on which Trump bases his facts."
"[W]e're living in a world being shaped by vast accelerations in technology, globalization, climate change and population growth, and government's job is to enable more citizens to thrive in such a world and cushion its worst impacts."
"It's an age where the best leaders build trust at the top, and between themselves and their people, because trust is what enables teams to move fast and experiment more. It's an age when to make America great requires doing big hard things, and big hard things can only be done together."
https://www.axios.com/newsletters/axios-am-d8897baf-5538-4c36-9a2b-4c29bfaca523.html?chunk=7#story7
8. Two Hill trends to watch
1) "Lawmakers Push for Tighter Scrutiny of Chinese Investment in U.S." -- Wall Street Journal page A2, by Kate O'Keefe: "Lawmakers from both parties are mounting efforts to bolster the federal government's scrutiny of surging Chinese investment in the U.S., emboldened by President Donald Trump's anti-China rhetoric on trade."
Fascinating stat: "Chinese investment in the U.S. tripled last year."
"Both [Sen. John] Cornyn and Senate Minority Leader Chuck Schumer (D., N.Y.) are writing legislation to strengthen the authority of CFIUS, a secretive, multiagency body led by the Treasury that can recommend the president block foreign deals on national security grounds.
2) "Republicans make killing consumer protections a top priority," an L.A. Times column, Consumer Confidential, by David Lazarus: "About a half-dozen bills take aim at various aspects of the Dodd-Frank financial reform law and the Consumer Financial Protection Bureau it created."
"Rep. Jeb Hensarling (R-Texas), chairman of the House Financial Services Committee, is preparing a bill that would cripple the bureau's authority to bring cases against financial institutions and eliminate databases of consumer complaints."
"Sen. Ted Cruz and Rep. John Ratcliffe, both of Texas ... introduced companion bills in their respective chambers of Congress that would simply do away with the Consumer Financial Protection Bureau — wipe it right off the face of the Earth. Their bill, sweeping in scope, devastating to consumers, consists of only a single sentence: 'The Consumer Financial Protection Act of 2010 is hereby repealed and the provisions of law amended or repealed by such act are restored or revived as if such act had not been enacted.'"
https://www.axios.com/newsletters/axios-am-d8897baf-5538-4c36-9a2b-4c29bfaca523.html?chunk=8#story8
9. The sports page: NASCAR skidding
Wall Street Journal front pager, "LONG A CULTURAL ICON, NASCAR HITS THE SKIDS: Stock car's founding family draws criticism as fan interest wanes," by Tripp Mickle (sounds like a driver) and Valerie Bauerlein, who point to "economics and demographics":
"Since 2005, Nascar's television viewership is down 45% ... That is twice as large as the National Basketball Association's decline from its peak. National Football League viewership has fallen 8%."
"Tracks have torn out about a fourth of their seats to look fuller but still have wide stretches of empty bleachers on race days."
"Nascar's fan base, largely working-class and white, is getting older overall and was hit harder by the recession than the more-affluent fan bases in other major sports."
https://www.axios.com/newsletters/axios-am-d8897baf-5538-4c36-9a2b-4c29bfaca523.html?chunk=9#story9
10. 1 fun thing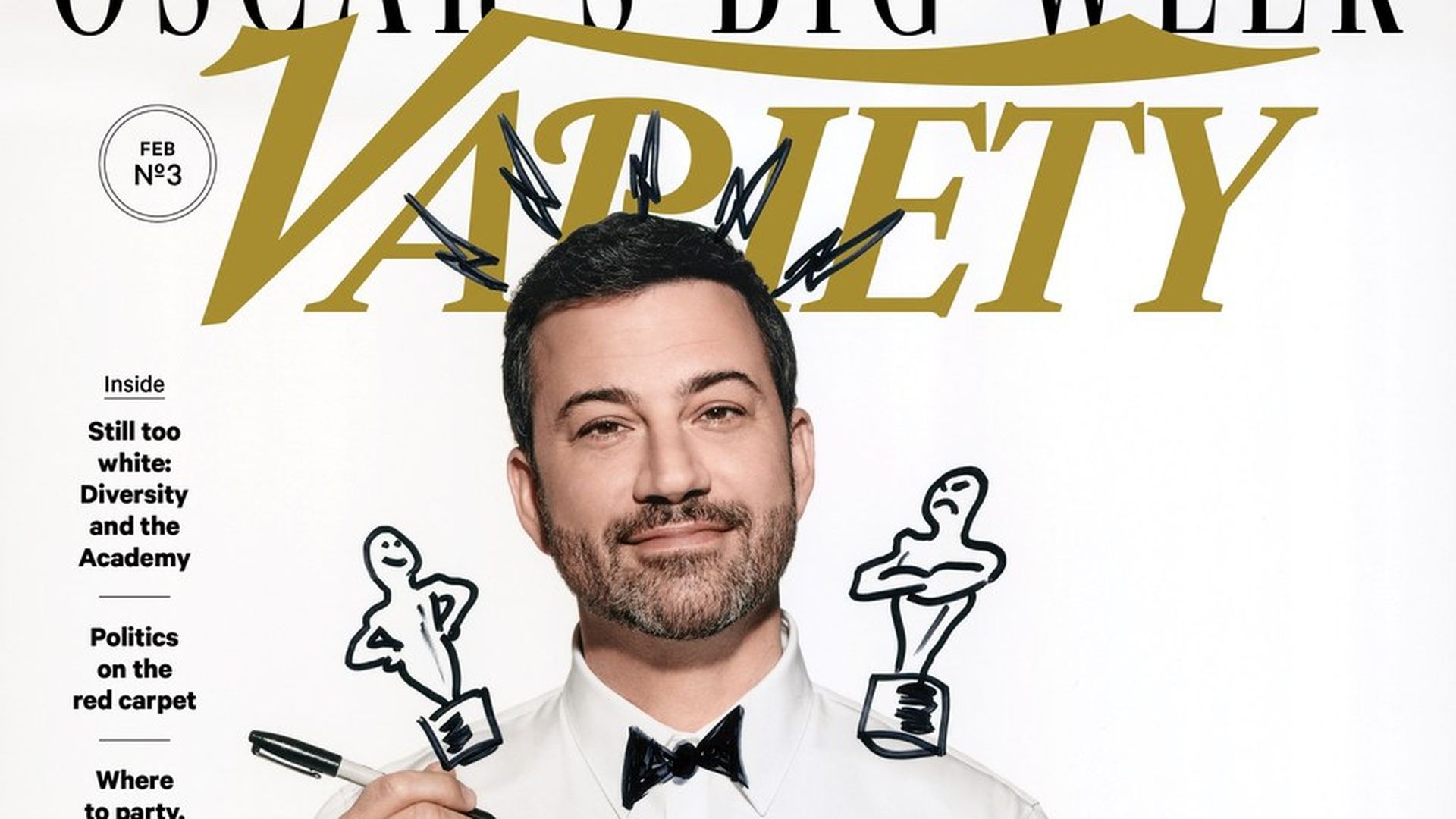 Jimmy Kimmel is Variety's cover story before hosting Sunday night's Oscars: "Kimmel will be steering the Oscars at a time when movies are struggling to stay ahead of TV in the water cooler wars. None of the nine movies nominated for best picture is a major blockbuster — though 'Hidden Figures' and 'La La Land' both recently crossed $100 million at the U.S. box office.
"'I would have liked to have seen "Deadpool" get nominated,' Kimmel says of the 20th Century Fox comic-book tentpole that was snubbed in all categories despite getting Golden Globe nominations. 'I do think there's a certain type of movie that's not considered for awards. It's a shame, because there's nothing serious about the movies; they're an escape.'"