🌞 Good Sunday morning ...
Situational awareness: Jonathan Swan revealed President Trump's "Executive Time" — unscheduled blocks in his day that can go to TV and Twitter. Now the WashPost tells us that Chief of Staff John Kelly has added "Policy Time": "sessions once or twice a day where advisers present and argue their competing views over a specific issue."
GOP's impeachment strategy ... The N.Y. Times' Jonathan Martin reports on an emerging midterm strategy "on the right for how to energize conservatives and drive a wedge between the anti-Trump left and moderate voters": "warn that Democrats will immediately move to impeach President Trump if they capture the House."
https://www.axios.com/newsletters/axios-am-d6eece14-4596-4cc0-92e3-984773db8cbf.html?chunk=0#story0
1 big thing: Trump's new budget plan
President Trump may try to hit "undo" on a slice of the $1.3 trillion spending bill that he signed last month after threatening a veto, and now regrets.
Republican aides in the House and Senate tell me they're working with the White House on a possible plan to rescind billions of dollars — and perhaps tens of billions.
One possible target: foreign aid.
The proposal may not be ready for a couple of weeks, the aides said.
Conversations have included a target up to $60 billion, but Republicans on the Hill say it would need to be less than that.
A GOP source: "The idea generally is one that congressional leadership is taking seriously, reviewing, and supportive of. It's unlikely Congress would be able to pass a $60 billion rescission. A smaller rescission is possible."
What Jonathan Swan is hearing: Senior officials have been working with Trump to ensure that history doesn't repeat itself the next time he has to sign a spending bill, at the end of September.
They have been working to ensure he doesn't feel blindsided by bad TV coverage from conservative opinion hosts — which White House officials viewed as unfair and in some instances, flatly inaccurate.
Politico noted: "Democrats slammed GOP leaders and the White House for floating the rescission package right after pushing through a budget deal, saying Republicans were simply reacting to negative news coverage by conservative outlets."
Be smart: Negotiations on a spending "undo" would be delicate because some Republicans on the Hill view the proposal as an effort to help Trump with his 2020 reelection, while giving them more 'splaining to do in this year's midterms.
A GOP aide told me the process could "pit R against R": "It just makes in-cycle members take a tough vote. ... This deal was painfully put together. ... Would reopen the wound."
https://www.axios.com/newsletters/axios-am-d6eece14-4596-4cc0-92e3-984773db8cbf.html?chunk=1#story1
2. Breaking overnight: At least 42 killed in chemical attack in Syria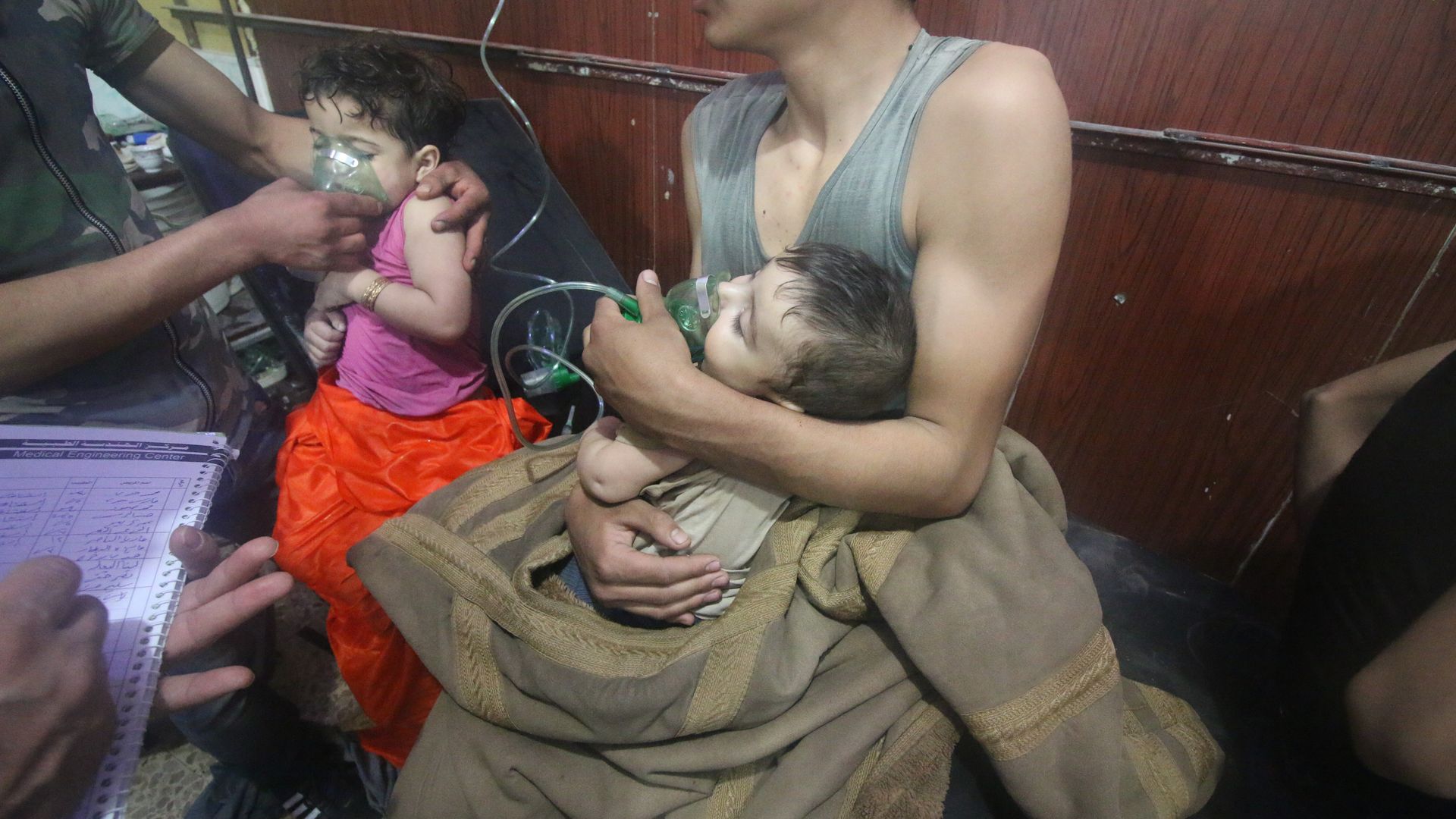 "A chemical attack on a [Syrian] rebel-held town in eastern Ghouta has killed dozens of people, medical services reported, and Washington said the reports — if confirmed — would demand an immediate international response," per Reuters:
"A joint statement by the medical relief organization Syrian American Medical Society (SAMS) and the civil defense service ... said 49 people had died in the attack late on Saturday. Others put the toll at 150 or more."
N.Y. Times: "Medical and rescue groups blamed President Bashar al-Assad's government for the assault on the suburb east of the capital, Damascus."
https://www.axios.com/newsletters/axios-am-d6eece14-4596-4cc0-92e3-984773db8cbf.html?chunk=2#story2
3. Life in real America: When the sheriff comes
Two years ago, Princeton sociologist Matthew Desmond "turned eviction into a national topic of conversation with 'Evicted,' a book that chronicled how poor families who lost their homes in Milwaukee sank ever deeper into poverty," N.Y. Times Upshot's Emily Badger and Quoctrung Bui report:
"It became a favorite among civic groups and on college campuses, some here in Richmond.

Bill Gates

and

former President Obama

named it among the best books they had read in 2017, and it was

awarded a Pulitzer Prize

."
What's new: "Now that Mr. Desmond has been mining court records across the country to build

a database of millions of evictions

, it's clear even in his incomplete national picture that they are more rampant in many places than what he saw in Milwaukee."
Key stats: "Desmond's team found records for nearly 900,000 eviction judgments in 2016, meaning landlords were given the legal right to remove at least one in 50 renter households in the communities covered by this data."
"That figure was one in 25 in Milwaukee and one in nine in Richmond. And one in five renter households in Richmond were threatened with eviction in 2016."
Virginia law "favors property owners, as it has since plantation days."
Why it matters: What happens after the eviction "isn't efficient for anyone."
https://www.axios.com/newsletters/axios-am-d6eece14-4596-4cc0-92e3-984773db8cbf.html?chunk=3#story3
Bonus: What POTUS is reading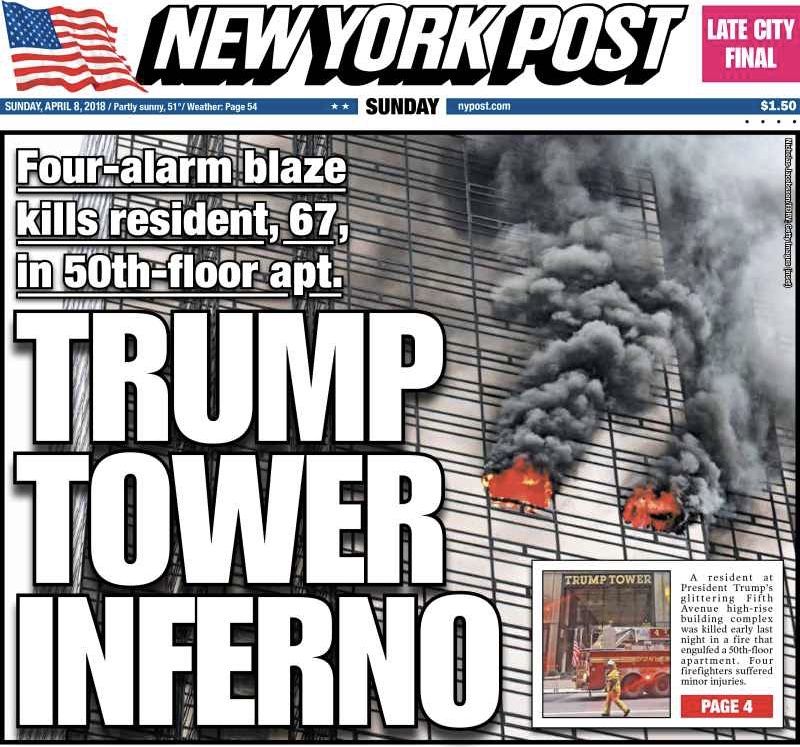 Courtesy N.Y. Post
Flames erupted at Trump Tower early Saturday evening, killing a 67-year-old art dealer who bought his 50th floor apartment in 1996, per the N.Y. Post:
"There are no sprinklers in residential sections of the 58-story building, but they're not required by law in structures of that age. Trump Tower opened in 1983."
President Trump tweeted: "Fire at Trump Tower is out. Very confined (well built building). Firemen (and women) did a great job. THANK YOU!"
P.S. Daily News wood: "KILLER FIRE AT TRUMP TOWER."
https://www.axios.com/newsletters/axios-am-d6eece14-4596-4cc0-92e3-984773db8cbf.html?chunk=4#story4
4. Visualizing the hollowing out of local media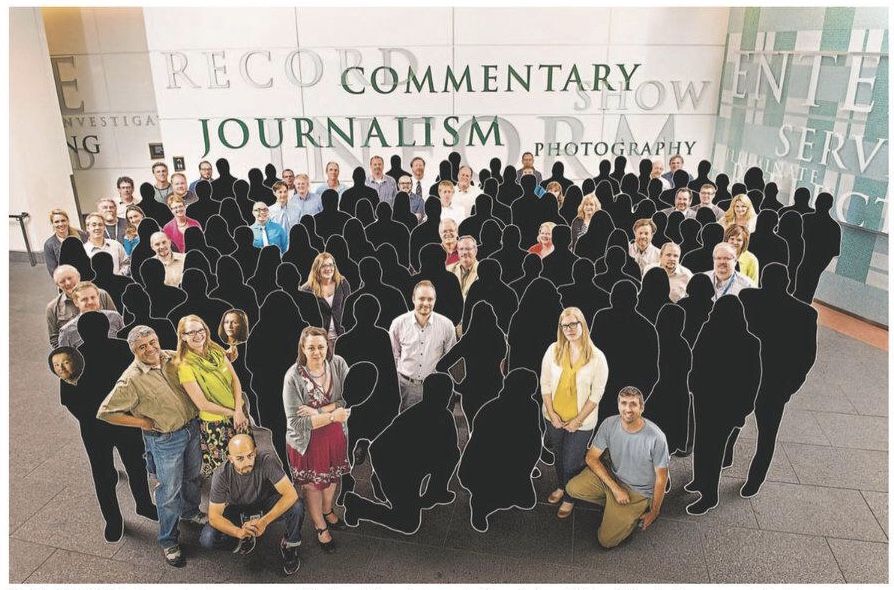 RJ Sangosti / The Denver Post
In a plea to save their own paper, Denver Post editors printed this photo on the cover of today's opinion section, showing 142 members of the newsroom staff on May 15, 2013, and the toll that layoffs and turnover have taken since then.
The paper says the newsroom has shrunk from more than 250 to fewer than 100 today, and "at least two dozen more journalists will be leaving The Post [beginning tomorrow] because of layoffs."
In an editorial headlined "As vultures circle, The Denver Post must be saved," the paper writes: "The cuts [are] backed by our owner, the New York City hedge fund Alden Global Capital ... Consider this editorial ... a plea to Alden — owner of Digital First Media, one of the largest newspaper chains in the country — to rethink its business strategy across all its newspaper holdings."
https://www.axios.com/newsletters/axios-am-d6eece14-4596-4cc0-92e3-984773db8cbf.html?chunk=5#story5
5. A must read: "Confidence Code for Girls"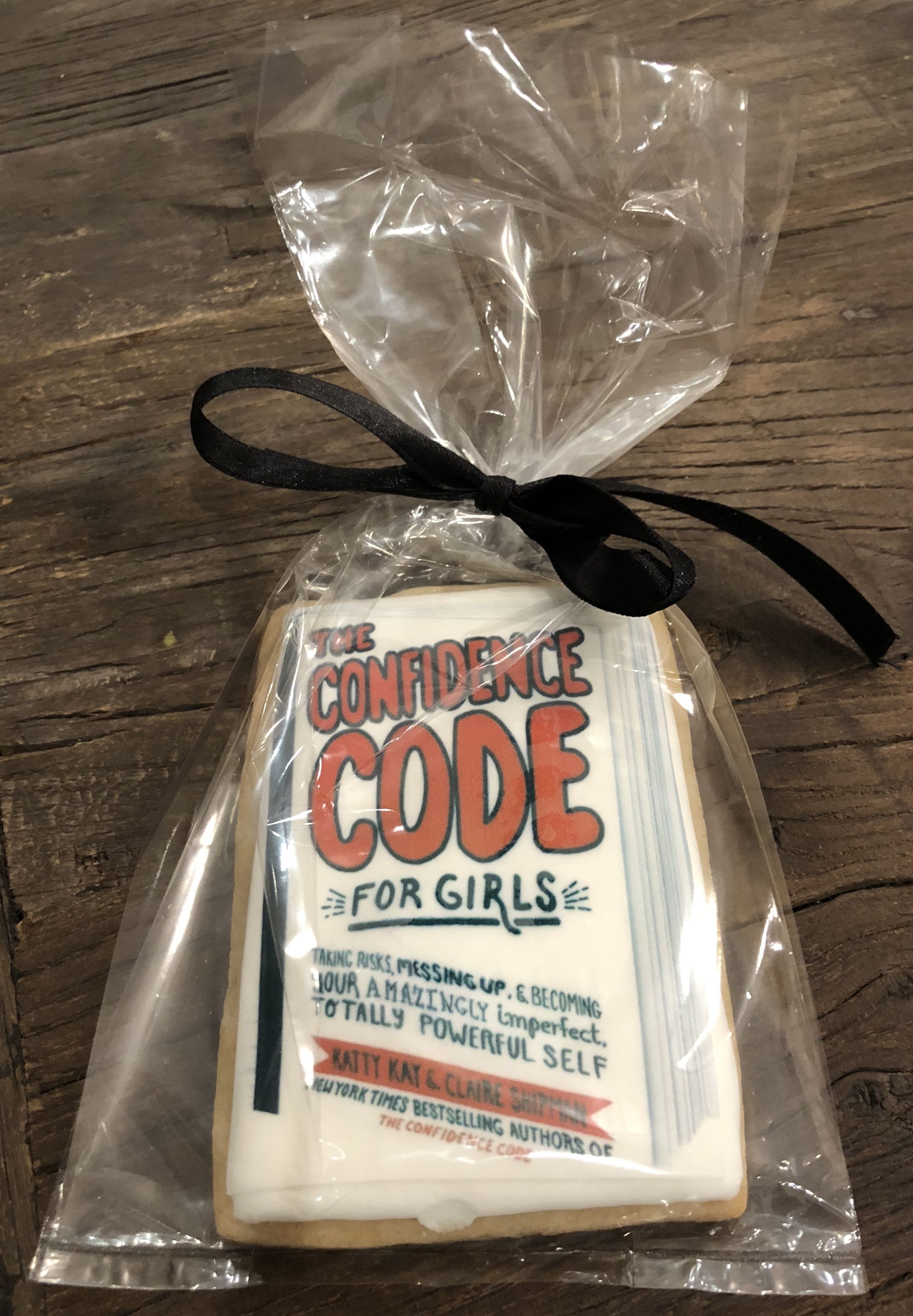 This cookie was given to guests at a book party hosted yesterday by Virginia Shore, Valerie Jarrett, Tammy Haddad and more. (Axios photo)
Katty Kay and Claire Shipman, who wrote the bestselling "The Confidence Code" to help empower women, are back with a tween- and teen-friendly "The Confidence Code for Girls," packed with "stories, quizzes, illustrations and other fun stuff."
Their insight: Girls are naturally confident as kids, then risk losing their "girls of action" mojo because of faulty cues from peers and society.
An Instagram campaign for the book, #captureconfidence, invites young women to post their "confident faces."
Katty (an anchor for "BBC World News America" in Washington) and Claire (an alumnus of ABC, NBC and CNN) also wrote "Womenomics" together. Their newest book has great life advice for all of us:
"Find role models — other daring, incredible girls and women you know or have read about. What's the best part of what they do? Write it down, because going back to it later will inspire you!"
"Look out for fakers — all those people who use counterfeit confidence to be mean or put other people down to puff themselves up."
"Shout it out — grab your phone and send a confidence compliment to three people you know. ... Research shows that when you hand out that kind of boost, you build your own confidence!"
Go deeper ... Read a sample from the book ... ABC "Good Morning America" video with Katty and Claire, "How to boost your daughter's self-confidence."
https://www.axios.com/newsletters/axios-am-d6eece14-4596-4cc0-92e3-984773db8cbf.html?chunk=6#story6
6. 1 ice thing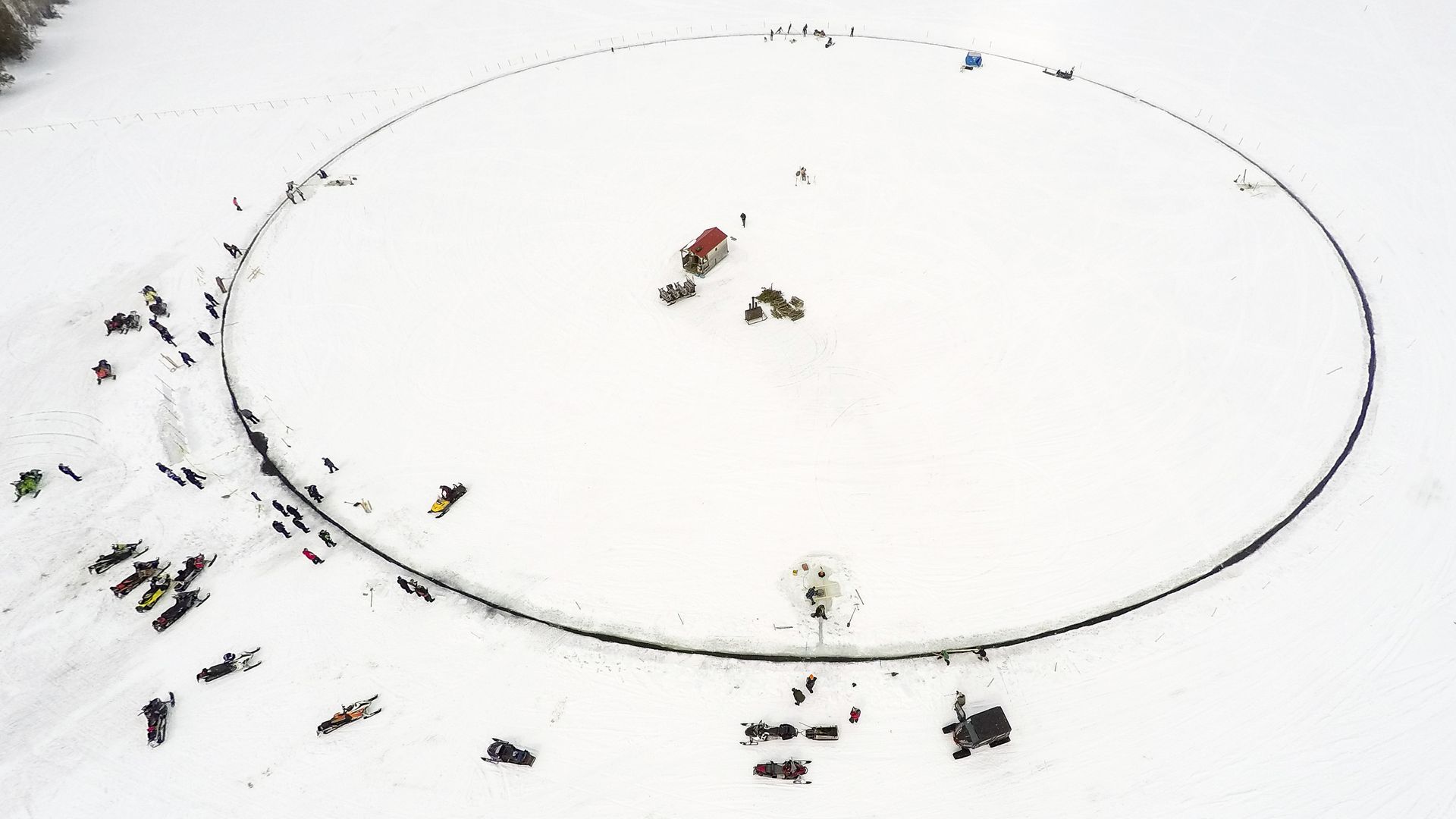 Residents in the Maine town of Sinclair (in the North Country, 200 miles north of Bangor, near the Canada line) believe they've created the world's largest ice carousel on a frozen lake, AP reports:
"About 100 volunteers cut a circle in the ice that's 427 feet ... in diameter, and they used four outboard boat motors to get it rotating on Saturday."
Mike Cyr, one of the organizers, announced: "We got 'er spinning!"
"He says the ice carousel is big enough to break the world record held by a town in Finland. A surveying team confirmed the measurements."
How they did it: "Volunteers used augurs to bore more than 1,300 holes, along with chain saws and other equipment, to cut the massive hole in lake ice that was 30 inches thick. They waited for warmer weather to get it spinning."