Axios AM
June 02, 2020
Good Tuesday morning.
Situational awareness 🎼: The music industry plans a "Blackout Tuesday" today in response to the death of George Floyd, with numerous labels and supporting "a day to disconnect from work and reconnect with our community." — Hollywood Reporter
1 big thing: Trump goes full law-and-order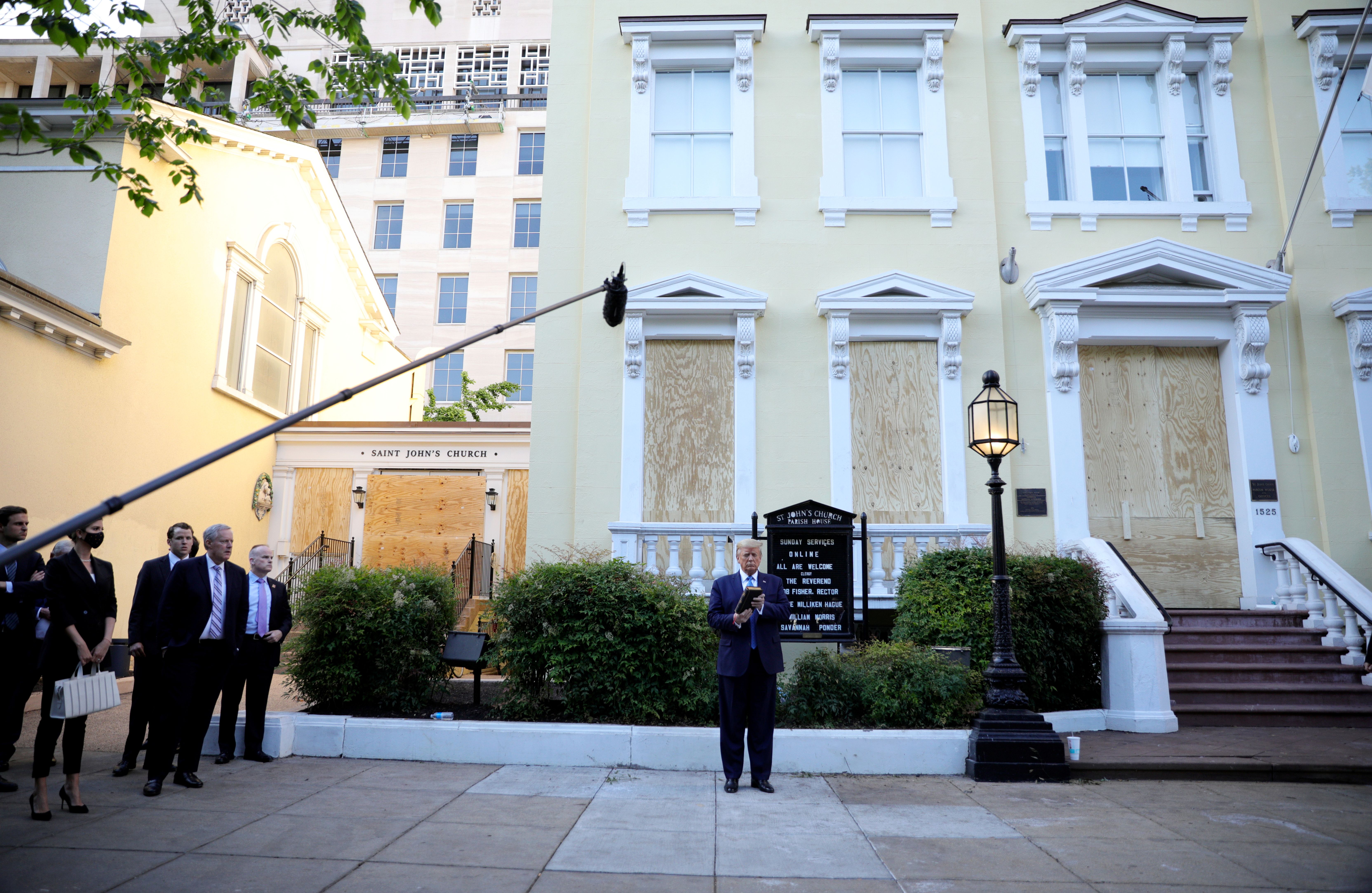 President Trump's final decision to speak in the Rose Garden last evening as protests raged outside the gate was made only hours before, reflecting chaos on both sides of the fence, Jonathan Swan reports.
Why it matters: Trump's ultimate remarks fell where his instincts always were: blunt, brutal law and order, with extreme demonstrations of militarized "strength" and blustery threats.
"I am your president of law and order," he declared. "Where there is no justice, there is no liberty."
For the previous 48 hours, aides and outside political advisers hotly debated whether Trump should address the nation.
Some top officials argued against the idea — telling Trump that his speech would change nothing, that the protests would continue regardless of what he said.
But others were getting desperate. A number of people reached out directly to the president or his top aides to tell them, with great urgency, that he needed to be seen. They saw signs on Twitter that the conservative base was turning against him, with the question: "Where is Trump?"
A senior White House official said Trump was especially infuriated watching footage of shopkeepers defending their stores against violent looters.
"He felt like they've been in lockdown [for COVID] and now the minute they're allowed to open they have to close again because of this," the official said. "Not gonna let it happen."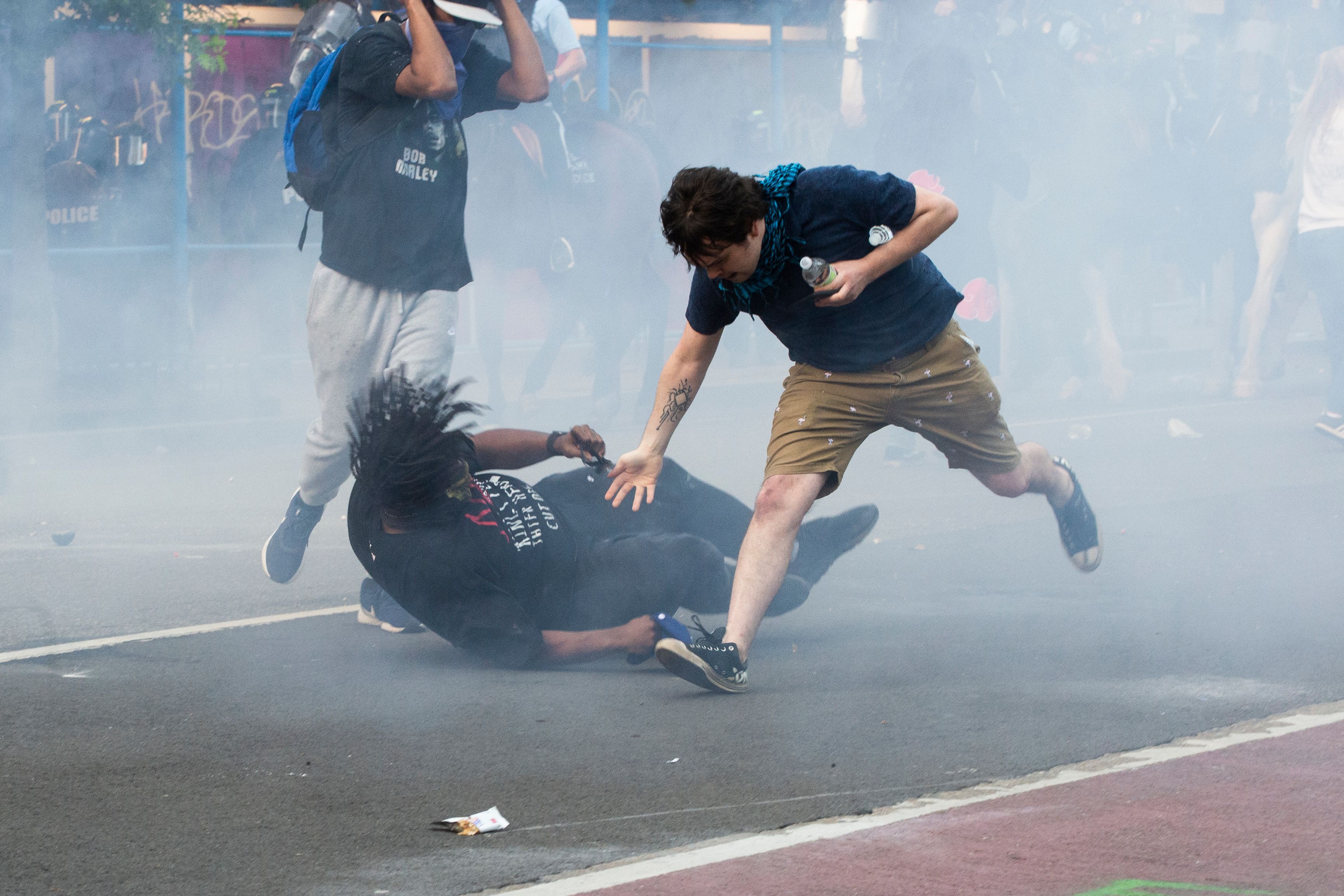 After his 6:43 p.m. speech in the Rose Garden, Trump and his entourage walked across Lafayette Park to St. John's Church, "the Church of the Presidents," where rioters had set a fire in the basement the night before.
It was supposed to be a show of strength. But it was widely criticized after peaceful demonstrators were violently ejected to make way for Trump's photo op.
Reporters accompanying Trump, who held up a Bible outside the boarded-up church, said residue of pepper spray hung in the air, causing coughing.
Trump's action was criticized by the bishop of the Episcopal Diocese of Washington, which includes St. John's.
"I was not informed," the Rev. Mariann Budde told Brian Wiliams on MSNBC. "We were given no warning ... He was preceded by a violent clearing of nonviolent protesters to make his way. And he was using our church as a backdrop, and the Bible as a prop, in ways that I found to be deeply offensive."
Not everyone in the White House was thrilled with the church photo op.
One senior aide was exuberantly telling friends the photograph of him holding a Bible in front of the church that had been attacked by vandals was an "iconic" moment for the president.
But a senior White House official told Axios that when they saw the tear gas clearing the crowd for Trump to walk to the church with his entourage: "I've never been more ashamed. I'm really honestly disgusted. I'm sick to my stomach. And they're all celebrating it. They're very very proud of themselves."
2. Sudden tear gas: What it was like in the park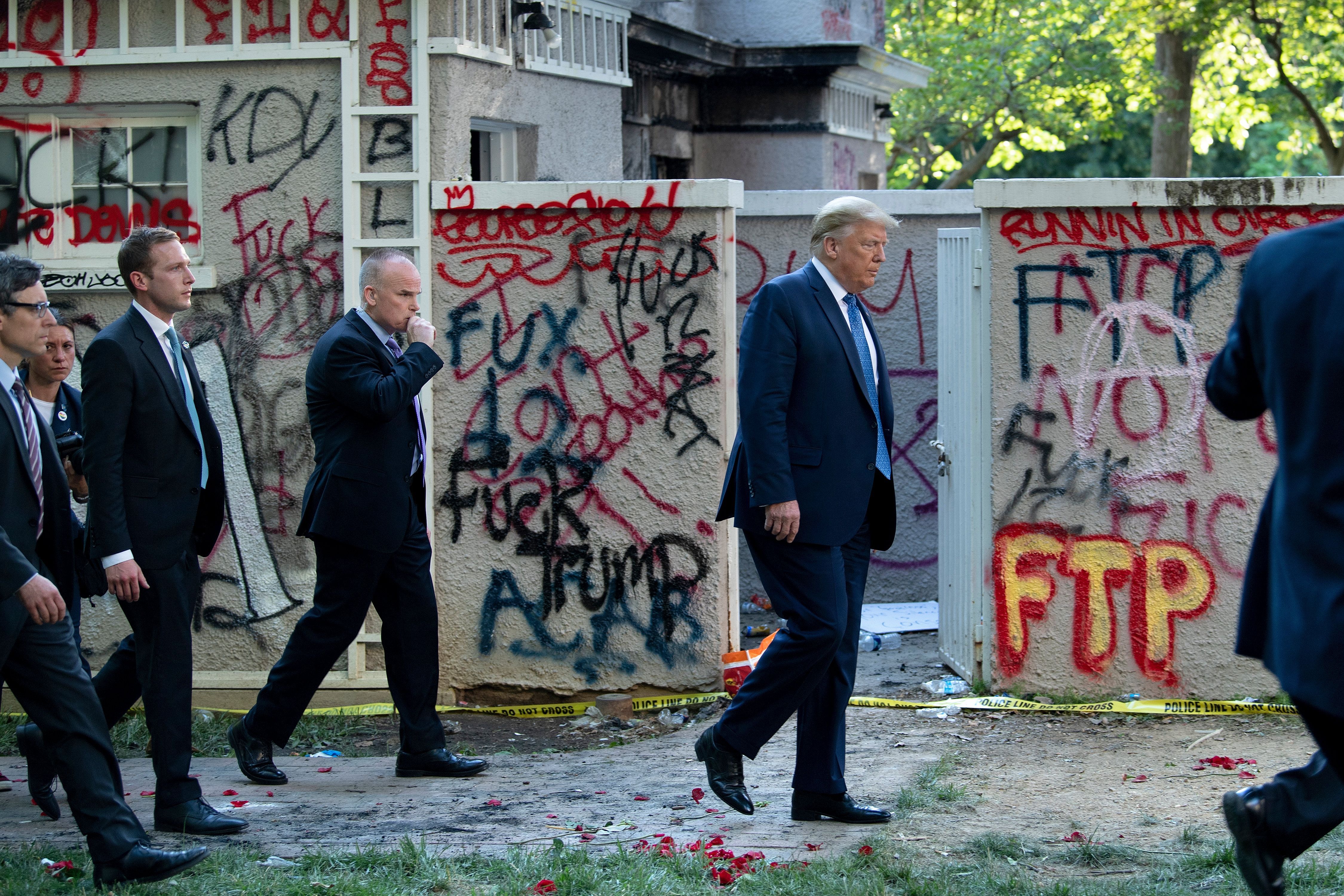 Moments before President Trump began his Rose Garden address, a mass of law enforcement suddenly marched forward in Lafayette Park, across Pennsylvania Avenue from the White House.
They confronted protesters as many held up their hands, saying: "Don't shoot," AP's Jill Colvin and Darlene Superville report.
Soon, law enforcement officers in riot gear were firing tear gas and deploying flash bangs into the crowd.
Why it matters: It was a jarring scene as police in the nation's capital forcefully cleared young men and women gathered legally in a public park on a sunny evening, all of it on live television.
With smoke still wafting, Trump emerged in the Rose Garden for a dramatic split-screen of his own creation.
Soon after, Trump strolled out of the White House gates — something he had never done before — and walked across the park.
Sections of the park and surrounding sidewalks were strewn with garbage, including plastic water bottles. Some sections were scrawled with graffiti.
Standing alone outside St. John's Church, Trump held up a black-covered Bible.
He didn't talk about George Floyd, the church or the damage it had suffered.
At one point, he stopped and pumped his fist in the air at National Guard members in the distance.
"We're going to keep it nice and safe," he said.
3. Axios-Ipsos poll: America's huge racial gulf on police, virus
A new Axios-Ipsos poll finds that America has a massive racial divide on each of our twin calamities — trust in police, and fear of coronavirus, Axios White House editor Margaret Talev writes.
77% of whites say they trust local police, compared with just 36% of African Americans — one of many measures of a throbbing racial divide in Week 11 of the Axios-Ipsos Coronavirus Index, taken the week George Floyd was killed by a white policeman in Minneapolis.
75% of African Americans say they're extremely or very concerned that coronavirus is doing greater damage to people of color, while 30% of whites and 42% of Hispanics share that concern.
70% of African Americans say they're very concerned that official responses to the pandemic are being biased against some racial groups. Only one-third of whites, and about half of Hispanics, share that view.
Why it matters: Cliff Young, president of Ipsos U.S. Public Affairs, said the pandemic has exacerbated "a longstanding set of grievances in the African-American community with the police and how they deal with the community."
"Race differences are massive. And it's simmering," Young said. "You take this issue and you overlay just the absolute hopelessness people are feeling."
In a gauge of empathy, the responses show a staggering partisan divide on concern that coronavirus is doing greater damage to people of color:
64% of Democrats think that, vs. 14% of Republicans.
4. Protest coverage dwarfs coronavirus
Coverage of George Floyd's death and the ensuing protests dwarfed coverage of the coronavirus in the past week, reports Sara Fischer, Neal Rothschild and Bryan Walsh.
On TV, around 2.5% of the combined Sunday airtime of CNN, MSNBC and Fox News mentioned the coronavirus, or related words, while around 25% of the airtime mentioned the George Floyd protests or related words.
On social media, the protests surpassed coronavirus on Thursday, according to data from NewsWhip.
On search, "George Floyd" overtook "coronavirus" as the most popular search in the U.S. on Wednesday evening and continued to outrank it through the weekend, according to data from Google Trends. "Minneapolis" overtook "coronavirus" on Thursday night.
Online, articles about "police brutality" were 6.8 times more in demand than articles about "coronavirus," according to data from web analytics company Parse.ly.
5. Split-screen America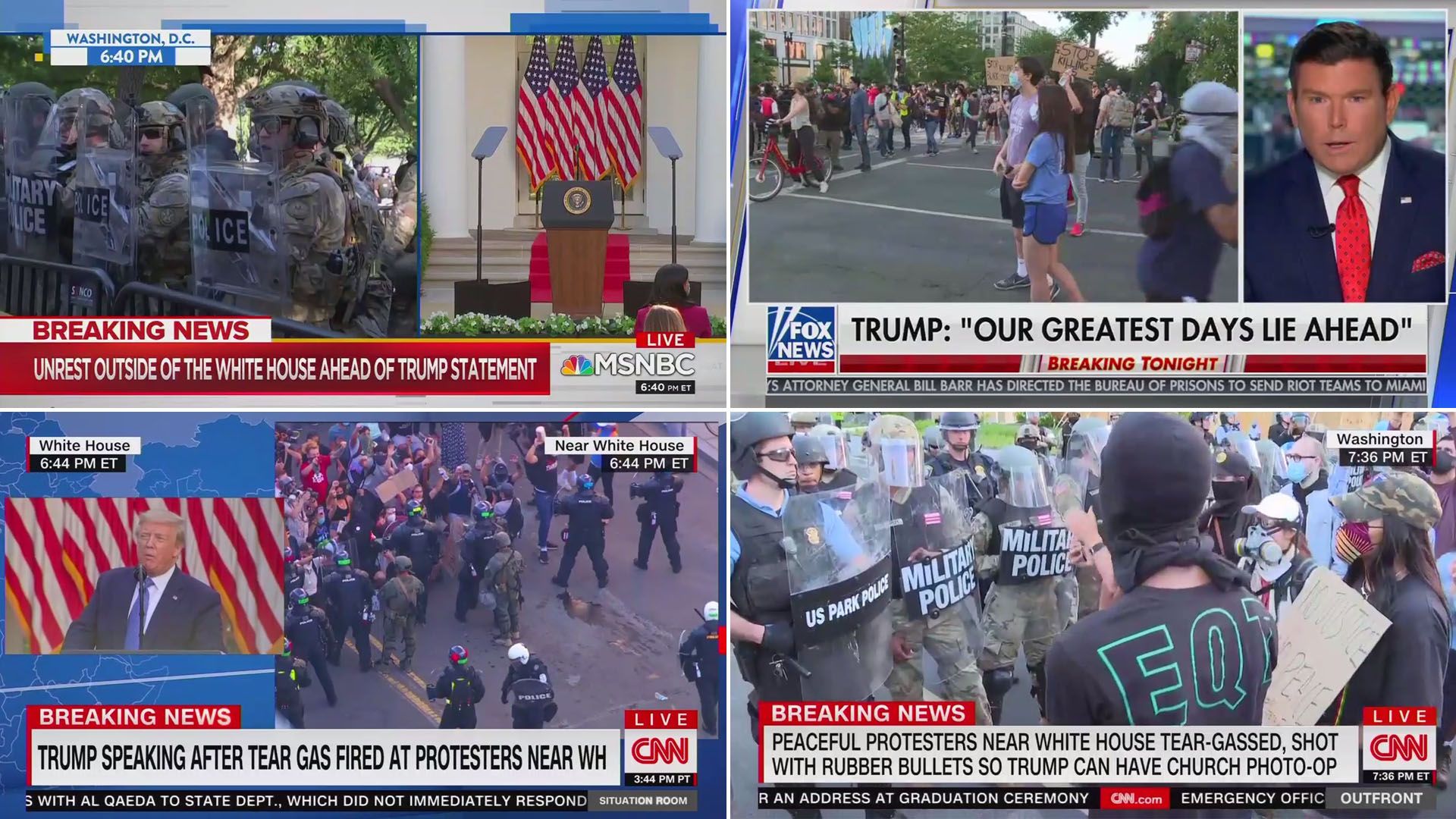 6. States push back on Trump's military vow
President Trump said in his Rose Garden remarks: "If a city or a state refuses to take the actions that are necessary to defend the life and property of their residents, then I will deploy the United States military and quickly solve the problem for them."
Legal experts say the president has the authority under the Insurrection Act of 1807 to dispatch the military to states that are unable to put down an insurrection or are defying federal law, AP explains.
Presidents have sent the military to Southern states to ensure desegregation of schools, to protect civil rights in the 1950s and 1960s, and to L.A. in 1992 to quell riots after the acquittal of officers in the Rodney King case. [Corrected]
But use of the act would be met with likely legal opposition, and strong opposition from governors seeing it as an overreaction.
New York Attorney General Letitia James said the state is prepared to go to court to prevent it: "The President of the United States is not a dictator."
7. American cities remain engulfed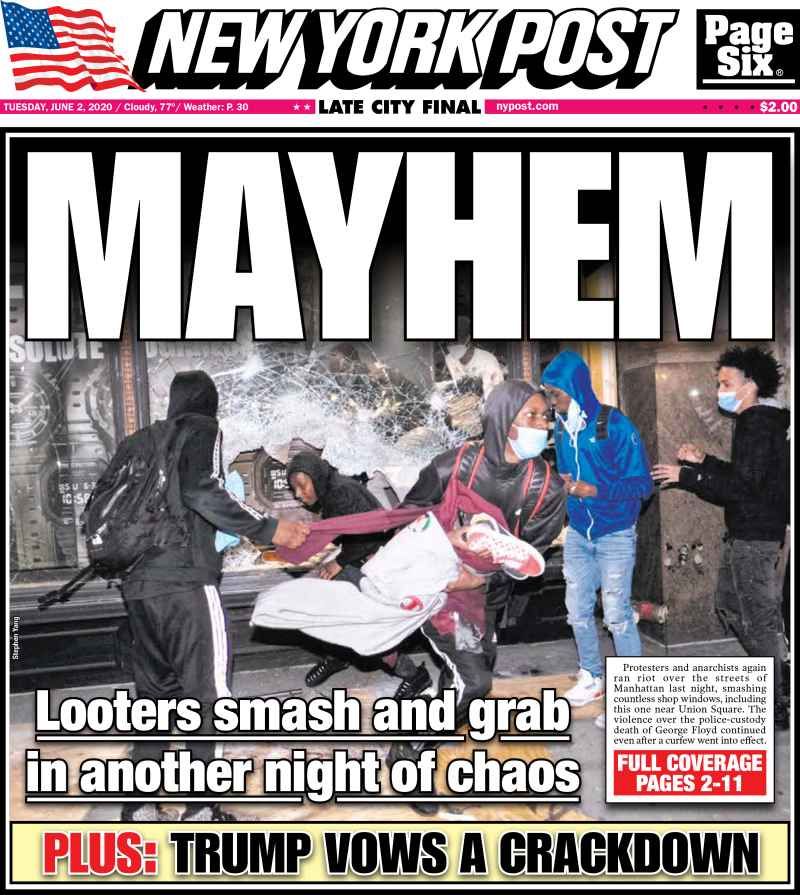 Four St. Louis police officers were hit by gunfire last night during protests, hours after Trump vowed to use the U.S. military to halt the spreading clashes, Reuters reports:
Demonstrators set fire to a strip mall in L.A. and looted stores in New York.
"Television images showed crowds smashing windows and looting luxury stores along Fifth Avenue in Manhattan before the city's 11 p.m. curfew."
8. New data: Continuing virus danger in nursing homes
In the 80% of nursing homes that have reported coronavirus data to the federal government, nearly 26,000 residents died, the Centers for Medicare and Medicaid Services announced yesterday.
Between the lines, from Caitlin Owens: The structural issues that have plagued U.S. nursing homes for years will make it difficult for them to prevent coronavirus infections and deaths, even though we now understand the high-risk nature of the facilities.
9. Corporations line up for protesters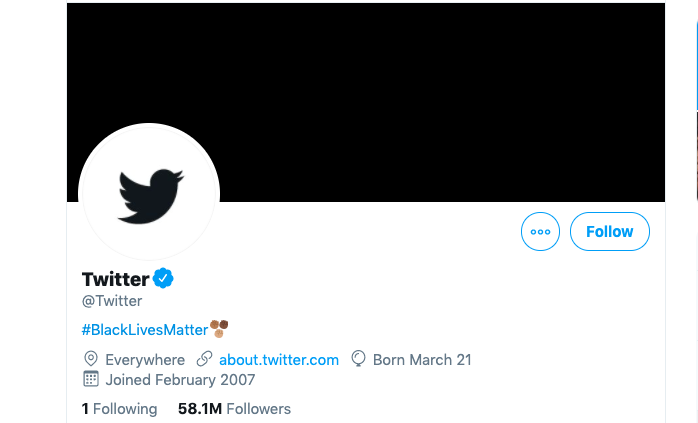 Nike, Twitter, WarnerMedia, Netflix and Citigroup are among the corporations to publicly back the protesters in recent days, the N.Y. Times reports. (Paywalled).
Why it matters: "Major companies are often wary of conflict, especially in a polarized time. They tend to be afraid of offending their customers and associating their brands with sensitive subjects."
10. Sports world speaks out
74 of 123 teams (60%) across the big four American sports leagues issued statements regarding the George Floyd murder and the ensuing nationwide protests as of 12am ET Monday, Jeff Tracy writes in our daily newsletter, Axios Sports.
We counted all official statements attributed to the team or ownership that were posted on Twitter as of midnight ET.
📬 Thanks for reading Axios AM. Please invite your friends to sign up here.