Axios AM
March 15, 2021
📖 Good Monday morning. It's the ides of March.
Smart Brevity™ count: 989 words ... < 4 minutes.
1 big thing ... America's roadblock: Vaccine refusers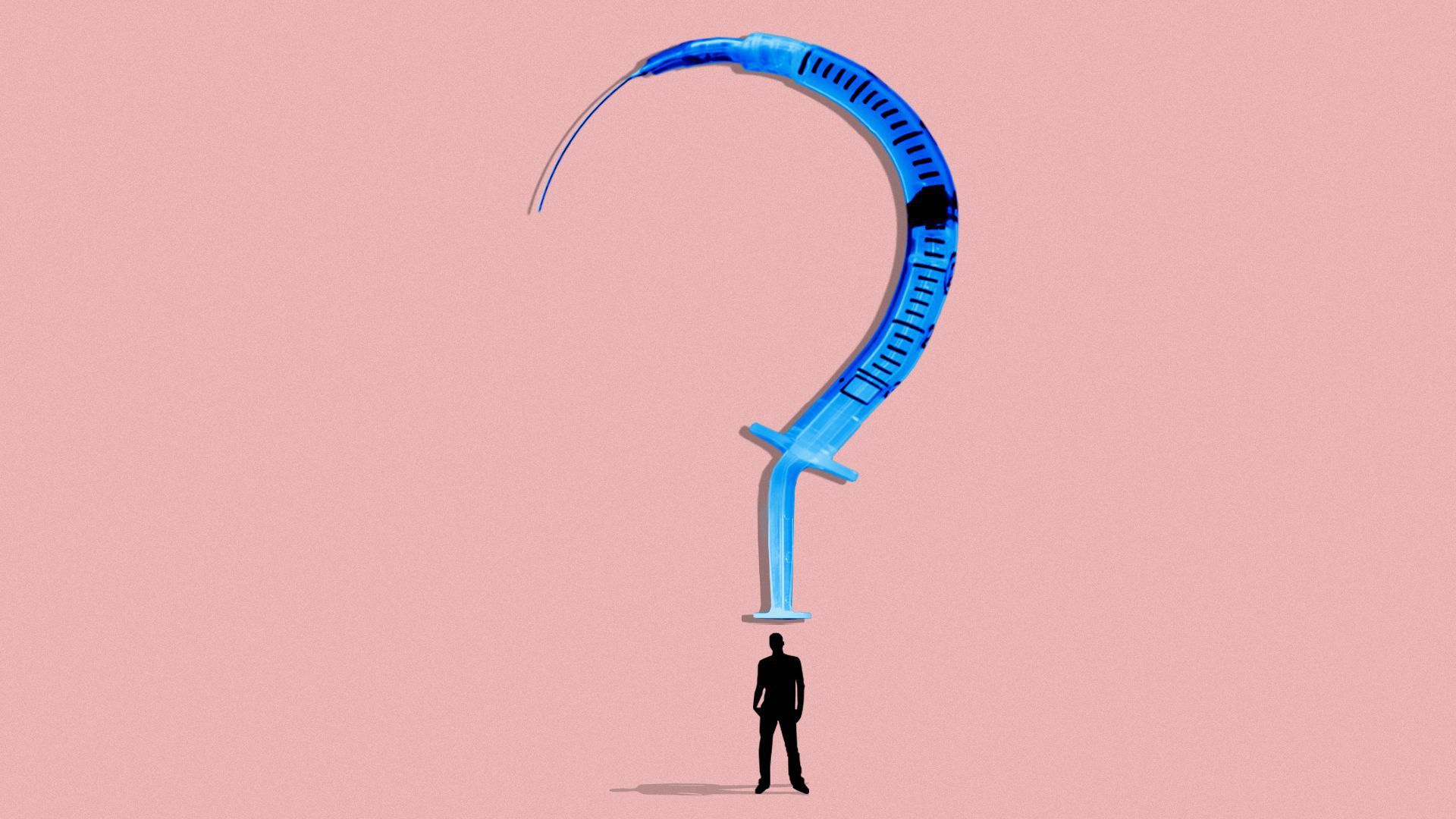 Vaccine enthusiasm has increased but a giant group is holding out — Republicans, Axios Vitals author Caitlin Owens reports.
Nearly half of Republican men — 49% — said in an NPR/PBS NewsHour/Marist survey, conducted March 3-8, that they won't choose to be vaccinated when they're allowed.
41% of all Republicans said the same.
By contrast, 6% of Democratic men said they wouldn't get the shot.
25% of Black respondents, 28% of white respondents and 37% of Latino respondents said the same.
⚡ A stunning 25% of House members — all with access to the vaccine — have refused to get it, haven't reported getting it, or are avoiding it for medical reasons, Axios Kadia Goba scooped in Axios Sneak Peek.
Although officials won't give the party breakdown, Democrats want more Republicans to get vaccinated before returning to regular voting.
2. Schools cut back to pay COVID costs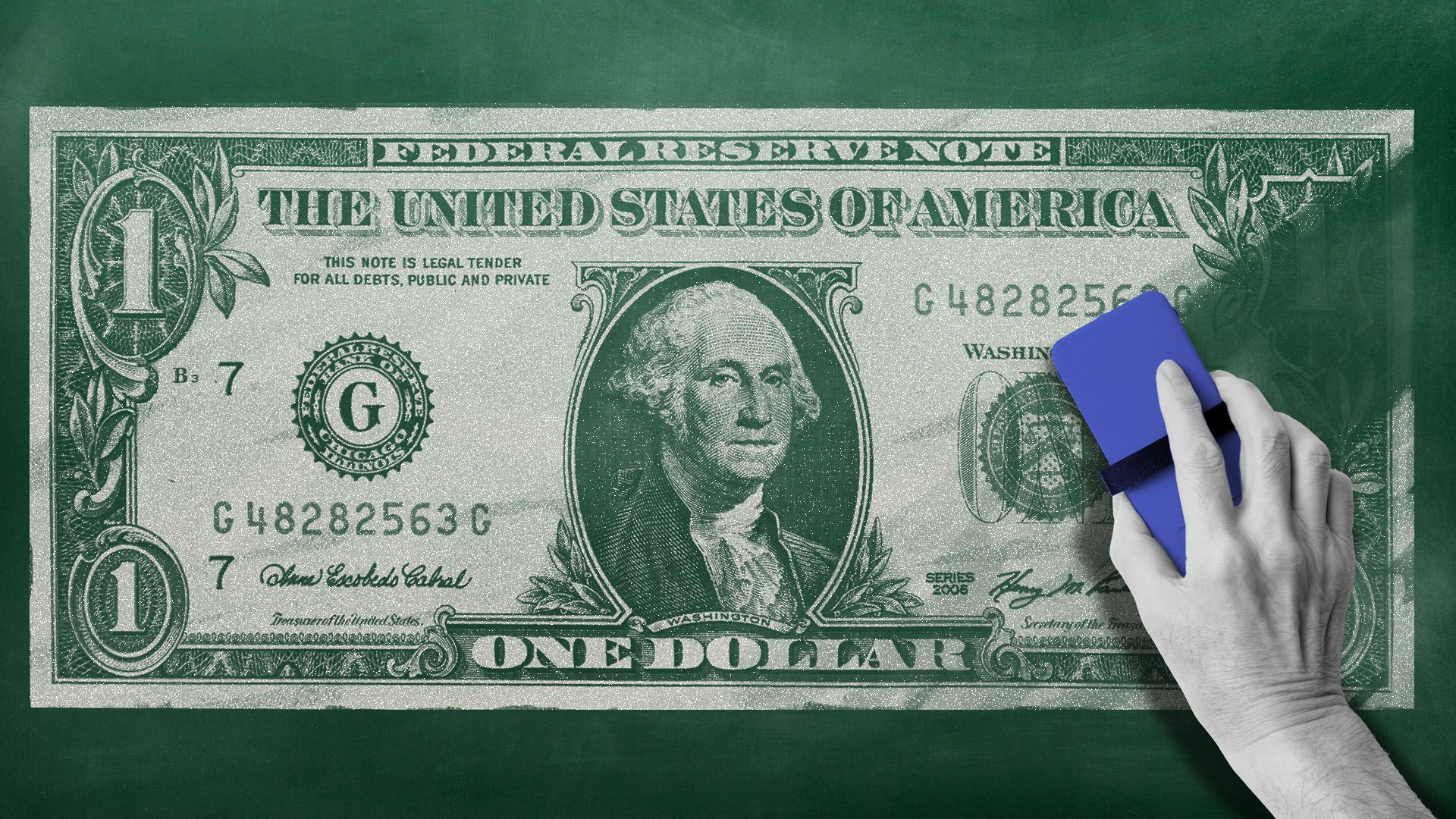 COVID testing and new ventilation systems are costing school districts tens of millions, forcing poorer districts to freeze hiring and cut entire programs, Axios' Erica Pandey and David Nather report.
Schools are having to buy oodles of masks, and provide more staff and space to reduce class sizes.
The effects are often worse in smaller, more rural districts, and in long underfunded urban districts.
In Goreville, Ill., restrictions on the number of kids on buses became a big problem because rural school bus routes are so long, and adding buses was too expensive.
3. DeSantis response gets second look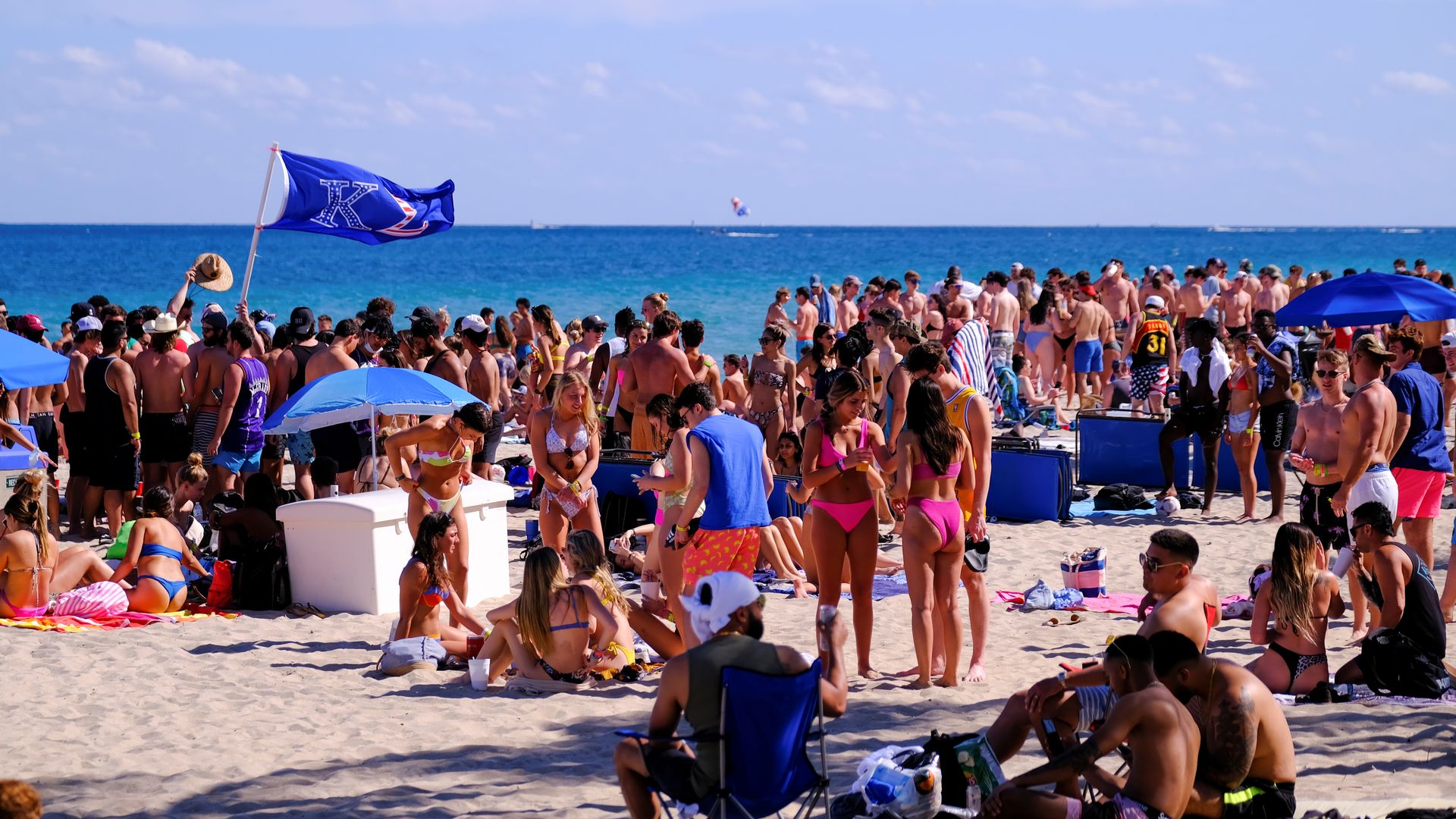 Even some Florida Democrats are wondering whether Gov. Ron DeSantis' widely panned COVID response might turn out to be right, Axios Tampa Bay's Ben Montgomery and Selene San Felice write.
More than 32,000 Floridians have died, a number the state's leaders rarely acknowledge. But the death rate is no worse than the national average — and better than some states with tighter restrictions.
The L.A. Times compared Florida and California:
"California imposed myriad restrictions that battered the economy ... Florida adopted a more laissez-faire approach decried by public health experts — allowing indoor restaurant dining, leaving masks optional."
On Sunday's front page, the N.Y. Times explored the positives — from the sizzling real-estate market to Florida's low unemployment rate — of an early reopening: "Much of the state has a boomtown feel."
Florida's unemployment rate is 5.1%, compared to 9.3% in California, 8.7% in New York and 6.9% in Texas, The Times notes.
The bottom line: "Despite their differing approaches," AP reports, "California and Florida have experienced almost identical outcomes in COVID-19 case rates."
Take the Local: Sign up for Axios Tampa Bay, Charlotte, Twin Cities, Denver, Des Moines or Northwest Arkansas (coming soon) — or to be notified of future cities.
4. Pic du jour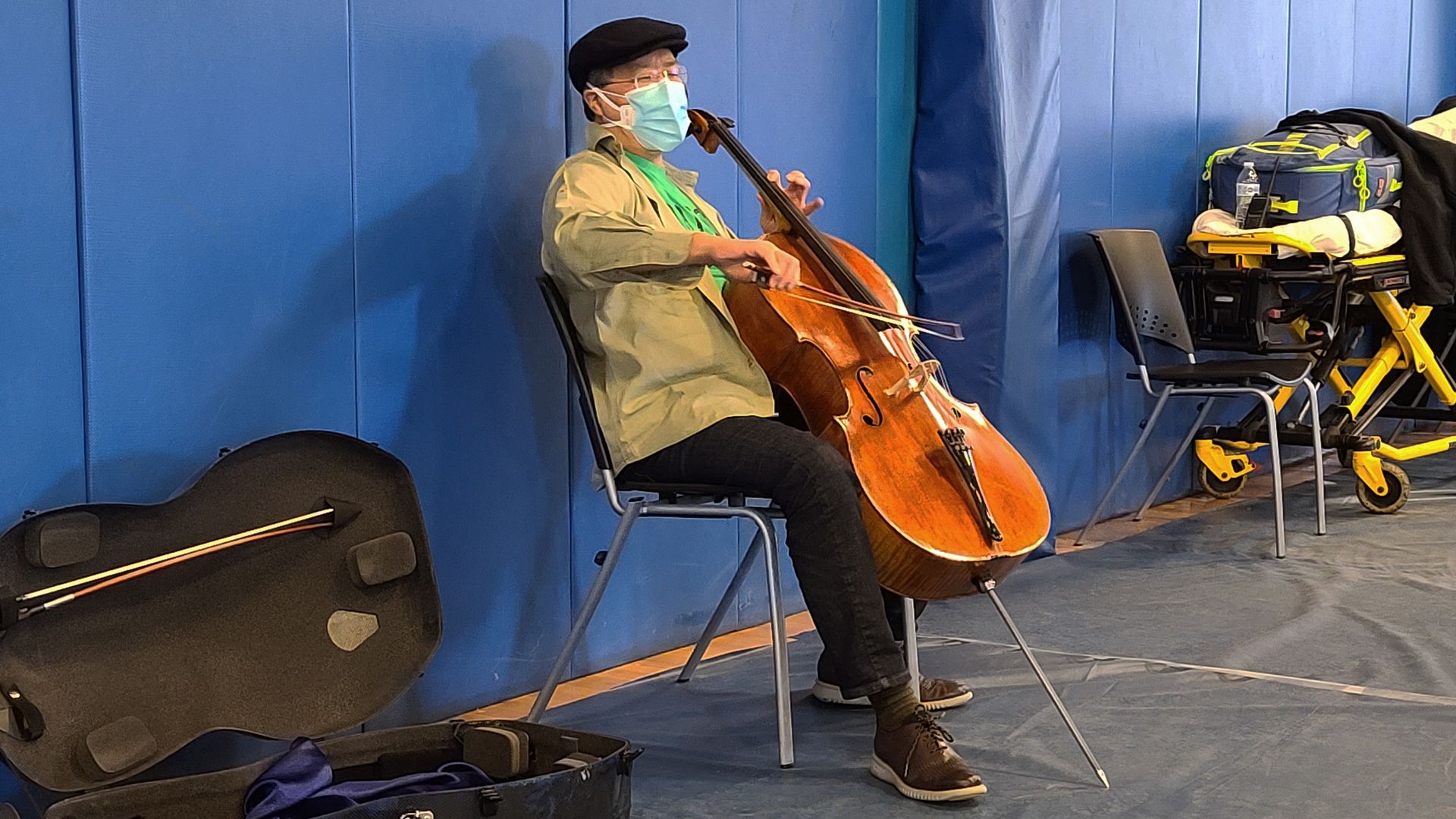 After Yo-Yo Ma received his second jab of COVID vaccine at Berkshire Community College in in Pittsfield, Mass., he transformed his 15-minute waiting period into a quick concert, the Berkshire Eagle reports:
The world-famous cellist took a seat along the wall of the observation area — masked and socially distanced — then played for an applauding audience.
Video (Click to third frame).
5. Inside the Biden-Harris battleground blitz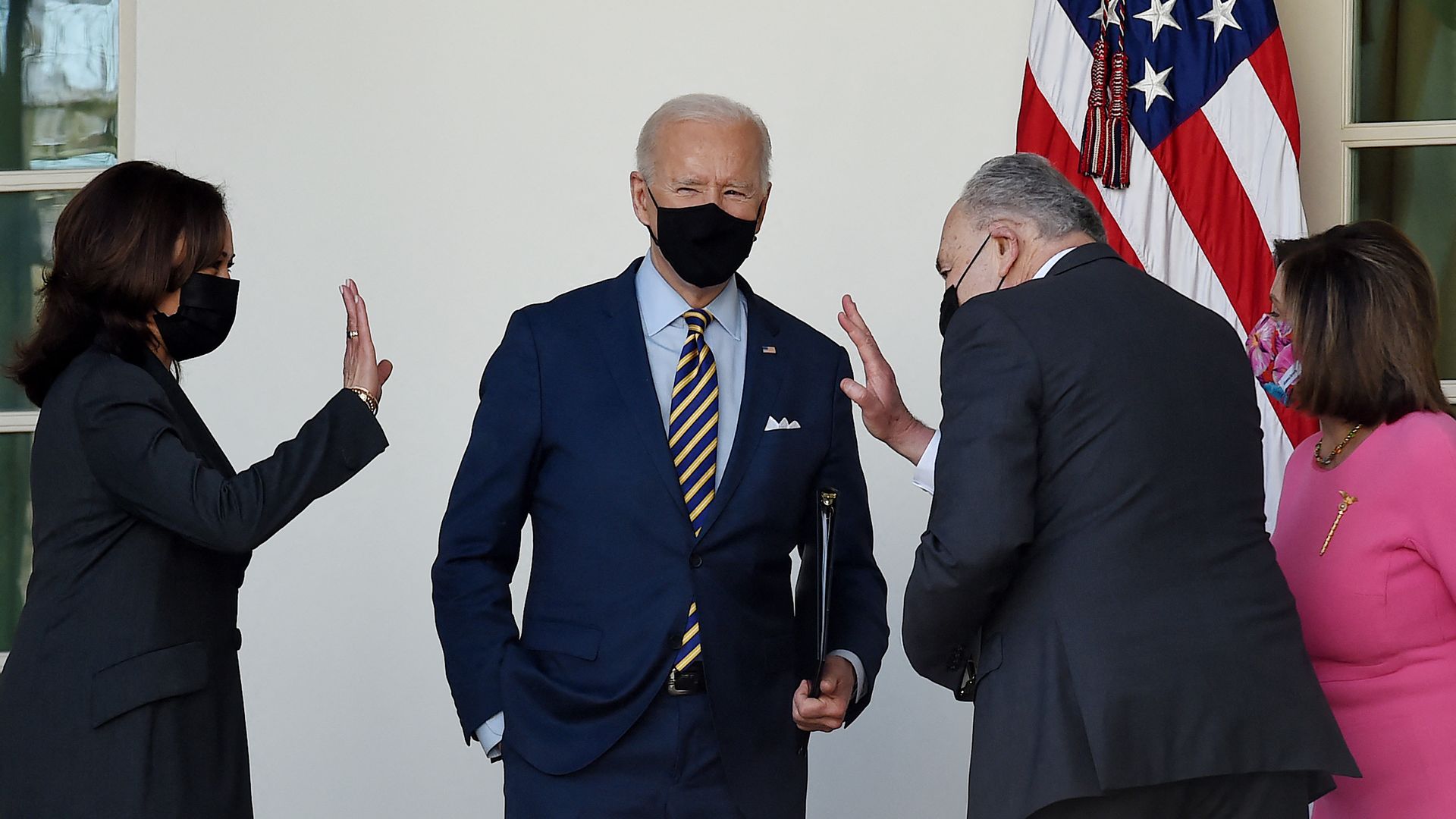 This week's seven-state swing by the first and second families is just the beginning: The White House is mapping a multi-week campaign — in red and blue states — to sell the COVID stimulus, Jonathan Swan has learned.
Why it matters: President Biden's top advisers see the $1.9 trillion relief bill, which Biden signed Thursday, as the key to solidifying his political fortunes. The bill's strong bipartisan approval ratings supply Democrats with an opportunity to bludgeon Republicans in states that will determine elections for the foreseeable future.
What we're hearing: Team Biden has broken each day into themes emphasizing different benefits of the bill, according to an administration official familiar with the plans:
Today, Biden will launch what he's branding the "Help is Here" campaign with a speech at the White House. Vice President Harris and the Second Gentleman Doug Emhoff will headline a launch event in Nevada. Dr. Jill Biden, a teacher, will travel to New Jersey to emphasize the impact of the bill on schools and students.
Tuesday's theme will be "help for small business." The president will fly to Pennsylvania, and the vice president and second gentleman will visit Colorado.
Wednesday — "help for schools" — will feature the first lady in New Hampshire and the second gentleman in New Mexico.
Thursday — "help to stay in your home" — will highlight measures in the bill to cover back rent, protect people against eviction and aid people experiencing homelessness.
Friday — "help immediately with direct checks" — will have Biden and Harris in Georgia.
6. Power center: Biden's tech titans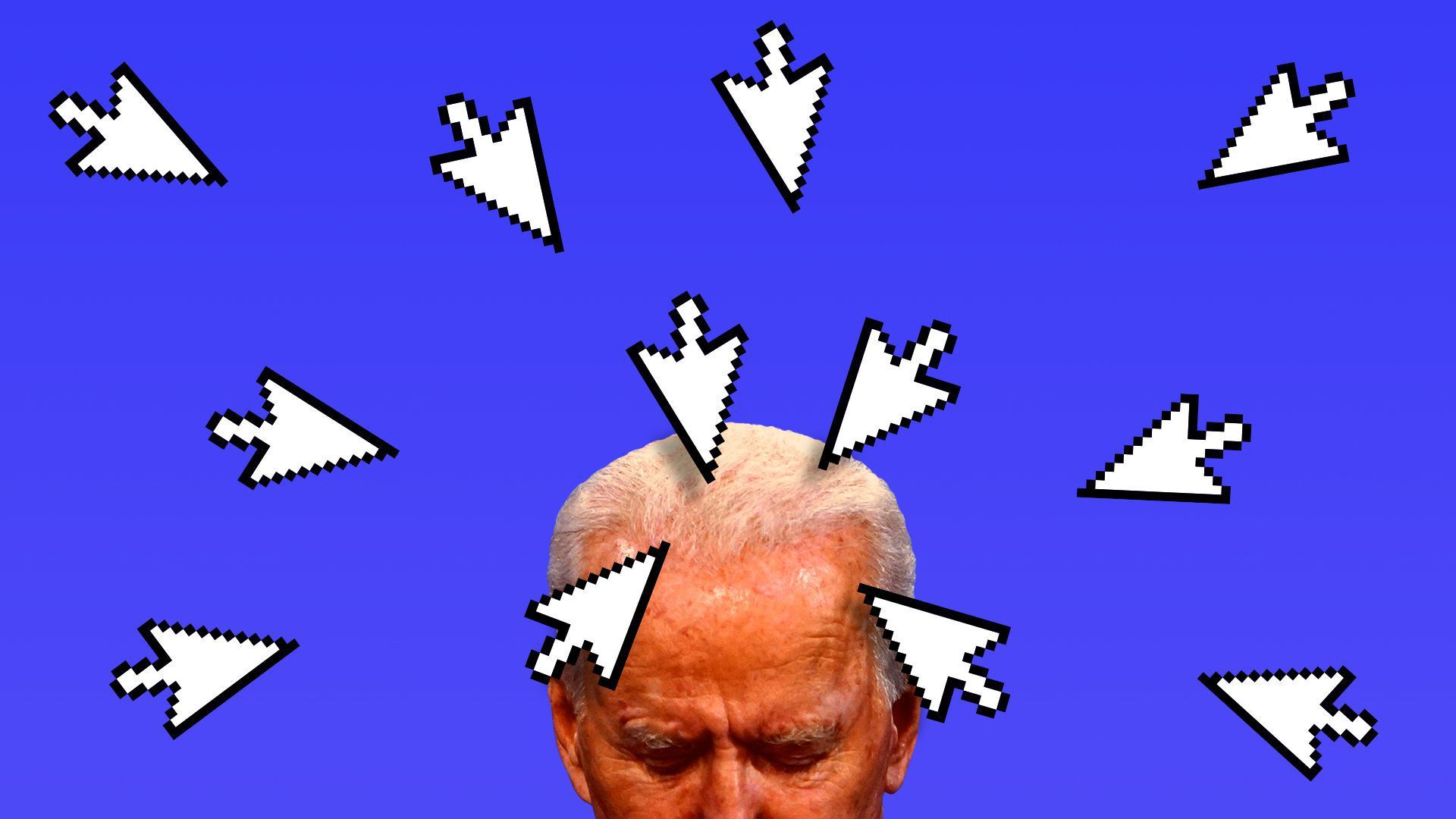 President Biden's likely tech appointees don't have direct ties to Big Tech companies — and have advocated for tougher measures against the industry, Axios' Margaret Harding McGill and Ashley Gold report:
Karl Racine, the D.C. attorney general, is being vetted by the White House for an administration gig, potentially at the FTC, sources tell Axios.
Alvaro Bedoya is being considered for a Democratic FTC commissioner slot. He's the founding director of the Center for Privacy & Technology at Georgetown Law School, and an expert on data collection and surveillance.
Jon Sallet is a candidate to lead the antitrust division at the DOJ, where he previously was deputy assistant attorney general for litigation.
Jonathan Kanter, a longtime antitrust lawyer known for promoting aggressive enforcement, is in the running to head the DOJ antitrust division.
Gigi Sohn previously advised former FCC Chairman Tom Wheeler, and has strong ties to public interest groups as a co-founder and former CEO of Public Knowledge.
Edward "Smitty" Smith, who was senior director for the National Urban League's digital equity proposal, served in the Biden transition as part of the FCC review team.
Anna Gomez, a Wiley Rein attorney and former Commerce Department official, is a contender for FCC commissioner.
7. The hoarding economy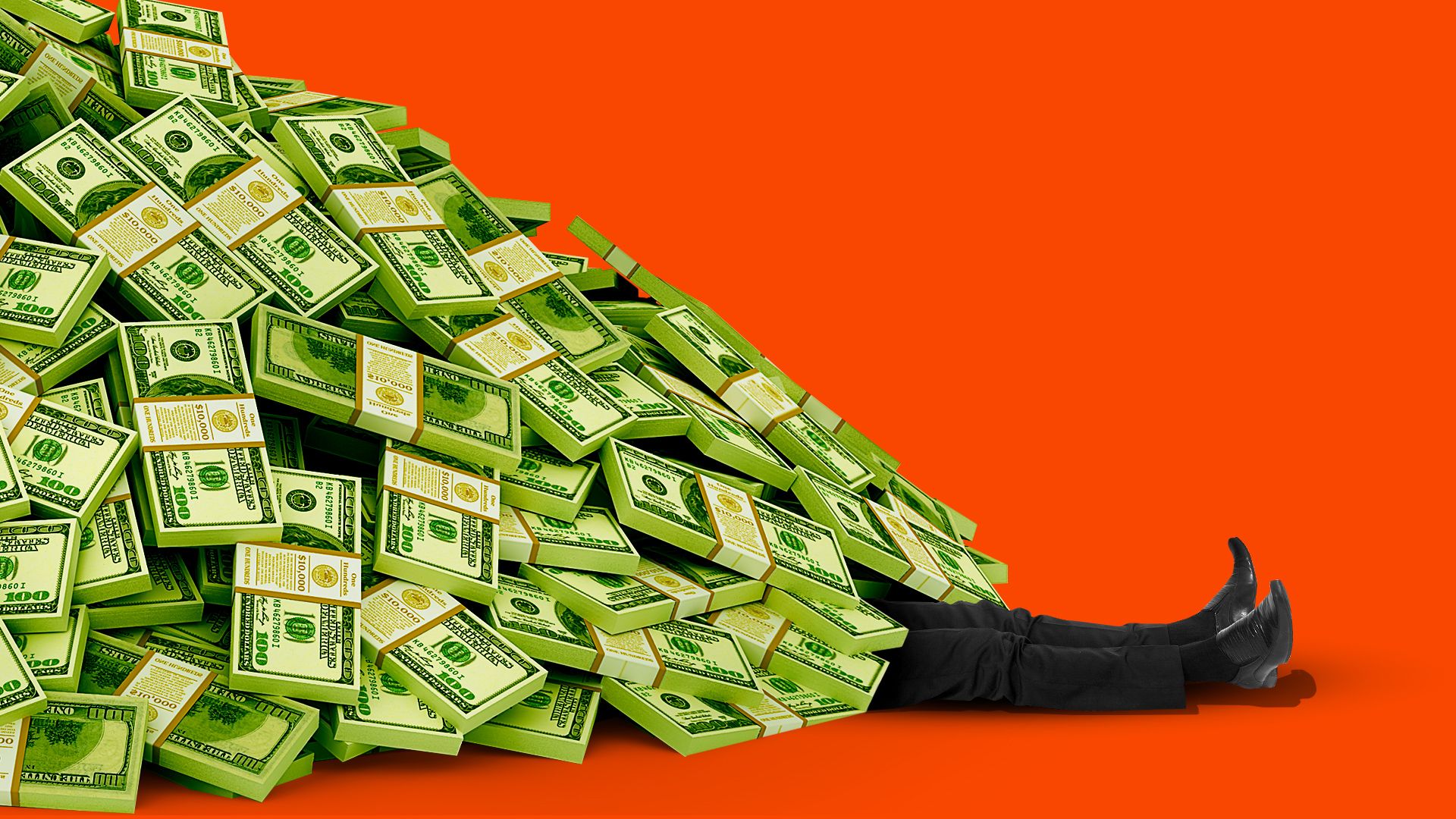 Americans, especially big businesses and the wealthy, are locking away greater shares of money — a trend that increased during the pandemic and is likely to stick around, Dion Rabouin writes in Axios Markets.
Why it matters: The U.S. economy is built on our propensity to spend.
A Pew survey released this month found that Americans have cut back on spending, especially at upper income levels, over the past year.
💰 Sign up for Dion Rabouin's daily newsletter, Axios Markets.
8. Stripe becomes Silicon Valley's most valuable private company ever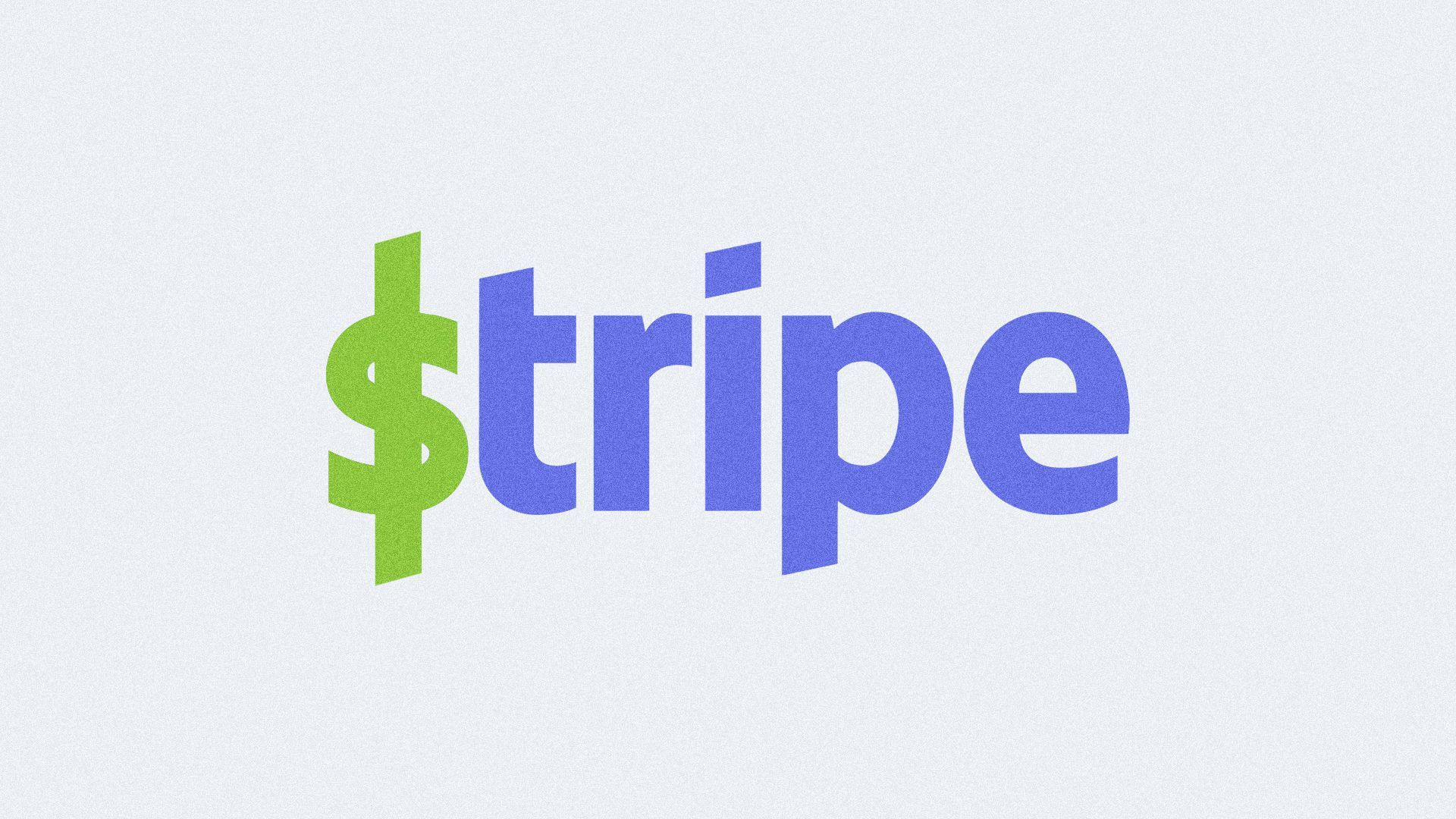 Digital payments giant Stripe said it raised $600 million in new funding at a $95 billion valuation, Axios' Dan Primack reports.
Why it matters: This makes Stripe the most highly-valued U.S. "unicorn," topping SpaceX.
The big picture: Stripe's valuation has passed Facebook and Uber before they went public, the Financial Times notes (subscription).
9. Grammys bring back spectacle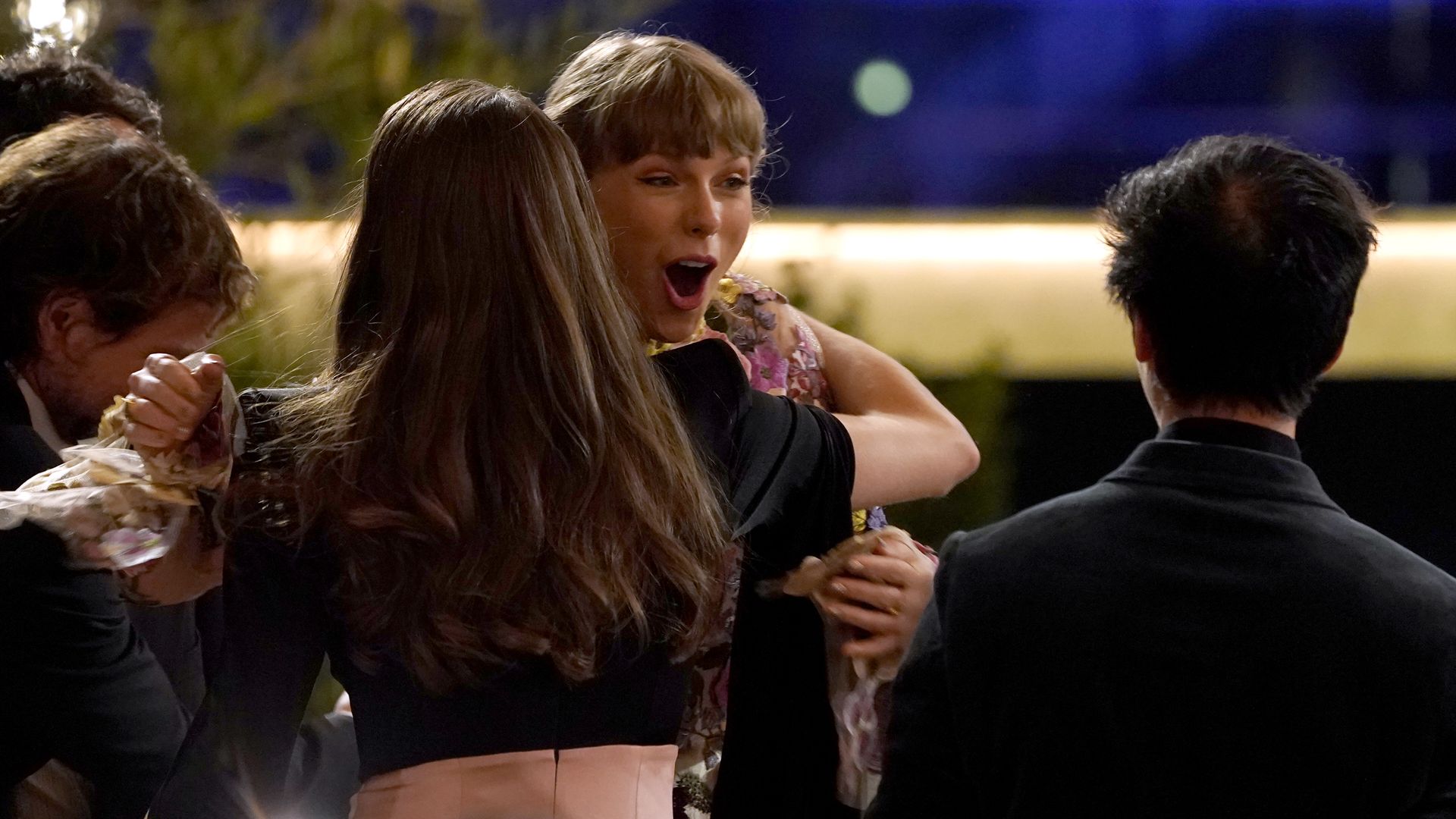 Beyoncé, Taylor Swift and Billie Eilish made history during Ladies' Night at the Grammys. Dozens of creators — largely sidelined during the pandemic year — got to make music again, AP's David Bauder writes.
Why it matters: The Grammys broke through the Zoom trap, which has bedeviled other awards shows, with a surprisingly intimate evening. Viewers felt like they'd been invited into a private club with their favorite musicians.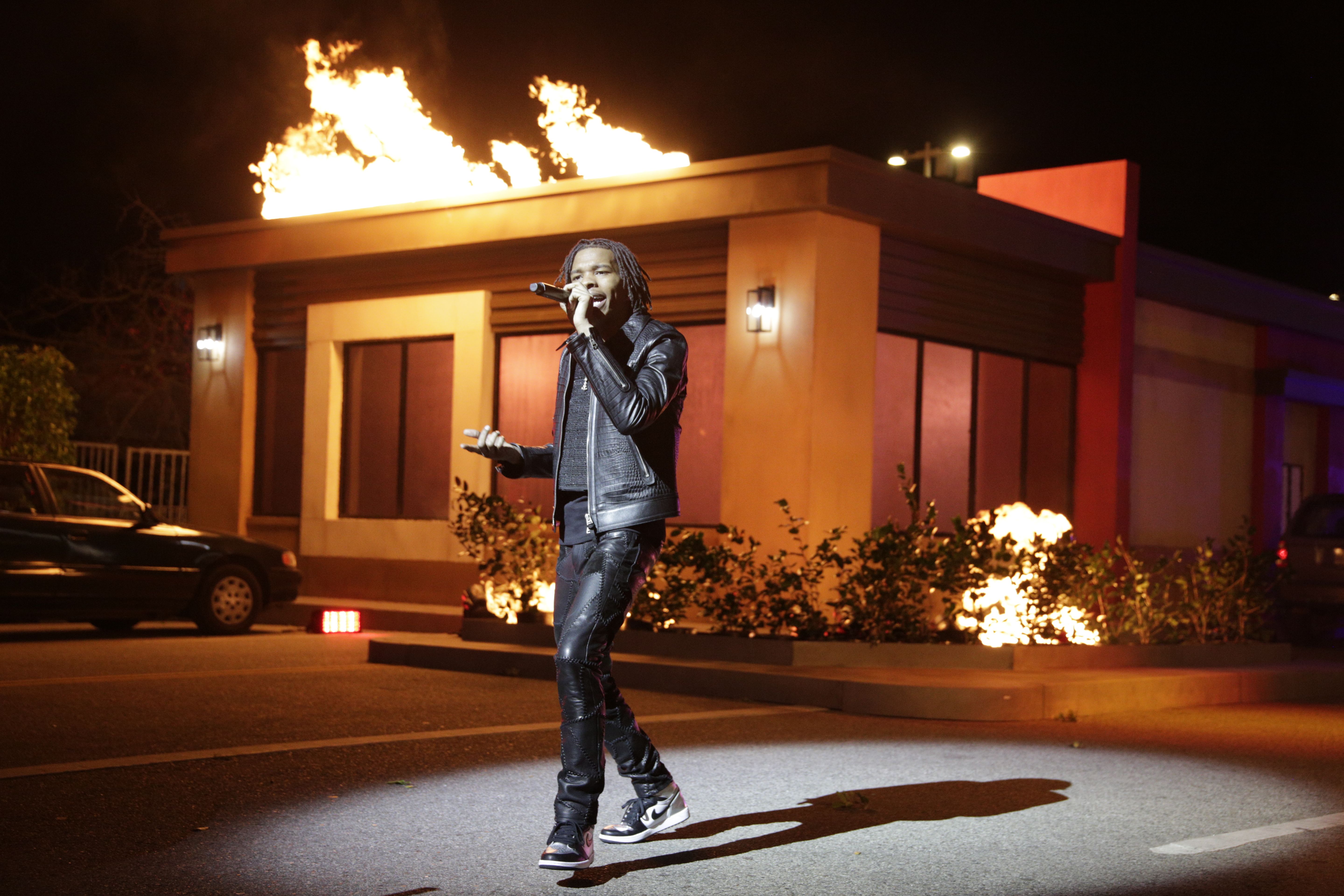 Above: Lil Baby uses his Grammys performance of "The Bigger Picture" to take on police brutality, with an elaborately choreographed scene recreating the police shooting of Rayshard Brooks in Atlanta last year.
10. 1 smile to go: Bracketology is back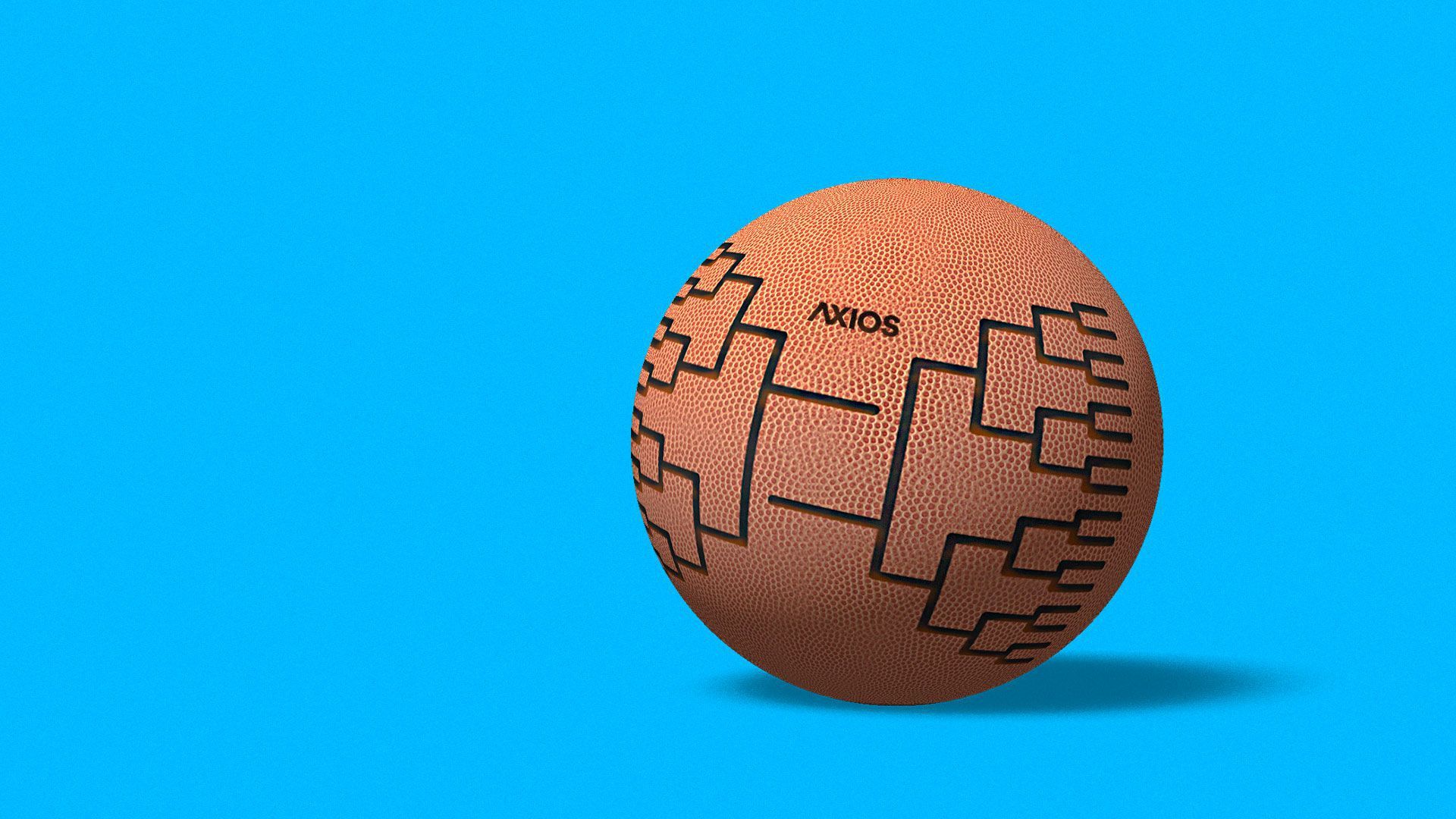 It's been two years since it was time to fill out your bracket, Kendall Baker writes in Axios Sports.
📬 Thanks for starting your week with us. Please invite your friends to sign up for Axios AM/PM.