Good Wednesday morning. Axios will add SCIENCE to its STREAM, per Vanity Fair's Emily Jane Fox: The "new media venture is already expanding beyond its core sweet spots."
https://www.axios.com/newsletters/axios-am-d19b7aa5-e456-4aef-9c7d-cca32a464099.html?chunk=0#story0
1 big thing: Taking the bait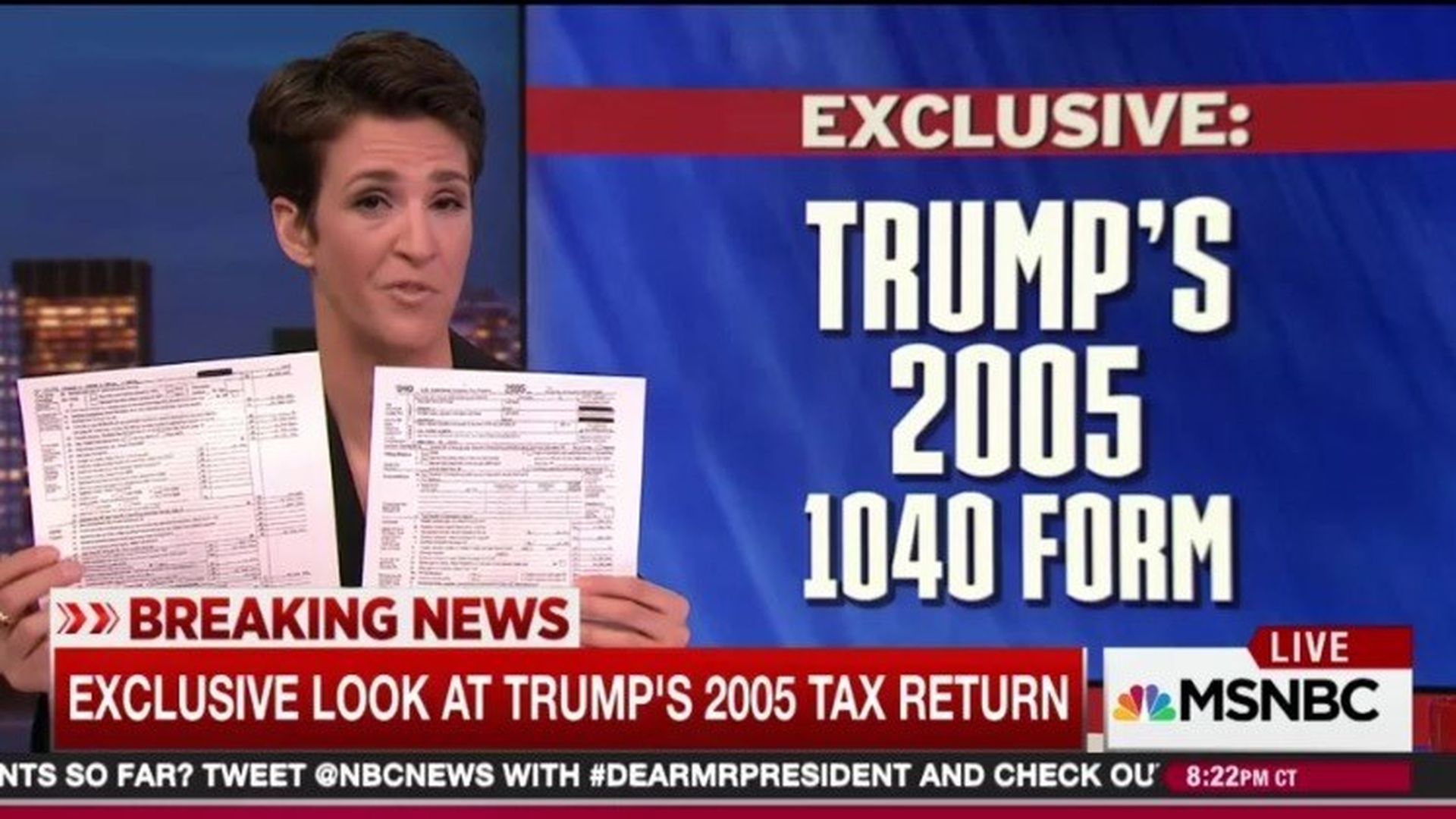 It's Day 55 of the Trump presidency, and we still take the bait. MSNBC's Rachel Maddow tweeted before her show last night: "BREAKING: We've got Trump tax returns," implying a cache. It turned out to be two pages, and the White House preempted her by releasing the info first:
The White House statement: "You know you are desperate for ratings when you ... push a story about two pages of tax returns from over a decade ago. ... [In 2005,] Trump paid $38 million ... on an income of more than $150 million," an effective rate of 25 percent (more than Romney).
Maddow to Lawrence O'Donnell: "I don't think there's any reason to ... expect that this will be the only Trump tax document that ever comes to light. ... [T]he more we learn about this, the closer we're going get to the truth about whether or not his foreign entanglements explain more about what just happened in our election."
The story raced onto the front pages of The Times, The Post and USA Today. The Boston Globe's lead story: "Trump releases 2005 tax returns." Um, no.
A quick column by CNBC executive editor Jay Yarow pointed out that the fracas amounted to "a nice victory" for Trump: "[T]his story has created the appearance that Trump does in fact make a lot of money, and he pays millions in taxes."
N.Y. Times' Michael Grynbaum: "On Twitter, journalists complained that Ms. Maddow had overhyped."
What was the mental opportunity cost?
We only have so many hours and brain cells. They're a terrible thing to waste.
https://www.axios.com/newsletters/axios-am-d19b7aa5-e456-4aef-9c7d-cca32a464099.html?chunk=1#story1
2. Bannon's ideology: "middle class v. elites"
Wall Street Journal front-pager, "BANNON'S JOURNEY TO ECONOMIC NATIONALISM: Trump adviser cites father's 2008 financial trauma as a turning point," by Michael Bender in Richmond:
"On Oct. 7, 2008, in the cramped TV room of his modest home here, Marty Bannon watched with alarm as plunging stock markets dragged down his shares of AT&T, the nest egg he built during a 50-year career at the company. ... He sold. Marty Bannon, now 95 years old, still regrets the decision and seethes over Washington's response to the economic crisis.
"His son Steve says the moment crystallized his own antiestablishment outlook and helped trigger a decadelong political hardening. ... 'The world is probably 95% Marty Bannons, and 5% Steve Bannons.'"
https://www.axios.com/newsletters/axios-am-d19b7aa5-e456-4aef-9c7d-cca32a464099.html?chunk=2#story2
3. In the real world ...
Mood music, 22 days from Trump's Mar-a-Lago summit with China President Xi Jinping ("the world's two most powerful men"):
P.S. "Trump Wins Saudi Praise for 'Turning Point' After Meeting Prince," by Bloomberg's Nafeesa Syeed: "Trump welcomed Deputy Crown Prince Mohammed bin Salman to the White House. ... The effusive praise ... reflects the eagerness among Sunni-led Arab nations for a renewed alliance after deep strains with ... Obama, who crafted the 2015 nuclear deal with their Shiite rival Iran."
https://www.axios.com/newsletters/axios-am-d19b7aa5-e456-4aef-9c7d-cca32a464099.html?chunk=3#story3
4. Worker trends: Business also seeing this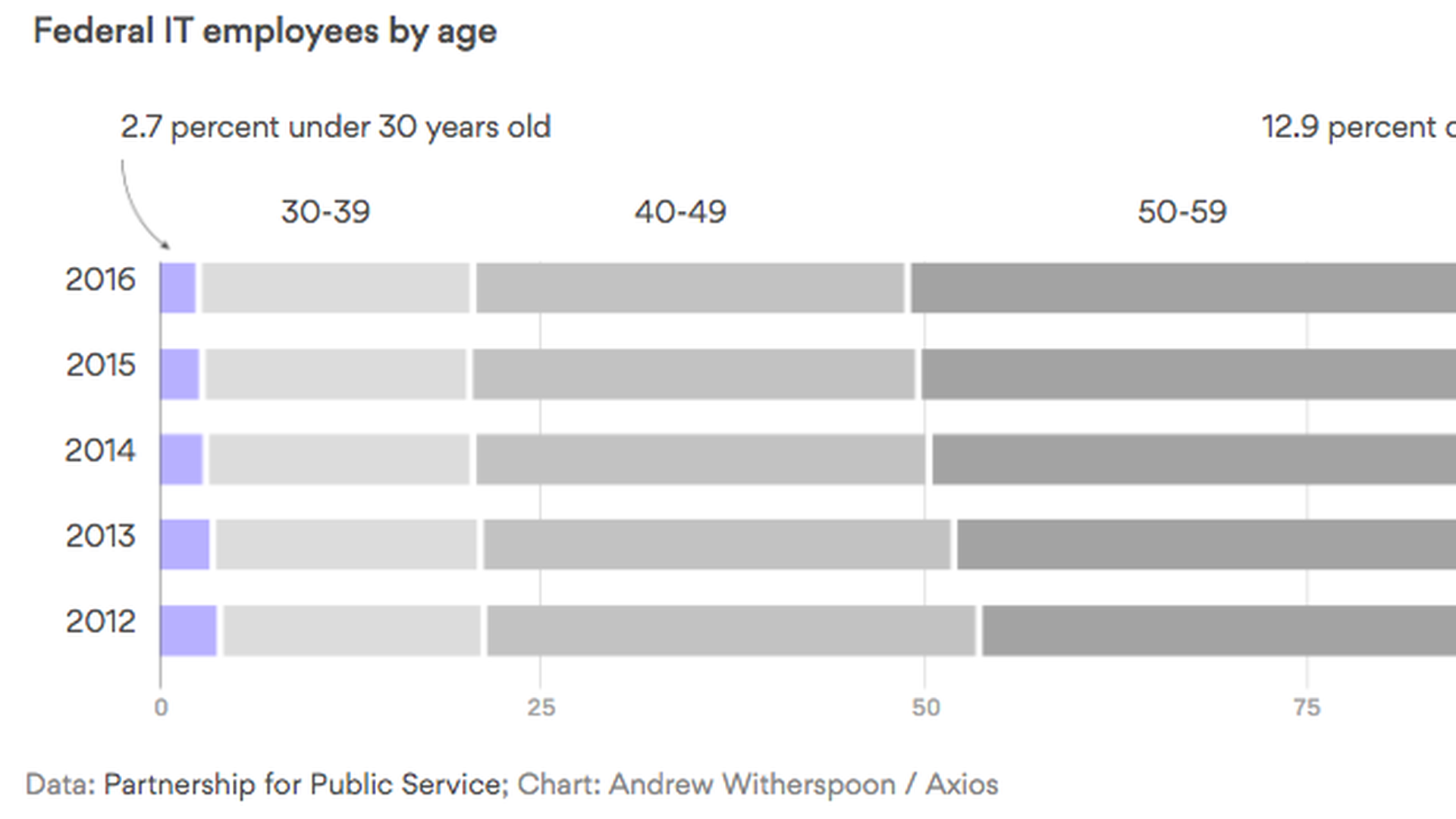 "The federal government's rapidly aging IT force," by Axios' Shane Savitsky and Andrew Witherspoon: "Last year, nearly 80% of federal IT workers were aged 40 or above — and more than half were over 50."
The kicker: Federal IT employees over 60 outnumber those under 30 by nearly 5 to 1.
Where's the young talent? Per Bloomberg, the median age at Google and Tesla is 30. LinkedIn and Facebook are even younger at 29.
https://www.axios.com/newsletters/axios-am-d19b7aa5-e456-4aef-9c7d-cca32a464099.html?chunk=4#story4
5. How campaigns profile and persuade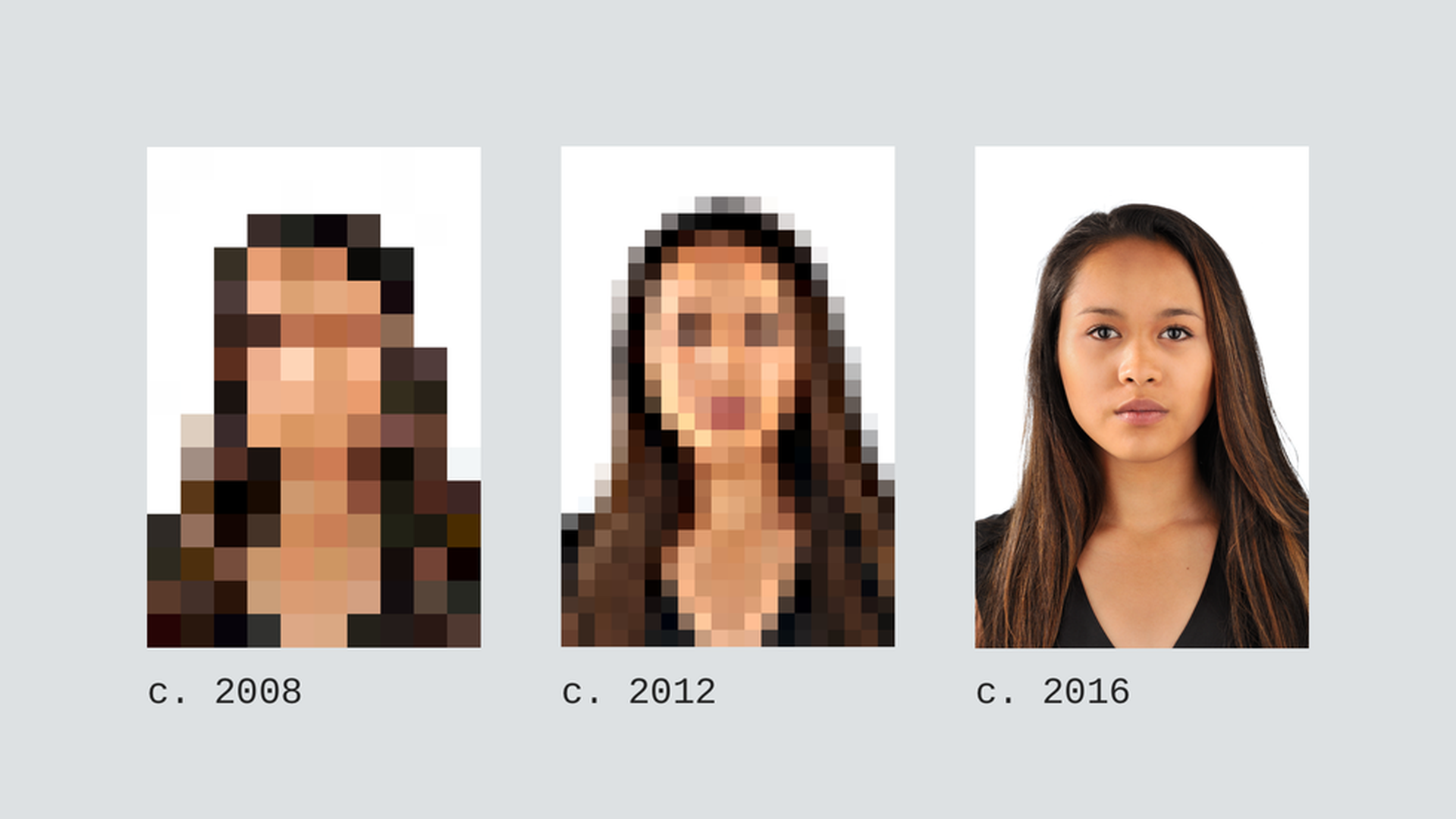 Axios' Kim Hart and Sara Fischer on the state-of-the-art campaign .... By 2016, voter files were created with digital modeling tools that could predict which voters were likely persuadable or more easily mobilized based on internet consumption data.
What's next: Campaigns are going to keep refining their tactics for reaching specific types of voters while also reaching as broad of a related audience as possible. The RNC maintains a voter file of not just every registered Republican, but of everyone of voting age in the country — and campaign operatives are even gathering data on younger teenagers to figure out who to register first.
https://www.axios.com/newsletters/axios-am-d19b7aa5-e456-4aef-9c7d-cca32a464099.html?chunk=5#story5
6. Treasury gets another Goldman
James Donovan, a Goldman Sachs managing director and adjunct professor at U.Va. Law, was named Deputy Treasury Secretary last night, in a move that won wide praise for an administration that has had trouble filling top jobs.
Senators Rob Portman and Tom Cotton tweeted support, along with Jeb Bush, Mitt Romney and Arthur Brooks.
Friends tell us Donovan, who has been Treasury's de facto personnel director, is a non-ideological, managerial choice, freeing Secretary Mnuchin to focus on tax reform and keeping White House staff from meddling.
What it means, per a top official: "The administration still isn't hesitant to appoint high-level banking executives, despite knowing it'll generate knee-jerk criticism."
Also named to Treasury last night:
Adam Lerrick of Wyoming will be Assistant Secretary for International Finance.
Drew Maloney of Virginia. who was a Hess Corp. vice president, will be Assistant Secretary for Legislative Affairs.
David Malpass of New York will be Under Secretary for International Affairs.
Sigal Mandelker of New York be Under Secretary for Terrorism and Financial Intelligence.
Brent James McIntosh of Michigan will be general counsel.
Also named by the White House last night:
J. Christopher Giancarlo of New Jersey will chair the Commodity Futures Trading Commission. He's now acting chairman.
Eric Hargan of Illinois will be Deputy Secretary of Health and Human Services. He was with Greenberg Traurig, in its Health & FDA Business practice, based in Chicago.
https://www.axios.com/newsletters/axios-am-d19b7aa5-e456-4aef-9c7d-cca32a464099.html?chunk=6#story6
7. Business paying more attention to D.C. (and vice versa)
The Business Roundtable, made up of CEOs of top companies, is drawing top White House names to its quarterly meeting, now going on in Washington:
Economic adviser Gary Cohn met with executive committee members last night, and they'll have breakfast with senior adviser Jared Kushner today.
Trump budget director Mick Mulvaney will meet with CEOs on the Regulation Committee this morning. Commerce Secretary Wilbur Ross and House Ways and Means Chairman Kevin Brady will address the plenary session.
New members since Chairman Jamie Dimon and President Josh Bolten took over this year, with a focus on recruitment: Tim Cook of Apple, Bob Dudley of BP, Ed Breen of DuPont, Phebe Novakovic of General Dynamics, Craig Menear of The Home Depot, Steve Fisher of Novelis, Mauricio Gutierrez of NRG Energy, Oscar Munoz of United Airlines and Hikmet Ersek of Western Union.
https://www.axios.com/newsletters/axios-am-d19b7aa5-e456-4aef-9c7d-cca32a464099.html?chunk=7#story7
8. Tops in tech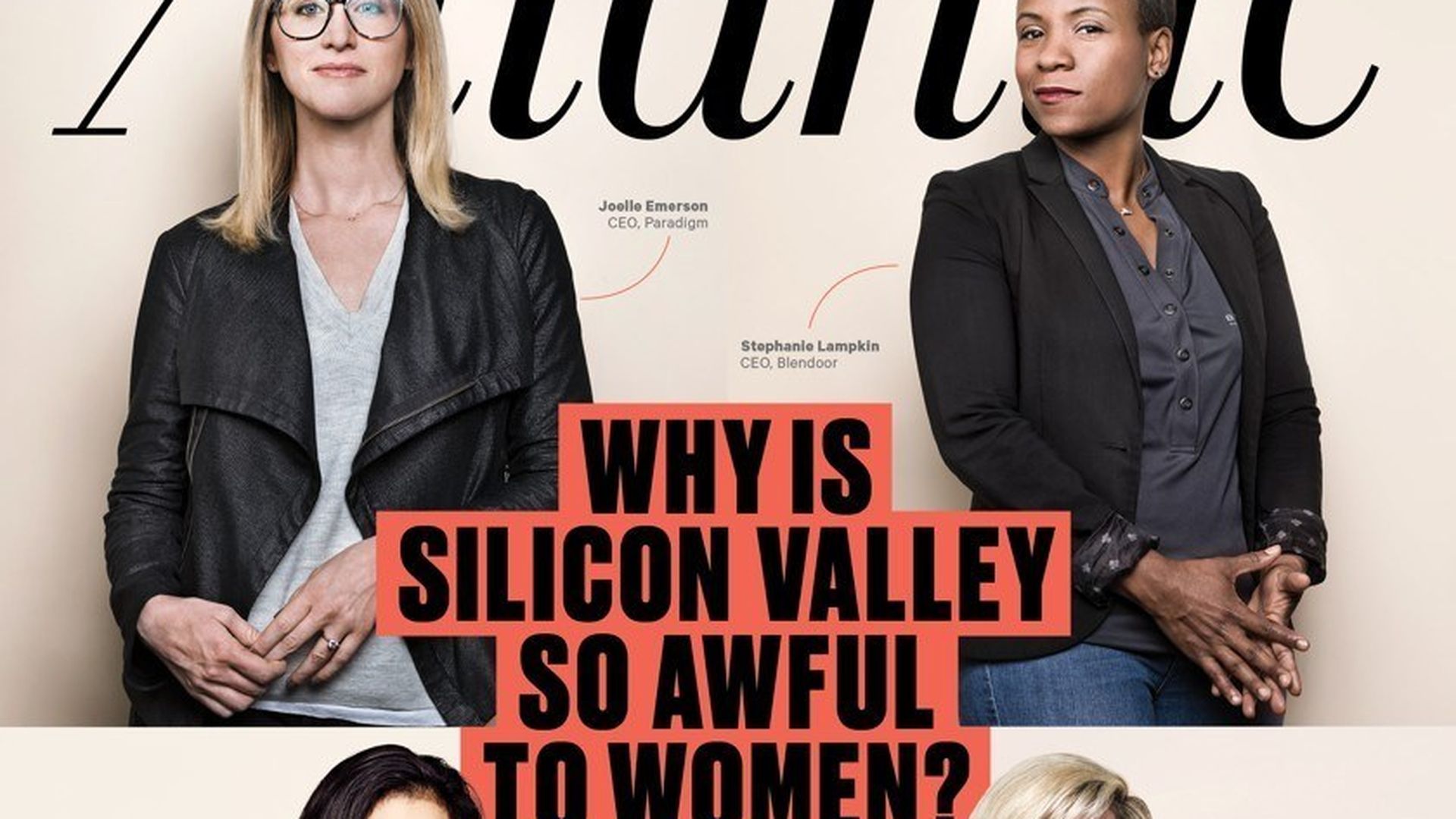 The Valley will have an "amen" for this David Ignatius column in WashPost: "The real shocker in the WikiLeaks scoop is the demonstration, once again, that the U.S. government can't keep secrets. It makes little sense for the CIA to argue against disclosing its cyber-tricks to computer companies if this valuable information is going to get leaked to adversaries or the hacker underground anyway."
Axios' Kia Kokalitcheva writes from S.F.: "[T]he new Atlantic cover story [Liza Mundy's "Why Is Silicon Valley So Awful to Women?"] is a good read. And I'm sure all the women in the Valley did a collective nod and sigh — this is all too familiar for us."
https://www.axios.com/newsletters/axios-am-d19b7aa5-e456-4aef-9c7d-cca32a464099.html?chunk=8#story8
9. The workers Janet Yellen is leaving behind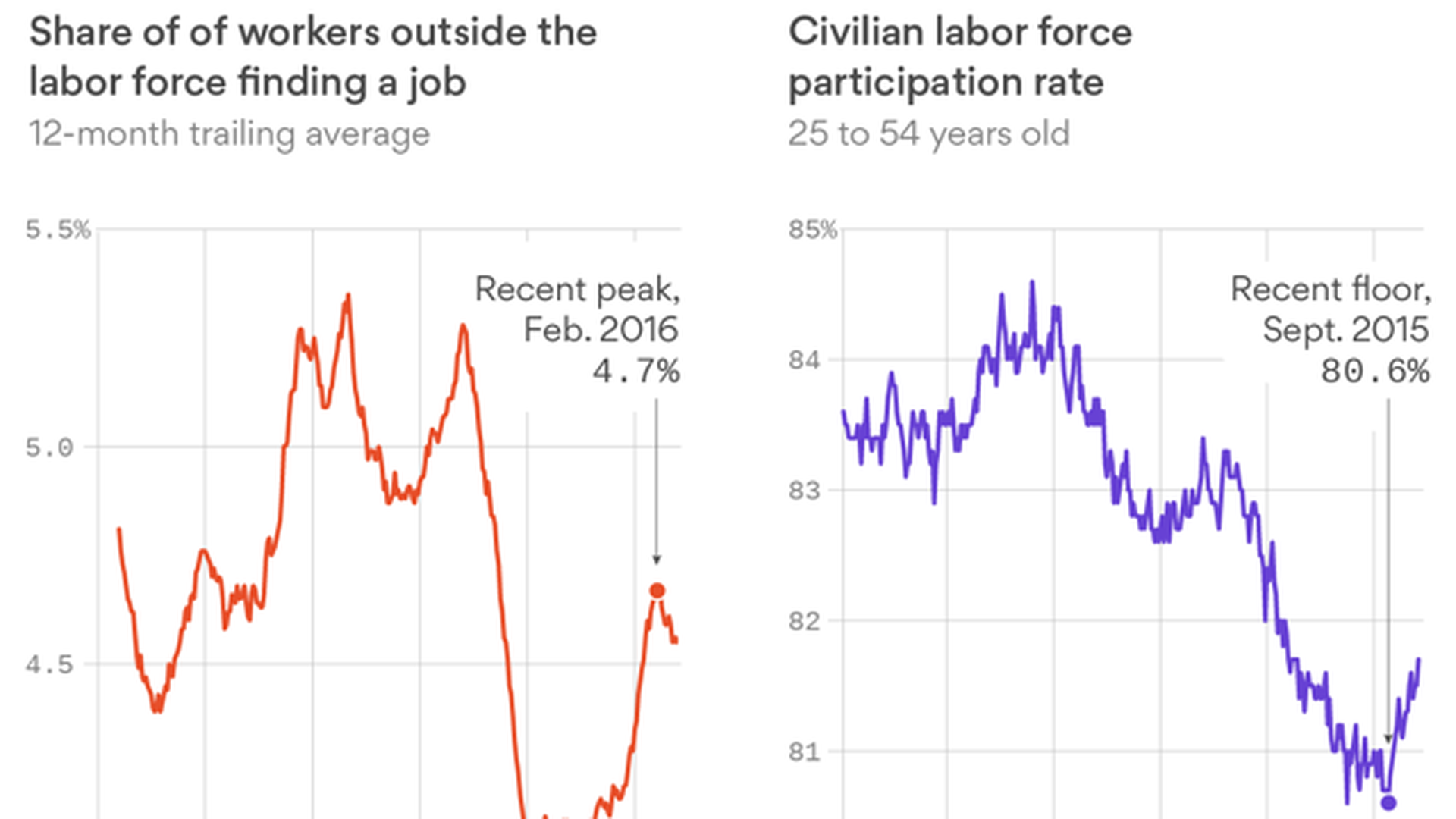 It's all but certain that the Fed will raise interest rates this afternoon, and the decision will tell us some important information about how officials see the economy and the U.S. labor force.
Why this matters: Economists think severe recessions create a class of degraded workers for whom indefinite joblessness is a common fate. Raising interest rates now may create an economy that leaves those workers behind. The Fed has kept monetary policy loose, hoping that demand would grow high enough that employers would take a chance on these workers and even invest in training. A smaller share of those out of the labor force are finding jobs these days, however, even with the Fed's policy of easy money.
https://www.axios.com/newsletters/axios-am-d19b7aa5-e456-4aef-9c7d-cca32a464099.html?chunk=9#story9
10. 1 fun thing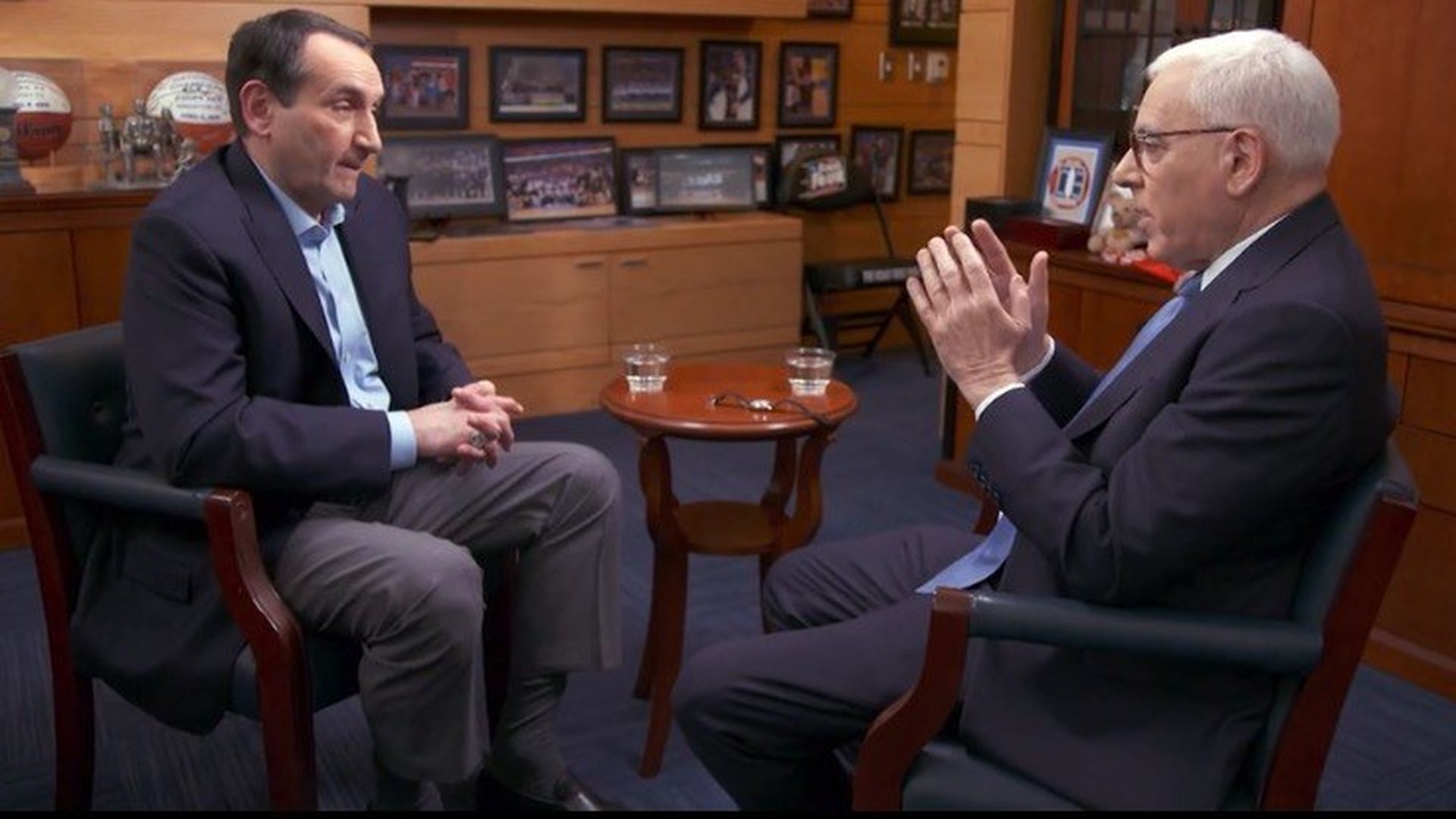 On the eve of March Madness, financier and philanthropist David Rubenstein (Duke '70) sits down with Duke's Coach K — Mike Krzyzewski, the winningest men's coach in NCAA history — for the second season of Bloomberg's "The David Rubenstein Show: Peer-to-Peer Conversations."
Posts here at 8:30 a.m., and airs on Bloomberg TV tonight at 9.
Coach K: " I was hungry every day."
On the most competitive pro players he has coached: "[P]robably the two biggest assassins ... Jordan is the best player ever. And Kobe Bryant. ... [Y]ou hear expressions like, 'Leave your egos at the door.' And I always told them: 'Don't leave your egos at the door, 'cause I want you to be LeBron and Kobe. But when you bring 'em in, can we play for one ego? Can we play for the U.S.?' And thank God they did."