Axios AM
January 03, 2019
☕ Good Thursday morning.
🔨 Former Virginia Gov. Terry McAuliffe, a likely 2020 candidate, pens a WashPost opinion piece challenging what he sees as unrealistic/unworkable policies popular with Democratic populists, including a federal jobs guarantee and the promise of free college.
1 big thing: Speaker Pelosi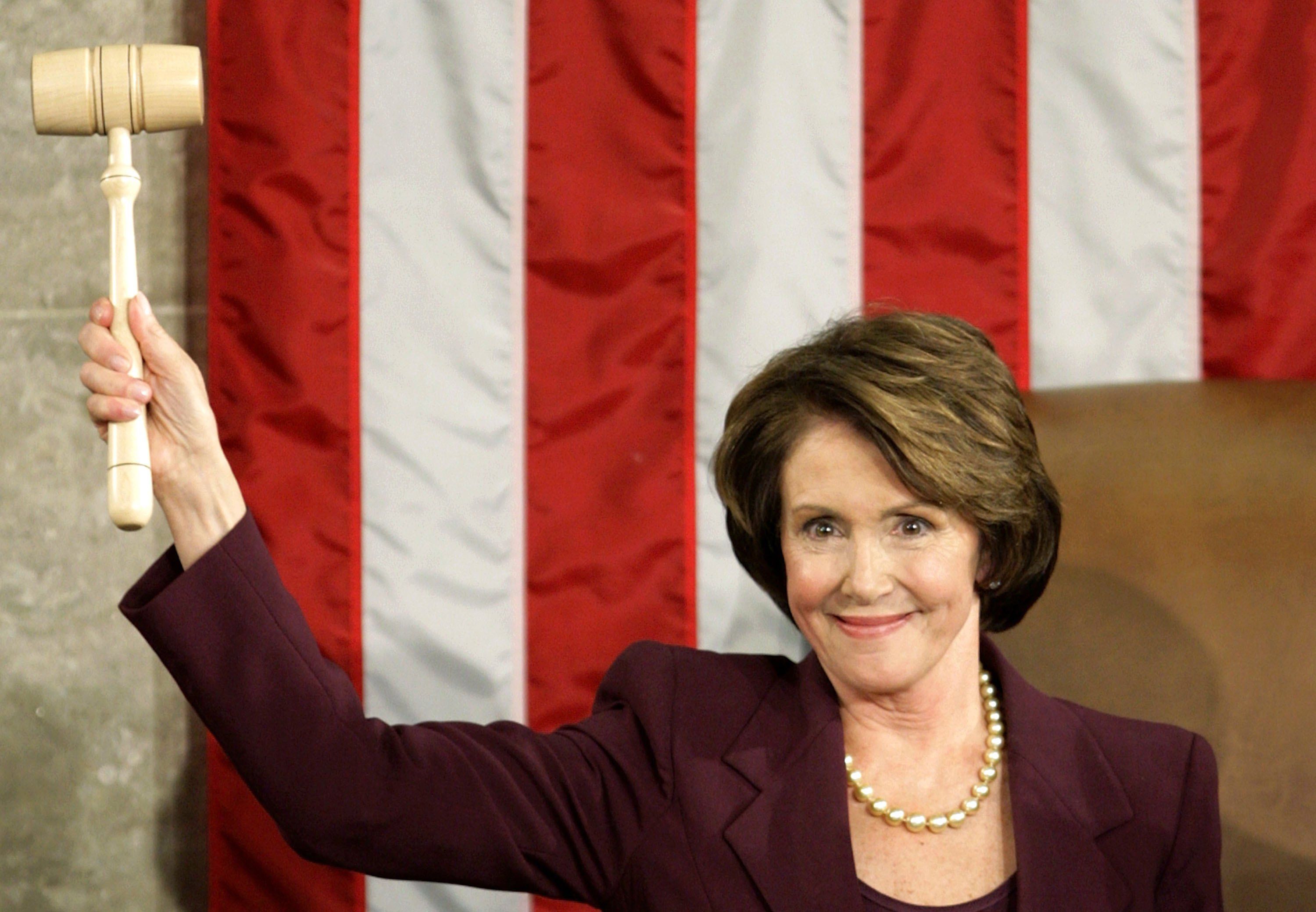 ⚡ In an interview to air on NBC's "Today," co-anchor Savannah Guthrie asks Nancy Pelosi, who will become House speaker at around 1:30 p.m.: "Do you believe the special counsel should honor and observe the Department of Justice guidance that states a sitting president cannot be indicted?"
Pelosi replies, according to an excerpt from NBC: "No, I mean I don't think — I do not think that that is conclusive. No, I do not."
Why it matters: Pelosi is the highest ranking official to suggest President Trump could be indicted while in office.
Nancy Pelosi is ready to rumble, planning to maintain the unyielding posture she took with Trump in their Oval Office standoff before the shutdown.
She tells USA Today that Trump is now entering a "different world."
House Democrats plan to be aggressive on both an investigations/oversight track and a legislative track, writes Chris Krueger of Cowen Washington Research Group:
"The Democratic majority is largely due to Democrats in Trump-won districts from 2016, so expect a lot of legislation with high approval ratings first in the queue: infrastructure, drug pricing, immigration reform (protections for DREAMers), shoring up the ObamaCare exchanges/protecting pre-existing conditions, gun control, voting rights."
Excerpts from remarks Pelosi will make when she takes the gavel during the opening session of the 116th Congress (opens at noon, with the speaker vote — which will take about an hour — starting around 12:15 p.m.):
"When our new members take the oath, our Congress will be refreshed, and our democracy will be strengthened by the optimism, idealism and patriotism of this transformative freshman class."
"We must be pioneers of the future. This Congress must accelerate a future that advances America's preeminence in the world, and opens up opportunities for all."
"[We] will call upon the bold thinking needed to address the disparity of income in America, which is at the root of the crisis of confidence felt by so many Americans."
"We must also face the existential threat of our time: the climate crisis."
"I pledge that this Congress will be transparent, bipartisan and unifying."
"[T]he floor of this House must be America's Town Hall: where the people will see our debates, and where their voices will be heard and affect our decisions."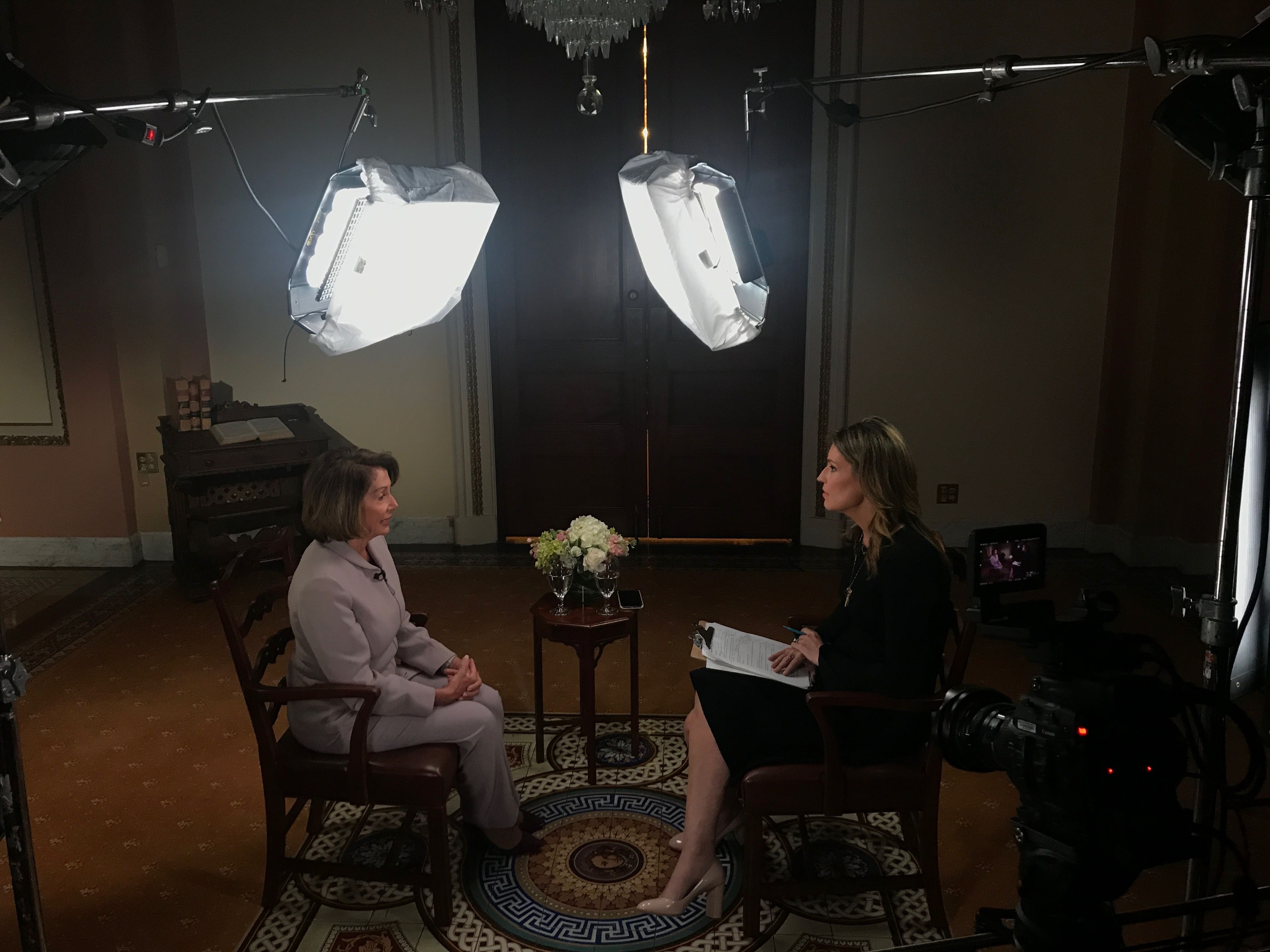 2. A diminished Congress gets a new face
Look at this slide in how activist Congress was in 2010 and 2018 —both second years of presidential terms, with the president's party controlling both chambers.
Dr. Robert Browning, executive director of the C-SPAN archives and a Purdue University professor, found in his end-of-year congressional statistics that Congress is meeting less, taking fewer votes and passing fewer laws.
At noon today, that clogged Congress is being disrupted, with Democrats taking over the House due to victories by activist, restive, insistent freshmen who will change both the face and tone of official Washington.
Beginning during orientation, we have already seen that this class is "not asking permission to do things," as Rep. Ben Ray Luján (D-N.M.), who helped elect many of them as the House Dems' campaign chairman, told the WashPost.
Only one out of the 36 newly elected female House members is Republican (Carol Miller of West Virginia), according to an analysis by Malliga Och of Idaho State University and Shauna Shames of Rutgers University:
"The number of Republican women in [the House]

is actually dropping

from 23 to 13."
"The 116th Congress will be the most diverse in U.S. history: 126 women will take office, including 43 women of color."
3. Republicans' new reality
A job posting by Republicans on the House Judiciary Committee says it all about the party's new reality beginning today:
The committee is seeking an Investigative Counsel — "an attorney with several years of investigative or litigation experience," according to the listing on Tom Manatos Jobs, a popular Capitol Hill jobs board.
Between the lines: "Litigation experience" is at least partly in anticipation of the possibility of impeachment proceedings, a Hill source tells me.
Why it matters: After controlling the entire government for two years, Republicans on the Hill and in the White House are assuming a defensive crouch, with incoming House Democratic chairs vowing aggressive investigations.
First look ... Rep. Kevin McCarthy (R-Calif.), who today goes from majority leader to minority leader, will say in remarks during today's gavel-handover session:
As Ronald Reagan advised us, America is too great for small dreams. When we work together, we succeed together. We are now entering a period of divided government, but that is no excuse for gridlock and inaction. We are at our best when we focus not on retribution but on building a more perfect union.
Bonus: Pic du jour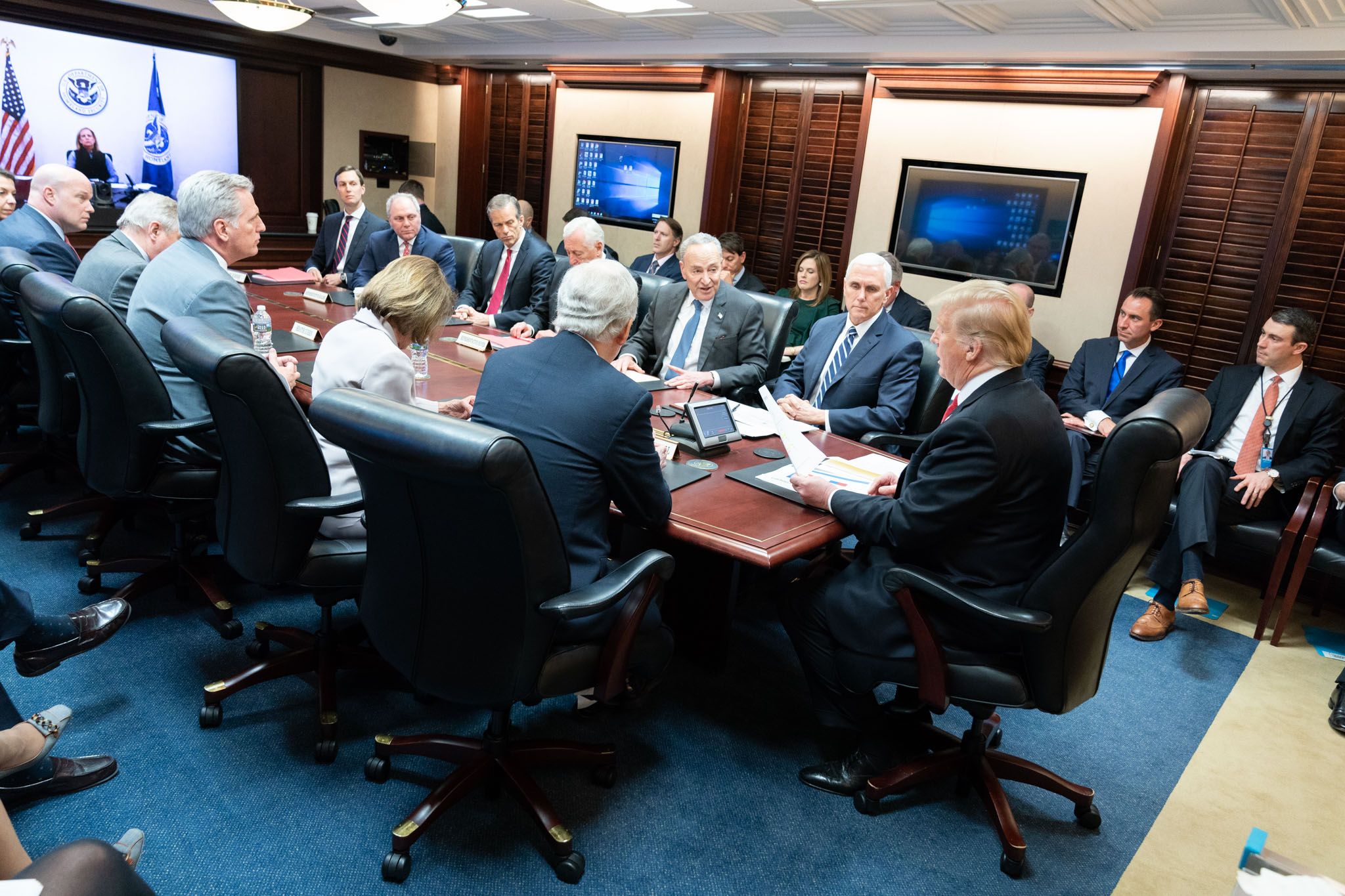 President Trump, joined by Vice President Pence, met Republican and Democratic congressional leaders yesterday in the Situation Room.
Trump told Senate Democratic Leader Chuck Schumer "he can't accept Democrats' offer to re-open the government as the two sides negotiate border wall funding because ... 'I would look foolish if I did that.'" (CNN)
4. Exclusive poll: Recession fears are growing
Most Americans think the economy is growing, but they're worried a recession could be coming this year, according to a new Axios/SurveyMonkey poll.
Between the lines, from Axios managing editor David Nather: Democrats are more pessimistic than Republicans and independents, but majorities across the board say a recession is likely, including a slight majority of Republicans.
That suggests an emerging economic anxiety that President Trump hasn't had to deal with until now.
By the numbers:
Nearly six out of 10 Americans think the economy is growing now, including 84% of Republicans, 47% of independents, and 36% of Democrats.
But more than eight out of 10 Democrats and six out of 10 independents think a recession is likely during the next year.
The bottom line: If a recession does come, it could be mild, as Axios' Felix Salmon and Courtenay Brown have written. But it would take away the benefits of a booming economy that helped Trump during his first two years.
5. Most distant celestial object ever explored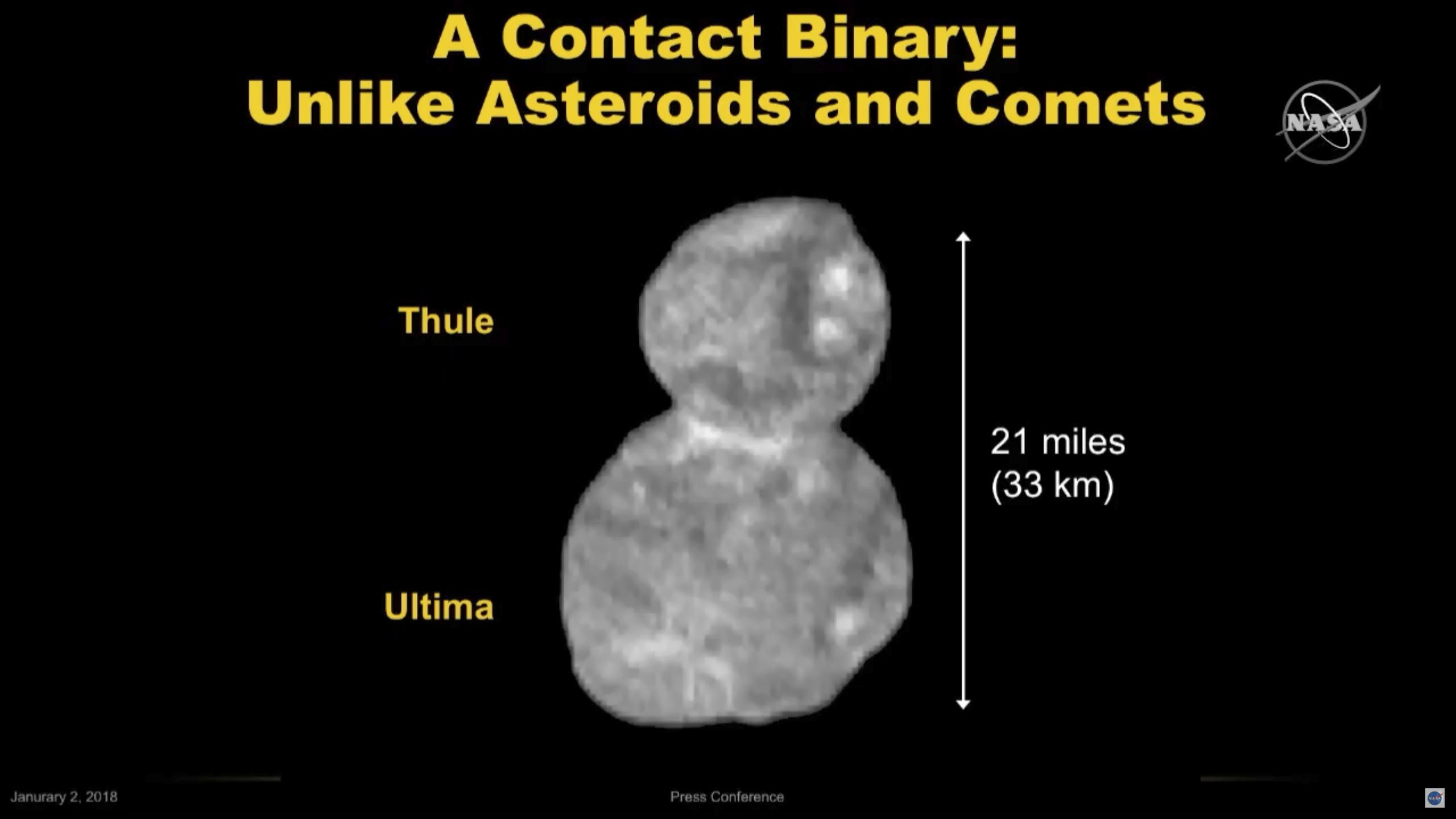 Ultima Thule, observed on Tuesday by a NASA spacecraft 4 billion miles from Earth, is the most primitive object ever studied closely by a spacecraft, Axios science editor Andrew Freeman writes:
It's thought to be comprised of the building blocks of early planets, measuring about 19 miles from end-to-end.
Researchers hope Ultima Thule will provide new data about how planets — perhaps including Earth — might form.
P.S. ... "China reached a milestone in space exploration on Thursday, landing a vehicle on the far side of the moon for the first time in history, the country's space agency announced." (N.Y. Times)
6. Apple drops iPhone bombshell
Stocks retreated around the world after Apple warned that its holiday quarter sales would fall billions short of expectations amid exceptionally weak business in China.
While Apple's iPhone problems extend past China, the problems the company saw there could be a sign of deeper troubles, Axios chief tech correspondent Ina Fried reports:
The Chinese economy is weak and perhaps weaker than previously realized. This is probably the biggest takeaway from the news.
Apple CEO Tim Cook said that weakness in Greater China (which Apple defines as China, Taiwan and Hong Kong) accounted for nearly all of the company's revenue miss, though it did see other pockets of weakness.
While things were especially bad in China, Apple saw weak iPhone demand in other places, too.
Be smart: The smartphone market has matured. People are happy with a battery upgrade because they are generally happy with their phone.
7. Watch your step, sir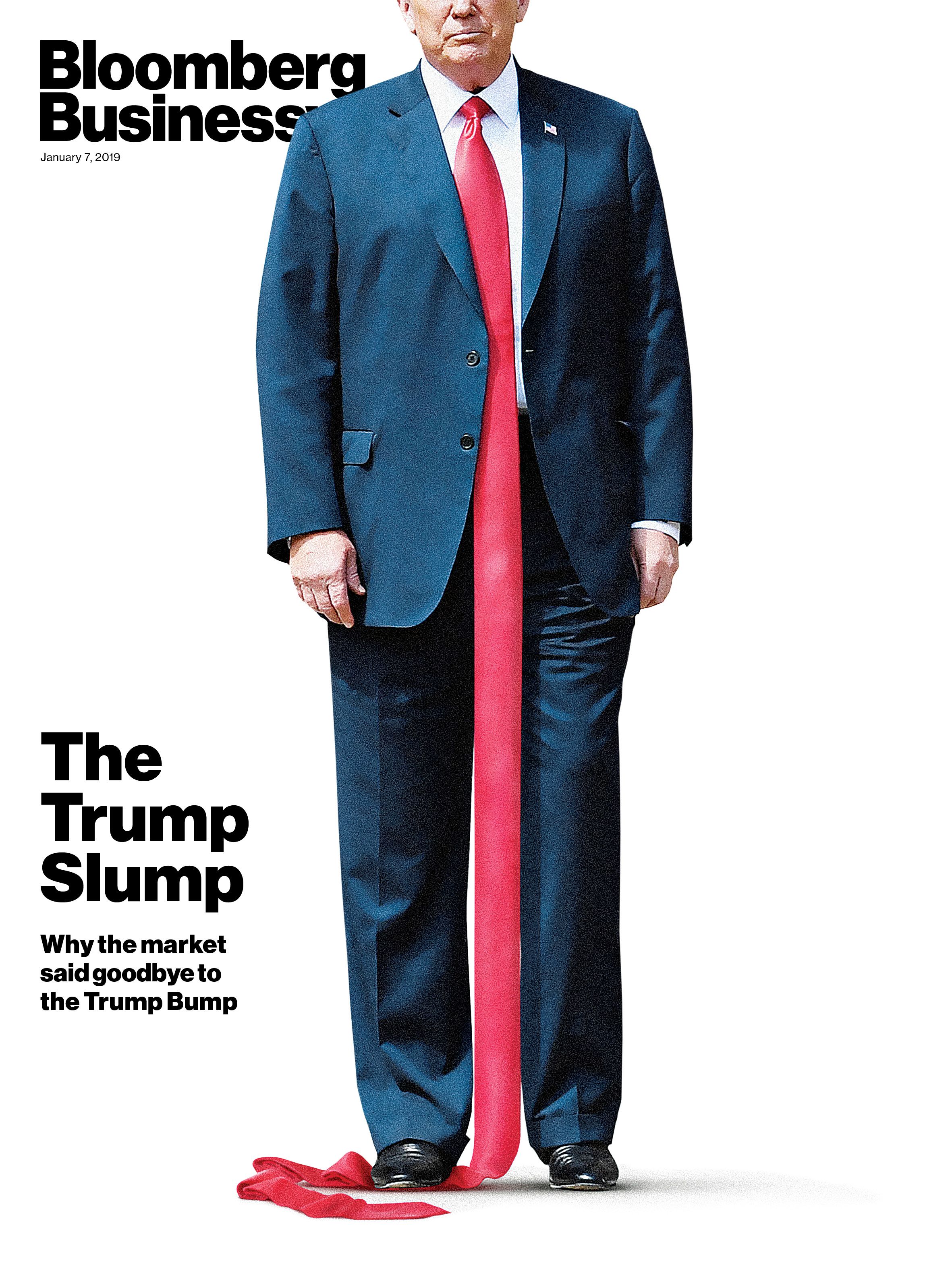 With volatility rising, "America finally has a stock market to match the man in the Oval Office," Peter Coy writes in the new Bloomberg Businessweek, with Josh Green and Shawn Donnan:
"In a string of exultant tweets, [Trump] took credit for the bull market; now that stocks are falling, he's tried to pin the decline's parentage on others, including Democrats (for pushing the Russia investigation) and Jerome Powell, his choice to chair the Federal Reserve."
"Trump's leadership style is ... wearing poorly. His strategy of keeping people guessing and off balance might work well with adversaries, but it alienates friends."
Quote du jour, from the 95-minute, on-camera Cabinet meeting that the N.Y. Times calls "Freewheeling and Fact-Free," and the WashPost says was "filled with falsehoods, revisionist history and self-aggrandizement":
I was here on Christmas evening. I was all by myself in the White House. It's a big, big house, except for all the guys out on the lawn with machine guns — nicest machine guns ever. I was waving to 'em. I never saw so many guys with machine guns in my life — Secret Service and military. These are great people. And they don't play games. They don't, like, wave. They don't even smile. But I was there all alone with the machine gunners, and I felt very safe, ... I have to tell you. They're great people. And there are a lot of them.
8. Dueling adieus
Here's the farewell message of Defense Secretary Jim Mattis, who resigned in protest. Trump said at yesterday's Cabinet meeting that he had "essentially" fired the retired four-star Marine general: "What's he done for me? ... I want results."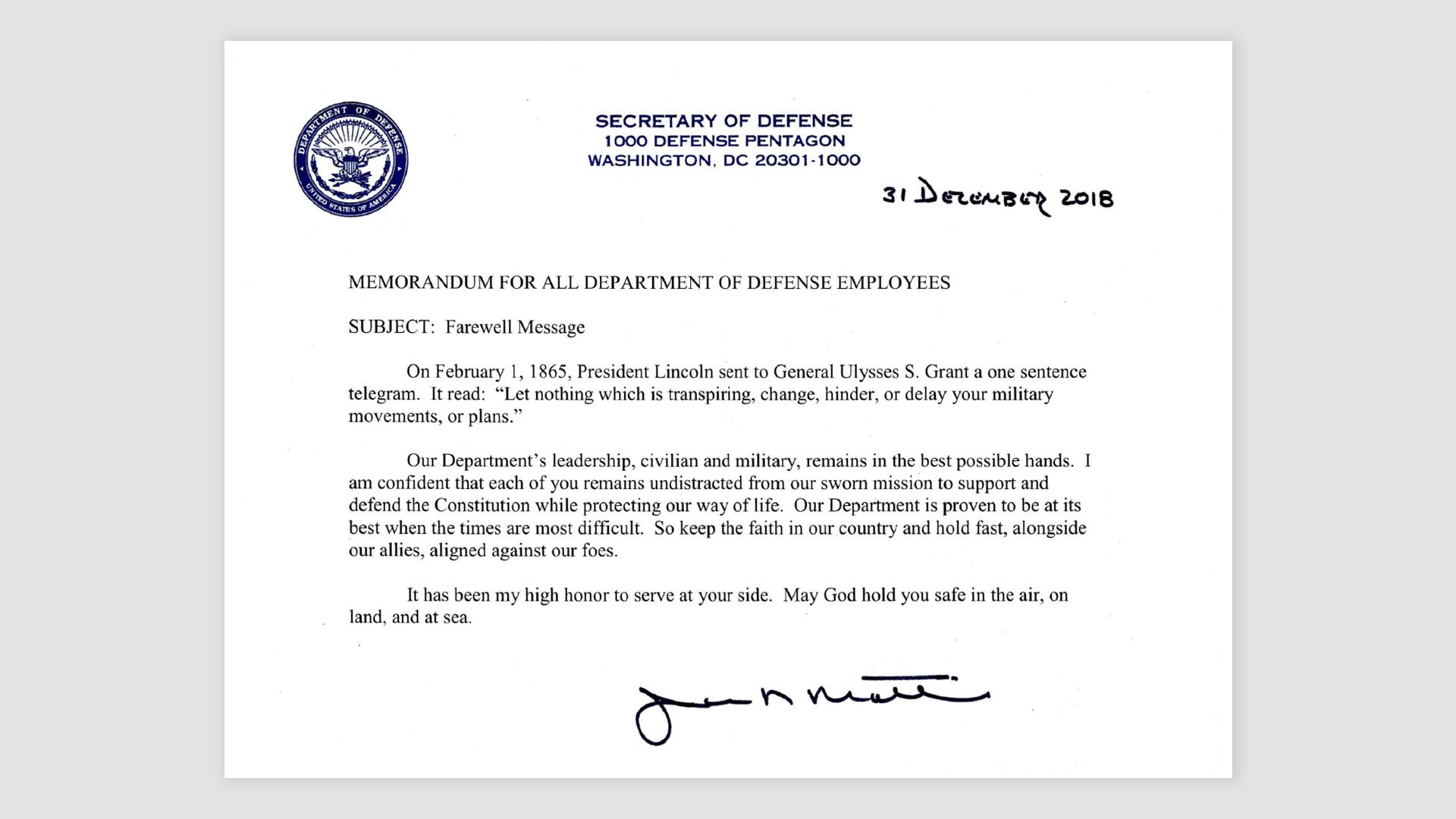 And here's Interior Secretary Ryan Zinke, who left yesterday amid "federal investigations into his travel, political activity and potential conflicts of interest":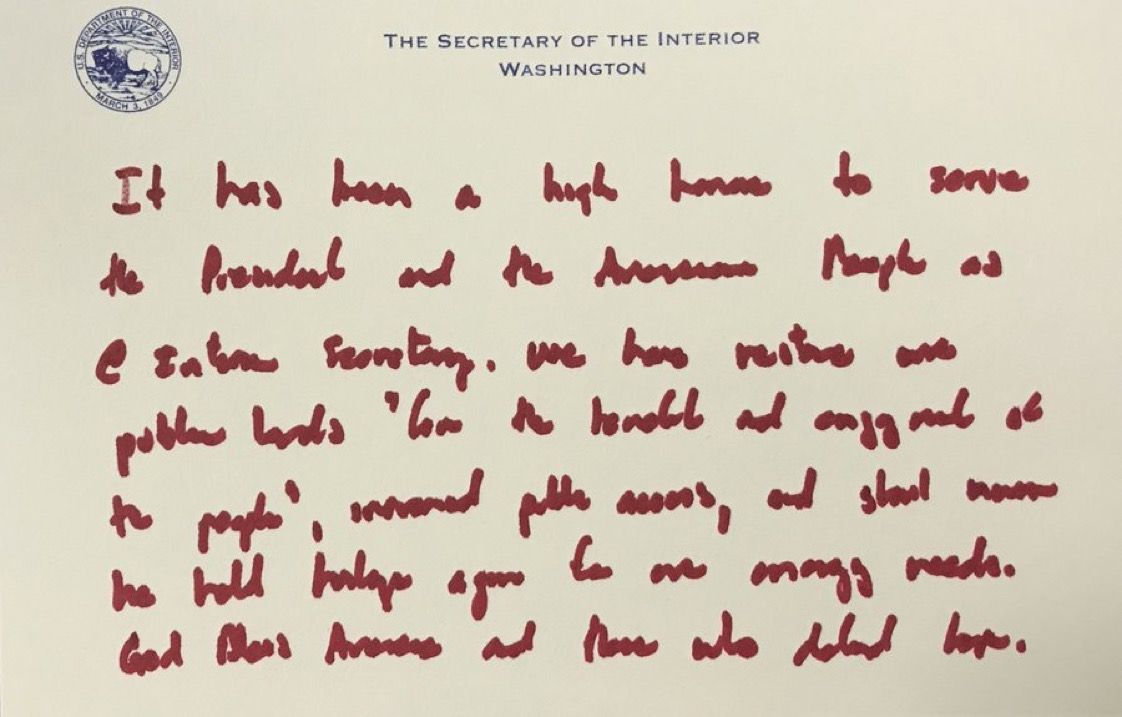 "It has been a high honor to serve the President and the American People as @Interior Secretary. We have restored our public lands 'for the benefit and enjoyment of the people,' improved public access, and shall never be held hostage again for our energy needs. God Bless America and those who defend her."
9. Stat du jour
Manhattan home prices fell in Q4, with the median slipping under $1 million — a bargain at $999,000 — for the first time in three years, per Bloomberg.
"[A]mple inventory continued to allow buyers to demand sweeter deals."
10. 1 fun thing: What America watches
Think America likes football? Here are the top 10 TV shows for the week of Dec. 24-30 according to Nielsen, via AP:
College Football Playoff: Oklahoma vs. Alabama, ESPN, 18.49 million
College Football Playoff: Notre Dame vs. Clemson, ESPN, 16.28 million
"Orange Bowl Pregame," ESPN, 16.23 million
"Orange Bowl Postgame," ESPN, 16.07 million
NFL Football: Indianapolis at Tennessee, NBC, 16.05 million
"Cotton Bowl Postgame," ESPN, 15.15 million
"NFL Pregame," NBC, 11.54 million
NFL postgame, "The OT," Fox, 9.58 million
"Football Night in America," NBC, 8.98 million
NFL Football: Denver at Oakland, ESPN, 8.71 million.