https://www.axios.com/newsletters/axios-am-cc1ea12c-ad7d-4db7-9e8e-a4865887f9ce.html?chunk=0#story0
1 big thing: "Au revoir" to Paris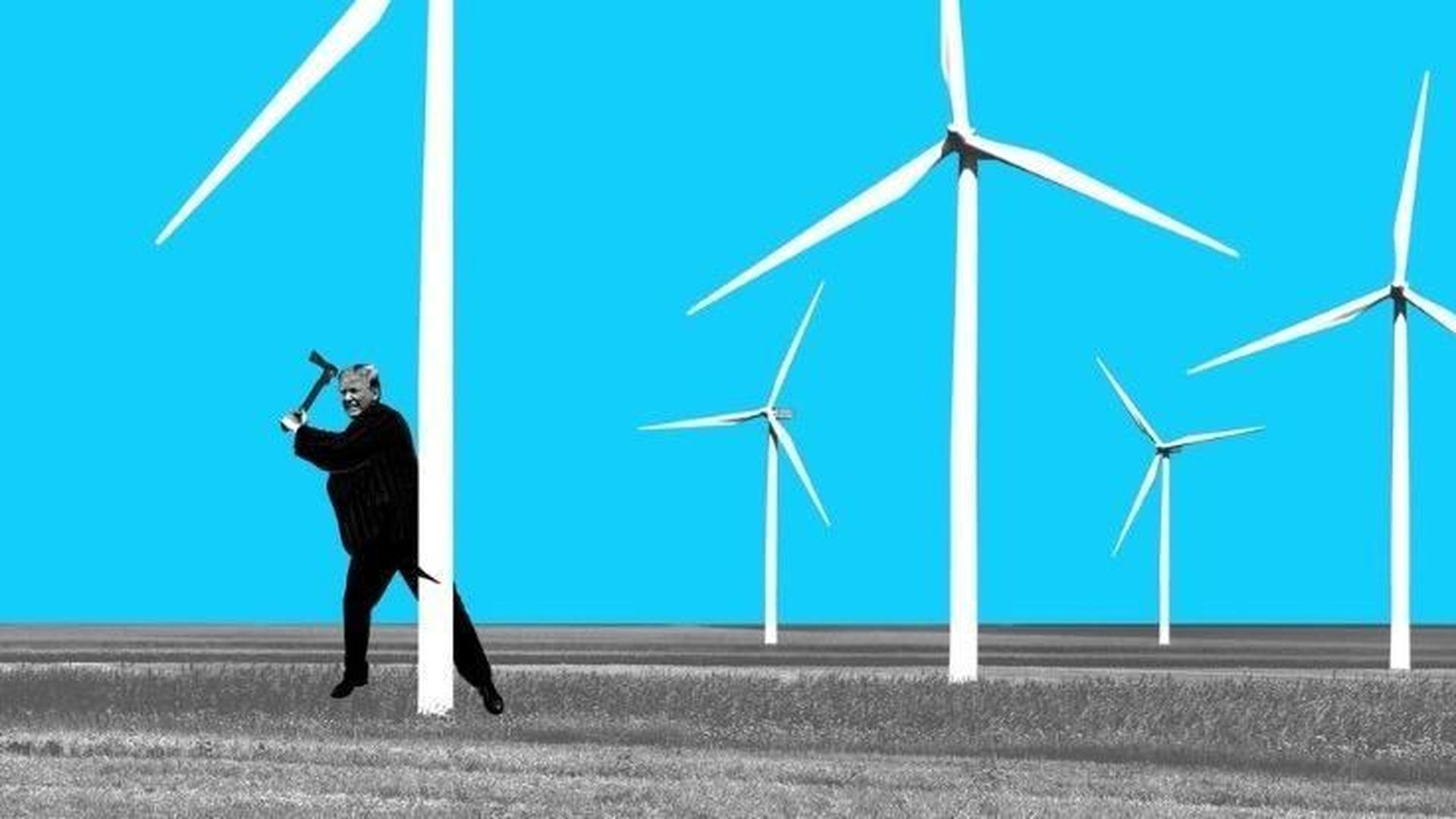 What happened behind the scenes ... President Trump this afternoon is expected to uncork his stunning withdrawal from the Paris climate accord, a decision that Axios' Jonathan Swan scooped yesterday. Ahead of the 3 p.m. Rose Garden announcement, AP says aides were deliberating on "caveats in the language."
Swan sends AM readers this fascinating postcard from behind the scenes:
Want to know how volatile many administration officials consider Trump? As the sun went down on Wednesday, Trump had told confidants, including EPA Administrator Scott Pruitt, that he was withdrawing from the Paris deal. A withdrawal speech had been drafted and redrafted. An announcement for the withdrawal had been planned for Thursday (today). A whole team of policy wonks inside the EPA had been told to work up mechanisms for withdrawal.
AND YET, numerous White House officials told me in confidence throughout the day that while they were as sure as could be that Trump would pull the trigger, they wouldn't believe it until they saw it.
[The West Wing buzzed] about the West Coast elites like Elon Musk and Tim Cook, who were making last-ditch pleas to Trump. And movement conservatives vented to me about the liberal influence of Ivanka.
All the while, Trump kept asking people's opinions, and expressing doubt, even after setting the train in full motion towards withdrawal. When this thing is over, a good number of West Wing staff will have acquired some new gray hairs.
Sound smart: Allies say Trump — with no ironclad policy convictions on climate, and buffeted by conflicting campaigns from rival advisers — defaulted toward delivering on a campaign promise that catered to his last refuge, the voters who put him in office.
Yet to be sorted: consequences for the party, the planet, and the U.S. role on the globe.
https://www.axios.com/newsletters/axios-am-cc1ea12c-ad7d-4db7-9e8e-a4865887f9ce.html?chunk=1#story1
2. Zeitgeist: The consequences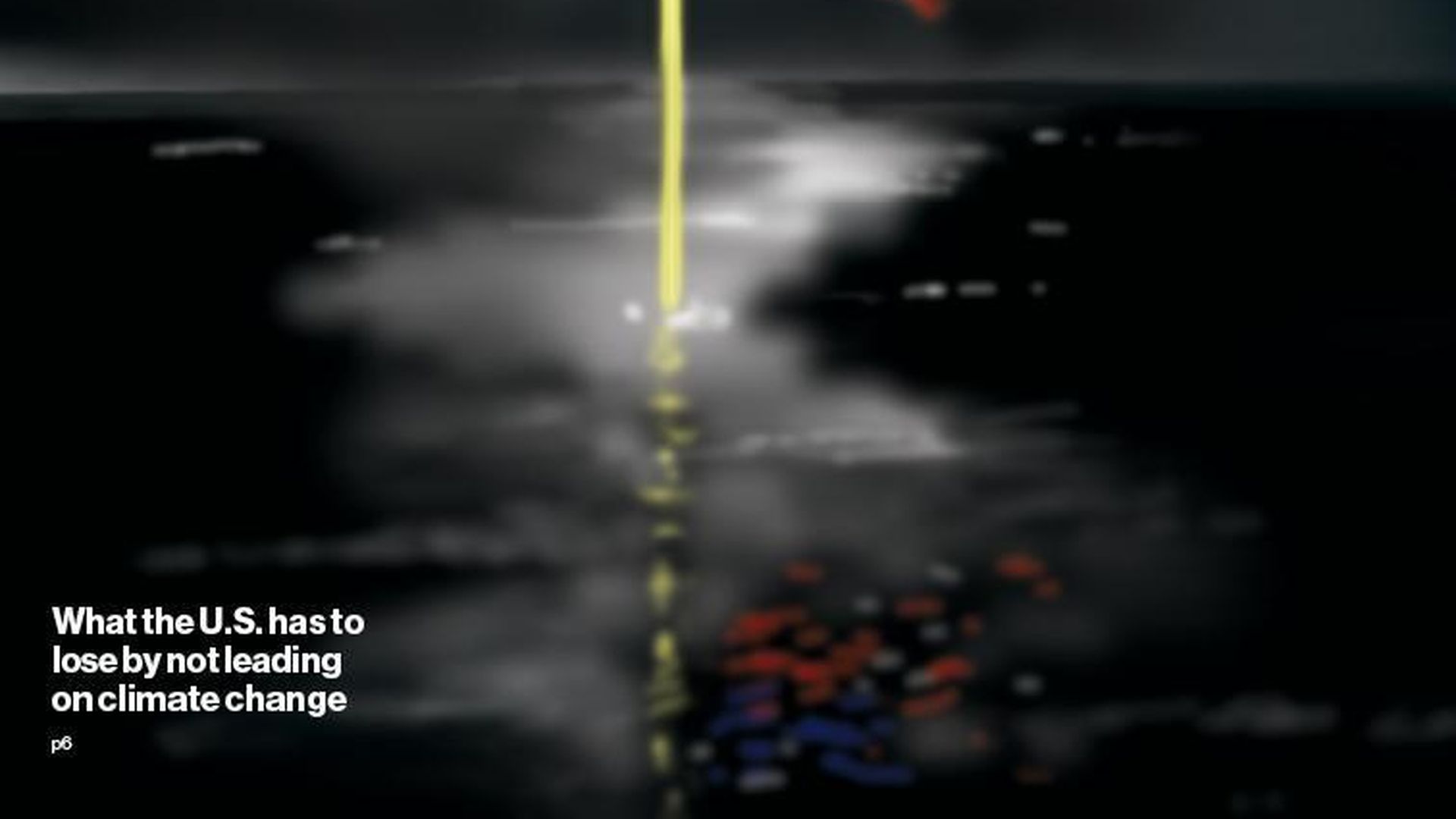 Bloomberg Businessweek cover on Trump's climate choice ... "An exit would undermine America's economic competitiveness, technological innovation, and global leadership. Not to mention the, um, planet," by Eric Roston:
"The potential consequences of Washington abandoning the climate pact would be grave not only for the planet but also for the U.S., its economic competitiveness, technological innovation, and leadership of the world in the 21st century."
"A U.S. exit from the Paris accord would be a rupture in policy, a dramatic departure from the record of the last four U.S. administrations, both Democratic and Republican."
"[T]he community of nations that came together for the accord [in 2015] gave industries worldwide a soft signal: It's time to clean up dangerous 19th and 20th century energy and agriculture systems — if we want the future to be prosperous and sustainable."
Why it matters: "A U.S. exit might embolden others to leave the pact as well, believing that it had become an agreement that once again benefited a single established ruling clique — and not the universal good of all nations and the planet."
https://www.axios.com/newsletters/axios-am-cc1ea12c-ad7d-4db7-9e8e-a4865887f9ce.html?chunk=2#story2
3. 2020 vision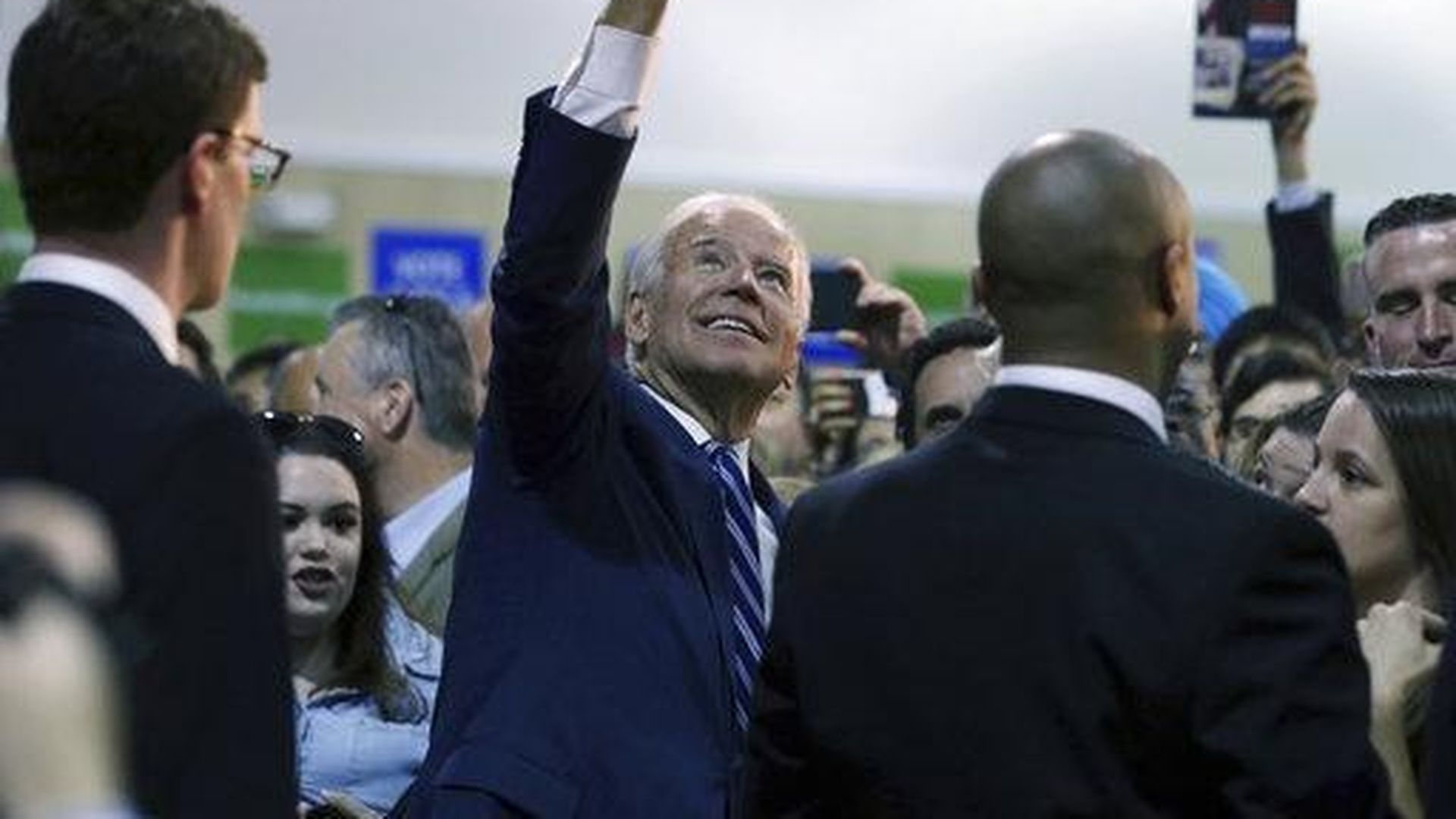 Former Vice President Joe Biden is creating an American Possibilities PAC as a possible prelude to running in 2020, the N.Y. Times' Jonathan Martin reports.
What to think ... A Biden adviser emails me:
I'd say there are three ways to see this. First, it is driven by mechanics: He is much in demand for political travel and appearances, and he needs a way to staff and pay for it.
Second, it is driven by his passion. He loves politics: He doesn't see it as some unpleasant necessity to govern, he sees it as a joyous enterprise — and this is his platform to pursue that passion.
And third, it is driven by a desire to be seen as a 2020 player: Whether he runs or not, he knows he is a more significant figure if he is in the mix, and he sees no reason to take himself out of it.
P.S. Hillary Clinton was en fuego yesterday at Recode's Code Conference in Southern California, saying that last year's DNC data operation was "bankrupt ... mediocre to poor, non-existent, wrong. I had to inject money into it ... to keep it going."
https://www.axios.com/newsletters/axios-am-cc1ea12c-ad7d-4db7-9e8e-a4865887f9ce.html?chunk=3#story3
4. The talk of tech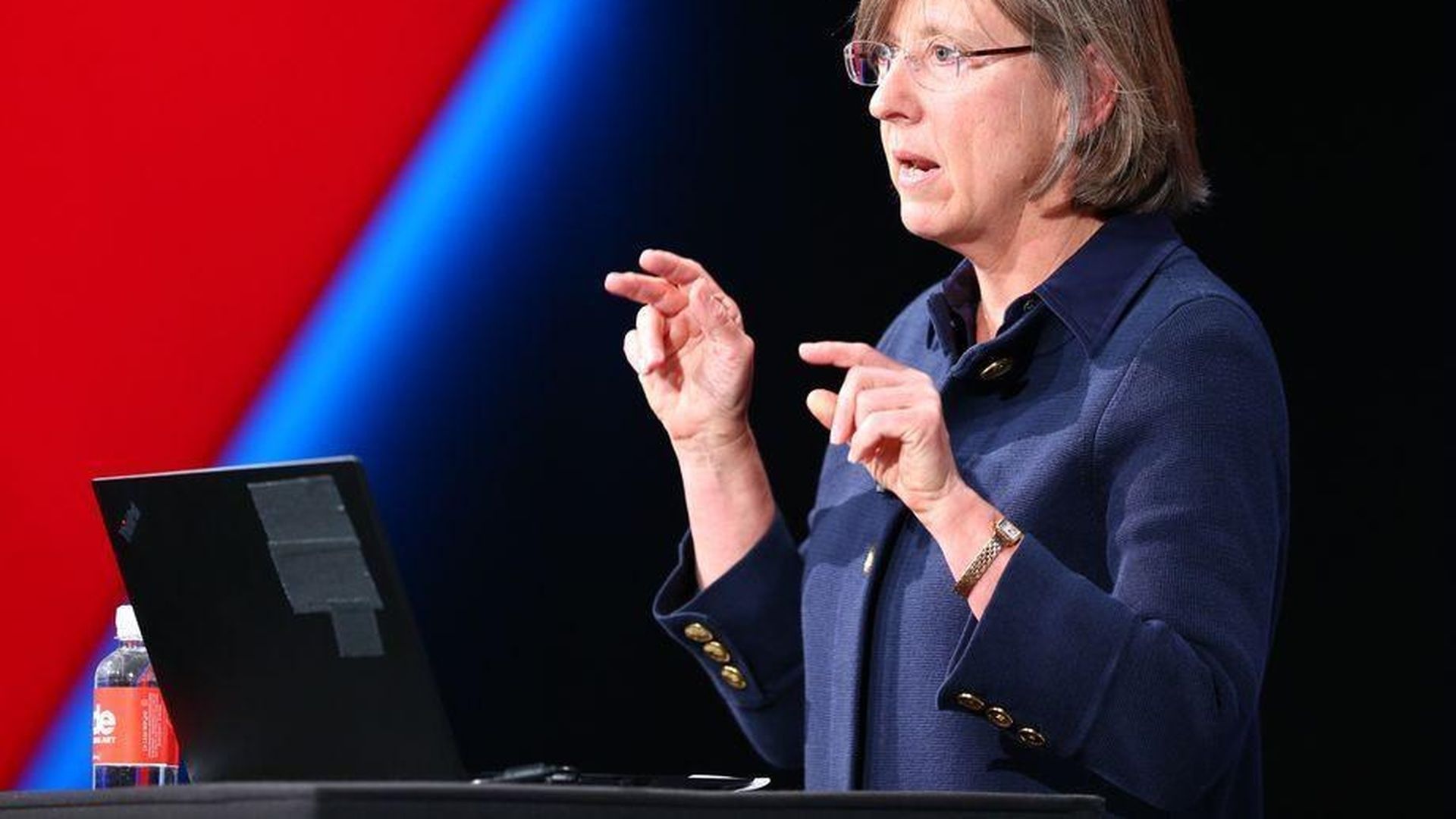 Axios' Ina Fried isolates top nuggets from the 300-page annual tech trends report by Mary Meeker of Kleiner Perkins, delivered at Recode's Code Conference, in Rancho Palos Verdes, Calif.:
Internet advertising will surpass TV this year, with 85 percent of the growth going to Google and Facebook.
Smartphone growth continues to slow.
China mobile is still huge: 30% usage growth, 12% user growth.
India has 355 million Internet users, with strong usage growth. But the key to the next 200 million is how quickly smartphone and mobile service prices drop.
Watching people play video games, aka eSports, is huge and growing fast.
Healthcare is at a digital inflection point.
https://www.axios.com/newsletters/axios-am-cc1ea12c-ad7d-4db7-9e8e-a4865887f9ce.html?chunk=4#story4
5. Profiling Jared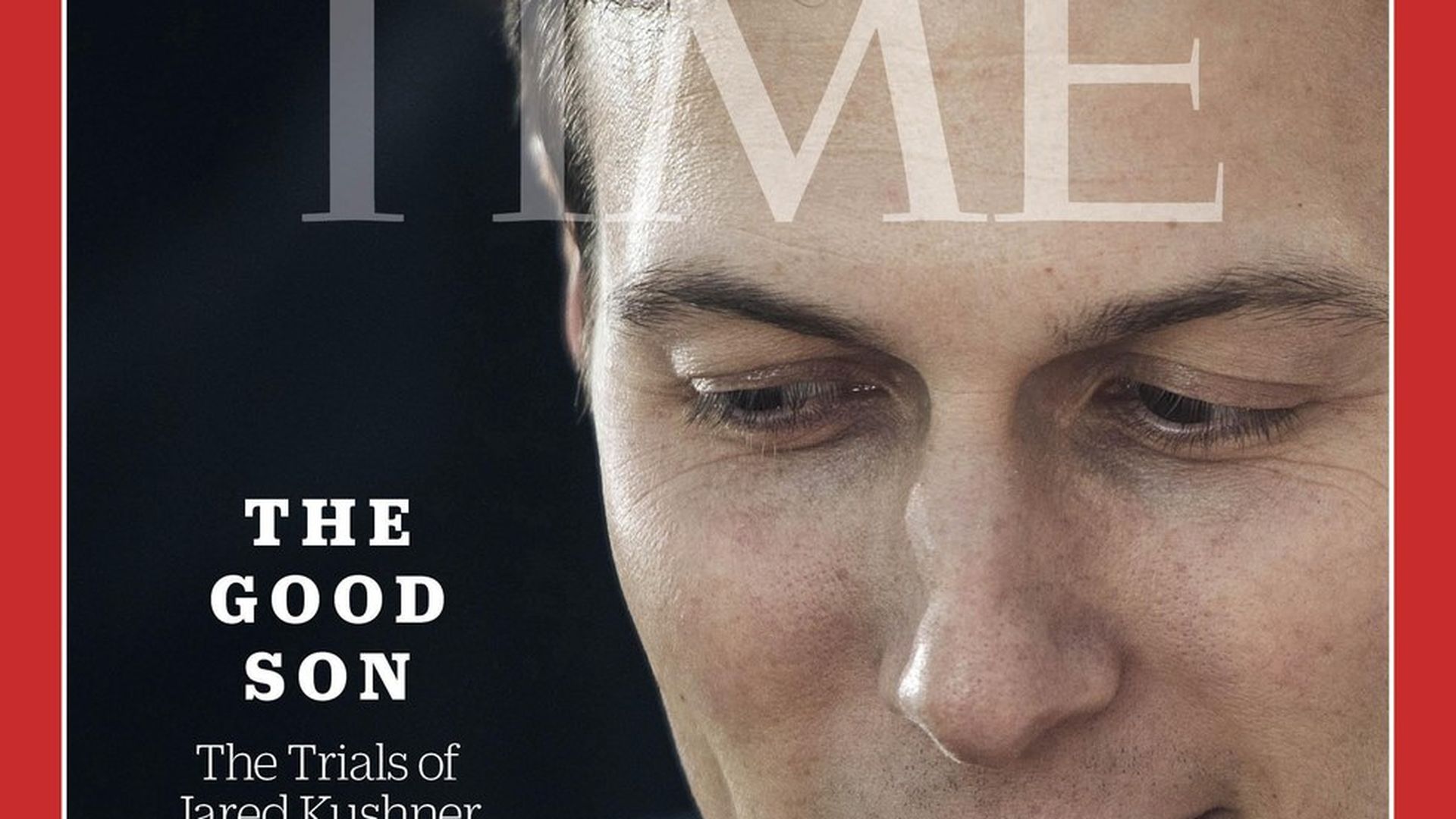 TIME cover story, "Family first: If one thing emerged crystal clear from the muddy first months of his father-in-law's presidency, it's that Jared Kushner prefers the background," by Editor-at-Large Karl Vick:"The quiet man is now conspicuous, having been slurped into the spotlight by the tentacles of [the] Russia investigation.""The bar to prove that someone improperly colluded with a foreign power is very high, and even the most aggressive investigators use a note of caution when speaking of Kushner's role in the probe.""Inside the White House, the promise of Kushner and his wife playing a moderating force may be overblown. They are more politically liberal than most but view themselves primarily as Trump's protectors.""Kushner's ability to skirt the system has made him popular among the town's diplomatic corps but has led to strains inside the building.""Now, with adjacent windows overlooking the White House lawn, [Kushner and Trump] are bound to rise or fall together."One U.S. official familiar with the investigation says of Kushner: "He's an ends-justifies-the-means guy. It could be naivete, but the investigation is about finding that out."
https://www.axios.com/newsletters/axios-am-cc1ea12c-ad7d-4db7-9e8e-a4865887f9ce.html?chunk=5#story5
6. Stat du jour
L.A. Times: "Between 20% and 25% of the nation's shopping malls will close in the next five years, according to a new report from Credit Suisse that predicts e-commerce will continue to pull shoppers away from bricks-and-mortar retailers."
But, but, but ... "Retail industry experts say Credit Suisse may have underestimated the scope of the upheaval. 'It's more in the 30% range.'"
https://www.axios.com/newsletters/axios-am-cc1ea12c-ad7d-4db7-9e8e-a4865887f9ce.html?chunk=6#story6
7. The talk of business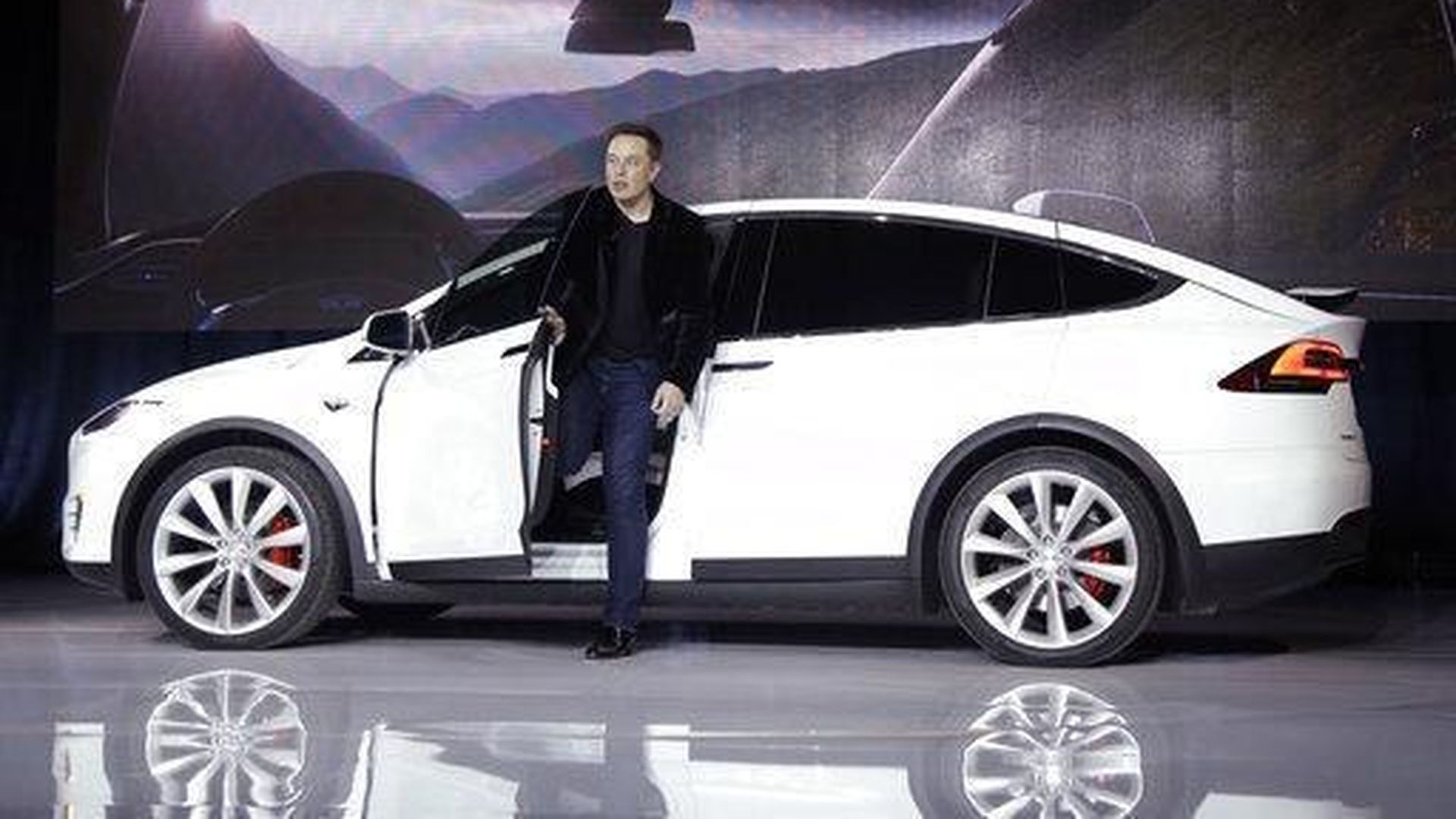 "Investors pick Tesla's promise over GM's steady profits," by AP's Tom Krisher and Dee-Ann Durbin, in Detroit:
GM's stock is trading around the $33 price of its initial public offering seven years ago. During that time, Tesla shares have soared more than tenfold to $335.
Wall Street now values Tesla at about $55 billion, compared to around $50 billion for GM.
Despite efforts to paint themselves as technology companies, automakers can't shake their giant, capital-intensive global manufacturing operations. The huge investment needed to build vehicles yields low profit margins compared with tech companies that make software or cell phones.
Why it matters: The big changes in the auto industry are in the early stages. Electric vehicles make up less than 1% of global auto sales, and fully self-driving cars are years away.
https://www.axios.com/newsletters/axios-am-cc1ea12c-ad7d-4db7-9e8e-a4865887f9ce.html?chunk=7#story7
8. British election is a week from today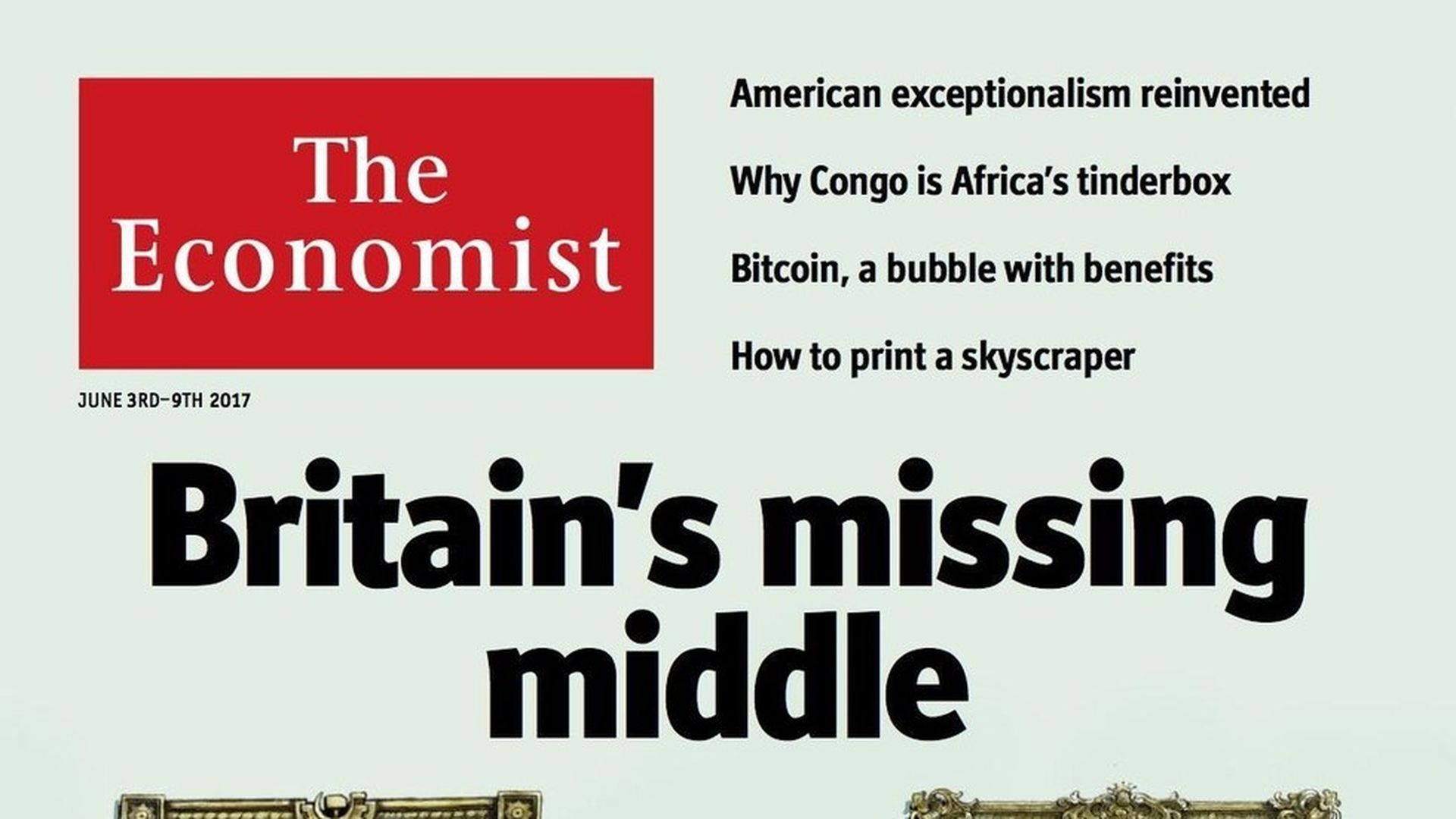 Economist endorsement cover rejects both major candidates ... "The British election: The middle has fallen out of British politics — The leaders of both main parties have turned away from a decades-old vision of an open, liberal country":
"Jeremy Corbyn has taken Labour to the loony left ... The Conservative prime minister, Theresa May, promises a hard exit from the EU. The Liberal Democrats would go for a soft version, or even reverse it."
Both "are united in their desire to pull up Britain's drawbridge to the world."
Endorses Liberal Democrats: "Brexit is the main task of the next government and they want membership of the single market and free movement. ... They are more honest than the Tories ... and more sensible than Labour ... We know that this year the Lib Dems are going nowhere."
https://www.axios.com/newsletters/axios-am-cc1ea12c-ad7d-4db7-9e8e-a4865887f9ce.html?chunk=8#story8
9. The great mentioner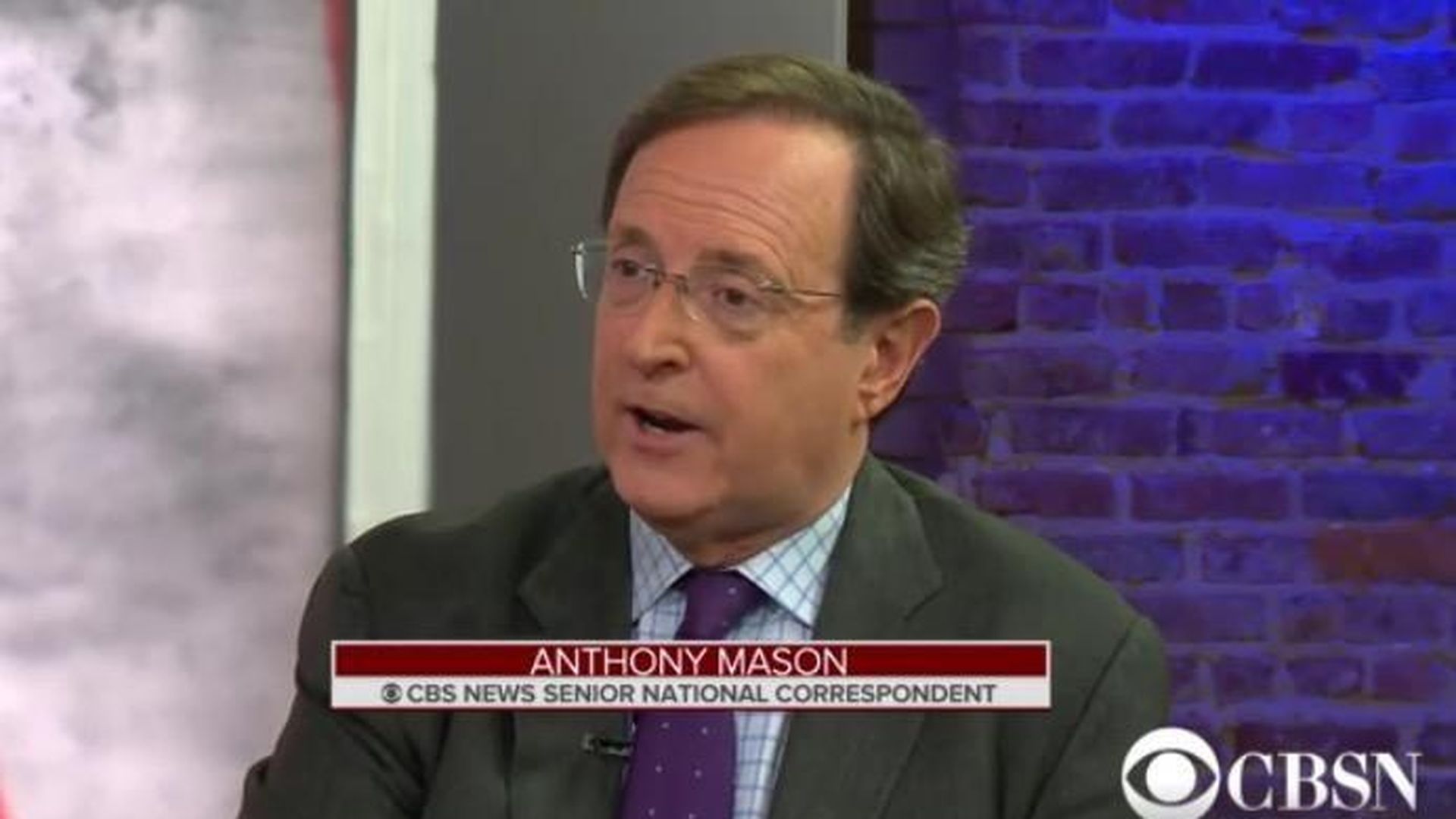 A day after the leak when he sent movers to his office, CBS News announced the sudden departure of Scott Pelley as anchor of the "CBS Evening News" to become a full-time "60 Minutes" correspondent.
A top executive at a rival network told me: "Anchor transitions just don't happen this way. This is something you plan for years."
Fill-in stalwart Anthony Mason (bio here) "will serve as the interim anchor ... beginning in the coming weeks," the release said. (Jeff Glor anchored last night, adding to the impression of haste.)
Among the names mentioned for the permanent gig: CNN's Anderson Cooper, NBC's Willie Geist, NBC's Peter Alexander, Fox's Chris Wallace, CNN's Jake Tapper and others.
About all that's certain is that CBS doesn't plan to mess with its winning "CBS This Morning" team of Charlie Rose, Gayle King and Norah O'Donnell.
CBS News President David Rhodes is taking the team and key staff to dinner tonight to congratulate them on their growth, and assure them of more ratings gains ahead.
This pulpit isn't open often. It is now. Rhodes' phone is ringing and his in-box abounds.
https://www.axios.com/newsletters/axios-am-cc1ea12c-ad7d-4db7-9e8e-a4865887f9ce.html?chunk=9#story9
10. 1 fun thing: Youngest speller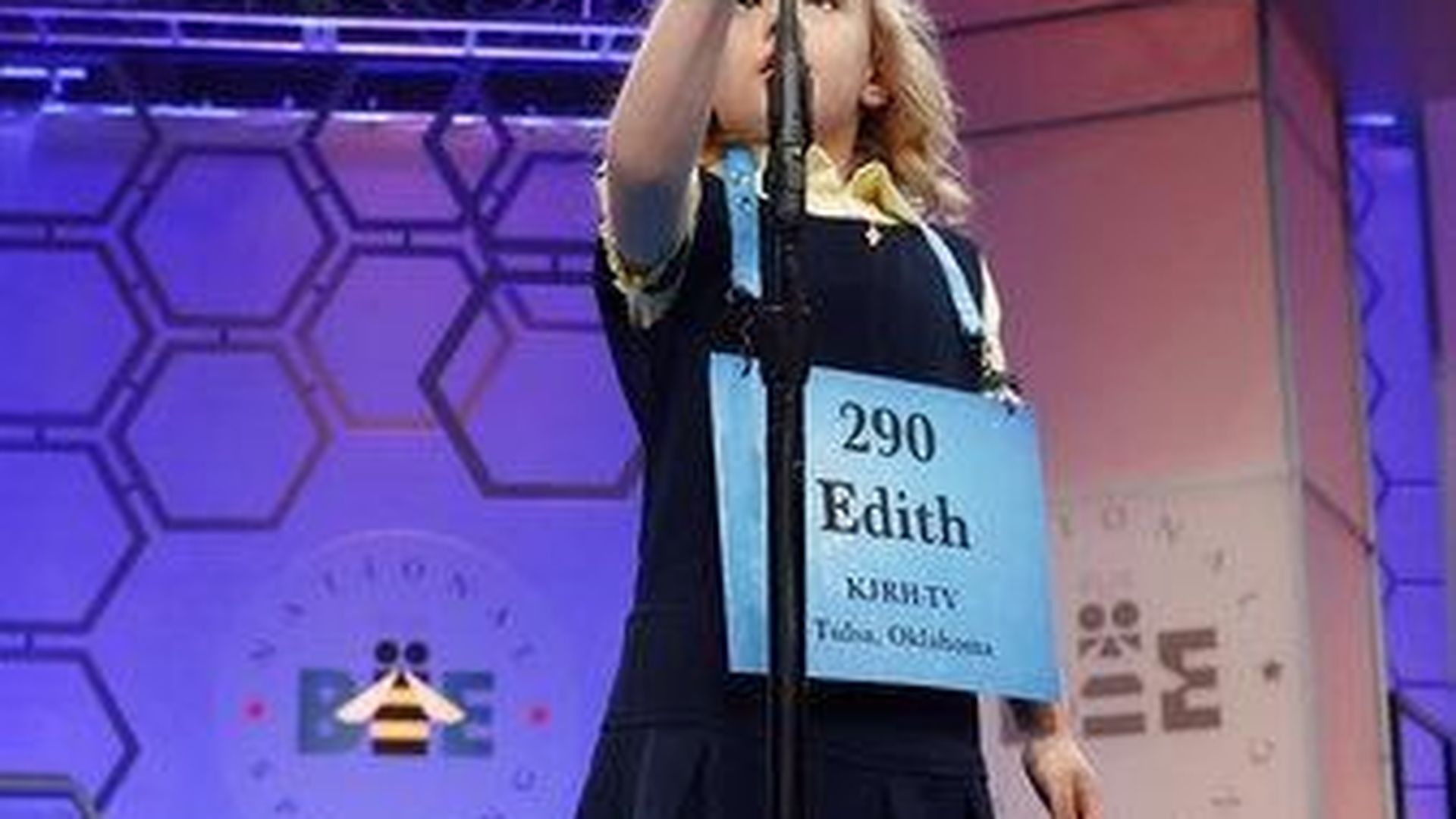 Six-year-old Edith Fuller of Tulsa, Okla. — the youngest speller in the 90-year history of the Scripps National Spelling Bee, which allows contestants up to age 15 — had to spell words just as difficult as everyone else, AP's Ben Nuckols reports from Oxon Hill, Md.:
Like more than 100 other spellers, her test score wasn't high enough to make the finals.
Her parents got permission from Scripps to let Edith spend some of her time offstage while waiting to spell. (She was No. 290.)
Her mother, Annie Fuller: "This is a girl who has difficulty sitting through a Disney movie."
During a news conference, Edith mentioned that she hoped to invent a new kind of refrigerator.
In the first round, her word was "nyctinasty," the movement of plants in response to the onset of darkness.
Like the polished spellers who fare best in the bees, she repeated the word several times and calmly asked for the definition and language of origin.
She got "tapas" in the second round and didn't seem to have heard of the Spanish small plates before, but the applause let her know she spelled it right.