Axios AM
January 05, 2018
Good Friday morning. Situational awareness: "Bomb cyclone" flight cancellations at U.S. airports yesterday, per FlightAware: 4,395. Cancellations today: 1,128.
1 big thing: What Wolff got most right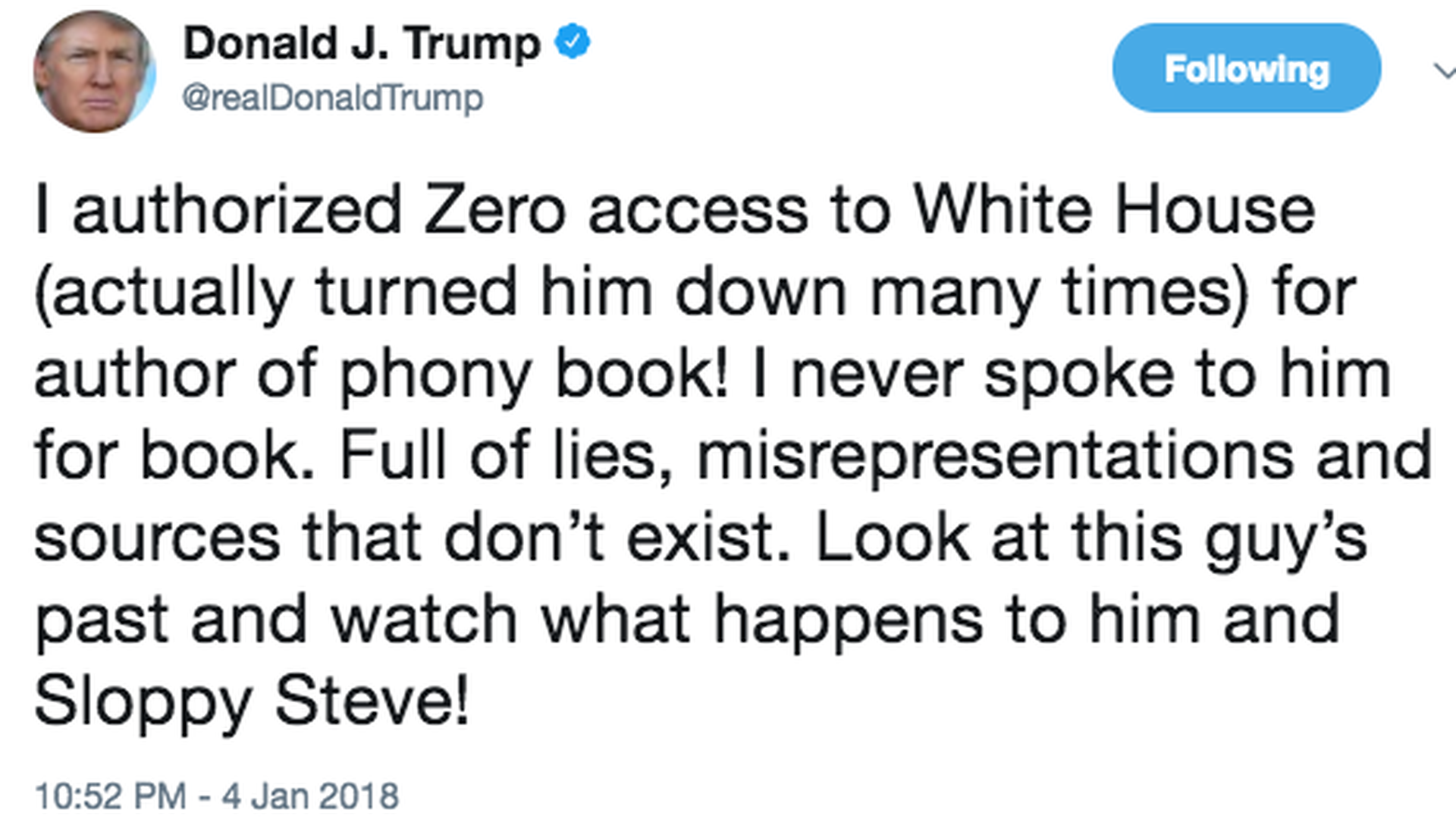 There are definitely parts of Michael Wolff's "Fire and Fury" that are wrong, sloppy, or betray off-the-record confidence. But there are two things he gets absolutely right, even in the eyes of White House officials who think some of the book's scenes are fiction: his spot-on portrait of Trump as an emotionally erratic president, and the low opinion of him among some of those serving him.
Why it matters: Wolff captures the contempt some Trump aides have for the president and his family. Axios' Jonathan Swan notes that this includes people you see trumpeting their loyalty to him.
So Wolff's liberties with off-the-record comments — while ethically unacceptable to nearly all reporters — have the effect of exposing Washington's insider jokes and secret languages, which normal Americans find perplexing and detestable.
In the past year, we have had many of the same conversations with the same sources Wolff used. We won't betray them, or put on the record what was off. But, we can say that the following lines from the book ring unambiguously true:
How Trump processes (and resists) information:
"It was during Trump's early intelligence briefings … that alarm signals first went off among his new campaign staff: he seemed to lack the ability to take in third-party information."
"Or maybe he lacked the interest; whichever, he seemed almost phobic about having formal demands on his attention."
"Trump didn't read. He didn't really even skim. ... [H]e could read headlines and articles about himself, or at least headlines on articles about himself, and the gossip squibs on the New York Post's Page Six."
"Some ... concluded that he didn't read because he just didn't have to, and that in fact this was one of his key attributes as a populist. He was postliterate — total television."
"[H]e trusted his own expertise — no matter how paltry or irrelevant — more than anyone else's. What's more, he had an extremely short attention span, even when he thought you were worthy of attention."
Instinct over expertise:
"The organization ... needed a set of internal rationalizations that would allow it to trust a man who, while he knew little, was entirely confident of his own gut instincts and reflexive opinions, however frequently they might change."
"Here was a key Trump White House rationale: expertise, that liberal virtue, was overrated."
Ill-preparedness:
"[T]he president's views of foreign policy and the world at large were among [his White House's] most random, uninformed, and seemingly capricious aspects. His advisers didn't know whether he was an isolationist or a militarist, or whether he could distinguish between the two."
"He was enamored with generals and determined that people with military command experience take the lead in foreign policy, but he hated to be told what to do."
"In the Trump White House, policy making ... flowed up. It was a process of suggesting, in throw-it-against-the-wall style, what the president might want, and hoping he might then think that he had thought of this himself."
Low regard by key aides:
"He spoke obliviously and happily, believing himself to be a perfect pitch raconteur and public performer, while everyone with him held their breath."
If a wackadoo moment occurred on the occasions … when his remarks careened in no clear direction, his staff had to go into intense method-acting response. It took absolute discipline not to acknowledge what everyone could see."
"At points on the day's spectrum of adverse political developments, he could have moments of, almost everyone would admit, irrationality. When that happened, he was alone in his anger and not approachable by anyone."
"His senior staff largely dealt with these dark hours by agreeing with him, no matter what he said."
Be smart: More than half a dozen of the more skilled White House staff are contemplating imminent departures. Many leaving are quite fearful about the next chapter of the Trump presidency.
2. How to sell a book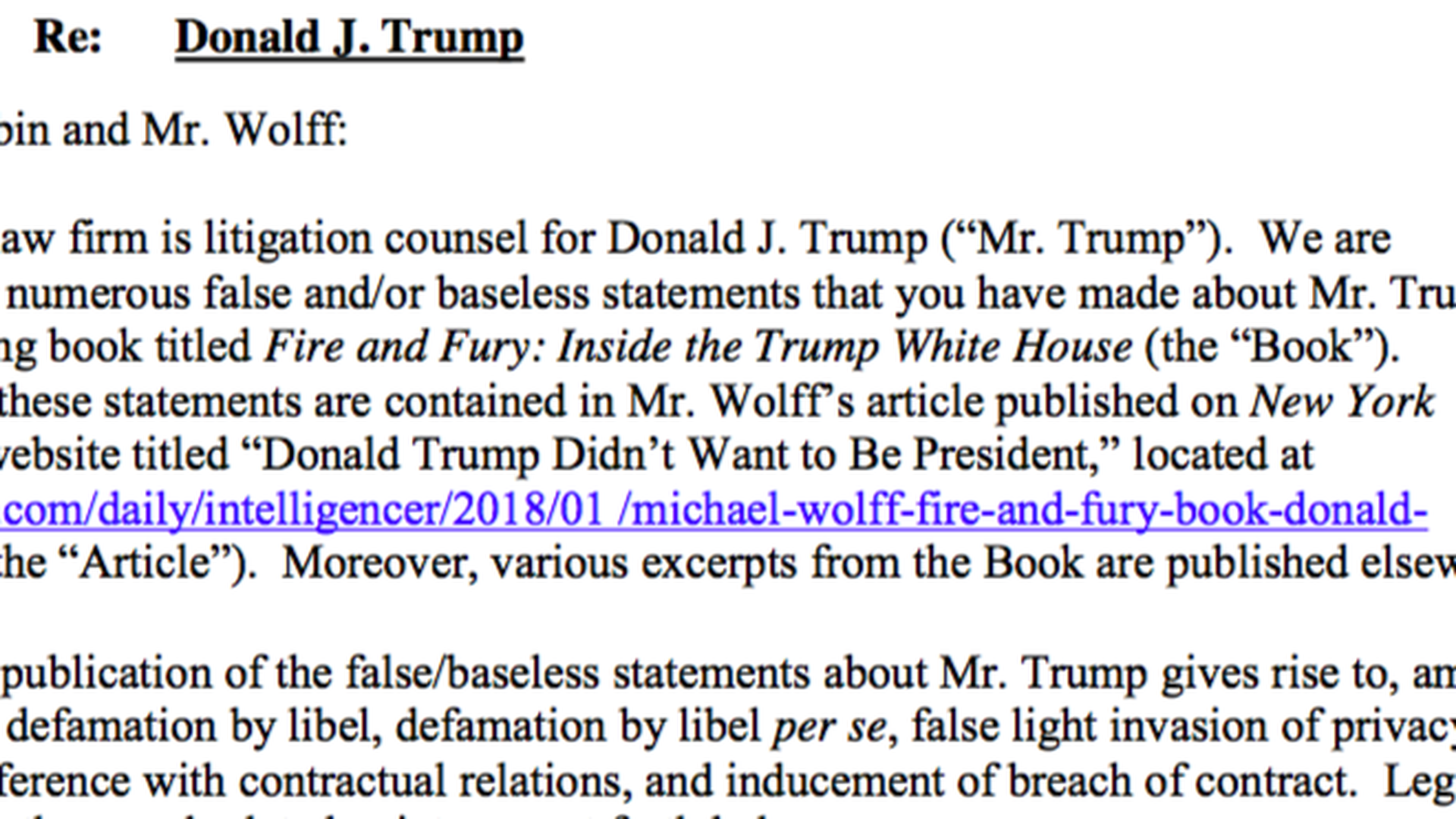 President Trump is so furious about Michael Wolff's book that some aides are just trying to avoid him.
Key aides tried to talk him out of legal threats against the author and Steve Bannon, the key source.
Lawyers laughed: Does Trump really want to give discovery to Michael Wolff?
But Trump was insistent on following a tactic he frequently used in business — rattling cages with lawyers' letters that resulted in no actual legal action.
His demand that the publisher withhold the book (POTUS needs to see "The Post," with its takeaway on prior restraint) was a publisher's impossible dream that had the predictable effect: more publicity and presales.
The publisher issued this statement: "Henry Holt confirms that we received a cease and desist letter from an attorney for President Trump. We see 'Fire and Fury' as an extraordinary contribution to our national discourse, and are proceeding with the publication of the book."
Not only that: "Due to unprecedented demand, we are moving the on-sale date for all formats ... to [today] from the [previous] on-sale date of [next] Tuesday."
In D.C., Kramerbooks started selling copies at midnight.
P.S. WashPost Style front, "Breitbart may see a Bannon backlash," by Paul Farhi:
"The website and its chairman found themselves isolated ... after Bannon's comments ... caused a backlash inside the White House, among rival conservative media outlets and among Trump supporters."
"Bannon's comments ... prompted a key backer, the billionaire Mercer family, to withdraw financial support for Bannon's political activities. So far, however, the Mercers have not signaled that they will walk away from Breitbart itself, which would be a crippling blow."
Be smart: Key conservatives tell us Bannon could wind up being ousted from Breitbart.
3. Is obstruction the new collusion?
"Legal experts said that of the two primary issues ... Mueller appears to be investigating — whether Mr. Trump obstructed justice ... and whether there was collusion between the Trump campaign and Russia — there is currently a larger body of public evidence tying the president to a possible crime of obstruction," the N.Y. Times' Michael Schmidt writes in the paper's lead story:
"Mueller has ... substantiated claims that [former FBI Director James] Comey made in a series of memos describing troubling interactions with the president before he was fired in May."
"Mueller has also been examining a false statement that the president reportedly dictated on Air Force One in July ... about a meeting that Trump campaign officials had with Russians in 2016."
But, but, but: "[I]t could be difficult to prove that the president, who has broad authority over the executive branch, including the hiring and firing of officials, had corrupt intentions when he [ousted] the F.B.I. director."
4. Bugs named Meltdown and Spectre
"The disclosure of security flaws in computer chips dealt Intel Corp.what seemed like a sudden crisis, but behind the scenes it and other tech companies and experts have been grappling with the problem for months," the Wall Street Journal reports on the front page:
"Apple ... became the latest tech giant to acknowledge it was affected by the vulnerabilities. The company said all iPhones, iPads and Mac computers were exposed, and that it already issued updates to fix the flaws."
"The flaws, which could allow hackers to pilfer sensitive information like passwords, affect most modern chips from an array of companies.""Nonetheless, the impact on Intel is likely to be minimal ... Intel said it expects by the end of next week to have issued software updates for more than 90% of processors introduced in the past five years."
Why it matters: "The issue called into question the security of Intel's products, and requires many customers to take action to protect their systems." "It also highlights how the growing complexity in chips and the software that runs on them makes them difficult to lock down and allows them to harbor flaws that can go undetected for years."
Go deeper: Axios' Ina Fried on the chip vulnerability
5. Global economy absorbs Trump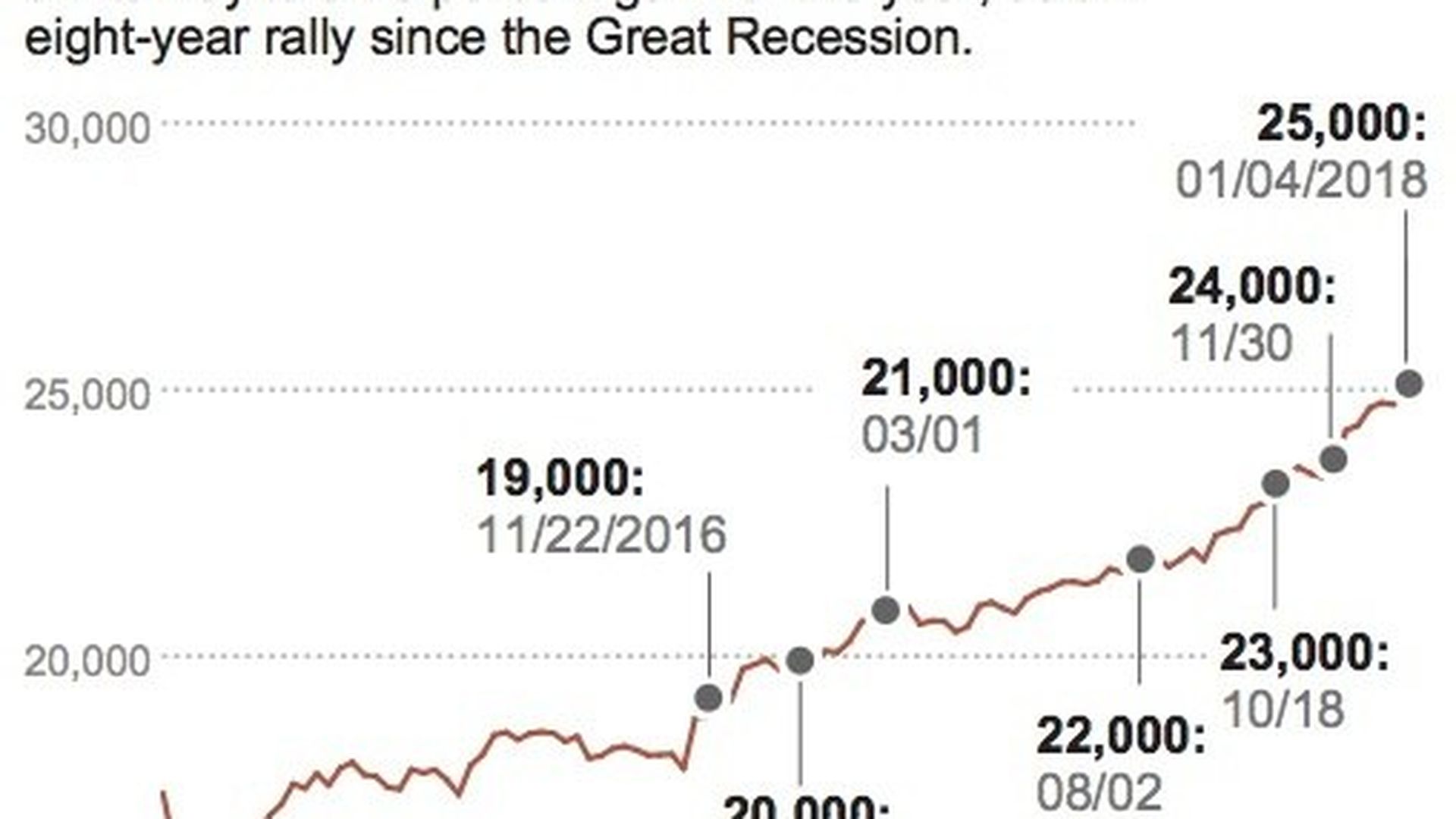 "2017 turned out to be the global economy's best year since 2010, according to the International Monetary Fund, and 2018 looks even better," the WashPost's David Lynch writes on A1:
The takeaway: "[T]he contrast between Trump's inflammatory rhetoric and the placid economic scene is striking.""Investors and corporate executives ... have learned to cope with an unpredictable president, often by ignoring his most provocative statements."
The big picture: "Economics dominated politics last year outside the United States, too. In Europe, fears that ascendant populism in Britain, Poland, and Hungary would destabilize the E.U. proved exaggerated. And in Asia, prosperity surged despite rising tensions on the Korean Peninsula."
What's next: "[S]ome foreign executives are acting on concerns that the president may finally erect barriers against countries that sell more to the United States than they buy. ... Japanese companies [including] Toyota ... have stepped up investments in U.S.-based research, production and distribution."
N.Y. Times Quote of the Day ... From a front-page James Stewart "Common Sense" column, "The Dow Hits 25,000: The Party Will End One Day, but When?":
James Stack, a market historian and president of InvesTech Research: "A correction would be healthy. The longer we go without one, the greater the risk this will end badly."
6. Trump, GOP leaders to Camp David today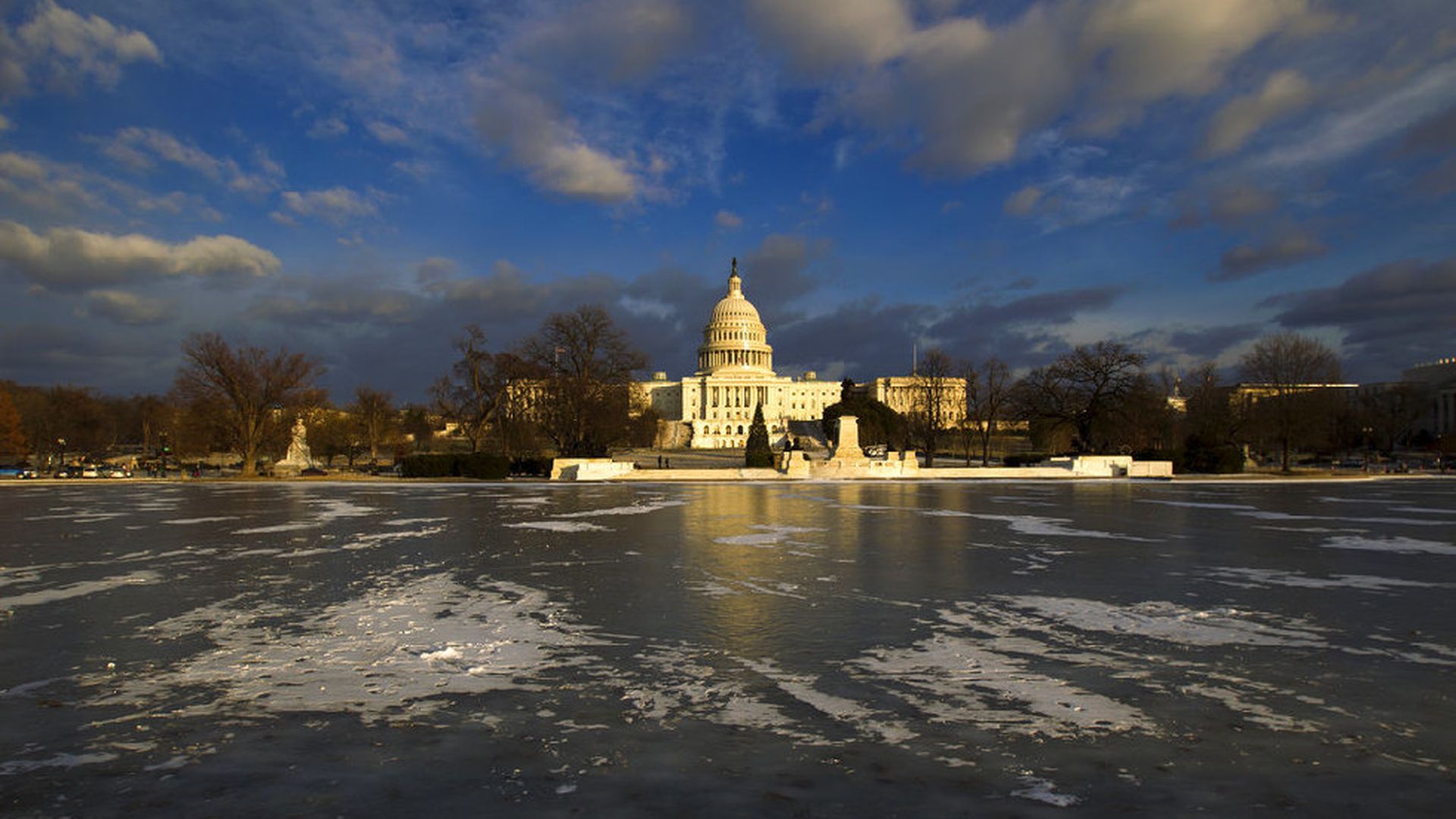 Republicans have begun the year divided over whether their legislative agenda should include the use of a special budget tool (reconciliation) allowing them to pass legislation without Democrats — and whether to use it for health care or a welfare overhaul, Axios' Caitlin Owens writes:
What to watch: This will be discussed when GOP leaders meet with President Trump at Camp David beginning this afternoon.
The takeaway: While Speaker Ryan is eager to tackle welfare and entitlements, Senate Majority Leader Mitch McConnell has said it's not happening.
7. Fears of weed crackdown by feds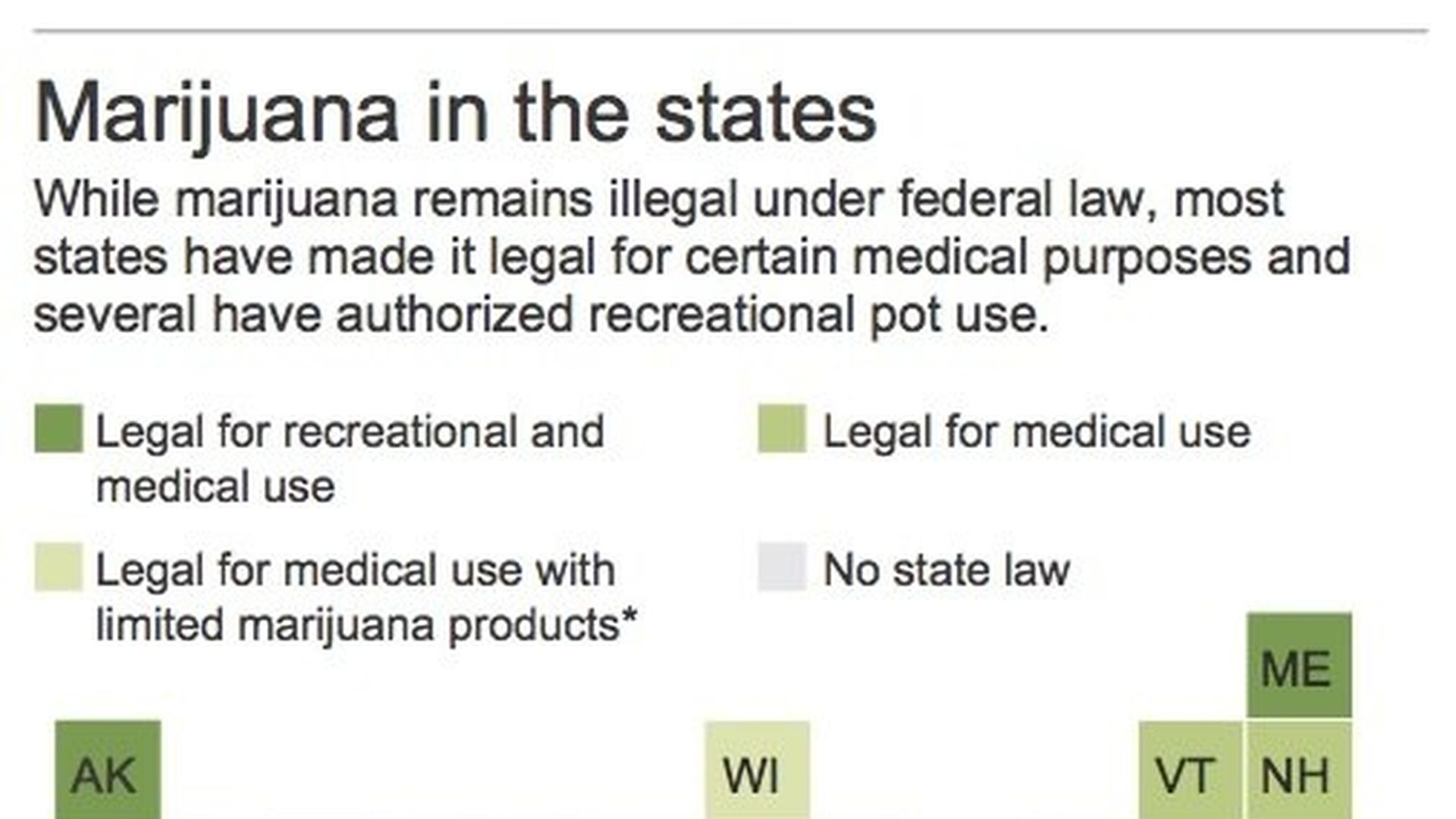 "The buzz kill long dreaded in the marijuana industry came just days after California opened what is expected to be the world's largest legal pot market," AP reports from L.A.:
"The Trump administration announced ... that it was ending an Obama-era policy to tread lightly on enforcing U.S. marijuana laws."
"The declaration renewed anxiety, confusion and uncertainty that has long shadowed the bright green leafy drug still forbidden under federal law but now legal in a majority of states as medicine and in a handful of those for recreational purposes."
Why it matters: "The action by Attorney General Jeff Sessions was not unexpected given his longtime opposition to pot, but comes at a heady time for the industry as retail pot sales rolled out New Year's Day in California."
What's next: Citing states' rights, Sen. Cory Gardner (R-Colo.), chairman of the National Republican Senatorial Committee, said he found Sessions' announcement "extremely alarming," and said he was prepared to place a hold on Justice Department nominees."
A DoJ source: "Cory Gardner can change federal law; the Department of Justice cannot."
8. "My personal challenge for 2018"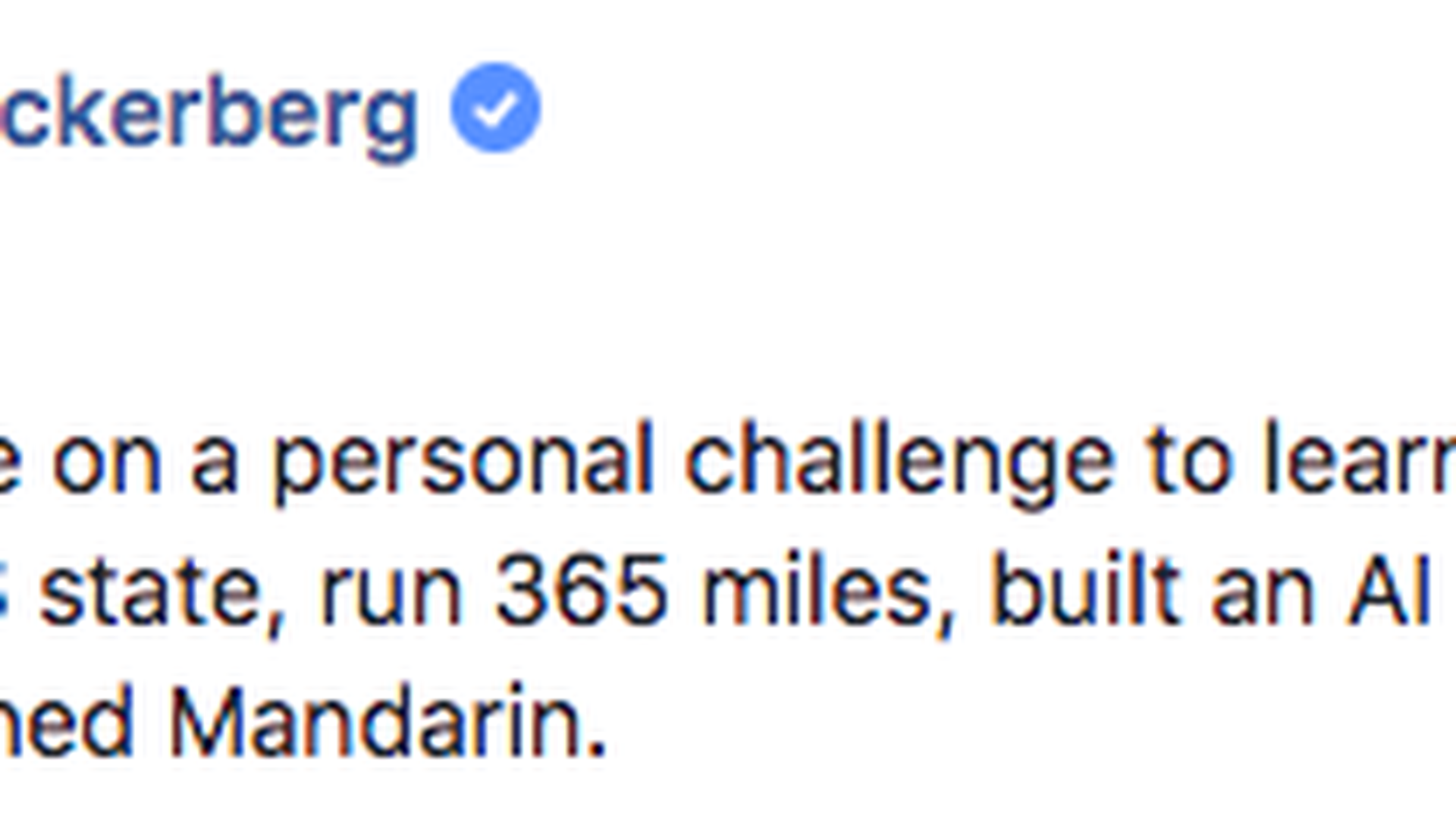 Facebook CEO Mark Zuckerberg announced his 2018 personal challenge: "fixing" the platform he created so that "we'll end 2018 on a much better trajectory."
Zuckerberg wrote that when he announced his first challenge in 2009, "the economy was in a deep recession and Facebook was not yet profitable. We needed to get serious about making sure Facebook had a sustainable business model. It was a serious year, and I wore a tie every day as a reminder."
"Today feels a lot like that first year. The world feels anxious and divided, and Facebook has a lot of work to do — whether it's protecting our community from abuse and hate, defending against interference by nation states, or making sure that time spent on Facebook is time well spent."
What's next: The issues facing Facebook "touch on questions of history, civics, political philosophy, media, government, and of course technology. I'm looking forward to bringing groups of experts together to discuss and help work through these topics."
Why it matters: Zuckerberg's post is the latest indication that Facebook leaders recognize that misuse of the platform during the 2016 election — including fake news, and infiltration by Russian manipulators — are no passing blip, and require fixes from the top.
Facebook execs tell us they plan to change without waiting for legislation, and this is a sign of that.
Go deeper: See Zuckerberg's full post.
For each of us: What's your singular personal challenge for 2018? If you have an interesting one, shoot me a note at [email protected] (or must reply to this email!), and I'll share your idea with other AMers.
9. New overnight: Sports talker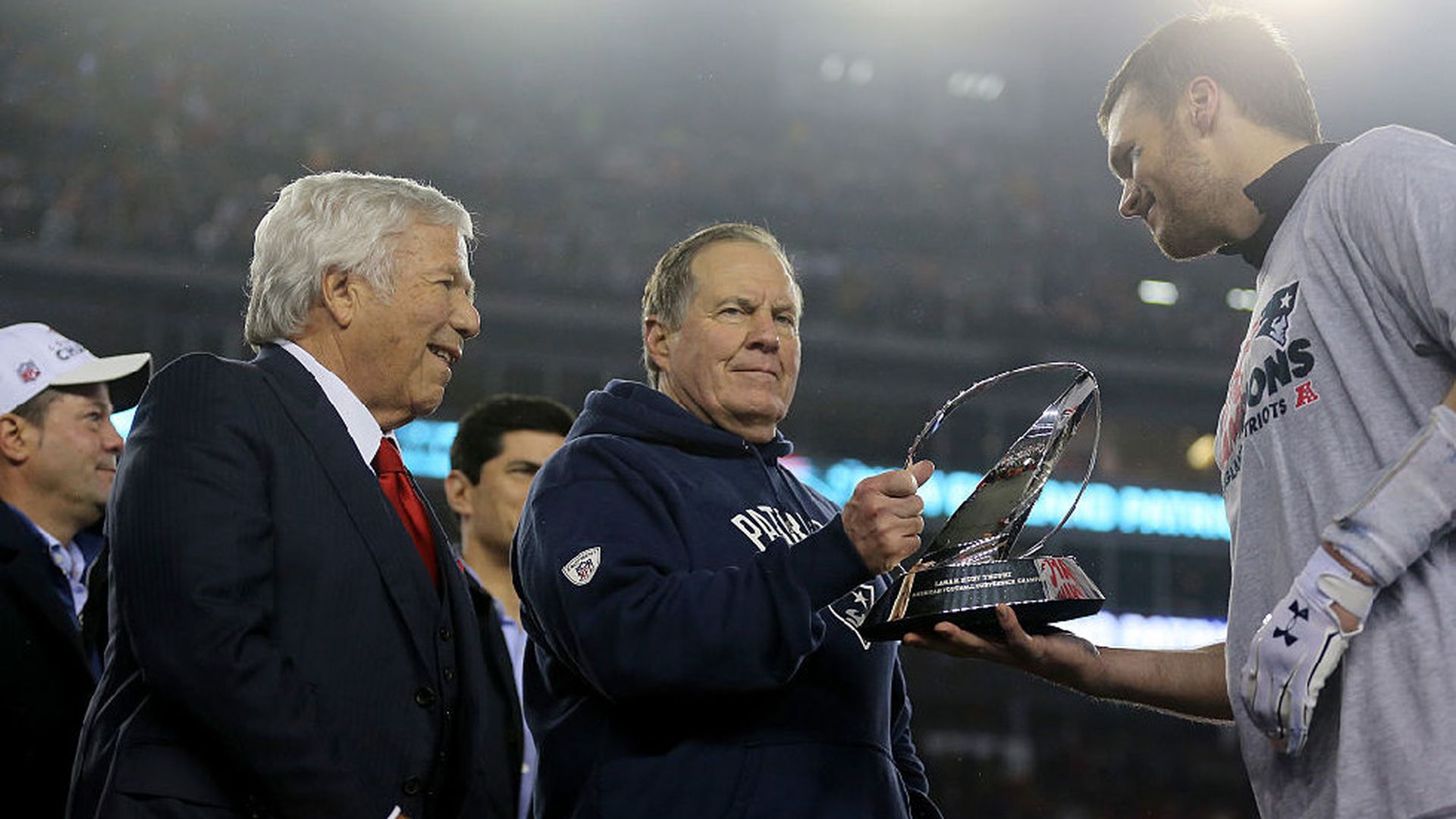 Power struggle at Foxboro: "For Kraft, Brady and Belichick, is this the beginning of the end?" by ESPN The Magazine senior writer Seth Wickersham:
"[T]he three most powerful people in the franchise — [coach Bill] Belichick, [QB Tom] Brady and owner Robert Kraft — have had serious disagreements."
"They differ on Brady's trainer, body coach and business partner Alex Guerrero; over the team's long-term plans at quarterback; over Belichick's bracing coaching style; and most of all, over who will be the last man standing."
Why it matters: "Those interviewed describe a palpable sense in the building that this might be the last year together for this group."
"Kraft, Brady and Belichick were supposed to meet in late December to clear the air, but that never happened. It probably won't until after the season. Those interviewed describe a lingering sadness around the team, as if coaches and staff know that the end might be near."
A classic Brady moment ... In a legendary playoff game, the Snow Bowl in 2002 (the Tuck Rule Game), when the Patriots played the Raiders in the snow, Brady once recalled in an NFL Films interview that "he took the field for warm-ups wearing a sleeveless T-shirt in the thick snow. He was 24 years old, at the beginning of a career only he saw coming. He wanted to send a message to everyone watching that nobody was tougher, both mentally and physically, than this California kid."
10. Black Panther movie stirs excitement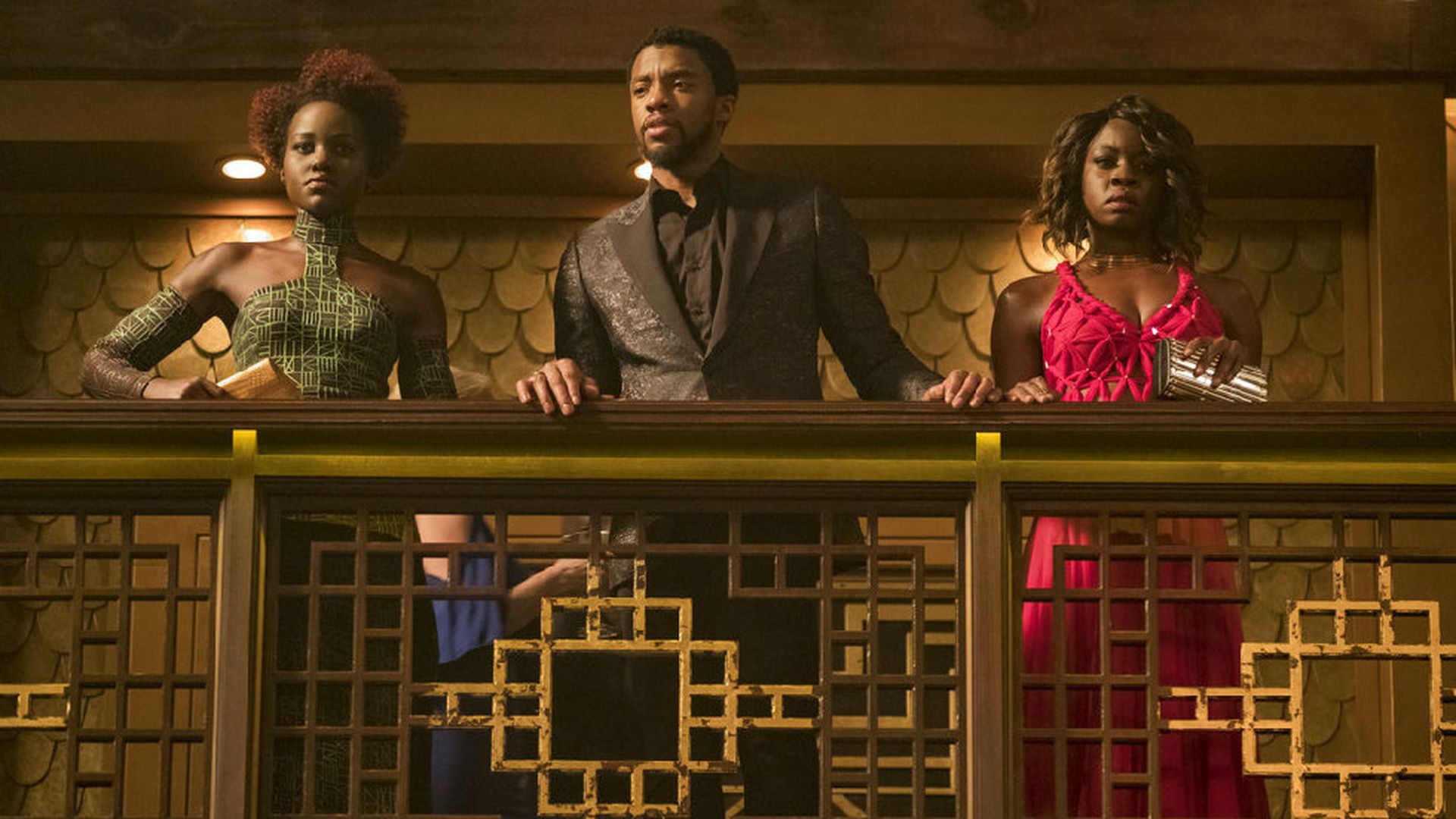 Coming Feb. 16 ... "Superhero fans, movie fans and especially connoisseurs of black culture — American and African — are eagerly awaiting the debut of Marvel's 'Black Panther' movie starring comic books' first black superhero with an enthusiasm not often seen in American cinema," AP's Jesse Holland writes:
"'Black Panther' viewing parties are being scheduled around the country for its February release, smack dab in the middle of Black History Month."
"Clothing lines are being designed around the bright colors and Afrofuturism styles of Wakanda. And Grammy-winning rapper Kendrick Lamar was just named to produce the soundtrack."
Why it matters: "[P]eople are already calling the still-unseen movie one of the most important of 2018."
What happens: "[T]he Black Panther's adventures center around his futuristic hidden homeland of Wakanda, considered to be the most technologically advanced nation on Marvel's earth."
"T'Challa, the Black Panther's real name, must battle long-time adversaries with the aid of his all-female bodyguards and a CIA agent to maintain control of his country and prevent a world war."