Axios AM
September 20, 2017
Good Wednesday morning. Sundown marks the start of Rosh Hashanah, the Jewish New Year. How long will Jake Tapper keep writing 5777 on his checks?
1 big thing: Rocket Man's "suicide mission"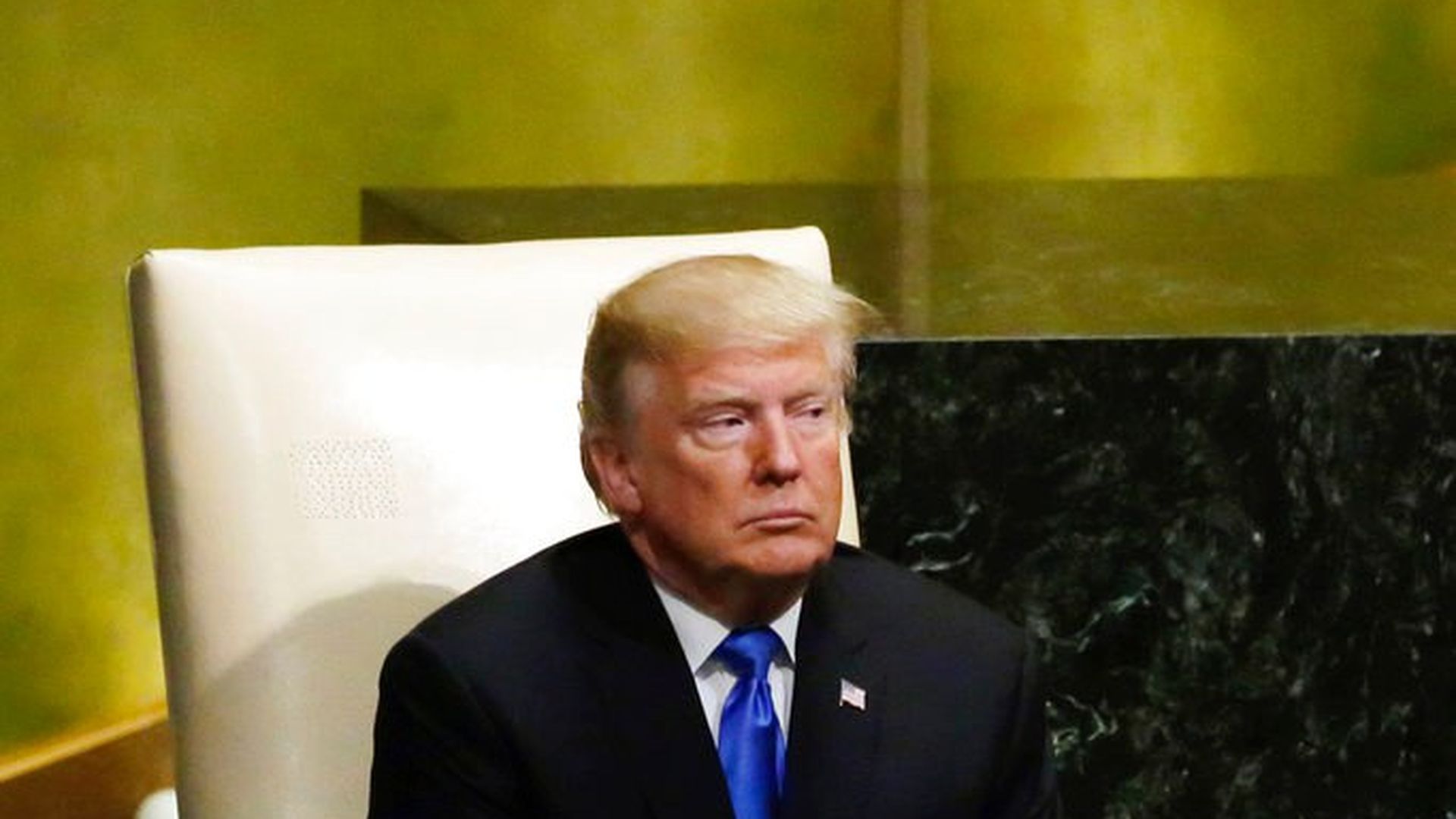 The WashPost lead headline calls it "defiant." The N.Y. Times and L.A. Times both go with "combative." The Financial Times calls it a "tirade."
President Trump's maiden speech to the United Nations General Assembly reflected the dichotomy we have seen throughout this presidency: hot, even juvenile rhetoric, cloaking substance that's very much within the 40 yard lines of traditional Republican foreign policy.
"Major portions of the world are in conflict and some, in fact, are going to hell."
"The United States has great strength and patience, but if it is forced to defend itself or its allies, we will have no choice but to totally destroy North Korea."
"Rocket Man is on a suicide mission for himself and for his regime."
"No nation on earth has an interest in seeing this band of criminals arm itself with nuclear weapons and missiles."
"In America, we do not seek to impose our way of life on anyone, but rather to let it shine as an example for everyone to watch."
"The United States will forever be a great friend to the world, and especially to its allies. But we can no longer be taken advantage of."
"The Iran Deal was one of the worst and most one-sided transactions the United States has ever entered into. Frankly, that deal is an embarrassment to the United States."
In the meat of the speech, Trump spoke out against three "rogue regimes" — North Korea, Iran and Venezuela — with harsh language that was a huge change from the Obama years, pleasing conservatives and the pro-Israel crowd. But he also emphasized the need for allies to work together to root out threats.
Sen. Lindsey Graham (R-S.C.), who has been persistently at odds with Trump, told Axios' Jonathan Swan in a phone interview: "I was pretty impressed by the way he described the threats of rogue regimes to everyone, not just us — that to some extent we're all in it together."
"There was a breakthrough in this speech: Different twist of 'America first.' Embrace of freedom. Was not 1930s isolationism. Talked about systems that shortchanged people. ... Somewhere in there, if you look hard, there's a pony of embracing a world order that is more traditional."
Be smart: Trump views himself as the leader of America, not the free world — an oddly constrained view of the office. But Trump and his hardline aide Stephen Miller, the lead writer of this speech, call it "seeing the world as it is."
2. Tweet du jour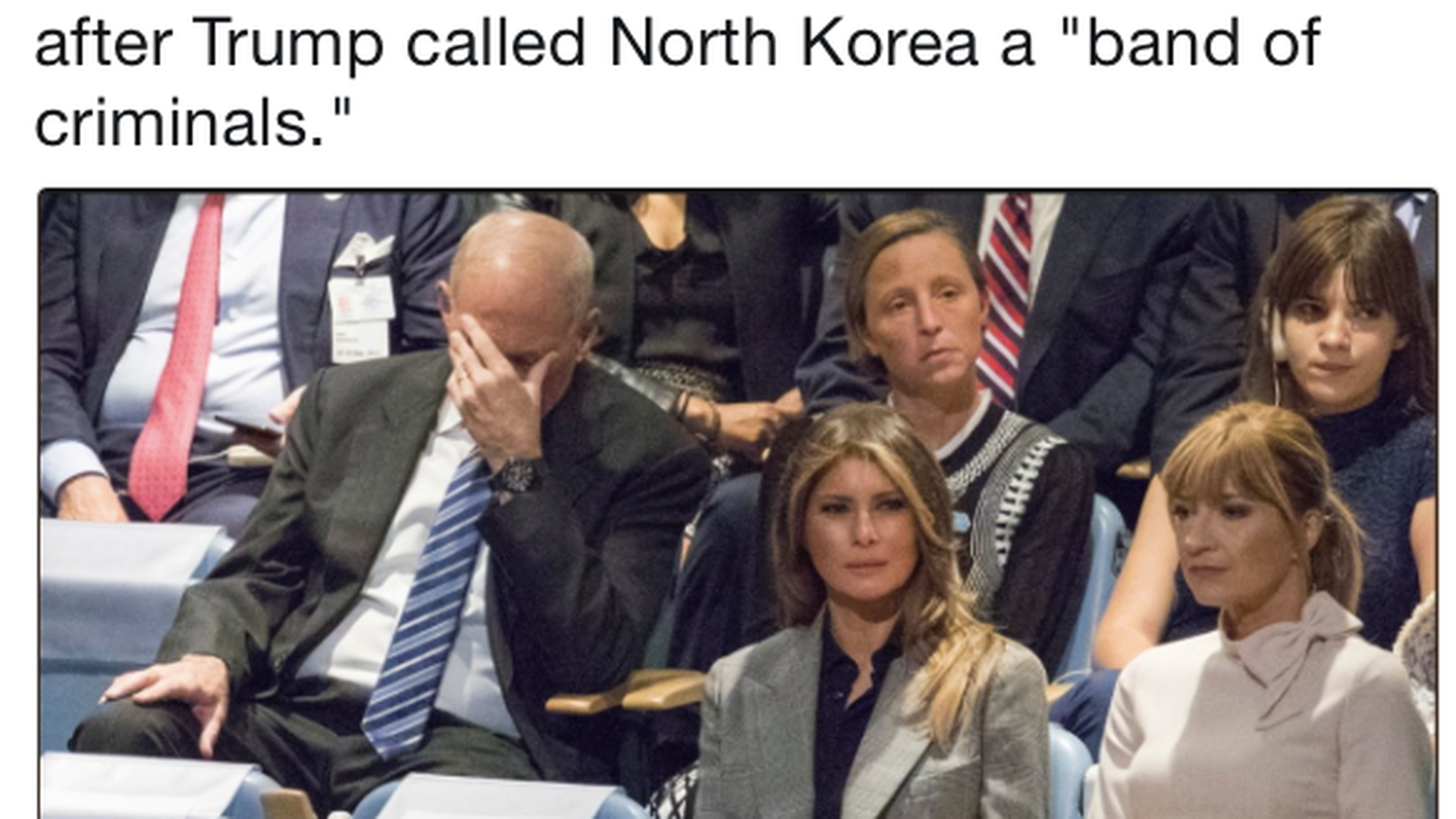 Daniel Dale, Washington correspondent for the Toronto Star, on White House Chief of Staff John Kelly, whose sideline reactions to Trump ad libs have become a fascination for photographers.
3. How it's playing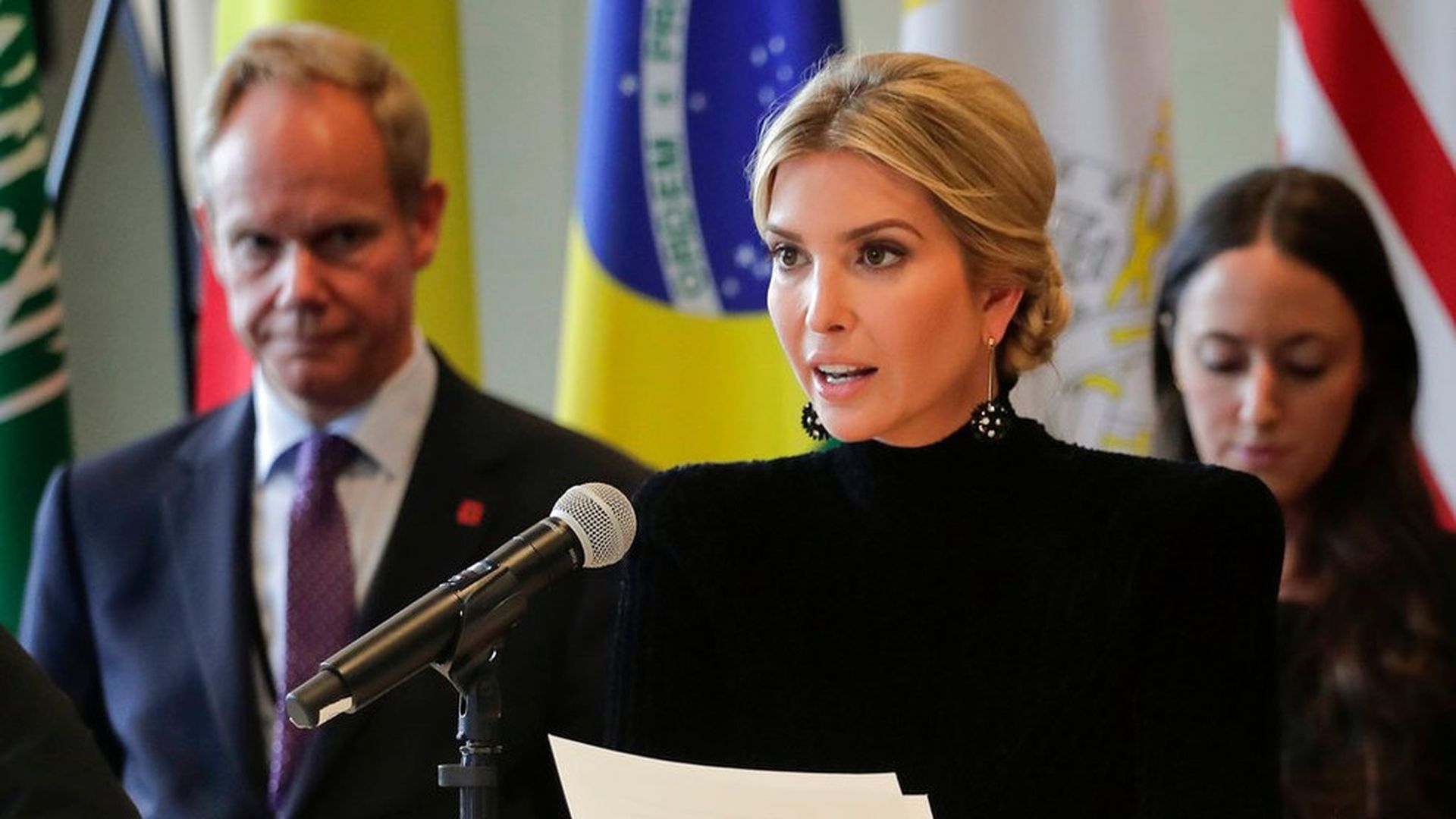 The world reacts to Trump's U.N. speech:
Max Boot, CFR senior fellow: President Harry Truman, who addressed the U.N. founding conference in 1945, "would have been appalled to see a U.S. president threatening war and praising national sovereignty as the greatest good."
"Reshaping U.S. Role With One Word" — N.Y. Times front-page analysis by Mark Landler: "Trump, in declaring ... that sovereignty should be the guiding principle of affairs between nations, sketched out a radically different vision of the world order than his forebears, who founded the United Nations after World War II to deal collectively with problems they believed would transcend borders."
How Asia sees Trump ... Lead du jour, from AP's Foster Klug in Seoul, South Koreal: "Was it a bluff? A warning that Washington would shoot down North Korea's next missile test? A restatement of past policy? Or simply just what it seemed: a straightforward threat of annihilation from the president of the United States?"
"Officials and pundits across Asia struggled Wednesday to parse Donald Trump's vow Tuesday at the U.N. General Assembly to 'totally destroy North Korea' if provoked."
The other end of the telescope: "Russian Foreign Minister Sergey Lavrov told The Associated Press in an interview ... that he heard positive news in President Donald Trump's United Nations address: 'that the U.S. would not impose its way of life on others.'"
Bonus: Sorry, Spicey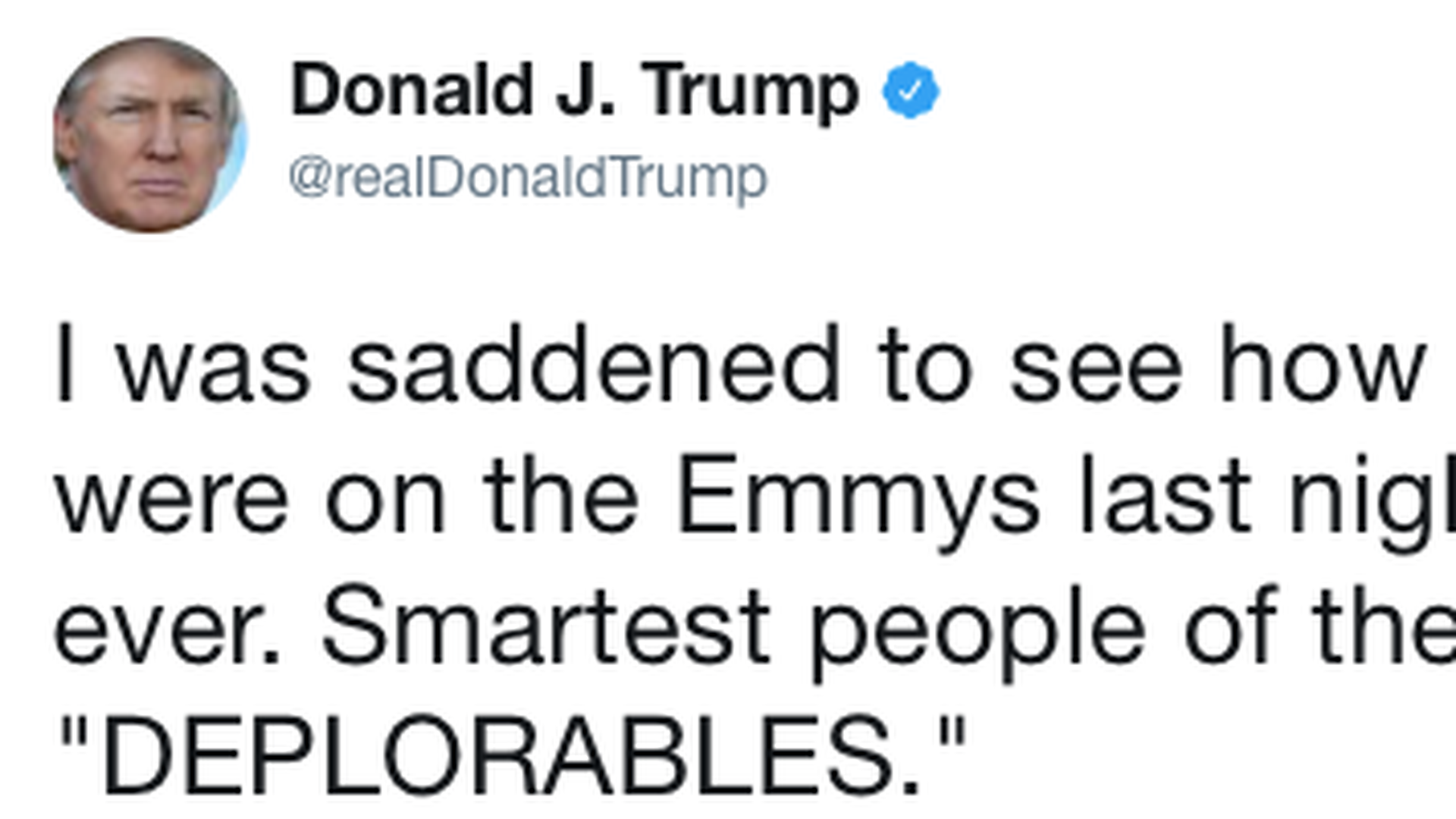 "The big five [network] news organizations have passed on offering ... Sean Spicer a job as an exclusive paid contributor ... due to a 'lack of credibility," NBC's Claire Atkinson reports.
4. Top talker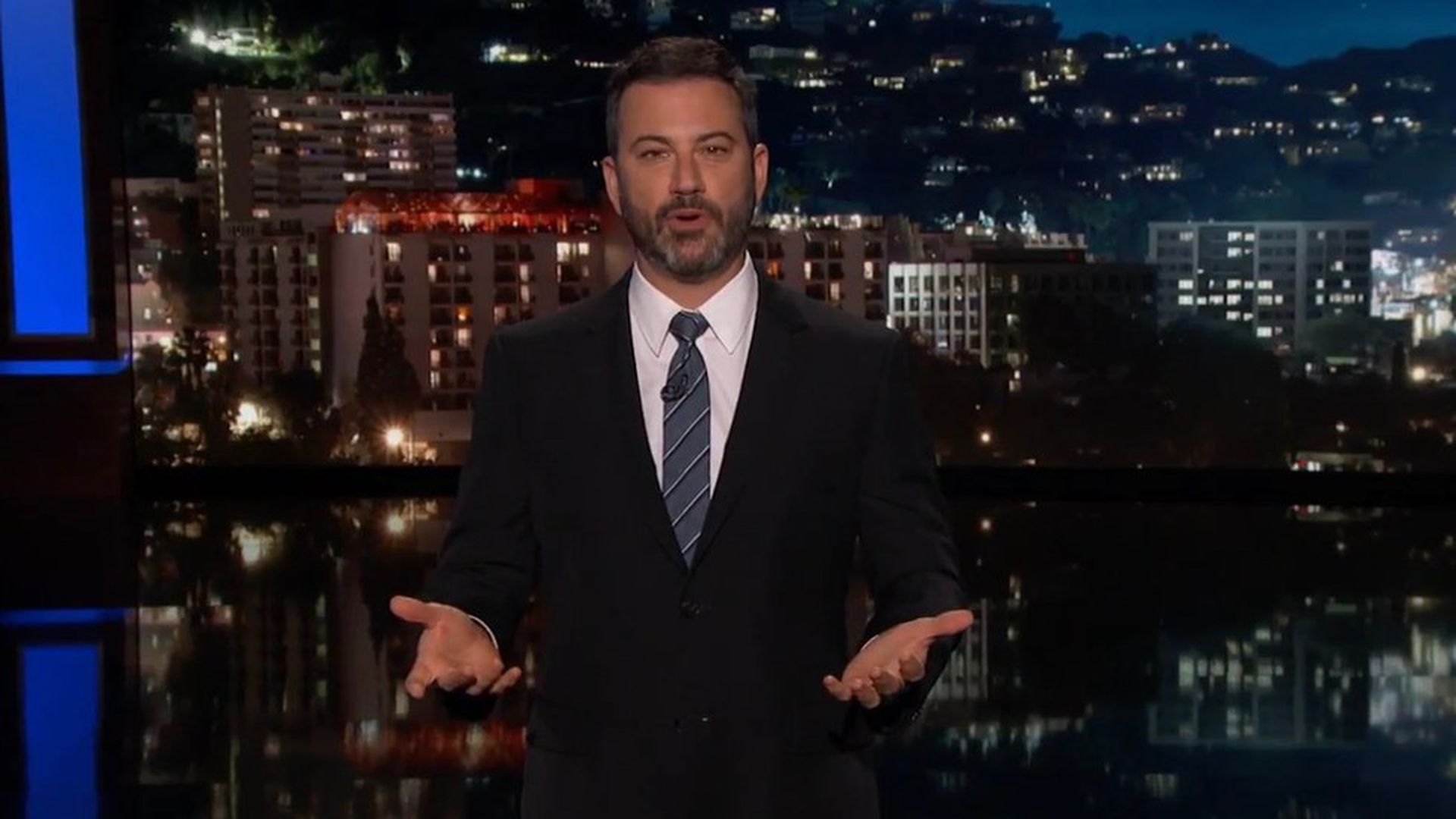 Jimmy Kimmel went after the new Senate Republican health-care bill on his ABC late-night show:
"A few months ago, after my son had open heart surgery ... a senator named Bill Cassidy from Louisiana, was on my show and he wasn't very honest."
"He got a lot of credit and attention for coming off like a rare, reasonable voice in the Republican Party when it came to health care for coming up with something he called — and I didn't name it this, he named it this — the Jimmy Kimmel test, which was in a nutshell: No family should be denied medical care, emergency of otherwise, because they can't afford it."
"These insurance companies, they want caps, to limit how much they can pay out. So for instance, if your son has to have three open heart surgeries, it can cost hundreds of thousands of dollars apiece. If he hits his lifetime cap of, let's say, a million dollars, the rest of his life, he's on his own."
"So last week, Bill Cassidy and Sen. Lindsey Graham proposed a new bill, the Graham-Cassidy bill. And this new bill actually does pass the Jimmy Kimmel test, but a different Jimmy Kimmel test.
"With this one, your child with a preexisting condition will get the care he needs — if, and only if, his father is Jimmy Kimmel. Otherwise, you might be screwed."
"Sen. Cassidy, you were on my show, you seem like you're a decent guy. But here's the thing: Nobody outside of your buddies in Congress wants this bill."
"Right now, there's a bipartisan group of senators working to improve the health-care system we have. ... [G]o pitch in and be a part of that ... And if not? Stop using my name."
Be smart: This clip is certain to get massive pickup in social media, and puts Republicans on the defensive in a way that no news article ever could. Kimmel's crusade is likely to become an instant case study in the power of popular culture to break through the Washington din.
5. The future is now
"Amazon is working on its first wearable device: a pair of 'smart glasses' that would allow its virtual assistant Alexa to be summoned any time, anywhere," The Financial Times reports:
"The device, which would tether wirelessly to a smartphone, is designed to look like a regular pair of spectacles so that it could be worn comfortably and unobtrusively."
"A bone-conduction audio system would allow the wearer to hear Alexa without having to insert headphones into their ears."
Amazon "is also said to be expanding its 'smart home' hardware line-up with a new home security camera."
The biggest surprise: "One or both of these products could be launched before the end of the year."
6. Mueller's muscle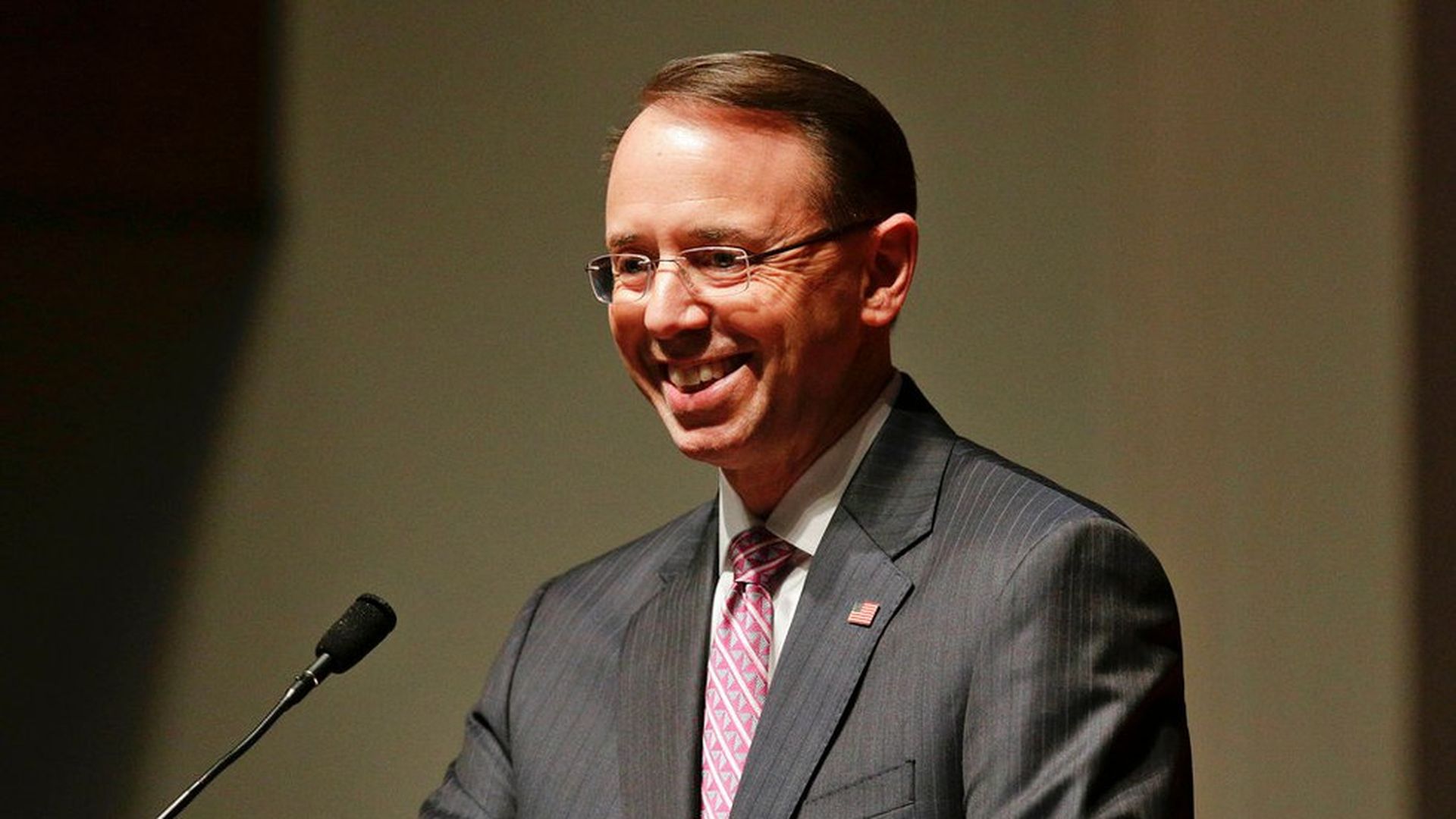 Quick read on the fast-moving Mueller machine:
"Mueller's office has interviewed Deputy Attorney General Rod Rosenstein about ... Trump's firing of former FBI Director James Comey," per The Wall Street Journal. "The interview, which occurred in June or July, presents the unusual situation of investigators questioning the person directly overseeing their probe."
"The Republican National Committee spent more than $230,000 in August to cover some of ... Trump's legal fees associated with the federal investigation ... The RNC paid Trump's personal attorneys Jay Sekulow and John Dowd $131,250 and $100,000, respectively." (CNN's Jeremy Diamond)
"The RNC has also begun to foot the legal payments of Trump's son, Donald Trump Jr." (CNN)
Sen. Richard Burr, R-N.C., chairman of the Senate intelligence committee, says Facebook should testify as part of its probe into Russian meddling in the U.S. election, and that the social media giant "seems to have been less than forthcoming" with Congress. (AP)
7. Driving the day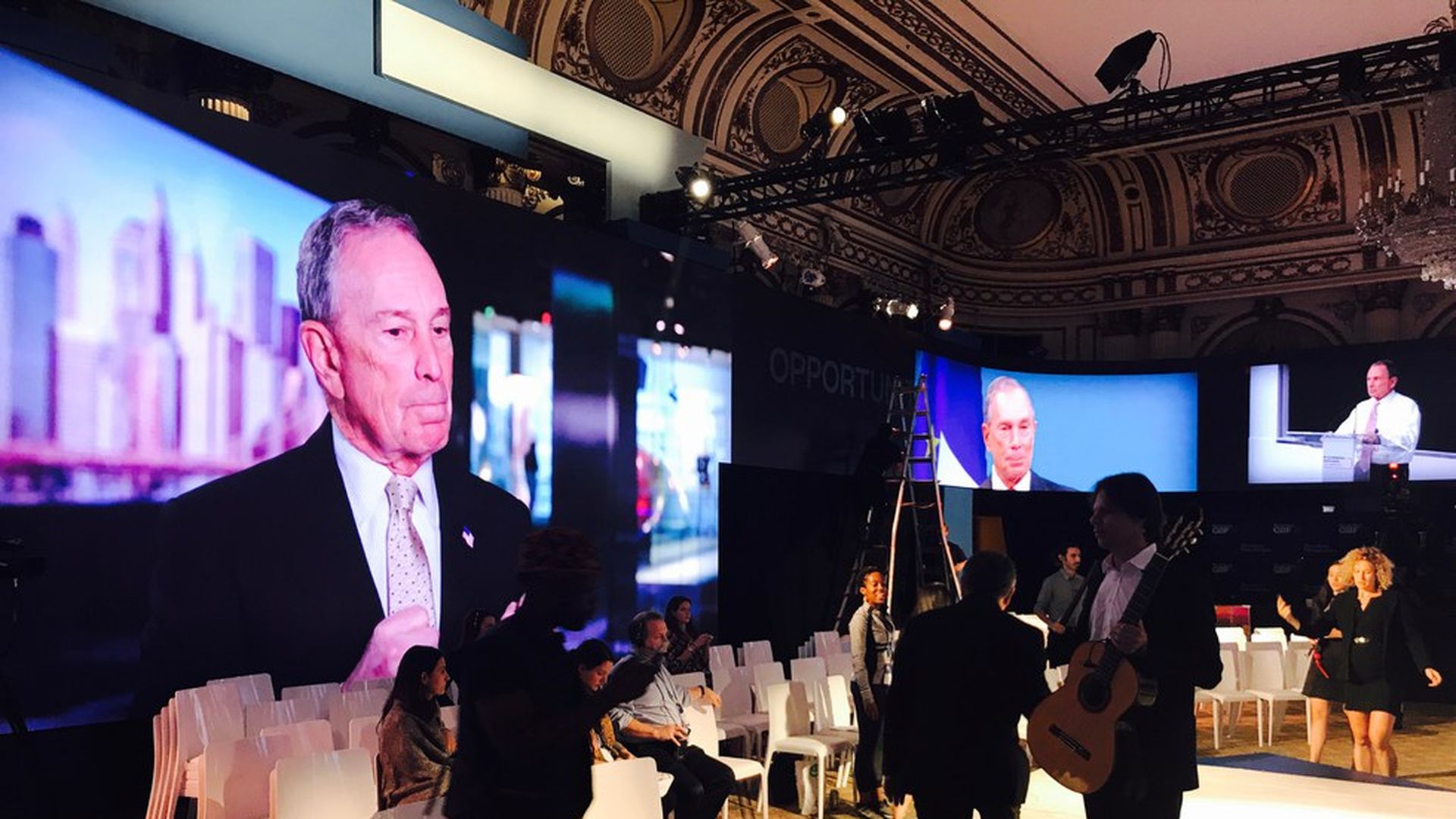 Basketball legend LeBron James will open today's first-ever Bloomberg Global Business Forum, at the Plaza Hotel in New York, with a taped video for world leaders: "We all know the world needs us to step up. ... Great leaders emerged during the darkest, most difficult times for a simple reason: They were needed."
Axios is one of only two U.S. media partners for the event, giving us exclusive access and insights that you'll see all day in the Axios stream, including my afternoon interview with former New York Mayor Mike Bloomberg.
The lineup includes: Bill Clinton, Apple's Tim Cook, Alibaba's Jack Ma and French President Emmanuel Macron.
A twist: The Bill and Melinda Gates Foundation is holding a competing event nearby — the inaugural Goalkeepers, featuring remarks and Q&A with former President Obama.
Mike Bloomberg will leave his forum to speak at the Gates event, and Bill Gates will leave his event to speak at Bloomberg's.
Pulling back the camera ... "The US Government-In-Exile Has A New President: And Mike Bloomberg has a big new platform," by BuzzFeed Editor-in-Chief Ben Smith: "Bloomberg is reviving part of the [Clinton Global Initiative's] original role as a kind of US government in exile."
"The former New York mayor is inheriting not a conference, but a platform for an alternative American diplomacy."
Bloomberg, in an emailed comment: "Actions taken by the private sector, while not replacing official diplomatic channels, can often carry more weight than words spoken (or tweeted) by public officials."
Why it matters: "This isn't the first project Clinton has passed off to Bloomberg; that was the Clinton Climate Initiative. ... Bloomberg's new stage is a sign that ... the former mayor is likely just getting started."
8. Mexico toll up to 248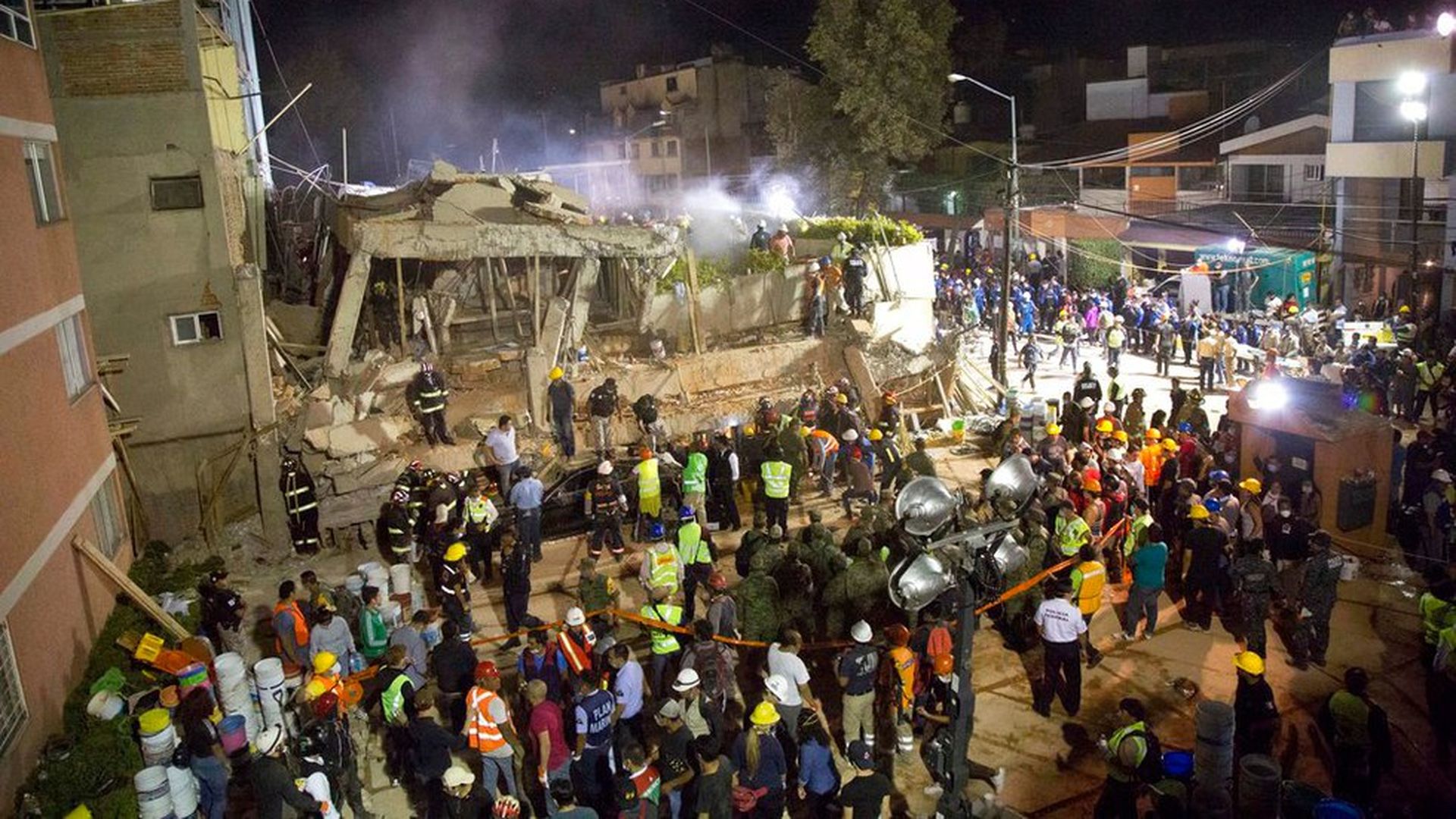 "A powerful 7.1 earthquake rocked central Mexico, ... collapsing homes and bridges across hundreds of miles, killing at least 248 people and sending thousands more fleeing into the streets screaming in a country still reeling from a deadly temblor that struck less than two weeks ago," per the L.A. Times:
"Entire apartment blocks swayed violently in the center of Mexico City, including in the historic districts of El Centro and Roma, crumbling balconies and causing huge cracks to appear on building facades."
9. The war for your attention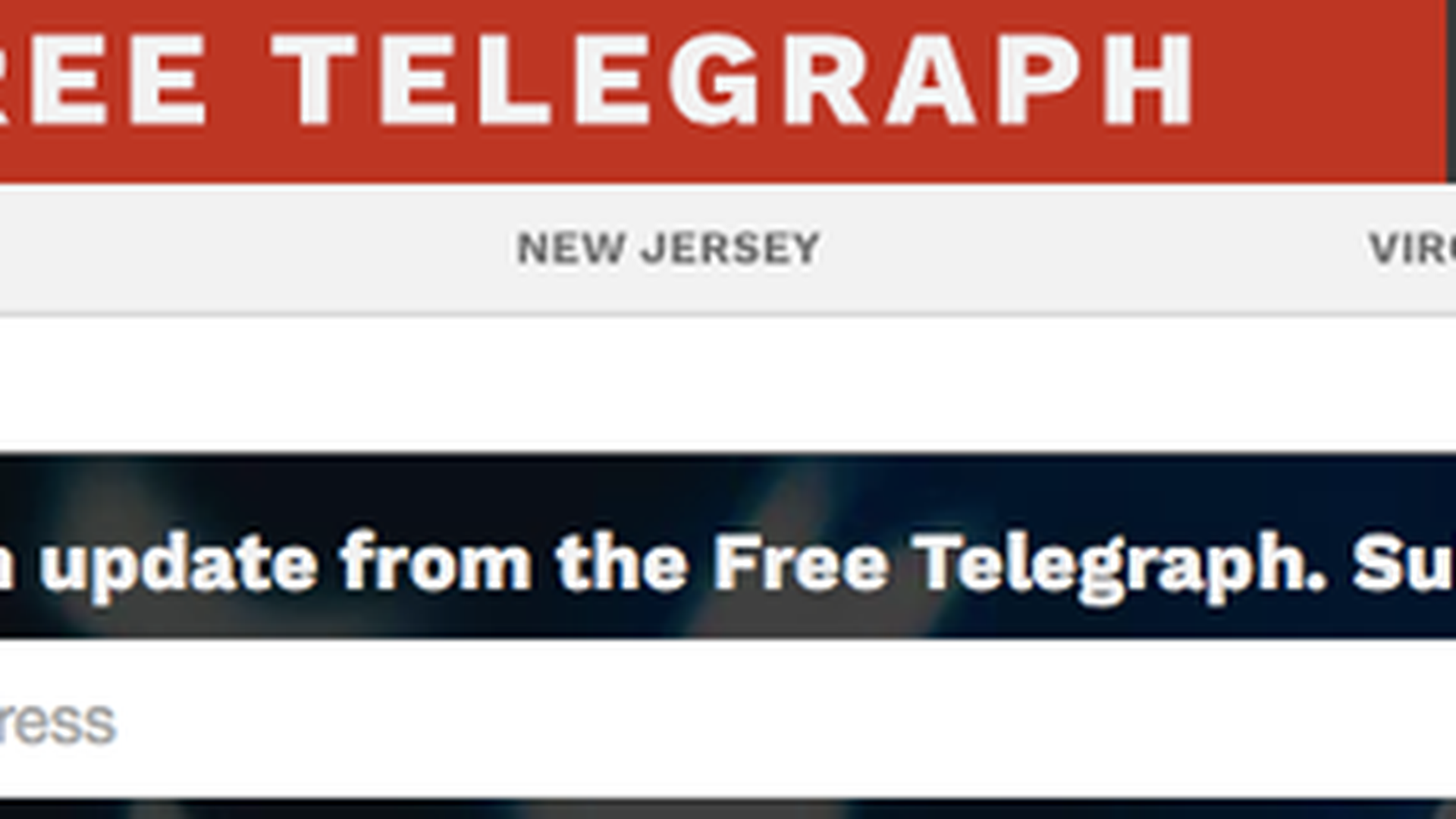 "The Republican Governors Association has quietly launched an online publication that looks like a media outlet and is branded as such on social media," AP's Bill Barrow reports:
"The Free Telegraph blares headlines about the virtues of GOP governors, while framing Democrats negatively. It asks readers to sign up for breaking news alerts."
"It launched in the summer bearing no acknowledgement that it was a product of an official party committee."
"Only after [AP] inquired about the site last week was a disclosure added to The Free Telegraph's pages identifying the publication's partisan source."
Why it matters: This is an awesome example of the reason that people rightly distrust so much of what they read online — and should trust even less.
Be smart: We used to make fun of a kid on our street who was so dopey that he didn't know milk came from a cow — he thought it came from the market.
News doesn't come from Facebook, folks. We need to be discerning readers, and do more to help the young people in our lives sort out all the pixels coming at them.
10. 1 fun thing: What Hillary would have said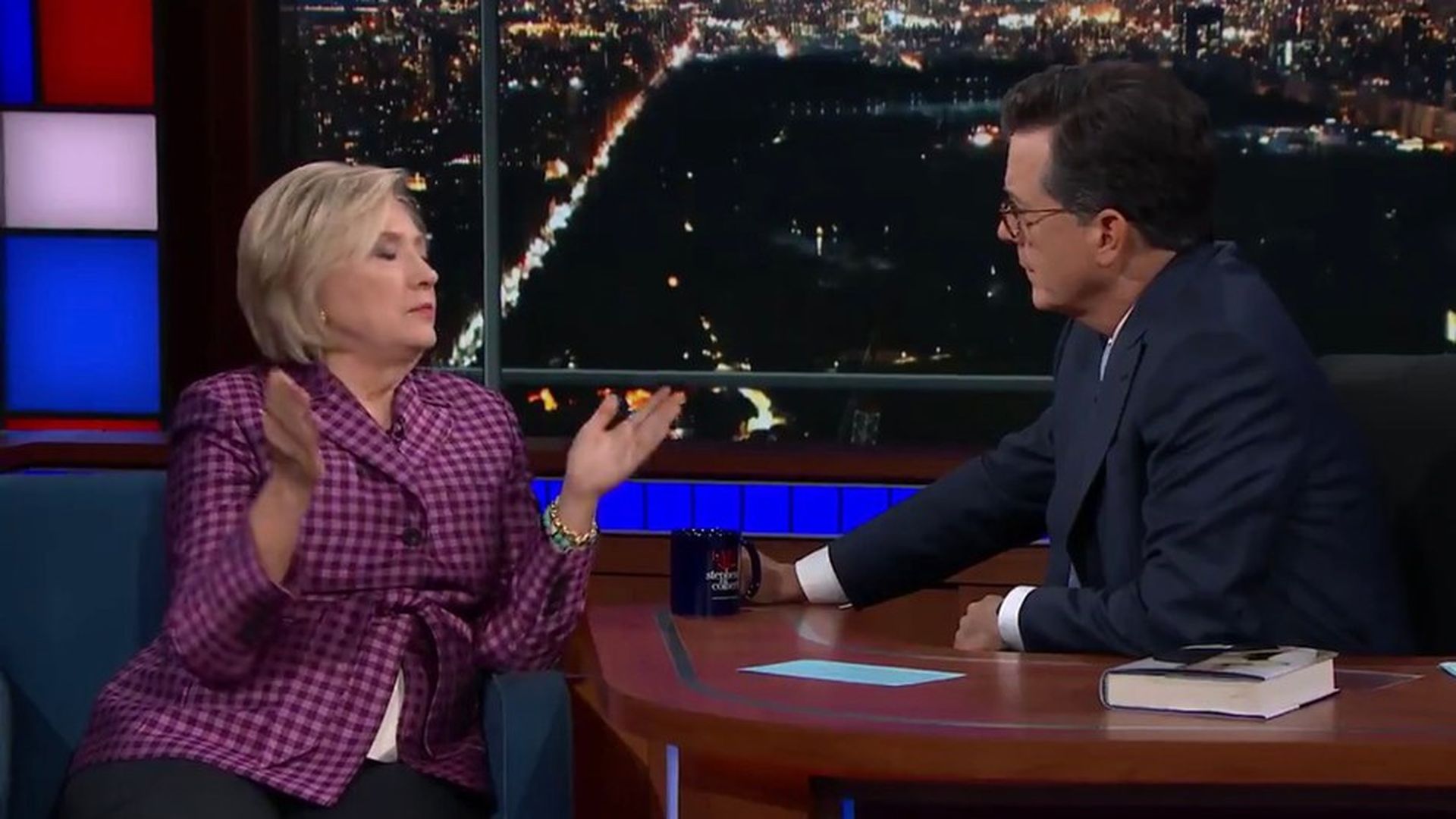 Hillary Clinton told Stephen Colbert she had seen "parts of" Trump's U.N. speech, and drew applause when she said she "thought it was very dark, dangerous — not the kind of message that the leader of the greatest nation in the world should be delivering."
Your first approach should always be diplomatic. What I'd hoped the president would have said was something along the lines of, you know: "We view this as dangerous to our allies, to the region and even to our country. We call on all nations to work with us to try to end the threat posed by Kim Jong-un."
And not call him "Rocket Man," the old Elton John song. But to say it clearly: "We will not tolerate any attacks on our friends or ourselves." But you should lead with diplomacy." (Applause)
P.S. "Kansas City's Alex Gordon [the pride of Lincoln (Neb.) Southeast High School, and a Husker, Justin Green points out] broke Major League Baseball's season home run record with 12 days to spare, hitting the 5,694th long ball of 2017."