Axios AM
May 03, 2020
✒️ Hello, Sunday! Today is World Press Freedom Day.
🗳️ Election Day is six months from today ... Nov. 3.
🇷🇺 Situational awareness: Russia's National Guard deploys helicopters, drones in Moscow to monitor compliance with lockdown measures during holidays this week. — AP
🔬 You're invited! Tomorrow at 12:30 p.m. ET, I'm hosting a 30-minute virtual event on the future of cures with health care business reporter Bob Herman. Register here. 
⚡ We'd added a guest: Dr. Peter Marks, director of the FDA's Center for Biologics Evaluation and Research.
1 big thing: Front-line coronavirus leaders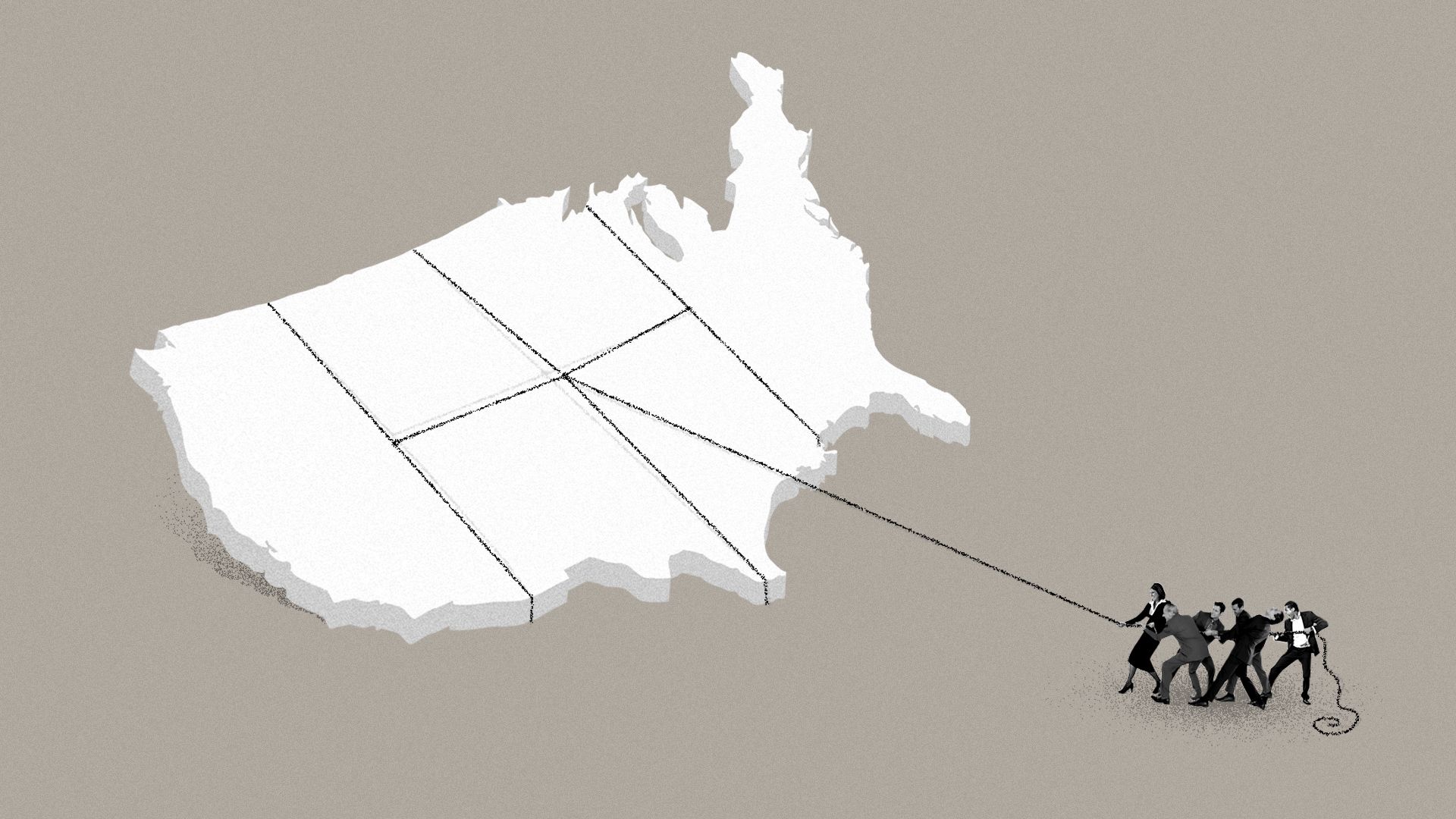 When the history of the coronavirus pandemic is written, it'll be remembered as a time when the strongest leadership had to come from the ground up, managing editor David Nather writes.
Here's a sampling, not an exhaustive list:
Governors:
Local officials:
2. Oracle of Omaha: "Huge debt" to Dr. Fauci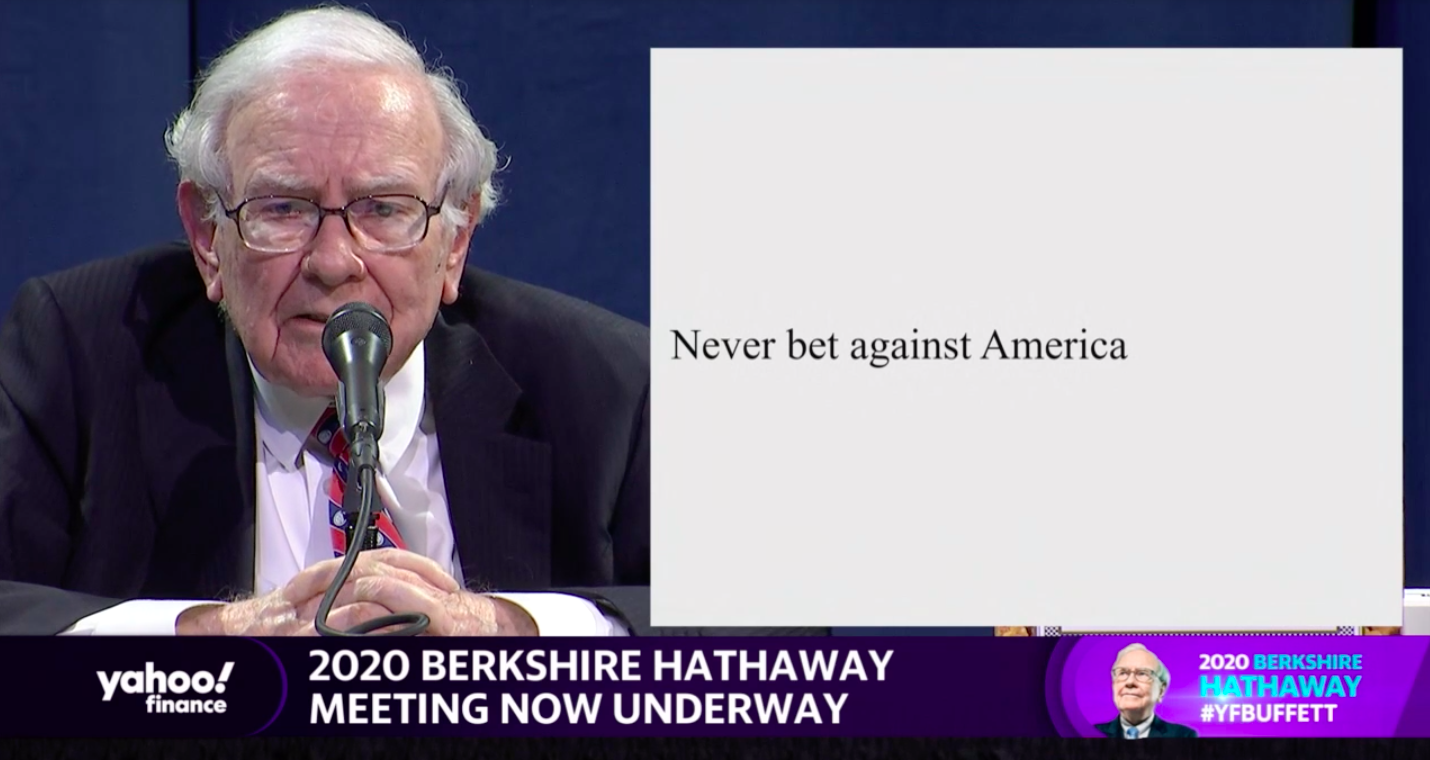 In a captivating tour de force that livestreamed for more than four hours yesterday evening, Warren Buffett opened his virtual Berkshire Hathaway annual meeting with a salute to Dr. Anthony Fauci:
Personally I feel extraordinarily good about being able to listen to Dr. Fauci, whom I'd never heard of a year ago. I think we're very, very fortunate as a country to have somebody [who] at 79 years of age, appears be able to work 24 hours a day and keep a good humor about him and communicate in a very, very straightforward manner about fairly complex subjects — and tell you when he knows something and when he doesn't know something. ...
I do feel I owe a huge debt of gratitude to Dr. Fauci for educating and informing me — actually along with my friend Bill Gates, too — and I know I get it from a straight-shooter when I get it from either one of those.
3. If you read only 1 thing: "The Greenwich Rebellion"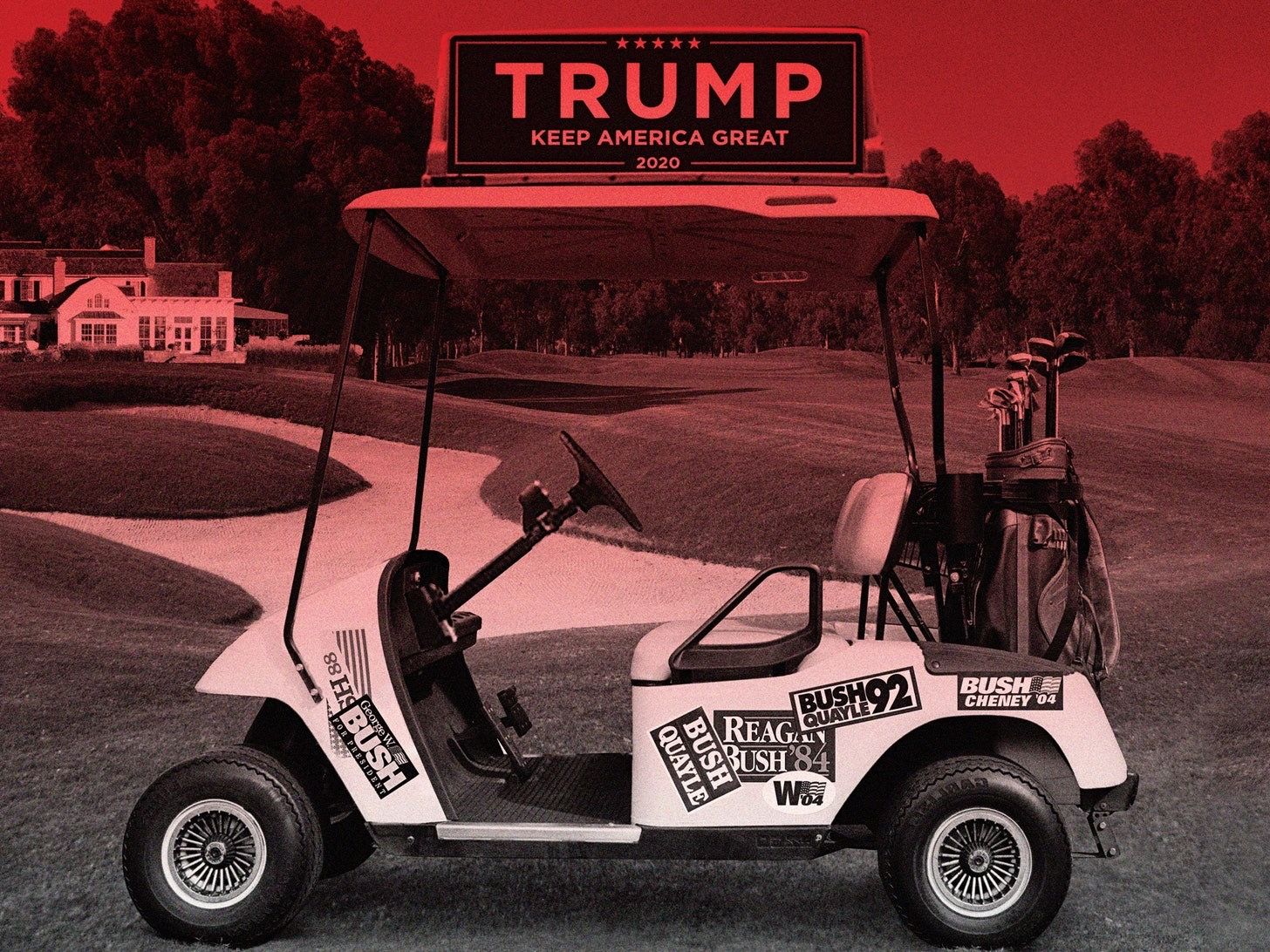 The New Yorker's Evan Osnos, one of our time's walk-off reporter/writers, vivisects his hometown for "How Greenwich Republicans Learned to Love Trump":
From afar, it is easy to misread the politics of the place: like much of America's coasts, the Gold Coast has swung left, culturally and politically, since the days of Prescott Bush. ... But that portrait — of liberal cosmopolitans appalled by Trump — obscures a potent element of American politics: the executive class of the Republican Party. ...
Understanding how he retains the overwhelming support of Republicans requires an accounting of not only what he promised Americans at the bottom but also what he provides Americans at the top.
The story of Trump's rise is often told as a hostile takeover. In truth, it is something closer to a joint venture, in which members of America's élite accepted the terms of Trumpism as the price of power. Long before anyone imagined that Trump might become President, a generation of unwitting patrons paved the way for him. From Greenwich and places like it, they launched a set of financial, philanthropic, and political projects that have changed American ideas about government, taxes, and the legitimacy of the liberal state.
Jim Campbell, an early out-of-the-closet Trump supporter in town, recalls thinking: "He says everything I think."
Treat yourself, including Evan's account of growing up on Round Hill Road, where so many neighbors were ensnared in financial shenanigans "that a local blogger nicknamed our street "Rogues Hill Road.'"
4. Pictures of America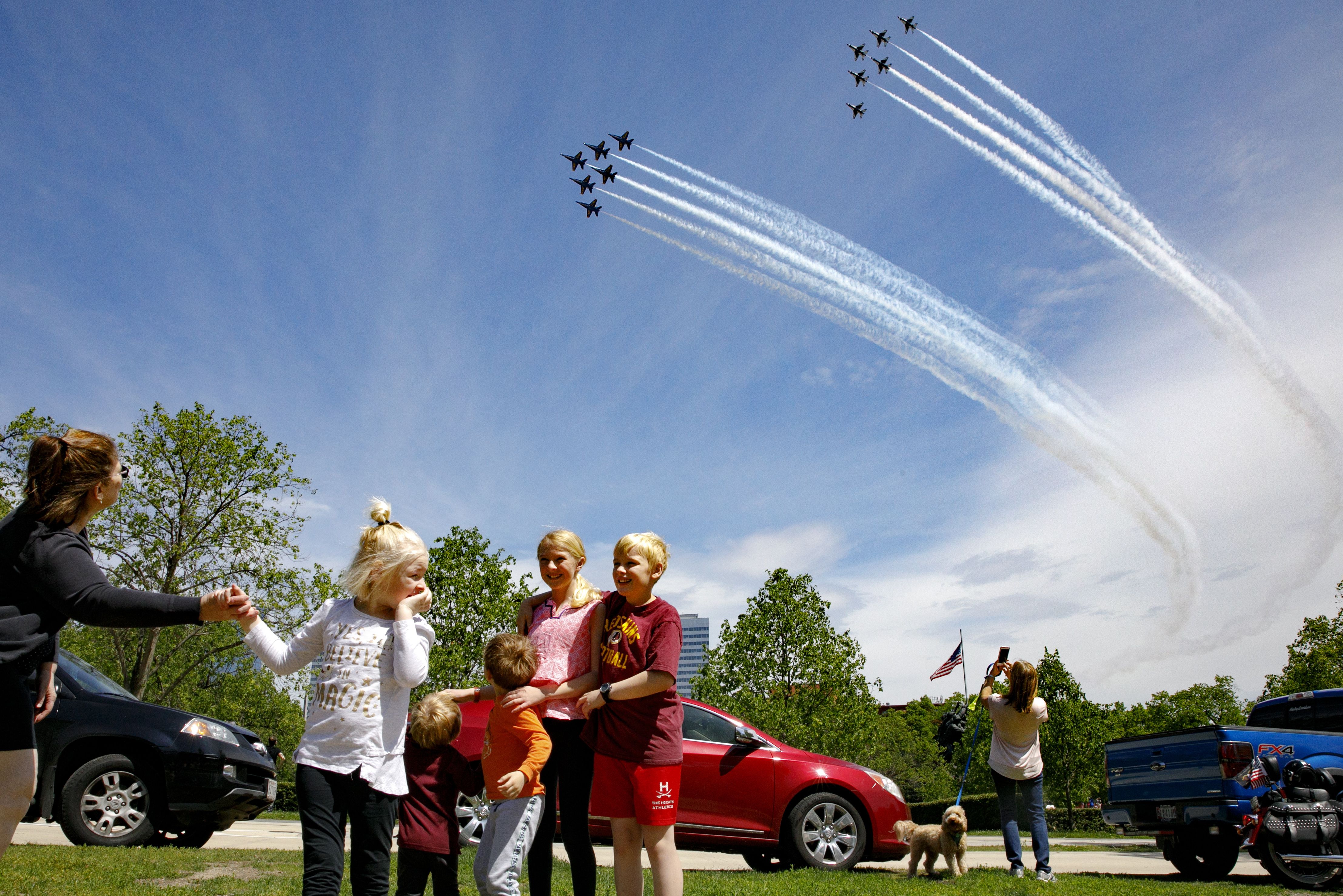 Above: The Ferry family of Chantilly, Va., were in the middle of taking a family photo near the Marine Corps War Memorial yesterday when they were surprised by a second flyover by the Navy Blue Angels and Air Force Thunderbirds, in a salute to frontline COVID-19 responders.
Below: Amateur middleweight boxer Kevens Desroches stays in shape through backyard sparring with trainer Matt Happaney in Mineola, Long Island.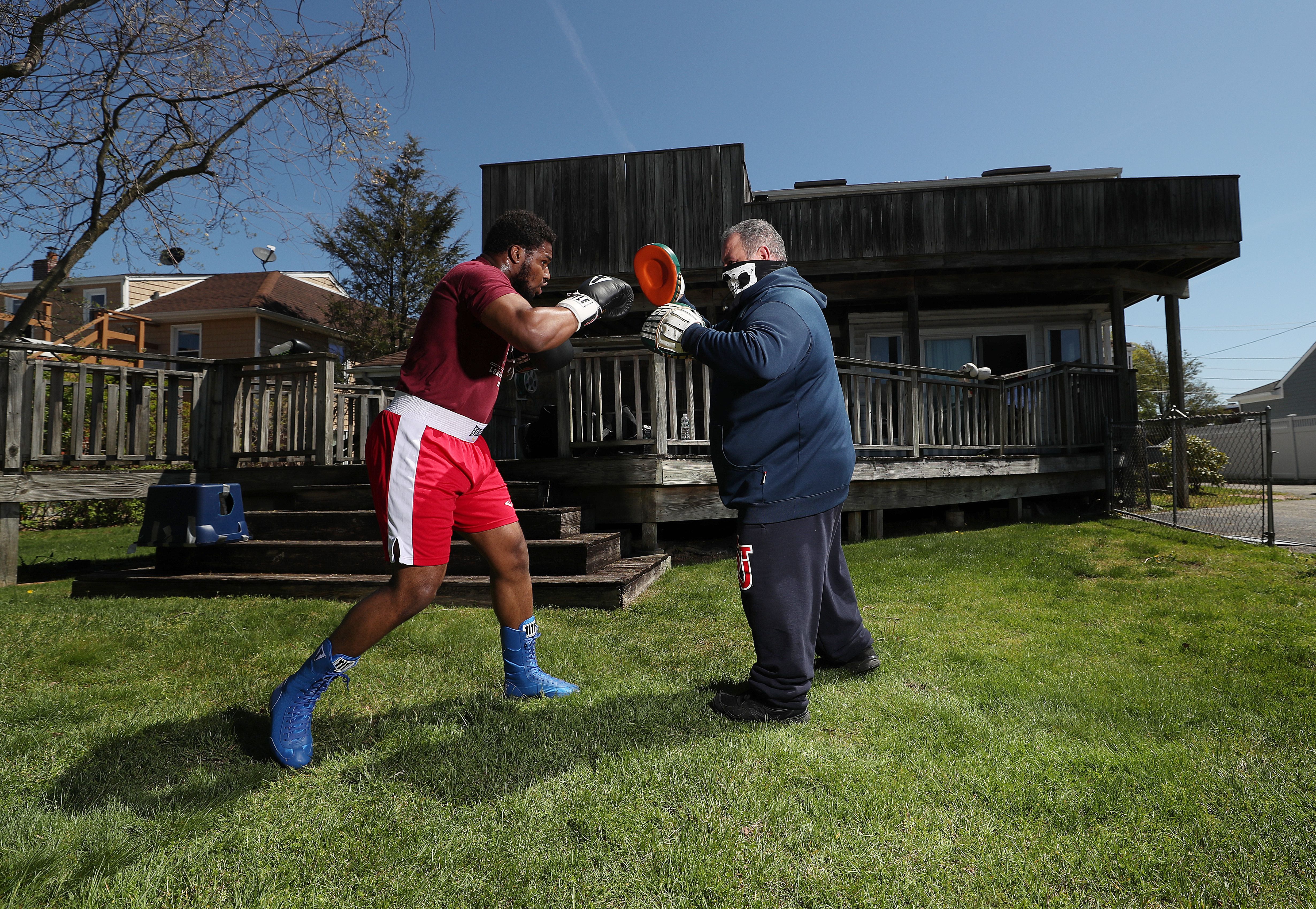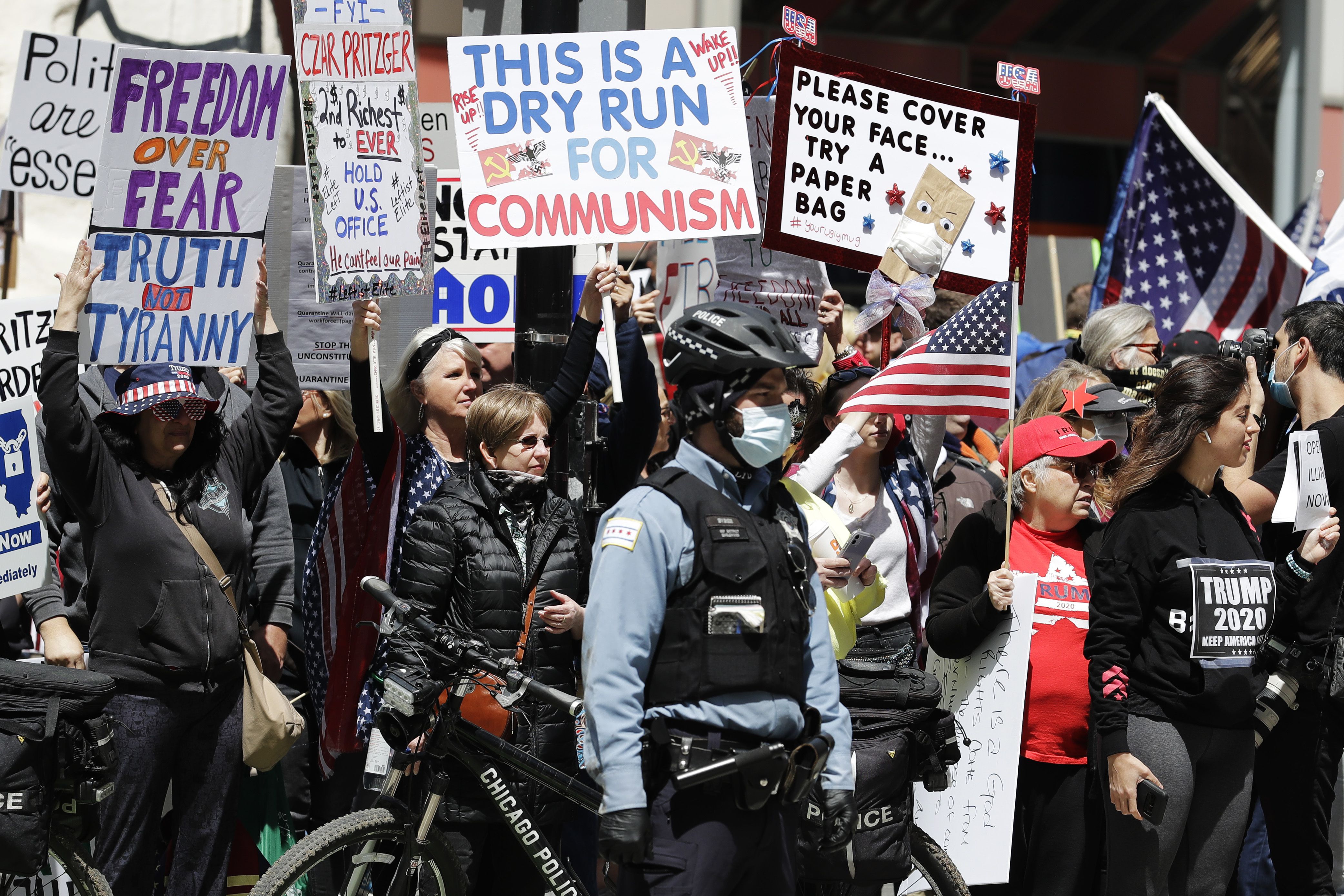 Above: Protesters rally against the Illinois stay-at-home order, outside the Thompson Center in downtown Chicago on Friday.
Below: Kilroy's Haircutters in Brunswick, Maine, where Gov. Janet Mills allowed barber shops and some other businesses to reopen Friday under strict guidelines.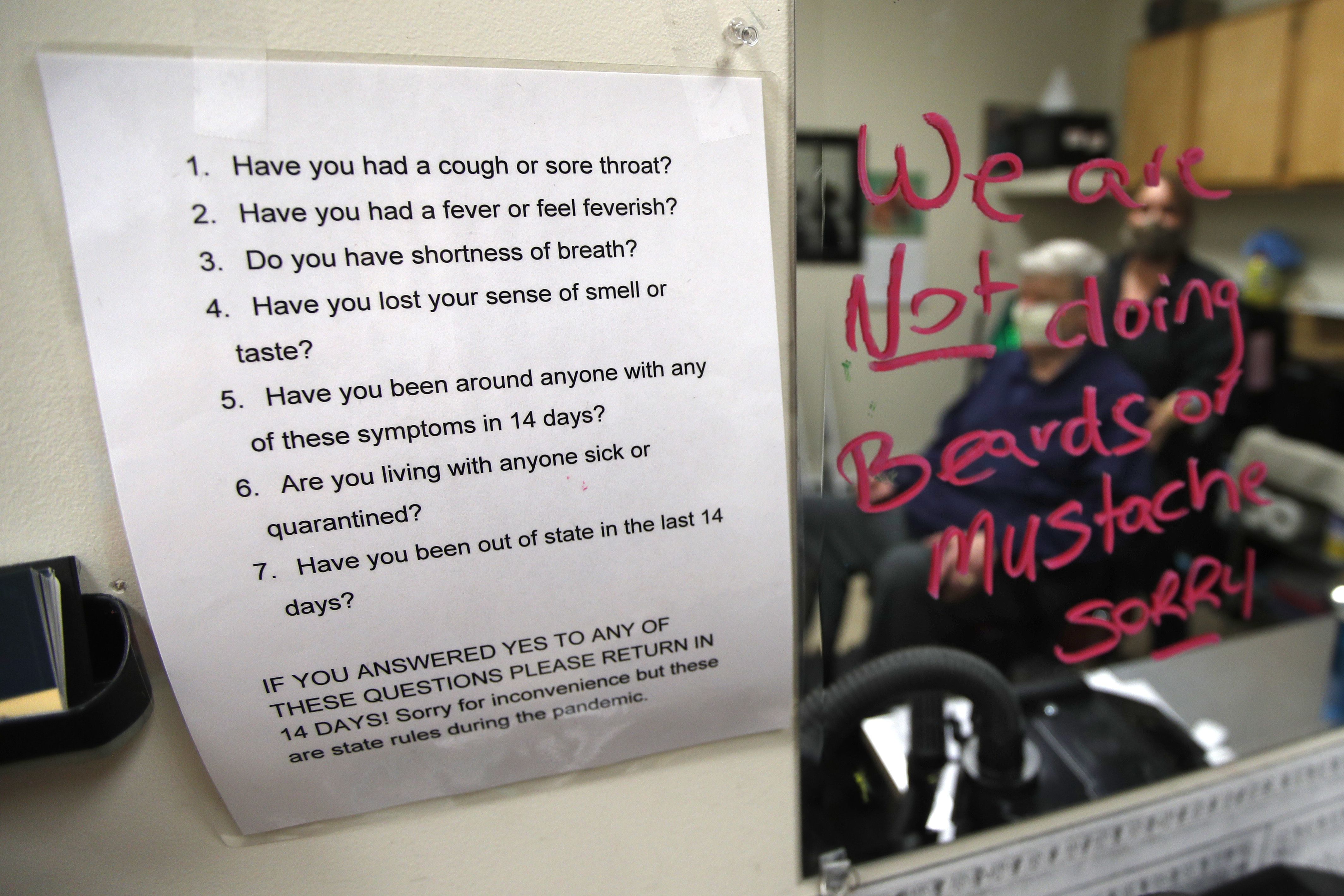 5. 📊 Poll question of the day
Recent RNC polling showed that voters in ... 17 swing states — a list that includes Arizona, Florida and North Carolina — see the two men as essentially equal when it comes to being "weak or confused," 45 percent saw Biden as more weak and confused, while 44 percent saw Trump that way.
— "Trump campaign divided over how to attack Biden amid worries over troubling poll numbers," by the Washington Post's Michael Scherer and Josh Dawsey
6. 🗞️ Time capsule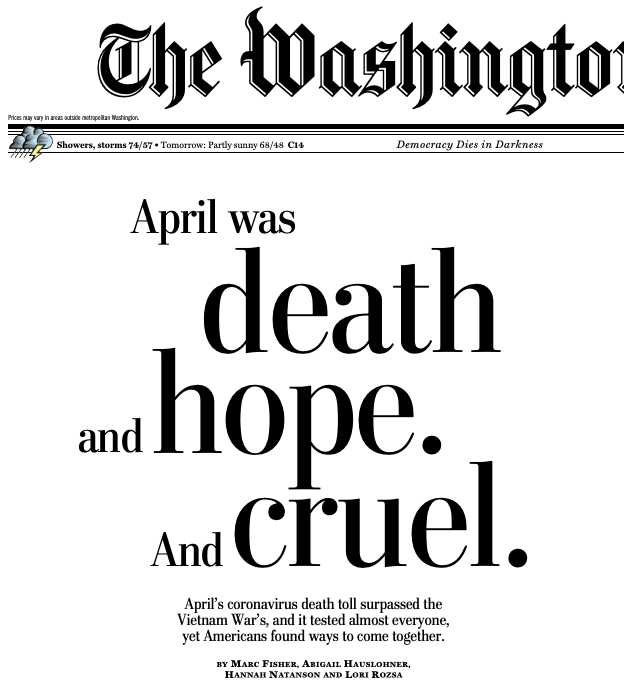 "The new virus is a swift executioner," the Washington Post reports in this snapshot of our times, which takes up three inside pages of the paper.
In the war in Vietnam, 58,209 Americans were killed between 1960 and 1975. In the battle against the novel coronavirus, 58,760 Americans died in April alone. Both crises leeched into existing fissures, exacerbating political and social divisions. But the war analogy goes only so far; in this conflict, we have no big guns, no ready defense. All we can do at this stage is hide and try to manage the damage.
7. Inside Trump's Lincoln Memorial moment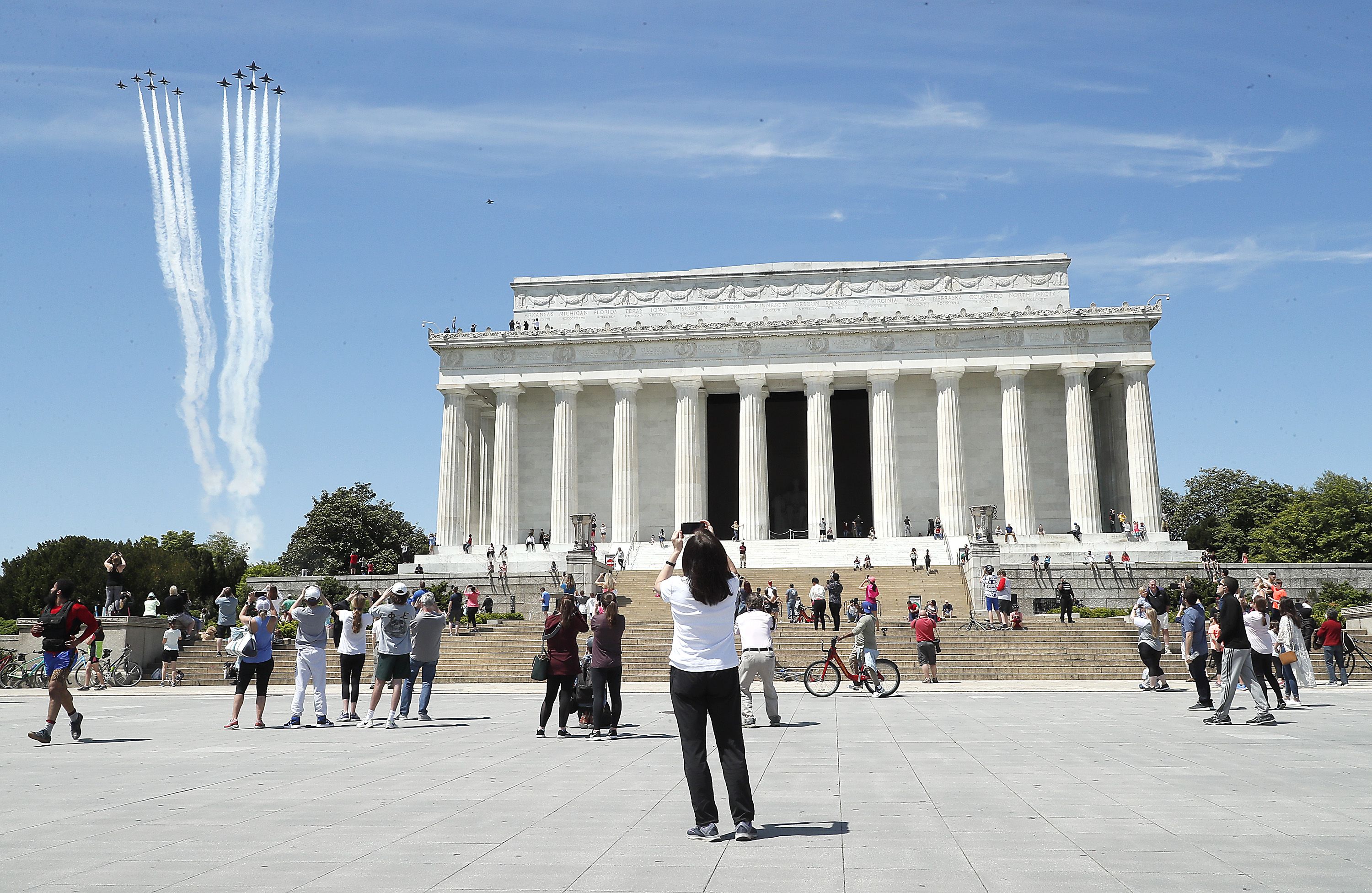 Fox News Channel gives Axios readers this look behind tonight's virtual town hall with President Trump, "America Together: Returning to Work" — 7 to 9 p.m. ET from the Lincoln Memorial, with Trump answering viewer questions from 7:15 to 8:45:
President Trump and the co-moderators, Martha MacCallum and Bret Baier, will be socially distanced, with a virtual audience.
Fox says 1,000+ viewer submissions have come in by email, Facebook, Instagram, and Twitter.
Martha MacCallum, anchor and executive editor of "The Story" (7 p.m. weeknights) said:
"We will hear from Americans across the country, who want answers about their businesses, their jobs, and what the future holds. From medicine and vaccines, to our relationship with China, COVID-19 has forced big questions."
Bret Baier — chief political anchor, and anchor and executive editor of "Special Report" (6 p.m. weeknights) — said:
"Our last town hall with President Trump [in March] in Scranton, Pa., had solid audience questions ... If we can again cut through the noise and get to substance with tough but fair questions, we will be successful again."
8. 1 smile to go: Meals on wings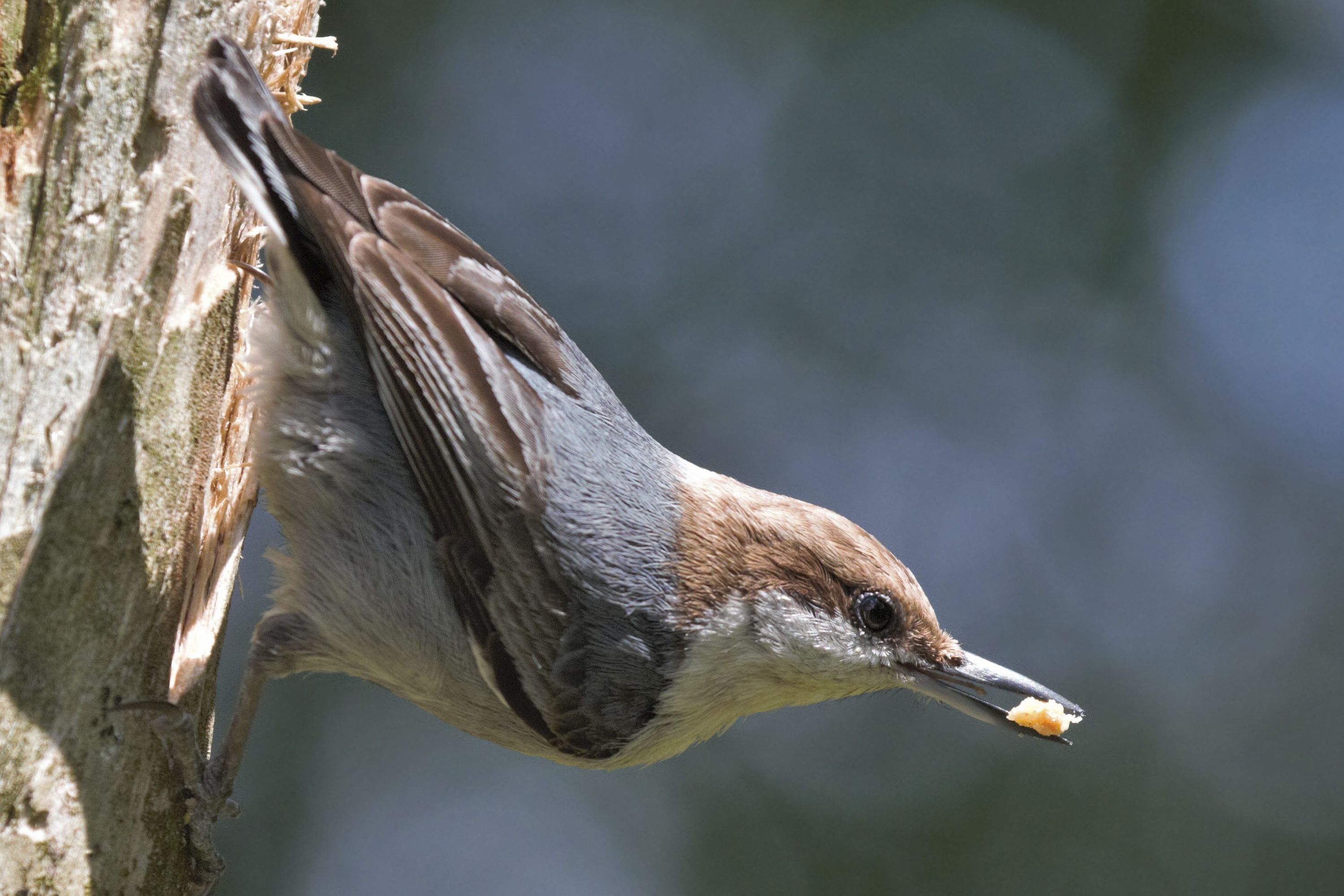 This brown-headed nuthatch bird was spotted last Sunday by Michael Kopack Jr., who put up a birdhouse at his home in Angier, N.C., and is watching a pair of bluebirds hatch their eggs.
"The birds don't know that there's a pandemic," Kopack told AP's Gillian Flaccus. "They're migrating, building nests and laying eggs, just like they always have."
"It kind of takes us back to a magical time six or eight weeks ago when there was no pandemic," he said. "It lets me decompress and get away from everything that's going on in the world, at least for a little while."
Go deeper: Bird-watching soars as Americans head outdoors.
📱 Thanks for reading Axios AM. Please invite your friends to sign up here.