https://www.axios.com/newsletters/axios-am-ad2725cc-489c-4cd7-ac75-96c5ef603d35.html?chunk=0#story0
1 big thing: "Strategic patience is over"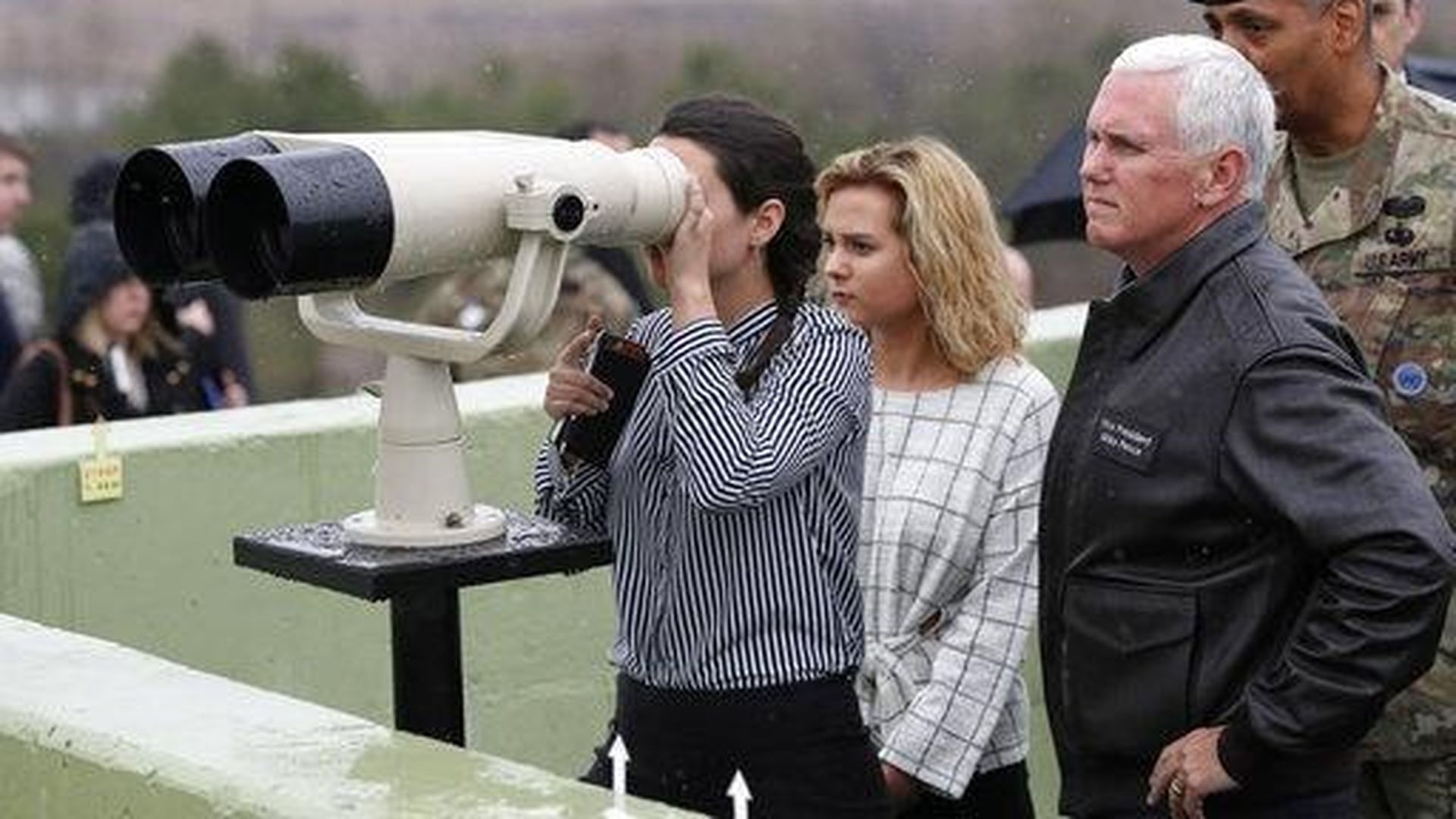 After a reprieve over the weekend with the bellyflop of the North Korean missile test, experts warn that tensions with the U.S. will "remain dangerously high for the indefinite future."
The New York Times captures it most memorably in a front-page analysis by David Sanger and Bill Broad: "What is playing out, said Robert Litwak of the Woodrow Wilson International Center for Scholars, ... is 'the Cuban missile crisis in slow motion.'
"But the slow-motion part appears to be speeding up."
We can hear that unmistakably in remarks today by Vice President Pence inside the Demilitarized Zone between North and South Korea — at Freedom House, a few meters from the military demarcation line, which he described as a "frontier of freedom," per a pool report by AFP's Andrew Beatty:
"Asked his message to the people of North Korea, VPOTUS said: ... 'the era of strategic patience is over.'"
Why it matters: Just 12 days from Trump's 100-day mark, his biggest test (including of his vow to both talk and act tough) is unfolding in real time — with massive global consequences.
https://www.axios.com/newsletters/axios-am-ad2725cc-489c-4cd7-ac75-96c5ef603d35.html?chunk=1#story1
2. "Partisanship triumphs over reality"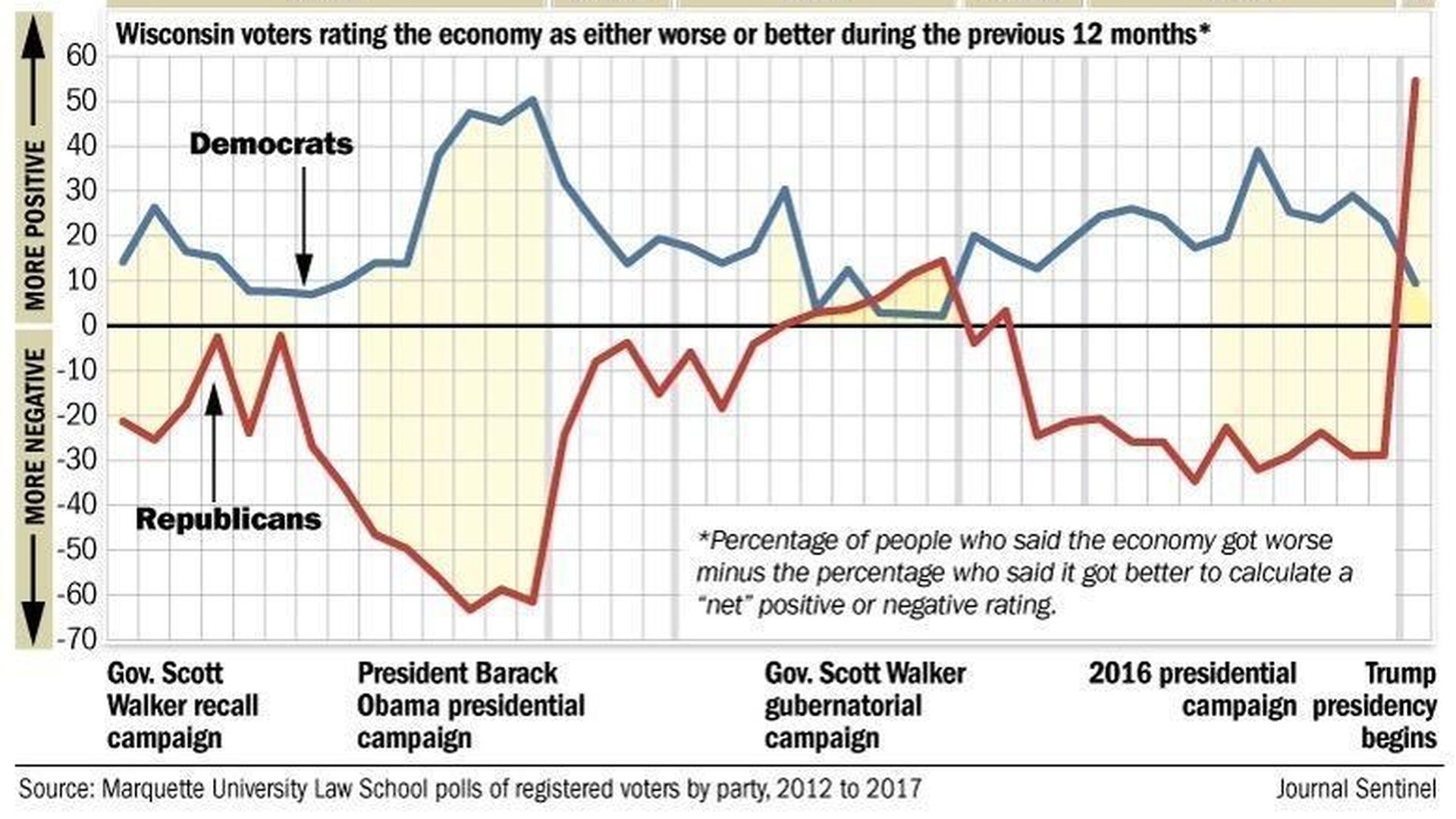 https://www.axios.com/newsletters/axios-am-ad2725cc-489c-4cd7-ac75-96c5ef603d35.html?chunk=2#story2
3. Top talker: "a ghoulishly perfect week"
Jim Rutenberg "Mediator" column from Moscow, on N.Y. Times Business Day front, "In Russia, a Pliant Press That Trump So Craves":
I wanted to better understand President Trump's America ... So I went to Russia.
It was like a visit to the land of Alternative Truth Yet to Come. But it also gave me a glimpse into how our new national look is playing in the global information war, where competing narratives are clashing along a sliding scale of fact and fiction.
https://www.axios.com/newsletters/axios-am-ad2725cc-489c-4cd7-ac75-96c5ef603d35.html?chunk=3#story3
4. I see you, 2018!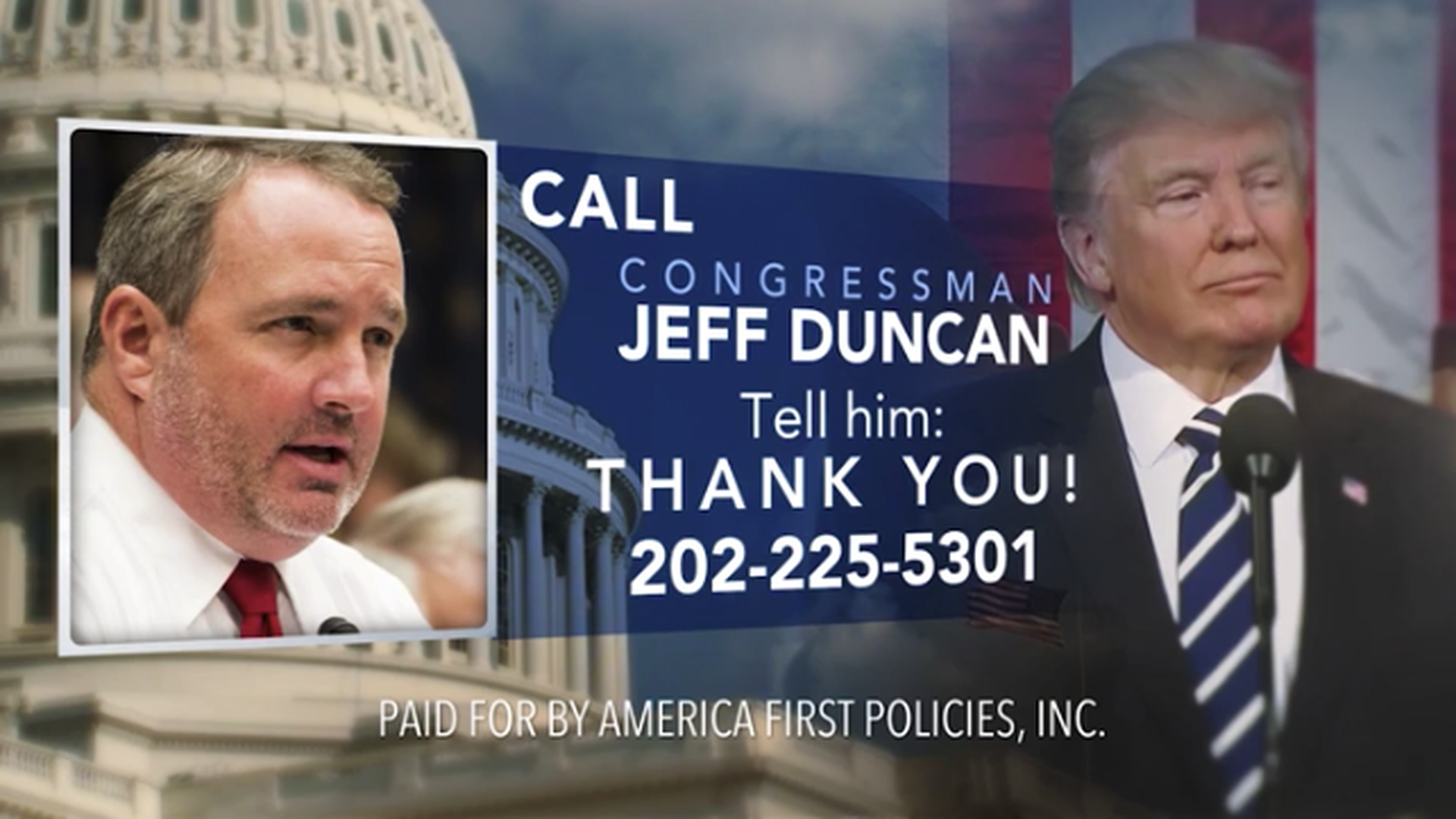 https://www.axios.com/newsletters/axios-am-ad2725cc-489c-4cd7-ac75-96c5ef603d35.html?chunk=4#story4
5. Hot shot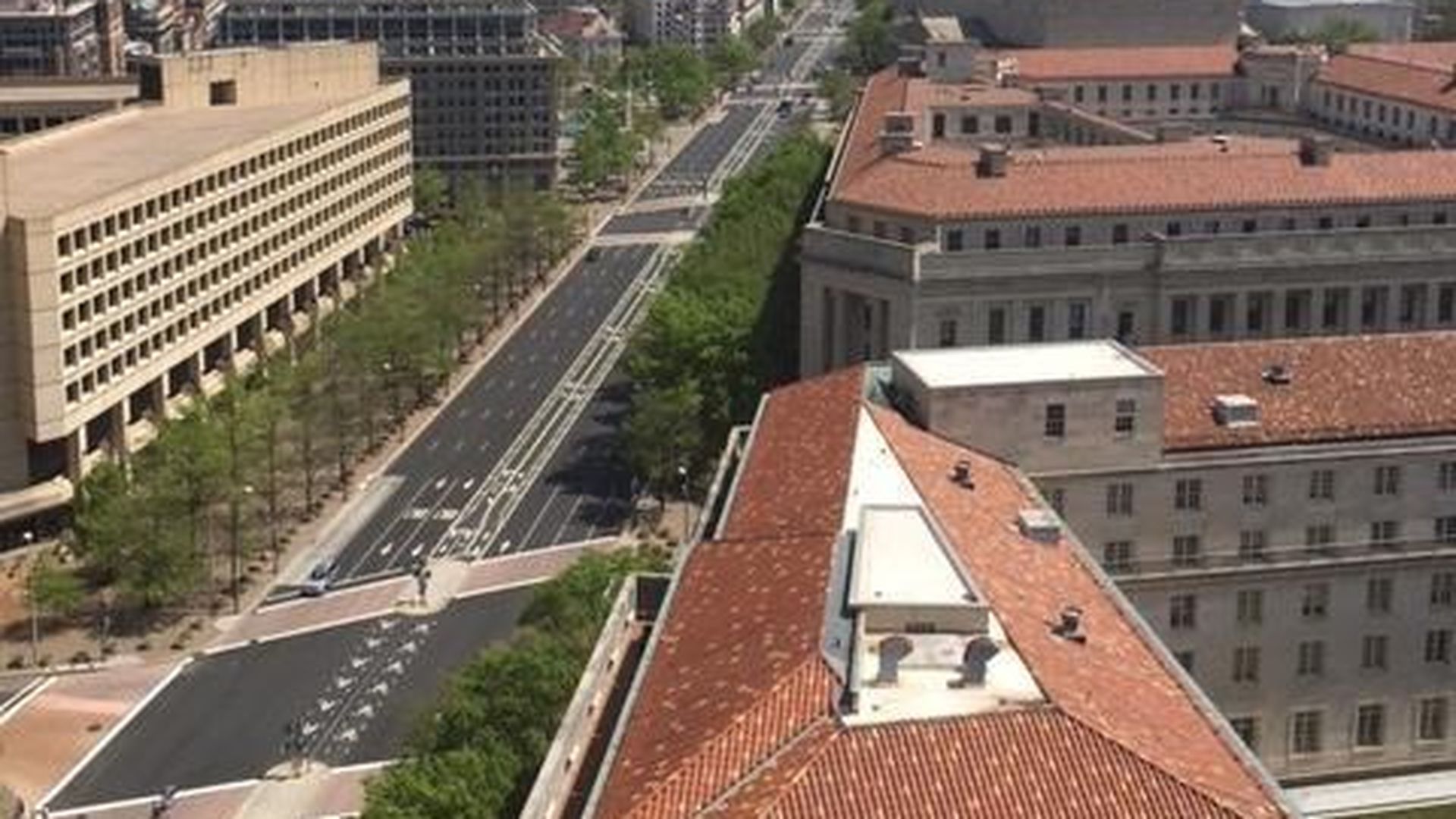 David Smith, Washington correspondent of The Guardian, took this Easter afternoon shot up Pennsylvania Avenue from the clock tower of the Old Post Office Tower in the Trump International Hotel. He gives Axios AM readers the story behind the frame:
You go in at the back of the hotel, next to the Starbucks. There's a long corridor with blue walls and a small exhibition with photos about the history of Washington ... Then you walk into an elevator that shoots up and gives you a view (through shaded glass) over that central atrium in the hotel ...
You then walk to another elevator: there's a cord that seems to anticipate crowds standing in line, but only a handful of people were around today. That elevator takes you to the top of the tower where, instead of glass, you stand behind thin bars ... and have a great 360-degree view of the city. There are signs indicating certain landmarks including the White House — it's visible but quite obscured.
https://www.axios.com/newsletters/axios-am-ad2725cc-489c-4cd7-ac75-96c5ef603d35.html?chunk=5#story5
6. 2 elections with huge ripple effects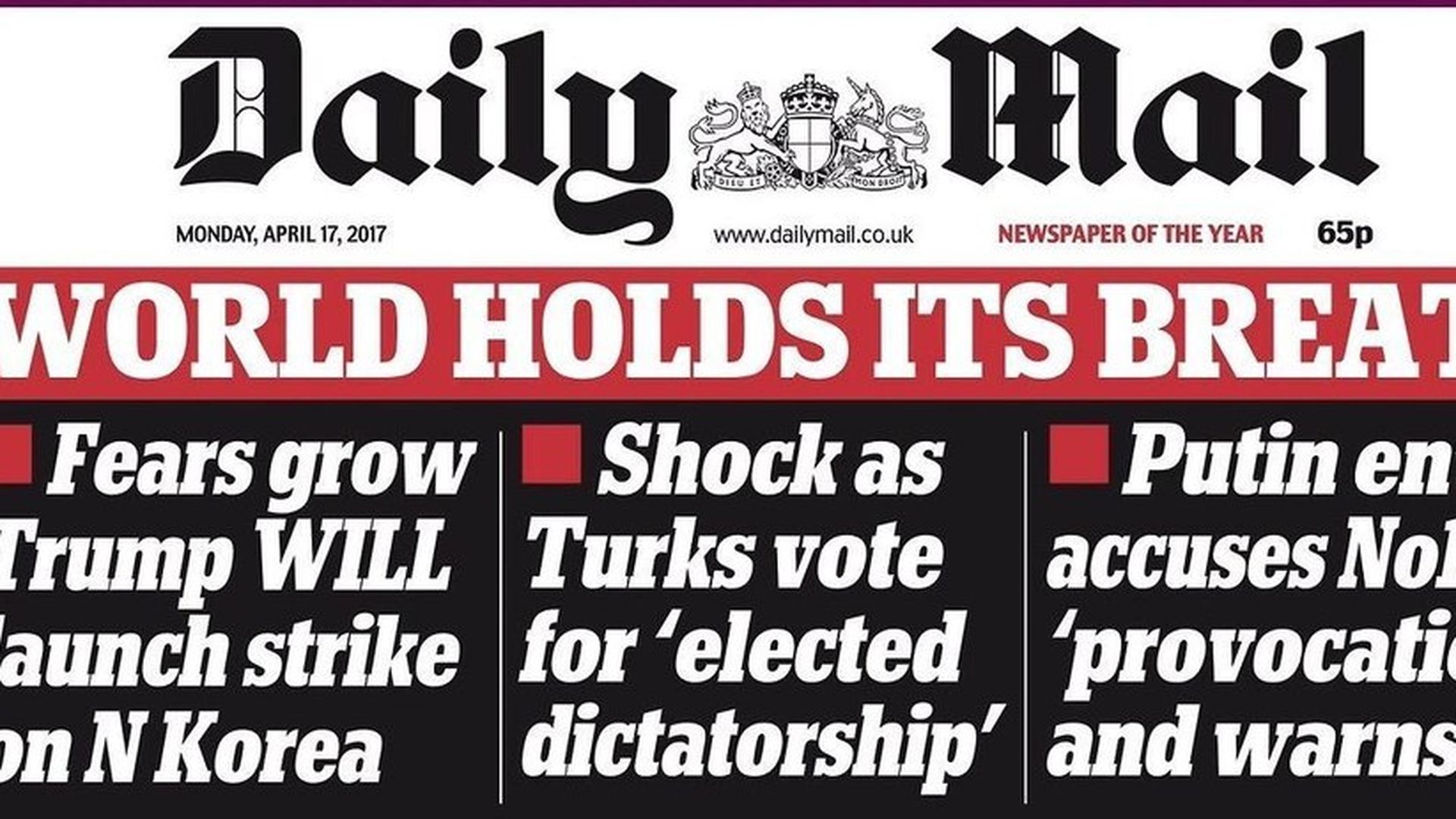 Vast new powers for the president of Turkey ... BBC: "President Recep Tayyip Erdogan's push for an executive presidency succeeded with just over 51% of the vote. The win was met with both celebrations and protests across Turkey."
Also worthy of your attention ... Six days from Round 1 of the French election, markets are leary of two separate trends:
Nationalism's big test ... Financial Times second front, "Poll fluctuations complicate euro investors' push to guard against Le Pen win," by Roger Blitz in London: " Volatility in the euro has soared to the highest levels since the weeks before the Brexit vote as investors grapple with the risk of a populist triumph in France's presidential election."
A communist rises ... WashPost front page, "Against the odds, a communist soars in French election polls," by James McAule in Lille, France: Jean-Luc Mélenchon — "an outspoken 65-year-old leftist who often appears on the campaign trail via hologram and who has pitched his proposal to nationalize France's biggest banks and renegotiate its relationship with the European Union via free Internet games and YouTube videos — is now soaring in the polls. ... [H]is meteoric and unexpected rise is already sending jitters through financial markets and shock waves through an increasingly anxious electorate."
https://www.axios.com/newsletters/axios-am-ad2725cc-489c-4cd7-ac75-96c5ef603d35.html?chunk=6#story6
7. Futurecast: Facebook amps up AR
On the eve of tomorrow's kickoff of the massive, two-day F8 Facebook Developer Conference in San Jose, a couple of worthy lookaheads ...
The big dream ... "How augmented reality may change how you use Facebook sooner than you think," by USA Today's Jessica Guynn: "Here's the future according to Facebook [still years away]: The smartphone camera is on the verge of taking augmented-reality mainstream, changing how people use Facebook, how they interact with each other and how they interact with the world."
What's coming: "We will wander ... two worlds — the physical and the digital — wearing glasses or contact lenses that can summon information about the street we are walking on or the restaurant we are eating in."
Zuck's makeover ... "Selling Mark Zuckerberg: The Facebook CEO's likability blitz isn't a presidential campaign, it's a focus group for his 1.8 billion constituents — and part of a high stakes campaign to win your likes," by BuzzFeed's Natasha Tiku:
Zuckerberg, now a 32-year-old dad with one daughter and another on the way, has evolved considerably ... He hired speechwriters. He spruced up his uniform from Valley schlub to monochrome minimalism. He took on a series of annual self-improvement challenges ...
"[H]e has improved his EQ," [Recode's Kara Swisher said.] (EQ is shorthand for emotional quotient, a popular rubric for measuring interpersonal skills in Silicon Valley.) "He was super, super awkward to talk to and he knew that he had a problem and he was fully aware. He cared about changing it."
As has happened before, before Facebook's good news competes with tragedy among users ... Cleveland Plain Dealer: "Even in a city wracked by crime, the calls that came in to police Sunday afternoon seemed unbelievable. Numerous people were watching a man [Steve Stephens, 37, of Cleveland,] ranting about his miserable life live on Facebook and threatening to kill someone at random. And then he did just that."
What happened: "His victim — Robert Godwin Jr., a 74-year-old father of nine and grandfather of 14 — just happened to walk into the path of deranged gunman about 2 p.m. on East 93rd Street ... Stephens filmed the shooting and posted it to his Facebook page." Stephens was still at large this morning.
https://www.axios.com/newsletters/axios-am-ad2725cc-489c-4cd7-ac75-96c5ef603d35.html?chunk=7#story7
8. Axios' first column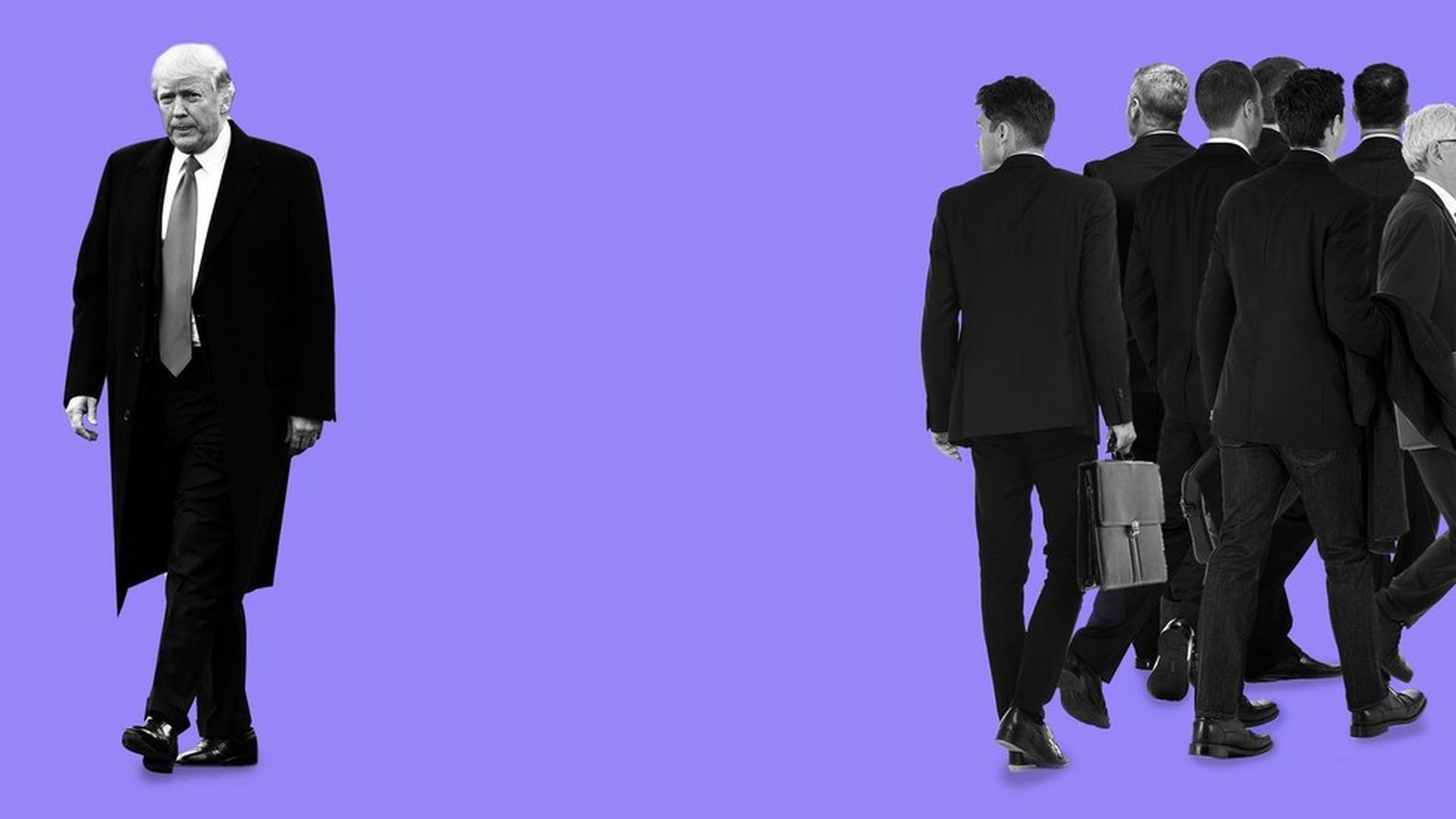 Amy Harder, who joined us from The Wall Street Journal to cover energy, today debuts "Harder Line" ...
"Corporate America isn't backing Trump on climate": "[C]orporate backing of global action on climate change is helping push President Trump away from his campaign promise to pull out of the climate deal."
See Amy's column first in Ben Geman's great energy newsletter, Generate. Sign up here. (Don't miss the bus! Use the same link to get your friends and colleagues to sign up for AM.)
https://www.axios.com/newsletters/axios-am-ad2725cc-489c-4cd7-ac75-96c5ef603d35.html?chunk=8#story8
9. Lessons of United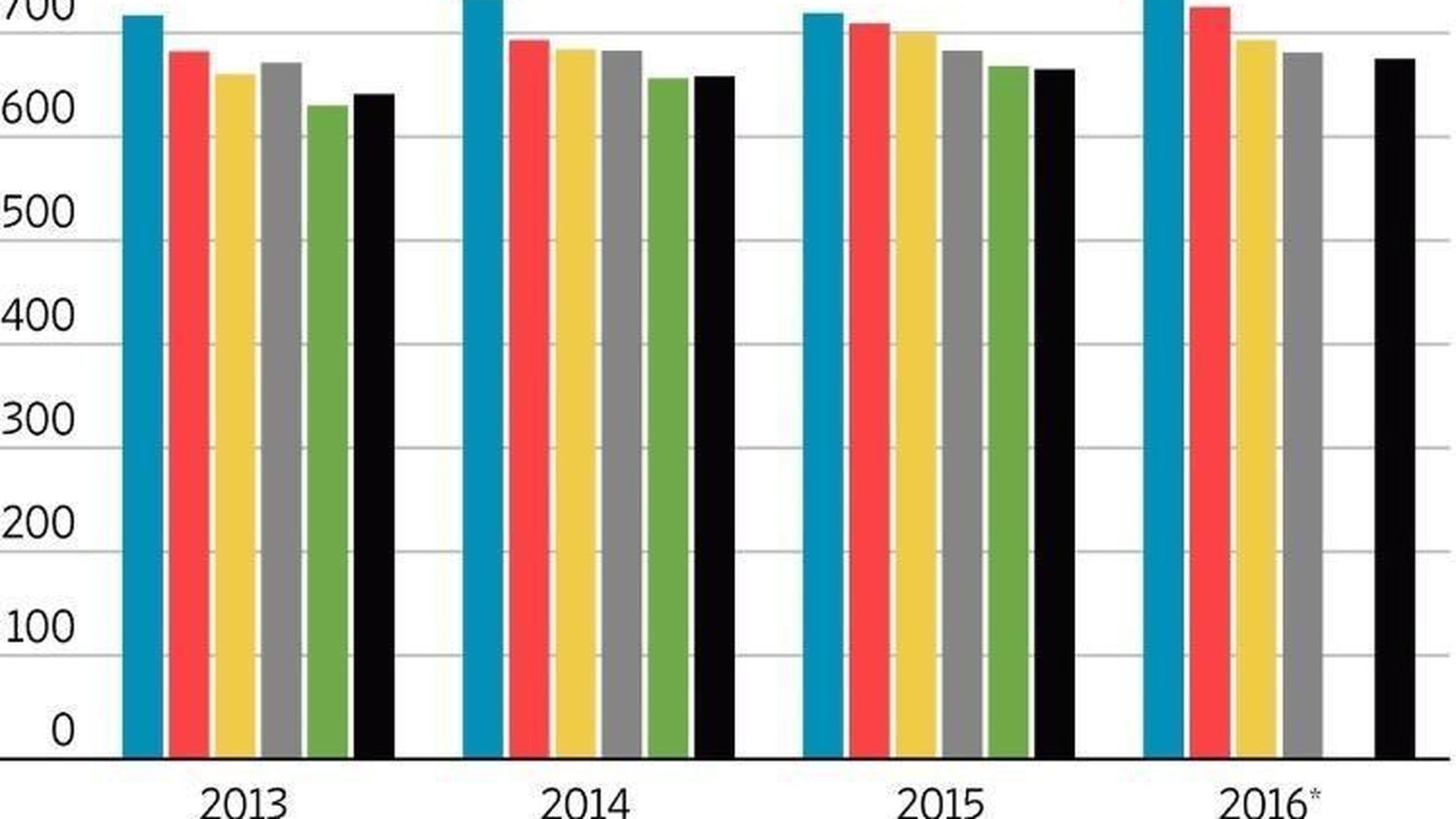 A lesson for your organization ... Wall Street Journal second front, "Behind United's Fateful Move to Call Police," by Susan Carey:
The recipe for the disastrous decision ... was years in the making.
Deviating from the rules is frowned upon; employees can face termination for a foul-up ... [T]his has helped create a rules-based culture where its 85,000 employees are reluctant to make choices not in the "book" ...
[On "Good Morning America," CEO Oscar Munoz] said United hasn't provided its front-line managers and supervisors with "the proper tools, policies, procedures that allow them to use their common sense."
https://www.axios.com/newsletters/axios-am-ad2725cc-489c-4cd7-ac75-96c5ef603d35.html?chunk=9#story9
10. 1 fun thing