https://www.axios.com/newsletters/axios-am-a93462b7-4d62-4ab6-9d46-9725e0975aba.html?chunk=0#story0
1 big thing: Both parties to move on Facebook
Members of Congress in both parties have begun exploring possible legislative action against Facebook and other tech giants, setting the stage for a potentially massive battle in the midterm election year of 2018.
Why it matters: Following revelations about fake news and paid Russian propaganda on Facebook during last year's election, big tech has become a big target, with politicians across the spectrum declaring on Sunday shows that more scrutiny, transparency and restrictions are needed.
The shift against the companies has been sudden, and is one of the biggest stories of the year.
Republicans are likely to emphasize the national security and homeland security aspects to reining in the tech companies.
A GOP lobbyist who's involved in the conversations says that the populist right in Trump's base views tech companies as political combatants that favor open border and liberal social policies.
Republican lawmakers, seeing a massive opening on a sexy issue, have begun consulting experts who have studied ways Congress could act.
On the Democratic side, Sen. Mark Warner of Virginia is actively working to develop legislation to improve disclosure for online political ads.
Warner's office tells me: "As more and more dollars are being spent on these digital platforms, we may need legislation to require more disclosure about political ads running on social media, the way we do for television ads. ... [T]he ads you may see on Facebook are not public and are targeted narrowly to users based on different variables — making disclosure and transparency even more vital."
But a well-wired Democrat warns: "It's not at all clear that people are ready to turn the big tech firms into villains — for national security issues, monopolization, commodifying our info or privacy. People like iPhones and Google and Amazon. They don't make for as clear cut a target as pharma or Wall Street."
Be smart: Facebook sees the abrupt turn in elite opinion about Big Tech, and is unlikely to oppose all legislation. Instead, Facebook will describe the proposals as a "roadmap" or "framework," and try to steer them in the industry's direction rather than try to kill them, which would be unpopular in this environment.
https://www.axios.com/newsletters/axios-am-a93462b7-4d62-4ab6-9d46-9725e0975aba.html?chunk=1#story1
2. A loud lunch that's an instant legend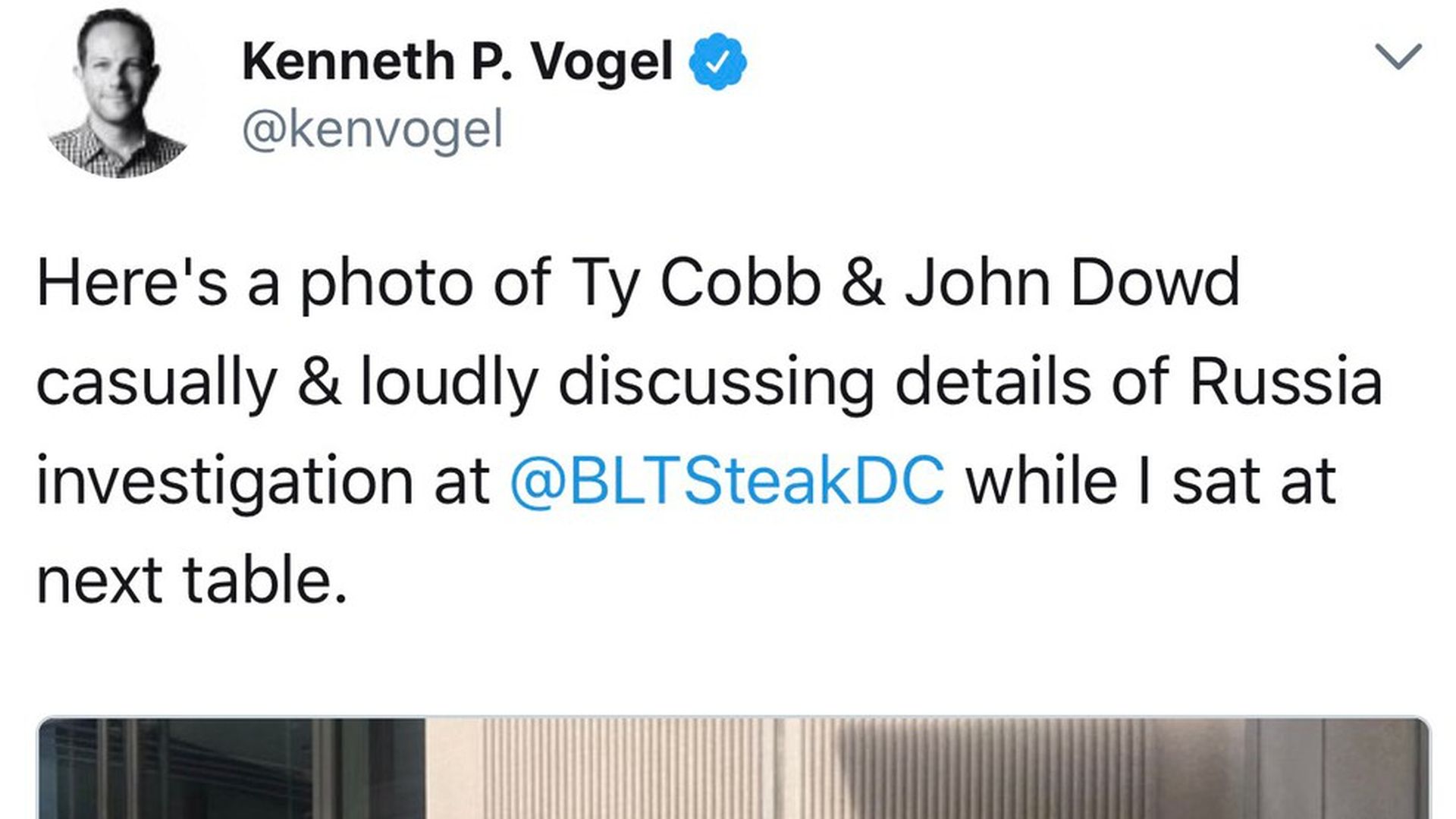 "President Trump's legal team is wrestling with how much to cooperate with the special counsel, ... an internal debate that led to an angry confrontation last week between two White House lawyers," the N.Y. Times' Peter Baker and Ken Vogel write at the top of column 1:
"At the heart of the clash is an issue that has challenged multiple presidents: ... how to handle the demands of investigators without surrendering the institutional prerogatives of the office of the presidency."
"Trump's aides said they were scrambling to respond to [Mueller] requests to avoid a subpoena that might make it look as if the White House was not cooperating."
"The debate ... has pitted Donald F. McGahn II, the White House counsel, against Ty Cobb, a lawyer brought in to manage the response to the investigation."
"Cobb was overheard by [Vogel] discussing the dispute during a lunchtime conversation with John Dowd, ... [Trump's] his personal lawyer ... at ... BLT Steak, not far from the White House and a few doors down from The Times's office."
"Cobb was heard talking about a White House lawyer he deemed 'a McGahn spy' and saying Mr. McGahn had 'a couple documents locked in a safe' that he seemed to suggest he wanted access to. He also mentioned a colleague whom he blamed for 'some of these earlier leaks,' and who he said 'tried to push Jared out.'"
https://www.axios.com/newsletters/axios-am-a93462b7-4d62-4ab6-9d46-9725e0975aba.html?chunk=2#story2
3. The only story that matters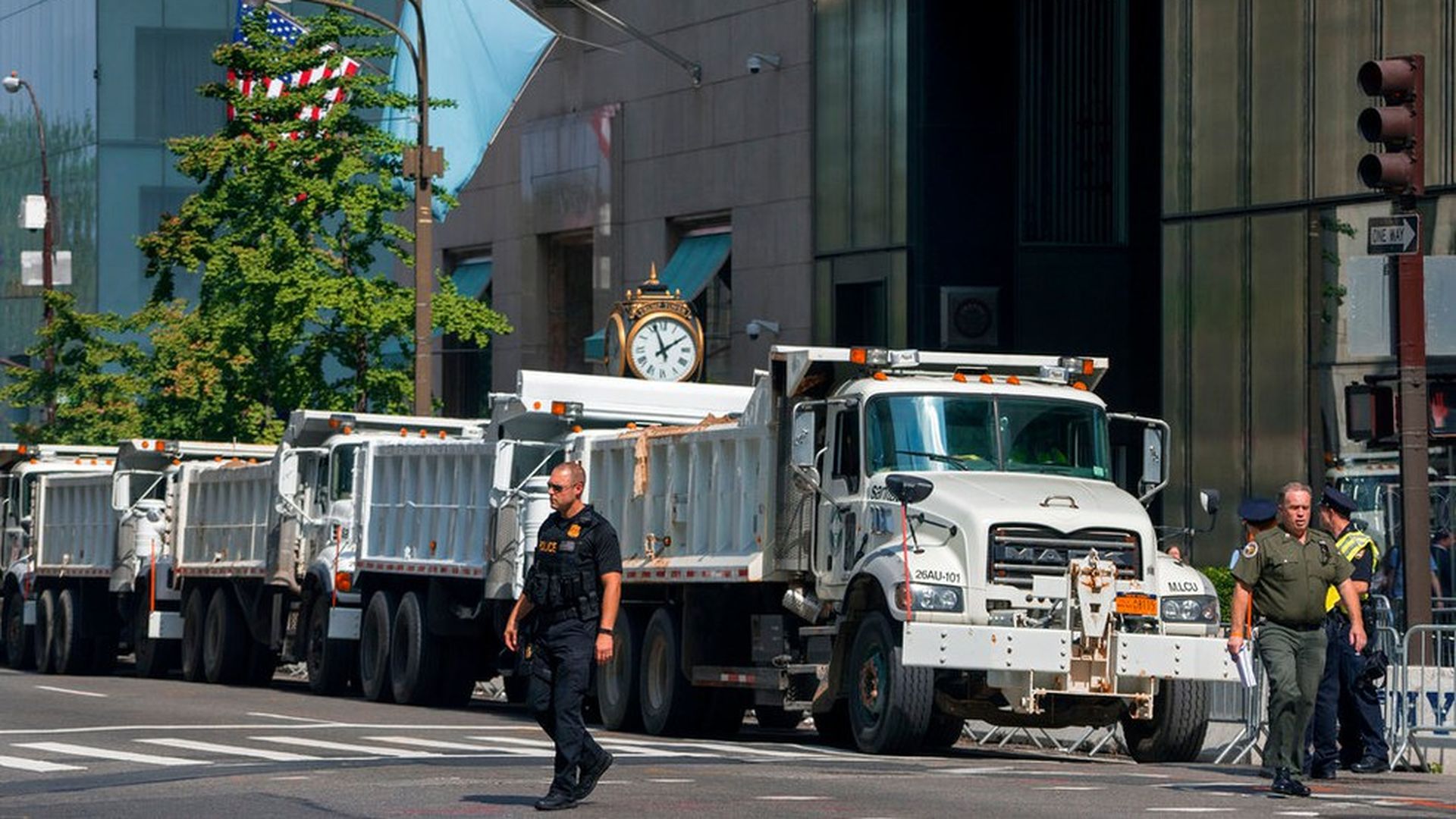 Show of force against North Korea, a day before Trump's U.N. speech: "The U.S. military staged bombing drills with South Korea over the Korean peninsula and Russia and China began naval exercises ahead of a U.N. General Assembly meeting on Tuesday where North Korea's nuclear threat is likely to loom large."
L.A. Times' Tracy Wilkinson, on the U.N. General Assembly: "Neither Russian President Vladimir Putin nor Chinese President Xi Jinping are coming this year. That gives even more running room to a celebrity president who has shaken global institutions with his 'America first' policy and whom diplomats politely describe as unpredictable."
"H.R. McMaster, the White House national security advisor, said Trump will emphasize the [themes of 'sovereignty and accountability'] in his bilateral and multilateral meetings."
P.S. The inaugural Bloomberg Global Business Forum, which on Wednesday will bring together public and private sector leaders from every region in the world, will kick off with remarks from President Clinton, Michael Bloomberg, French President Macron and Alibaba founder Jack Ma. David Rubenstein will moderate a panel that includes Bill Gates, on how technology is disrupting poverty, energy, and health care.
Axios is an official media parter of the forum, so we can bring you exclusive coverage and insights.
https://www.axios.com/newsletters/axios-am-a93462b7-4d62-4ab6-9d46-9725e0975aba.html?chunk=3#story3
4. Industry prefers Obama regs to uncertainty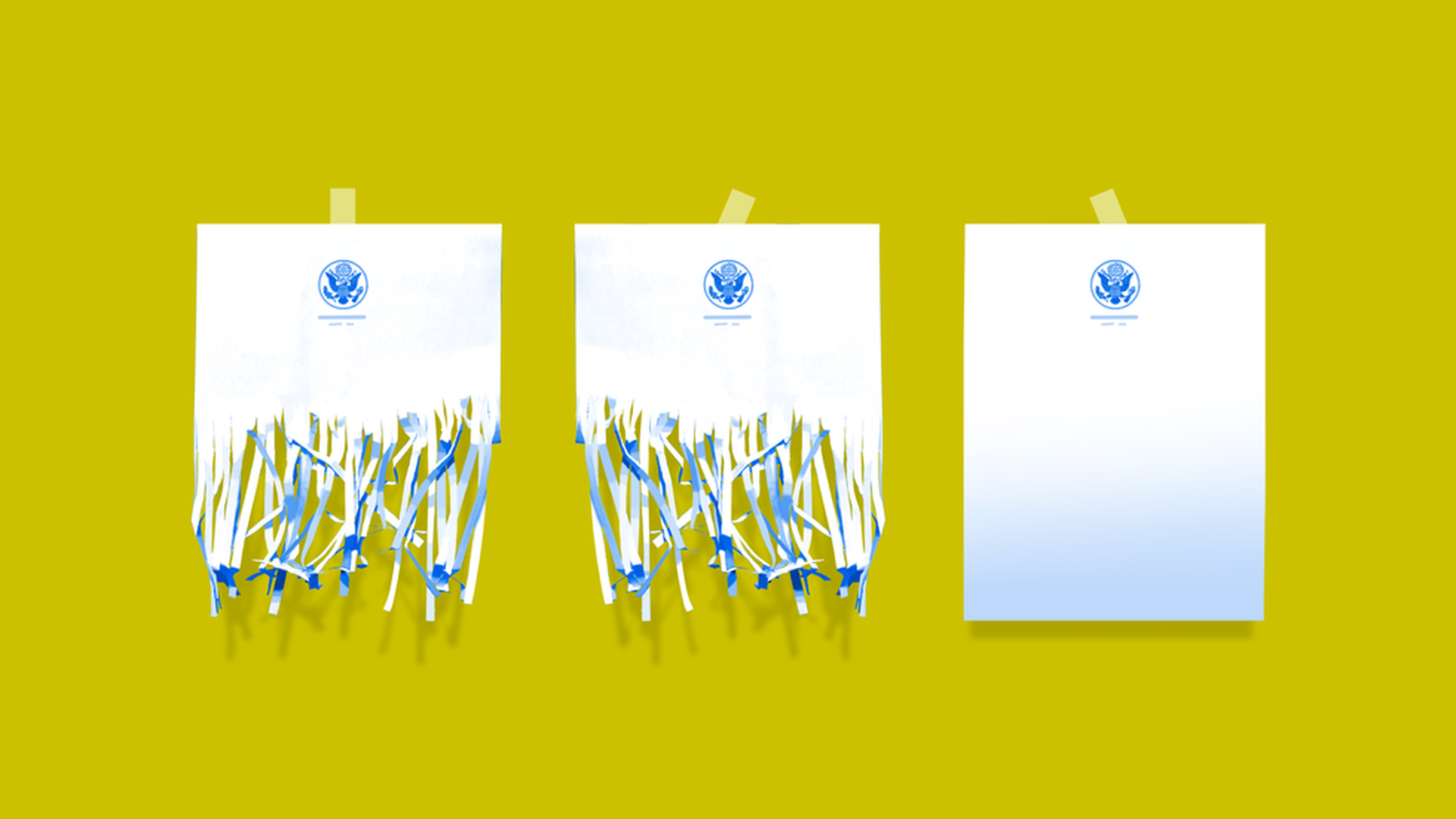 The world's biggest air conditioning and chemical companies are urging President Trump to defend one of his predecessor's landmark climate policies — and so far, it's working, Axios' Amy Harder writes in her weekly "Harder Line" energy column.
The big picture: This is the most aggressive example of how different types of industries are urging Trump to use caution with his regulatory rollback, in the name of business certainty.
Some executives in the fossil fuel and electric power sectors are urging the administration not to issue wholesale repeals of several regulations, including a rule cutting carbon emissions from power plants.
https://www.axios.com/newsletters/axios-am-a93462b7-4d62-4ab6-9d46-9725e0975aba.html?chunk=4#story4
5. While you were watching 🏈 ...
... the Axios stream was surging:
"Trump's dark view of North Korea options," by Jonathan Swan: "Forget DACA or tax reform. One topic consumes the vast majority of President Trump's inner circle: North Korea. ... The consensus view among Trump, Mattis and McMaster ... is that this conflict is heading towards two options, both with high risks: escalated confrontation with China and the military option."
"Biden to oppose universal basic income," by Steve LeVine: "Joe Biden [today] will push back against 'Universal Basic Income,' or UBI, one of the most popular suggested solutions to the massive eradication of jobs that's feared because of automation. ... In a blog post ... timed to the launch of the Joe Biden Institute at the University of Delaware, Biden will quote his father telling him how a job is 'about your dignity.'"
"How Rex Tillerson alienated every ally he needs," by Jonathan Swan: "Tillerson alienated his natural constituency — moderates who view him as a restraining influence on Trump — by what he's done, or failed to do, managerially at the State Department. He's surrounded himself by a tiny circle and hasn't sought much advice from outsiders. And he's got no ideological constituency on the right."
https://www.axios.com/newsletters/axios-am-a93462b7-4d62-4ab6-9d46-9725e0975aba.html?chunk=5#story5
6. Data du jour
A new UN report on the state of broadband says 52% of the world's population doesn't have internet access.
Why it matters, from Axios' Erica Pandey: The global "digital divide" risks becoming a "digital chasm" as the poorest nations continue to be disconnected from the rest of the world, the report says.
https://www.axios.com/newsletters/axios-am-a93462b7-4d62-4ab6-9d46-9725e0975aba.html?chunk=6#story6
7. Tops in tech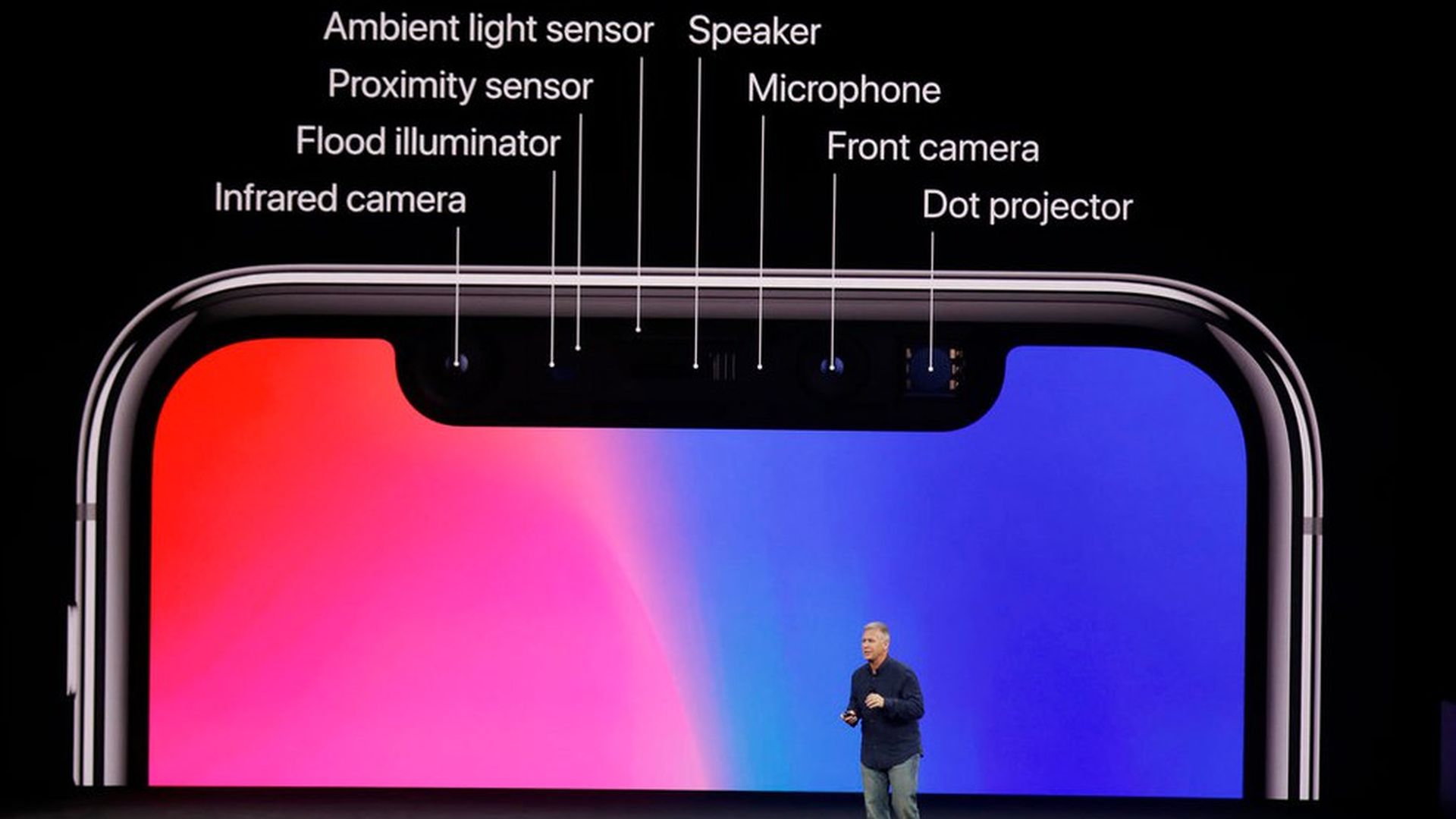 Why you have to wait for the iPhone X, via USA Today (where the Tech page has the banner headline, "No, we're not done with the iPhone"):
"OLED [Organic Light Emitting Diode] manufacturers can't build the screens fast enough as they increasingly pop up on smartphones, high-definition TVs, watches and virtual-reality headsets."
"An OLED crunch has already muddied the releases of other consumer tech products in the past year."
P.S. Slack valued at $5.1 billion: "Slack Technologies Inc. closed a $250 million funding round led by SoftBank Group Corp.'s Vision Fund, giving it more ammunition for expansion in an increasingly competitive market for workplace messaging services." (Bloomberg)
https://www.axios.com/newsletters/axios-am-a93462b7-4d62-4ab6-9d46-9725e0975aba.html?chunk=7#story7
8. The new media math
NBCUniversal CEO Steve Burke talks to Jessica Lessin, founder and CEO of The Information, about "the math puzzle that keeps all media executives up at night" (subscription):
"On any given night, about three and a half million people watch 'The Tonight Show' on linear television. Over the course of the next number of days, almost the exact same number, three and a half million, watch it online ... We make real money off the first. We don't make very much money off the second. Every year, the three and a half million is going to go to 3.3, to 3, and the online will go 3.5 to 3.6."
In quest of solutions to that puzzle, Burke sees Snap CEO Evan Spiegel every month or so to plot new areas of collaboration.
Burke, whose $500 million bet on Snap is now worth about 12% less: "Snap treats professional content with respect, unlike Facebook, just to give a real pointed example. We are making real money on Snap."
What's real money? "The Rundown," a pop culture recap produced by NBC's E! Entertainment, is making "over three million top‑line and over a million OCF," he says, referring to operating cash flow. "Stay Tuned," NBC News's new daily news show on Snap, has 2.5 million subscribers. "It's going to make real money."
Disclosure: NBC is an investor in Axios.
P.S. First look: Launching today ... "Josh Benson, Katherine Lehr, and Tom McGeveran, all former Politico executives, today [will announce] the formal launch of their new company, Old Town Media[,] ... with the debut of a news and communication app for news media professionals, called Galley."
"Galley ... is a subscription service offering a discussion interface to members, as well as a layer of news and analysis from its anchor, Tom McGeveran, and private messaging capabilities."
https://www.axios.com/newsletters/axios-am-a93462b7-4d62-4ab6-9d46-9725e0975aba.html?chunk=8#story8
9. The talk of L.A.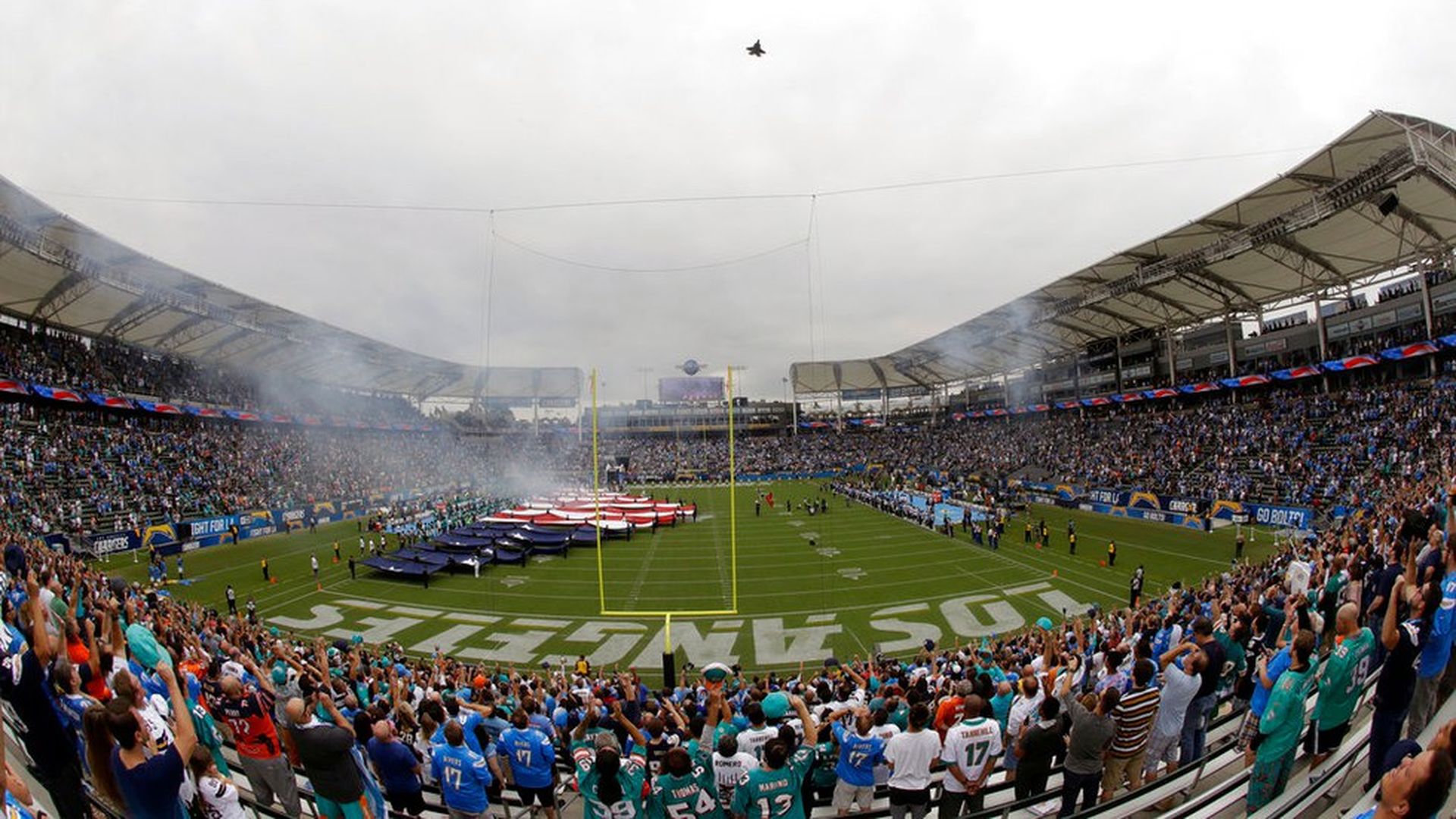 "Lots of empty seats at 2 games in LA," by AP Pro Football Writer Howard Fendrich:
"[M]aybe — just maybe — the NFL overestimated the appetite for professional football in the Los Angeles area. All of those empty seats in the Coliseum during the TV broadcast of the Rams' 27-20 loss to the visiting Washington Redskins on Sunday? Not a great look."
"Nor was the Chargers' inability to sell out their first regular-season game in L.A. since moving from San Diego to their temporary stadium, which holds only 27,000, making it by far the smallest facility in the league. They drew only 25,381 for what turned out to be a 19-17 loss to the Miami Dolphins."
"Even if you add that number to the official attendance figure of 56,612 tickets distributed for the Rams' game, you get a total of less than 82,000. For fun, let's offer this apples-to-oranges comparison: The Southern California vs. Texas college game on Saturday night attracted nearly 85,000 to the Coliseum."
https://www.axios.com/newsletters/axios-am-a93462b7-4d62-4ab6-9d46-9725e0975aba.html?chunk=9#story9
10. 1 fun thing: TV's biggest night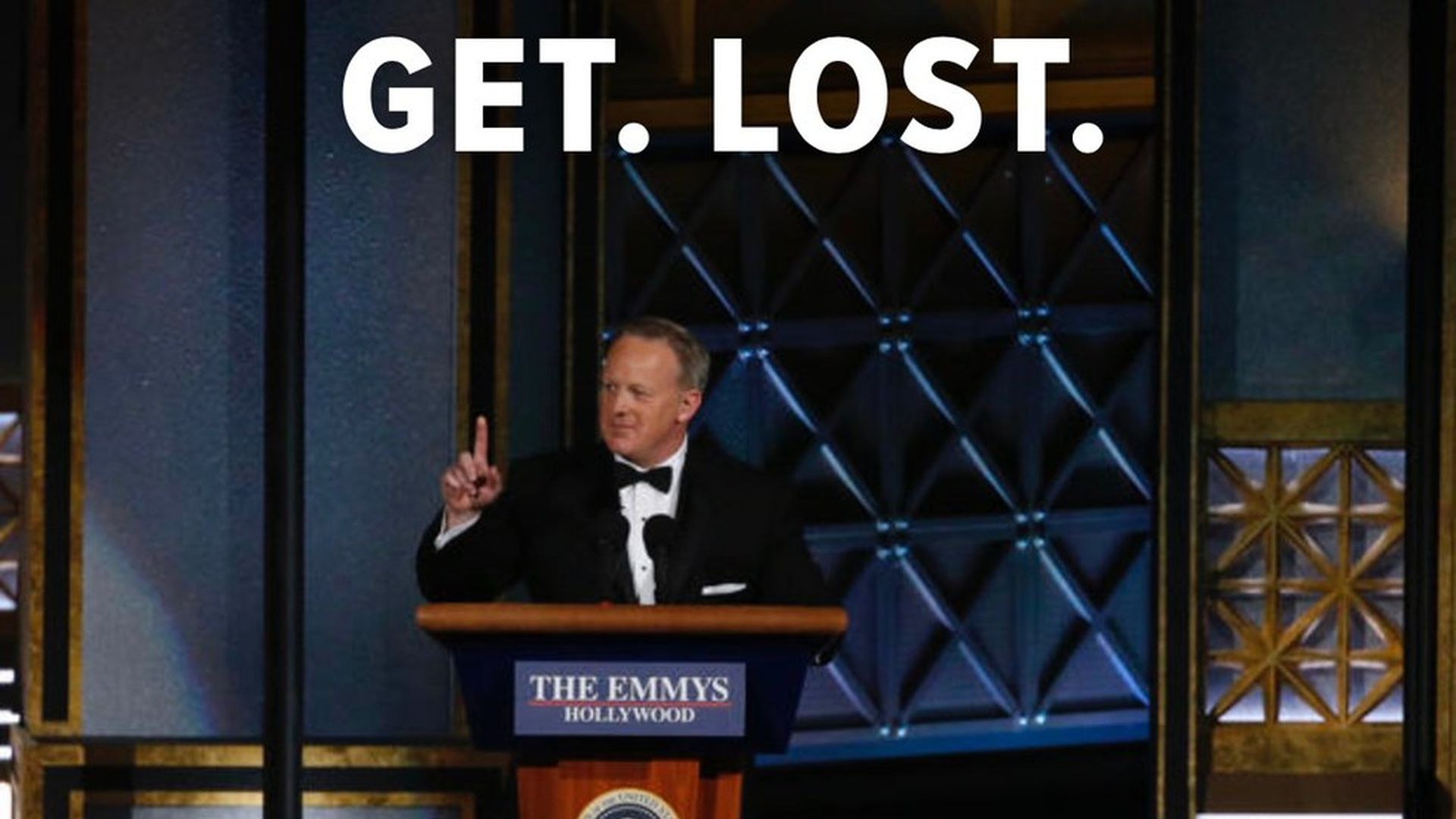 Sean Spicer wheeled onstage at last night's Emmy's behind an "SNL mobile podium: "This will be the largest audience to witness the Emmys, period -- both in person and around the world."
Jon Favreau of Pod Save America tweets: "Harvard fellowships, Emmy appearances, huge speaking fees: there's just gonna be no penalty for working in Trump's White House, huh?"
"Politics Win Big: TV shows reflecting current events are lauded during the ceremony, and stars onstage get in digs at Trump," by L.A. Times TV Critic Lorraine Ali:
"Subtext became text when issues of race, gender and national politics, long a part of Hollywood awards shows, took center stage."
Host Stephen Colbert, in his opening monologue: "You can't deny that every show was influenced by Donald Trump in some way, ... All the late-night shows, obviously. 'House of Cards.' The new season of 'American Horror Story.' " Pause. 'And of course next year's Latin Grammys, hosted by Sheriff Joe Arpaio.'"
"The winner in the drama category was 'The Handmaid's Tale,' a Hulu series based on Margaret Atwood's dystopian tale in which America becomes an theocracy in which dissidents are executed and all women become property."
Emmy moments: "It was also about diversity and new voices, with notable wins, among others, for Sterling K. Brown, the first black actor in nearly 20 years to win for lead actor in a drama; for Lena Waithe, the first black woman to win for comedy writing, and Donald Glover, the first black director to win the comedy award (and best actor, too.)"
"Stories about women won big: 'Big Little Lies,' 'The Handmaid's Tale' and 'Veep' won the top three categories. But there was a notable paucity of Latino and Asian winners."