https://www.axios.com/newsletters/axios-am-a2f03cd1-81b7-4069-acba-8e013cf7112c.html?chunk=0#story0
1 big thing: 'I did not collude'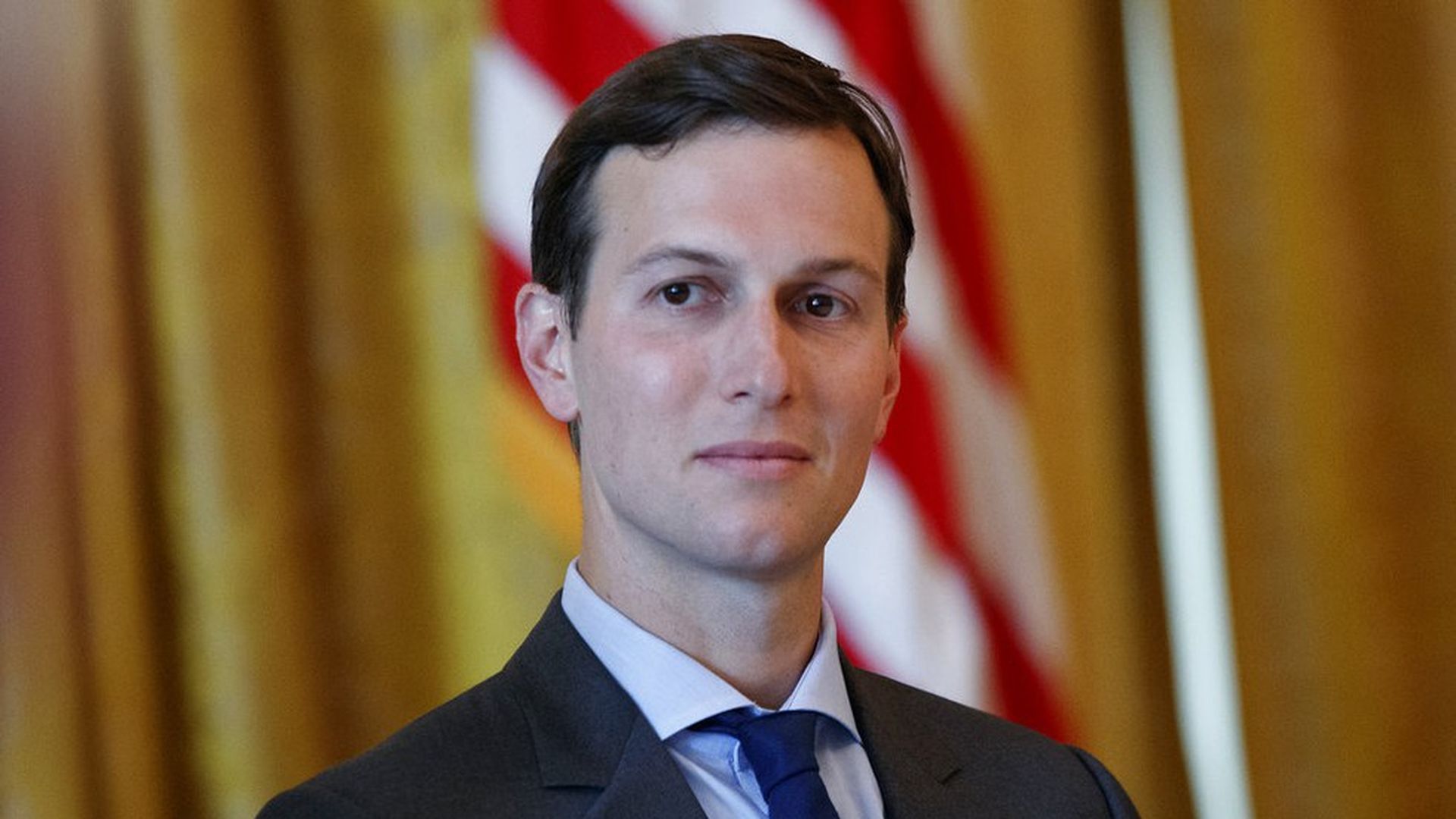 Giving his version of his Russia contacts for the first time, Jared Kushner says in an 11-page statement to congressional committees that he had "hardly any" contacts with Russians during the campaign, and regarded the meeting with a Russian lawyer at Trump Tower as "a waste of our time."
"[I]n looking for a polite way to leave and get back to my work," he says in the statement, "I actually emailed an assistant from the meeting after I had been there for ten or so minutes and wrote 'Can u pls call me on my cell? Need excuse to get out of meeting.' I had not met the attorney before the meeting nor spoken with her since. I thought nothing more of this short meeting until it came to my attention recently."
That's the most colorful passage in the statement, released by Kushner this morning ahead of his 10 a.m. appointment with staff of the Senate Intelligence Committee, and his meeting tomorrow with the House Intelligence Committee. Both sessions are behind closed doors.
Key quote: "I did not collude, nor know of anyone else in the campaign who colluded, with any foreign government. I had no improper contacts. I have not relied on Russian funds to finance my business activities in the private sector. I have tried to be fully transparent with regard to the filing of my SF-86 [security clearance] form, above and beyond what is required."
Why it matters: The stakes for the congressional interviews are high for Kushner because the Trump son-in-law is of acute interest to special counsel Bob Mueller, and prosecutors can be expected to pick apart today's statement.
Another highlight: "With respect to my contacts with Russia or Russian representatives during the campaign, there were hardly any. ... [T]he day after the election, I could not even remember the name of the Russian Ambassador. ... I sent an email asking [Dmitri Simes of the Center for the National Interest, which hosted a Trump foreign policy speech], 'What is the name of the Russian ambassador?'"
The statement ends: "Hopefully, this puts these matters to rest."
https://www.axios.com/newsletters/axios-am-a2f03cd1-81b7-4069-acba-8e013cf7112c.html?chunk=1#story1
2. Don Jr.'s high-powered help
Donald Trump Jr., who appeared short of experienced advisers with his email release and multiple statements about the Trump Tower meeting with a Russian lawyer, is getting help from Washington stalwart Fred Fielding ahead of this week's Capitol Hill appearance.
Fielding was White House counsel to Presidents George W. Bush and Ronald Reagan, and deputy counsel in the Nixon White House. He has been part of the Trump Sr. legal team, and was introduced at a news conference with the President-elect at Trump Tower in January, where he was described as helping work on conflicts-of-interest issues as Trump turned over control of his business to his sons.
Be smart: The addition of Fred Fielding shows that Don Jr., who apparently didn't recognize the seriousness of what he faced, now does.
https://www.axios.com/newsletters/axios-am-a2f03cd1-81b7-4069-acba-8e013cf7112c.html?chunk=2#story2
3. Scaramucci talks directly to Trump on TV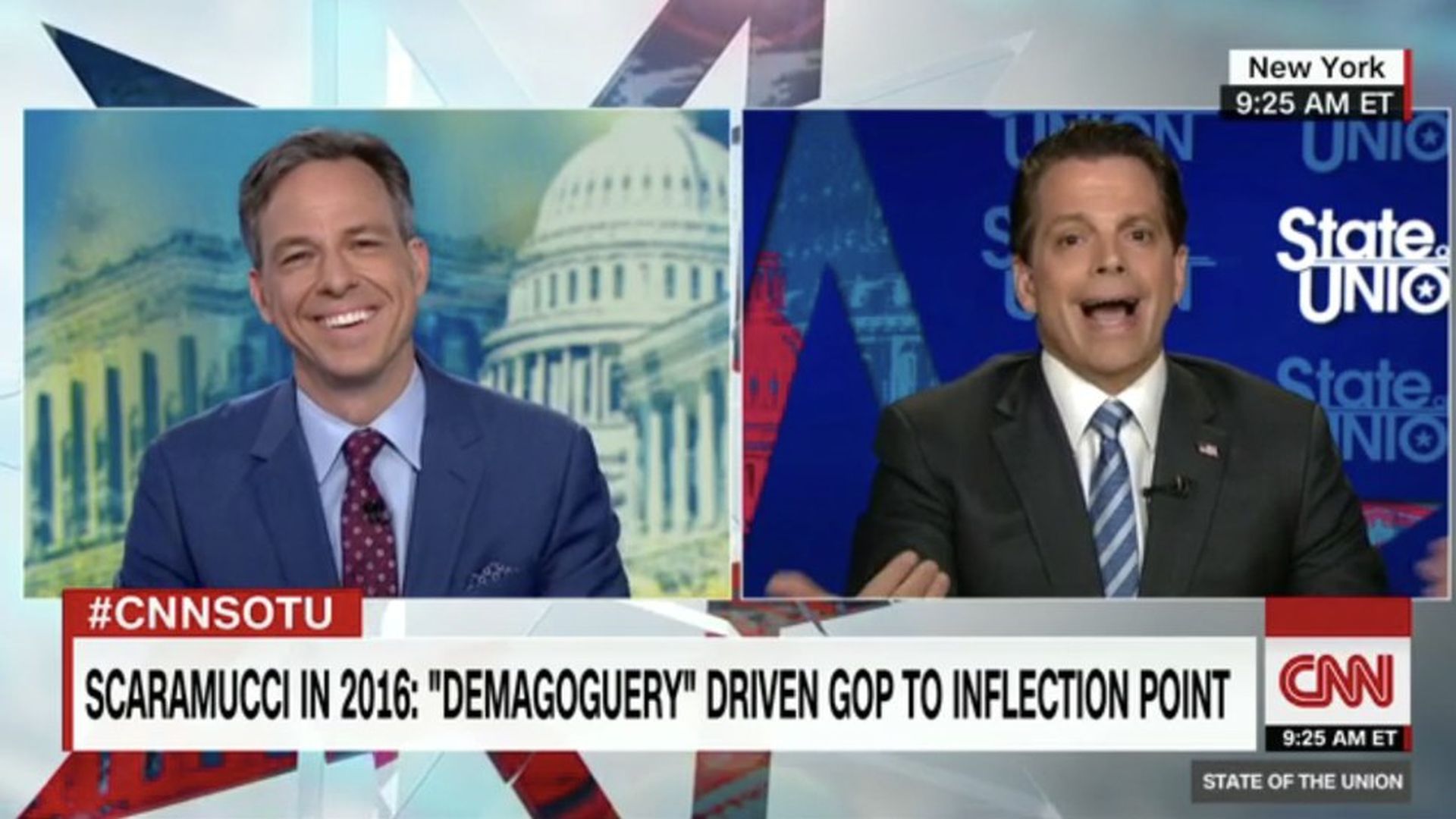 Maggie Haberman's review ("Communications Chief Cultivates Trump on TV"):
Others who have gone on television to deliver Mr. Trump's message — [incoming press secretary Sarah Huckabee] Sanders; her predecessor, Sean Spicer; and Mr. Priebus — have deferred their views and personalities in the service of Mr. Trump. Mr. Spicer in particular struggled to please a boss he never understood well, and whose trust he did not have.
By contrast, Mr. Scaramucci — a political donor and television talking head and affably affluent with an accent held over from his native Long Island — toggled between subordinating to Mr. Trump and maintaining a hint of his own appeal.
Scaramucci to John Dickerson on CBS' "Face the Nation," on health care: "I don't know if he's going to get what he wants next week. But he's going to get what he wants eventually. Because this guy always gets what he wants. OK? What I know about President Trump is that ... he's got very, very good karma."
https://www.axios.com/newsletters/axios-am-a2f03cd1-81b7-4069-acba-8e013cf7112c.html?chunk=3#story3
4. Trump on pardons
Anthony Scaramucci, incoming White House communications director, to Chris Wallace on "Fox News Sunday":
"I'm in the Oval Office with the president last week, we're talking about that. He brought that up ... [H]e said ... he doesn't have to be pardoned. There's nobody around him that has to be pardoned. He was just making the statement about the power of pardons."
https://www.axios.com/newsletters/axios-am-a2f03cd1-81b7-4069-acba-8e013cf7112c.html?chunk=4#story4
5. Dems unveil "Better Deal"
Senate Democratic Leader Chuck Schumer and House Democratic Leader Nancy Pelosi today will unveil their "Better Deal" economic agenda in Berryville, Va. — a beyond-the-Beltway, classic exurban swing area.
An opening plank ... "Cracking Down on Corporate Monopolies and the Abuse of Economic and Political Power"
Prevent big mergers that would harm consumers, workers, and competition.Require regulators to review mergers after completion to ensure they continue to promote competition.Create a 21st century 'Trust Buster' to stop abusive corporate conduct and the exploitation of market power where it already exists.
Go deeper — 4 PDFs: Better Deal overview ... Jobs plan ... Drug prices ... Corporate monopolies
https://www.axios.com/newsletters/axios-am-a2f03cd1-81b7-4069-acba-8e013cf7112c.html?chunk=5#story5
6. Human smuggling hits home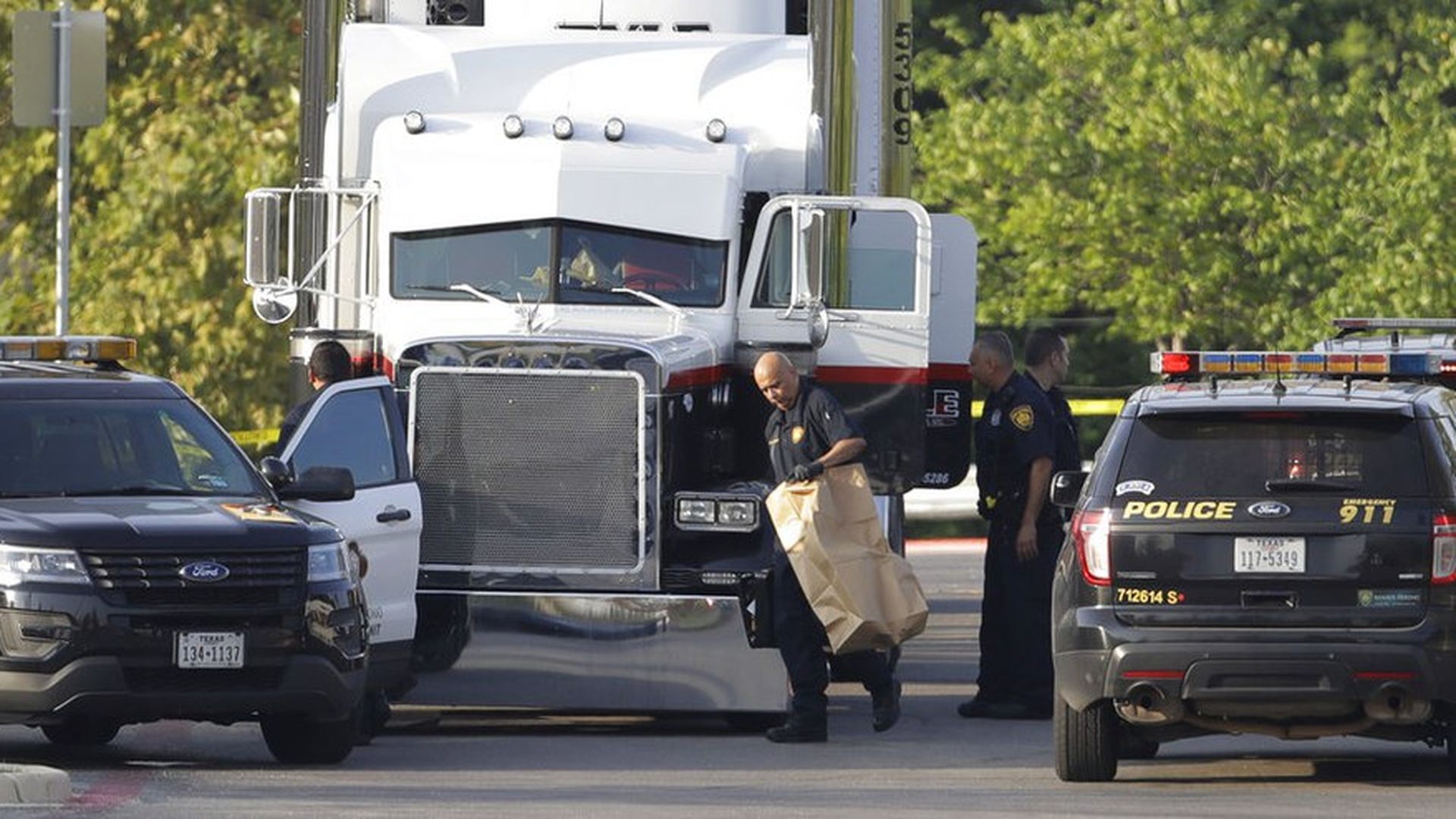 "How smugglers use trucks with sometimes deadly results," by AP's Michael Tarm:
"Border officials have reported an uptick in the number of people-smuggling incidents using tractor-trailers. That included one on July 7, when Border Patrol agents in Laredo, Texas, found 72 people from Mexico, Ecuador, Guatemala and El Salvador locked inside a trailer."
"A recent report from European-based global -risk group Verisk Maplecroft suggests that a harder line on border security by the Trump administration might be leading migrants to accept the risks of more dangerous smuggling methods."
"[I]mmigrants ... typically [don't want] to remain in [the] border area. Most hope to make it to large U.S. cities ... where they may have jobs or family waiting."
Why it happens: "Smugglers know there are hundreds and thousands of immigrants desperate to get away from the border as fast as possible. ... The more people they can move at one time, the more the profit."
https://www.axios.com/newsletters/axios-am-a2f03cd1-81b7-4069-acba-8e013cf7112c.html?chunk=6#story6
7. Sky-high pay of health care CEOs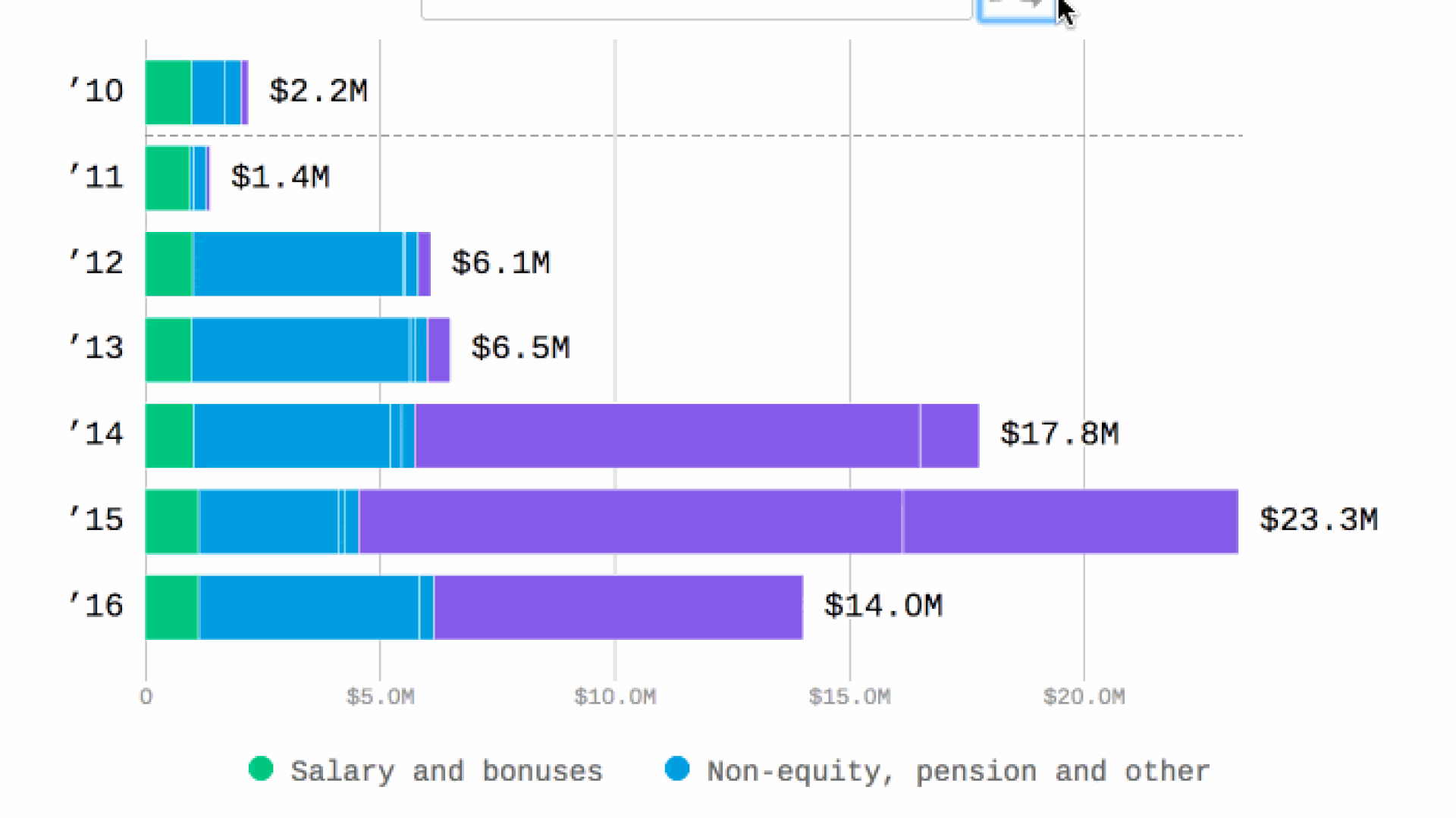 The CEOs of 70 of the largest U.S. health care companies cumulatively have earned $9.8 billion in the seven years since the Affordable Care Act was passed, and their earnings have grown faster than those of most Americans, according to an analysis of federal financial documents by Axios' Bob Herman.
Why it matters: The ACA has not hurt the health care industry. Stock prices have boomed, and CEOs took home nearly 11% more money on average every year since 2010 — far outstripping the wage growth of nearly all Americans. But the analysis also reveals that the pay packages for the country's influential health care executives don't give them incentives to control health care spending — something that economists, policymakers and even Warren Buffett have said is the most pressing problem in health care.
https://www.axios.com/newsletters/axios-am-a2f03cd1-81b7-4069-acba-8e013cf7112c.html?chunk=7#story7
8. Stat du jour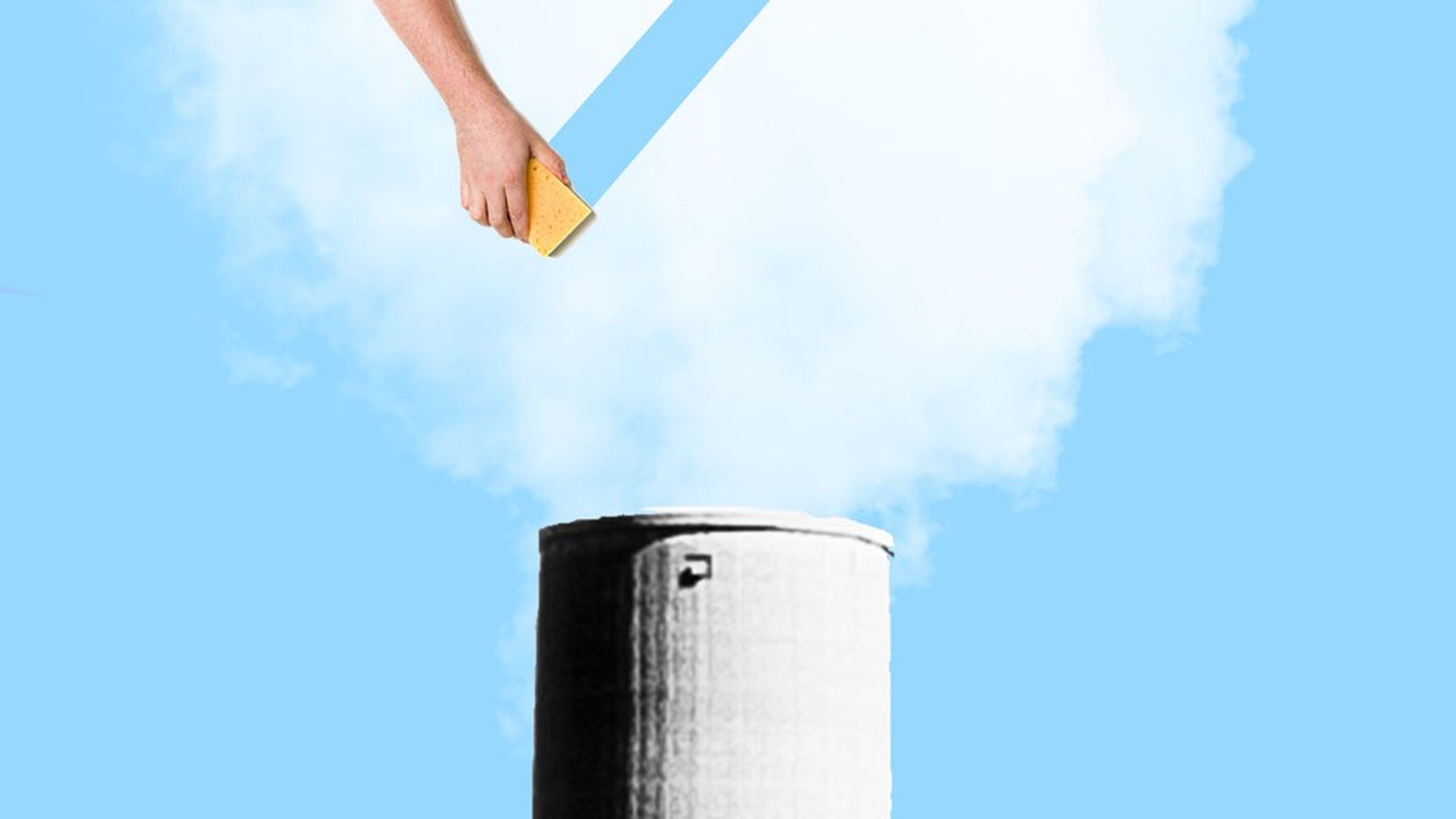 From today's "Harder Line" energy column by Axios' Amy Harder: "Fossil fuels accounted for 81% of the world's energy consumption in 1987. Thirty years later it's still 81%."
Why that matters: It's a data point, shared with me by the chief of the International Energy Agency during an interview last week in Washington, that shows why technology making fossil fuels cleaner is desperately needed to address climate change. Coal, oil and natural gas aren't going anywhere, no matter the strides the world makes in renewables and other energy sources.
https://www.axios.com/newsletters/axios-am-a2f03cd1-81b7-4069-acba-8e013cf7112c.html?chunk=8#story8
9. Attention deficit: Breaking through Trump
"In the age of Trump, global players — from tech companies to governments — have to shout," seven BuzzFeed reporters and editors:
The sheer attention Trump absorbs — on Twitter, on television, in culture, and in the anxious dreams of American citizens and the country's allies and enemies — draws away the lifeblood of everything from the launch of new apps to new social movements. Attention is the currency not just of American attention-seekers from Kim Kardashian to Amazon, but also of the other great geniuses of attention-seeking over the last decade: terror groups like ISIS, and opponents of the postwar social order like Julian Assange. Trump hoards attention. ...
For some domestic and global players, this distraction is a nice environment in which to get things done. "The news cycle is so fast and so overloaded that the silver lining is that some of the negative narratives tend to dissipate much more quickly than before," said Matthew Hiltzik, a veteran New York corporate and crisis communications consultant. "There are certain clients who prefer not being covered and so that helps!"
P.S. The Atlantic gets top-of-Style-section treatment in the WashPost ... "A magazine makes itself profitable — and 'vital,'" by media columnist Margaret Sullivan: "[M]ore than 80 percent of its revenue [comes] from digital sources, live events and even a consulting business. ... Just weeks ago, the magazine published an 8,300 word piece, 'My Family's Slave,' that went viral, garnering nearly 12 million views, and prompting arguments and conversations across America.
"That kind of thing has happened with other ambitious cover stories: Jeffrey Goldberg's 'The Obama Doctrine' about the 44th president's foreign policy; with Ta-Nehisi Coates's landmark 'The Case for Reparations,' with Graeme Wood's 'What ISIS Really Wants.'" (Disclosure: Atlantic Media founder and owner David Bradley and Katherine Bradley of CityBridge Foundation are investors in Axios.)
https://www.axios.com/newsletters/axios-am-a2f03cd1-81b7-4069-acba-8e013cf7112c.html?chunk=9#story9
10. 1 fun thing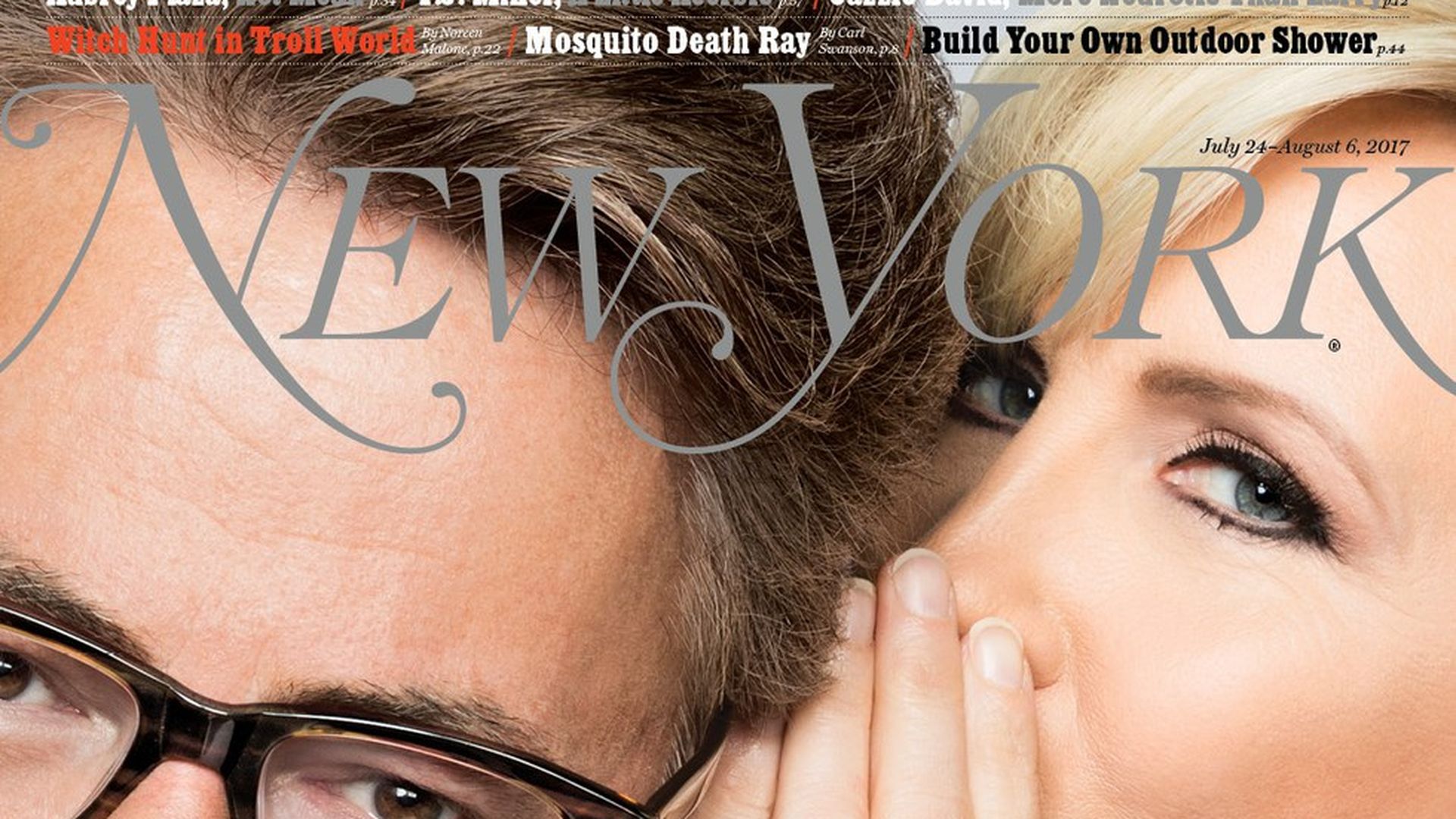 New York mag cover story, "Donald Trump Is Not Invited to the Wedding: Joe, Mika, and their star-crossed relationship with the president," by Olivia Nuzzi:
Scarborough and Brzezinski said the White House is misrepresenting their motivations, though they didn't rule out that Scarborough might be interested in running for president in the future. "It was never mentioned, never discussed, and anyone who ever said it is a liar," Scarborough said. "No ambiguity there at all. I'm happy right where I am with Mika, music, and 'Morning Joe'," which he calls his "three M's." Fulfilling a lifelong dream, Scarborough is now performing and recording dad-rock; his first EP, 'Mystified,' ... was released last month ...
Because Joe and Mika are perhaps the only masochists alive who operate on this schedule and spend this much time together (a 6–to–9 a.m. show; up as late as 10 p.m., crisscrossing the Northeast corridor for meetings, events, and speeches), it can feel as though they exist in their own private universe. Except they don't. Between them breathes a sprawling web of three ex-spouses and six children, ranging in age from 9 to 29 ...
It has historically been a preoccupation for them, then, to keep the matter of their relationship and its inconvenient origins out of the press, which they achieved with near-total success — something one New York tabloid veteran told me was astonishing and "a lesson for everyone" in how to "tame the gossips." "I think of the gossip world as extremely transactional, and they were very good at dealing with it," the veteran told me. "They are total operators: They weren't above trading one item for another. They took their own PR into their own hands."