Axios AM
March 08, 2018
Good Thursday morning. It's International Women's Day.
Out and about: President Trump ate dinner last night at the Georgetown home of Boyden Gray, White House counsel to President George H.W. Bush. AP noted that Trump "rarely leaves the White House for dinner, unless it's at his own hotel." The small dinner included supporters of America First Policies, the pro-Trump outside group.
1 big thing ... Exclusive polls: Big warning signs for Senate Dems
A series of 10 state polls for Axios by SurveyMonkey finds that President Trump isn't a drag on the Republican brand in key Senate races, despite his historically high national disapproval ratings.
Trump's approval is higher than Democratic senators up for reelection in six of the states (Indiana, Missouri, Montana, North Dakota, Ohio and West Virginia).
Trump's approval is higher than his national approval rating in all 10 states.
Axios' Alexi McCammond dives in ...
Five Senate Democrats would lose to a Republican candidate if the election were held today and three have approval ratings under 50%, according to new Axios/SurveyMonkey polls. 
Why it matters: Democrats are defending 10 Senate seats in states Trump won in 2016. In six of those states Trump's approval is higher than 50% (compared to 43% nationally). These numbers underscore how hard it will be for Democrats to pick up the two seats needed to win the majority despite Trump's troubles. 
The three most vulnerable senators in the 10 states are Democrats Joe Manchin of West Virginia, Jon Tester of Montana and Claire McCaskill of Missouri. Each of their approval ratings is under or around 50%, while Trump's is well above that in all three states.
The least vulnerable senators in the 10 states are Democrats Bill Nelson of Florida, Bob Casey of Pennsylvania, and Sherrod Brown of Ohio. Trump's approval is at just 46% in Florida and Pennsylvania and 54% in Ohio.
But, but, but... with the election many months away and final Republican opponents not set, these numbers are likely to change as real GOP challengers get involved in the race. The approval ratings of each senator may give a better idea of where they stand with voters in their states.
What's next: We'll be polling some of the GOP Senate seats that are in play, including Arizona, Nevada and Tennessee.
2. Trump asked Priebus if Mueller team was "nice"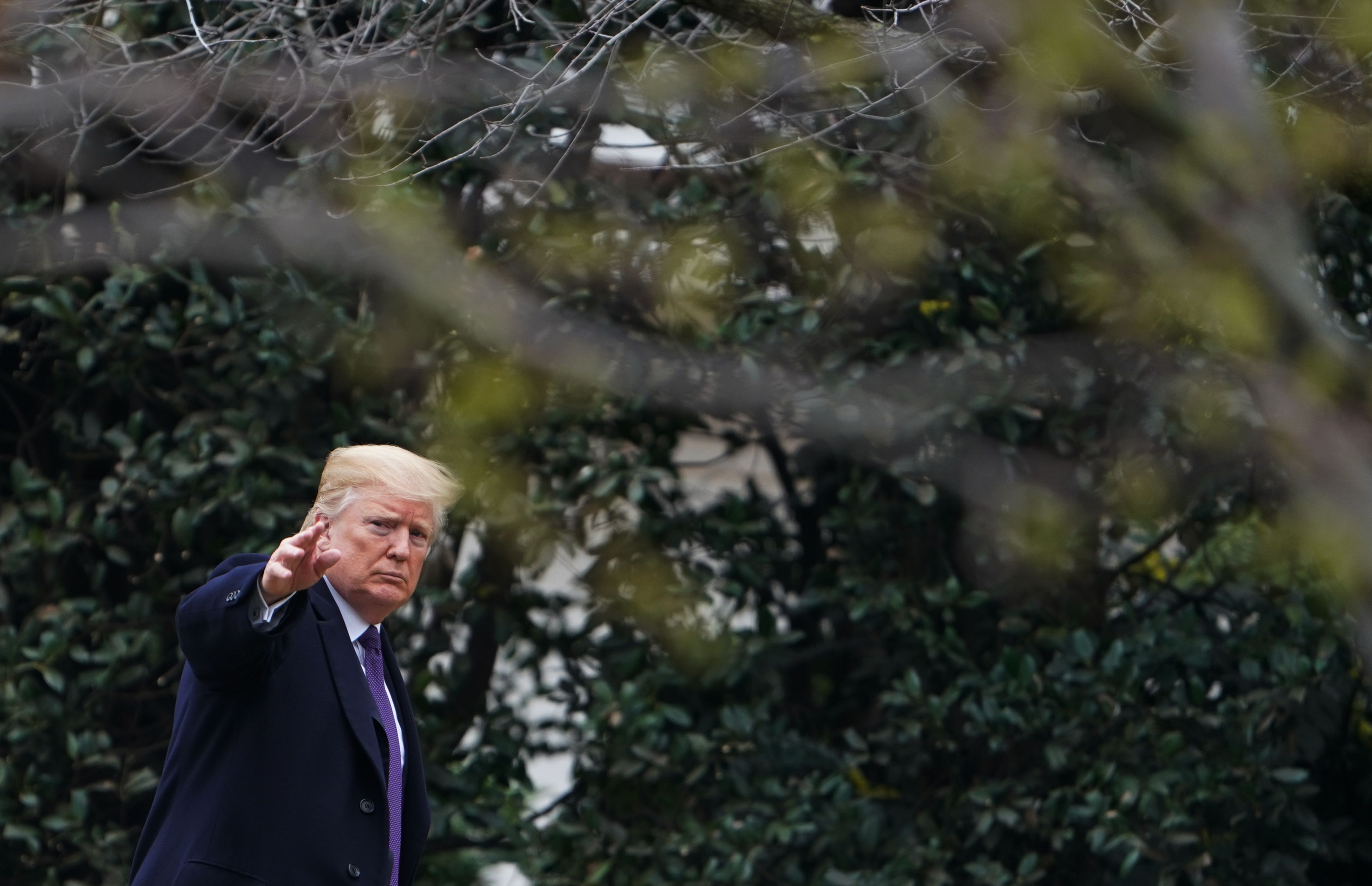 Matt Miller, MSNBC analyst and former Justice Department spokesman, tweeted about a pair of hot stories that posted last night:
"One thread running through both the NYT and Post stories is the increasing unwillingness of people around Trump to cover up for him. How a conspiracy breaks apart."
The New York Times scoop, by Michael Schmidt and Maggie Haberman, says Mueller "has learned of two conversations in recent months in which President Trump asked key witnesses about matters they discussed with investigators":
"[T]he president told an aide that the White House counsel, Donald F. McGahn II, should issue a statement denying

a New York Times article

in January" about Trump asking McGahn to fire Mueller.
So good: "McGahn ... had to remind the president that he had indeed asked Mr. McGahn to see that Mr. Mueller was dismissed."
"In the other episode, Mr. Trump asked his former chief of staff, Reince Priebus, how his interview had gone with the special counsel's investigators and whether they had been 'nice.'"
Why it matters: "[T]he president has ignored his lawyers' advice to avoid doing anything publicly or privately that could create the appearance of interfering with the investigation."
The bottom line: "Legal experts said Mr. Trump's contact with the men most likely did not rise to the level of witness tampering. But witnesses and lawyers ... viewed them as potentially a problem and shared them with Mr. Mueller."
The other big Mueller story last night was from the WashPost, which reports that the special counsel "has gathered evidence that a secret meeting in Seychelles just before the inauguration of Donald Trump was an effort to establish a back channel between the incoming administration and the Kremlin."
"In January 2017, Erik Prince, the founder of the private security company Blackwater, met with a Russian official close to ... Putin and later described the meeting to congressional investigators as a chance encounter that was not a planned discussion of U.S.-Russia relations."
"A witness cooperating with Mueller has told investigators the meeting was set up in advance so that a representative of the Trump transition could meet with an emissary from Moscow to discuss future relations."
3. Trump moves fast on tariffs, but spares two
Shot ... With Trump planning to sign a tariffs proclamation as soon as today, the Cohn wing scores a win: Canada and Mexico will be exempt at the outset, and will remain so if a new NAFTA deal is reached. (Wall Street Journal)
Chaser ... European Council President Donald Tusk at a press conference in Luxembourg: "Trade wars are bad and easy to lose." (AFP)
Bonus: Lean In turns 5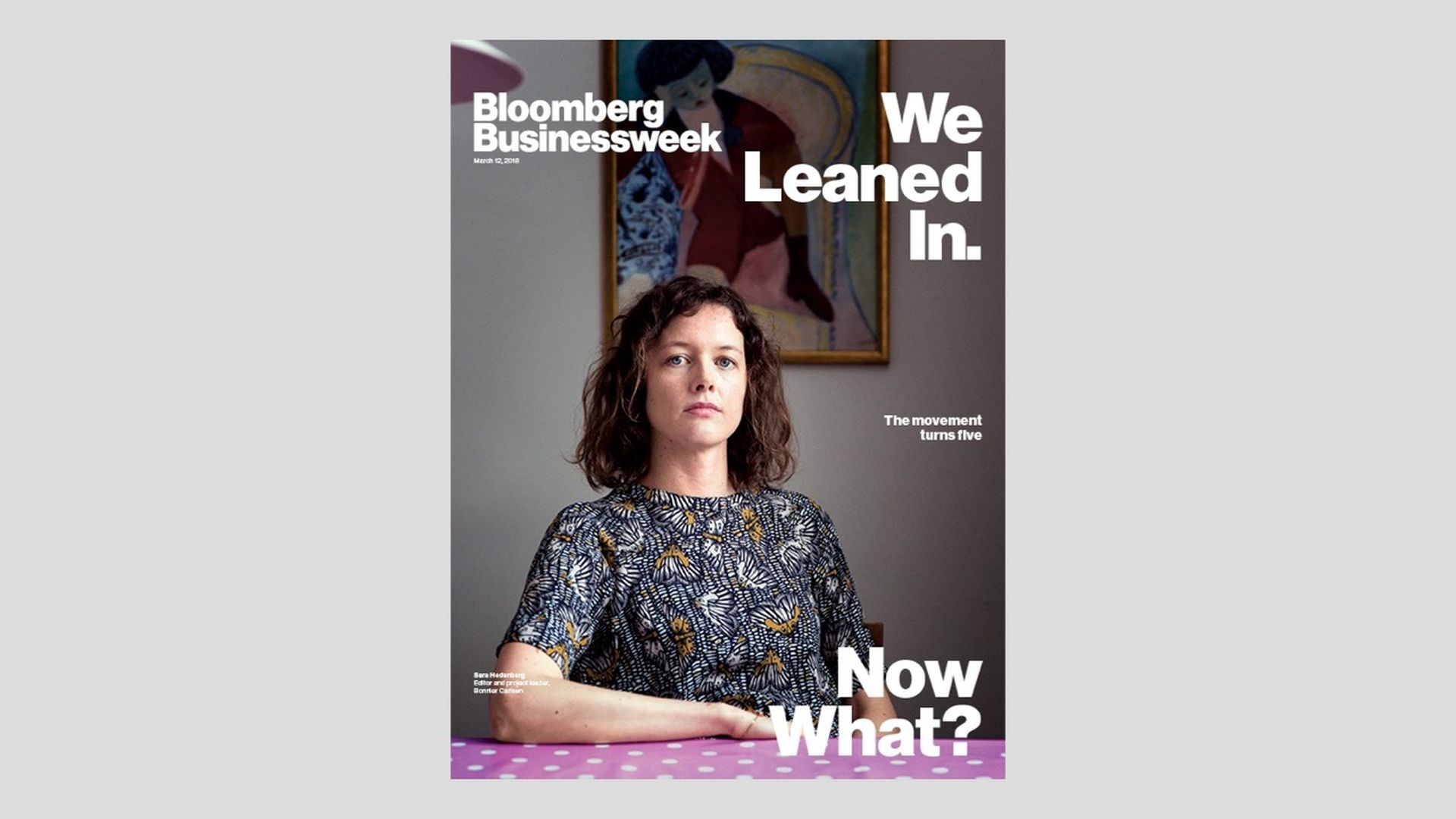 On Sunday, it'll be five years since Facebook COO Sheryl Sandberg published "Lean In: Women, Work, and the Will to Lead," her manifesto for career success.
"Lean In" spawned a movement that includes

Lean In Circles,

where women share experiences.
In the forthcoming issue of Bloomberg Businessweek, Claire Suddath and Rebecca Greenfield report what's changed:
"Five years later, we're in the midst of a global reckoning ... With Lean In, Sandberg was one of the earliest to champion women's concerns."
"Sandberg is proud of those changes. But she doesn't look back on the past five years warmly. She, too, was moved by #MeToo. She worries about a backlash of companies avoiding women instead of preventing harassment."
Sandberg: "We had a lot of work to do then, and we have a lot of work to do now ... Until we started talking about it, I think people didn't quite realize how slow the progress was."
4. Valley buzz: Lack of female speakers at conferences
"Dude, you have an all-male conference. Time to make room for women," USA Today's Jessica Guynn writes from S.F.:
"From the world of finance to the technology industry, men tend to hog the high-profile speaking gigs, dropping their wisdom on topics as diverse as cryptocurrencies and gynecology."
"Take tech's splashiest conference, CES, where all the keynote addresses were given by men for the second straight year."
"RSA, the largest gathering of security professionals, has scheduled just one female keynote speaker [out of 22] for its April gathering: anti-bullying activist Monica Lewinsky."
5. "For two months, I got my news from print"
"In January," N.Y. Times tech columnist Farhad Manjoo writes, "after the breaking-newsiest year in recent memory, I decided to travel back in time."
"I turned off my digital news notifications, unplugged from Twitter and other social networks, and subscribed to home delivery of three print newspapers — The Times, The Wall Street Journal and my local paper, The San Francisco Chronicle — plus a weekly newsmagazine, The Economist."
Here's what he learned:
Best sentence: "After reading newspapers for a few weeks, I began to see it wasn't newspapers that were so great, but social media that was so bad."
Best discovery: "I'm embarrassed about how much free time I have — in two months, I managed to read half a dozen books, took up pottery and (I think) became a more attentive husband and father."
"Now I am not just less anxious and less addicted to the news, I am more widely informed (though there are some blind spots)."
"Real life is slow; it takes professionals time to figure out what happened, and how it fits into context."
One "surprise was a sensation of time slowing down."
"[Y]ou can create your own news ritual by looking at a news app once a day, or reading morning newsletters like those from Axios, or listening to a daily news podcast. What's important is choosing a medium that highlights deep stories over quickly breaking ones."
6. Copycat school shooting threats rise
After the school shooting in Parkland, Fla., 638 copycat threats were reported from Feb. 15 to Feb. 27, according to USA Today.
Top states were Texas with 55, Ohio with 47, California with 37, Florida with 35 and Pennsylvania with 32.
Happening today ... White House next steps on school safety:
Lindsay Walters, White House deputy press secretary: "As we continue to work towards creating school safety programs that protect all children, the President will be meeting with video game industry leaders and Members of Congress [Roosevelt Room, 2 p.m.] to discuss violent video-game exposure and the correlation to aggression and desensitization in children."
"This meeting will be the first of many with industry leaders to discuss this important issue."
Expected attendees include Sen. Marco Rubio (R-Fla.), Rep. Vicky Hartzler (R-M0.) and Rep. Martha Roby (R-Ala.)
Outside participants include Strauss Zelnick, Take-Two Interactive, CEO of Rockstar Games; Brent Bozell, Media Research Center; Lt. Col. Dave Grossman (Ret.), director of Killology Research Group; Pat Vance, president of Entertainment Software Rating Board; Mike Gallagher, President and CEO, Entertainment Software Association; Robert Altman, chairman and CEO of ZeniMax Media; and Melissa Henson, Mother from Parents Television Council.
7. Bite of the day
N.Y. Times Quote of the Day ... New York Gov. Andrew Cuomo (D), during a call with reporters, responding to rumors that his longtime rival Mayor Bill de Blasio has encouraged the actress Cynthia Nixon to jump into the governor's race:
"I think it was probably either the mayor of New York or Vladimir Putin. I am going to leave it to you great investigative reporters to follow the facts and ferret out the truth."
8. "Trumpian lesson in self-promotion"
A Yahoo News excerpt from a book out next Tuesday, "Russian Roulette: The Inside Story of Putin's War on America and the Election of Donald Trump," by Yahoo's Michael Isikoff and David Corn of Mother Jones (Twelve Books):
During a 2013 steakhouse dinner in Vegas, where Trump was to preside over the Miss USA pageant, owned by his Miss Universe Organization ...
Trump was charming and solicitous of his new partners. He asked [oligarch Aras Agalarov, known as "Putin's Builder"] what kind of jet he owned. A Gulfstream 550, Aras answered. But the Russian billionaire quickly noted that he had a Gulfstream 650 on order. "If that was me," Trump replied, "I would have said I was one of only one hundred people in the world who have a Gulfstream 650 on order." It was a small Trumpian lesson in self-promotion. And Trump, proud of himself, turned to [Rob] Goldstone [who helped bring the Miss Universe contest to Moscow] to emphasize his point: "There is nobody in the world who is a better self-promoter than Donald Trump."
9. "Shoot him on the spot"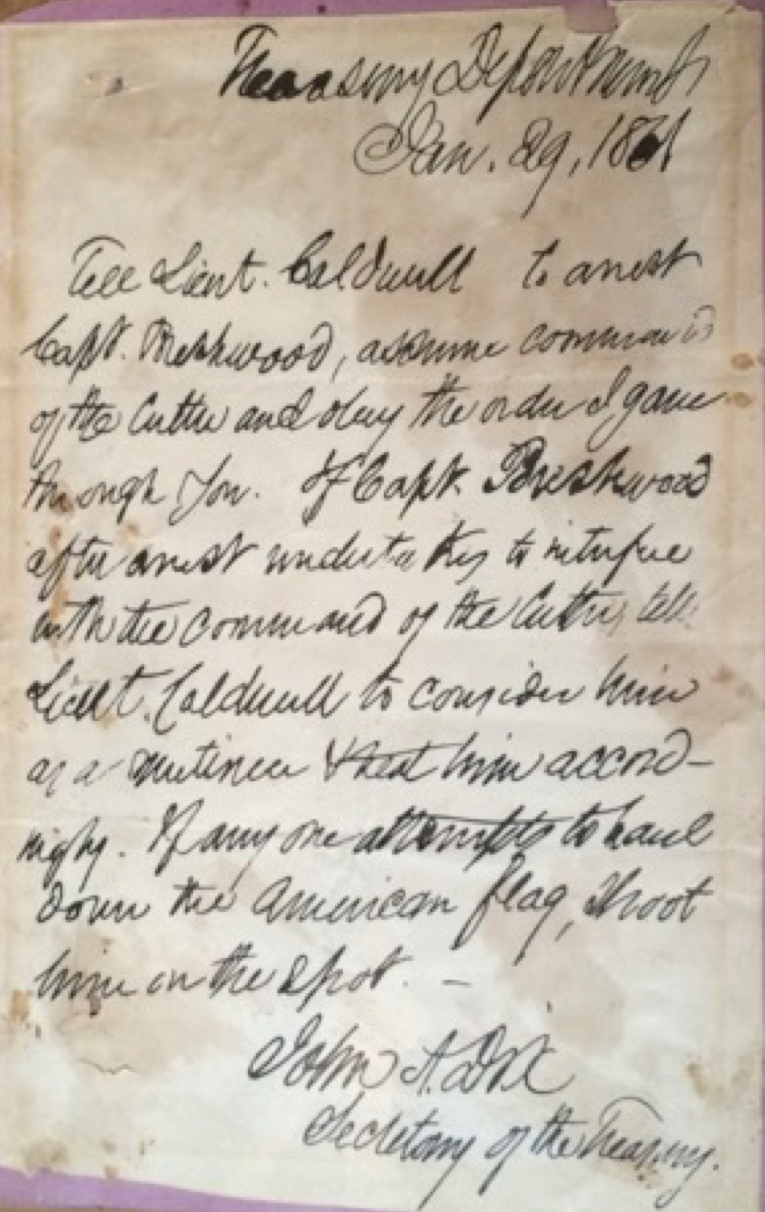 In the days leading up to the Civil War, John Adams Dix, the 24th Treasury secretary, wrote a letter ordering officials not to let a Union ship docked in New Orleans fall into Confederate hands, saying, "If anyone attempts to haul down the American flag, shoot him on the spot," AP's Marty Crutsinger recounts:
The phrase "shoot him on the spot" became a rallying cry in Northern states during the Civil War.
Dix's original letter was presented to the Treasury Department's library by the National Collector's Mint yesterday, accepted at a ceremony by the 77th Treasury secretary, Steven Mnuchin.
10. 1 fun thing: Shining moments ahead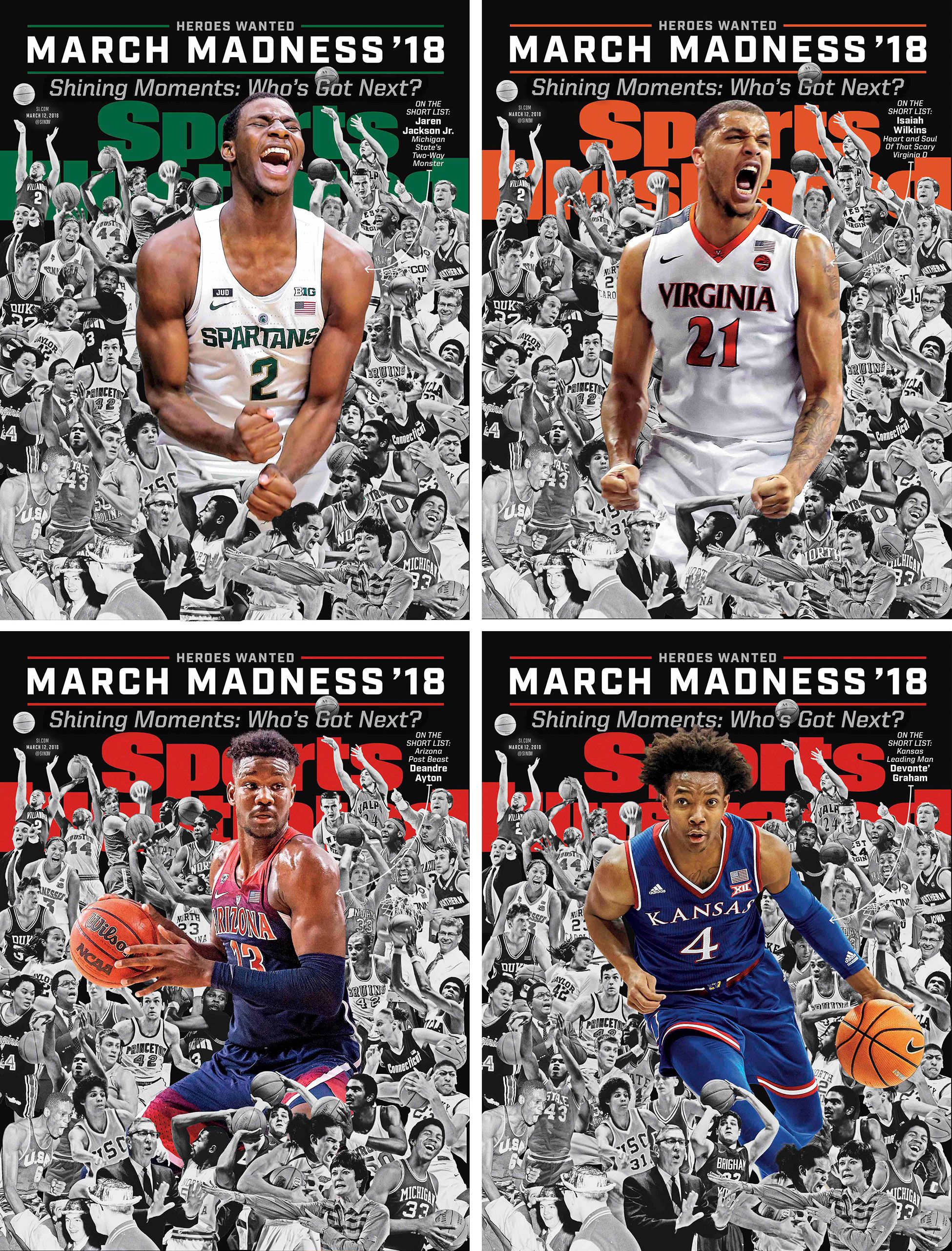 Sports Illustrated's March Madness issue hits newsstands today, featuring four covers spotlighting potential NCAA tournament heroes: Michigan State's Jaren Jackson Jr., Virginia's Isaiah Wilkins, Arizona's Deandre Ayton, and Kansas' Devonte' Graham.
From SI: Learn how each bubble team can secure an NCAA bid, read about underrated players primed to be Madness stars, and see a trailer for SI TV's first sports documentary, "We Town" (begins streaming tomorrow), which follows Texas star Mo Bamba and Duke commit Cam Reddish as they seek back-to-back state titles in their 2016-17 high school season.