Axios AM
September 24, 2017
Good Sunday morning. President Trump kicked off a beautiful game day for pro football by tweeting that fans should quit buying NFL tickets if protests take place:
"If NFL fans refuse to go to games until players stop disrespecting our Flag & Country, you will see change take place fast. Fire or suspend!"
"NFL attendance and ratings are WAY DOWN. Boring games yes, but many stay away because they love our country. League should back U.S."
New Yorker's Ryan Lizza tweets: "Goes to sleep threatening nuclear war. Wakes up suggesting boycott of NFL."
Situational awareness: Germans are voting, with Chancellor Angela Merkel, the most powerful woman in the world, expected with win a fourth term. Polls close at noon ET; AP says preliminary results expected about 6 p.m.
1 big thing: The Great Divider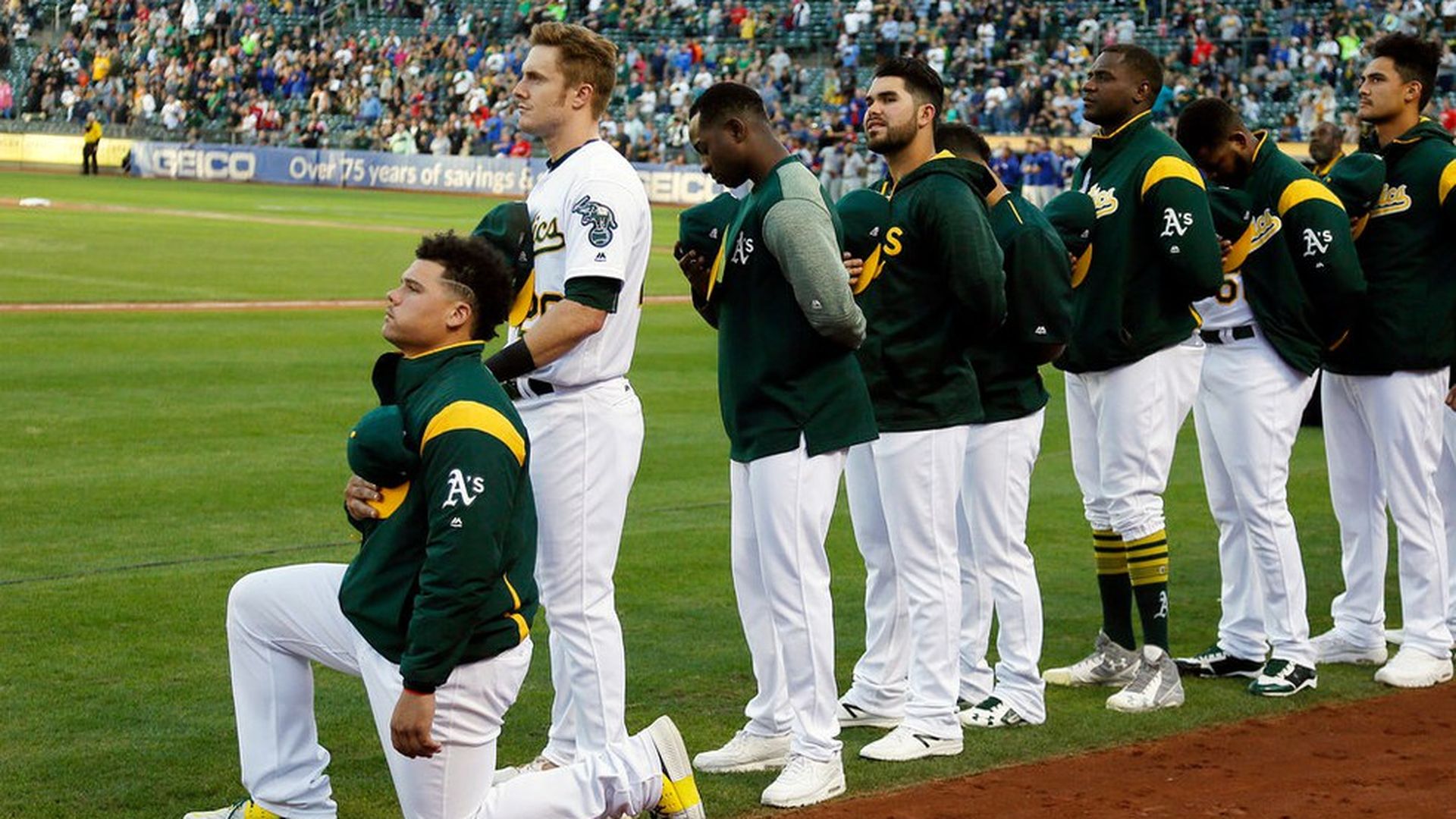 Opinionated athletes have a lot of company. Other than white, straight, Christian men, it's hard to think of a group President Trump hasn't offended or attacked as a candidate or in office:
Be smart: Trump's mostly white, mainly rural, majority-male base clearly laps this up — and he knows it.
2. What NFL, Trump are thinking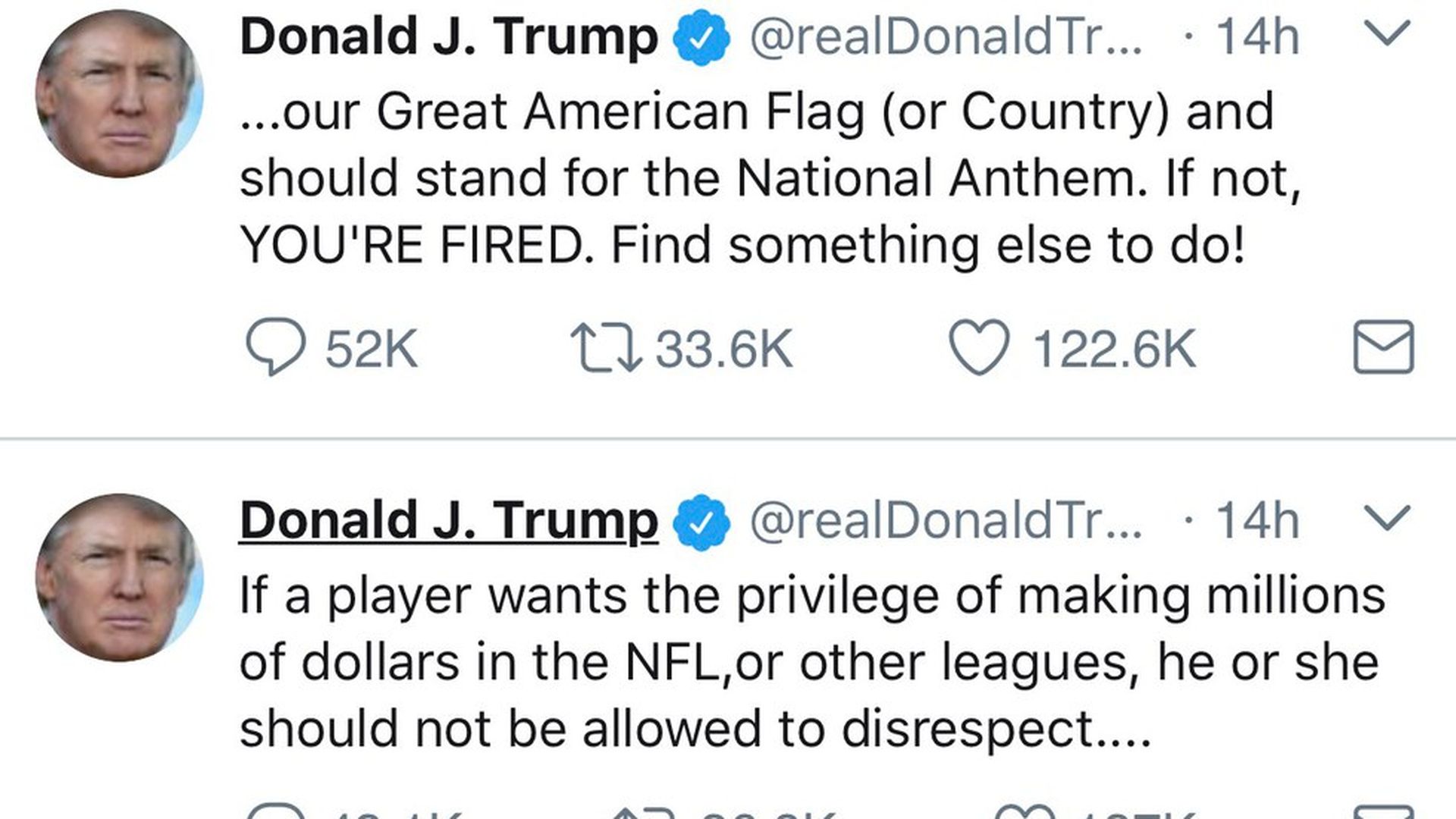 White House director of social media Dan Scavino last evening cc'd Brian McCarthy, the NFL's vice president of communications (@NFLprguy), on a Trump tweet criticizing Commissioner Roger Goodell.
The taunt reflects the fact that far from being sheepish about the president's sudden war with athletes, the Trump team is reveling in it.
With predictions of "potential mass protest Sunday along NFL sidelines," here's what the two sides are thinking, based on my high-level conversations, texts and emails.
What Trump is thinking:
Most of America is with me.
This will fire up my base, and disaffected NFL fans in Middle America.
Fans who turn on a game or show up at a stadium don't want to hear First Amendment talk.
Any NFL declines will now be sped up.
What the NFL is thinking:
Commissioner Roger Goodell rarely weighs in on politics, but saw this as an attack on the game.
The NFL front office and players' union are often at odds, but Trump brought them together.
This is a nuanced issue, and Trump is a bull in a china shop.
Players, owners are angry. But we can't fall in to the politics of dividing people.
Doug Sosnik — longtime NBA adviser, and former Clinton White House senior adviser and political director — emails me this theory: "One of Trump's typical moves is to toss a bomb out of nowhere to deflect what is really bothering him, in the hopes that the press will be distracted."
This week, "there is a good chance that the candidate he endorsed and campaigned for will lose in the Alabama Senate primary. On top of that, it looks like ... another failed Republican attempt to repeal Obamacare."
"So he figures that the shows on Sunday focusing on his fights with professional athletes is more appealing than a discussion about how he is becoming a loser."
P.S. WashPost's Sally Jenkins column at top of Sports front: "NFL shows restraint ... Goodell and others in the league are getting it right by responding to the president's baiting comments with civility."
3. The conversation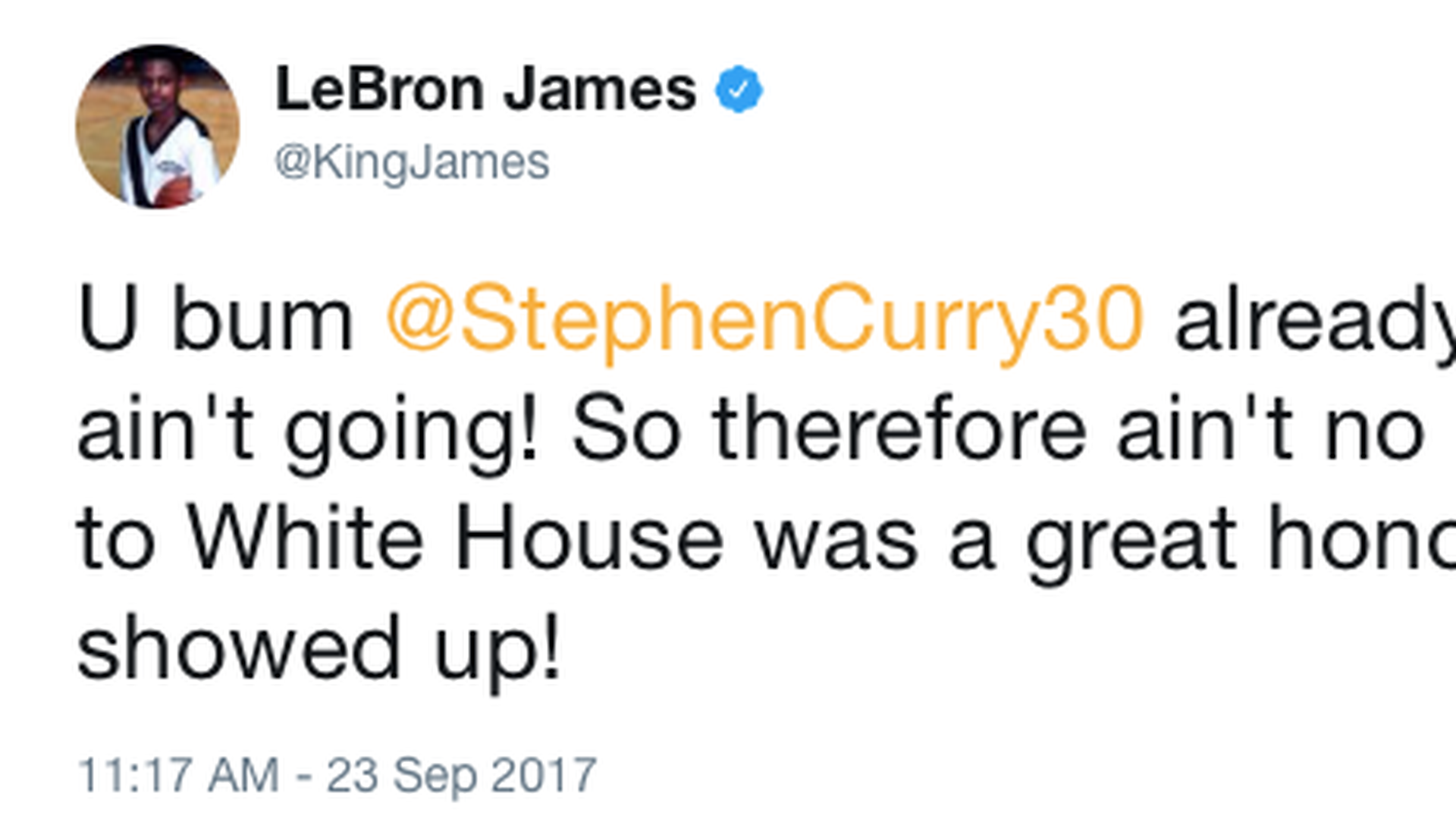 NFL's Joe Lockhart tweets: "Tens of millions of Americans, and fans around the world, will come together today to celebrate our great game and our great country."
The Atlantic's Ron Brownstein, on CNN: Trump "has appealed, from the beginning, to the elements of white America that are most uneasy about racial and demographic change."
NYT "Sports of the Times" columnist Michael Powell, "As Trump Takes On Athletes, Watch Them Rise": "Just as the president lays his hand on the third rail of race, the athletes are responding. ... What's notable is how measured the athletes have tried to remain, until poked and prodded."
"NFL owners speak out in support of players, against Trump," by AP: "The Buffalo Bills were bothered enough ... to hold a voluntary team meeting ... with players, coaches, staff and ownership. ... At least seven team owners donated $1 million each to Trump's inaugural committee."
NBA Commissioner Adam Silver statement: "I am proud of our players for taking an active role in their communities and continuing to speak out on critically important issues."
National Review deputy managing editor Nicholas Frankovich: "[W]hile peevishness and carping are effete, magnanimity is manly and disarming. Manliness is a much derided concept these days ... Some men aspire to it but bluster, miss the mark, and end up being catty instead. It's called Twitter. In contrast, competition on the court can still be uplifting."
BBC headline: "NFL row ... Sports stars round on Trump."
4. Trump's front page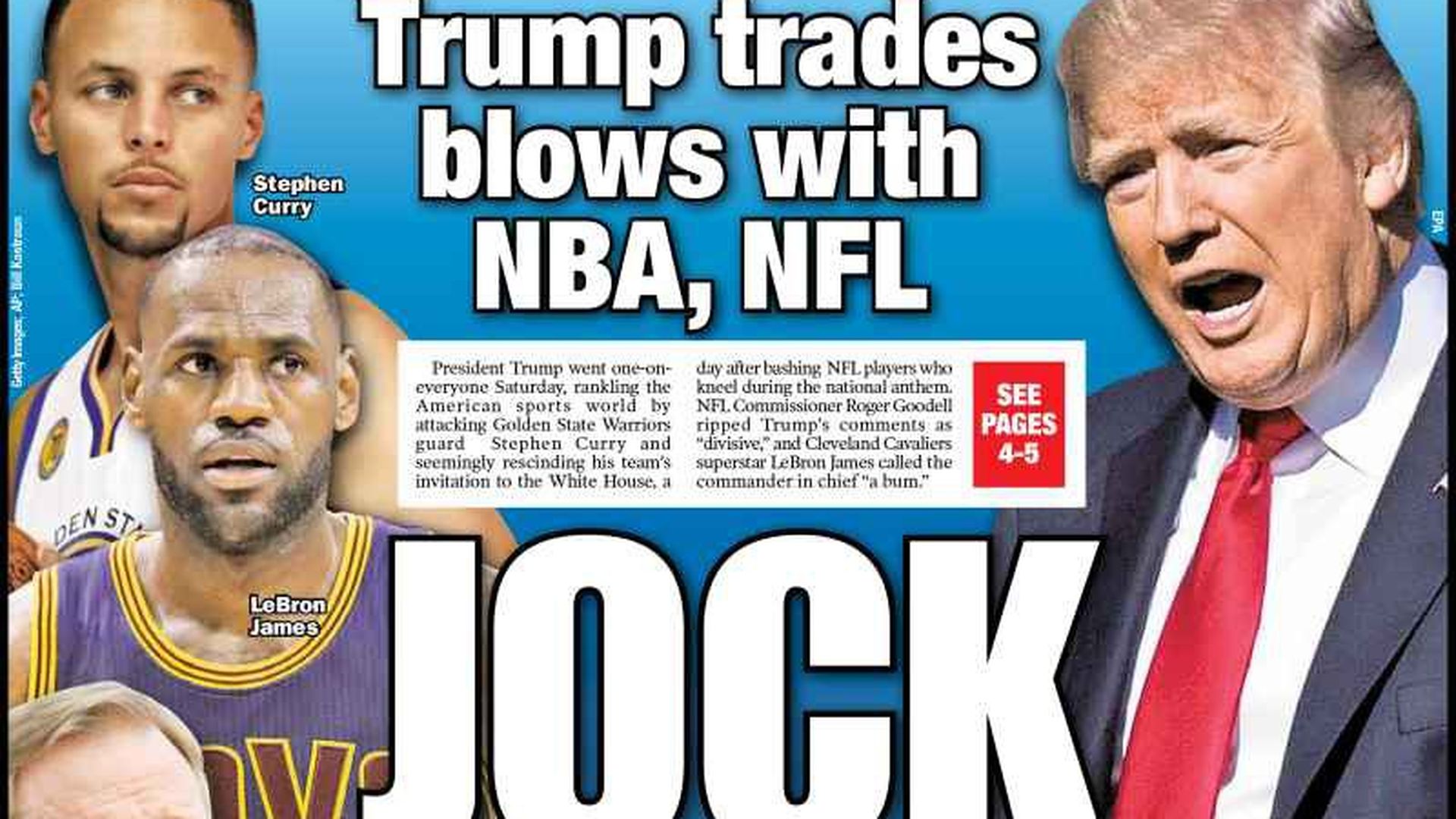 5. Scoop: Tax break for rich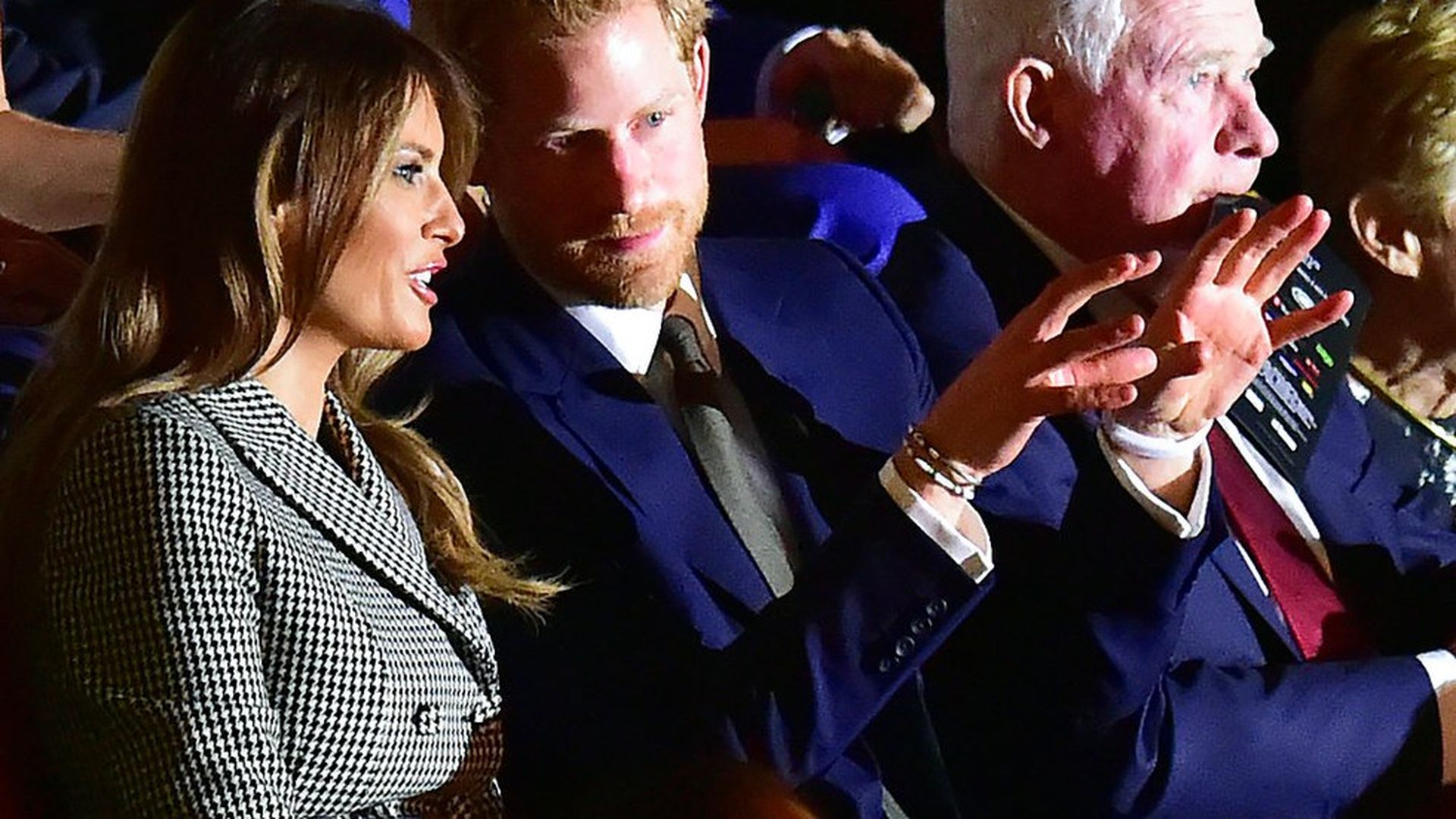 Trump and Republican leaders plan to cut the top tax rate for the wealthiest Americans from 39.6% to 35% and dramatically reduce taxes on big and small businesses, per details leaked to Axios' Jonathan Swan.
Why it matters: It's the first glimpse of the tax reform plan agreed upon in secret between the "Big Six" congressional leaders and administration officials.
The big change: GOP leaders and the White House plan to cut the top tax rate for small businesses — "pass-throughs" — from 39.6% to 25%.
What's next: Trump will give a speech unveiling the framework in Indiana on Wednesday.
6. The only story that matters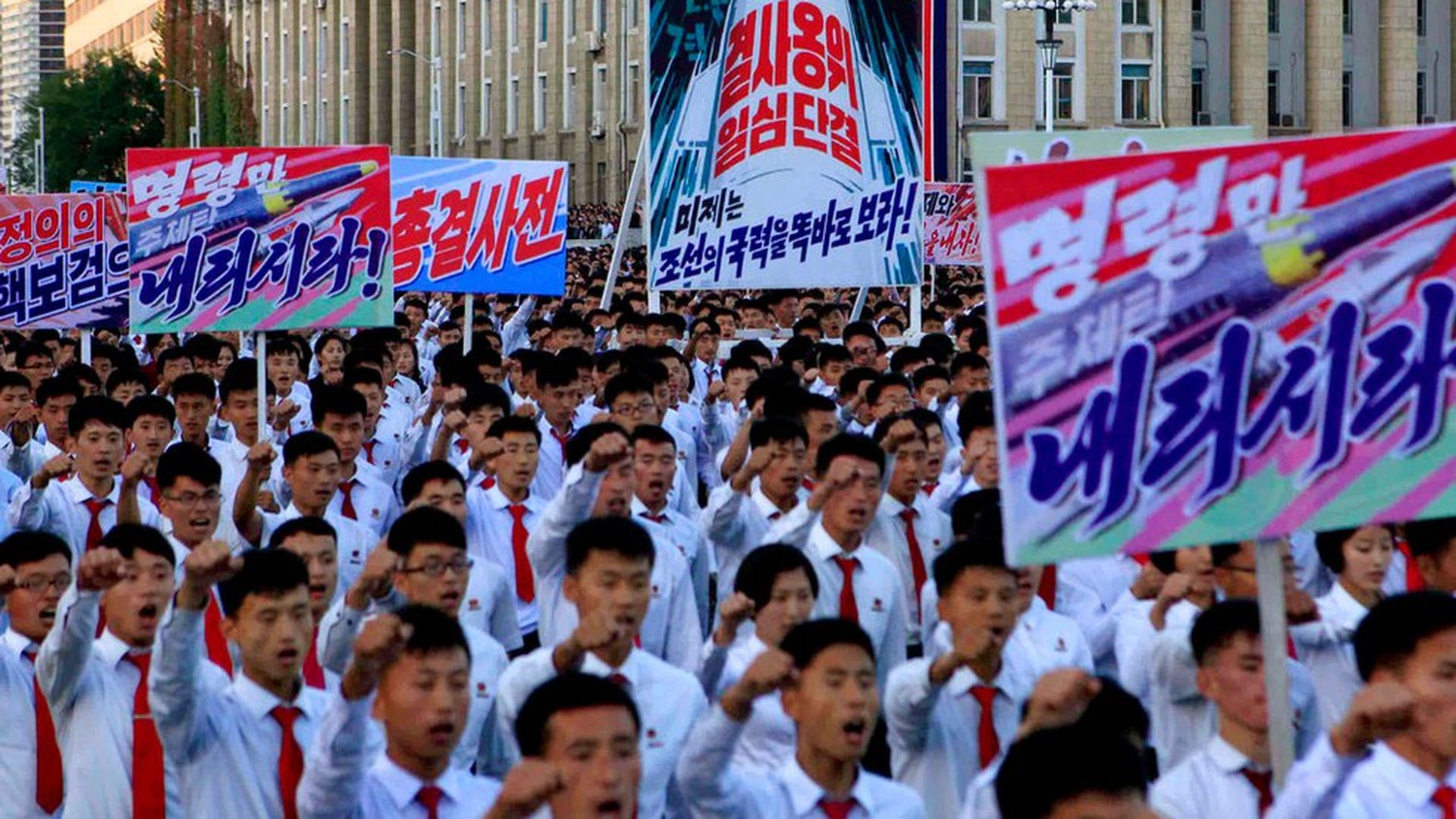 Trump warns in a Saturday-night tweet: "Just heard Foreign Minister of North Korea speak at U.N. If he echoes thoughts of Little Rocket Man, they won't be around much longer!"
"North Korea's foreign minister told world leaders Saturday that ... Trump's insult calling leader Kim Jong Un 'rocket man' makes 'our rocket's visit to the entire U.S. mainland inevitable all the more.'" (AP)
"U.S. Air Force B-1B Lancer bombers escorted by fighters flew in international airspace over waters east of North Korea on Saturday in a show of force the Pentagon said indicated the range of military options available to Trump." (Reuters)
Go deeper: "What North Korea wants from the U.S.," by Axios' Shannon Vavra.
7. Tech at war with world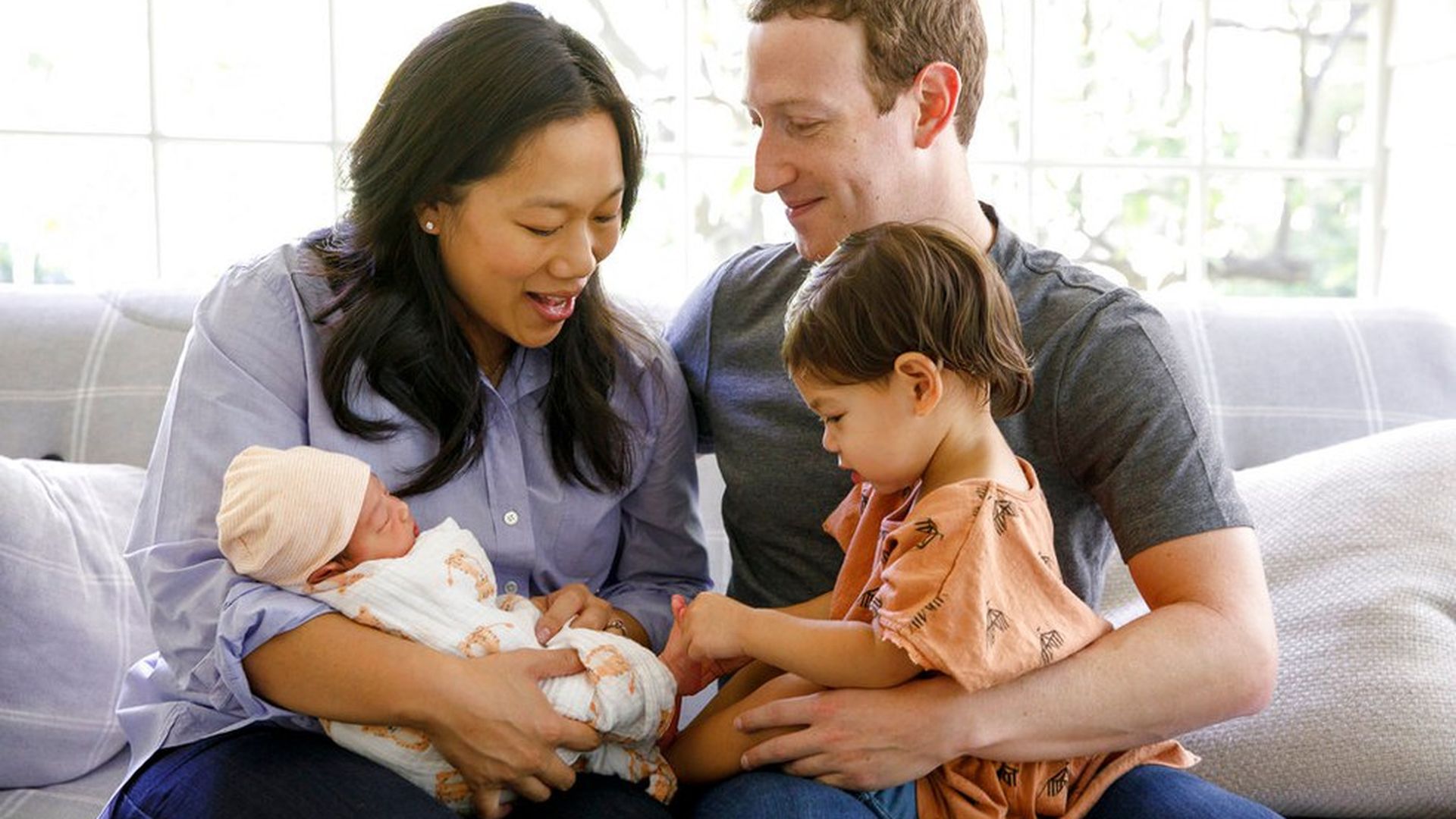 Crazy days that Maureen Dowd is harsher on Mark Zuckerberg than Peter Thiel — and positions Elon Musk as the good guy in comparison to Mr Facebook.
From her N.Y. Times column today, "Will Zuck 'Like' This Column? Facebook has to face facts — it got manipulated":
Elon Musk ... has been sounding the alarm for years about the danger of Silicon Valley's creations and A.I. mind children getting out of control and hurting humanity. ... Zuckerberg ... likes to paint himself as an optimist and Musk as a doomsday prophet.
But ... Musk is right: The digerati at Facebook and Google are either being naïve or cynical and greedy in thinking that it's enough just to have a vague code of conduct that says "Don't be evil," as Google does.
8. Uber to yield in London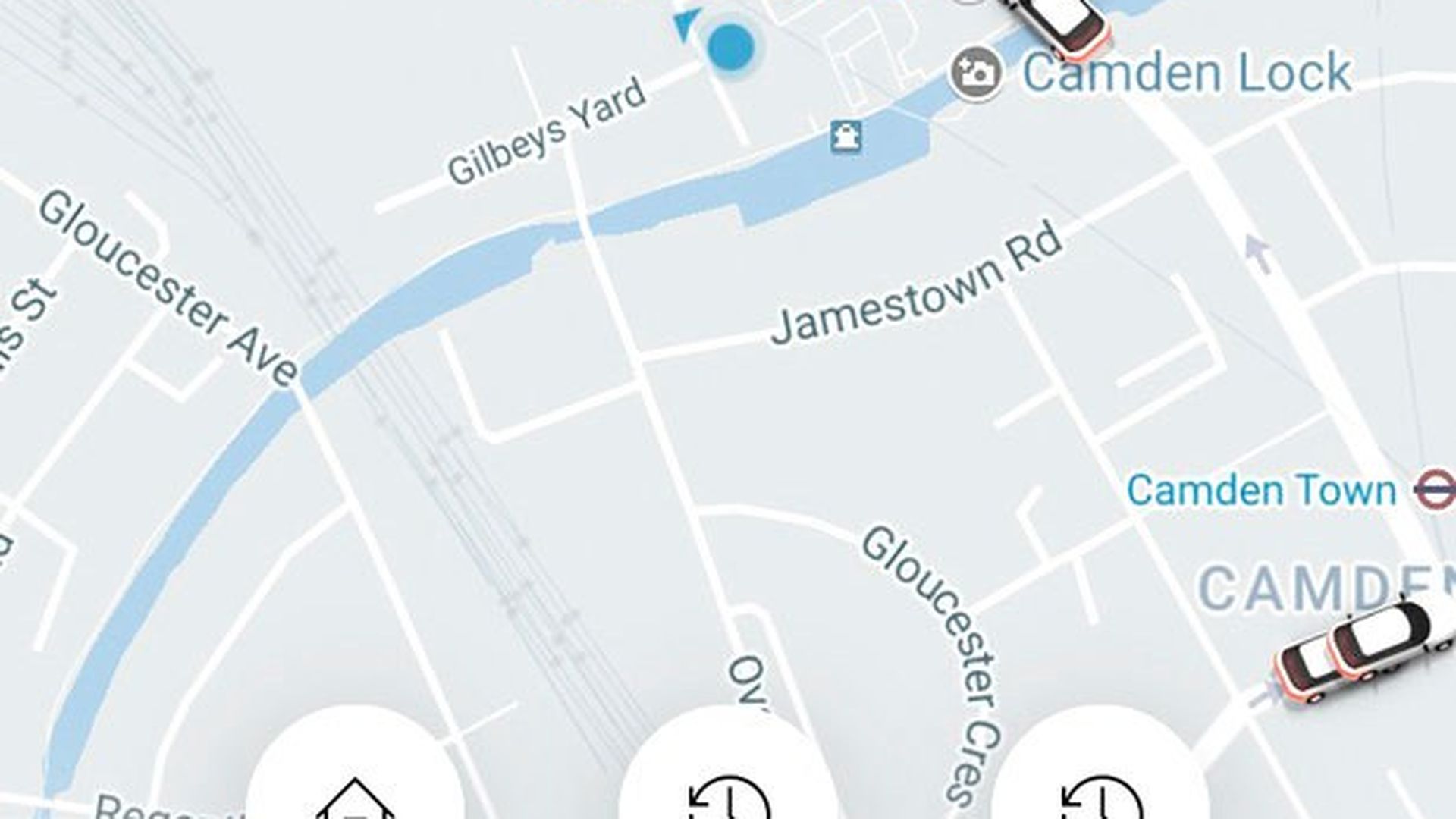 "Peace may be breaking out in the battle between Uber and London, as the ride-sharing giant signalled last night that it was prepared to make concessions on passenger safety and benefits for its drivers," per a Sunday Times of London front-pager (subscription).
"More than 600,000 people have signed an online petition opposing the decision to drive Uber out of London."
9. One of the earliest photos taken in U.S.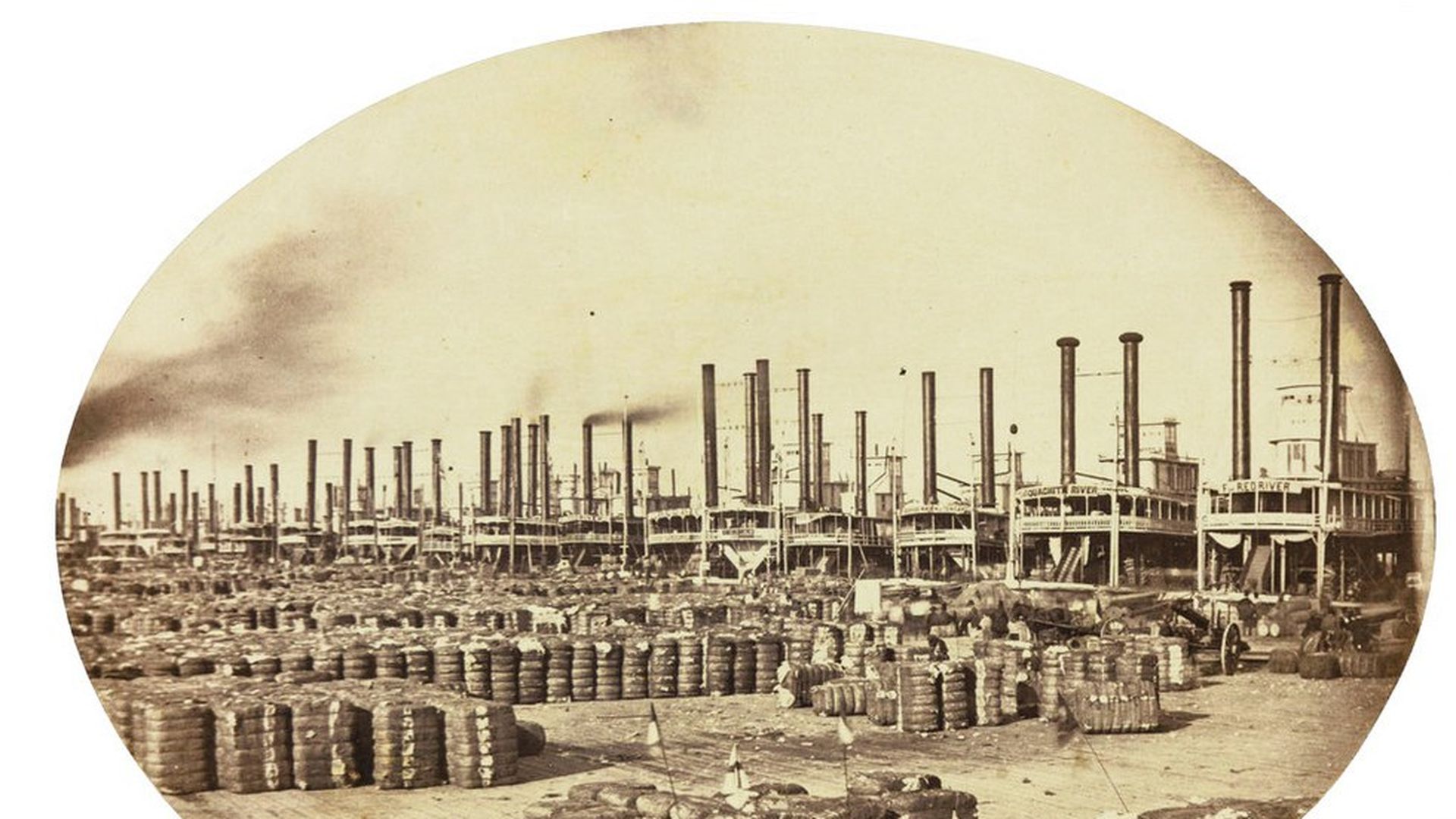 Some of the oldest daguerreotypes and photographs of U.S. landscapes are about to go on display in New Orleans, as part of the first exhibit and study of such landscapes made east of the Mississippi River, per AP's Janet McConaughey:
This photograph is a coated salt print of New Orleans cotton wharves sometime between 1858 and 1861, by Jay Dearborn Edwards. It is among 19th century landscape photographs in an exhibit to be shown at the New Orleans Museum of Art from Oct. 6 to Jan. 7.
"East of the Mississippi: Nineteenth-Century American Landscape Photography," debuted with four months at the National Gallery of Art in Washington, where 62,000 people saw it.
The oldest photos include an 1839 daguerreotype of Newburyport, Massachusetts, by Boston-area physician Henry Coit Perkins, and ... two shots of Niagara Falls taken in 1840 by English scientist Hugh Lee Pattinson.
France had made Louis Daguerre's process of fixing images on polished silver a gift to the world in August 1839, and articles about it arrived in this country that September. U.S. scientists and others began experimenting almost immediately.
10. My 6 big things