February 04, 2020
🇨🇳 Axios China — by our new China reporter, Bethany Allen-Ebrahimian — relaunches tomorrow. Subscribe here.
🗳️ 1 big thing: Iowa fiasco stifles results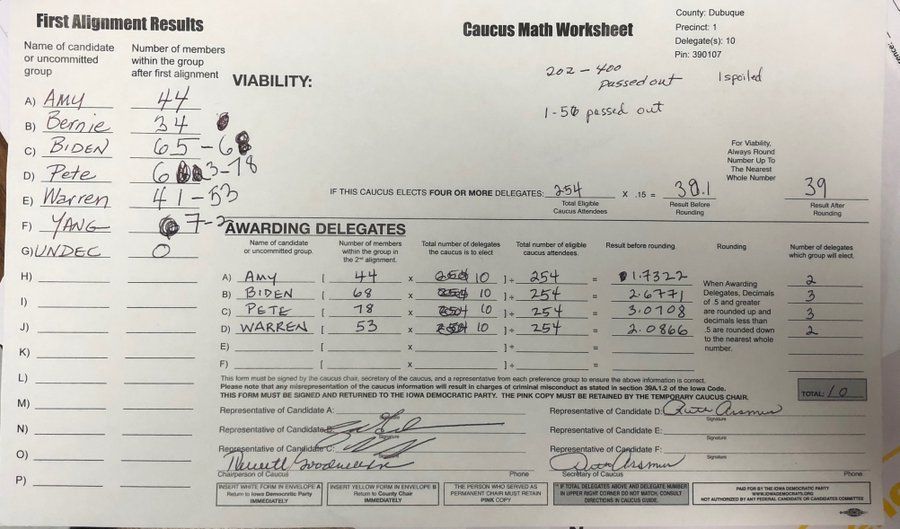 You see the problem. The N.Y. Times' Trip Gabriel tweeted this Iowa caucus result sheet from Dubuque. And that's one of 1,678 precincts.
The Iowa caucus machinery melted down last night, leaving nervous campaigns and exhausted voters with not a single result.
The Iowa Democratic Party says it'll release numbers later today, after manually verifying the data.
AP's headline: "Dems lay a big caucus egg: No results from Iowa election."
"We found inconsistencies in the reporting," a party statement said. "In addition to the tech systems being used to tabulate results, we are also using photos of results and a paper trail."
The statement said the snafu, which left cable anchors with hours to fill and nothing to say, was "not a hack or intrusion."
No, the culprit was closer to home. It turns out that the fabled Iowa caucuses, three years in the planning, were foiled by an app.
NBC's Cynthia McFadden, who obtained a copy of Iowa Democrats' proprietary app, dropped this smart brevity on MSNBC just before 1 a.m. ET: "They called the app a fancy calculator. Well, it turns not to be so fancy."
Earlier in the day, NBC talked to 12 caucus leaders who said they had trouble downloading it.
Shawn Sebastian, a volunteer who tried to report the results from a precinct in Ames, told MSNBC that when the app didn't work, he tried to phone in results.
He was on hold for two hours, then was disconnected.
Sebastian said he finally reported his results around 11 p.m. CT, and it took about 20 minutes. For one precinct.
The campaigns lit into party officials on a conference call.
Pressed by the campaigns about when results would come, the party hung up, per MSNBC.
The candidates — who had caucus-night parties set up in Des Moines ballrooms, wired for live coverage — finally took advantage of the vacant airtime.
Amy Klobuchar spoke first, a little after 11 p.m. ET.
Next was Joe Biden, whose campaign was worried enough about the results to protest them without even seeing them. (See letter below.) "It looks like it's gonna be a long night, but I'm feeling good," Biden said in his best Bill Clinton. "We're in this for the long haul."
Elizabeth Warren started speaking at the same time as Biden. Then Bernie Sanders went.
Finally, Pete Buttigieg took the stage at 12:20 a.m., and owned the moment with authority, speaking for 20 minutes. "By all indications, we are going onto New Hampshire victorious," he said, prompting chants of "President Pete!"
💬 Best text I got last night ... "Big winner: Des Moines Register. Their last poll nailed it."
🥊 Here's the Biden campaign's protest letter: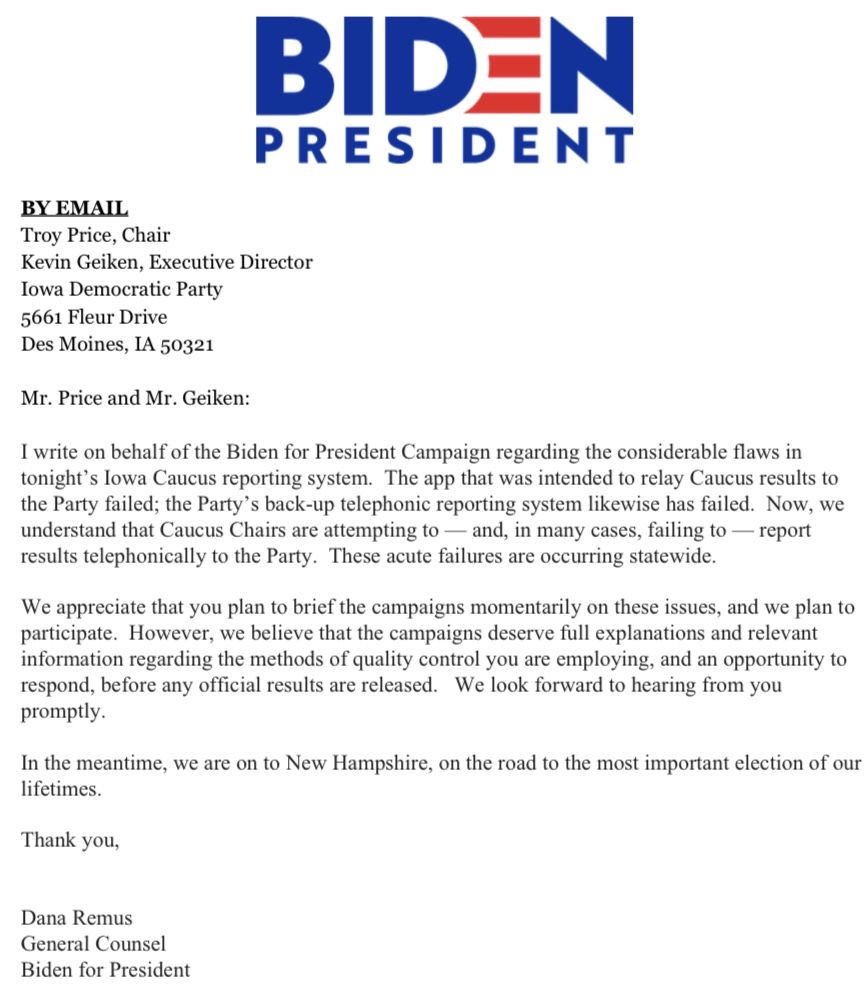 2. 📺 Caucus night, live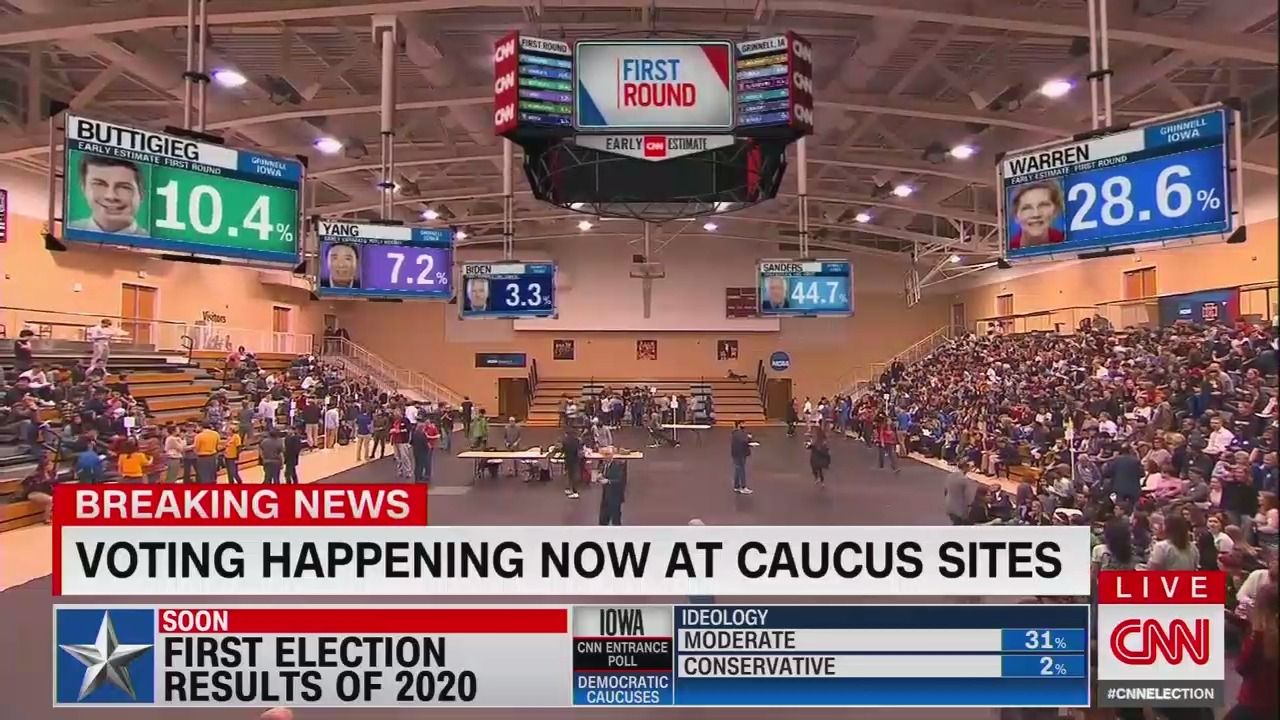 Before technical difficulties choked off results, TV voyeurs got to watch the Iowa caucuses unfold in all their quirky, colorful, antiquated chaos.
CNN had multiple "Caucus Cam" locations, at one point showing Grinnell and Sioux City gatherings, stacked on top of each other.
You could watch the entirety of a West Des Moines caucus on C-SPAN, or flip over to C-SPAN 2 to catch the action in Milo. A democracy Red Zone!
MSNBC's Brian Williams narrated a live feed: "Chairs are becoming scarce on the left side of the room there in Clinton, Iowa."
In Des Moines, Katy Tur noted the "democracy tourists" visiting from Sweden, Canada and Kansas.
"Hey, guys!" Tur said to a group of voters whose candidate had been eliminated. "You're not viable — I'm sorry! Who are you gonna realign to?"
Over on Fox News, Tucker Carlson talked above the headline: "BERNIE SANDERS IS NOT GOING ANYWHERE."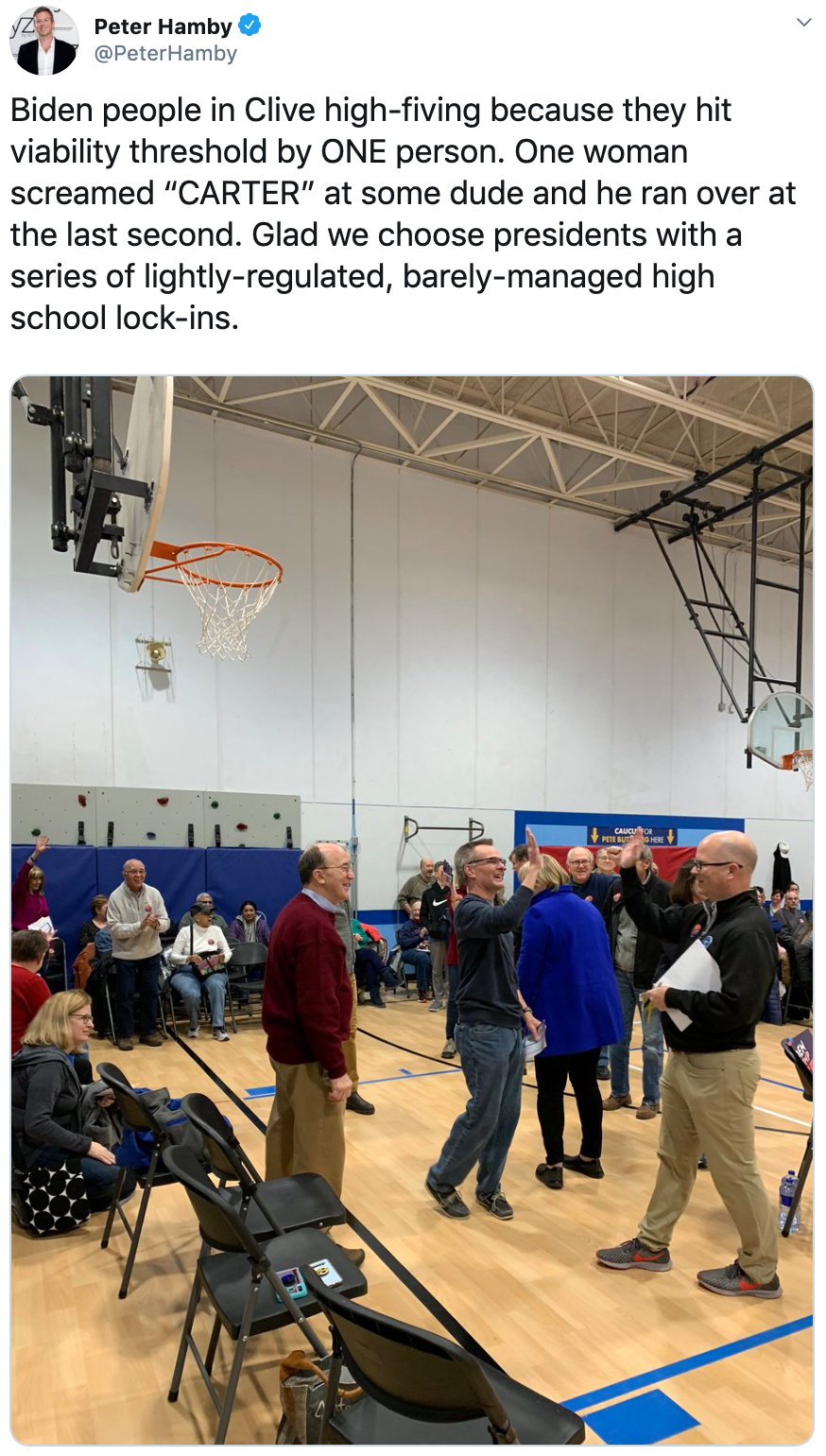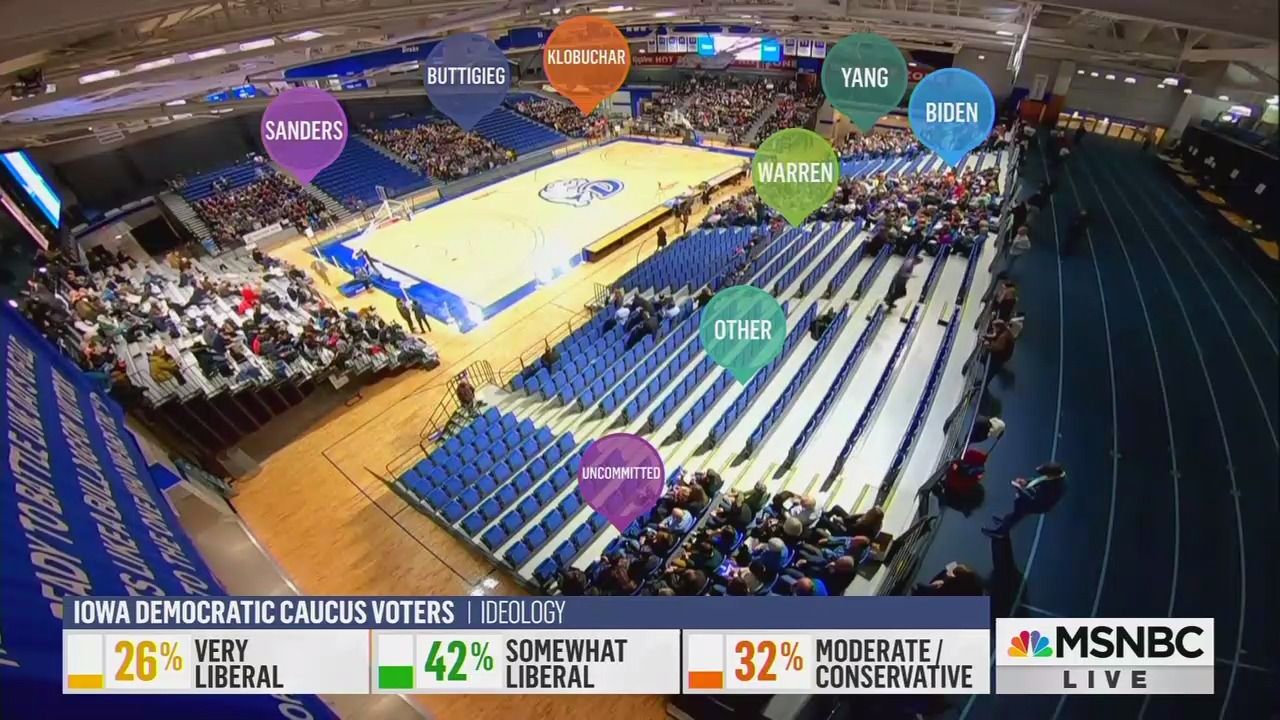 3. 😱 Software train wreck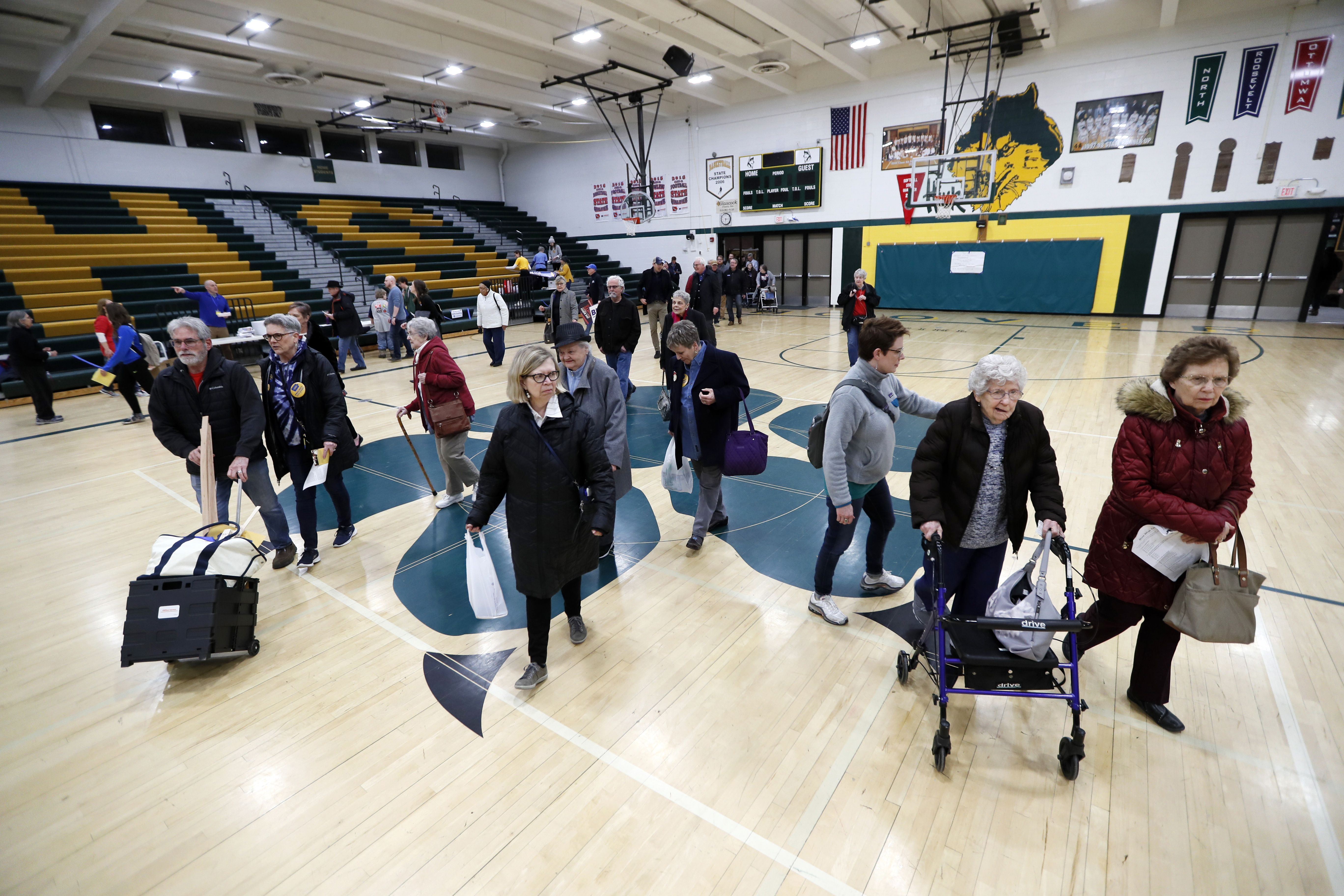 The disastrous rollout of the Iowa Democratic Party's vote-reporting app looks to go down as a software train wreck for the ages, Axios managing editor Scott Rosenberg writes from the Bay Area.
Why it matters: The debacle adds a fresh element of instability to our troubled election system.
The big picture: Coding disasters have been with us as long as there's been software. They've led to exploding space missions and lethal doses of radiation for cancer patients.
In this case, the app failure, followed by long delays with a phone-reporting backup system, crippled the calendar-leading Iowa Democratic caucuses.
Between the lines: We don't yet know exactly what happened in Iowa. But it has all the earmarks of what engineers call a "cascading failure."
The app either failed in some way, or users simply found that they couldn't use it easily and resorted to the phones instead.
The phone system may not have been properly staffed since the app was going to take care of most of the reporting.
Background: The Iowa Democrats' app plan had raised questions about security, in an election climate attuned to fears of hacking and meddling.
In an NPR story on the app last month, state Democratic officials "declined to provide details" about who made the app or what kind of security testing it had undergone, but said that security was "a priority."
Our thought bubble: Vulnerabilities may have been less of an issue than usability.
4. Kobe's death transcends other mammoth news
The death of Kobe Bryant and his daughter Gianna became one of the most talked-about news events of the social media era, Neal Rothschild writes from data that NewsWhip provided exclusively to Axios.
Why it matters: What breaks through in a saturated, splintered media landscape is unexpected, emotional news.
By the numbers: In the week after the Jan. 26 helicopter accident, stories about the Bryants generated 208 million social-media interactions (likes, shares, comments) — more than coronavirus, impeachment, the Super Bowl, the Iowa caucuses and the Grammys combined.
The tragedy didn't generate the most news stories: The roughly 97,000 stories written about Kobe and Gianna in the past week are only about half the total for coronavirus stories (~174,000).
Between the lines: The story had a huge cascading effect, as tributes drove new stories and hashtags.
LeBron James' reaction reinvigorated the news cycle.
The hashtag #GirlDad went viral as reactions poured in about the relationship between Kobe and Gianna.
The bottom line: In a news ecosystem that's fragmented by both niche interests and ideology, it's rare for the internet to be so captivated by a single story.
5. Trump faces accusers tonight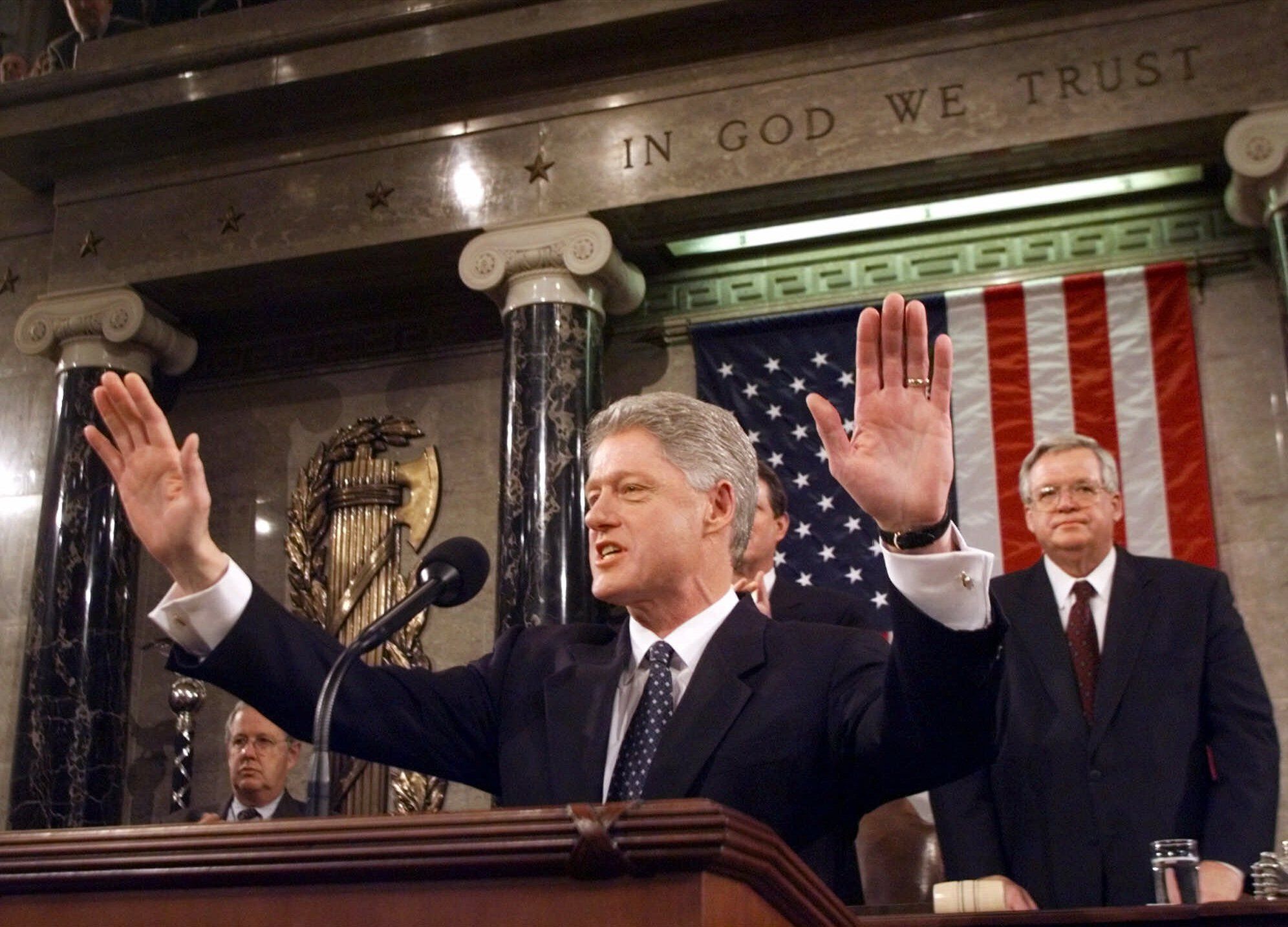 President Trump addresses the nation at 9 ET tonight in the House chamber, where Democrats voted to impeach him less than two months ago, and a day before he is expected to be acquitted in the Senate, Axios' Alayna Treene writes.
Flashback: 21 years ago, former President Bill Clinton found himself in the same exact situation, addressing a country in the midst of a bitter impeachment battle. Clinton avoided using the I-word in his 78-minute speech, sticking with his commitment to focus on doing the work of a president, despite members' attempts to remove him from office.
Trump's theme: the "Great American Comeback."
Administration officials say Trump will spend a decent portion of his address spotlighting his special guests.
6. Bloomberg hopes Sanders would change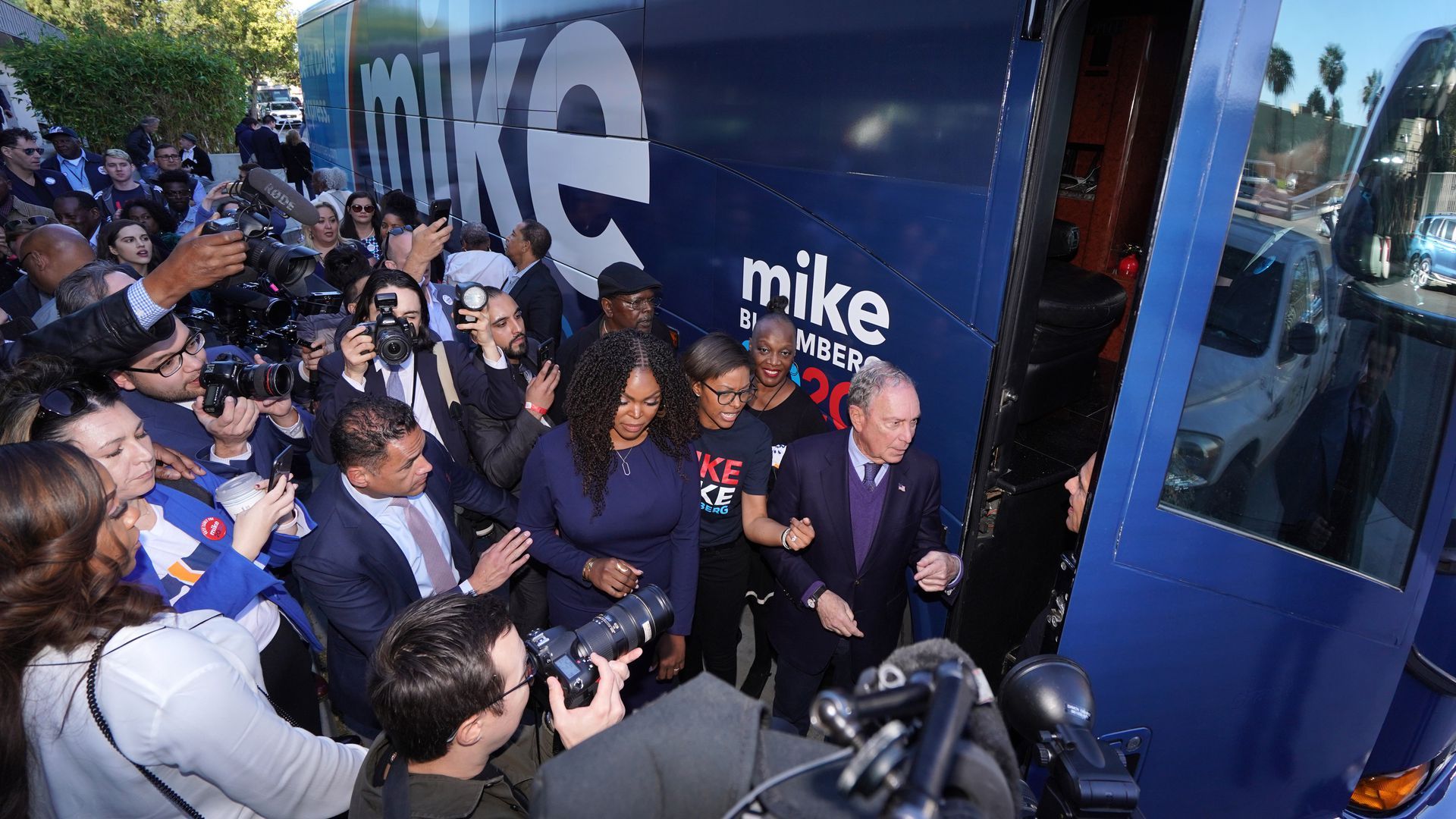 Mike Bloomberg tells Axios' Jonathan Swan he'd support Bernie Sanders over Donald Trump if those were his two options — but that Sanders is "so far to the left it's not practical," and that "what he wants to do would never get through Congress."
"I don't agree with him on virtually anything," Bloomberg said in an interview yesterday at a campaign stop in Compton, Calif. "But I have committed to support the Democratic candidate because I find Trump so unsuited for the job."
"I would hope that if Bernie did win, he would change some of his policies, or Congress would make him change some of his policies," Bloomberg added.
Bloomberg skipped Iowa to campaign in California, the most populous state in the nation and in the March 3 Super Tuesday contests.
Bloomberg's states director, Dan Kanninen, said by skipping the first four states, Bloomberg has Super Tuesday and later states effectively to himself for the next month.
The campaign says it will have 800 full- and part-time staff and 20 field offices in California by March 3.
7. YouTube brings in $15 billion a year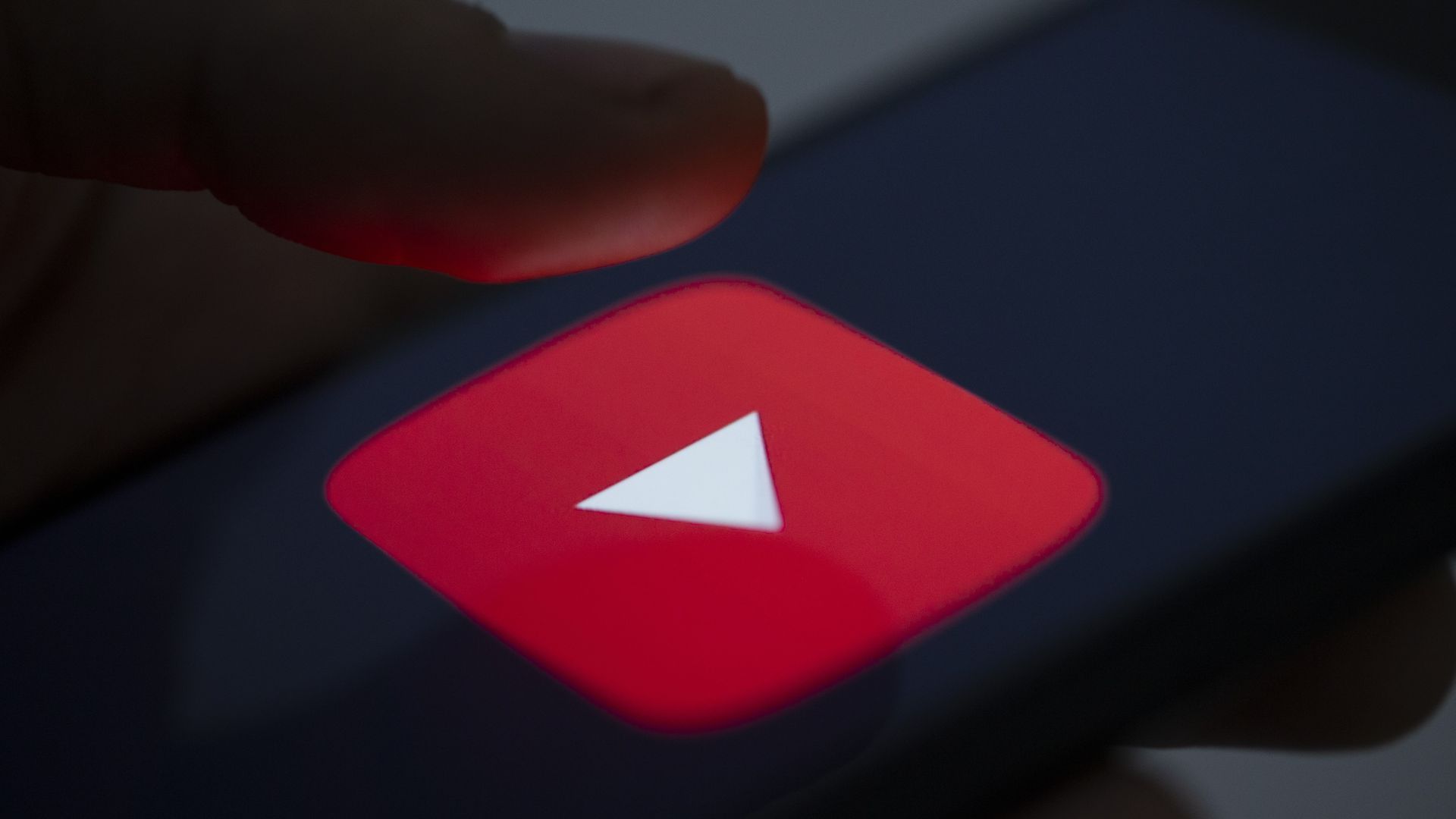 Disclosing YouTube revenue separately for the first time, Alphabet said that the Google-owned video site accounted for more than 10% of the company's $46.1 billion in revenue last quarter, and more than $15 billion for the year.
Why it matters: Everyone knew YouTube was a big business, but until now, we didn't know exactly how big, Axios' Kyle Daly writes.
8. ☕ 1 fun thing: Coffee creamers get fancy
Coffee creamers are getting more grocery-store space as demand grows for new flavors, including Funfetti and Peeps, the Wall Street Journal reports (subscription).
Daniel Jhung, president of Nestlé's beverage division, says younger drinkers "don't like black coffee. They like coffee milkshakes."
Sales of plant-based creamers, including oats and soy, rose 30% last year to 8% of the creamer market, per the Journal.
"Just plain half-and-half won't cut it anymore."