You're invited ... Axios events launch in D.C. next week:
Tuesday, 8 a.m.: "The Journey from Route 66: A Discussion on America's Infrastructure" with Virginia Gov. Terry McAuliffe, House Transportation Chair Bill Shuster and Emil Frankel of the Eno Center for Transportation. Click here to RSVP.
Wednesday, 8 a.m.: I interview Mark Cuban, Sen. Cory Gardner (R-Colo.) and Mayor Steve Benjamin of Columbia, S.C., at "Get Connected: The Future of Communication." RSVP here.
https://www.axios.com/newsletters/axios-am-9016bbd7-a24a-4741-b191-4ddf09fb8a92.html?chunk=0#story0
1 big thing ... Trump at 50 days: The known knowns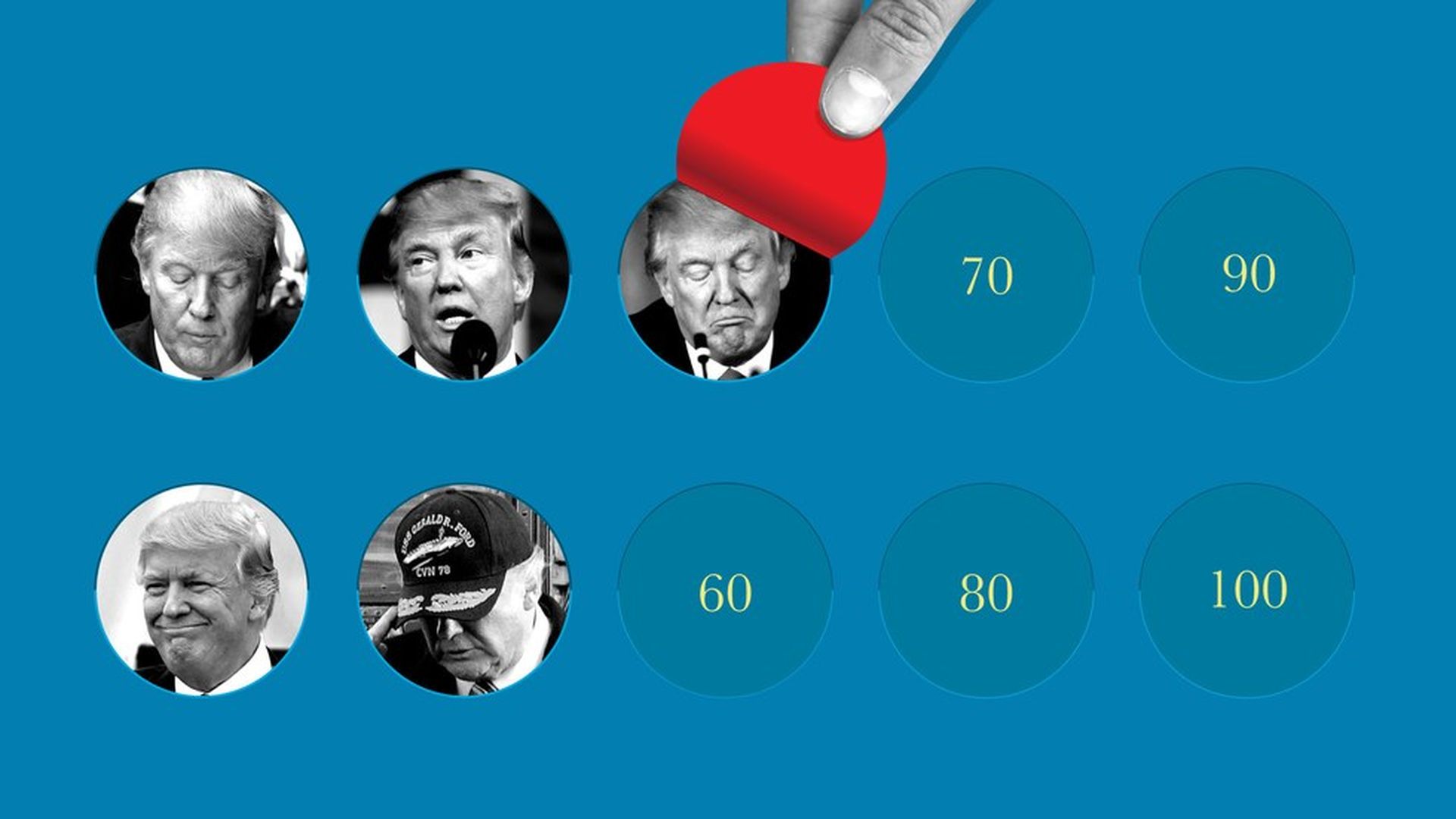 Today is Day 50 of the Trump presidency — halfway to the fabled hundred days. As our halftime report, here are a half dozen "known knowns" Jim VandeHei and I have learned since the inauguration:
Trump is Trump. A wise friend told us that the one guy who's not changing is a 70-year-old billionaire with his name on the building. Think about the arc of claiming 6 years ago that President Obama wasn't a U.S. citizen to claiming Saturday that Obama wiretapped Trump Tower. Trump might surprise, but he will never change.
He's a media junkie. For all his anti-media tirades, we have never had a president this obsessed with the media. This has been a reality for Trump since the 1980s and will never change. So, brace yourself for twitchy Twitter responses to Fox, the N.Y. Times and "Morning Joe" until this presidency ends.
The Trump show will always be improv. His advisers can make all the plans and give all the advice they want. Trump always has, and always will, go with his gut — usually based on the last person who got him jazzed.
Trump is transactional. He wants to claim wins on creating American jobs, undoing Obamacare and cutting taxes. He likes working people face-to-face or on his cell. And the details are always negotiable.
Chaos isn't a theory — it's a governing reality. Competing factions, widespread insecurity and rivalry promise many more months and years of reality show-worthy stories and governing. The truth is: Trump likes the commotion.
Whether it's smoke, fire or a bit of both, Russia's a problem that won't go away. You have all the ingredients for an endless investigation: multiple, mysterious meetings between Trump officials and Russia; some elements of the intelligence community clearly out for payback; congressional probes launched; and the opposition party smelling blood. Ask Bill Clinton how long these dramas drag on.
P.S. "FBI investigation continues into 'odd' computer link between Russian bank and Trump Organization," by CNN's Pamela Brown and Jose Pagliery: "Internet data shows that last summer, a computer server owned by Russia-based Alfa Bank repeatedly looked up the contact information for a computer server being used by the Trump Organization — far more than other companies did, representing 80% of all lookups to the Trump server."
https://www.axios.com/newsletters/axios-am-9016bbd7-a24a-4741-b191-4ddf09fb8a92.html?chunk=1#story1
2. The tao of Trump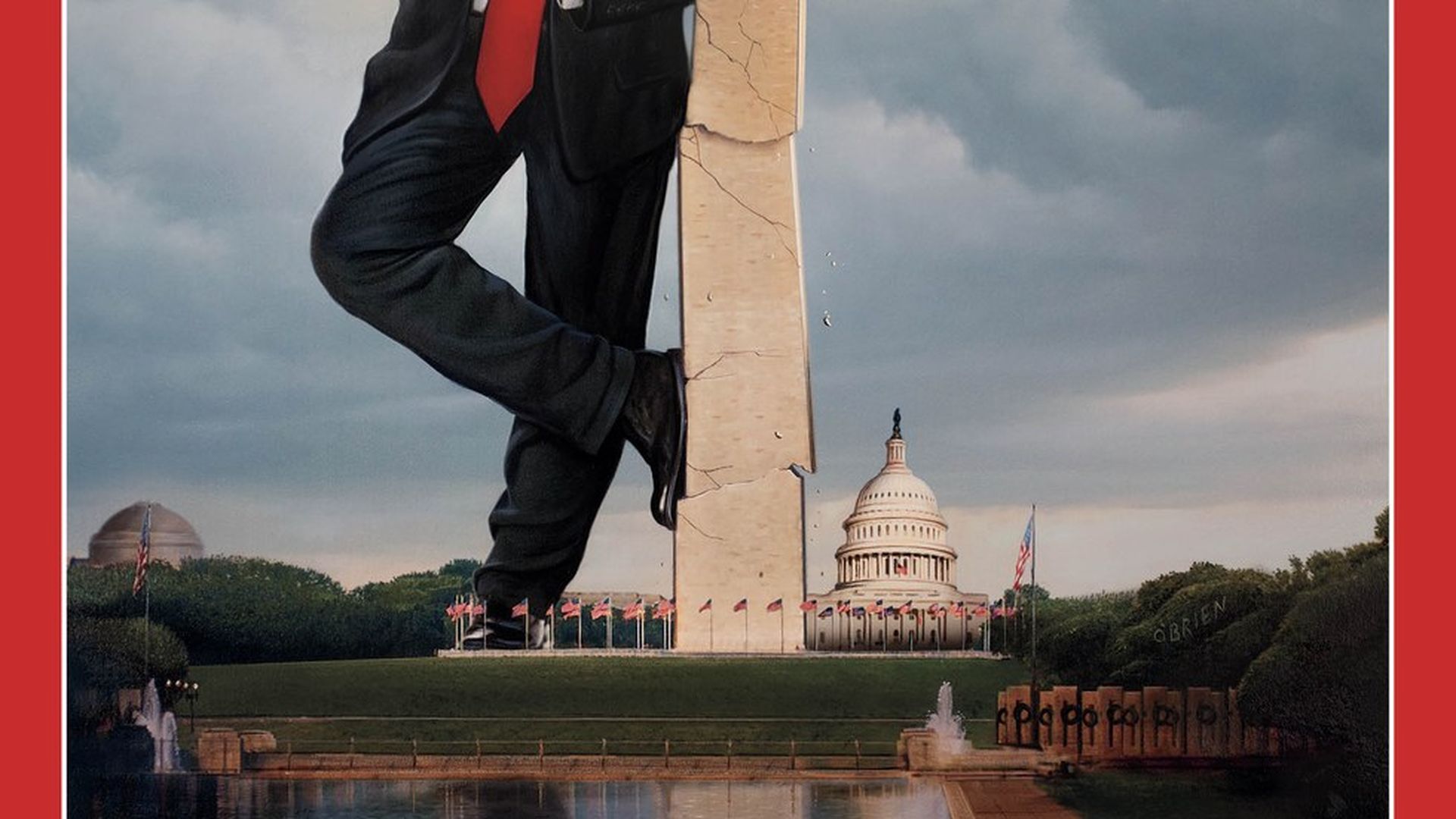 "Behind the political lexicon of the Trump White House," a WashPost front-pager by Marc Fisher: "Bannon rails against the 'corporatist, globalist media.' Trump talks about 'a global power structure.' Bannon promises the 'deconstruction of the administrative state.' ... [Trump] stands before Congress and enunciates every syllable of 'radical Islamic terrorism,' even after his own national security adviser protests that the phrase is unhelpful."
"[A] senior administration official who [sounds an awful lot like Steve Bannon] ... said that the rhetoric of the Trump administration is designed 'to be neither left nor right but a common-sense approach that shines light on a very out-of-touch small group of people in a few big cities who have been the big winners and who try to portray the mainstream of America as being abnormal.'"
"A lot of the language you're seeing is about one question: Are we reindustrializing America or deindustrializing America? ... Sometimes the language falls into a left bucket and sometimes a right bucket, but the consistent theme is that the proper role of the American nation-state is to create more prosperity for American citizens."
https://www.axios.com/newsletters/axios-am-9016bbd7-a24a-4741-b191-4ddf09fb8a92.html?chunk=2#story2
​3. Pope open to married men as priests
Pope Francis says the church must study whether it's possible to ordain married men to minister in remote communities facing priest shortages, AP reports from Berlin:
"In an interview published Thursday with Germany's Die Zeit, Francis stressed that removing the celibacy rule is not the answer to the Catholic Church's priest shortage. But he expressed an openness to studying whether so-called 'vireo probati' — or married men of proven faith — could be ordained."
His Holiness: "Then we must determine what tasks they can perform, for example, in remote communities."
https://www.axios.com/newsletters/axios-am-9016bbd7-a24a-4741-b191-4ddf09fb8a92.html?chunk=3#story3
4. Stat du jour
"Bottled water overtakes soda in US" — AP: "Research and consulting firm Beverage Marketing Corp. says Americans drank an average of 39.3 gallons of bottled water in 2016, and 38.5 gallons of carbonated soft drinks. In 2015, bottled waterwas at 36.5 gallons while soda was at 39 gallons."
https://www.axios.com/newsletters/axios-am-9016bbd7-a24a-4741-b191-4ddf09fb8a92.html?chunk=4#story4
5. Trump's first Hill test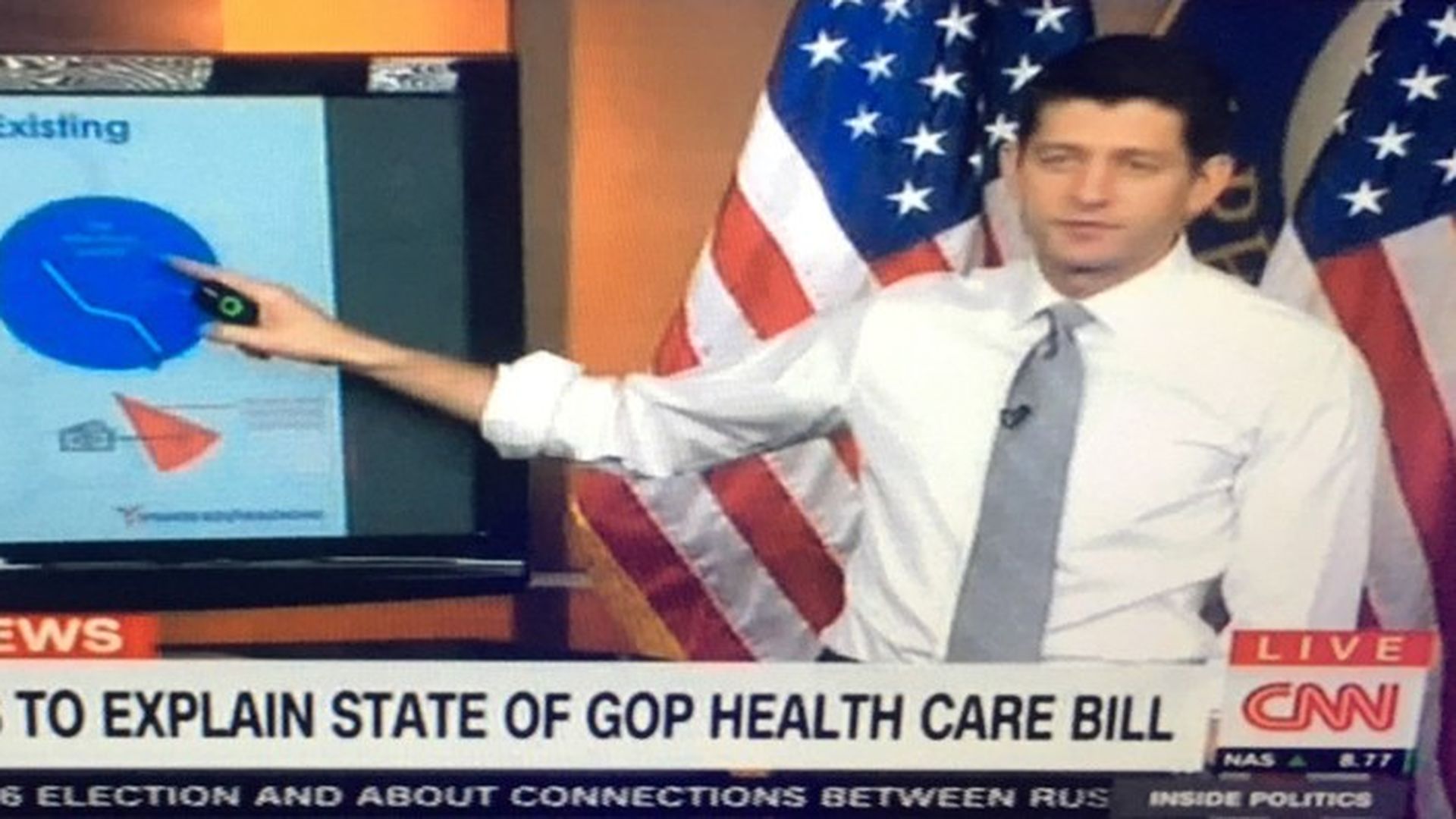 David Brooks column in N.Y. Times, "The G.O.P. Health Care Crackup":
"This thing probably won't pass, but even if it passes it will probably lead to immense pain and disruption. That will discredit market-based social reform, cost the Republicans their congressional majorities and end what's left of the Reagan-era party."
"It will also point the way to a new era. ... [Y]ou've got millions of people growing up in social and cultural chaos and not getting the skills they need to thrive in a technological society. This is not a problem you can solve with tax cuts."
"And if you don't solve this problem, voters around the world have demonstrated that they're quite willing to destroy market mechanisms to get the security they crave. They will trash free trade, cut legal skilled immigration, attack modern finance."
"New social crises transform party philosophies. We're in the middle of a transformation. But to get there we've got to live through this final health care debacle first."
Shot ... Brookings study, "Expect the [Congressional Budget Office] to estimate large coverage losses from the GOP health care plan," by Loren Adler and Matthew Fiedler: "CBO's analysis will likely estimate that at least 15 million people will lose coverage ... by the end of the ten-year scoring window. Estimates could be higher, but it's is unlikely they will be significantly lower."
Chaser ... Speaker Ryan, in a shirt-sleeved PowerPoint talk carried live on cable news: "Our goal here ... is this: lower costs, more choices, patients in control, universal access to care."
https://www.axios.com/newsletters/axios-am-9016bbd7-a24a-4741-b191-4ddf09fb8a92.html?chunk=5#story5
6. Locked in the Cabinet II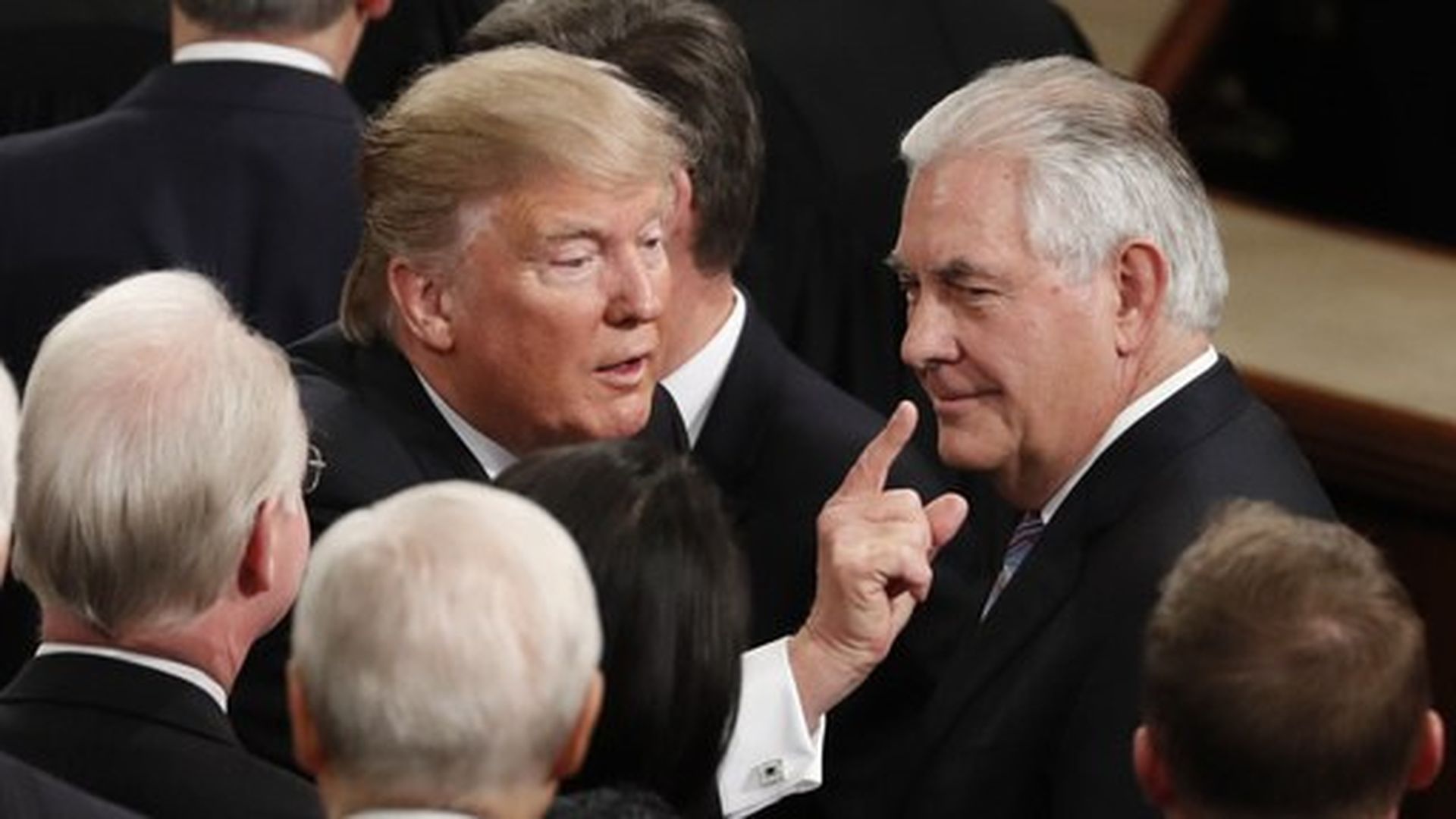 David Ignatius column in WashPost, "Tillerson's painfully slow start at State" ponders the former Exxon CEO's puzzling "idle gear these past two months":
Secretary of State Tillerson "doesn't have a deputy or other top aides. His spokesman can't give guidance on key issues, because decisions haven't yet been made. Tillerson didn't attend important meetings with foreign leaders."
"Tillerson's future impact at State depends on his relationship with President Trump, but so far, that has seemed lukewarm.
"The dilemma for Tillerson, the methodical engineer, is how to connect with the mercurial tweeter in chief."
"Trump's business pragmatism may be the best hope for a coherent foreign policy that avoids Bannon's often-proclaimed goal of challenging globalization and the international order."
Andrea Mitchell to Brian Williams on MSNBC's "The 11th Hour," on Tillerson's plan for an Asian trip with no press aboard: "It's not about about ... It's about the diplomacy of the United States. ... The Secretary of State is going to Japan, South Korea and China next week and not taking the press, which has always covered the Secretary of State ... going back on trips to Henry Kissinger and before."
https://www.axios.com/newsletters/axios-am-9016bbd7-a24a-4741-b191-4ddf09fb8a92.html?chunk=6#story6
7. Trump's first jobs day looks bullish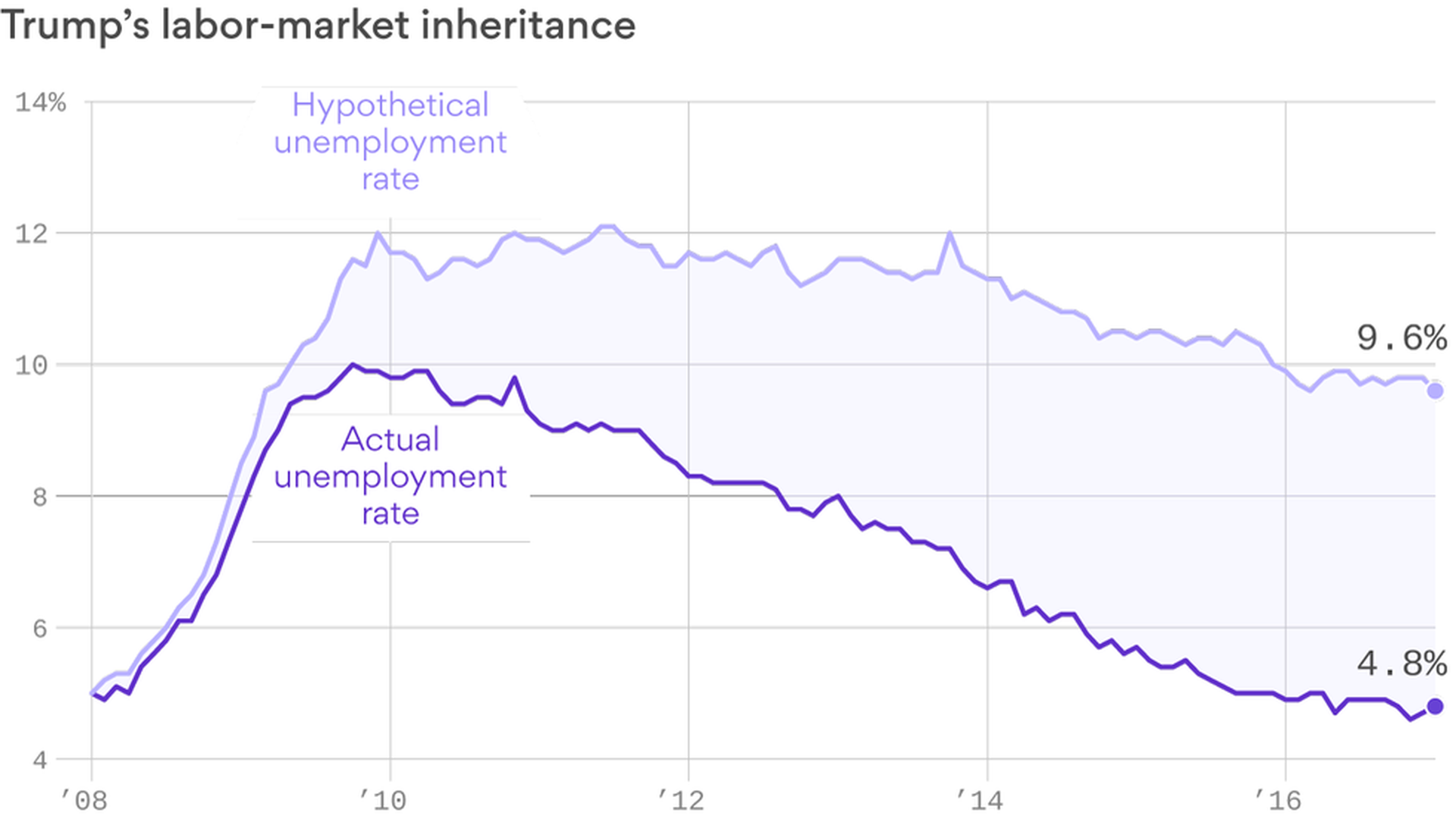 The Labor Department announces its estimate for the number of jobs created in February at 8:30. Axios' Chris Matthews writes that economists are expecting 200,000 new jobs and the unemployment rate to fall to 4.7%.
What bears say: The president, and some economists, have argued that the falling unemployment rate was not the result of an improving economy, but folks giving up looking for work altogether. Indeed, if the labor force participation rate of 2008 were in effect today, the unemployment rate would be 9.6% rather than 4.8%.
What bulls say: They expect higher wages and higher inflation because the pool of actually available workers is quite small. As Republicans take responsibility for the labor market, expect them to increasingly emphasize this view.
https://www.axios.com/newsletters/axios-am-9016bbd7-a24a-4741-b191-4ddf09fb8a92.html?chunk=7#story7
8. Hot employers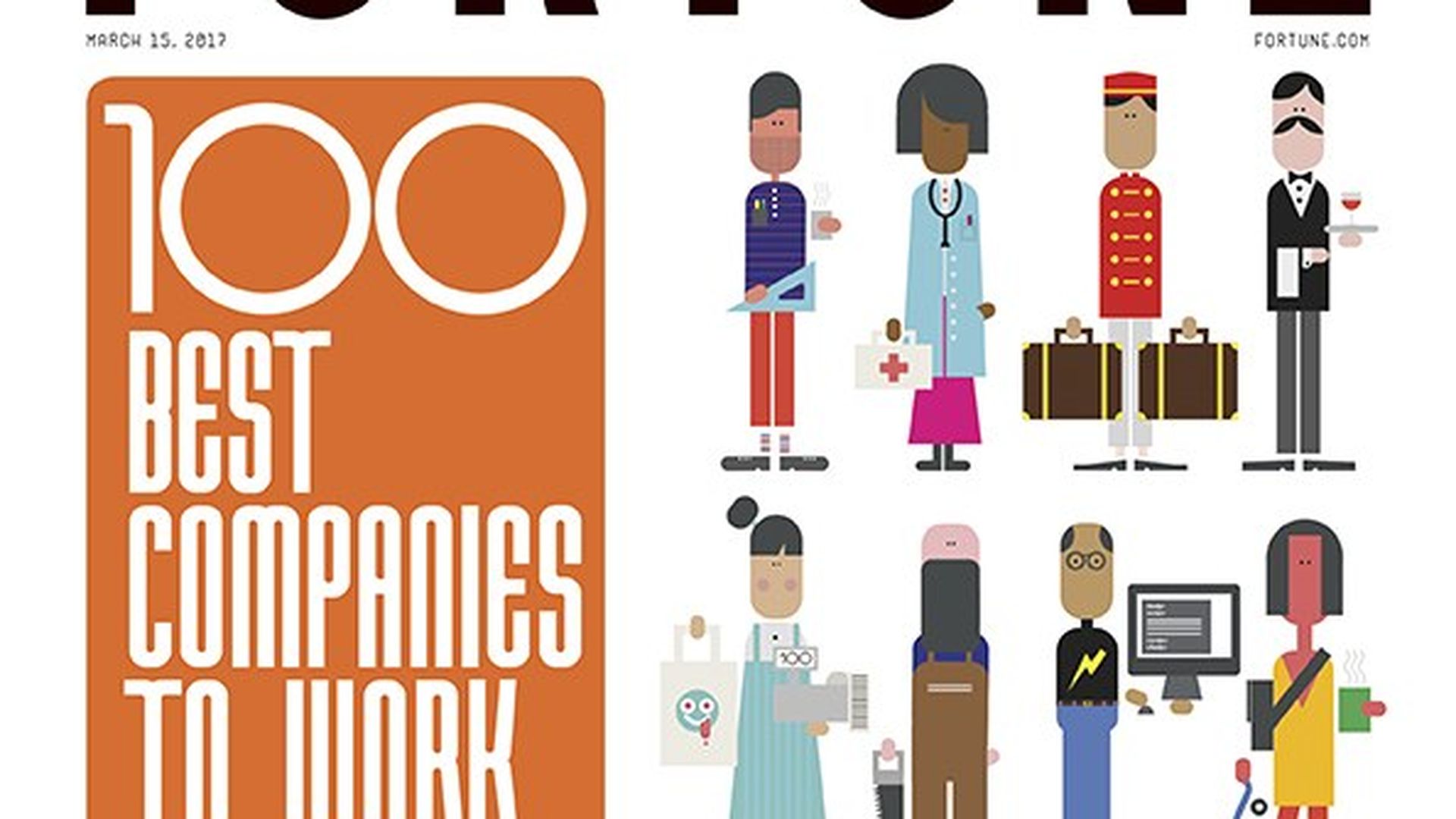 Fortune's 20th annual list of the "100 Best Companies to Work For," highlighting "champions and corporate culture that have made fairness, employee engagement and talent development top priorities":
Google (Alphabet) (Mountain View, Calif.) — #1 for sixth year in a row
Wegmans Food Markets (Rochester, N.Y)
Boston Consulting Group (Boston)
Baird — financial services; employee-owned (Milwaukee)
Edward Jones — investments (St. Louis)
Genetech — biotech (San Francisco)
Ultimate Software (Weston, Fla.)
Salesforce (San Francisco)
Acuity Insurance (Sheboygan, Wis.)
Quicken Loans (Detroit)
https://www.axios.com/newsletters/axios-am-9016bbd7-a24a-4741-b191-4ddf09fb8a92.html?chunk=8#story8
9. Happy-hour helper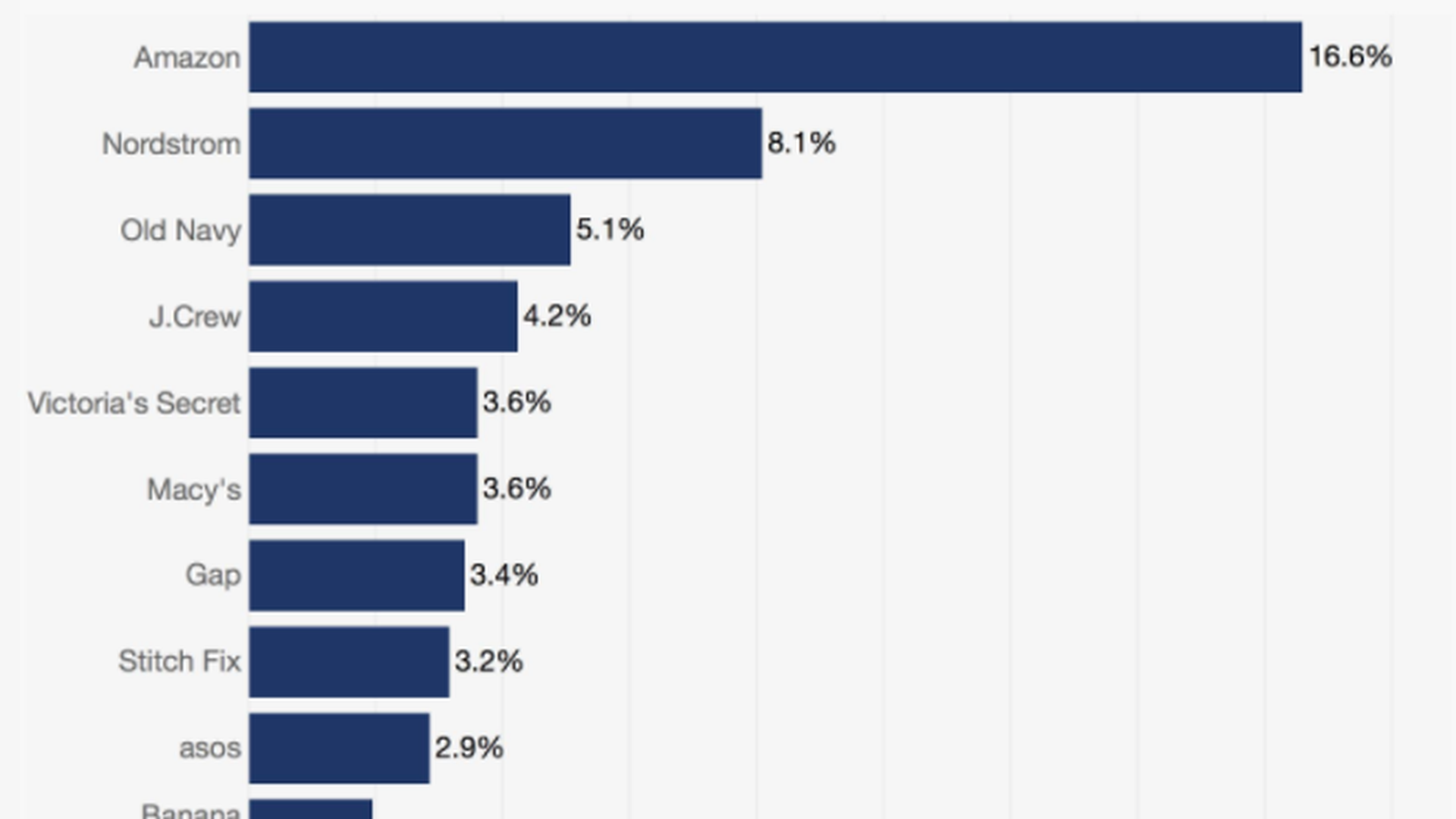 "Millennials buy more clothes on Amazon than any other website" — Recode's Jason Del Rey: "Amazon registered the most apparel sales in 2016 of any online retailer in the U.S. for shoppers aged 18 to 34."
Amazon "accounted for nearly 17 percent of all online clothing sales to this demographic last year, more than doubling the market share of the No. 2 seller, Nordstrom. Old Navy, J. Crew and Victoria's Secret rounded out the Top 5."
https://www.axios.com/newsletters/axios-am-9016bbd7-a24a-4741-b191-4ddf09fb8a92.html?chunk=9#story9
10. 1 fun thing: Who should star in "Game Change III"?
Simultaneous announcements by Penguin Press ... "Mark Halperin and John Heilemann are teaming up again for the third installment of their heralded Game Change series of campaign books, which will cover Donald Trump's dramatic and improbable victory over Hillary Clinton ... to be published in early 2018."
... and HBO: The book will be made into a miniseries, directed by Jay Roach, with Playtone's Tom Hanks and Gary Goetzman as executive producers. The earlier "Game Change" was executive produced by Goetzman and Hanks, directed and executive produced by Roach, and starred Julianne Moore (Sarah Palin), Woody Harrelson (Steve Schmidt) and Ed Harris (John McCain).
Who should be cast in starring roles for the 2016 drama?
Send your ideas to mike@axios.com, and we'll share the best/consensus ideas.