https://www.axios.com/newsletters/axios-am-8e5010a1-4e14-4ea2-a227-f21048550073.html?chunk=0#story0
1 big thing: For one day, Washington is one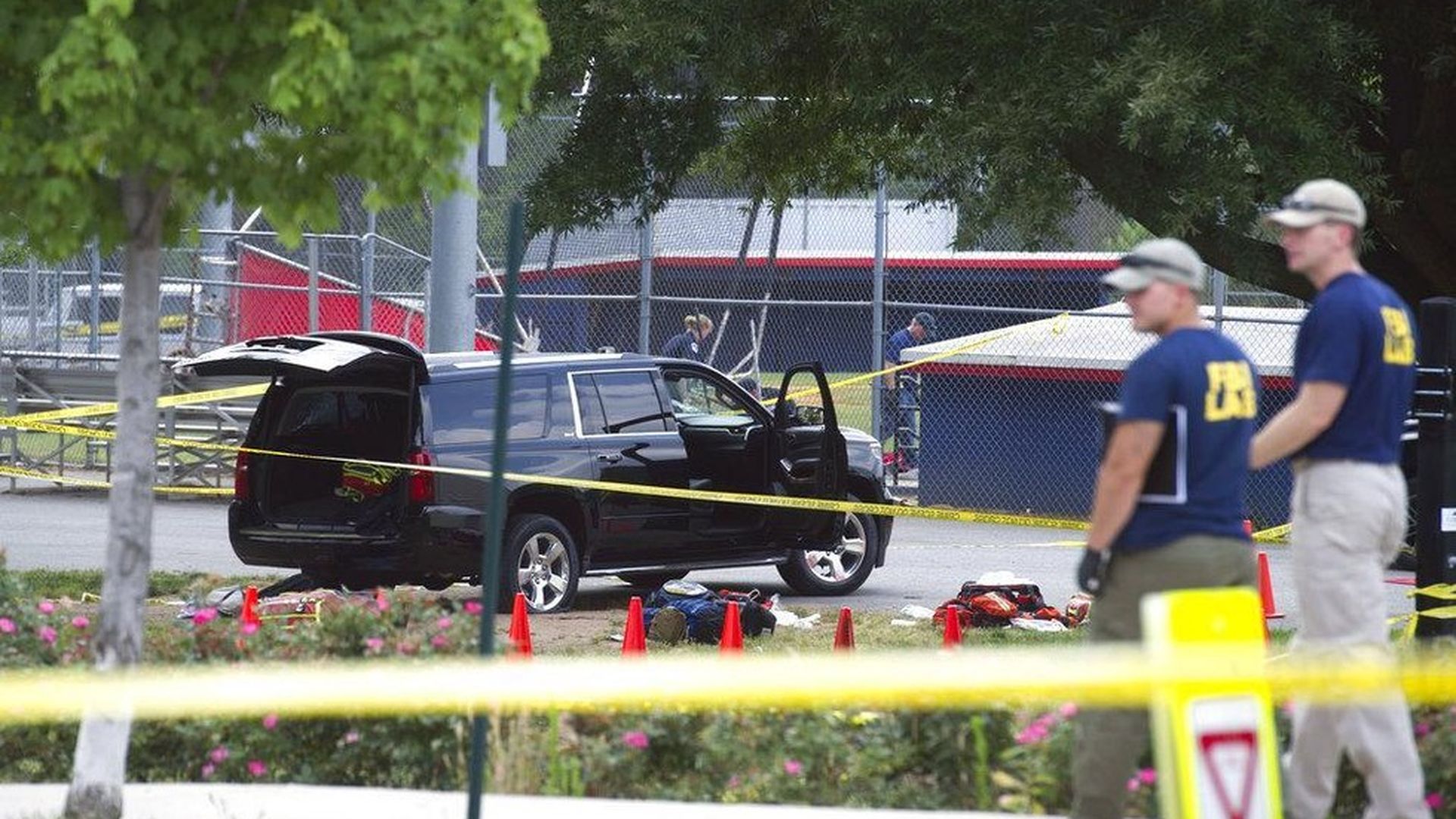 During yesterday's marathon coverage of the shooting of House Majority Whip Steve Scalise, ABC's George Stephanopoulos mused whether the chilling attack on a practice for a charity baseball game might act as a "circuit-breaker" on the nation's overheated politics.
For one day, it did. Congressional leaders of both parties expressed shock and solidarity. President Trump rose to the occasion: "We may have our differences, but we do well, in times like these, to remember that everyone who serves in our nation's capital is here because, above all, they love our country."
Could the shooting do for Washington what 9/11 did for the country — usher in a prolonged season of unity? Hard to see. As Mark Z. Barabak writes in an analysis for the L.A. Times: "The attack almost seemed a natural, if sick, extension of the virulence that surrounds the country's increasingly tribal politics."
Per Axios' Jonathan Swan: "Most everyone in this town is just rattled. ... The dark secret on the Hill is that members and their staffs often think about how easy it would be for a madman to take them out."
"On the right, I've heard a lot of frustration about the media. The refrain I hear is that when it's a conservative who shoots, then their political hero has to answer for it."
An email from a Republican lobbyist reflects that mindset: "Until both sides admit they've made things worse, this will never get better. Both sides need to admit they can do better before anything will get better."
"Many GOP believe that Republicans are held to different standard when it comes to gun control. The conversation would be so different if the Dem practice was hit by a Ted Cruz supporter."
The bottom line: Representative Scalise remained in critical condition last night, and doctors said he will require additional operations. Washington, too, has a long road to healing.
Catch up quick, with Axios' one-screen update on the shooting.
N.Y. Times Quote of the Day ... Rep. Mike Bishop (R-Mich.), who was standing at home plate when a gunman said to be upset over Trump's election began shooting Republican lawmakers: "He was hunting us at that point."
https://www.axios.com/newsletters/axios-am-8e5010a1-4e14-4ea2-a227-f21048550073.html?chunk=1#story1
2. Earlier attacks on members of Congress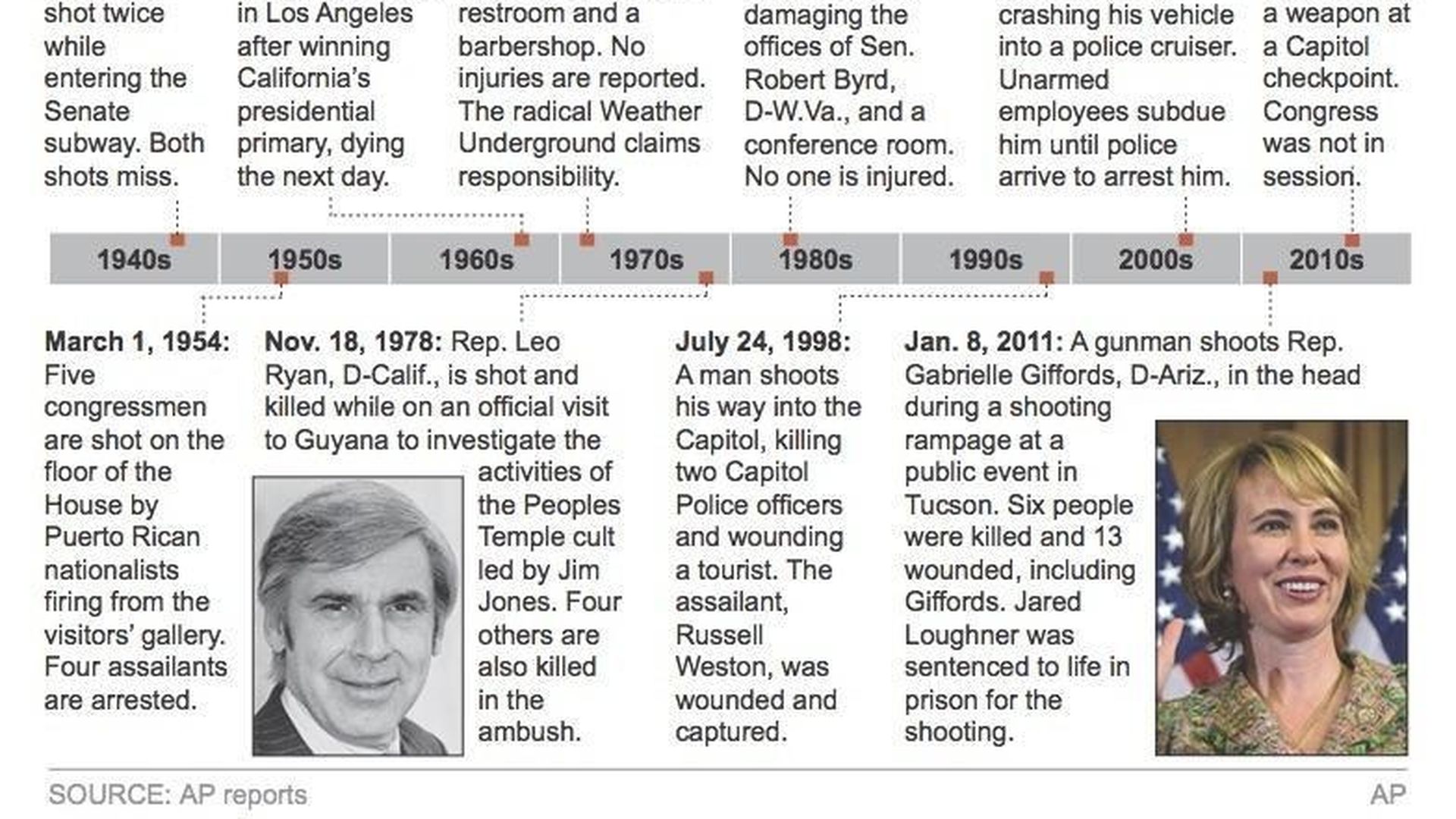 https://www.axios.com/newsletters/axios-am-8e5010a1-4e14-4ea2-a227-f21048550073.html?chunk=2#story2
3. ​A dark, dangerous day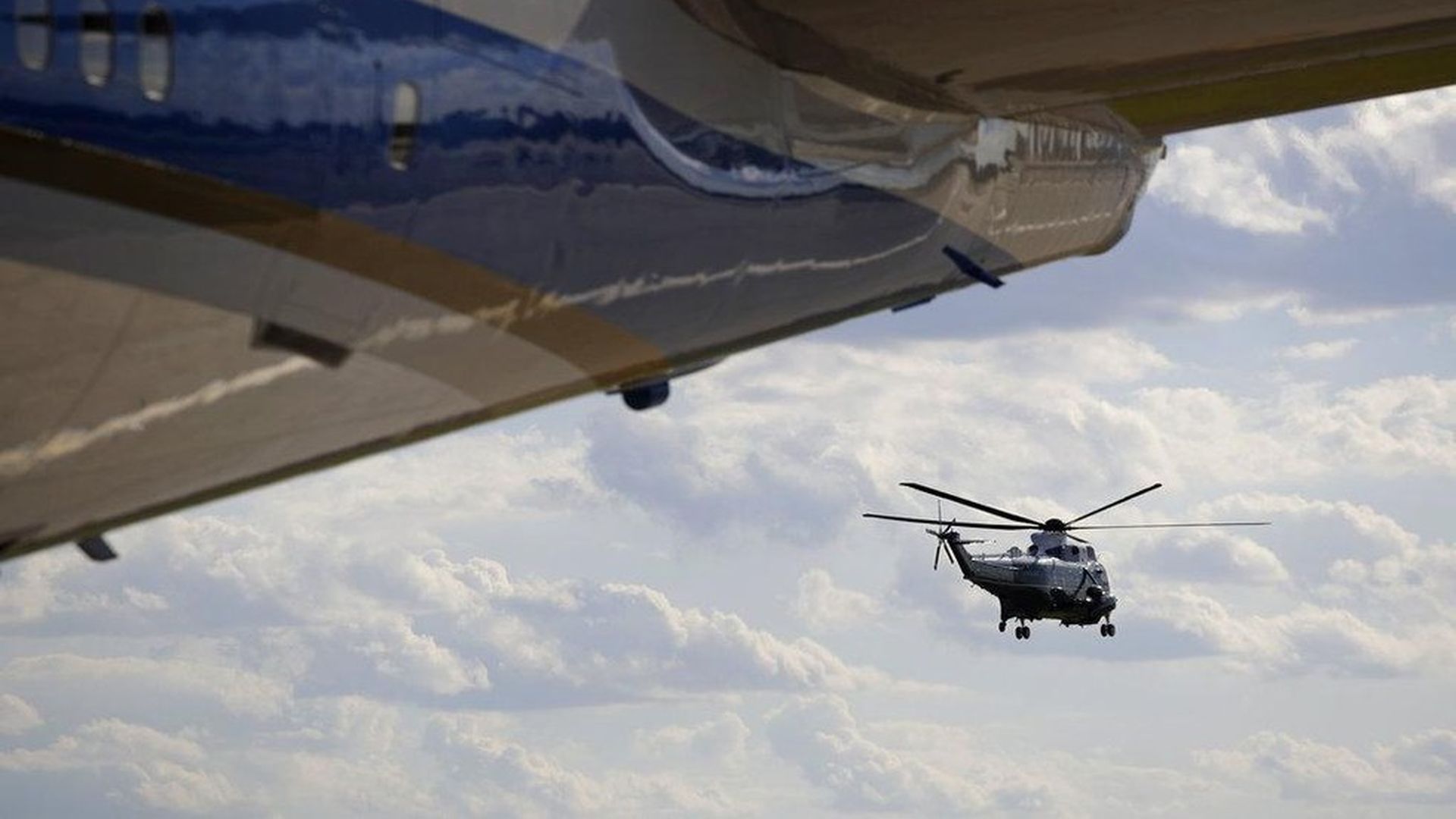 https://www.axios.com/newsletters/axios-am-8e5010a1-4e14-4ea2-a227-f21048550073.html?chunk=3#story3
4. Handcuffing Trump
Connecting the dots ... President Trump learned a lot this week about Congress' power to influence his foreign policy, Axios' Jonathan Swan writes. Congress (reluctantly) allowed for his aggressive pivot towards Saudi Arabia but on Wednesday the Senate made his life even more difficult in relation to Russia.
https://www.axios.com/newsletters/axios-am-8e5010a1-4e14-4ea2-a227-f21048550073.html?chunk=4#story4
5. Policing the power of tech giants
The world's largest tech companies — Google, Facebook, Amazon, Microsoft and Apple — have become enormous concentrations of wealth and data, drawing the attention of economists and academics who warn they're growing too powerful, Axios' Kim Hart writes.
Our thought bubble: Despite populist promises, cracking down on Silicon Valley is not one of President Trump's near-term priorities. Makan Delhrahim, Trump's top antitrust enforcer at the Justice Department, has pledged to to enforce antitrust violations with respect to online platforms just as he would with any other industry, but insiders expect him to be cautious. And Maureen Ohlhausen, acting FTC chair, said in a recent speech that the agency has no intention of meddling in the way tech companies use algorithms and data.
Kim Hart outlines the cases for and against more scrutiny.
https://www.axios.com/newsletters/axios-am-8e5010a1-4e14-4ea2-a227-f21048550073.html?chunk=5#story5
6. "When I think about the big things, I think about AR"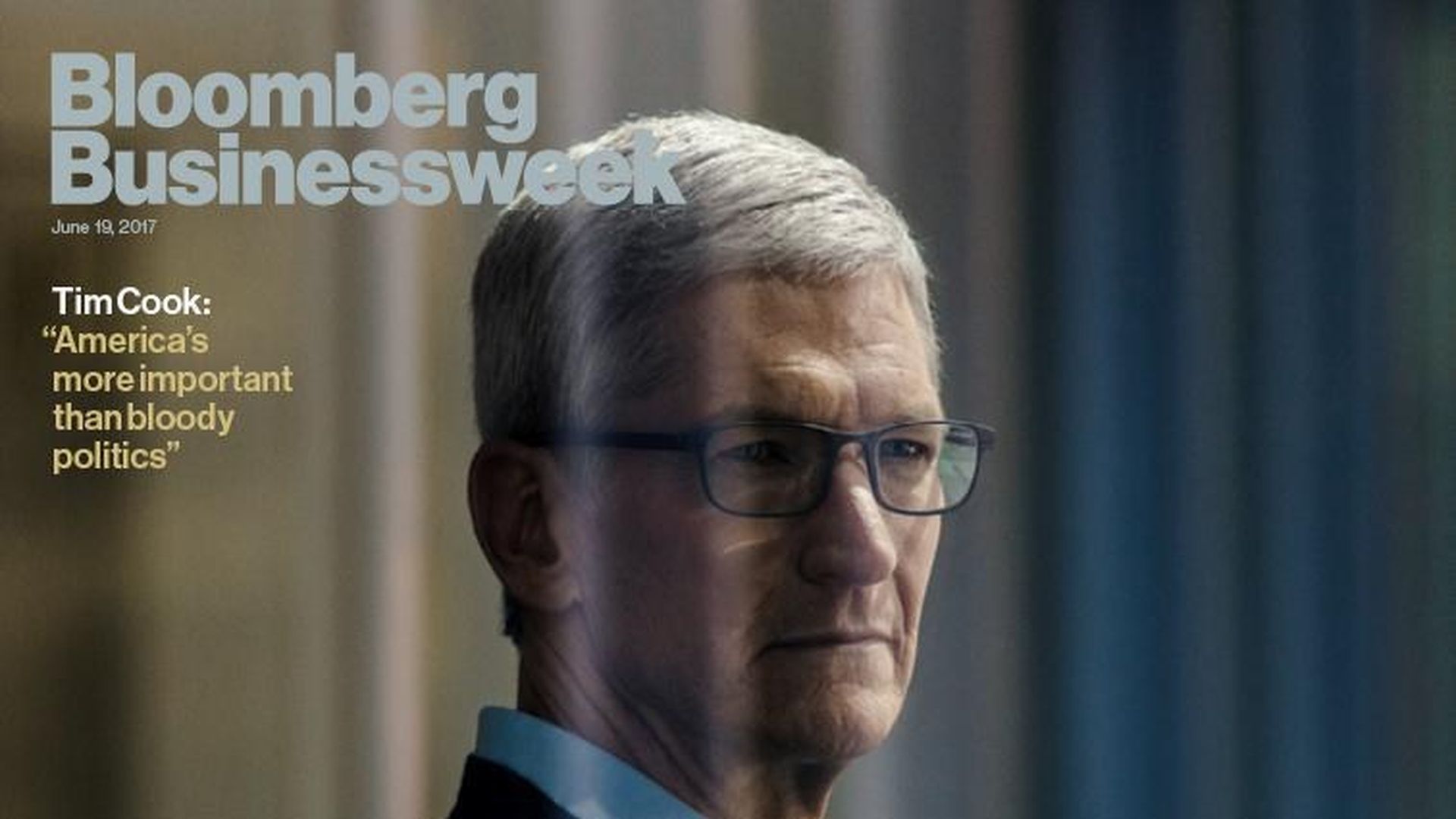 Apple CEO Tim Cook interview ... The head of the most valuable company in the world talks to Bloomberg Businessweek Editor Megan Murphy:
"You've talked a lot about augmented reality at the heart of the company's future. How do you see AR moving forward?"
Cook: "I think it is profound. I am so excited about it, I just want to yell out and scream. ... We've talked to IKEA, and they have 3D images of their furniture line. You're talking about changing the whole experience of how you shop for, in this case, furniture and other objects that you can place around the home. You can take that idea and begin to think this is something that stretches from enterprise to consumer. There's not a lot of things that do that."
"What's been your experience of working with Donald Trump?"
Cook: "I've pushed hard on immigration. We clearly have a very different view on things in that area. I've pushed on climate. We have a different view there. ... We're dramatically different. I hope there's some areas where we're not. His focus on jobs is good. So we'll see. ...
"At the end of the day, I'm not a person who's going to walk away and say, 'If you don't do what I want, I leave.' I'm not on a council, so I don't have those kind of decisions. But I care deeply about America. I want America to do well. America's more important than bloody politics from my point of view."
Relaunch of Bloomberg Businessweek ... Letter from Editor Megan Murphy: "The new Bloomberg Businessweek is more global, with American, European, and Asian editions. ... A redesigned app [features] a curated selection of daily content, customized for readers by region."
https://www.axios.com/newsletters/axios-am-8e5010a1-4e14-4ea2-a227-f21048550073.html?chunk=6#story6
7. "Responsible disruption"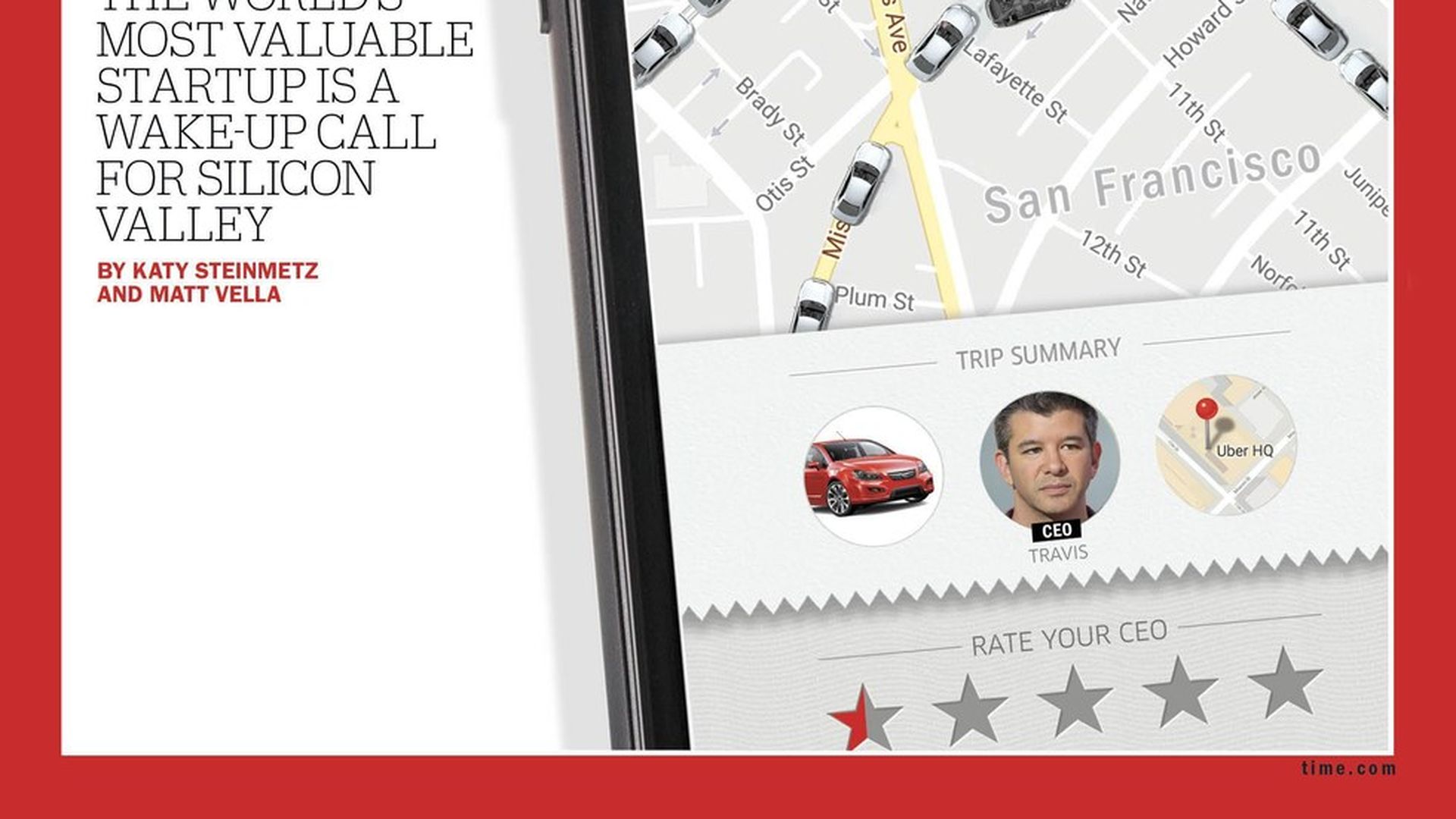 TIME cover story on Uber, "Chaos at the world's most valuable venture-backed company is forcing Silicon Valley to question its values," by Katy Steinmetz and Matt Vella:
"Technology is advancing so rapidly that, at this point, it is always going to outpace the law, the government, or the public's capacity to fully understand its ramifications…. If Uber's stunning stumble proves anything, it's that in the absence of any rule makers that can keep up with them, the architects of the new economy—which may be another way of saying, the new world—must hold themselves accountable. ...
"It's .. possible that what we're witnessing is the birth of a new Silicon Valley value, the concept of responsible disruption — one that incorporates inclusion and diversity, unsexy and difficult as they may seem, alongside thinking differently."
Dan Lyons, longtime journalist who has written for HBO's Silicon Valley: "There's a general sense in Silicon Valley and there has been for five to 10 years, that it's all about growth. Not just reasonable growth, but hypergrowth. Do anything you can to get that growth. That in itself causes a lot of problems."
https://www.axios.com/newsletters/axios-am-8e5010a1-4e14-4ea2-a227-f21048550073.html?chunk=7#story7
8. "Brain on fire"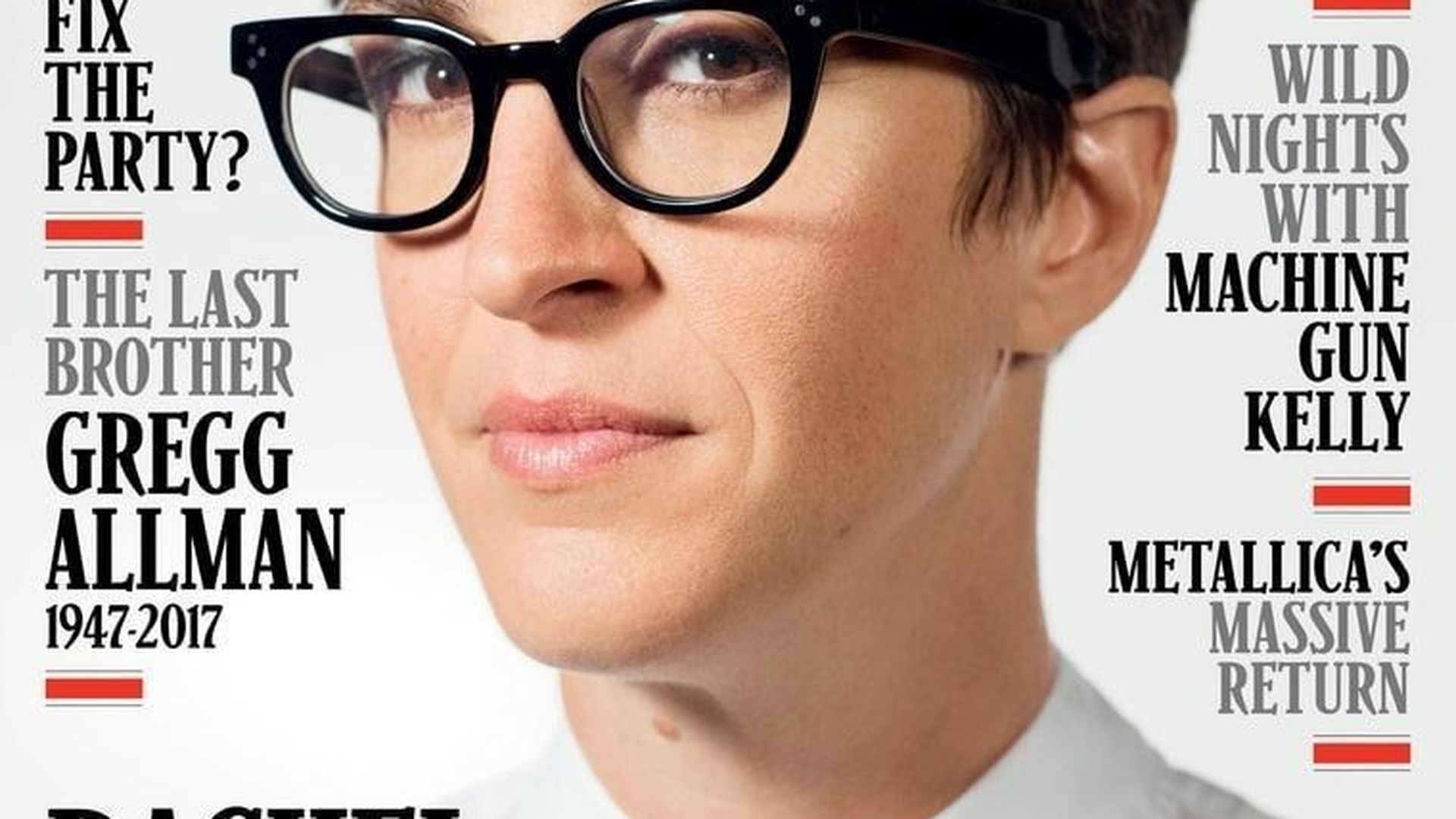 "Rachel Maddow: The Rolling Stone Interview ... How America's wonkiest anchor cut through the chaos of the Trump administration and became the most trusted name in news," by Janet Reitman:
"The show's format of deep-dive analysis and investigative reporting is not easy to produce, and a typical day can last anywhere from 12 to 14 hours. Maddow, who lives with her longtime partner, photographer Susan Mikula, in western Massachusetts, maintains an apartment in Manhattan where she lives during the week, making the three-hour-plus drive back and forth to Massachusetts every weekend.
"Her workday begins at around 11 a.m., when she arrives at her office, reads through every bit of news she can get her hands on, and then spends a few hours researching or reporting what interests her the most. At around 2 p.m., Maddow convenes her staff in the newsroom to plan the evening's show, though, given the volatility of the current news cycle, what seems relevant at 3 p.m. might be sidelined by six."
"Do you think it's possible the Trump campaign had no knowledge of the Russian hacking?"
Maddow: "I absolutely believe it's possible. I mean, Russia clearly did this attack, and there's lots of circumstantial evidence that points at lots of unexplained and surreptitious contact between Trump people and Russian people at the time that was happening. But circumstantial evidence is circumstantial evidence. This is a serious thing that needs to be chased down to the end."
https://www.axios.com/newsletters/axios-am-8e5010a1-4e14-4ea2-a227-f21048550073.html?chunk=8#story8
9. Tracking power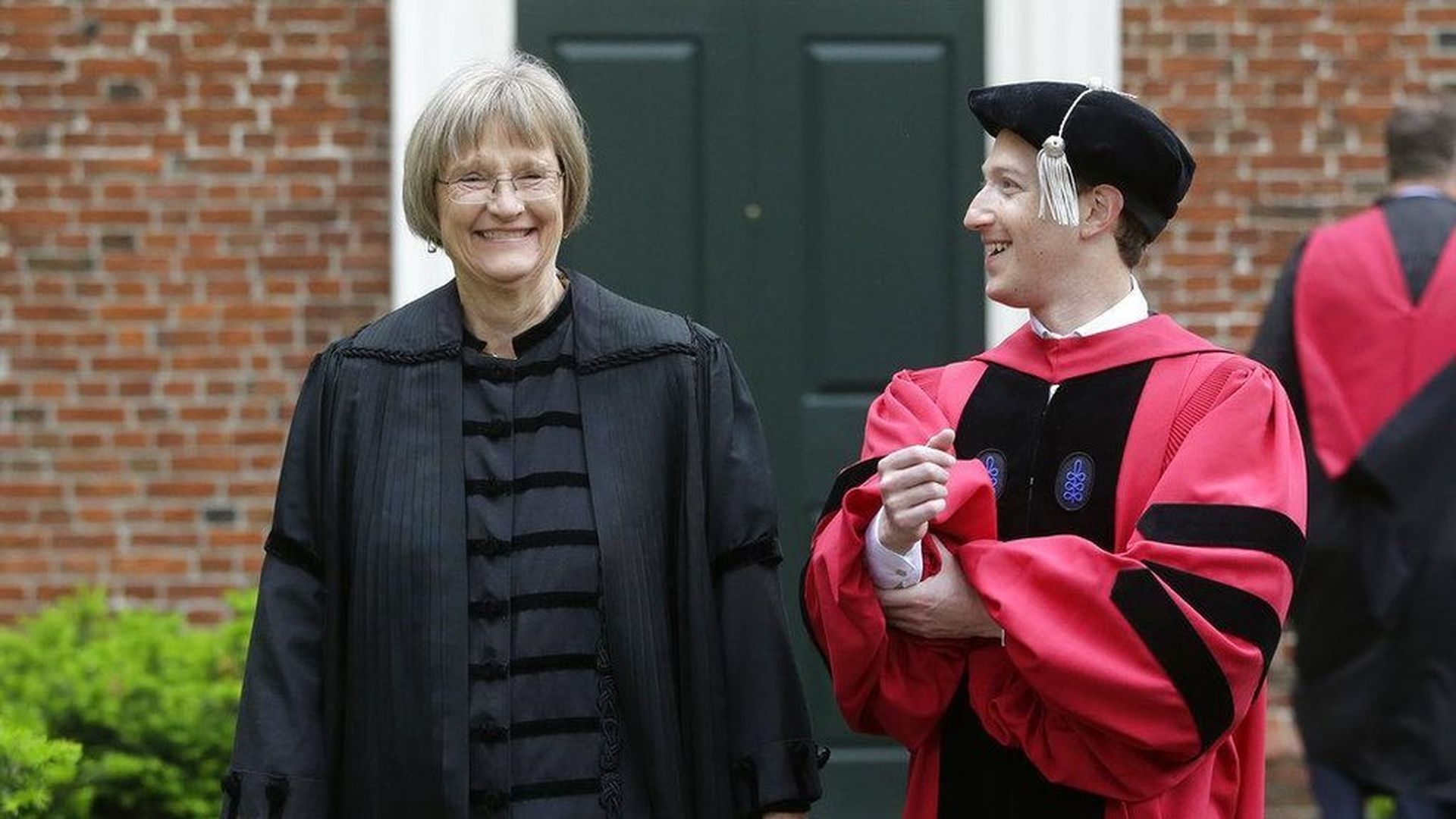 Boston Globe front page, "Harvard's president to step down next year," by Laura Krantz: "Harvard University president Drew Gilpin Faust, who shepherded the school through the turbulence of the economic recession and expanded its diversity, will step down in June 2018 after 11 years leading the 380-year-old institution."
"Faust announced her pending departure in an e-mail to students, faculty, and staff Wednesday afternoon, igniting an instant buzz on campus and among alumni and the wider world of higher education."
Globe sidebars: "Harvard had just 28 presidents in close to 400 years" ... "There were 11 Harvard presidents before US was a country."
https://www.axios.com/newsletters/axios-am-8e5010a1-4e14-4ea2-a227-f21048550073.html?chunk=9#story9
10. 1 QWERTY thing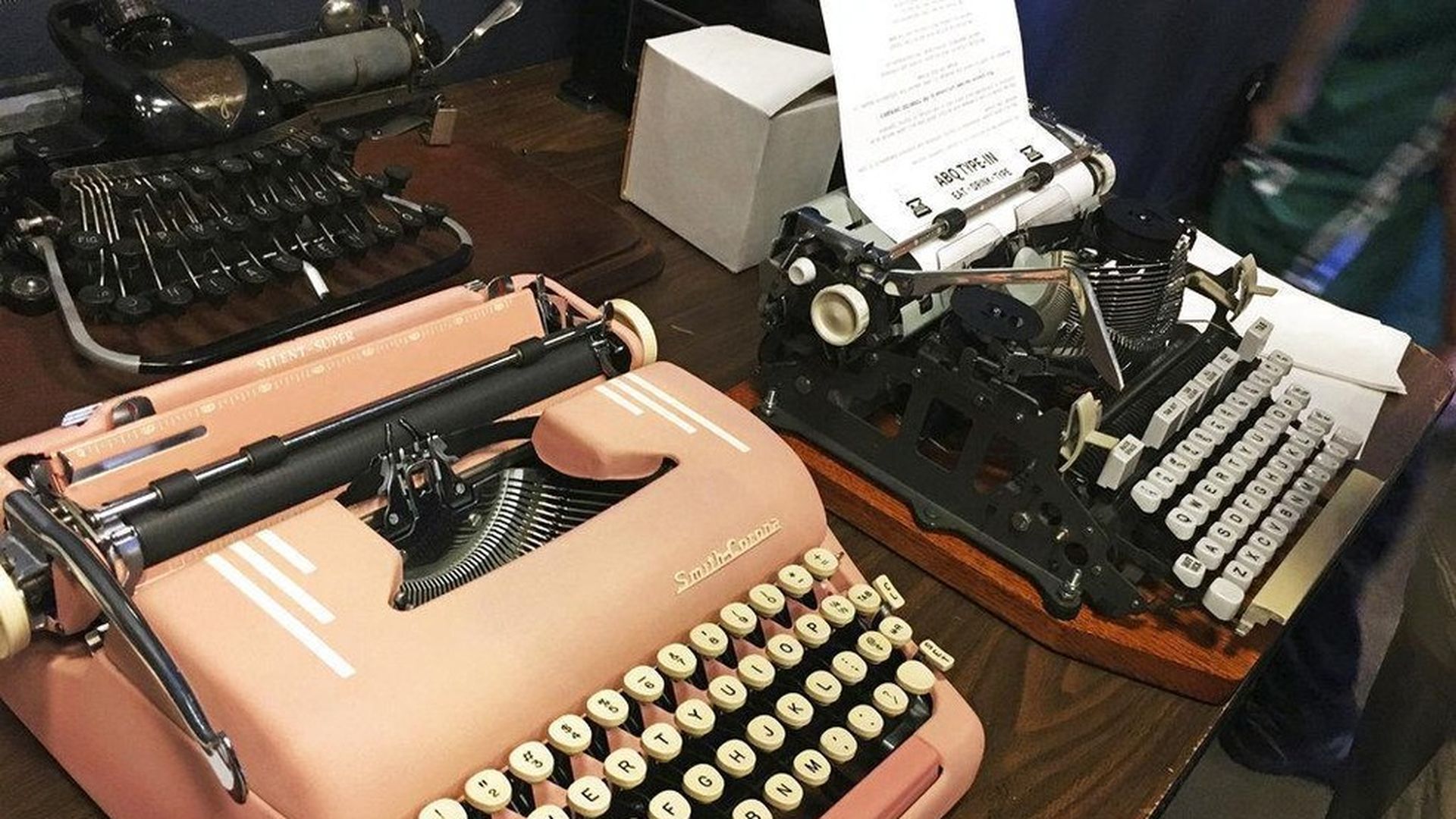 "Vintage typewriters gain fans amid 'digital burnout,'" by AP's Russell Contreras in Albuquerque, N.M.:
"Typewriter enthusiasts gather at an Albuquerque restaurant to experiment with vintage Smith Coronas. Fans in Boston kneel in a city square and type stories about their lives during a pro-immigration demonstration. A documentary on typewriters featuring Tom Hanks and musician John Mayer is set for release this summer. ...
"From public 'type-ins' at bars to street poets selling personalized, typewritten poems on the spot, typewriters have emerged as popular items with aficionados hunting for them in thrift stores, online auction sites and antique shops. ... The rescued machines often need servicing, leading fans to seek out the few remaining typewriter repair shops. ...
"Moonachie, New Jersey-based Swintec appears to be one of the last typewriter makers, selling translucent electronic machines largely to jails and prisons. ... [O]perators of thrift stores and estate sales say typewriters are some of the quickest items to go."