Axios AM
June 13, 2017
1 big thing: This isn't normal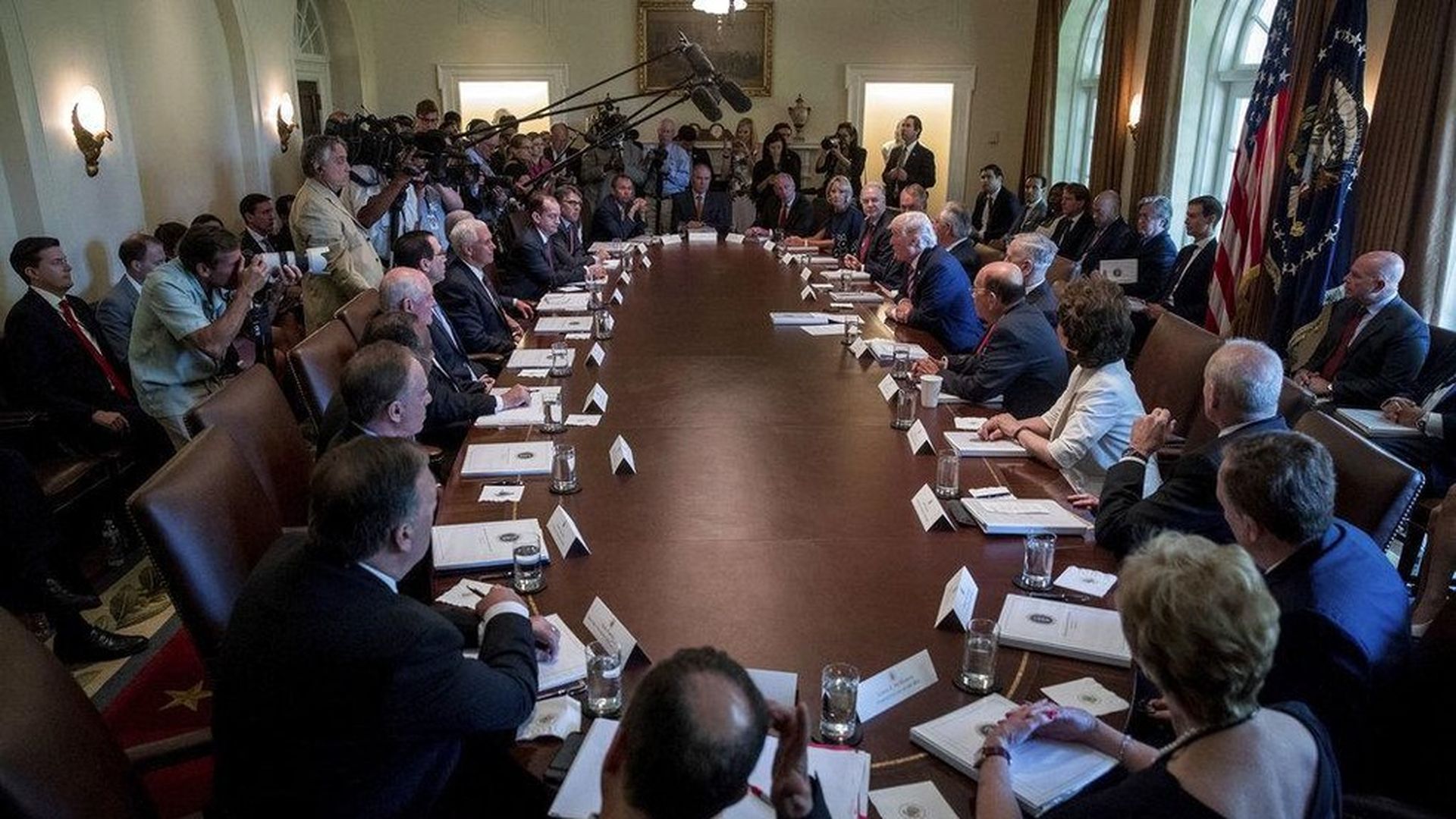 We try very hard here to simply explain the Trump White House, and not join the pile-on. To us, the Trump world doesn't need more noise — it needs more explanation and illumination. But there are moments when it's important to remind even our staunchest pro-Trump readers that this often isn't anything approximating normal:
In 18 years of covering presidents, we have never seen a Cabinet meeting like the one yesterday. Chief of Staff Reince Priebus, taking his turn to genuflect for a beaming Trump, said: "On behalf of the entire senior staff around you, Mr. President, we thank you for the opportunity and the blessing that you've given us to serve your agenda and the American people." (N.Y. Times front-page headline: "Flatterers First, Then President Praises Himself'" ... CNN chyron: "TRUMP'S WEIRD CABINET MEETING.")
Going back to the Clintons, we have never seen a president and his family work so hard to promote or appear on a program like the Trumps' trumpet, "Fox & Friends." From yesterday's show: "Hey, look! It's Ivanka Trump." ... "I join you almost every morning, just not on the couch!" This came after Trump himself promoted the friendly show on Twitter, which he regularly does.
In 228 years of presidents, none has canned the FBI director, then allowed his own Justice Department to appoint a special counsel — who within weeks his friends and allies would openly muse about firing.
In modern presidential history, there is nothing comparable to the personal and public attacks on James Comey by the president and his eldest son. In the last few days alone, they have called Comey — a guy who most elected Republican officials in town like and trust — a liar, a coward, a criminal leaker, and "a dishonest man of bad character."
Be smart: Remember that we're living through history that will be studied and debated until the end of time. Many Trump backers, both the eager and reluctant ones, enjoy the destruction of norms and bemoan the highly critical coverage of this presidency. But we should never lose sight that we are experiencing a daily display of unprecedented actions and behaviors.
P.S. Quote du jour — Ivanka Trump on "Fox & Friends": "There is a level of viciousness that I was not expecting. I was not expecting the intensity of this experience. But this isn't supposed to be easy. ... [S]ome of the distractions and some of the ferocity, ... I was a little blindsided by."
2. Number of the day
Bloomberg's Michael Riley and Jordan Robertson: Russian hackers hit election systems in at least 39 states in the summer and fall of 2016, according to a person with direct knowledge of the U.S. investigation into the matter.
The attack was "far more widespread than has been publicly revealed, including incursions into voter databases and software systems in almost twice as many states as previously reported."
3. What Sessions will say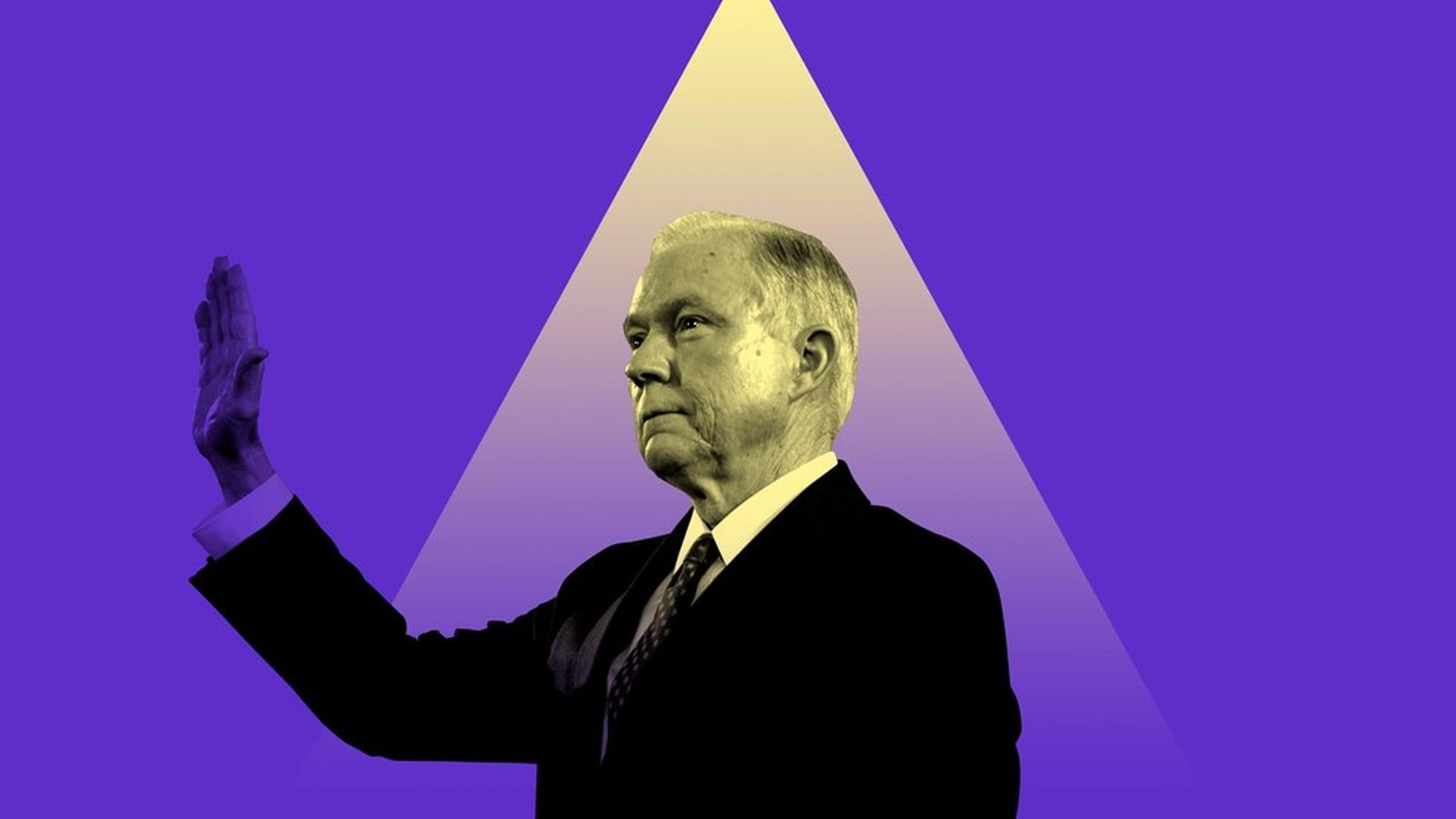 At 2:30 p.m., Attorney General Jeff Sessions will face the Senate Intelligence Committee in an open hearing, where senators will grill their former colleague about his contacts with the Russian ambassador.
The broadcast networks plan to break into daytime programming with special reports, with Lester Holt anchoring on NBC and George Stephanopoulos on ABC.
Scoopage by Axios' Jonathan Swan ... Here's how Sessions will address some thorny questions, according to sources familiar with his thinking:
Sessions will say he did not meet privately with Russian ambassador Sergey Kislyak at the Mayflower Hotel in April 2016. In his closed session with senators last week, former FBI director James Comey reportedly told them about classified intelligence that suggested an undisclosed meeting between the two men at this event. A source close to Sessions tells me the Attorney General was at the event but doesn't recall any interaction with Kislyak and certainly didn't peel off for a private meeting. You should also expect Sessions to cast doubt over this intelligence, given that it was apparently intercepted communications with Moscow. Sessions may frame such communications as exaggerated or outright fallacious.
Sessions will say he didn't initially disclose his original meeting during the campaign with Kislyak because he was following instructions.
Sessions will dispute James Comey's characterization of a conversation the two men had in February. This is a big deal, as Comey gave his account under oath.
Read Swan's full preview here.
Wildcard ... A Washington legend emails me this speculation: "Would not be surprised to see a counterattack. As was vividly seen in the campaign, Trump knows that golf, and much else such as the real estate world and politics, is a game of recovery. When you are deep in the woods, you try to find a miracle shot."
4. How the Mueller threat took off
The brushfire — Trump said to be considering firing Mueller — took off quick. Axios' Jonathan Swan quickly discovered there was less to it than met the eye:
Trump's friend, Newsmax CEO Chris Ruddy, told Judy Woodruff on PBS' "NewsHour" that the president was "considering perhaps terminating the special counsel": "I think he's weighing that option."
Between the lines: Ruddy never actually spoke to Trump about firing Mueller, a source close to Ruddy says, but was reading between the lines of what others had said. Ruddy referred to comments from Jay Sekulow, one of Trump's lawyers — on ABC's "This Week," he didn't rule out that Trump might fire Mueller.
Sean Spicer confirmed Trump hadn't discussed the matter with Ruddy: "Mr. Ruddy never spoke to the President regarding this issue. With respect to this subject, only the President or his attorneys are authorized to comment."
Our thought bubble: One can never predict with certainty what Trump will do — and he's known to buck against conventional wisdom — but ordering the firing of Mueller really does seem unlikely. The near-universal advice Trump will be getting from his White House team — and from legal advisors close to the administration — will be that it's a catastrophic idea to get rid of Mueller.
One frequent informal advisor to the White House: "There has to be a limit to his impulsiveness ... And there are some cooler heads like [White House Counsel Don] McGahn who weigh in."
Click here for the anatomy of the brushfire.
Maggie Haberman tweets: "White House can't go too far in trying to distance itself from Ruddy, since he's one of few surrogates defending him on TV."
5. Uber adding women execs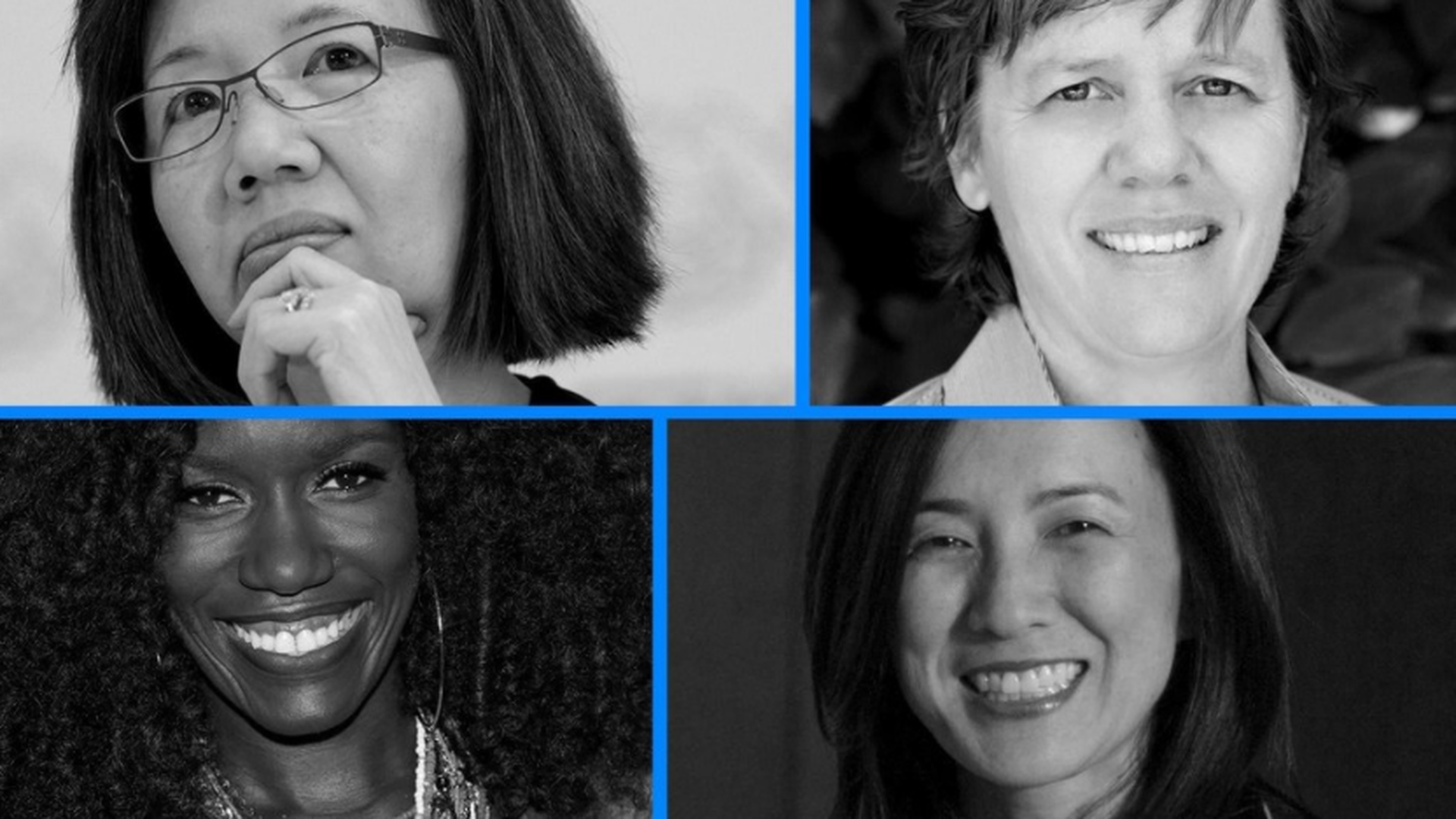 Uber is still figuring out how to change its frat-culture image, but one step is increasing the ranks of women in upper management — four have been added in recent weeks, Axios' Kia Kokalitcheva reports.
The big question: One job Uber needs to fill is chief operating officer, which would ideally go to a seasoned female executive to help re-balance the company culture, according to Recode.
Headlines: L.A. Times A1, "Uber's scandals test investor patience" ... WashPost, top of A1, "Uber, once cruising, in corporate crisis mode."
6. Get smart fast
"Tech Analysts Rule Out a Dot-com Type Bubble" — Wall Street Journal's Daily Shot newsletter (subscription):
"Tech firms have been under pressure over the past couple days, with market losses spreading to Europe and Asia. ... Analysts, however, point out that there is no evidence of a tech bubble similar to what we saw in the late 1990s. Tech valuations do not seem to be too far off from the broader market."
The talk of business ... Boston Globe lead story, "A post-transformation transition atop GE," by Jon Chesto: "General Electric Co.'s Jeff Immelt will step down as chief executive this summer, an earlier-than-expected departure that will leave Boston's biggest company under new leadership just a year after it relocated from Connecticut. John Flannery, the 55-year-old head of GE Healthcare, will take the reins as CEO on Aug. 1."
Why it matters: "Immelt dramatically transformed General Electric during his 16-year tenure as its top executive, selling businesses such as its appliances unit and NBC Universal to focus on bringing its mainstay industrial lines into the digital age. Now, it will be up to Flannery to execute his mentor's vision in a way that satisfies GE's increasingly impatient investors."
7. The Wilderness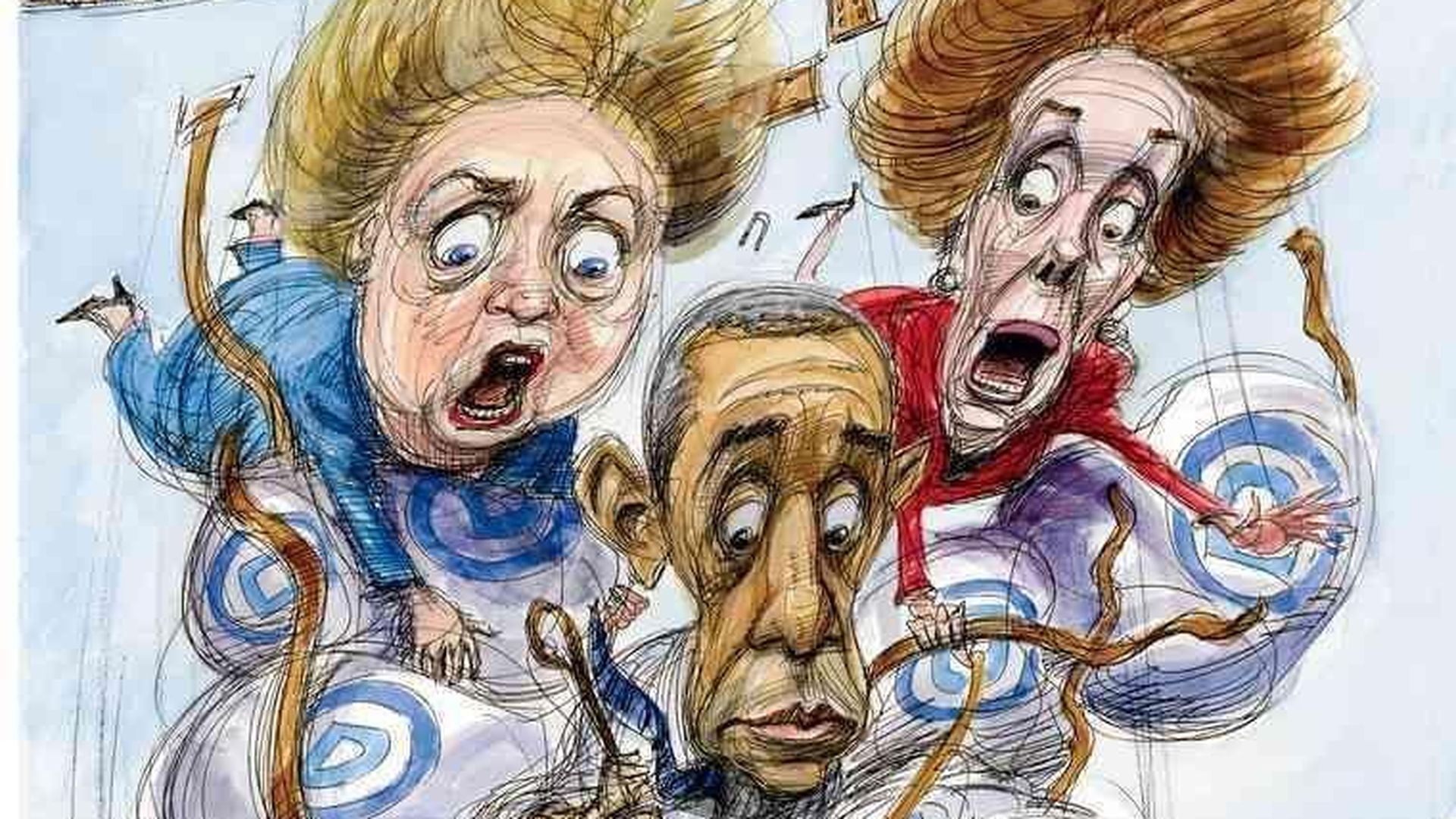 Rolling Stone's Tim Dickinson, "Can Democrats Fix the Party? Trump's victory exposed the party establishment as utterly broken – now Dems hope to rebuild in time for a 2018 comeback":
"[A]t the dawn of the Trump age, one complex just south of Capitol Hill stands out. It looks like it missed the Obama boom entirely, which is hard to fathom because it's the headquarters of the Democratic Party – home to the Democratic National Committee (DNC) as well as the Congressional Campaign Committee (DCCC).
"The sprawling three-story concrete-and-glass structure is wedged between an elevated railroad track and the Capitol Power Plant. Exterior paint that may once have aspired to adobe has faded to an indistinct pink, recalling lox. Streaks of rust mar the walls. Someone has tried to spruce up the joint, on the cheap, tacking up a floor-to-ceiling poster in a third-floor window of the party's post-donkey logo, a blue-circled 'D.' ...
"The air of confidence and optimism around the DCCC is a sea change from the weeks after Election Day – when rank-and-file anger about 2016 House results spilled over into a minor mutiny against Pelosi's leadership. ... [F]or the Democrats to win back the House, the party will need to both harness the energy of its base and reach to the center."
8. The new streaming economy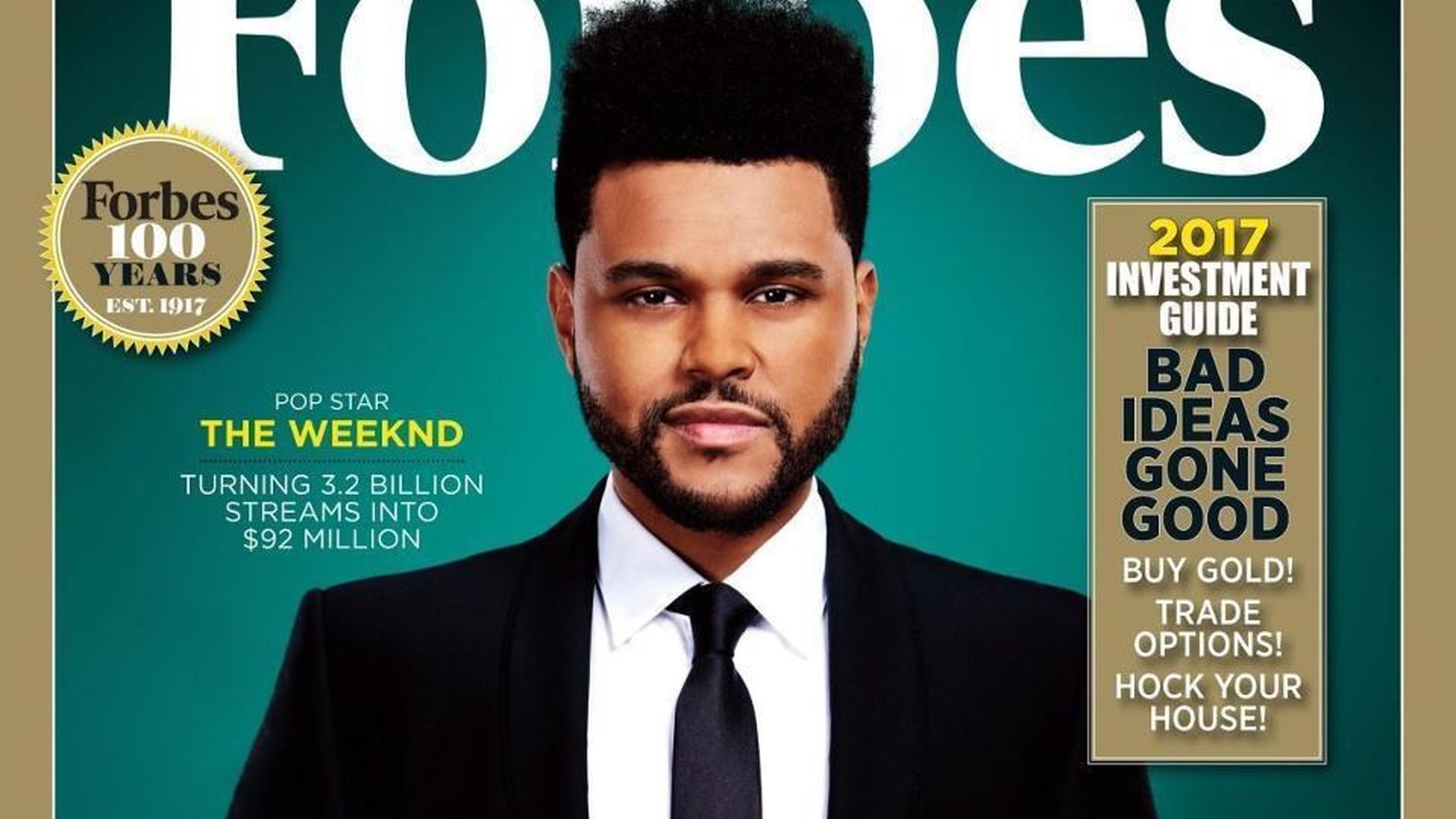 "Five years ago, Spotify was a fledgling music-streaming service only months removed from its U.S. launch and YouTube had just started its push into original programming; Netflix was a year away from doing the same, starting with House of Cards," Forbes' Zack O'Malley Greenburg writes.
"But sometimes profound change happens quickly. Streaming is now the dominant platform for music consumption, and it's growing rapidly ... YouTube has birthed a whole new breed of celebrity: the YouTube star. And Netflix plans to spend hundreds of millions annually on original content."
The new business model: "The model of making music available cheaply in order to cash in on touring and endorsements has been taken to its logical conclusion by Chance the Rapper ... The 24-year-old has never sold a physical album or signed a record deal in his life; he has only freely distributed his work via streaming services. He generates enough spins to make several million dollars that way. And he's cashing in big-time on lucrative festival gigs and arena dates, as well as deals with brands like Apple and Kit Kat."
"It's akin to the freemium model that's worked so well for apps ranging from Tinder to Candy Crush — give your stuff away to the many and then soak a smaller group of devotees."
9. "Cable news goes to war"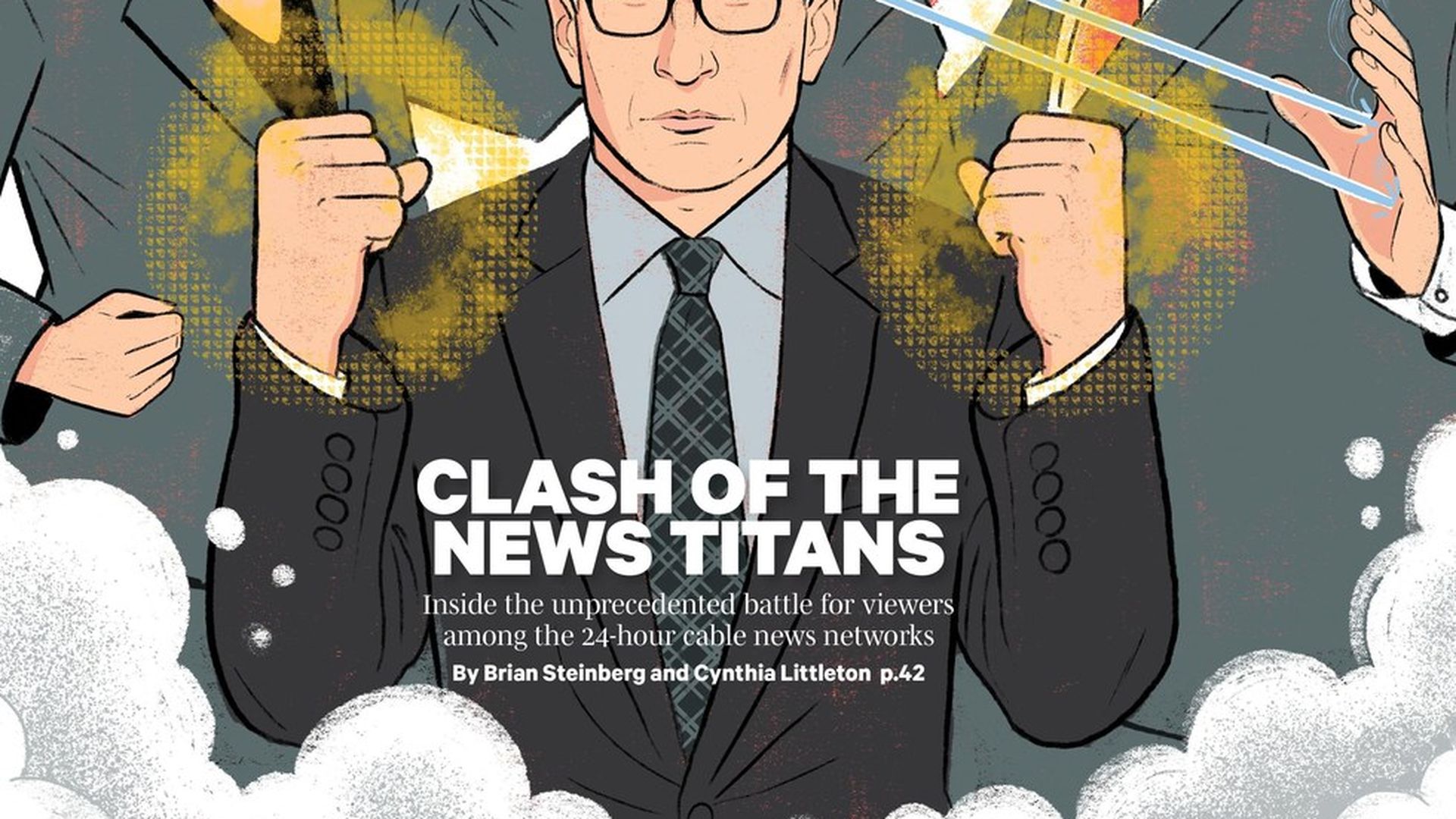 Publishing soon ... Variety cover story by Brian Steinberg and Cynthia Littleton: "Unprecedented audience interest post-election has ratcheted up the competition between the biggest stars in cable news, with CNN, MSNBC and Fox News pulling out all the stops to claim victory."
"The ratings growth for news programming ... comes at a time when the largest broadcast and cable networks are struggling with ratings erosion for primetime entertainment programming. Media buyers ... recognize that it's hard to beat real-world politics for intrigue and suspense."
"The notion of taking a summer vacation right now seems unrealistic for most newsies."
CNN's Erin Burnett: "It's like you're running a marathon ... at a sprint's pace."
10. 1 fun thing: Looking like a dynasty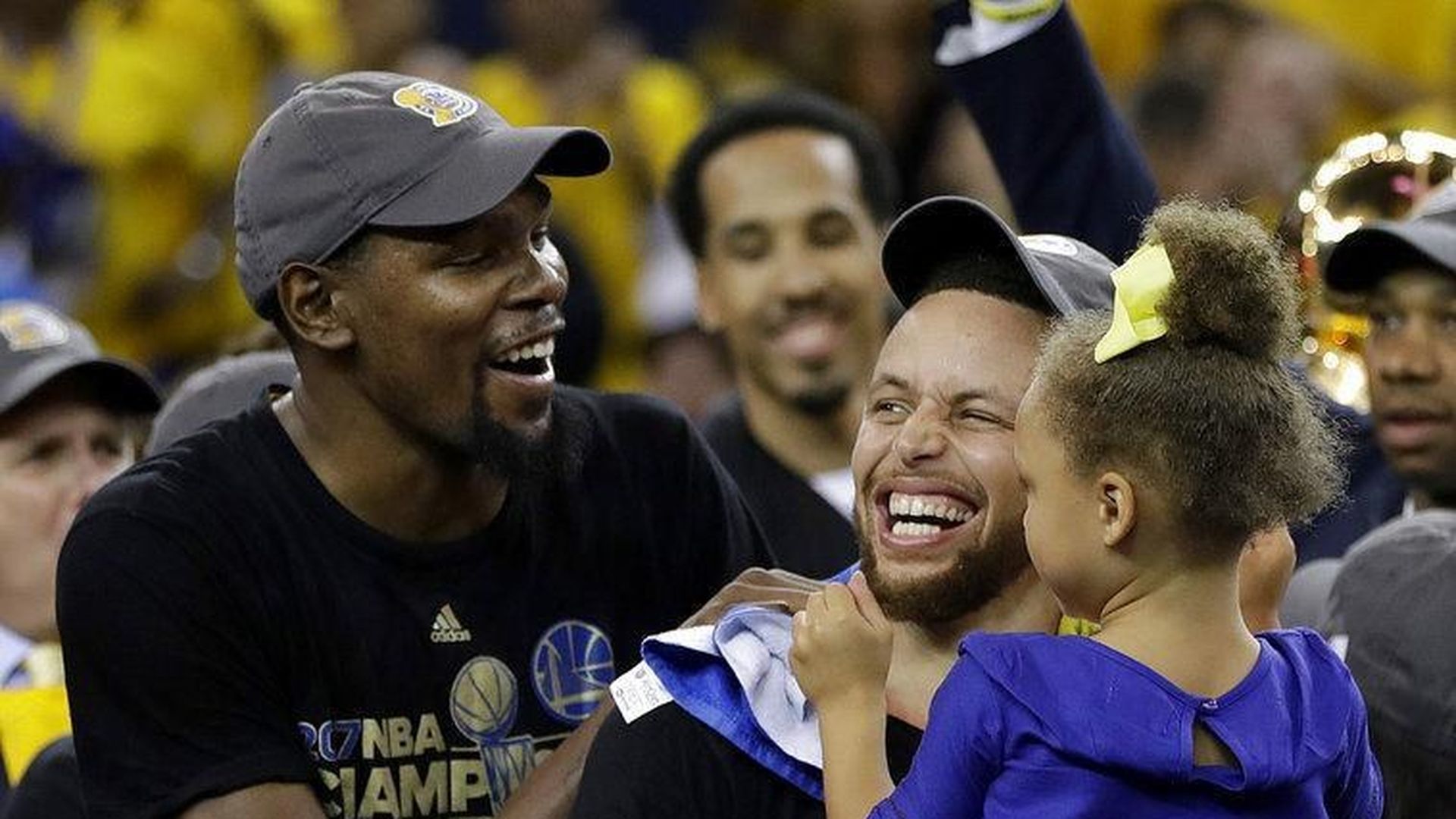 "Warriors join Bulls, Lakers, Celtics on list of NBA's greats," by AP Basketball Writer Brian Mahoney:
"They could outrun teams like the Showtime Lakers and outgun them like Michael Jordan's Bulls — and the Golden State Warriors [of Oakland] had a more dominant postseason than either. Their run was better than anything Bill Russell or Larry Bird did in Boston, so they should be able to claim a spot on the list of the NBA's best teams ever.
"Golden State finished the playoffs 16-1 [last night] when they beat the Cleveland Cavaliers 129-120 [before a home crowd] in Game 5 of the NBA Finals. They ended with the highest winning percentage ever in the NBA postseason and won 15 consecutive games, the longest streak in the major North American sports. ...
"[T]hrow in a 65-17 regular season, and the Warriors went 81-18 after Kevin Durant joined them, an impressive start to finish after their collapse in last year's Finals that prevented them from winning three straight championships.
"Golden State plays under a set of offensive-friendly rules, and critics said they wouldn't have stood up to the rugged play of the past. But the Warriors also had shooting that would have made them the envy of even some of the toughest teams of all-time."
Click here for a list of some teams, now including the Warriors, who have permanent places on the list of NBA greats.