https://www.axios.com/newsletters/axios-am-88308e92-7167-4dbd-920f-e65bbc0573a0.html?chunk=0#story0
1 big thing: "Fire and fury"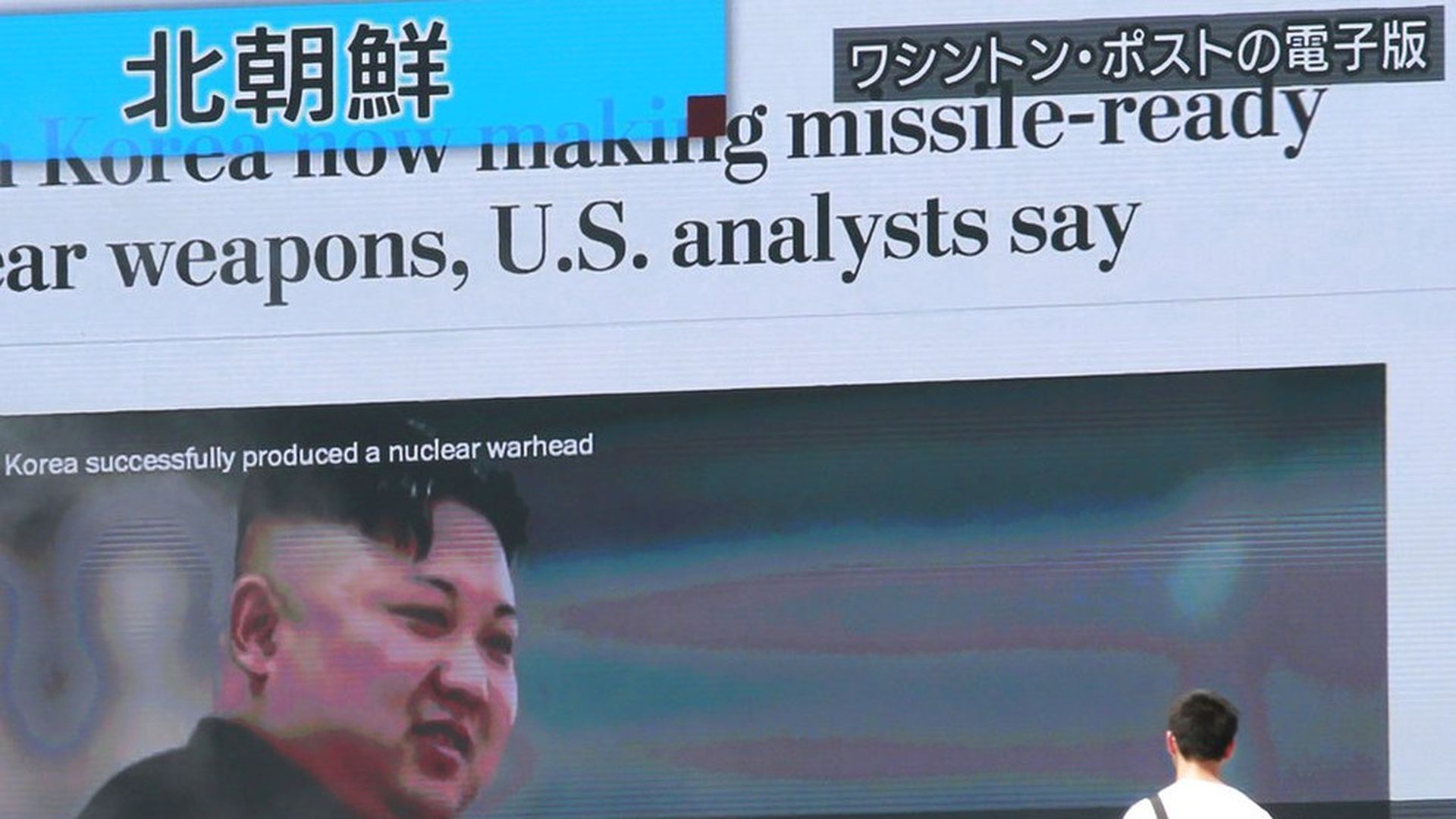 The North Korean nuclear threat, which had been unfolding over years and even over presidencies, now hits ominous milestones by the week.
In what Kim Jong-un had taunted was an Independence Day "gift," the regime on July 4 launched an intercontinental ballistic missile that could reach Alaska.
By the end of the month, he was gloating about a test that could reach California (per the N.Y. Times), or even Denver or Chicago (per the Wall Street Journal).
Then came yesterday's WashPost scoop that North Korea has "produced a miniaturized nuclear warhead that can fit inside its missiles, crossing a key threshold on the path to becoming a full-fledged nuclear power."
It's the big idea of Tom Friedman's book last year about the "age of accelerations": that Moore's Law, about the rate of doubling in computer power, now applies to basically everything.
Shortly after the Post's huge story, Trump poured on accelerant with remarks that were a quick coda to a statement on the opioid crisis that he delivered at his Summer White House at Trump National Golf Club in Bedminster, N.J..
A reporter asked if he had any comment on the reports about North Korea's nuclear capabilities. He sure did:
"North Korea best not make any more threats to the United States. They will be met with fire and fury like the world has never seen. He has been very threatening beyond a normal state. And as I said, they will be met with fire, fury, and, frankly, power, the likes of which this world has never seen before."
Be smart: Of all the dumb things North Korea says, the idea of threatening Guam is one of the dumber. An all-around wise man points out: "Makes no sense. Attacking anywhere is a suicide mission for the regime. U.S. retaliation would be devastating and complete. Most Korea experts would tell you that if they are going to take their one shot, it will be at a more populated and emotionally connected target."
https://www.axios.com/newsletters/axios-am-88308e92-7167-4dbd-920f-e65bbc0573a0.html?chunk=1#story1
2. "A dangerous game"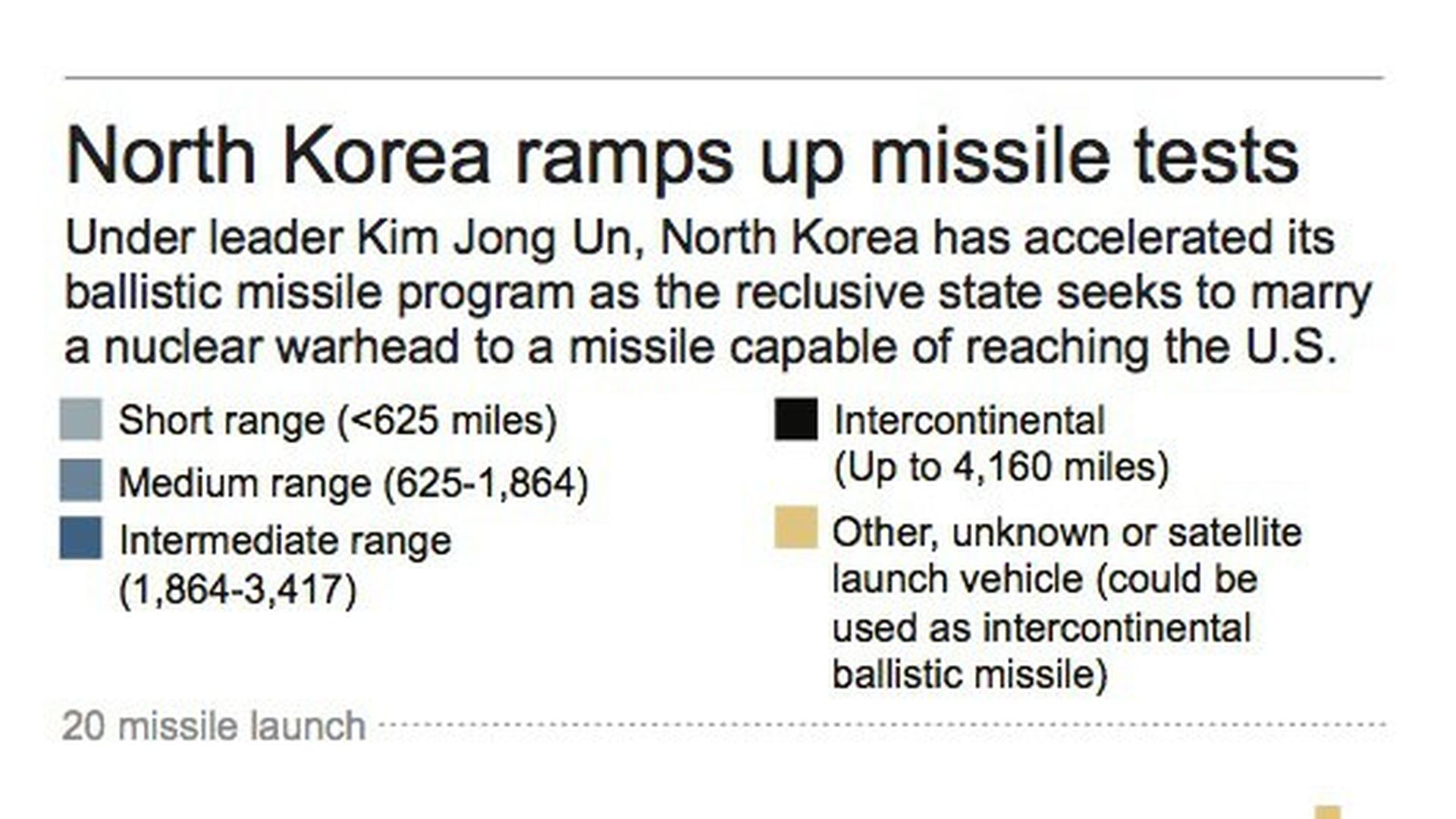 As the cable coverage got increasingly apocalyptic (here's how to shelter in place!), we asked Council on Foreign Relations President Richard Haass, who has been golfing, riding and hiking in Wyoming (Susan does the fishing), for the least-hysterical way to think about the day's developments.
Here's his Axios smart-brevity take:
"Potus's words (fire and fury) [were] counterproductive as it will raise doubts around the world and at home about his handling of the situation when all the attention and criticism ought to be placed on NK."
"North Korea is engaging in bluster in the wake of its diplomatic isolation at the UN. The bluster could be meant for domestic consumption and to persuade China or Russia to reconsider their distancing from NK."
"But Kim Jong-un is playing a dangerous game, as his words will add fuel to the argument here and elsewhere that he cannot be trusted with nuclear weapons and that deterrence cannot be assumed to work here."
"I assume Potus's words were meant to signal NK and others that NK's bluster would not succeed in getting the US to back off its effort to isolate NK and pressure it to change course on its missile program."
"[T]his may all be seen in hindsight as posturing. Diplomacy could still bring about a freeze on NK's capabilities or some other outcome that both sides can live with."
https://www.axios.com/newsletters/axios-am-88308e92-7167-4dbd-920f-e65bbc0573a0.html?chunk=2#story2
3. The talk of Silicon Valley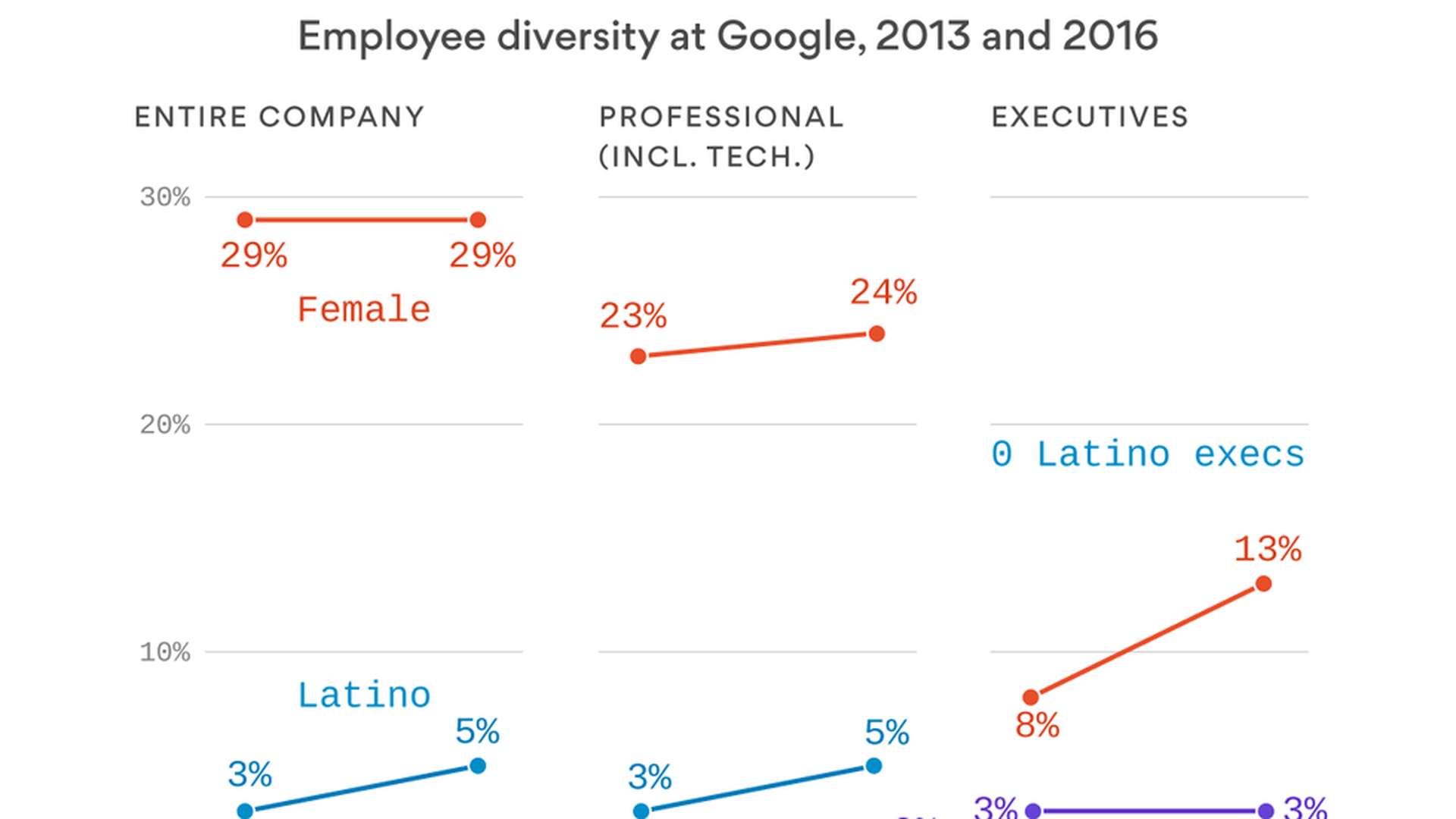 The Google bro's memo wasn't far off on at least one point: Axios' Kia Kokalitcheva reports from S.F. that Google has little to show for the $265 million spent since 2014 on recruiting a more diverse workforce.
The conversation ahead ... N.Y. Times' Nick Wingfield reports on the front page ("Rising Dissent From the Right In Silicon Valley"): "The culture wars that have consumed politics in the United States have now landed on Silicon Valley's doorstep."
"The technology industry has long marched in lock step on issues such as supporting immigration and diversity, even though their companies remained largely male, white and Asian."
"But last year's election of Mr. Trump — with his broadsides against political correctness, his coarse language toward women and his actions to restrict immigration and deny climate change — seemed to threaten many of those ideals."
"At the same time, Mr. Trump's words may have made dissenters in the tech industry more comfortable about speaking out."
https://www.axios.com/newsletters/axios-am-88308e92-7167-4dbd-920f-e65bbc0573a0.html?chunk=3#story3
4. "The biggest cord-cutter"
"Walt Disney Co. will launch two Netflix-like streaming services — one for sports and another for films and television shows — in one of the boldest moves by an entertainment company to address the changing media landscape," the L.A. Times' Daniel Miller and Meg James write on the front page:
"The stand-alone subscription services would appeal to younger audiences who are turning away from traditional media and flocking to Netflix and other digital platforms."
"The ESPN service, which would be available next year, is expected to feature 10,000 sporting events annually, among them Major League Baseball games."
"The Disney-branded film and TV offering, set to debut in 2019, would include original content developed by Walt Disney Studios."
Why it matters: "The move comes at a time of growing unease in Hollywood about the rising clout of Netflix, which has siphoned viewers from linear television and changed consumer habits — threatening conventional business models."
Axios' Sara Fischer looks ahead: "Disney needs to move its business model closer to consumers and cut out the distribution middle man that is Netflix. With a standalone streaming package, Disney will need to negotiate new distribution deals with multichannel video programming distributor (MVPD) providers, like satellite providers and cable operators."
https://www.axios.com/newsletters/axios-am-88308e92-7167-4dbd-920f-e65bbc0573a0.html?chunk=4#story4
5. Worth the click
"Stephen Crowley: a Visual Historian in Real Time" ... "After 25 years as a photographer for The New York Times based in Washington, D.C., Stephen Crowley has retired. His incisive and revealing photographs pierced the public veneer of Washington politics, bringing the viewer into the back rooms of power."
Crowley insights from a Q&A with James Estrin, for the paper's Lens blog:
"For me the question is, can a historian look at our work 100 years from now and write a historical book just by looking at our pictures in The New York Times? And if they can, then we and the editors have succeeded, and The New York Times has succeeded."
"Voters are angry. This is how it's been the last several election cycles. You get off of a plane, you get on a bus, you drive right past all the problems and go right to a handpicked crowd with a hand-selected backdrop, and everybody has had signs handed to them."
"The whole thing is staged, and the candidate is never in danger of having to answer a question he or she doesn't want to, or face an uncomfortable moment. Meanwhile, people feel more alienated than ever."
"[W]ith Trump, when they say be there at 9, if you dare show up at 9:01 you might miss something."
https://www.axios.com/newsletters/axios-am-88308e92-7167-4dbd-920f-e65bbc0573a0.html?chunk=5#story5
6. 1 fun thing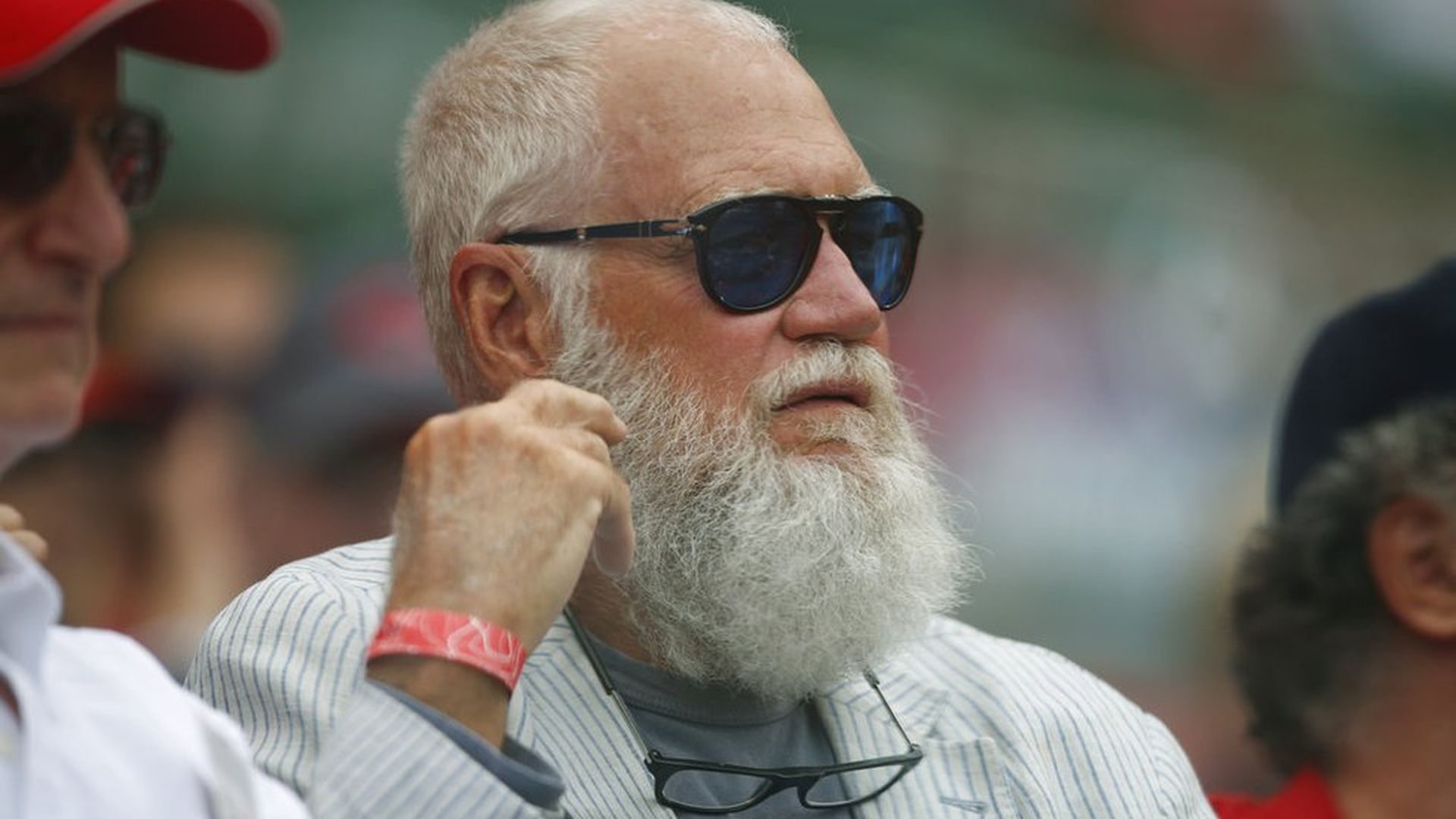 "Two years after signing off CBS' The Late Show, David Letterman is returning to the small screen," The Hollywood Reporter writes:
"The longest-serving host in U.S. late-night TV history is set to topline a new talk show for Netflix. The untitled six-episode series will premiere in 2018."
"[E]ach hourlong episode of the Netflix series will be prerecorded and feature Letterman conducting longform conversations with a singular guest as well as exploring topics on his own — outside of the studio."
From Letterman's statement: "If you retire to spend more time with your family, check with your family first."