June 05, 2022
Happy Sunday. Smart Brevity™ count: 1,387 words ... 5 mins. Edited by Donica Phifer.
1 big thing: Remote work backlash
The challenges of remote work are getting harder to ignore:
A growing number of corporate executives want to put an end to the work-from-home revolution. But workers have gotten used to the flexibility — and have the leverage to demand it, writes Javier E. David, Axios managing editor for business.
Why it matters: It's becoming increasingly apparent that Zoom and Webex aren't substitutes for in-person dynamics that bridge communication gaps, foster creativity and help build careers.
What's happening: The convenience of hybrid working is being tempered by limits of virtual collaboration, which empirical data has now started to identify.
A University of Chicago study found remote workers put in longer hours but were less productive — effects that were especially pronounced among parents. Workers spent more time in meetings, the study found, but lost out on important face time with their managers.
A study published in Nature Human Behaviour drew on "emails, calendars, instant messages, video/audio calls and workweek hours" of 61,182 U.S. Microsoft employees over the first six months of 2020.
The findings: The software giant's business units became "less interconnected" over time. An over-reliance on email and messaging made it "more difficult for workers to convey and/or converge on the meaning of complex information."
Reality check: However flawed, remote work arrangements have become a linchpin of a COVID-era labor market defined by high employee turnover.
For many knowledge workers in an economy with more open jobs than workers to fill them, WFH is more de rigueur than ever.
👀 What we're watching: Recession worries and a rash of hiring freezes could shift power back to employers, Bloomberg notes.
2. 🇻🇦 Future of Pope Francis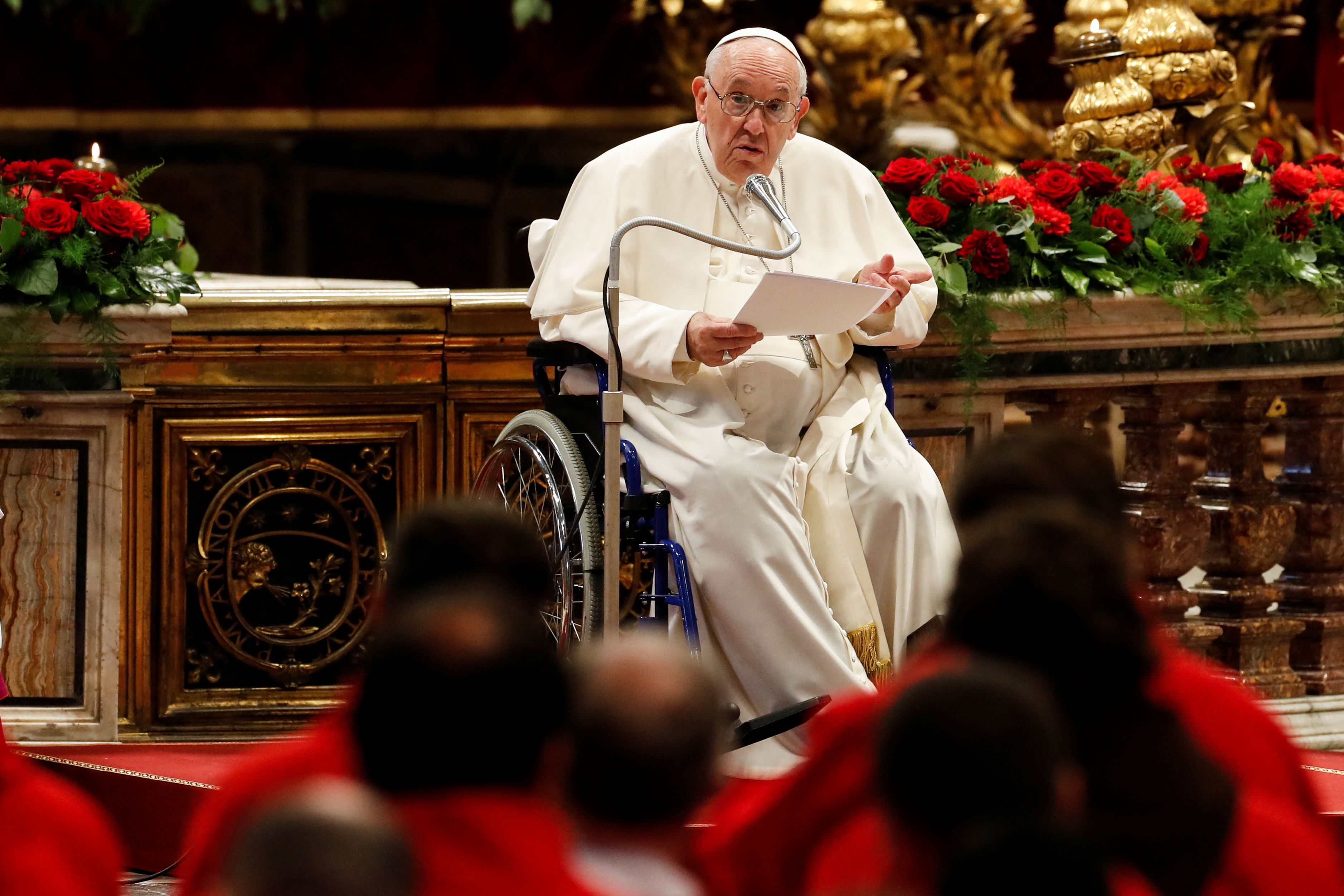 Pope Francis, 85, fueled rumors about the future of his pontificate by announcing he'll visit the central Italian city of L'Aquila in August for a feast initiated by Pope Celestine V — one of the few pontiffs who resigned, AP reports.
Why it matters: Italian and Catholic media have been rife with speculation that the pope might follow in the footsteps of Pope Benedict XVI, who stepped down in 2013. Pope Francis has mobility problems that have had him using a wheelchair for the past month.
What's happening: The rumors gained steam last week when the pope announced a consistory to create 21 new cardinals scheduled for Aug. 27. Sixteen of those cardinals are under age 80 and eligible to vote in a conclave to elect Francis' successor.
Once they're added to the ranks of princes of the church, Francis will have stacked the College of Cardinals with 83 of the 132 voting-age cardinals. While there is no guarantee how the cardinals might vote, the chances that they will tap a successor who shares Francis' pastoral priorities become ever greater.
Between the lines: The Vatican and the rest of Italy are usually on holiday in August to mid-September, with all but essential businesses closed.
3. 🔎 How 4 laws might have thwarted 35 mass shootings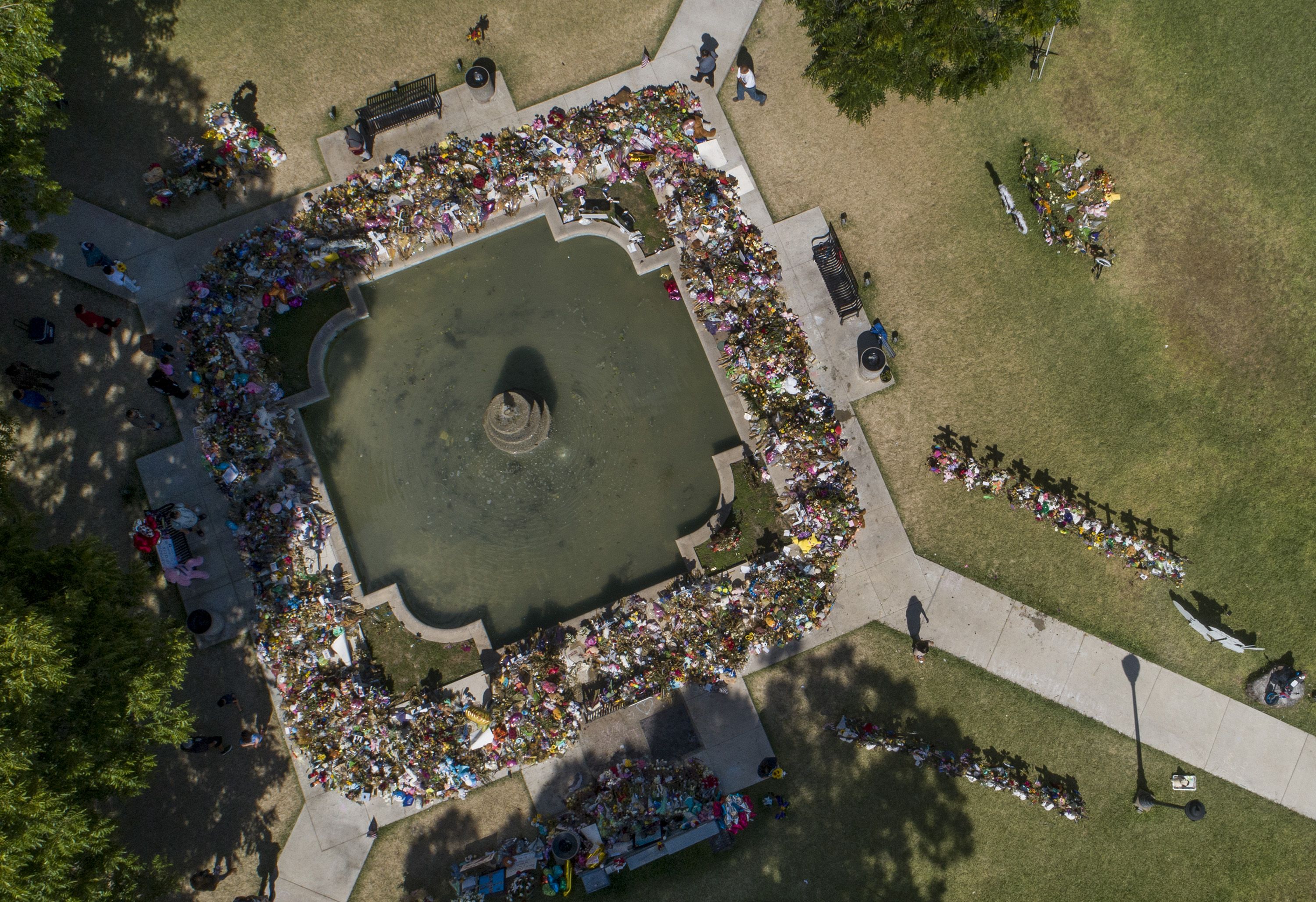 Gun-control or gun-safety measures start to run together in the cacophony of daily coverage. The lead story of the Sunday N.Y. Times breaks down the options through the lens of all U.S. mass shootings since the Columbine killings in 1999.
The Upshot analysis found these four measures — proposed by Democrats in Congress, but unlikely to pass — might have changed the course of at least 35 mass shootings that killed a combined 446 people:
"Raising the minimum age to purchase certain guns to 21: Four gunmen were under the age of 21 and purchased their weapons legally."
"Expanding background checks to cover private sales: At least four attackers purchased a weapon from a private seller in a state where background checks were not required for such sales."
"Encouraging safe gun storage and punishing people who fail to secure guns from children and criminals: 10 percent of the shootings involved a stolen gun."
"Banning the sale of large-capacity magazines: Extended magazines were used in a fifth of shootings."
Two more measures under consideration:
"Expanding red-flag laws to remove guns from people in crisis: In 46 percent of shootings, an attacker expressed interest in harming others. In 36 percent, at least one attacker was previously known to be suicidal."
"Banning so-called assault weapons: 30 percent of shootings involved guns that were banned under the now-expired 1994 federal assault-weapons law."
Reality check: "[T]he measure that seems most likely to achieve bipartisan support in the Senate — a broader background check law — would have had a clear influence on only a handful of shootings."
4. More formula to begin flowing June 20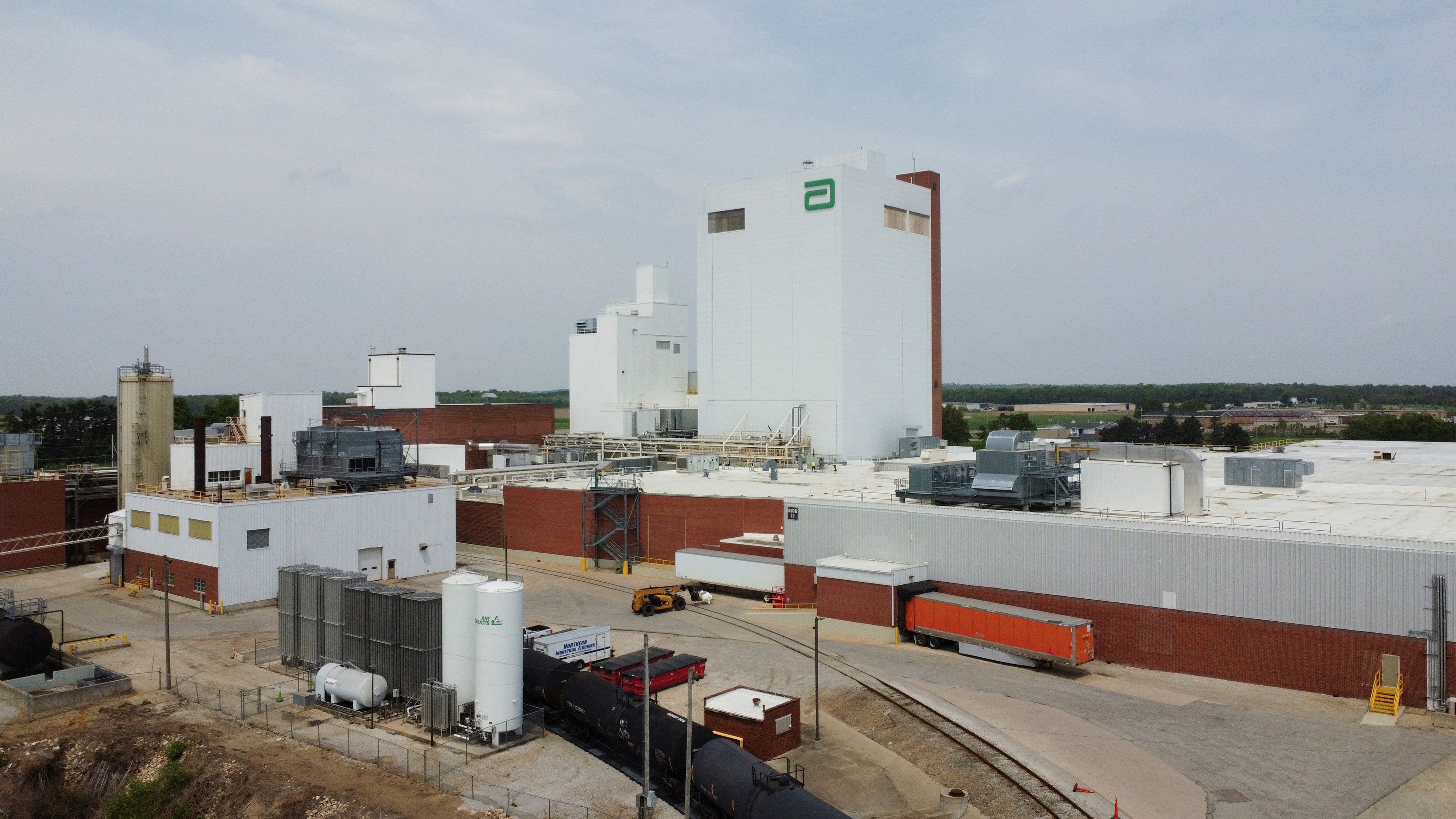 Abbott restarted baby-formula production at the Sturgis, Mich., facility shut down following an FDA recall.
"Abbott is starting production of EleCare and other specialty and metabolic formulas, with initial EleCare product release to consumers beginning on or about June 20," the announcement said.
"We're also working hard to fulfill the steps necessary to restart production of Similac and other formulas and will do so as soon as we can."
5. 🇺🇦 Kyiv hit for first time in weeks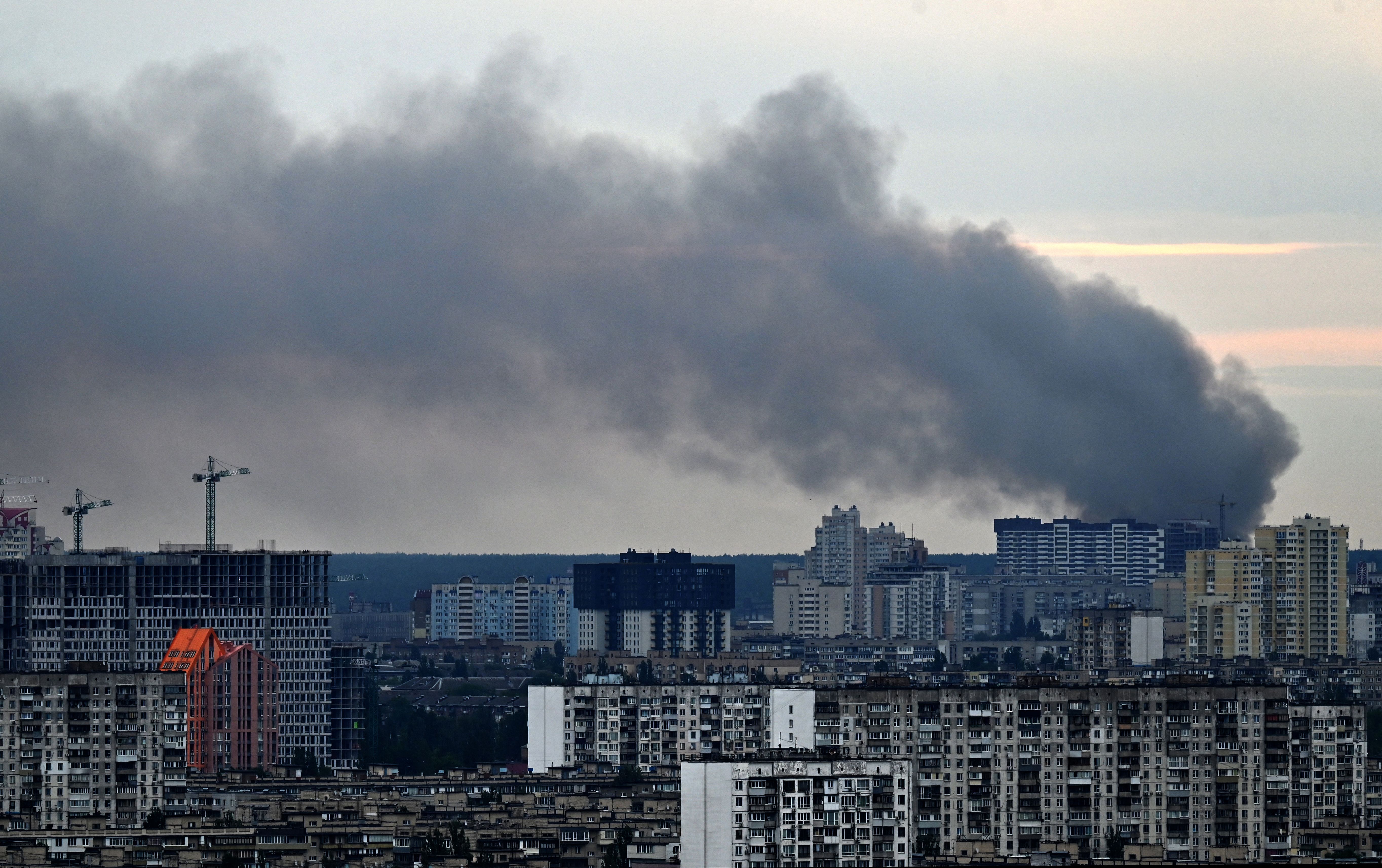 Above: Smoke rises in Kyiv today after Russia hit Ukraine's capital with missiles for the first time in more than a month.
Why it matters: The strikes interrupted the sense of normality that had returned since Russian forces were forced out of the capital.
The strikes were carried out using "long-range air-launched missiles fired from heavy bombers as far away as the Caspian Sea," Reuters reports, underscoring the sophistication of Russia's weaponry.
6. 🐦 Musk backtracks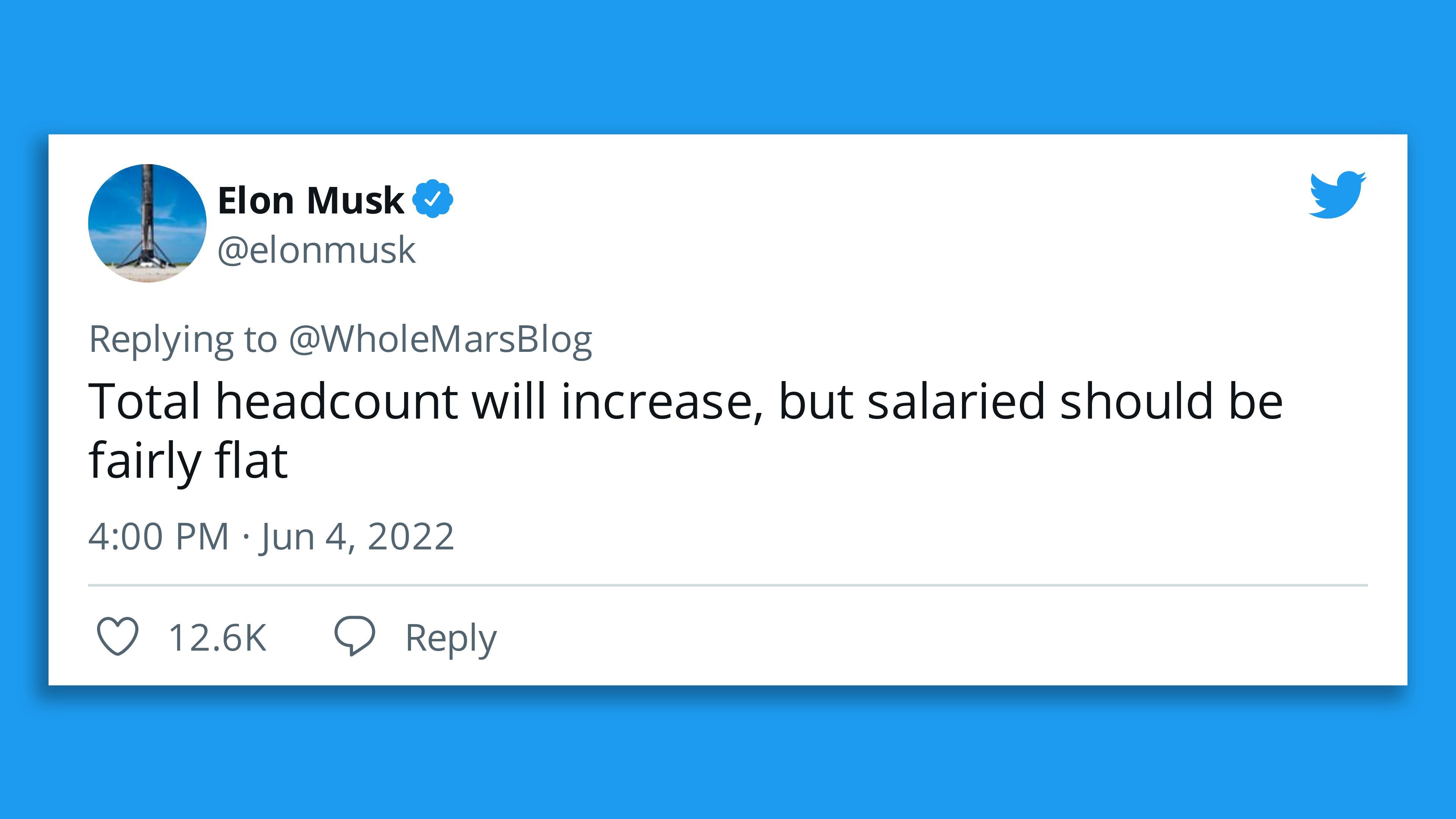 Elon Musk says Tesla's headcount will rise over the next 12 months and salaried staff should be "fairly flat" — backtracking from his email Thursday warning of 10% job cuts based on his "super bad feeling" about the economy, Reuters reports.
7. Watergate @ 50
June 17 will mark the 50th anniversary of the break-in at the Watergate in 1972.
Leading today's Washington Post Outlook section is the world's most famous byline: By Bob Woodward and Carl Bernstein.
It's an excerpt from a new foreword to a 50th anniversary edition of "All the President's Men," out Tuesday. Original publication date: June 15, 1974.
💡 It's fascinating how far ahead of President Nixon's resignation (Aug. 8, 1974) the story was known — and between hard covers.
"Nixon's illegal conduct was gradually exposed by the news media, the Senate Watergate Committee, special prosecutors, a House impeachment investigation and finally by the Supreme Court," Woodward and Bernstein write:
In a unanimous decision, the court ordered Nixon to turn over his secret tape recordings, which doomed his presidency. These instruments of American democracy finally stopped Nixon dead in his tracks, forcing the only resignation of a president in American history.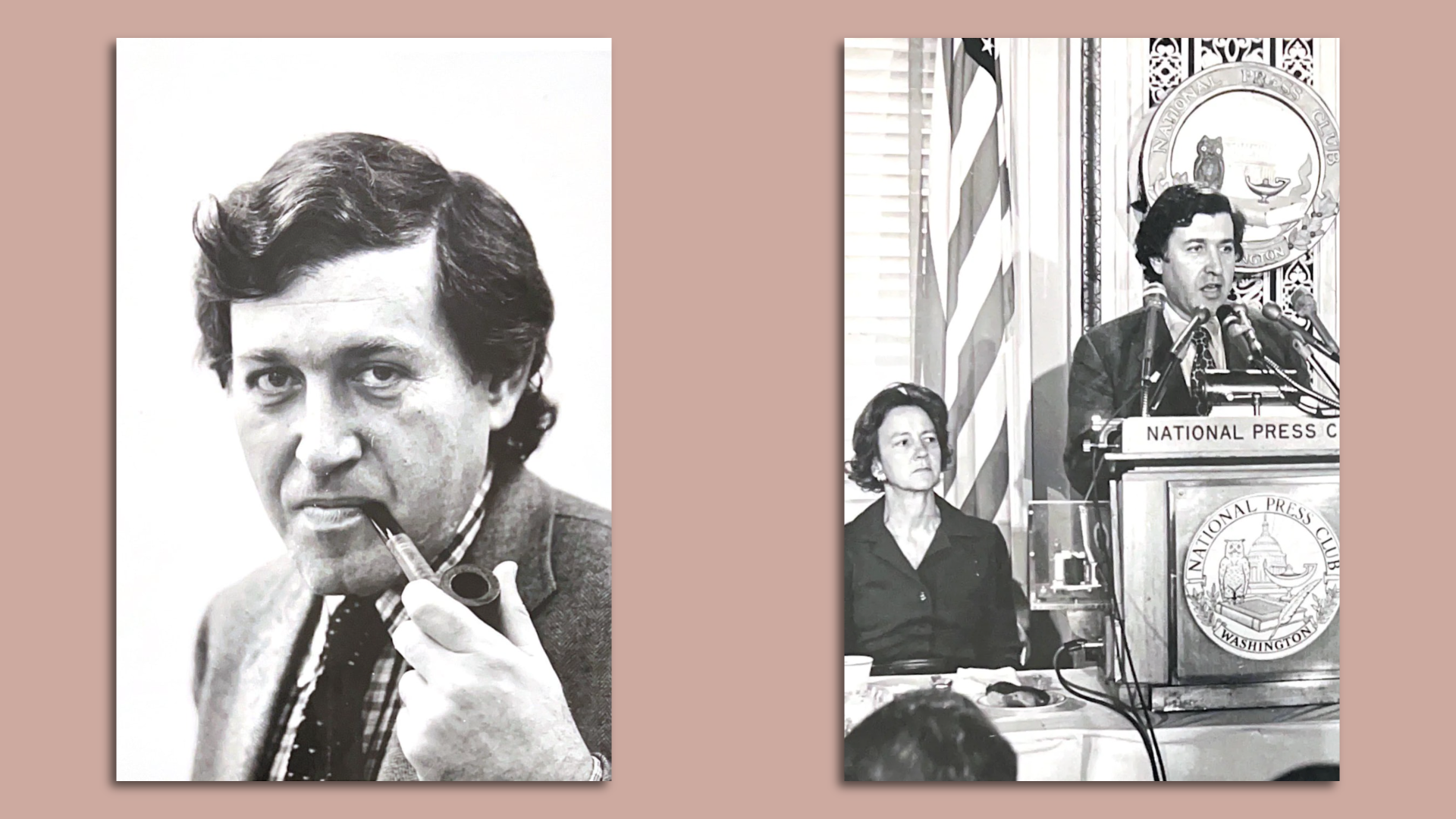 Above: Washington Post editor Barry Sussman spoke at the National Press Club in 1972, accompanied by publisher Katharine Graham.
Barry Sussman, the editor who directly oversaw the Woodward-Bernstein probe, died at age 87 at his home in Rockville, Md.
Why he mattered, from the WashPost obit by Emily Langer: "In Hollywood and in the public eye, newspapering is often imagined as a solitary undertaking ... In truth, journalism is a far more collective enterprise, with crucial roles played by people [who don't appear in bylines] ... One such person, and perhaps the chief example in The Post's unraveling of the Watergate affair, was Mr. Sussman."
8. 👑 1 fun thing: The queen's secret
In a sketch staged as part of festivities marking 70 years on the throne, Queen Elizabeth II confided to Paddington Bear what's in her omnipresent handbag:
An emergency marmalade sandwich.
The frame above was part of a film shown on a giant screen at last night's BBC Platinum Party at the Palace, staged in front of Buckingham Palace on Day 3 of the four-day Platinum Jubilee celebration.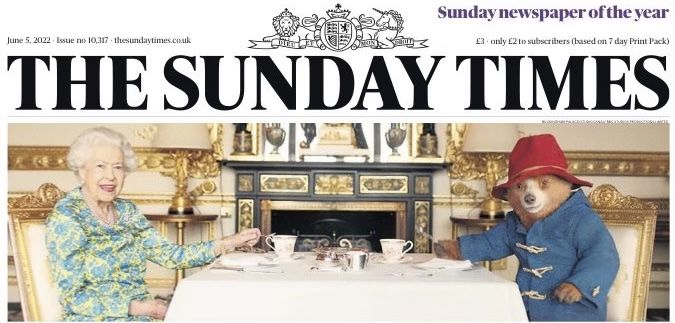 Above: The queen, 96, and Paddington Bear drink cream tea at Buckingham Palace.
📬 Invite your friends to sign up here to get their daily essentials — Axios AM, PM and Finish Line.