Axios AM
January 02, 2022
🥞 Happy Sunday. Smart Brevity™ count: 1,083 words ... 4 minutes. Edited by Fadel Allassan.
🚨 With the first anniversary of the Jan. 6 riot coming up Thursday, a Washington Post-University of Maryland poll finds 1 in 3 Americans believe violence against the government can be justified at times. Go deeper.
1 big thing: Omicron collides with resolutions
Gyms and fitness studios had been getting back into shape after the pandemic devastated their businesses. But Omicron threatens to reverse that momentum at the worst possible time, Axios Nathan Bomey writes.
Why it matters: New Year's typically brings a boom in gym memberships. But more Americans may stick with at-home fitness.
Chains like Planet Fitness, Equinox, Soul Cycle, Life Time Fitness and 24 Hour Fitness thought they had put the worst behind them. That left stay-at-home brands such as Peloton and Tonal scrambling to build on their success during lockdowns.
The potential return of mask mandates is particularly problematic for gyms.
22% of health and fitness clubs closed for good during the pandemic, totaling about 9,100 locations, according to the International Health, Racquet & Sportsclub Association.
2. Muslims in West embrace Uyghurs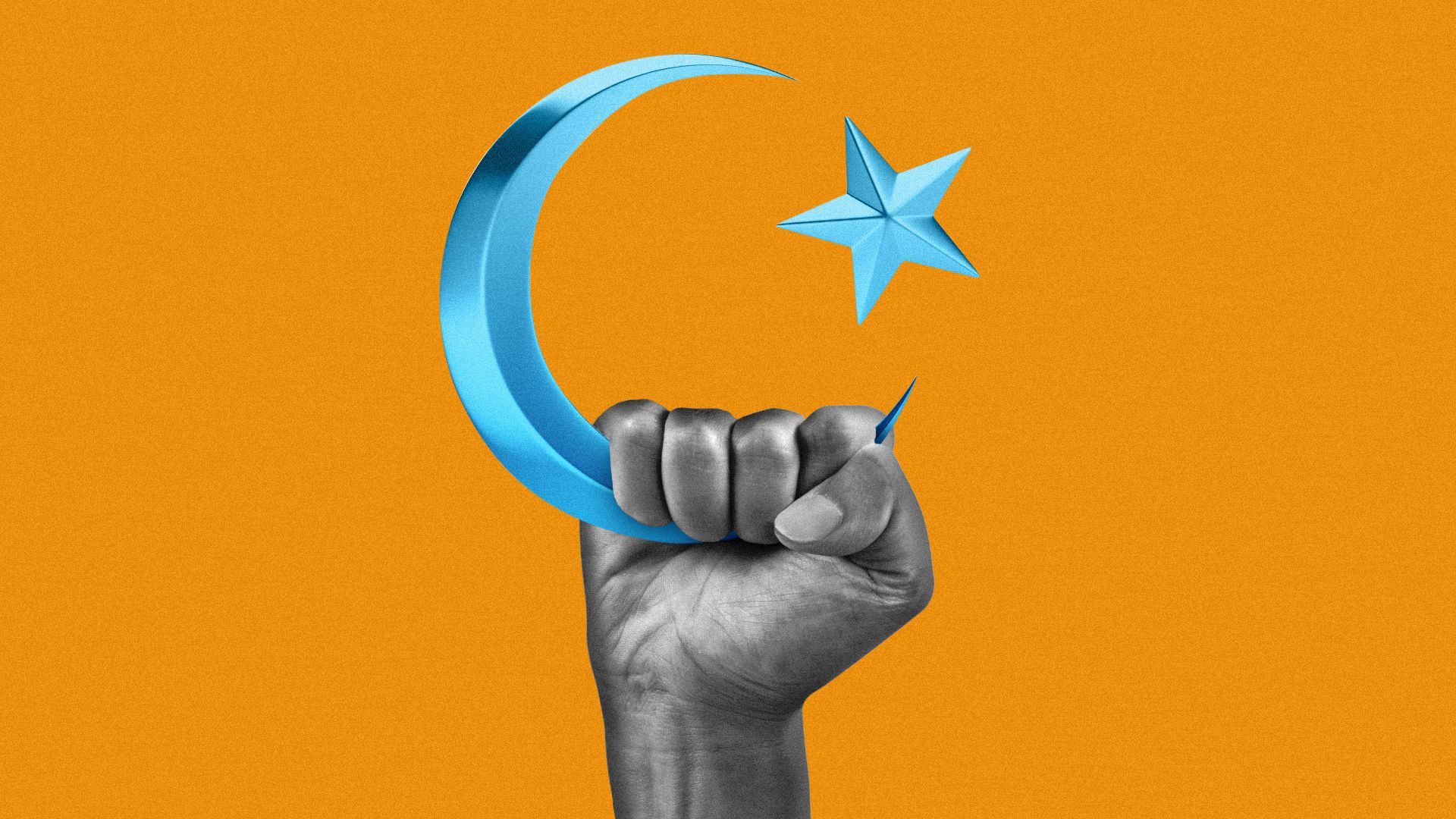 Muslim organizations in the U.S., U.K., and elsewhere have become outspoken advocates for Uyghur Muslims as China continues a campaign of genocide, Axios China author Bethany Allen-Ebrahimian reports.
Governments of many Muslim-majority countries have faced criticism for their silence in the face of China's repression. But Muslim citizens are organizing and speaking loudly about the issue.
Why it matters: As the Uyghur genocide has gained more international prominence over the past year, the fate of a once little-known ethnic group is becoming an issue of global concern.
More than 70 Muslim student associations around the world and dozens of Uyghur groups wrote an open letter in December 2020 to the Organization of Islamic Cooperation (OIC), comprised of 57 member states, urging them to denounce China's abuses.
The Council on American-Islamic Relations (CAIR), one of the largest U.S. Muslim advocacy groups, regularly highlights new reporting on the Uyghur situation in China, and demands action by U.S. lawmakers and the international community.
Between the lines: Uyghur Americans have been impacted by the genocide, connecting the issue to American Muslim communities, CAIR's Robert McCaw told Axios.
3. ⚖️ Rioters get up to 5 yrs.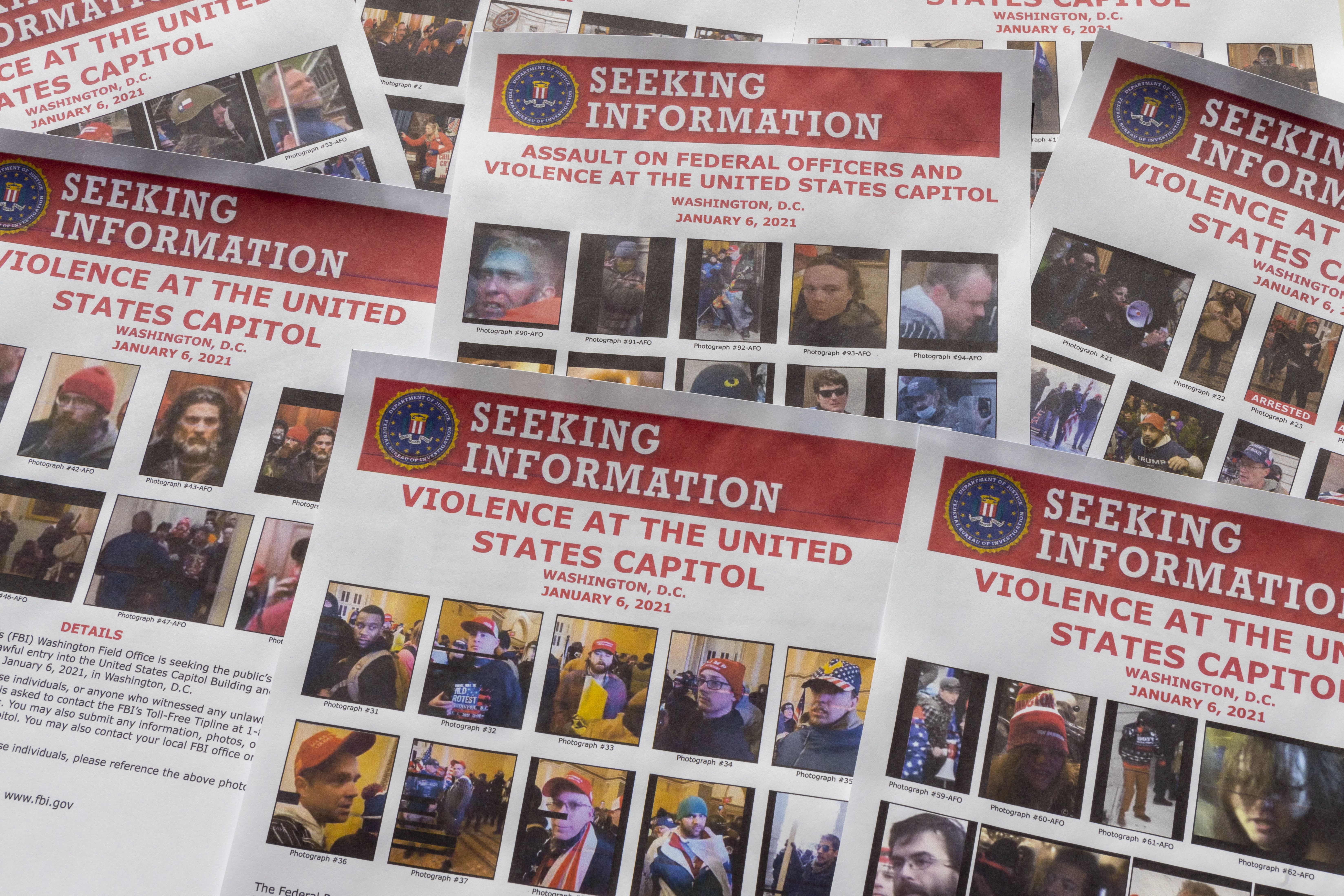 705 people have been arrested in connection with the Jan. 6 ri0t, and the FBI is looking for more. Many cases have entered the punishment phase, AP reports:
71 people have been sentenced for riot-related crimes. They include a company CEO, an architect, a retired Air Force colonel, a gym owner, a former Houston police officer and a University of Kentucky student.
31 defendants have been sentenced to prison or time already served in jail, with terms ranging from 10 days to 63 months.
22 received sentences of three months or less.
56 of the 71 pleaded guilty to a misdemeanor count of parading, demonstrating or picketing in a Capitol building. Most were sentenced to home confinement or jail terms of weeks or months.
Three rioters charged with assaulting police officers got prison terms ranging from more than three years to just over five years.
Between the lines: A seemingly genuine display of contrition, before or during a sentencing hearing, can help a rioter avoid jail. The judges often cite remorse as a key factor in deciding sentences.
Many rioters have said they lost jobs and friends.
Reality check: Thousands of hours of videos from surveillance cameras, mobile phones and police body cameras captured them reveling in the mayhem. Many boasted about their crimes on social media.
4. Charted: How the supply chain broke
This New York Times graphic by Lazaro Gamio, an Axios alumnus, and Peter Goodman, global economics correspondent, tells 14 stories in one.
The Smart Brevity: At the beginning of the pandemic, companies assumed demand would drop sharply ... Instead, we shopped online and demand soared ... China shipped PPE in containers that piled up around the world, when they were needed in China ... U.S. ports seized up from all the incoming goods ... Shortages of one thing turned into shortages of another ... Toyota's widely adopted "just in time" model meant companies hadn't stockpiled parts and raw materials.
Connect the 14 dots (subscription).
5. 💡 Axios vows to save local news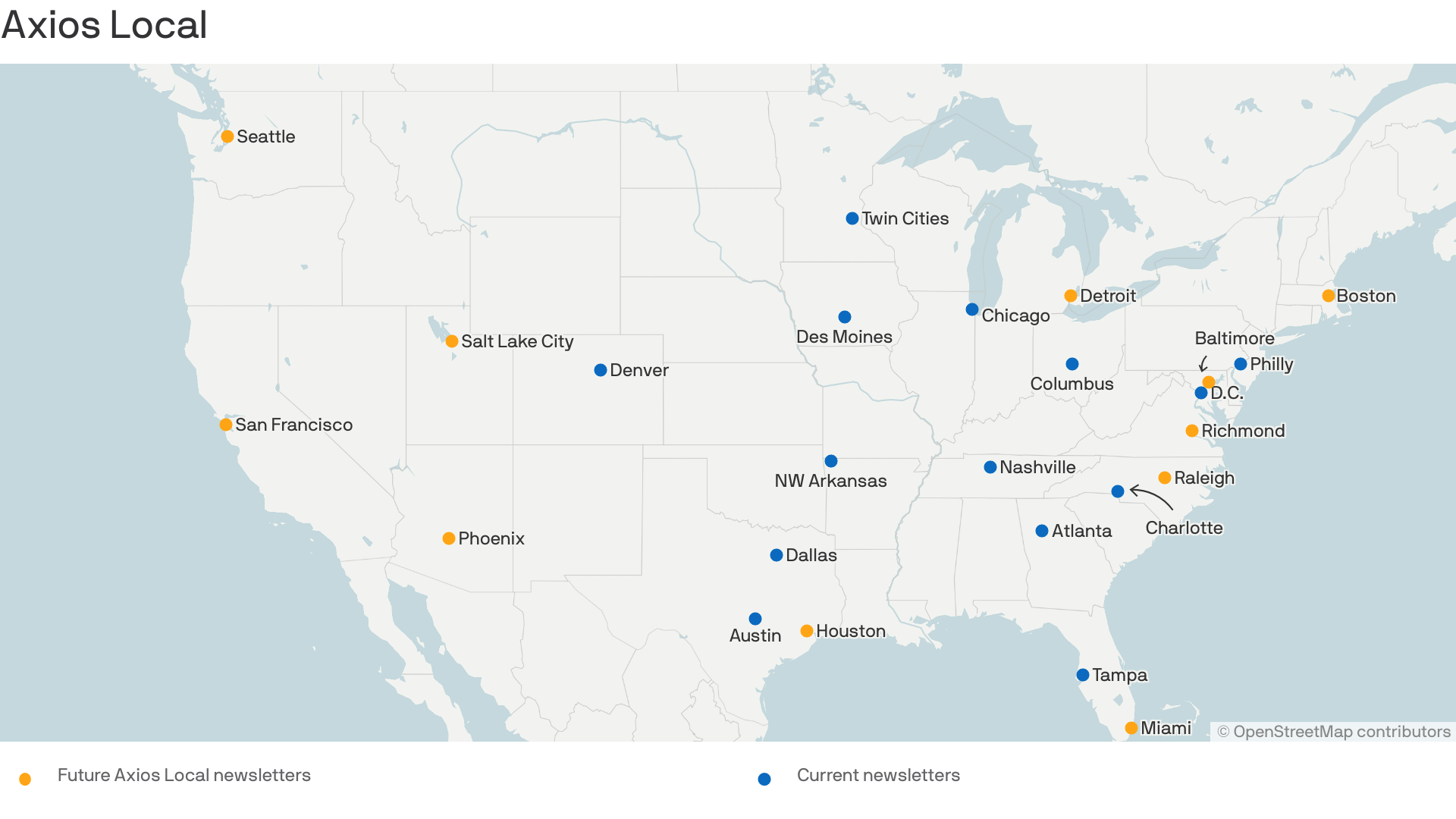 Thank you for the massive response to yesterday's special email from Axios CEO Jim VandeHei unveiling our Axios Local manifesto + this year's expansion plan.
Axios Local does for your hometown — or soon will — what Axios AM does for the world: Our reporters on the ground make their neighbors smarter, faster about how the community is changing.
Why it matters: Axios is solving a problem so many of you feel acutely — the decline for local journalism. For years, people were convinced there was no high quality economically viable solution. Now there is.
Situational awareness: 14 cities, from Twin Cities to Tampa Bay, now have Axios Local teams bringing them an AM-style morning newsletter, plus alerts, guides and more.
This year, we'll add 11 more cities, from Seattle to Miami ... Phoenix to Boston.
Our theory of the case: Every city and town is reinventing itself (or being reluctantly reinvented) because of technology and the explosion of work-from-anywhere possibilities.
Think of the change unfolding in your backyard — where and how you work, live, communicate, travel, study, eat and work out.
How you can help: Sign up for our current Axios Local cities, or be the first to learn about expansions.
If you're a great local journalist interested in joining our crusade, email Danielle Jones,

[email protected]

.
If you run a business that wants to reach a city's most active, engaged citizens, connect with Axios chief business officer, Fabricio Drumond,

[email protected]

.
If you're a philanthropist, we'd love your clever ideas for bringing this concept to smaller towns, especially news deserts, faster. Email VandeHei:

[email protected]

.
6. 📷 Snow falls where fire raged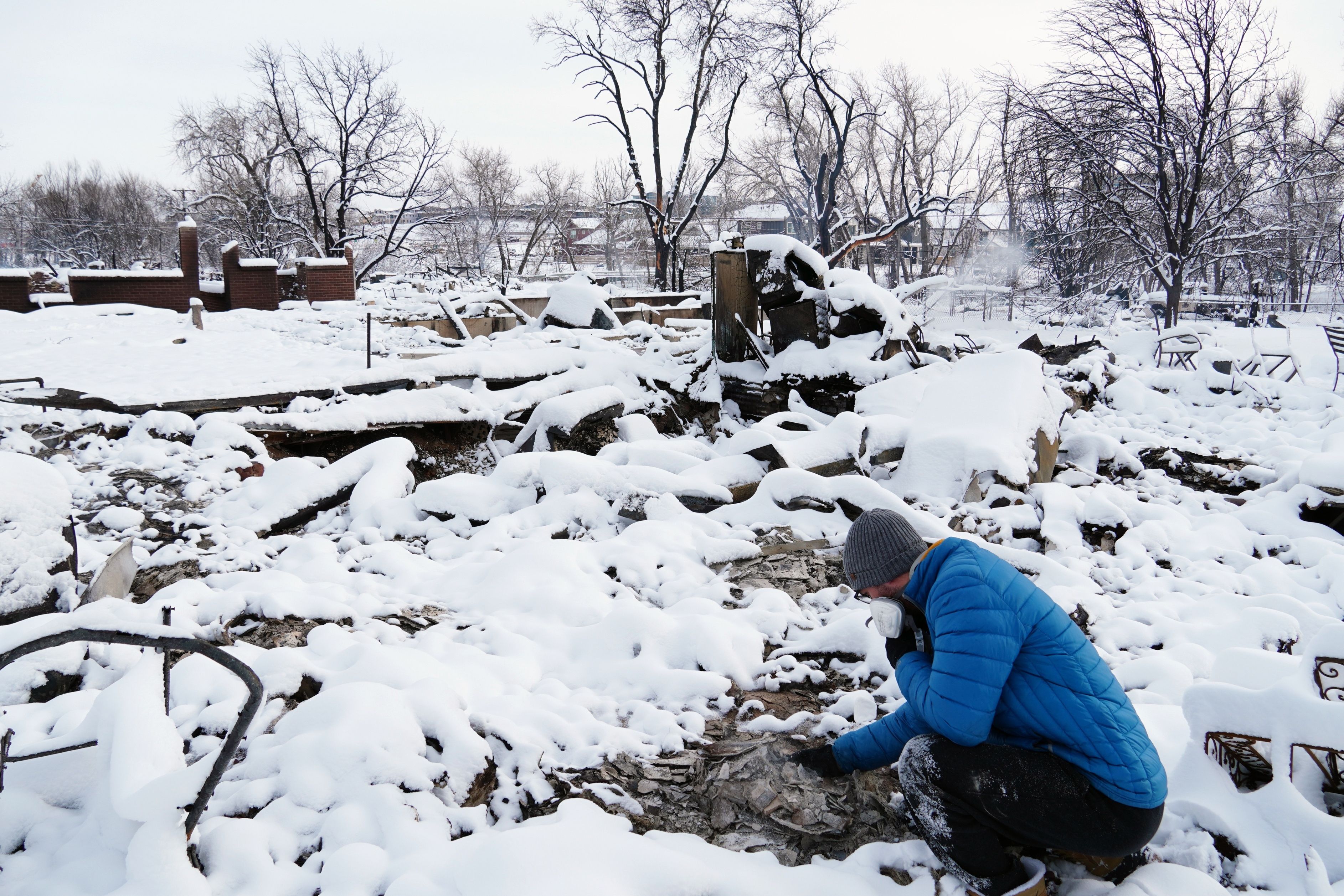 Above, Viliam Klein, whose home burned in a wildfire, picks through the ashes on his property in Superior, Colo., yesterday.
🗞️ The Boulder Daily Camera headline is: "Pretty unreal."
"The precipitation on Friday and Saturday was a welcome relief for those fighting the fire. Still, it made for a bizarre dichotomy as the powdery snow covered the charred remains of homes that days earlier were engulfed in flames," the paper reports.
📬 Was this email forwarded to you? Sign up here for your own personal copy of Axios AM and Axios PM.