Good Sunday morning. Plans for tonight's 69th Primetime Emmy Awards at the Microsoft Theater in L.A. (live on CBS on both coasts, 8 to 11 p.m. ET) include a Washington-related stunt. We're not allowed to spoil the surprise. But if it goes off as planned, it'll be a big talker. This is something we figured would happen, but not like this. We'll have a pic in tomorrow's Axios AM.
https://www.axios.com/newsletters/axios-am-762f5795-a05e-4869-ab15-e33424780485.html?chunk=0#story0
1 big thing: What Facebook is thinking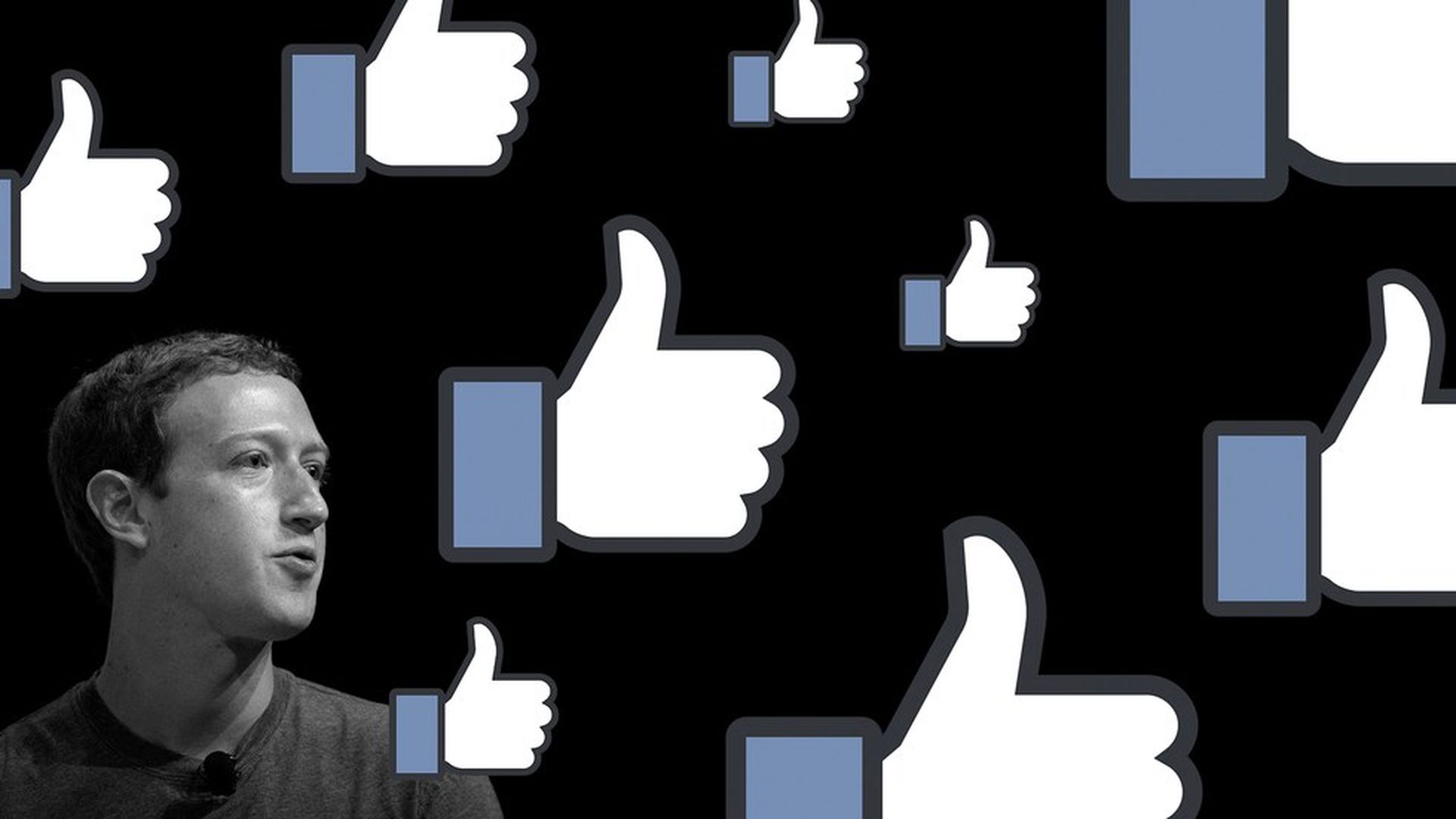 Facebook — once the darling of Silicon Valley, America and the world — is feeling rising heat and scrutiny everywhere it reaches:
Politicians fear it empowers corrupt actors, tips elections and enables lies. Hillary Clinton, a close ally of many at Facebook, went off on the company this past week.
Media companies fear it destroyed their business and turned the news industry into peasant serfs on the greedy overlord's land.
The intelligence community fears it emboldens terrorists, Russia and China — all hell-bent on manipulation and deadly mischief.
Facebook fans worry about their data safety and the quality of content the algorithm churns out.
The secretive company prides itself on its libertarian view of its platform, with the broadest daily reach of any company in the history of mankind. But it now needs to adapt fast. So I asked tech executives to walk you through the view from the eye of the storm:
Facebook believes Robert Mueller's investigators are best-positioned to understand and explain to the public what happened in the election.
A Facebook spokesperson told me: "We are providing information to Special Counsel, including ads and related account information."
I've learned that although detailed findings have not been revealed, Facebook has used forensic techniques to get to the bottom of Russia-tainted electioneering on its platform. Intelligence agencies may find still more activity that was cloaked.
Facebook will argue that both tech companies and governments are in uncharted territory, and will work with lawmakers in the U.S. and around the world. The company will resist most regulation, though.
Facebook will continue to say it can play a positive role in elections — helping people communicate directly with candidates, register to vote, learn the issues, and hold governments and elected officials accountable.
Facebook will remind users of ways it makes the world better, including Texans using social media to help rescue each other.
Facebook will contend that just as crime is never fully eradicated, social networks have to focus on staying ahead of people who misuse their platforms. But bad things will continue to unfold on all social networks. And Facebook anticipates more bad news cycles like the ones hitting them now.
Facebook is learning from the U.S. election, and removed more than 30,000 fake accounts in the run-up to the French elections in May.
Be smart: The global backlash against the tech giants, after years of generally romantic treatment by governments and the press, is one of 2017's uber-stories. Each new disclosure about Russian ads and fake news makes self-policing look less viable, and makes lawmakers and regulators hungrier to intervene.
Why it matters: If people think what they're reading on the social network might be fake, or that they may be being manipulated, that could be a massive long-term problem for a platform where ad revenue depends on keeping us happily addicted. A good experience is good for business.
A thought bubble from Axios business editor Dan Primack, when I sent him a draft: "Only thing I wonder is how much people really worry about the privacy/data issue. I don't get the sense that too many do, or at least they view risk/reward as acceptable when the latter is a cost-free utility."
Bigger pic: "For all the talk about this, current antitrust law still doesn't seem to apply to companies like Facebook. And not hearing any real talk about updating those Rockefeller-generation laws, at least not in a way that would go after services (Facebook, Amazon, etc.) that most users still love."
Axios media-trends reporter Sara Fischer adds that new constraints by D.C. on social platforms "would likely impact the entire tech economy and everything it touches (digital media, entertainment, etc.)."
https://www.axios.com/newsletters/axios-am-762f5795-a05e-4869-ab15-e33424780485.html?chunk=1#story1
2. A photo you'll never forget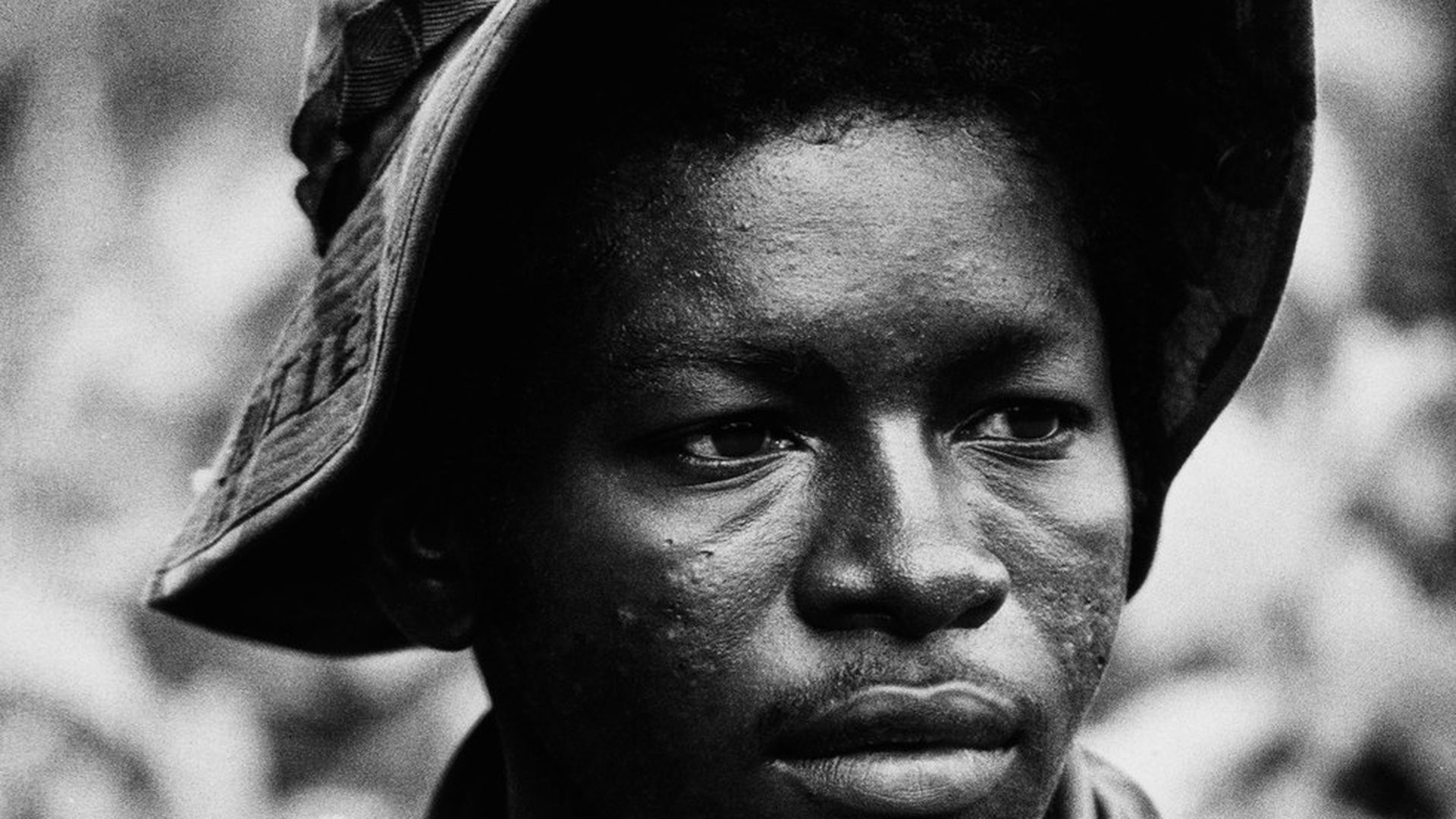 This remarkable photo — taken for UPI in 1972 by David Hume Kennerly, who won the Pulitzer Prize at age 25, and later was White House photog for Gerald Ford — shows an American G.I. on patrol in the rocket belt outside Da Nang, Vietnam. It hasn't been published before, but David kindly shared it with Axios readers.
A massive gallery of Kennerly's Vietnam-era masterpieces — from the home front, to the battlefront, to the war's final days — filled the Kennedy Center lobby during a D.C. screening of "The Vietnam War," an 18-hour documentary series by Ken Burns and Lynn Novick that premieres tonight at 8 on PBS.
Burns, acclaimed for historical documentaries including "The Civil War," appeared onstage with three Vietnam veterans: Sen. John McCain, former SecState John Kerry and former SecDef Chuck Hagel.
Burns told the crowd that in the individual stories of Vietnam, he saw the "possibility for redemption and transcendence and even reconciliation."
"The study of history has a way of making you an optimist."
"It is possible to take from the Vietnam War – the seemingly irredeemable story – extraordinary lessons that we can transform ourselves, through effort and acts of citizenship, into something that can make us better."
Burns called the film, a decade in the making, "the most challenging, and therefore the most satisfying professional experience in my life."
Go deeper:
Jon Meacham on "My Father's Vietnam," with a color photo of Jere Meacham on patrol in Vietnam with other members of the U.S. Army's Fourth Infantry Division. He sent the images to his son in 1999.
https://www.axios.com/newsletters/axios-am-762f5795-a05e-4869-ab15-e33424780485.html?chunk=2#story2
3. Article of the day
"How Big Business Got Brazil Hooked on Junk Food," by N.Y. Times' Andrew Jacobs and Matt Richtel:
What's new: "Across the world, more people are now obese than underweight."
"At the same time, ... the growing availability of high-calorie, nutrient-poor foods is generating a new type of malnutrition, one in which a growing number of people are both overweight and undernourished."
Why it happened: "Even critics of processed food acknowledge that there are multiple factors in the rise of obesity, including genetics, urbanization, growing incomes and more sedentary lives."
"Part of the problem ... is a natural tendency for people to overeat as they can afford more food."
Why it matters: "Obesity rates in the United States, the South Pacific and the Persian Gulf are among the highest in the world — more than one in four Americans is obese."
"[O]ver the last 35 years, obesity, defined as having a body mass index over 30, has grown the fastest in ... Latin America, Africa and Asia."
The stats: Obesity in the U.S. went from 10% in 1980 to 27% in 2015. In Brazil, it went from 7% to 18%. In China, it went from 0.7% to 5%. In Mali, in West Africa, it went from 0.7% to 11%.
"There are now more than 700 million obese people worldwide, 108 million of them children ... The prevalence of obesity has doubled in 73 countries since 1980, contributing to four million premature deaths."
https://www.axios.com/newsletters/axios-am-762f5795-a05e-4869-ab15-e33424780485.html?chunk=3#story3
4. States with most clout in electoral college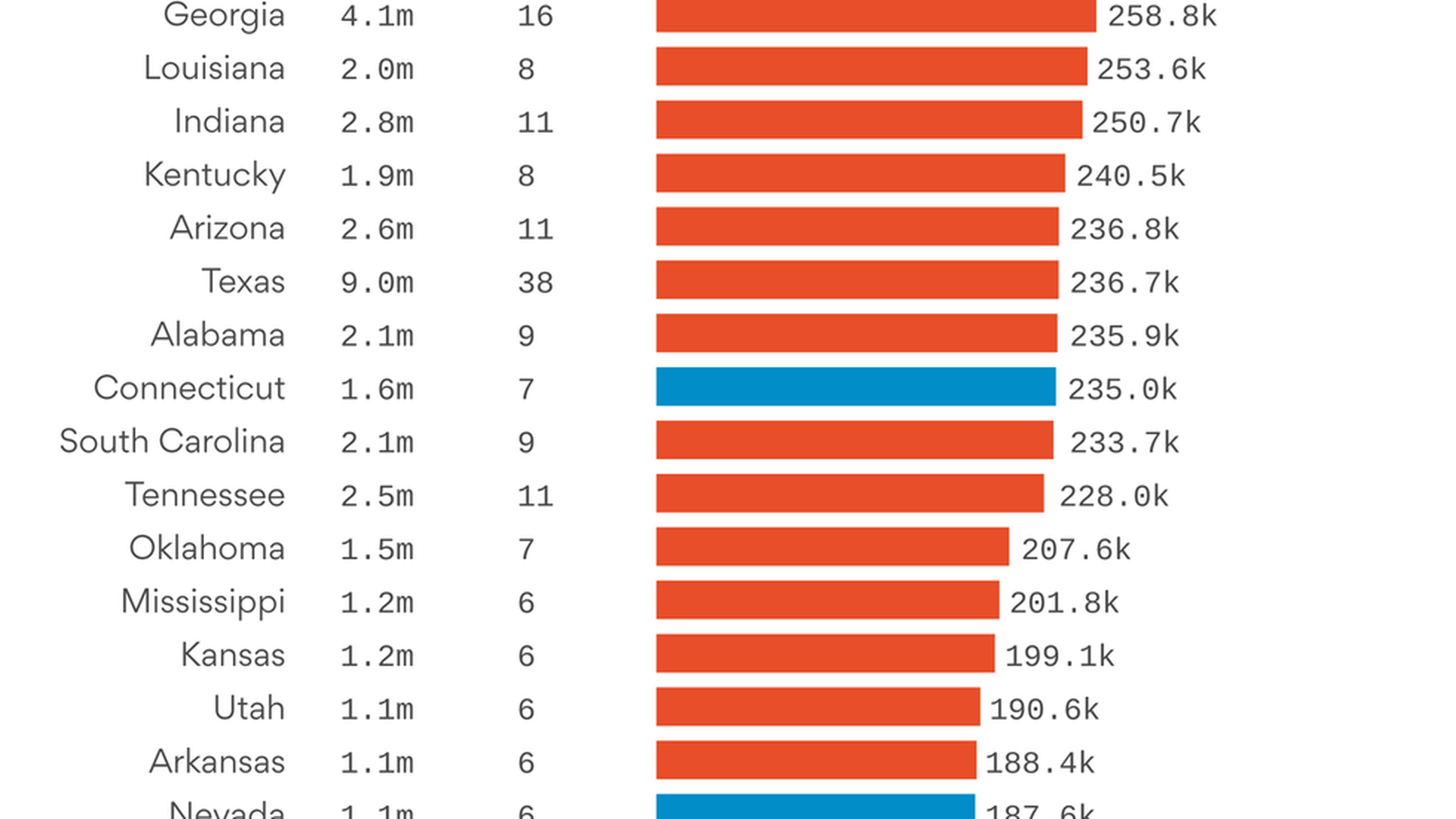 From underrepresented to overrepresented, this chart shows the states in which voters have the most disproportional representation in the Electoral College.
Why it matters: As America continues to urbanize and sparsely populated states become even more sparsely populated, the split popular vote/electoral vote decisions could become the new normal in Republican-won elections.
Go deeper in this post by Neal Rothschild.
https://www.axios.com/newsletters/axios-am-762f5795-a05e-4869-ab15-e33424780485.html?chunk=4#story4
5. The 99%, outside 9-to-5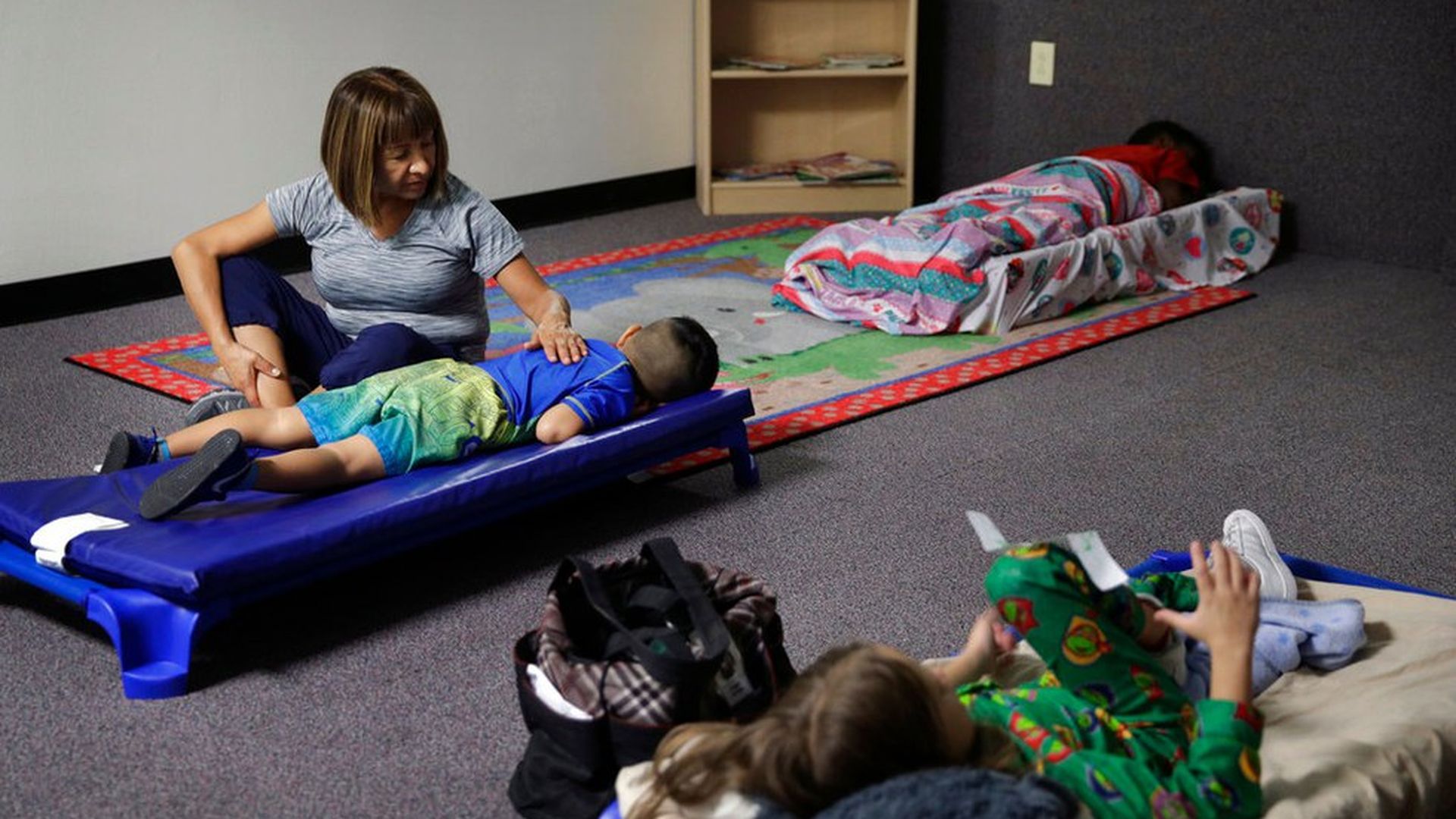 "Parents ... who work outside traditional business hours often are lost in the national conversation about access to child care and early education," AP's Sally Ho writes from Vegas:
"In many cases, the children of shift workers are cared for by relatives or friends in unofficial capacities. Those without such a support network have few, if any, options."
"The National Survey of Early Care and Education said in a 2015 report that just 2 percent of the child care centers it surveyed offer child care in the evening. ... 3 percent have weekend hours.
Why it matters: "We have an increasingly service-based economy with non-standard hours, that's more heavily concentrated in lower income groups ... The systems that we have — day care, Head Start, Pre-K — ... began years and years ago."
The conversation: Sen. Patty Murray (D-Wash.) proposed legislation Thursday designed to increase access to affordable child care, including for families that work non-traditional hours.
https://www.axios.com/newsletters/axios-am-762f5795-a05e-4869-ab15-e33424780485.html?chunk=5#story5
6. 1 fun thing: What Trump, Clinton voters watch
"Hallmark carves a niche among red state viewers: Channel isn't winning Emmys but is gaining fans in Trump country," by L.A. Times' Stephen Battaglio, on the front page:
"The cable network, owned by the Kansas City, Mo., greeting card giant, is routinely ignored by TV industry members who vote on the Emmys."
Hallmark has been "growing in popularity while rivals have seen ratings declines."
"If you highlighted its strongholds in red on a map, it would look a lot like the electoral college results in the 2016 election."
"Discovery Communications' TLC also is picking up viewers with programs that cater to middle America."
A study of 3,500 viewers nationwide in April by an unnamed network "showed that viewers who voted for ... Hillary Clinton are more interested in dark comedies and programs featuring unconventional families, antiheroes and strong female leads ... Clinton voters also like political satire."
Trump voters "are more likely to favor shows that depict traditional family values. They prefer male leads and heroes who are not conflicted and 'tend to do the right thing' ... They are likely to tune out entertainment shows with depictions of gay people in sexual situations, negative portrayals of religion and political humor."