Greetings from the home office. Quick ask: If you have colleagues who don't currently get Pro Rata, please forward it to them this morning, with a note that they can sign up by going to: http://link.axios.com/join/prorata-signup. Perhaps it's just best to forward to your entire organization (it's okay, that's what that "all" option is for). My goal is to add 1,000 new subscribers today. Let's do it together! Okay, here we go.
Top of the Morning
Source: Giphy
Canyon Bridge Capital on Friday said that it has agreed to acquire British chip design company Imagination Technologies for £550 million, or £182 per share. Not only does that represent nearly a 42% premium on Thursday's closing price, but also a big boomerang for both buyer and seller:
Buy-side: Canyon Bridge is the China-backed private equity firm that was just blocked by the Trump Administration from buying Lattice Semiconductor, due to national security concerns. That experience is probably why the deal will not include Imagination's U.S. embedded processor subsidiary, which instead will be sold to Tallwood Venture Capital in a separate transaction.
Sell-side: Imagination generated around 40% of its revenue by selling graphics processing units to Apple for use in iPhones. But when Apple announced in April that it would develop its own GPUs, Imagination stock fell by more than 60%.
More pricing context: Canyon Bridge is paying a 77% premium to that April low point, but 33% less than where Imagination shares were trading just prior to the Apple announcement.
• Unrelated chip chat: Reuters reports this morning that Toshiba has not yet formalized the $18 billion deal to sell its memory chip business to a Bain Capital-led consortium, because consortium member Apple has not yet signed off on a pair of transaction terms. The longer this process drags on, the larger the risk for Toshiba of being delisted from the Tokyo Stock Exchange.
• Binary business: It looks like Jonathan Teo isn't going down without a fight. Axios has obtained a letter sent on Friday to limited partners in Binary Capital's second fund, which "constitutes notice of the General Partner's intent to dispute the validity of its purported removal." It adds that the removal "shall be deferred" until the outcome of an arbitration process. No comment yet from Teo.
• Debt data: Last week's Chapter 11 bankruptcy filing by Toys "R" Us drove the retail institutional leveraged loan default rate past 7%, and Fitch Ratings warns that it could top 10% by year-end.
• Recommended reading: The large parts of America left behind by today's economy,from Axios' Kim Hart
• Thiel talk: Peter Thiel has held talks about becoming chair of the President's Intelligence Advisory Board, an unpaid group that independently monitors America's spy agencies, according to Vanity Fair. It's unclear just how active the discussions are at this point – VF hedges a bit on that – and a Thiel spokesman declined comment. Yes, this would present all sorts of conflicts of interest, particularly given that VF suggests Thiel wants PIAB to take a harder look at issues related to Amazon and Google but not Facebook (where he is a director). But it's not a position that requires Congressional approval, so Thiel would not be under any legal pressure to divest or otherwise extricate himself from potential conflicts.
The BFD
SpringWorks Therapeutics, a New York-based rare disease drug development startup, has raised $103 million in Series A funding from Pfizer, Bain Capital Life Sciences, Bain Capital Double Impact, Orbimed and LifeArc. The company is launching with four compounds licensed from Pfizer, including a pair – one in desmoid tumor and another for hereditary xerocytosis – that are ready for Phase 3 clinical trials. Pfizer also has some royalty rights via the transaction, although financial details were not disclosed.
Why it's the BFD: Because big pharma rarely pays much attention to its shelved experimental compounds, let alone create a spin-out company to further develop them. But that's what Pfizer did here, spearheaded by a strategy exec named Lara Sullivan who now leads SpringWorks. It could become a model for Pfizer's peers, many of which have just out-licensed compounds on a one-off basis to inbound third parties. As for SpringWorks, it intends to acquire other candidates from non-Pfizer sources (both corporate and academic).
Drug data: America's top 20 selling prescription drugs
Bottom line: "Pharma companies scrap development of experimental drugs all the time. Sometimes those drugs don't work or are unsafe. Other times they no longer fit a company's strategic goals, or they might be best suited for a different disease. Maybe they even lose an internal fight for interest and resources, and the cash to run larger, more expensive trials is put elsewhere." – Ben Fidler, Xconomy
Venture Capital Deals
• Deliveroo, a London-based food delivery company, has raised $385 million in new VC funding at a post-money valuation north of $2 billion. T. Rowe Price and Fidelity co-led the round, and were joined by DST Global, General Catalyst, Index Ventures and Accel. http://axios.link/ITVT
• Renrenche.com, a Chinese used car marketplace, has raised $200 million in fifth-round funding from Didi Chuxing. http://axios.link/5Bvs
🚑 DispatchHealth, a Denver-based provider of on-demand healthcare services in the home or office, has raised $30.8 million in growth equity funding. Alta Partners and Questa Capital co-led the round, and were joined by US Acute Care Solutions. www.dispatchhealth.com
• Dazzling Star, a Beijing-based producer of children's animation, has raised $12 million in Series A funding. Yunfeng Capital led the round, and was joined by Sea of Stars Capital.
• Accelo, a San Francisco-based provider of business service management software, has raised $9 million in Series A funding. Level Equity led the round, and was joined by Fathom Capital and return backer Blackbird Ventures. www.accelo.com
🚑 FEops, a Belgium-based provider of personalized computer modeling for structural heart interventions, has raised €6 million in VC funding. Valiance led the round, and was joined by Capricorn and PMV. www.feops.com
• Synup, a Bangalore-based digital marketing startup that tracks where brands are mentioned, has raised $6 million in Series A funding. Vertex Ventures led the round, and was joined by return backer Prime Venture Partners. http://tcrn.ch/2htSGvw
• Inkitt, a Berlin-based "reader-powered book publisher," has raised $3.9 million in seed funding. Redalpine led the round, and was joined by Frontline Ventures and Speedinvest. http://tcrn.ch/2xzh1sU
• Analytics Space, a Cambridge, Mass.-based developer of an optical communication data relay network in low Earth orbit, has raised $3.5 million in seed funding. The Engine and Space Angels co-led the round, and were joined by Flybridge Capital Partners, Shasta Ventures, Yard Ventures, Dream Incubator, Dorm Room Fund and existing backer NXT Ventures. www.analyticalspace.com

Private Equity Deals
🚑 Base Logistics Group, a Dutch portfolio company of Waterland Private Equity, has acquired HealthLink Europe & International, a provider of outsourced solutions for life science manufacturing companies. www.baselogistics.com
🚑 Blue Wolf Capital Partners has invested in StateServ, a Tempe, Ariz.-based provider of durable medical equipment management to hospices and other post-acute care service providers. No financial terms were disclosed. www.stateserv.com
• Hellman & Friedman has agreed to acquire Copenhagen-based payment processor Nets from Advent International and Bain Capital for around $5 billion. http://on.ft.com/2hrDK0N
• MBK Partners is prepping a bid for Wall Street English, a China-based language learning company currently owned by Pearson (LSE: PSON), according to Reuters. The deal could be valued at around $400 million. http://reut.rs/2wObfoq
• Onex Corp. reportedly has held talks about buying all or part of Premium Aerotec, a maker of large plane components, from Airbus (Paris: AIR). Other suitors also could be in the mix. Premium Aerotec generates around €2 billion in annual revenue. http://reut.rs/2xyi2Bo
• Providence Equity Partners has acquired a majority stake in DoubleVerify, a New York-based provider of digital media measurement software and analytics. No financial terms were disclosed.
www.doubleverify.com
• Sun Capital Partners has acquired C&K Holdings, a Newton, Mass.-based provider of electromechanical switches, from Littlejohn & Co. No financial terms were disclosed. www.ckswitches.com
• Temasek has acquired a minority equity stake in BluJay Solutions, a British provider of supply chain solutions, at an enterprise value of around $700 million. Francisco Partners will continue to control the company. http://reut.rs/2xE9CsQ
Public Offerings
• Six companies are expected to price IPOs on U.S. exchanges this week: Roku, RYB Education, Deciphera Pharmaceuticals, NuCana, Nighstar Therapeutics and PQ Group. http://axios.link/1nVW
• Switch Inc., a Las Vegas-based provider of colocation and cloud services for large enterprises, has set its IPO terms to 31.25 million shares being offered at between $14 and $16 per share. The company plans to trade on the NYSE under ticker symbol SWCH, with Goldman Sachs listed as left lead underwriter. Switch reports $35 million of net income on $181 million in revenue for the first half of 2017. Shareholders include Intel Capital. www.supernap.com
Liquidity Events
• Bain Capital and Goldman Sachs have agreed to sell Carver Korea, maker of AHC cosmetics, to Unilever for €2.27 billion. https://bloom.bg/2wfizoI
• SAP (DB: SAP) has agreed to acquire Gigya, a Mountain View, Calif.-based provider of customer identity software, for a reported $350 million. Gigya had raised around $100 million in VC funding from Common Fund Capital, Intel Capital, Vintage Investment Partners and return backers Adobe, Advance Publications, Benchmark, DAG Ventures, Greenspring Associates and Mayfield Fund. http://zd.net/2fsohAw
🚑 Summit Partners is seeking a buyer for CareCentrix, a Hartford, Conn.-based benefits manager that could be valued at around $1 billion (including debt), according to Reuters. http://reut.rs/2wf6ikt
More M&A
• General Electric (NYSE: GE) has agreed to sell its industrial solutions business to ABB Ltd. (Swiss: ABBN) for $2.6 billion. http://axios.link/jWbY
• Potash Corp. Of Saskatchewan (TSX: POT) has hired Goldman Sachs and BofA Merrill Lynch to find a buyer for its 32% stake in Chilean lithium producer Sociedad Quimica Y Minera, according to La Tercera. http://reut.rs/2hrSoFm
🚆 Siemens and Alstom said that they are in talks about merging their rail units, in part to combat competition from China. http://reut.rs/2hq7ChH
It's Personnel
• Patricia Grad has joined Arsenal Capital Partners as a senior managing director and head of investor relations (succeeding Bill Farrell, who is retiring). She previously was with Actis. www.arsenalcapital.com
• Stephen Le has joined MBK Partners as a partner for the Asia-focused buyout firm's new special situations fund. He previously was co-head of Asia Pacific credit and special situations for Deutsche Bank. http://reut.rs/2jYcrQ
• Haide Lui has joined Ascendant Capital Partners, a Chinese mid-market private equity firm, as head of investor relations. She previously was with HarbourVest Partners.
Final Numbers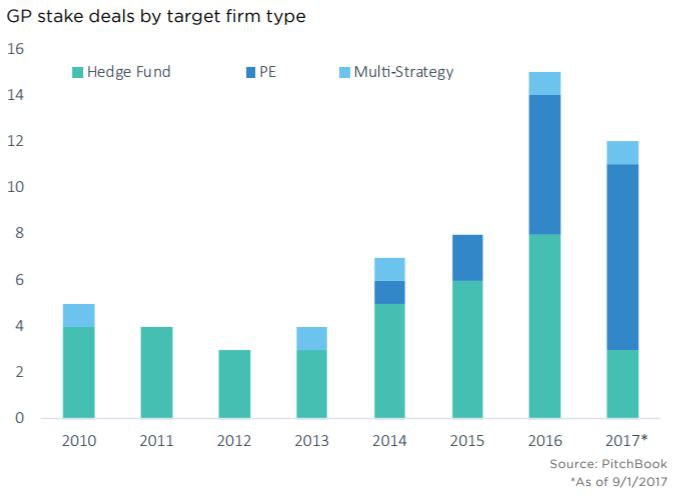 More via PitchBook: "Hedge funds were once the primary target of GP stake deals, but private equity firms are now accounting for more than half of such investments; this trend is likely to continue as more capital is dedicated to strategies that explicitly target PE firms, many of which are using GP stake investments to facilitate succession plans."