Axios AM
June 18, 2017
Good Sunday morning, and happy Father's Day! Grateful for the many dads in my life — including my brother, Scott; my two in-laws, Nels and Dave (who have 9 kids between them); the church guys; my two partners in founding Axios, Jim and Roy; and our editor, Nick (a birthday boy today) — who set such a worthy example in deftly serving both their families and colleagues.
1 big thing: Branding the enemy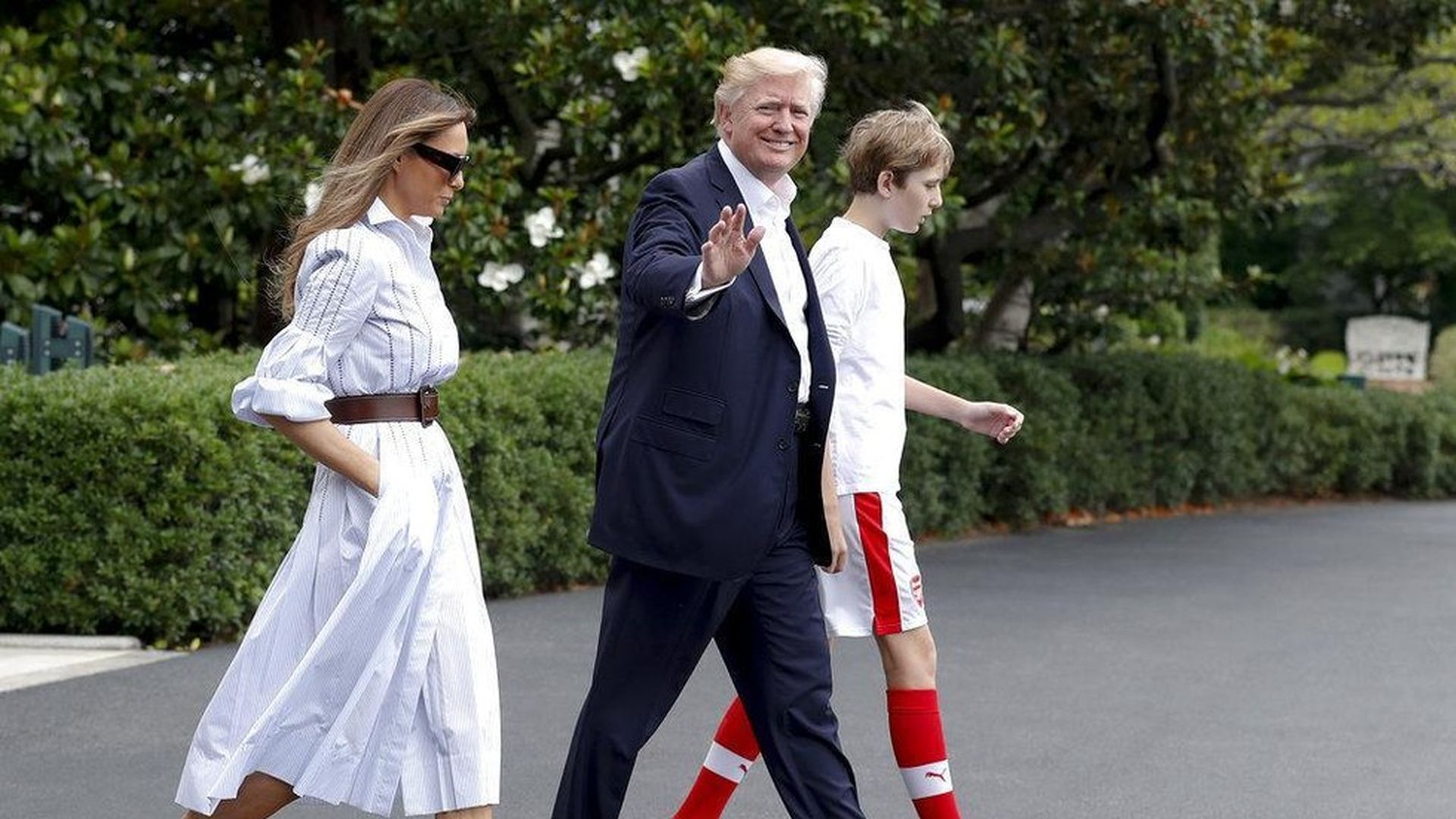 Little Marco. Crooked Hillary. Crazy Bernie. Lyin' Ted. Low-energy Jeb. Goofy Elizabeth Warren. And now ... "The Witch Hunt."
Trump, forced into campaign mode by his own actions and indiscretions, has officially branded the investigation by his own Justice Department.
His pair of tweets this morning from Camp David:
"The MAKE AMERICA GREAT AGAIN agenda is doing very well despite the distraction of the Witch Hunt. Many new jobs, high business enthusiasm, ... massive regulation cuts, 36 new legislative bills signed, great new S.C.Justice, and Infrastructure, Healthcare and Tax Cuts in works!"
"Witch Hunt" with caps is a Trump signature. He also capped it on May 31, and twice on Friday. One variation there that we're likely to see/hear again: "phony Witch Hunt."
The day before, the all-caps: "You are witnessing the single greatest WITCH HUNT in American political history - led by some very bad and conflicted people!"
Longtime Trump aides tell us that during the campaign, the lifelong branding expert workshopped his nicknames, kicking around possibilities on the plane before settling on the catchiest and most subversive.
He first tweeted "witch hunt," in lower case, on May 12, three days after firing Comey, and then again on May 18, the day after Bob Mueller was appointed special counsel: "This is the single greatest witch hunt of a politician in American history!"
Be smart: Trump's brio, branding and bombast can't mask the glum reality, reflected in an increasingly fatalistic mood in Trumpworld.
"There are no good days," said a confidant to the inner circle. "They are caught in the endless cycle of the off-message tweets and leaks."
Dive deeper ... "Meet Bob Mueller's team tackling the Russia investigation" ... N.Y. Times, top of col. 1, "Flynn's Disdain For Limits Led To a Legal Mire."
2. Sunday circuit: "not afraid of the investigation"
Jay Sekulow — the TV face of Trump's personal legal team, an experienced Supreme Court advocate, and chief counsel for the American Center for Law and Justice — to Chuck Todd on NBC's "Meet the Press":
"[T]he president is not under investigation by the special counsel. The tweet from the president was in response to the five anonymous sources that were purportedly leaking information to The Washington Post about a potential investigation of the president. But the president, as James Comey said in his testimony and as we know as of today, the president has not been and is not under investigation."
Todd: "If the president is innocent, why is he afraid of this investigation?"
Sekulow: "He's not afraid of the investigation. There is no investigation. I want to be clear here."
3. Tomorrow's tech summit at White House
"Some 300 business leaders have met with Mr. Trump since he took office promising the nation's top executives a direct line to the Oval Office ... But corporate leaders are learning about the limits of their clout," The Wall Street Journal's Vanessa Fuhrmans and Peter Nicholas write:
Gains for CEOs: Dodd-Frank ... EPA ... China ... Trade ... Nafta.
Setbacks for CEOs: Travel ban ... H-1B ... Tax reform ... Paris.
"Tech industry executives gather at the White House [tomorrow], brainstorming ways ... for making government 'operate like a modern technology enterprise.'"
"For Tech CEOs, Not Attending White House Summit Is Greater Risk," by Wall Street Journal's Yoree Koh:
"[R]epresentatives from Apple Inc., Amazon.com Inc., Microsoft Corp. and Alphabet Inc.'s Google, companies that have opposed his policies, are expected to make the cross-country trip ... Also expected to attend are Intel Corp. Chief Executive Brian Krzanich, Oracle Corp. co-CEO Safra Katz, a member of Mr. Trump's transition team, and Cisco ... Chief Executive Chuck Robbins."
Bonus: Tweet du jour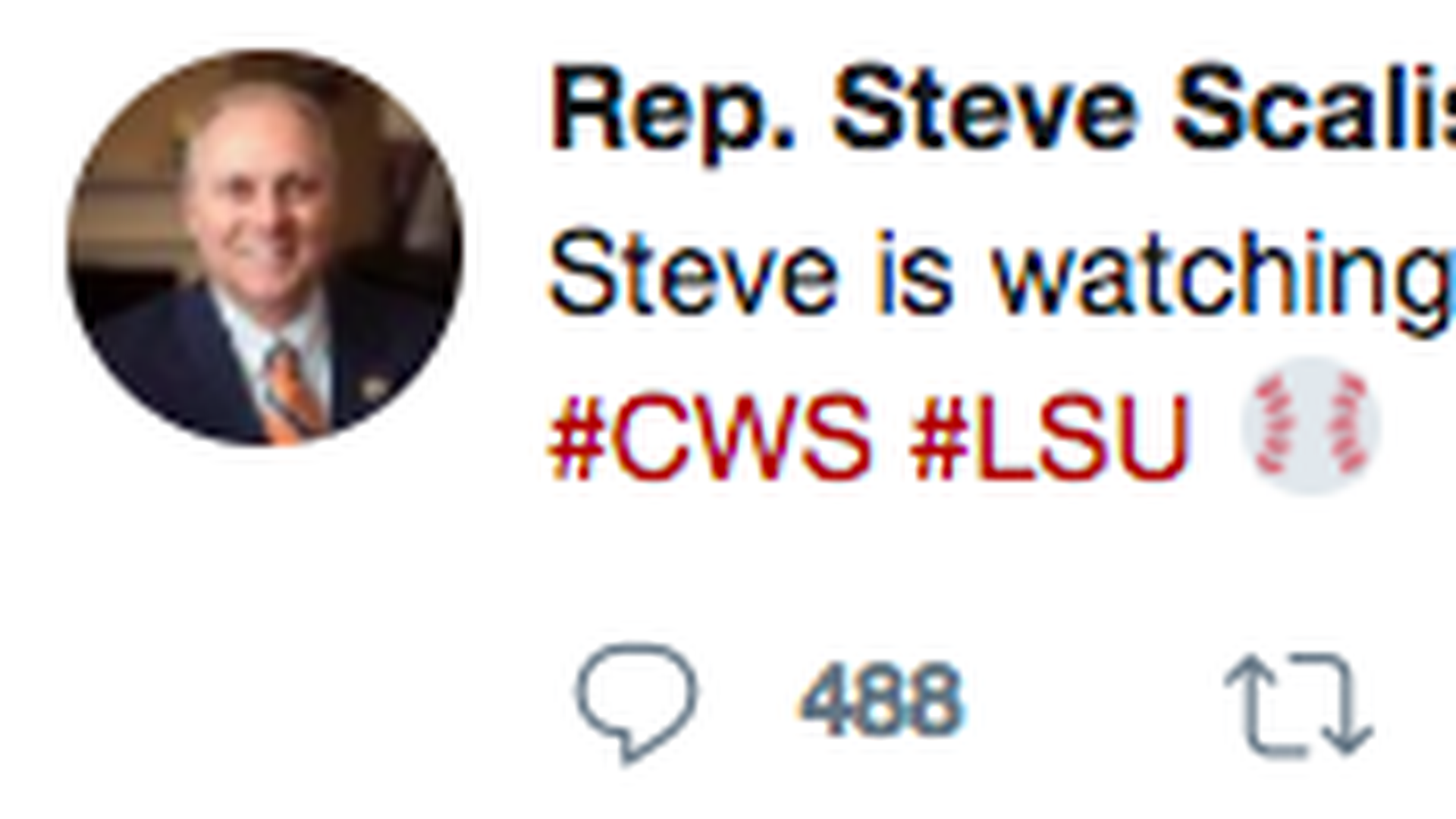 And they did, with a 5--4, come-from-behind win over Florida State in their opening game of the College World Series.
4. "Hiring haunts White House"
"Republicans say they are turning down job offers to work for a chief executive whose volatile temperament makes them nervous" and "are asking head-hunters if their reputations could suffer permanent damage," according to the WashPost lead story, by Lisa Rein and Abby Phillip, "Help wanted: Why Republicans won't work for the Trump administration":
"The White House picked up the hiring pace in May and the first half of June ... It has advanced 92 candidates for Senate confirmation, compared with 59 between Trump's inauguration and the end of April. But the Senate has just 25 working days until it breaks for the August recess."
"Trump has 43 confirmed appointees to senior posts, compared with the 151 top political appointees confirmed by mid-June in President Barack Obama's first term and the 130 under President George W. Bush, according to ... the ... Partnership for Public Service's Center for Presidential Transition."
A White House official said about 200 people are being vetted for senior-level posts.
White House press secretary Sean Spicer: "I have people knocking down my door to talk to the presidential personnel office ... There is a huge demand to join this administration."
P.S. Dan Balz "The Sunday Take" column on WashPost A2, "Trump's contradictory coalition roils elections in Va., Ga.":
"The Virginia and Georgia elections offer two angles from which to examine the impact of Trump's presidency on the politics of both parties. In Virginia, it is the story of a GOP coalition at odds with itself. In Georgia, it is Trump's capacity to unite otherwise fractious Democrats as he unnerves many of the well-educated Republican voters."
5. Industrial Revolution: machines can lower wages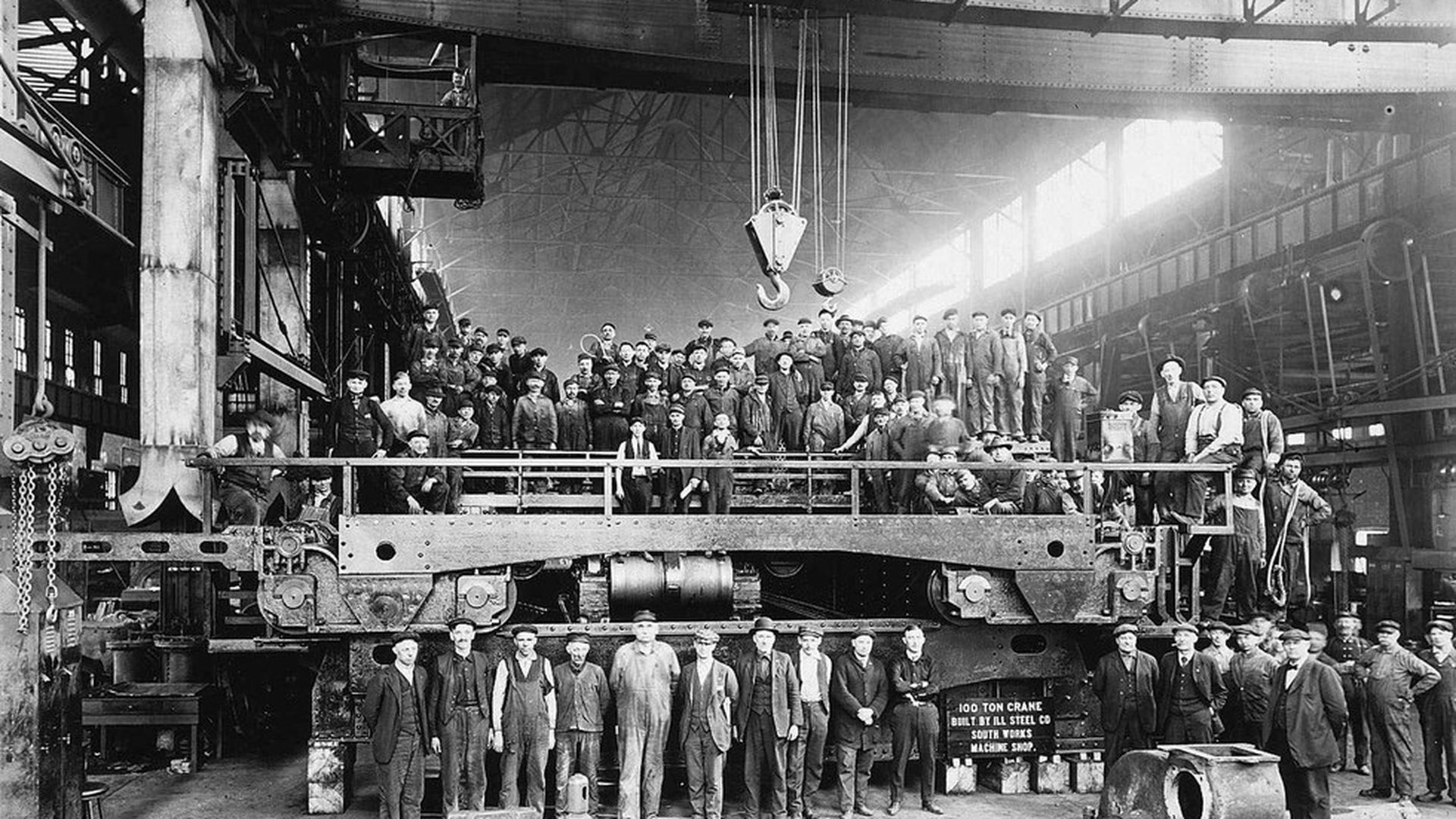 The Industrial Revolution, while ultimately unleashing prosperity, inflicted pain at first, per The Economist: "Inventions like the power loom displaced artisans, and increased the relative demand for unskilled labour. Craftsmen whose skills took years to hone suddenly found themselves being replaced by machines operated by workers with just a few months' training."
"One study has found that the share of unskilled workers rose from 20% of the labour force in England in 1700 to 39% in 1850. The ratio of craftsmen's wages to labourers' started to fall in the early 1800s, and did not recover until 1960."
Why it matters: "[A]rtificial intelligence [will start] taking jobs away from white-collar workers. Projections from America's Bureau of Labour Statistics show that four of the five fastest-growing occupations in the country involve personal care; none of those jobs requires a bachelor's degree."
6. To tell your kids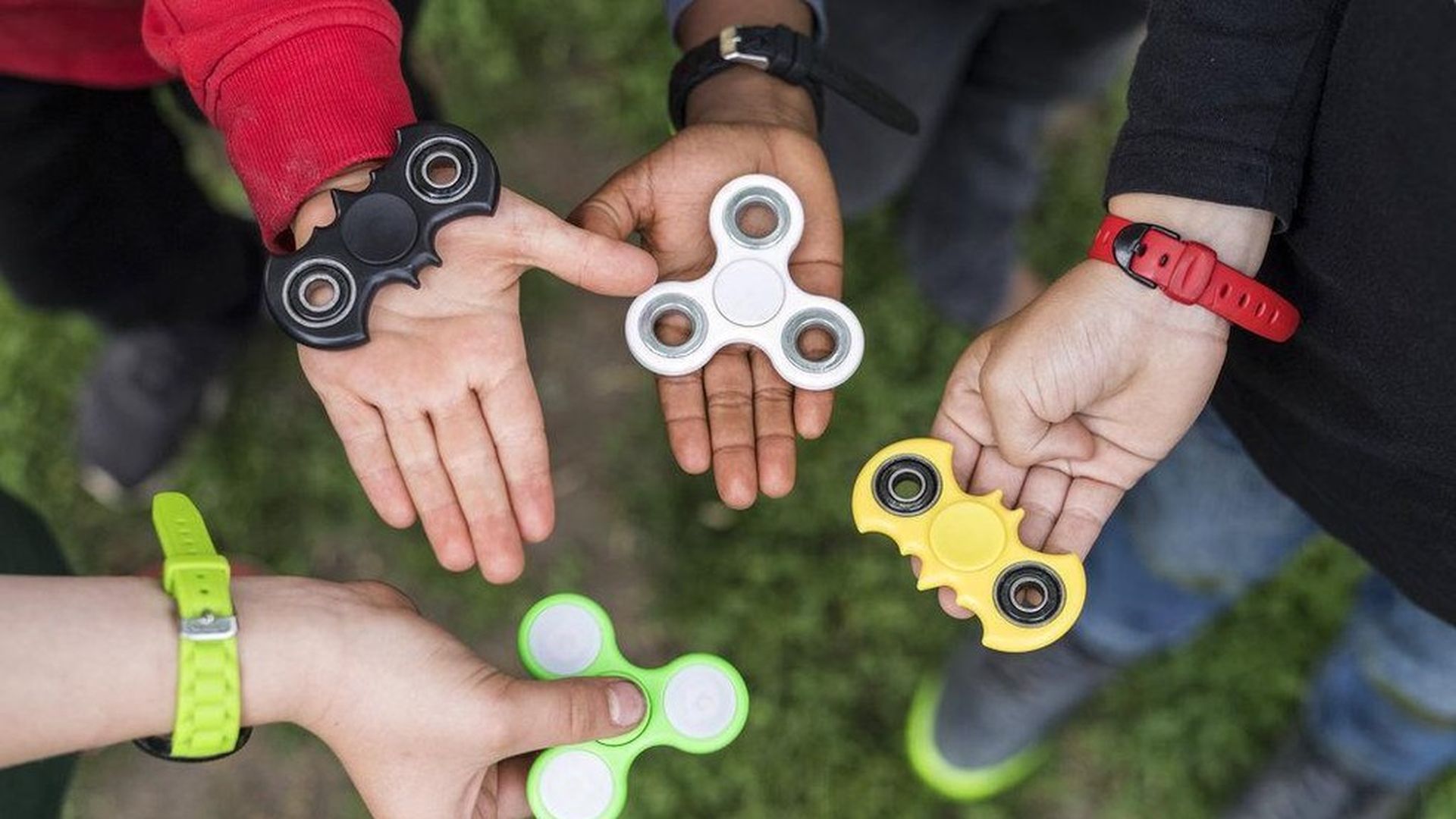 "Fidget spinner factories demand 'bags of cash' from suppliers," by N.Y. Post's Lisa Fickenscher:
"As demand for the whirling contraptions continues to spiral, companies scrambling to keep them on shelves claim they're being hit with extortionary practices at the overseas factories that make them.
"The ball-bearing weights that cause the spinners to move are in short supply — and some charge that Asian manufacturers are hoarding them and asking ... 50 percent to 200 percent more."
P.S. Tracking power (a.k.a., What Bob Costa is reading) ... "LINCOLNVILLE, Maine (AP) — The drummer for the jam band Phish has been elected to his Maine town's Board of Selectmen. Jon Fishman will take a place on Lincolnville's five-seat board after winning Tuesday's nonpartisan election."