Axios AM
October 10, 2020
🍂 Happy Saturday! Today's Smart Brevity™ count: 1,442 words ... 5½ minutes.
😷 Situational awareness: President Trump holds his first event since returning from the hospital. At 2 p.m. on the South Lawn, as the White House schedule puts it: "THE PRESIDENT delivers remarks at a peaceful protest for law & order. ... In-House Pool."
Trump will address the group, expected to be at least several hundred supporters, from the White House balcony, AP reports. Attendees will be provided with masks, and will be given temperature checks. They will be strongly encouraged to follow CDC guidelines, which include mask-wearing and social distancing.
1 big thing: Mail-voting mistakes could disqualify hundreds of thousands of ballots
About 1% of absentee ballots that were cast in the 2016 and 2018 elections were ultimately tossed, according to the U.S. Elections Assistance Commission.
That could translate to hundreds of thousands of uncounted ballots this year — enough to potentially change the outcome of the presidential race, Stef Kight writes.
Why it matters: President Trump won Wisconsin in 2016 by fewer than 23,000 votes — less than the number that were rejected in the state's presidential primary this year.
Here are the leading reasons ballots are typically rejected:
1. Missed deadlines: Around a quarter of rejected absentee ballots in 2016 and 2018 were due to ballots arriving too late.
Most states offer online ballot tracking. Click our interactive map (here) to find how you can track your ballot.
2. Forgetting to sign: 20% of rejected ballots in 2016 and 13% in 2018 were missing the voter's signature.
3. Non-matching signature: Some states compare voters' signatures on absentee ballots to the signatures provided on their registration paperwork as a way to verify their identity, according to Jack Noland, research manager at RepresentUs.
Some states will compare to other signatures they have on record.
4. No witness signature: Some states also require a notary or one or two witnesses to sign an absentee ballot for it to be counted.
5. Other: Voters not being registered or eligible to vote; a ballot missing an important document such as an affidavit or inner envelope; the voter not completing a document or clearly marking choices; or the voter already voted.
What to watch: Pennsylvania will automatically throw out any ballot that doesn't have a second, inner envelope (called a "secrecy envelope").
Between the lines: Voters in Texas, Missouri, Mississippi, Alabama, Louisiana and Indiana face some of the biggest obstacles because of the rules in those states, National Vote At Home Institute CEO Amber McReynolds told Axios.
Ursula Perano contributed reporting.
2. GOP social-distances Trump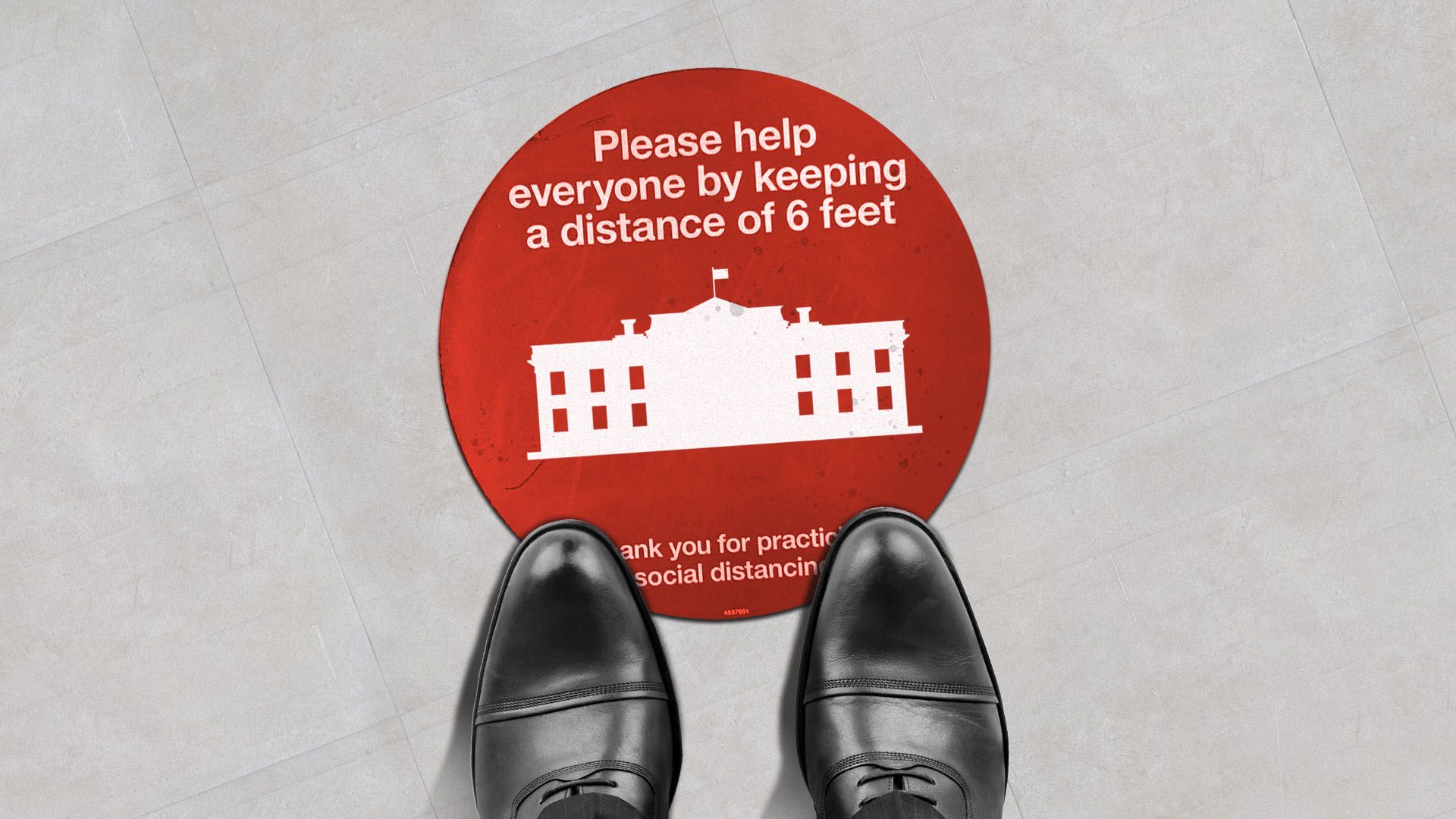 After years of holding their tongues, a few Republicans have started to separate themselves from President Trump and his possible political collapse, focusing on his carelessness with the virus.
Why it matters: A senior Republican official told me this is less about shaping this election, and more about preparing for the aftermath.
Most notably, Senate Majority Leader Mitch McConnell said in Kentucky on Thursday: "I haven't been to the White House since August the 6th."
"I personally didn't feel that they were approaching the protection from this illness in the same way that I thought was appropriate for the Senate [masks and distancing] ... I think we've shown that ... we can function safely." Video.
Also this week, in her sole face-to-face debate, embattled Sen. Martha McSally (R-Ariz.), pressed repeatedly, wouldn't say whether she's proud of her support for Trump, CNN reported.
Sen. Thom Tillis (R-N.C), who's in one of the closest Senate races, acknowledged in an interview with WRAL TV that he erred in going without a mask at a White House reception that has been linked to a cluster of cases, including his own.
"It's just another experience that tells me: Even when you think you're in a safe setting, you should always wear a mask," Tillis said.
Between the lines: Some top Republicans poured cold water on the idea that there's any point in Senate Republicans trying some dramatic new distancing.
But Politico noted: "Trump is simply too consumed by the resident chaos all around his West Wing in the closing weeks of his own reelection campaign to carry out punitive measures against GOP disloyalists."
And one experienced Republican consultant told me this may only be the beginning: "There will be a lot of finger points & backstabbing in next several weeks."
The bottom line, from Hans Nichols: Most Republican consultants fear that the White House is gone — they're pinning their hopes on the Senate. The last week has only made that clearer.
3. Living history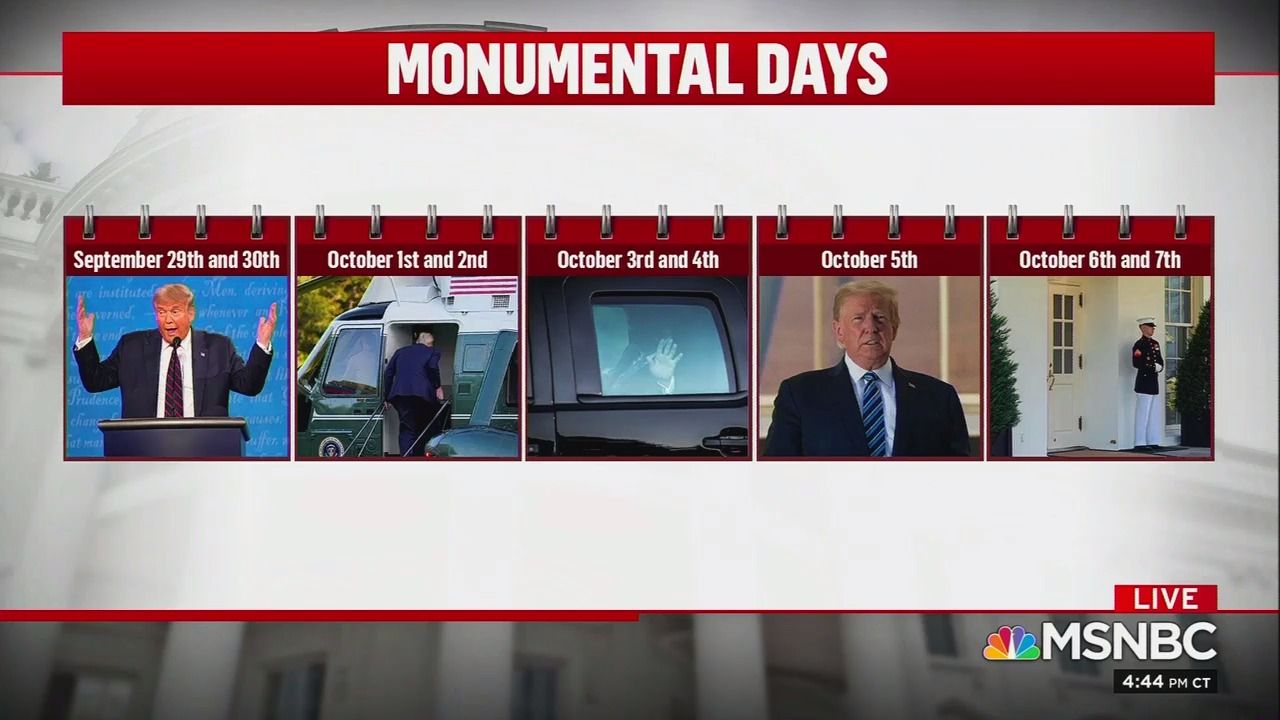 MSNBC's Nicolle Wallace included this evocative graphic — showing the debate, the Marine One flight to Walter Reed, the Suburban ride outside the hospital, and the return to the White House and West Wing — on her "Deadline: White House":
I guess we've all just kind of gotten used to it by now — the warp speed with which the Trump-era news cycles keep surging along ...
But every once in a while, it's useful to stop, and reflect on the historic nature of what we're living through — this moment in the American story.
It was just 13 days ago that the N.Y. Times revealed that President Trump paid just $750 in federal income taxes in 2016 and 2017.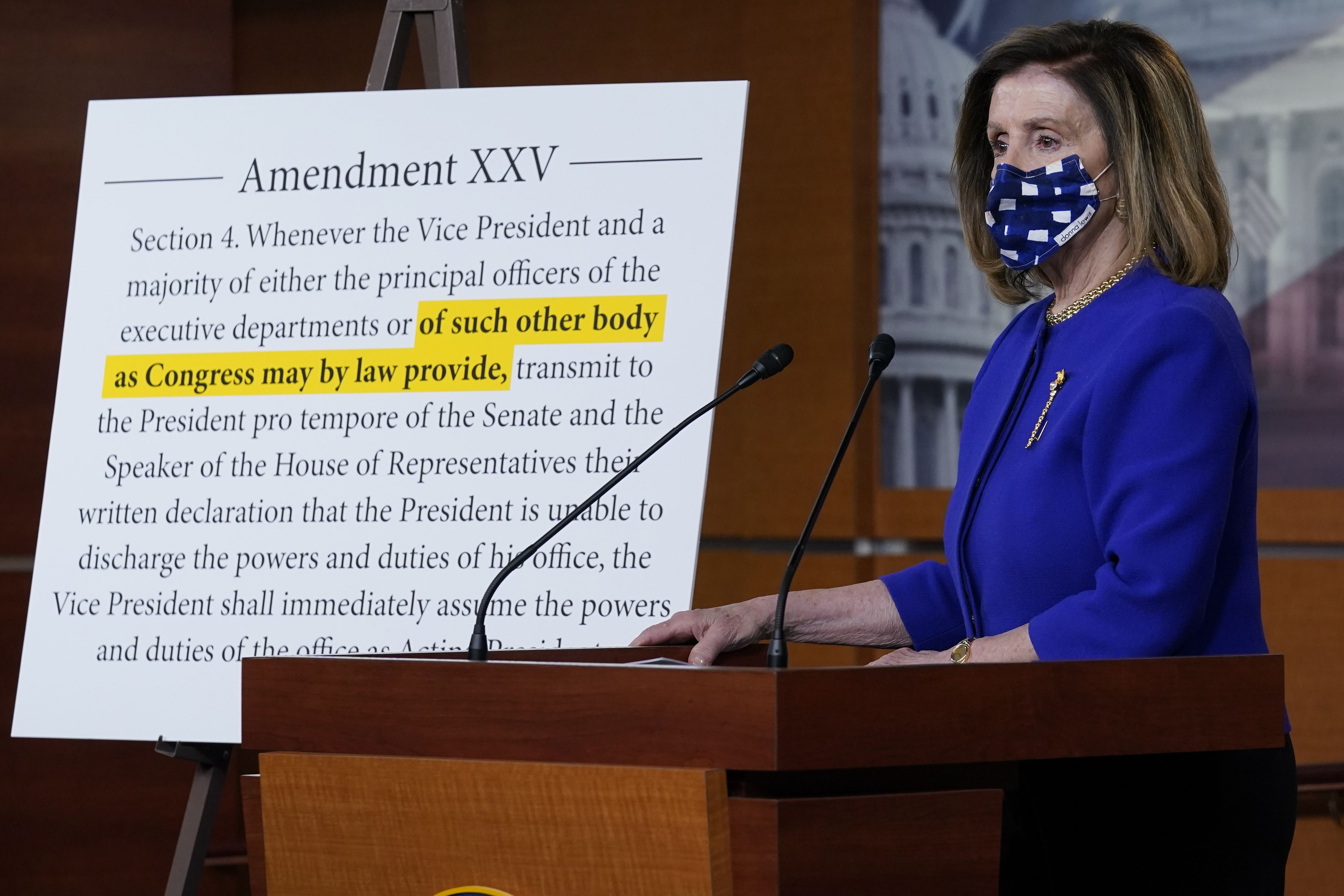 Speaker Pelosi yesterday unveiled the Commission on Presidential Capacity to Discharge the Powers and Duties of Office Act, as a way for Congress to intervene under the 25th Amendment to remove future presidents:
"This is not about President Trump," Pelosi said. "He will face the judgment of the voters, but he shows the need for us to create a process for future presidents."
4. 🎞️ Pic of the day: Film beyond the frame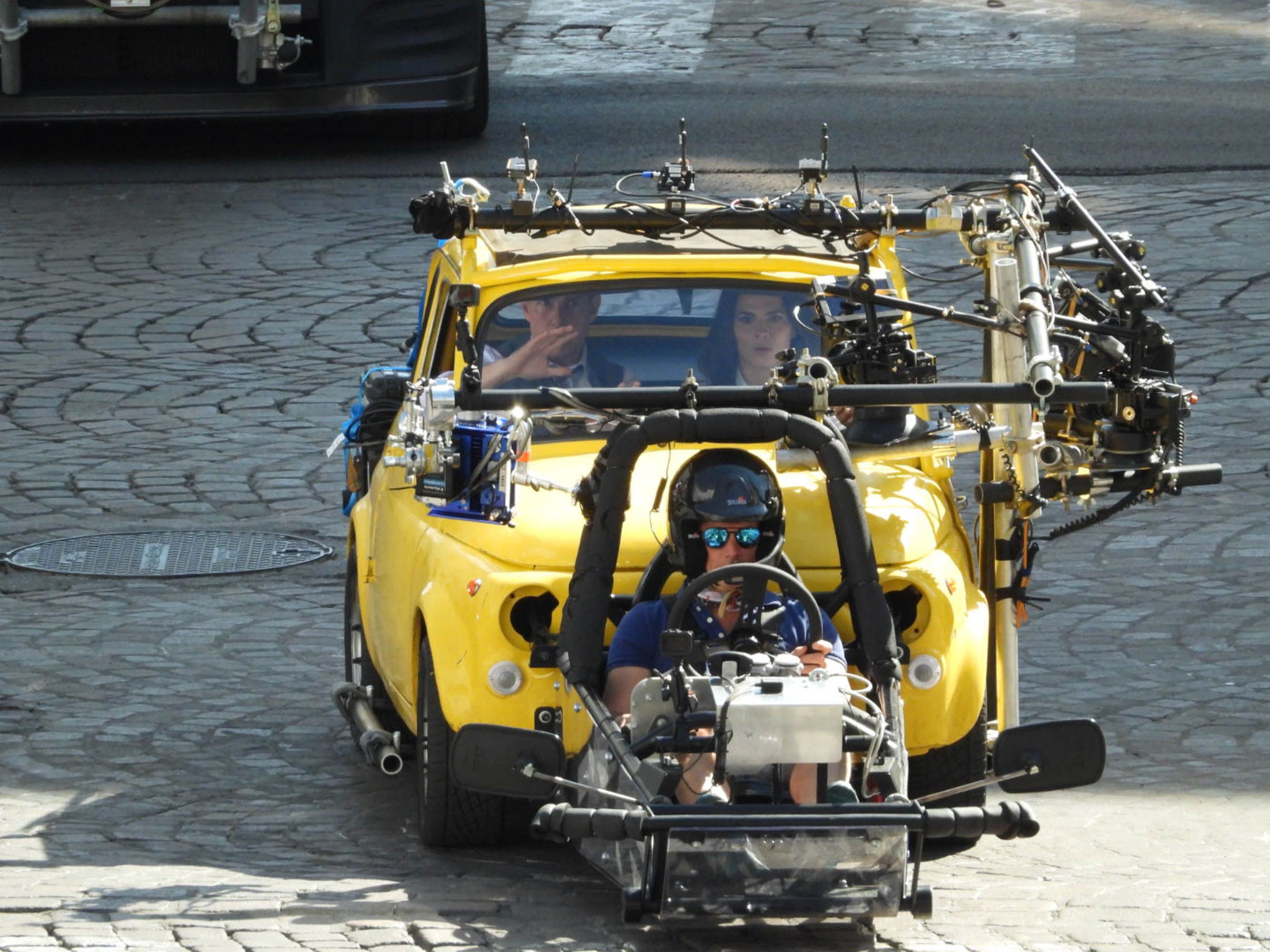 Tom Cruise, 58 (as Ethan Hunt), and Hayley Atwell, 38, film "Mission: Impossible 7" in a yellow Fiat Cinquecento (Fiat 500) in Rome yesterday.
5. Adding it up: "The Swamp That Trump Built"

Despite Donald Trump's crowd-pleasing campaign pledge to "drain the swamp," his family business discovered a lucrative new revenue stream once he was in office — people who wanted something from the president, the N.Y. Times reports in a 10-byline tour de force for Sunday's paper:
An investigation by The Times found over 200 companies, special-interest groups and foreign governments that patronized Mr. Trump's properties while reaping benefits from him and his administration. Nearly a quarter of those patrons have not been previously reported. ...
Just 60 customers with interests at stake before the Trump administration brought his family business nearly $12 million during the first two years of his presidency, The Times found. Almost all saw their interests advanced, in some fashion, by Mr. Trump or his government.
Keep reading (subscription).
6. North Korea unveils new weapons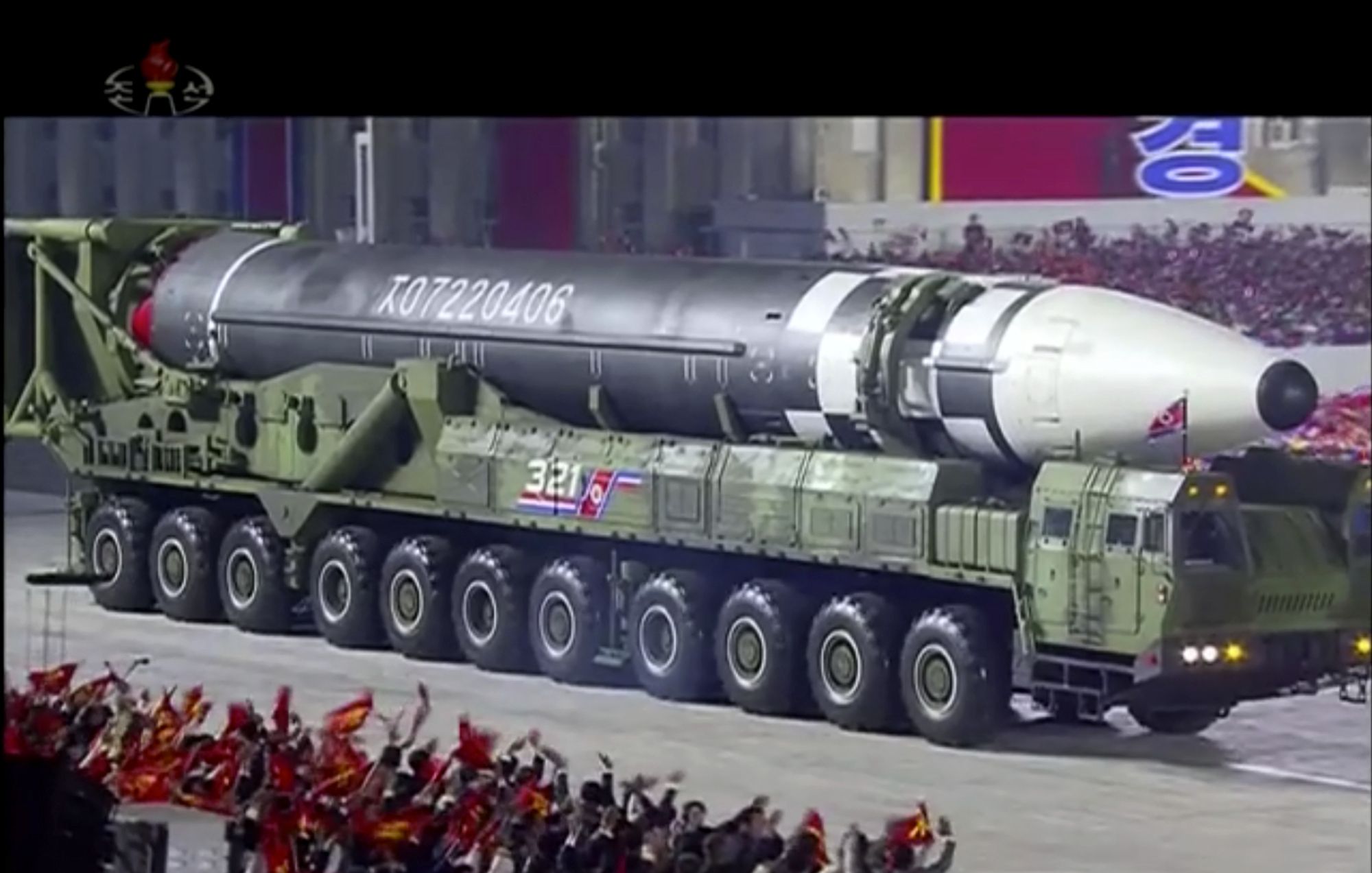 The image above, made from video broadcast by North Korea's KRT, shows a military parade with what appears to be a new intercontinental ballistic missile, in Kim Il Sung Square in Pyongyang today, AP reports.
Kim Jong Un warned that his country would "fully mobilize" its nuclear force if threatened, as he showed off additions to his growing arsenal at an event honoring the 75th anniversary of the country's ruling party.
7. An instant-classic debate answer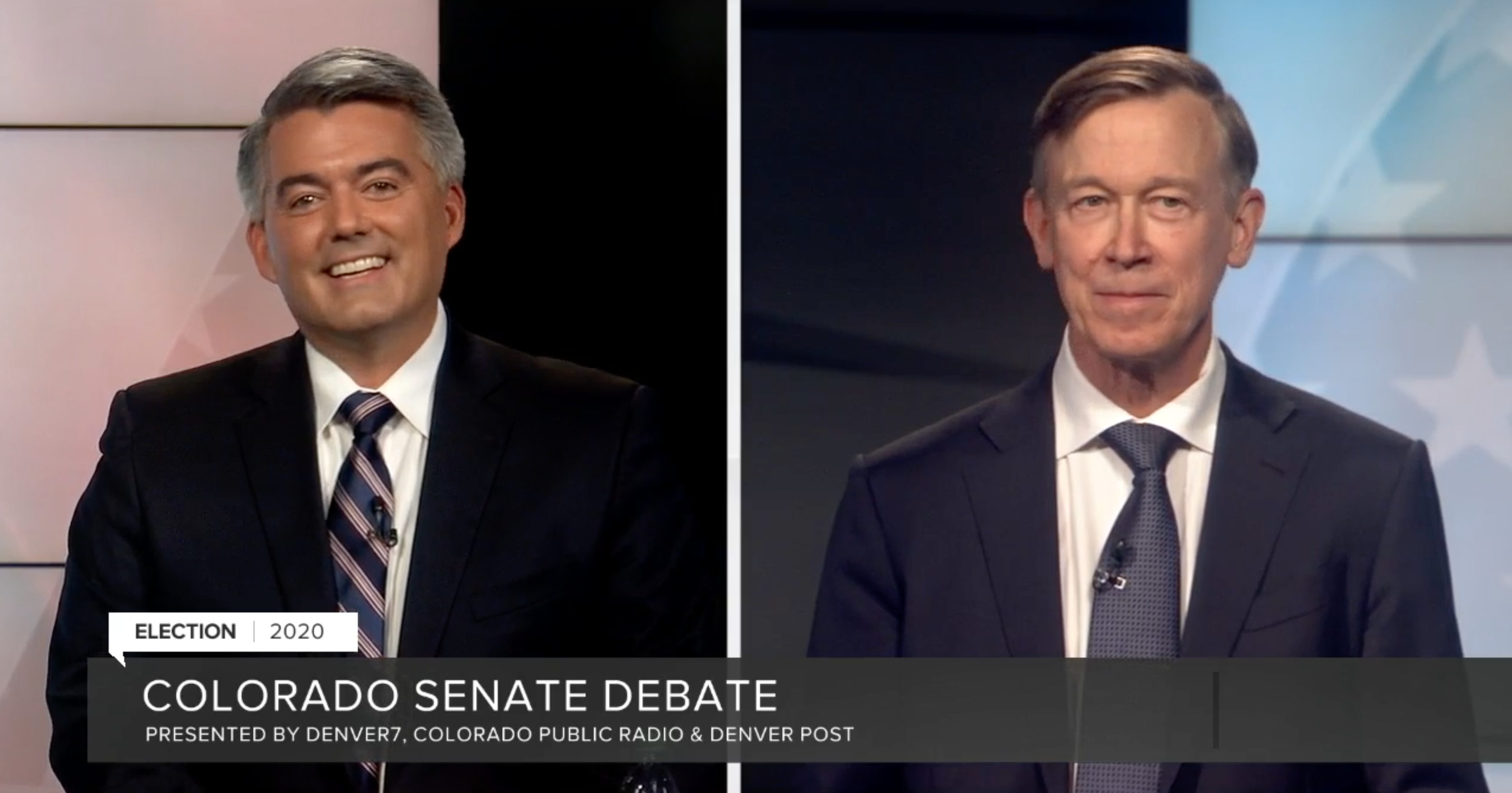 Sen. Cory Gardner (R), in a Colorado Senate debate yesterday with former Gov. John Hickenlooper (D) (the first live, televised debate of the race), on whether he'd support adding a 10th or 11th justice to the Supreme Court:
"No, and I'd yield the rest of my time for John Hickenlooper to actually answer the question. ... John, you have the rest of the time to answer the question: Yes or no — will you pack the Supreme Court?"
Bonus: How to get your Axios 2020 yard sign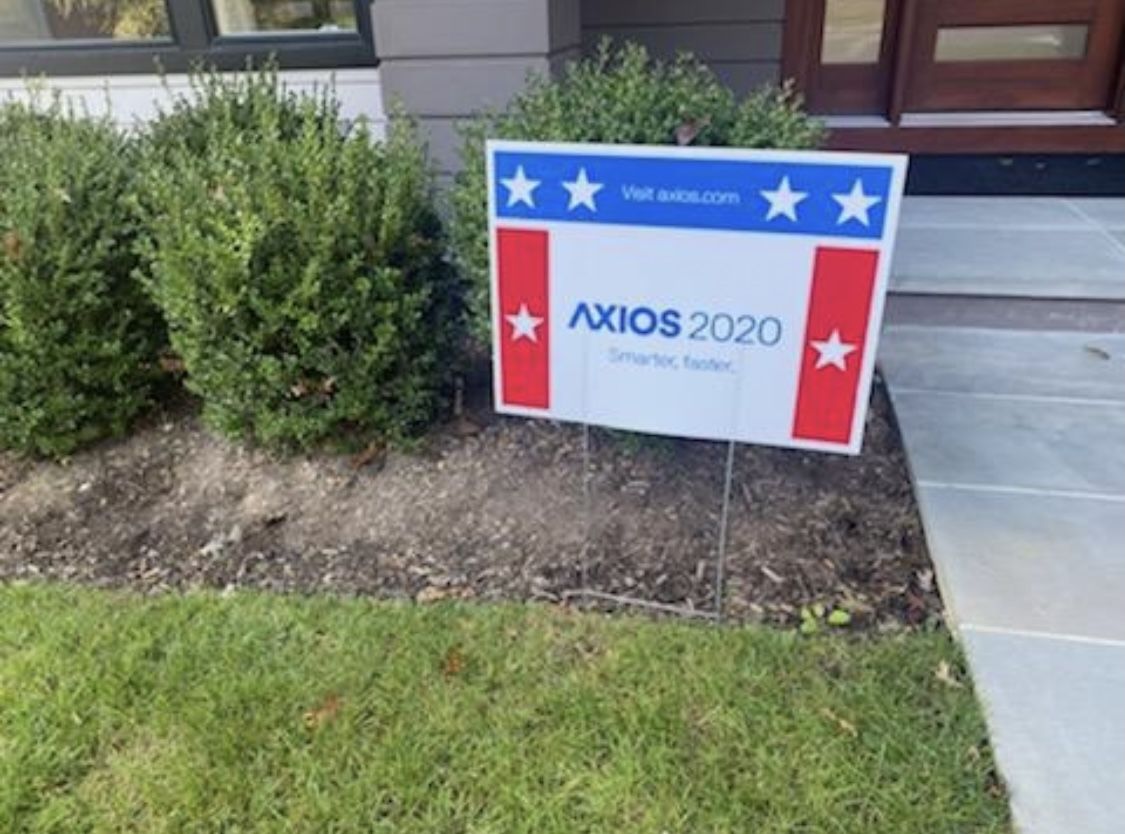 Take a stand for what matters — trustworthy, clinical information you can be proud to share. Axios is Greek for "worthy," and our 2020 yard sign will show your support for worthy, efficient news in a time of clutter, nonsense and deception.
How it works: The form asks for your name, email and address (which we of course won't use for anything else).
You'll get an email confirmation when we receive your request, and the sign will be mailed directly by the printer.
8. The era of $70 video games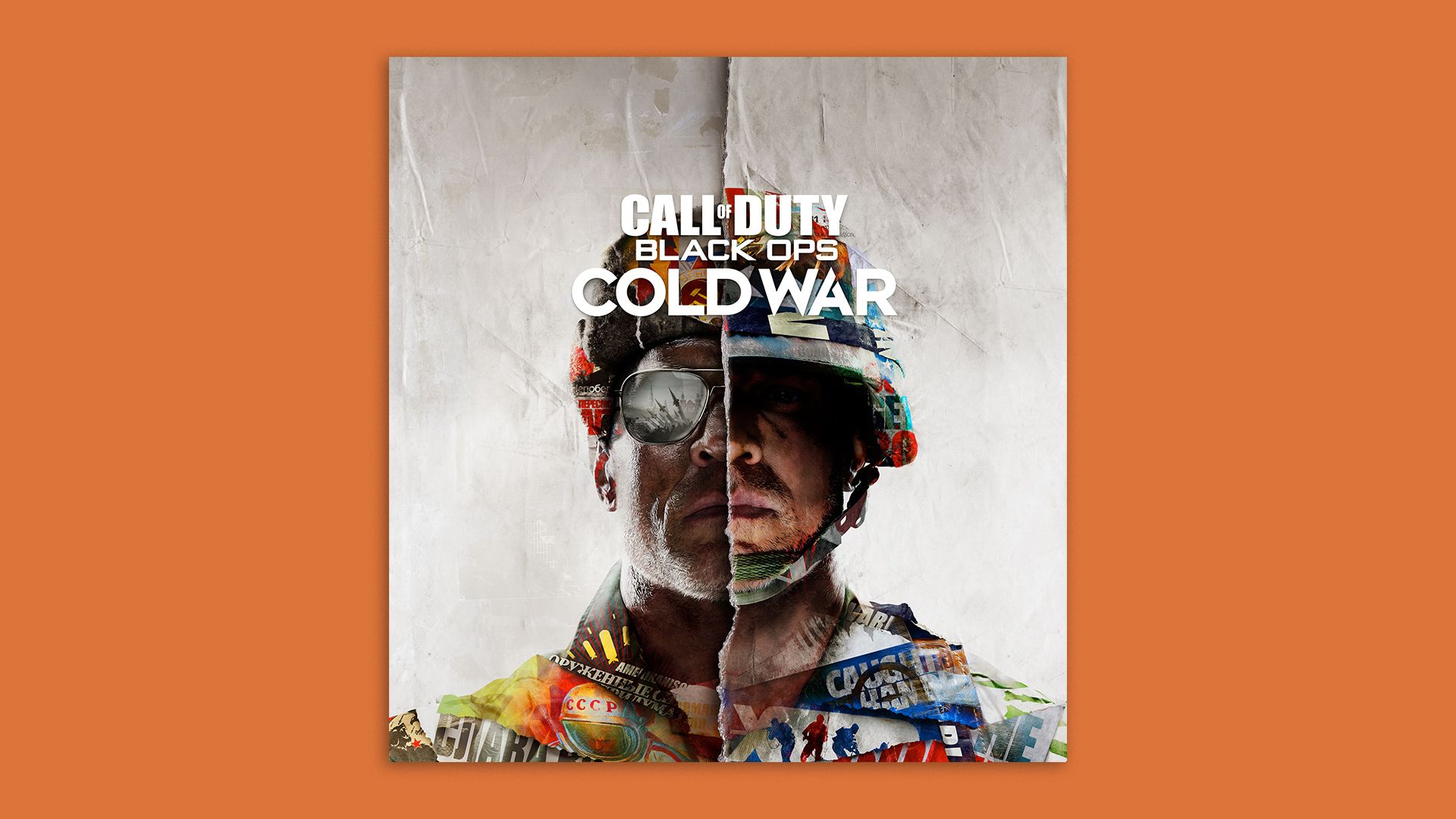 "Videogames are about to get more expensive for the first time in 15 years," MarketWatch reports:
"When a new generation of gaming consoles arrives ahead of the holidays, there will also be a new price tag on top-end videogames," which have hovered at $60 since 2005.
Activision Blizzard told MarketWatch that "Call of Duty: Black Ops Cold War," scheduled for global release on Nov. 13, will retail in the U.S. for $70.
📱 Thanks for starting your weekend with us. Invite your friends to sign up for Axios AM/PM.