Axios AM
September 25, 2018
Good Tuesday morning.
Situational awareness: Oil prices hit highest close since fall 2014. (WSJ)
If you're in D.C. ... At an Axios News Shapers breakfast at 8 a.m., I'll interview FDA Commissioner Scott Gottlieb about his crackdown on vaping and e-cigarettes. I'll also get a reality check from a pair of high-school students. RSVP here. 
1 big thing: American politics goes off the rails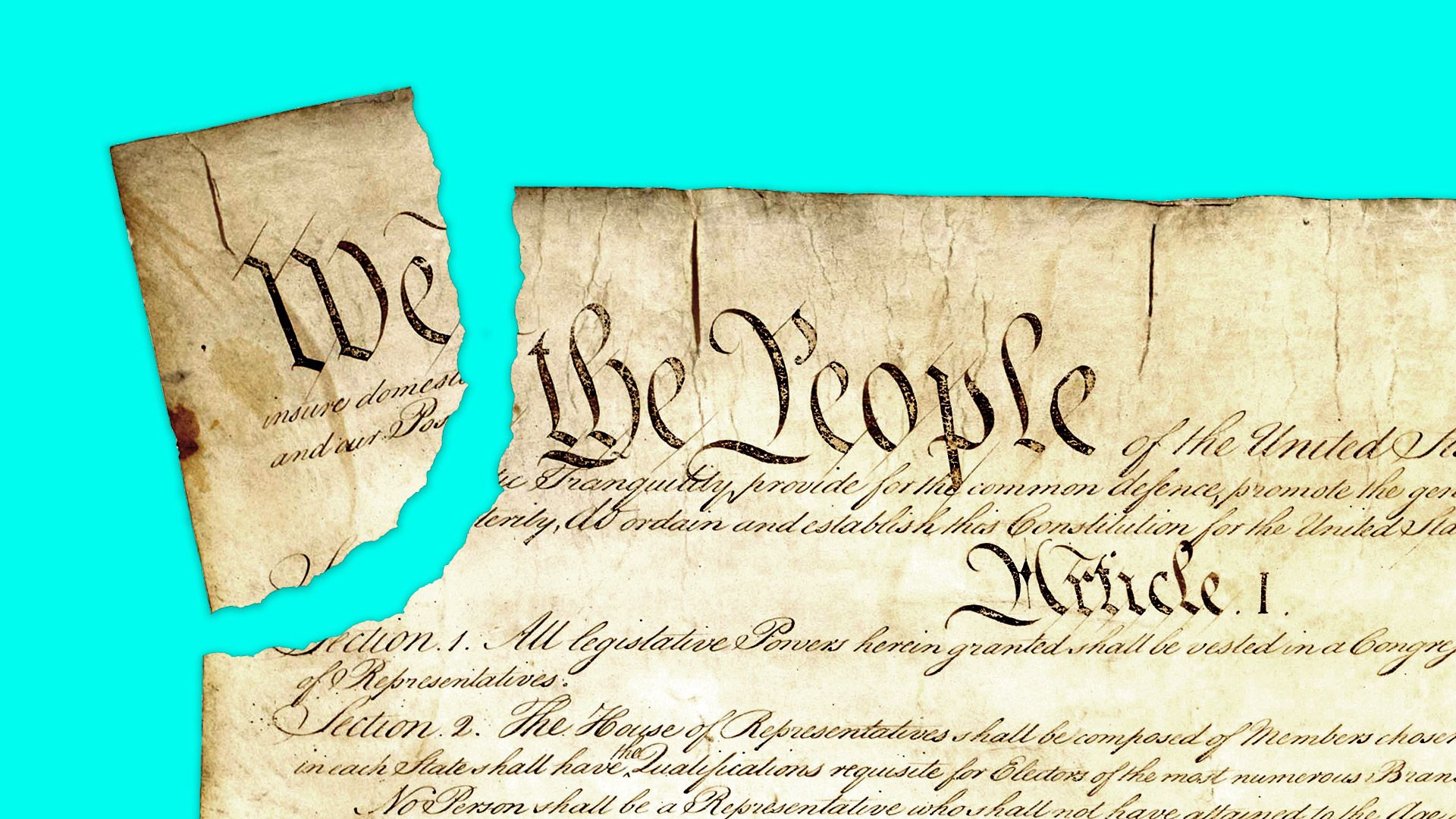 Forget your personal political views for one minute. It's hard to argue politics — White House politics, congressional politics, now Supreme Court politics — hasn't gone crazy, Axios CEO Jim VandeHei writes:
You have virtually the entire Democratic Party believing the Republican nominee for the Supreme Court was a predator.
You have virtually the entire Republican Party believing two women are making up that they were victims of attempted rape or sexual humiliation — or confused about who actually did it. 
You have the White House putting Brett Kavanaugh on Fox News to proclaim his innocence, in what's apparently the first TV interview of a Supreme Court nominee.
You have him needlessly explaining in that interview that he was a virgin in high school, and for "many years thereafter," when none of the allegations involve intercourse.
You have the same lawyer who outed the president's cover-up of a sexual relationship with a porn star, Michael Avenatti, now threatening to prove Kavanaugh was involved in "gang rape."
What's next: A public hearing to air all of this, for a panel of partisans on Thursday. 
Be smart: Democracy isn't just messy — it's dirty. And getting dirtier.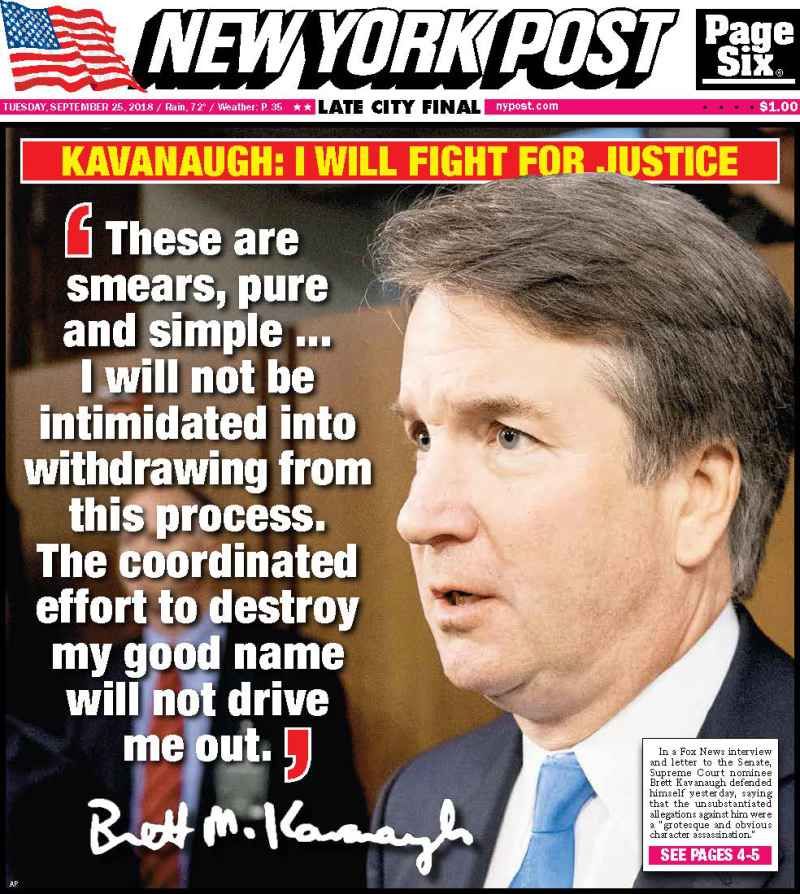 2. Scoop: Inside Democratic prep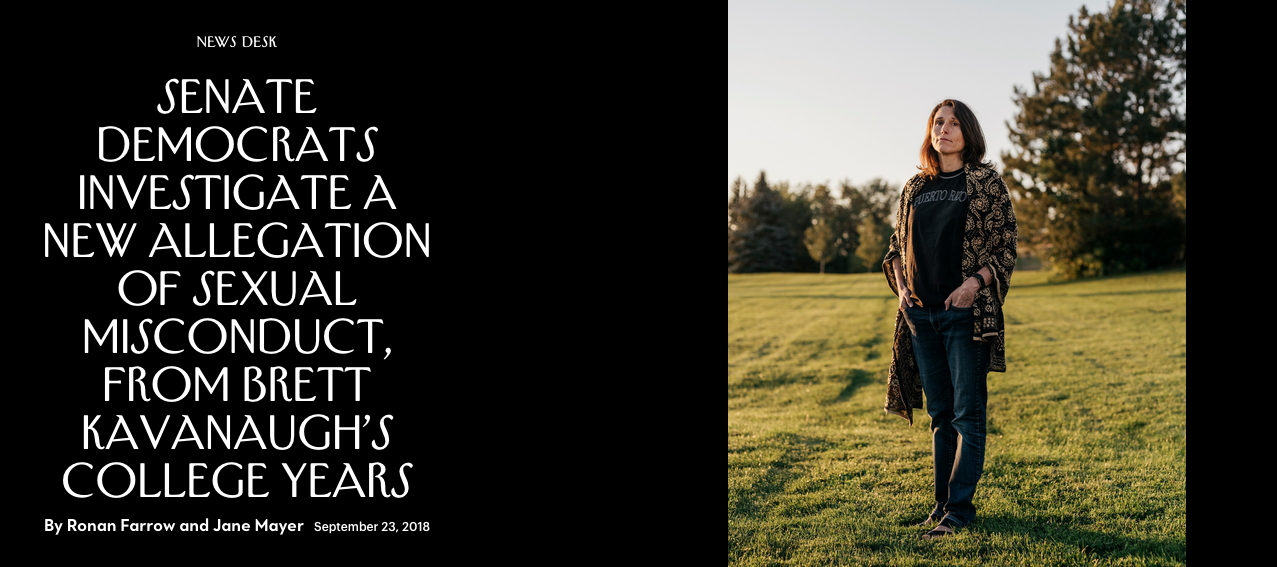 Democratic senators are consulting experts in such fields as sexual assault victimization and college drinking ahead of Thursday's hearing with Christine Blasey Ford and Brett Kavanaugh, according to a source inside Democratic prep.
The experts include service providers, legal scholars and scientists.
"There's a very active network around the country of experts in this field who are helping people understand the gravity of this and the reality of this," the Democratic source said.
Like Kavanaugh, Ford is undergoing testimony prep sessions to be sure that she does not "encounter any surprises," the source said.
Heading into the hearing, Democrats plan a variety of outside advocacy, both in person and online:
Brian Fallon of the progressive group Demand Justice told me: "Republicans want to try to put Dr. Ford on trial Thursday, but look for Kavanaugh opponents to make his character and integrity the central issue heading into the hearing," by invoking past character witnesses who have disowned him.
The New Yorker's Ronan Farrow and Jane Mayer: "Kavanaugh's attitude toward women has come to play a central role in his confirmation process."
Top Republicans tell me they remain confident that Kavanaugh will get the 50 votes he needs, in a floor vote that leaders hope to hold on Friday or Saturday.
Per AP: "White House counselor Kellyanne Conway held a conference call with supporters during which she said there was a 'vast left-wing conspiracy' to prevent Kavanaugh from winning confirmation, according to a participant."
N.Y. Times Quote of the Day ... Kavanaugh, in a letter to the top Republican and Democrat on the Senate Judiciary Committee, in which he denounced "grotesque and obvious character assassination":
"I will not be intimidated into withdrawing from this process."
"The coordinated effort to destroy my good name will not drive me out. The vile threats of violence against my family will not drive me out. The last-minute character assassination will not succeed."
Go deeper: Read the transcript of the interview with Brett Kavanaugh and his wife, Ashley Estes Kavanaugh, on Fox News' "The Story with Martha MacCallum."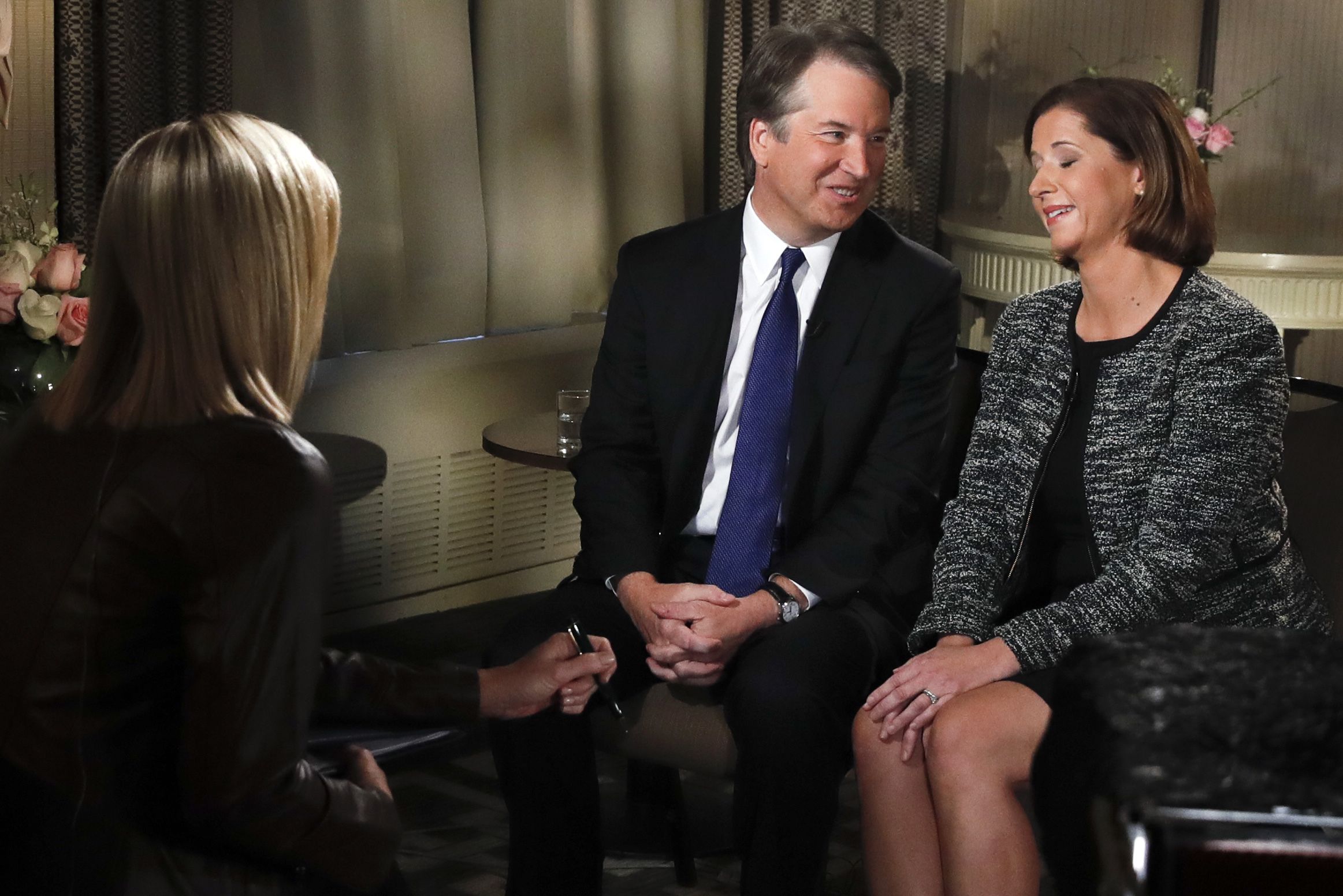 3. Shock departure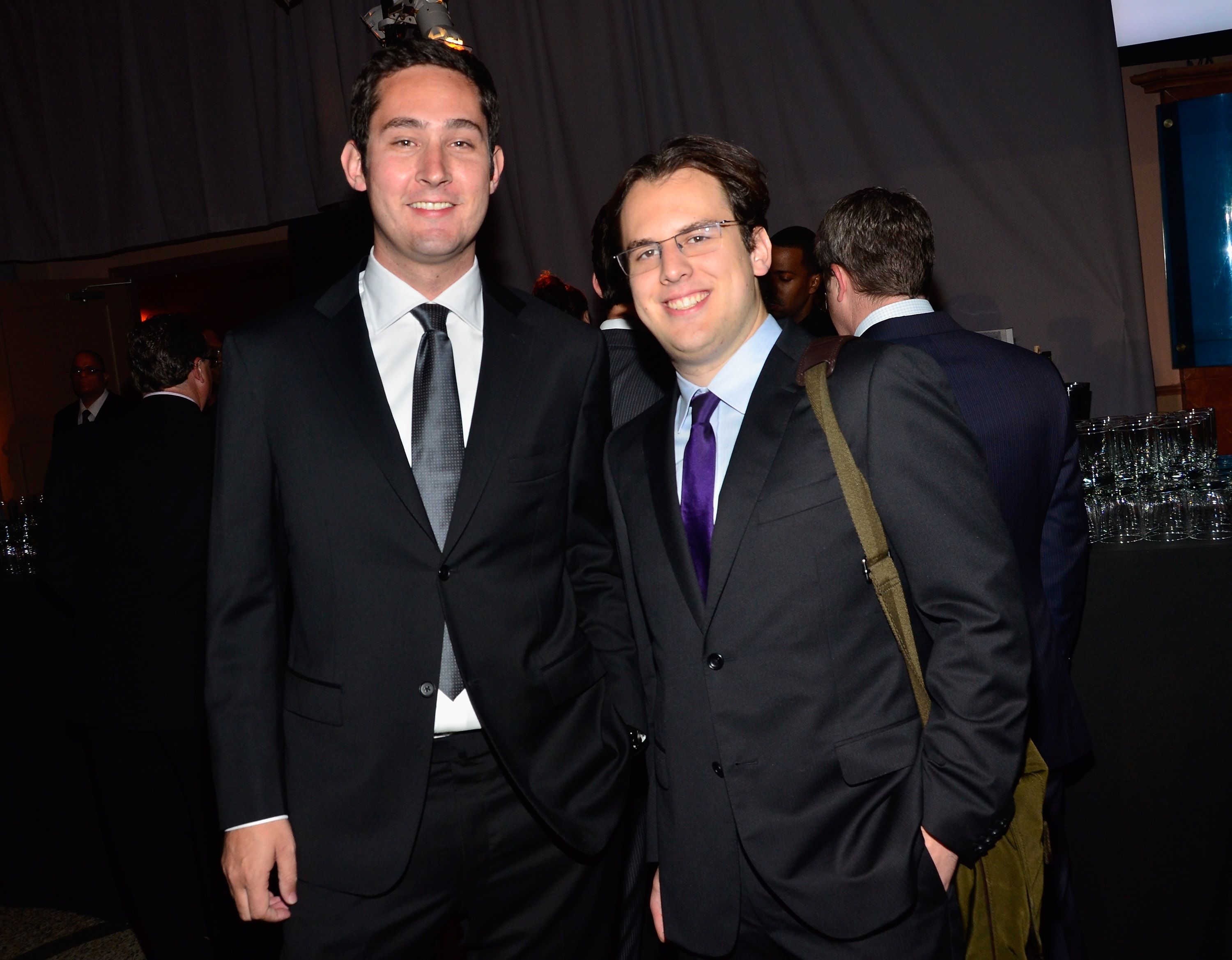 Instagram co-founders Kevin Systrom and Mike Krieger resigned and plan to leave the Facebook-owned company "in coming weeks," the N.Y. Times' Mike Isaac reported and Systrom later confirmed in a statement:
"Mike and I are grateful for the last eight years at Instagram and six years with the Facebook team. We've grown from 13 people to over a thousand with offices around the world, all while building products used and loved by a community of over one billion. We're now ready for our next chapter."
"We're planning on taking some time off to explore our curiosity and creativity again. Building new things requires that we step back, understand what inspires us and match that with what the world needs."
Between the lines: Business Insider points out the statement's clues that there could be bad blood, including the lack of a shout-out to Mark Zuckerberg, and the suggestion that the two could become Facebook competitors.
Be smart: Instagram, which became one of the most successful social media companies in the world under Systrom and Krieger, has been called something of a savior for Facebook.
4. Pic du jour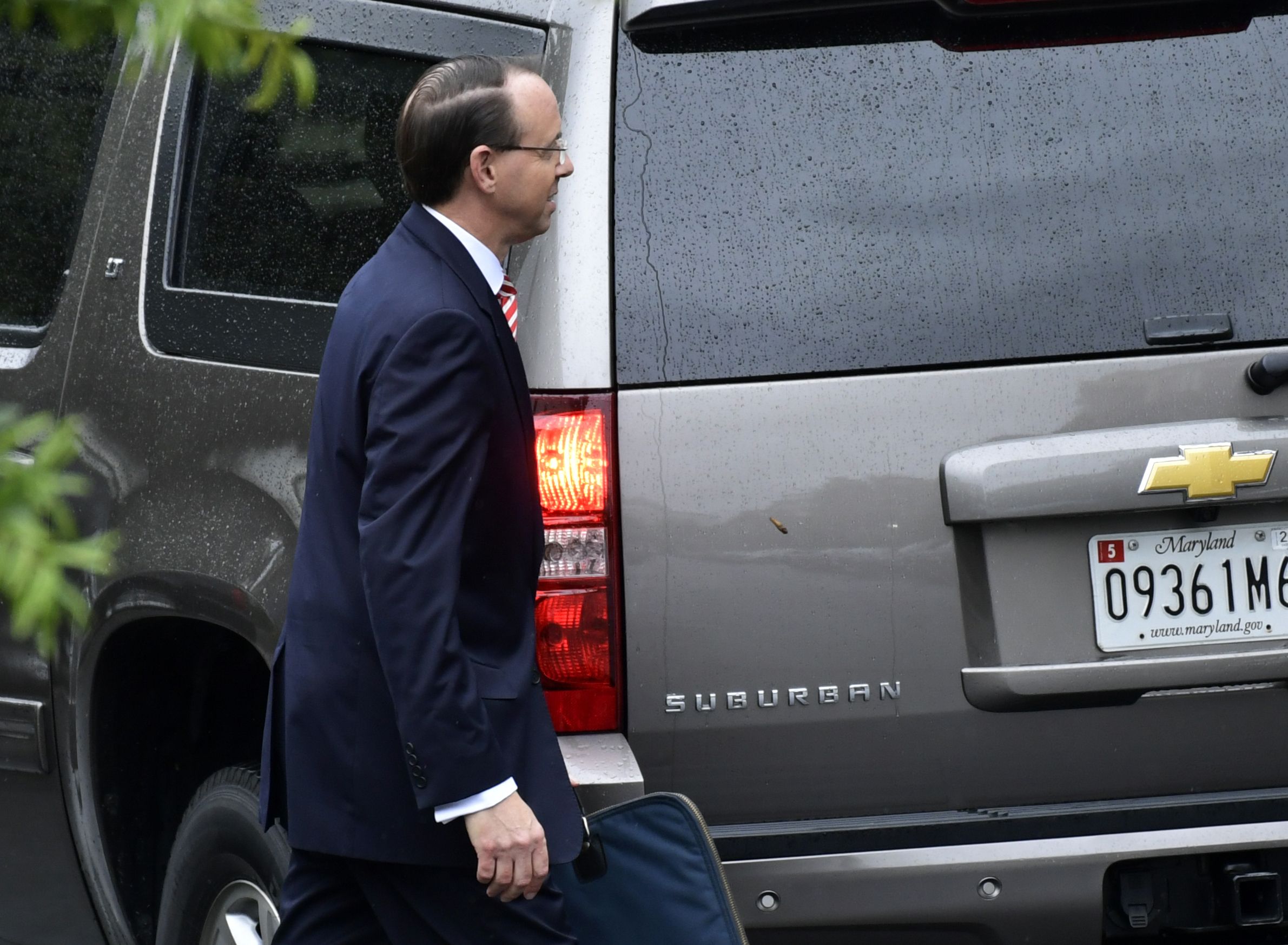 Deputy Attorney General Rod Rosenstein leaves the White House yesterday, and will return Thursday for a conversation with President Trump about his fate.
Axios' Jonathan Swan reports that Justice Department spokeswoman Sarah Isgur Flores drafted a statement — not released — that would announce Rosenstein's departure, written in the voice of Attorney General Jeff Sessions.
The draft statement says that Sessions' chief of staff Matt Whitaker would serve as his deputy, and that Noel Francisco, the Solicitor General, would serve as the Acting Attorney General overseeing the Mueller investigation.
N.Y. Times: "By Friday evening, concerned about testifying to Congress over the revelations that he discussed wearing a wire to the Oval Office, ... Rosenstein had become convinced that he should resign."
"He offered during a late-day visit to the White House to quit ... but John F. Kelly, the White House chief of staff, demurred."
"At some point, Mr. Rosenstein and Mr. Trump had what the president's spokeswoman called 'an extended conversation' about the Times article."
"Aides began planning over the weekend for his departure."
5. Global dealmaking at record high
Merger Monday ... "North American companies unleashed a dealmaking spree totaling more than $50bn [yesterday], as executives ignored a pending trade war and uncertainty around US midterm elections to swallow European rivals in a series of industry-changing mergers," per the Financial Times (subscription).
Why it matters: "Boardroom confidence, cheap debt and record stock prices have spurred a wave of activity that left global dealmaking at a record high of $3.2tn in 2018."
Why it's happening: "Companies are racing to remake themselves by snatching trophy assets or consolidating with rivals before the business cycle turns."
6. Midterm spending to rival presidential year
Spending on political ads for the midterms ($2.9 billion) will be nearly as high as presidential-election spending two years ago ($3 billion), estimates MAGNA, the media and research arm of Interpublic Group, Axios' Sara Fischer writes.
This year's midterm spend is up so much compared to the 2014 midterms due to more competitive races.
7. 2019 Congress could shatter diversity records
If Democrats take back the House in November, the new Congress will have the most minorities in its 230-year history, writes Axios' Alayna Treene.
50 years ago, white men made up 97% of the House, lobbying firm CGCN Group says in its latest diversity memo, obtained first by Axios.
In 2017, racial and ethnic minorities represented more than 45% of House Democrats, and women made up one-third of the Democratic chamber.
8. 2018 is the year of the Democratic woman
The 2018 midterms have been widely called the "year of the woman," but it's really the year of the Democratic woman, Axios' Alexi McCammond writes.
Why it matters: More women are registered to vote than men, and women vote in higher numbers than men.
In polls this cycle, Dems have led among women by an average of 20 points.
9. Network TV's leadership crisis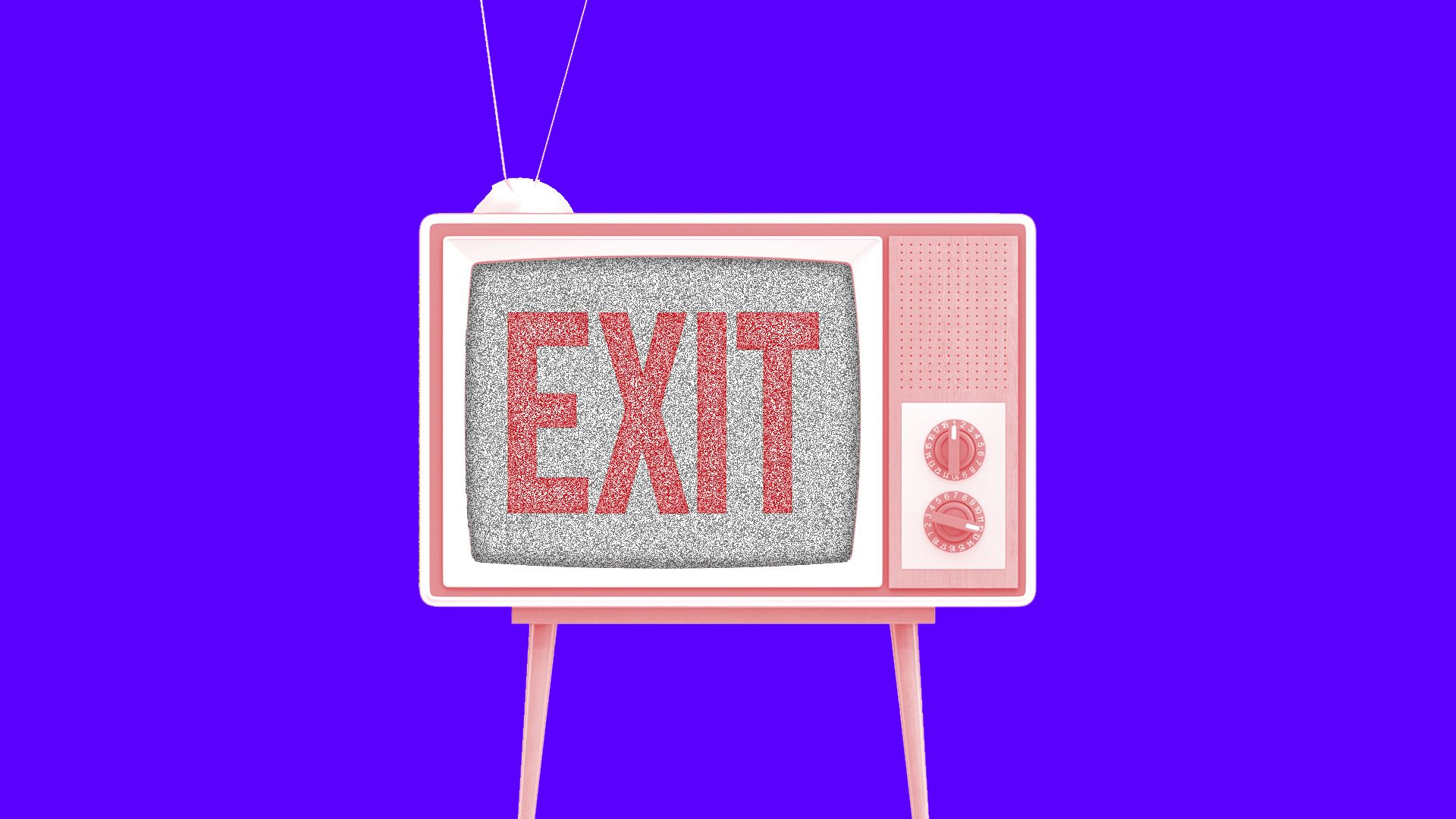 Major changes are underway in the very top ranks of the biggest broadcast networks, which despite ratings declines, still drive many millions of viewers and billions in revenue, Axios' Sara Fischer writes.
While executives come and go all the time, no one can remember a time when there was so much change and turmoil at the top of the broadcast nets:
NBC: Longtime NBC Entertainment Chairman Bob Greenblatt is leaving the network after nearly eight years, citing a desire to explore new challenges.
Disney/ABC: Disney's top media boss Ben Sherwood will leave the company after Disney (ABC's parent company) completes its acquisition of most of 21st Century Fox.
Fox: What's left of Fox Broadcasting Network, which will mostly be news and sports programming, will be run by a slew of presumably new and old executives, potentially including Fox TV Group chairman Gary Newman.
CBS: Longtime executive Les Moonves was ousted after sexual harassment allegations.
Univision: Univision CEO Randy Falco is retiring at the end of the year amid cancelled IPO plans.
A top media executive told Axios:
"During the fall launches, the most important part of the TV year, everything is in turmoil. ... The whole decision-making apparatus is in flux."
The executive said the clearest impact will be on preparations for a year from now: "No one knows who's in charge, who's buying, who'll be putting shows on the air. The whole cycle of development and pilots has been disrupted."
10. 1 🔑 thing
Key fobs for cars could give way to fingerprint scanning, reports the Detroit Free Press' Phoebe Wall Howard, on USA Today's front page:
"[N]ewer cars with keyless starting are always waiting for the fob signal. Thieves can buy legitimate devices that amplify or record and replay the fob signal sitting unprotected in a purse, a pocket, on a counter at home or even just copy the code to access the vehicle."
So "auto companies are following the lead of personal technology devices and moving toward vehicle access through fingerprinting, facial recognition and retina scans."
"This technology will be used in cars in two to four years," said Godfrey Cheng, corporate vice president for Silicon Valley-based Synaptics.