Axios AM
February 25, 2023
☀️ Good Saturday morning! Your host is Axios' Erica Pandey, at [email protected].
Smart Brevity™ count: 1079 words ... 4½ minutes. Edited by TuAnh Dam.
1 big thing: Single America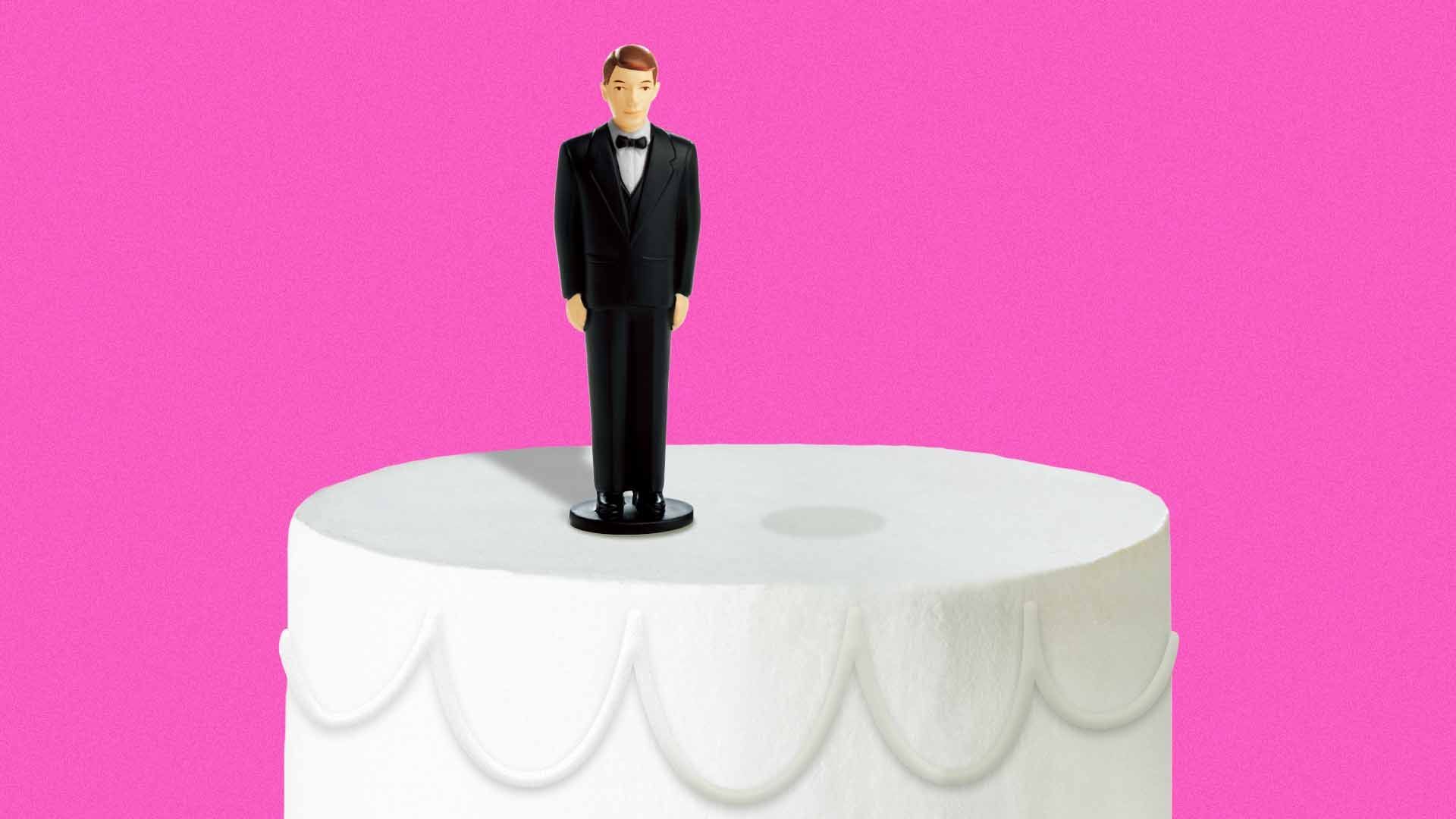 A dramatic shift from a generation ago: Americans are increasingly forgoing or delaying marriage.
By the numbers: Over the last 50 years, the marriage rate in the U.S. has dropped by nearly 60%, Axios' Erica Pandey writes.
What's happening: Taxes and other legal structures still give an advantage to married couples, but the formal benefits of marriage are diminishing, said Andrew Cherlin, a sociologist at Johns Hopkins. And the societal pressure to marry has eroded dramatically.
"Life is still a bit easier if you're married," he said. But many of the life events we link to marriage, such as cohabitating or having kids, are increasingly occurring outside of marriage.
Reality check: Even as the marriage rate is falling, the institution still holds value in the U.S., said Susan Brown, co-director of the National Center for Family & Marriage Research.
Case in point: High school seniors' attitudes toward marriage have remained relatively stable over the past several decades.
In 1976, 74% of seniors said they expected to get married, and in 2020, 71% said so, according to an ongoing University of Michigan study.
But the way we think about marriage is changing.
"It used to be a basic institution that everyone had to buy into in early adulthood," Cherlin said. "You got married, then you moved in together, and then you got a job."
"Marriage is now becoming the last step into adulthood." And it's an optional step. People are more likely to want to finish their education, find a job and pay off debt before getting hitched.
As a result, many are delaying marriage.
The number of women entering their first marriage between the ages of 40 and 59 has jumped 75% since 1990, Brown said.
The bottom line: Expect fewer 50th-anniversary parties in the future.
2. 💒 Charted: Hitched in Vegas
Fewer Americans are getting married — but when they do tie the knot, they still love to do it in Las Vegas, Axios' Erin Davis reports.
By the numbers: Roughly 4% of U.S. marriages in 2021 took place in Nevada, according to an Axios analysis of new CDC data.
The share of U.S. marriages in Nevada has exceeded the share of the U.S. population residing in that state every year since 1920.
3. 🗳️ Jill teases Joe run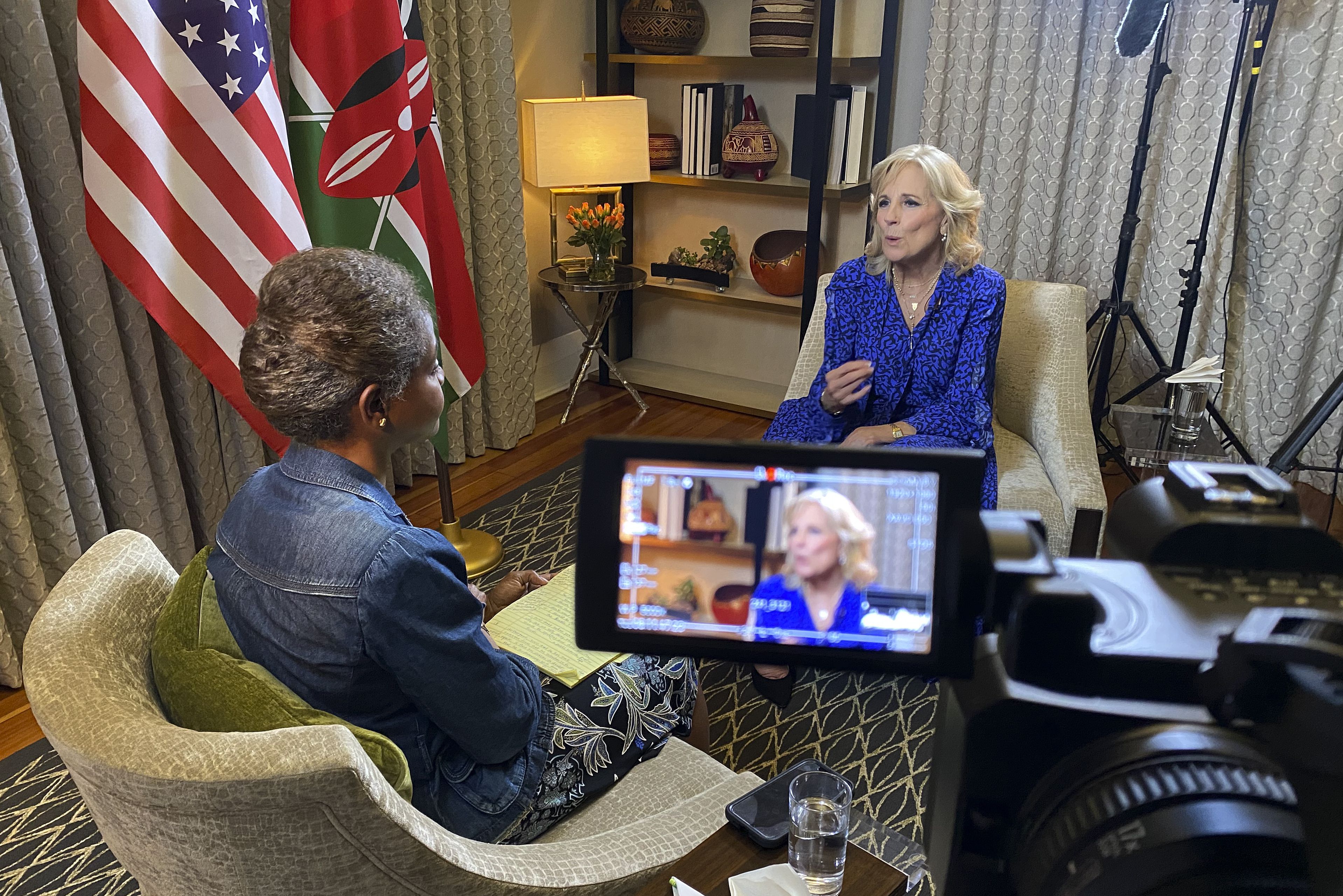 "How many times does he have to say it for you to believe it?" first lady Jill Biden said in an AP interview when asked about President Joe Biden's plans to run for a second term.
Between the lines: Biden has long said he intends to seek re-election, but has yet to make it official.
The First Lady gave one of clearest indications yet, telling AP: There's "pretty much" nothing left to do but figure out the time and place for the announcement.
4. 📈 Millennials' ballooning debt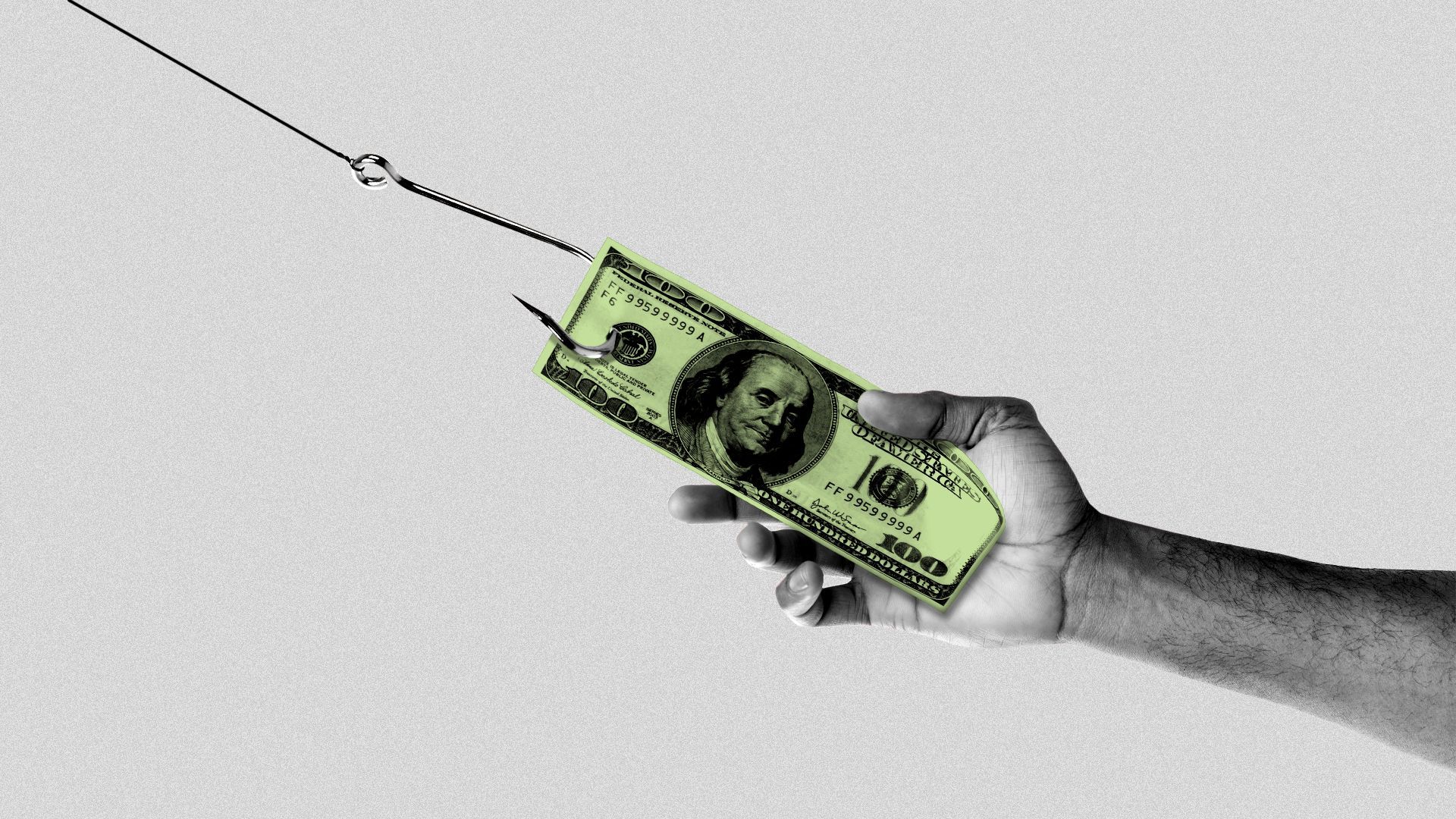 Stunning stat: The debt of Americans in their 30s has jumped 27% since late 2019 — to more than $3.8 trillion, according to the New York Fed.
The big picture: "The debt buildup could worsen a generational wealth gap that was already on the rise for millennials. Many started their careers during the 2007-09 recession with no bargaining power, crimping their earnings ever since," The Wall Street Journal reports.
5. 🇺🇦 Zelensky vows victory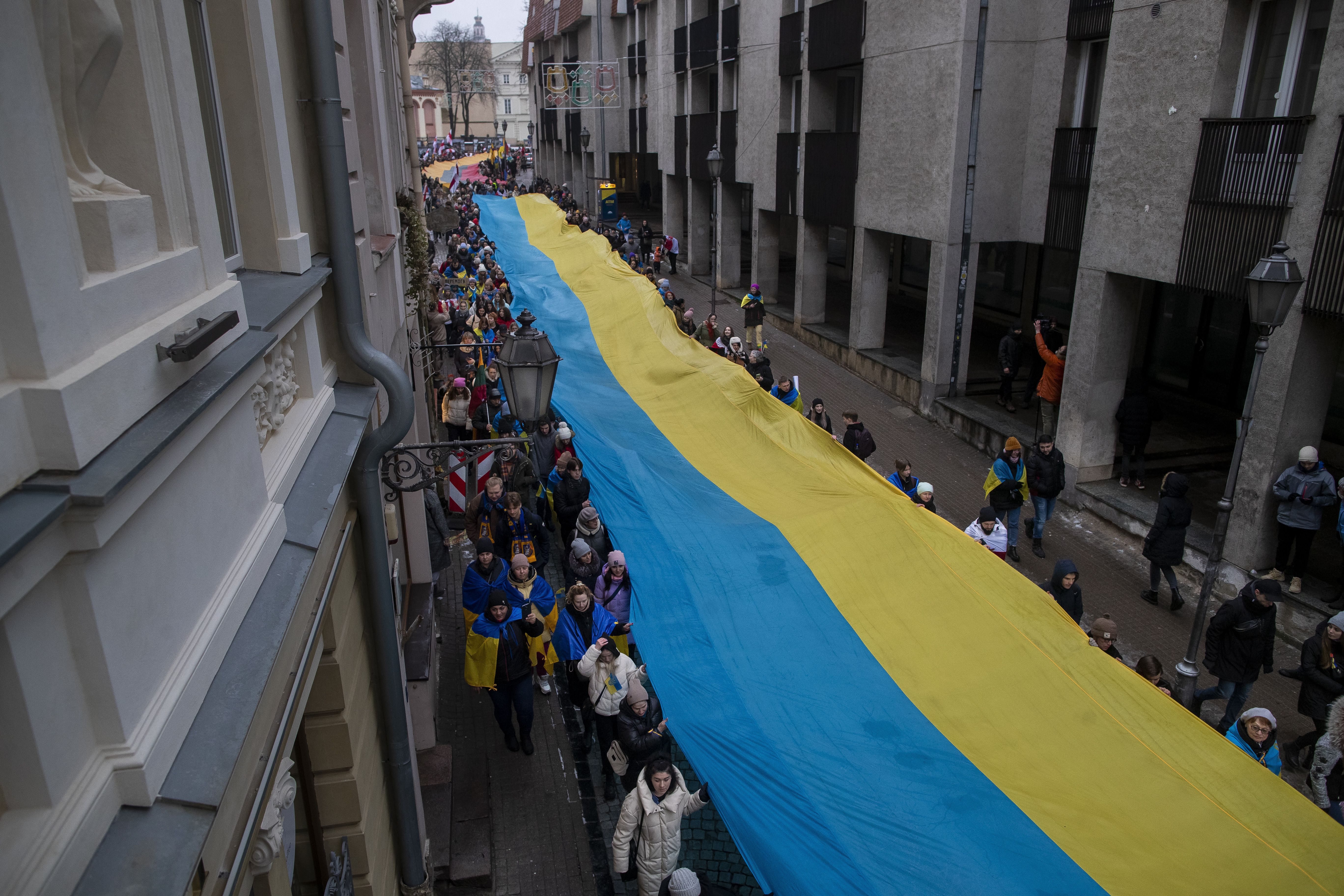 Ukrainian President Volodymyr Zelensky tweeted yesterday, as he began Year 2 of a war that many expected would be over in days:
"We know that 2023 will be the year of our victory!"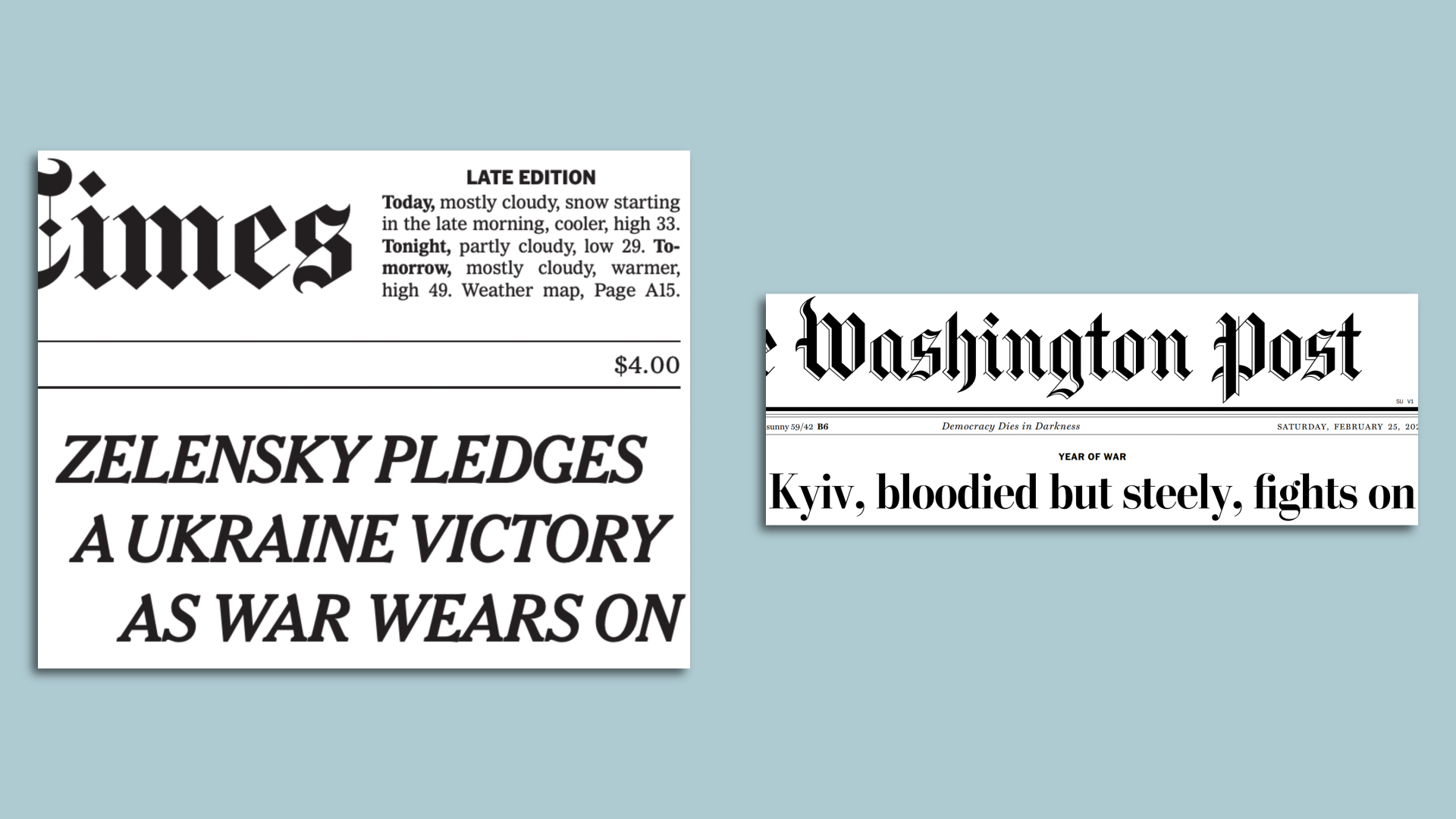 6. 📺 Scarborough assembles War Cabinet
Joe Scarborough talked about Ukraine's reality with President Biden's national security officials for the first of a new prime-time "Morning Joe Special" series.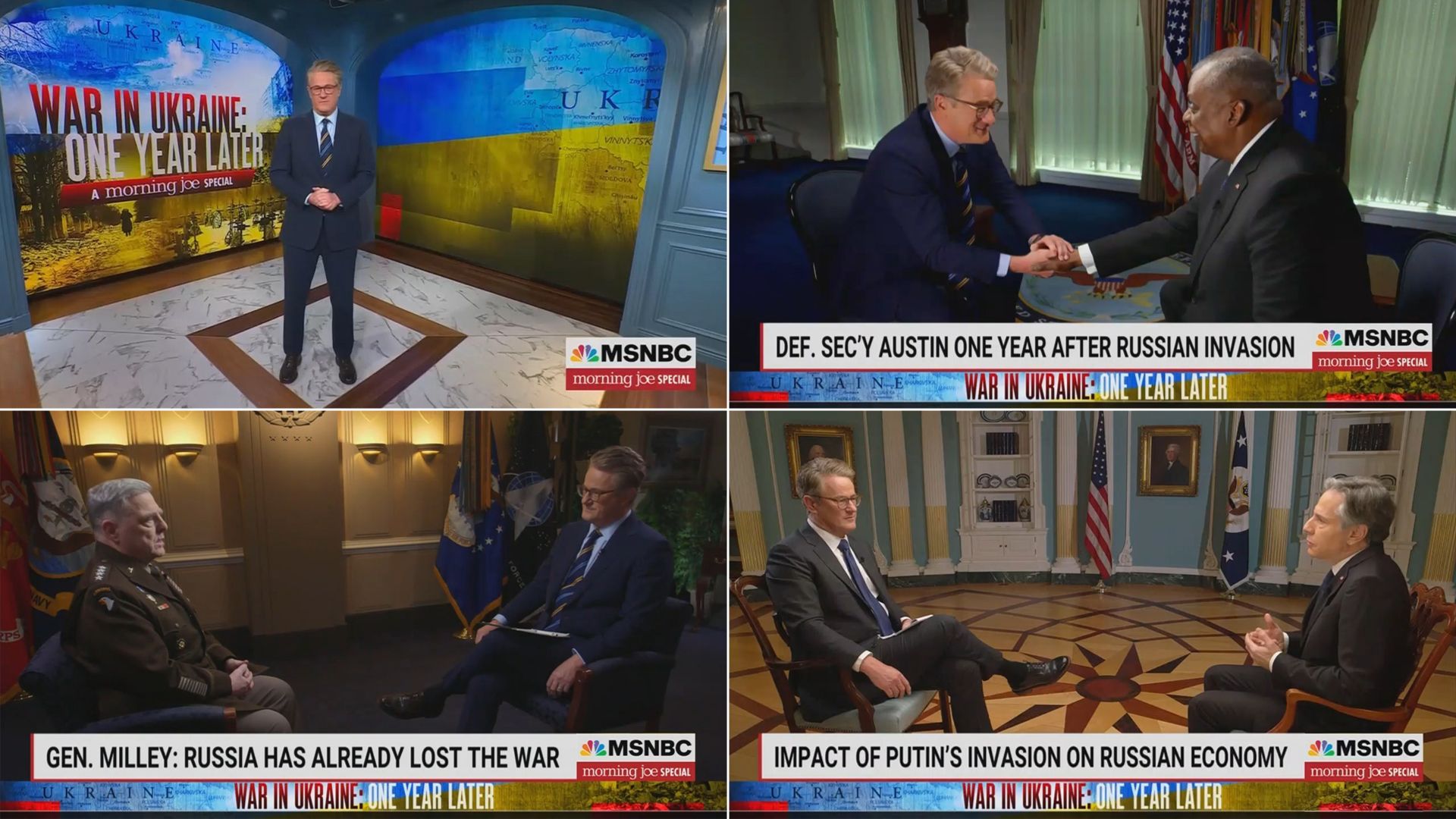 Secretary of State Tony Blinken, Defense Secretary Lloyd Austin, Chairman of the Joint Chiefs of Staff Gen. Mark Milley and national security adviser Jake Sullivan joined Scarborough for interviews at their iconic buildings.
Blinken: "We really are at an inflection point, where the post-Cold-War era is over, and there is kind of a race, a competition going out to shape what comes next." (Video)
One key lesson, per Milley, is air superiority: "The Russians have never, even to this day, achieved air superiority. ... The air defense system of Ukraine has proven remarkably resilient and effective." (Video)
Sullivan, just back from Biden's secret trip to Ukraine: "[H]istory will judge Vladimir Putin as having made one of the most grave mistakes of this century." (Video)
🔮 What's next: Scarborough said future specials will range from civil rights and voting rights, to entertainment and creators.
1 fun thing: In the moment you see in the photos above, Scarborough — a superfan graduate of the University of Alabama — ends the interview by telling Austin: "Roll Tide!"
Austin — who was born in Mobile, and got a master's from Auburn after graduating from West Point — instantly replies with Auburn's battle cry: "War Eagle!" (Video)
7. Tennessee restricts drag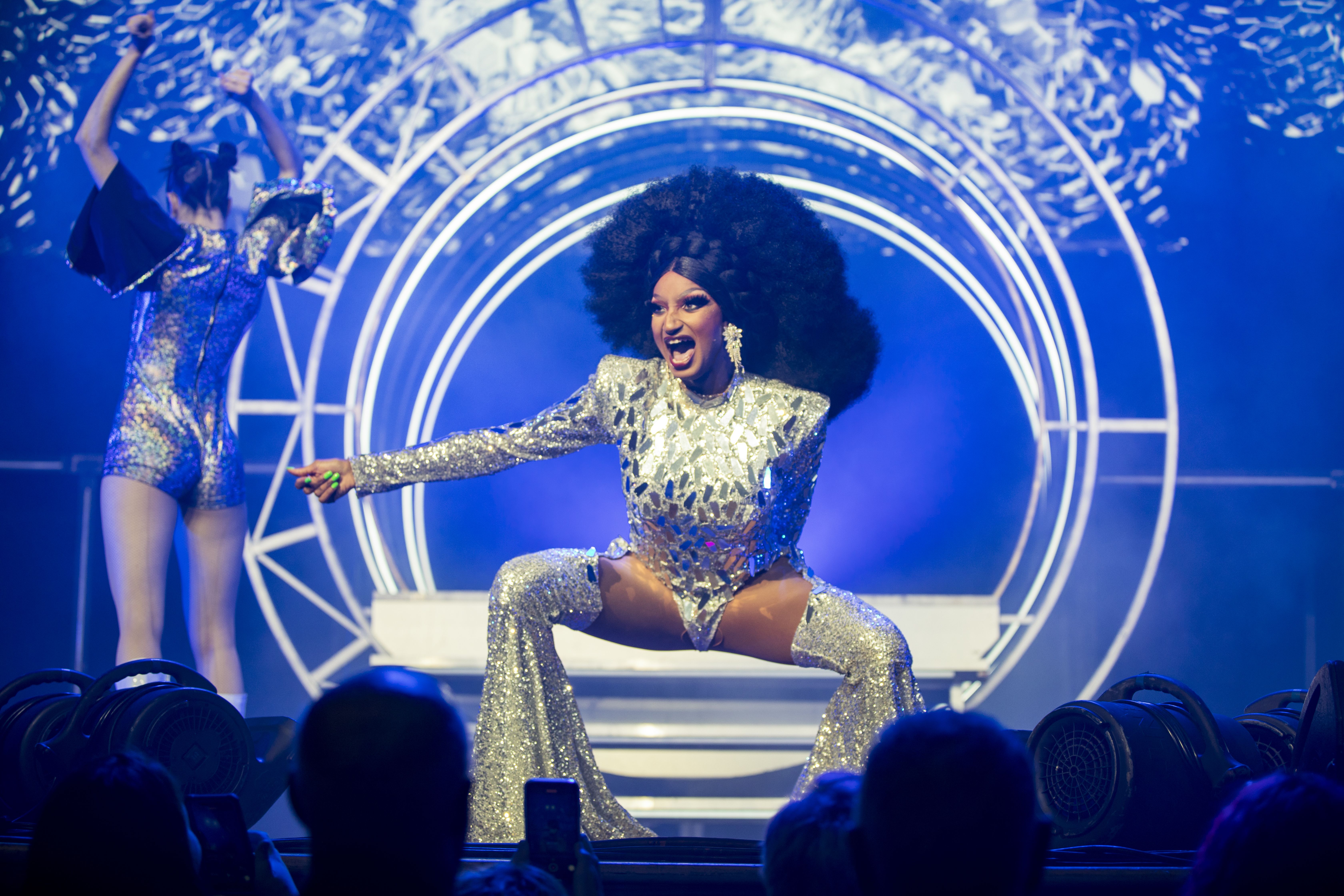 Tennessee became the first state to pass a bill restricting drag performances in public or in front of children this week.
What to watch: There are proposed bills to limit drag shows in at least 14 other states, Axios Tampa Bay's Selene San Felice notes.
Drag performers and civil rights groups say the bills are redundant under existing obscenity laws and are part of a Republican push to limit LGBTQ people's conduct across the country, Reuters' Jonathan Allen writes.
Supporters of the restrictions say they are meant to protect kids.
8. 📚 Roald Dahl — unaltered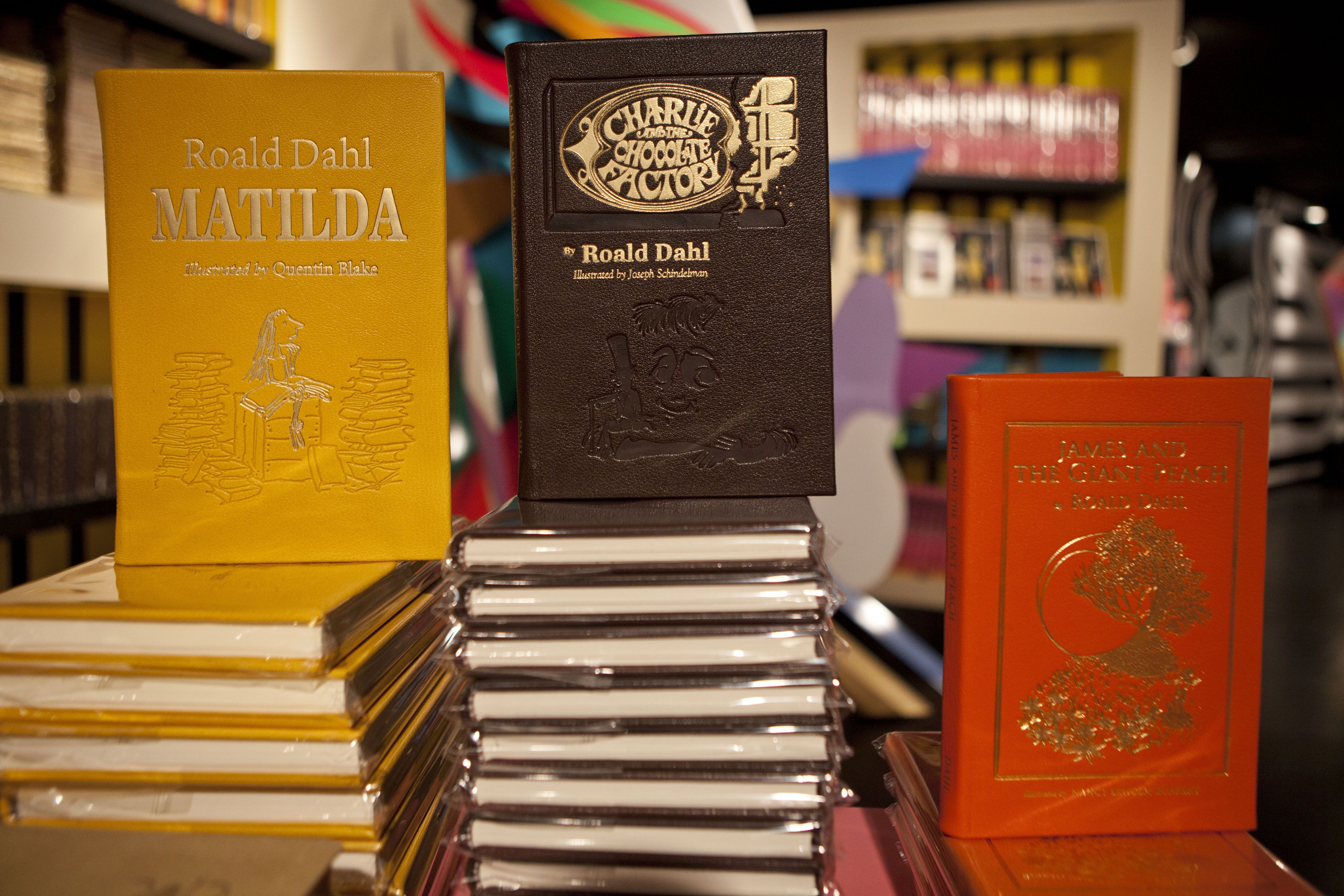 Roald Dahl's classic texts will be republished in his original words, U.K. publisher Puffin announced yesterday.
The backdrop: Puffin has faced backlash for editing Dahl's language related to body image, mental health, gender and race with an eye for sensitivity.
"This book was written many years ago, and so we regularly review the language to ensure that it can continue to be enjoyed by all today," the copyright page of an edited Dahl notes.
For example, Willy Wonka's Augustus Gloop is now "enormous," rather than "enormously fat."
The new classic editions of Dahl will be published alongside the edited versions later this year.