Axios AM
July 29, 2017
Good Saturday morning. It's Day 191.
1 big thing: Reince's final humiliation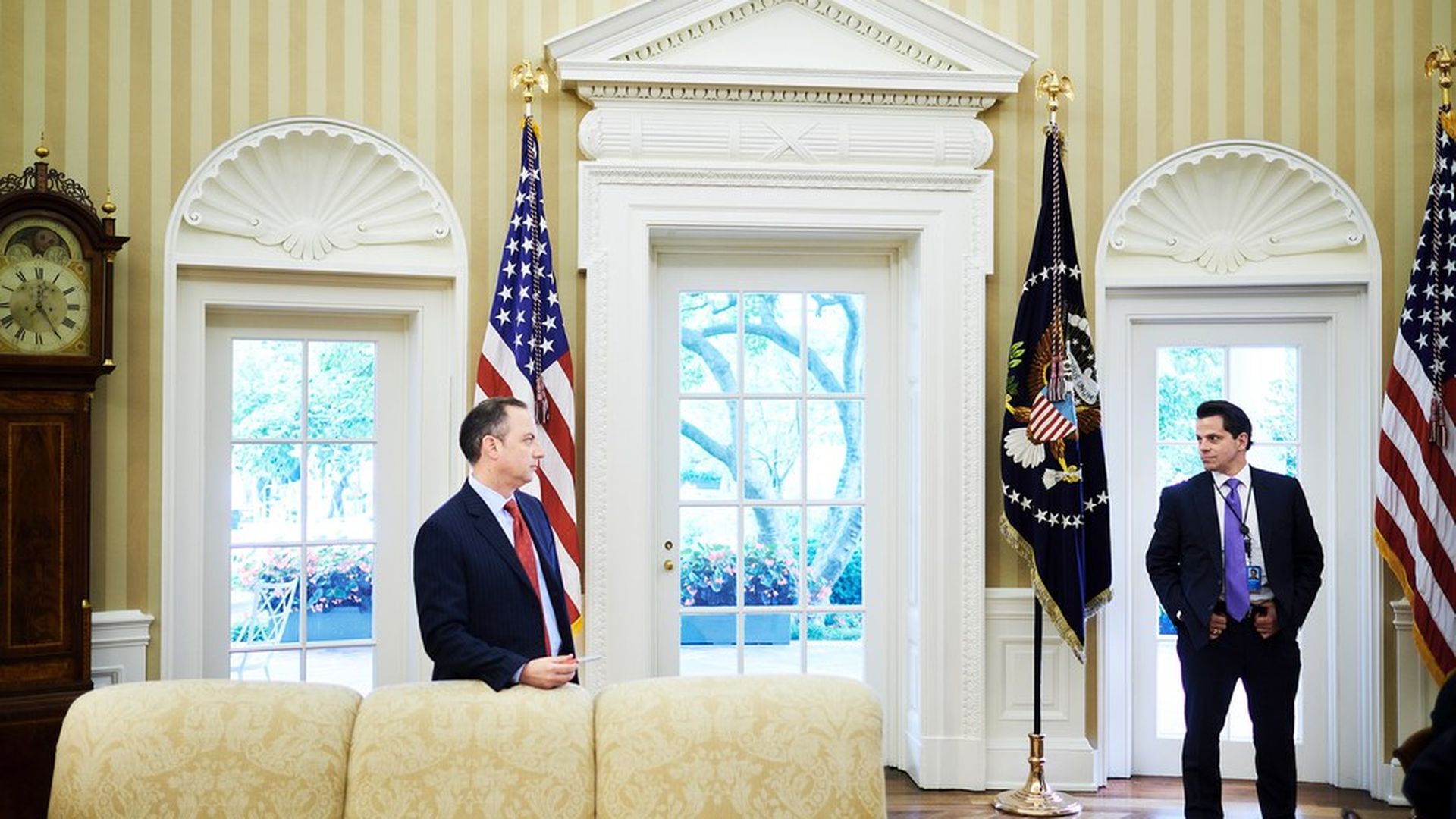 White House Chief of Staff Reince Priebus told me last weekend that the arrival of Anthony "Mooch" Scaramucci as communications director would mean "a fresh start" for the West Wing. This wasn't what he had in mind.
Landing in the rain at Andrews Air Force Base, Trump tweeted at 4:49 p.m. yesterday that his new chief of staff would be his Homeland Security secretary, retired Marine Gen. John Kelly, age 67: "He is a Great American ... and a Great Leader. ... He has been a true star of my Administration."
Trump loves generals — his Cabinet is unusually heavy with them. One West Wing confidant emails:
"Trump is casting his show. Generals are all-purpose actors in a supporting role."
As an afterthought a few minutes later, Trump sent a separate tweet thanking Reince Priebus for his service. Fired by a tweet. Priebus, whose 190-day tenure was the shortest in history for a non-interim White House chief of staff, had become so weak internally that one aide called him "the Chief of No Staff":
From the beginning, Trump had derisively referred to him as "Reincey" or "my genius Reince."
Axios' Jonathan Swan, in his instant analysis: "[T]he Oval Office resembled a 'rolling craps game' ... Multiple senior officials have told me he 'gums up' the system and by the end was almost solely in survival mode."
"[N]ot a single senior White House official came out to defend him as ... Scaramucci pummeled him on TV and accused him of being the building's chief leaker."
A top aide told me Kelly will "professionalize" the West Wing. My scouting report:
Kelly has a reputation for efficient management of complex organizations, and is a no-nonsense guy who can make the trains run on time.
He looks the part, always big with President Trump.
Kelly won't tolerate a disruptive environment, and will try to normalize the reporting lines that usually would go to the chief of staff but have been going directly to the President.
Swan was told: "He was given full authority. Everyone goes through him."
One big challenge: Trump doesn't like to be told what to do, even by his generals.
Amazing quote from an outside adviser to the West Wing: "Kelly, being a mature general, may finally be able to get Donald to pivot into a presidential dynamic."
Besides reining in Trump, Kelly's other big challenge will be corralling a staff that has run wild.
One top official told me: "No one says 'Yes, sir' in this White House. We say: 'F--- you.'"
P.S. ABC's Jon Karl reported on "World News Tonight" that one of the candidates to replace Kelly at Homeland Security is ... Attorney General Jeff Sessions!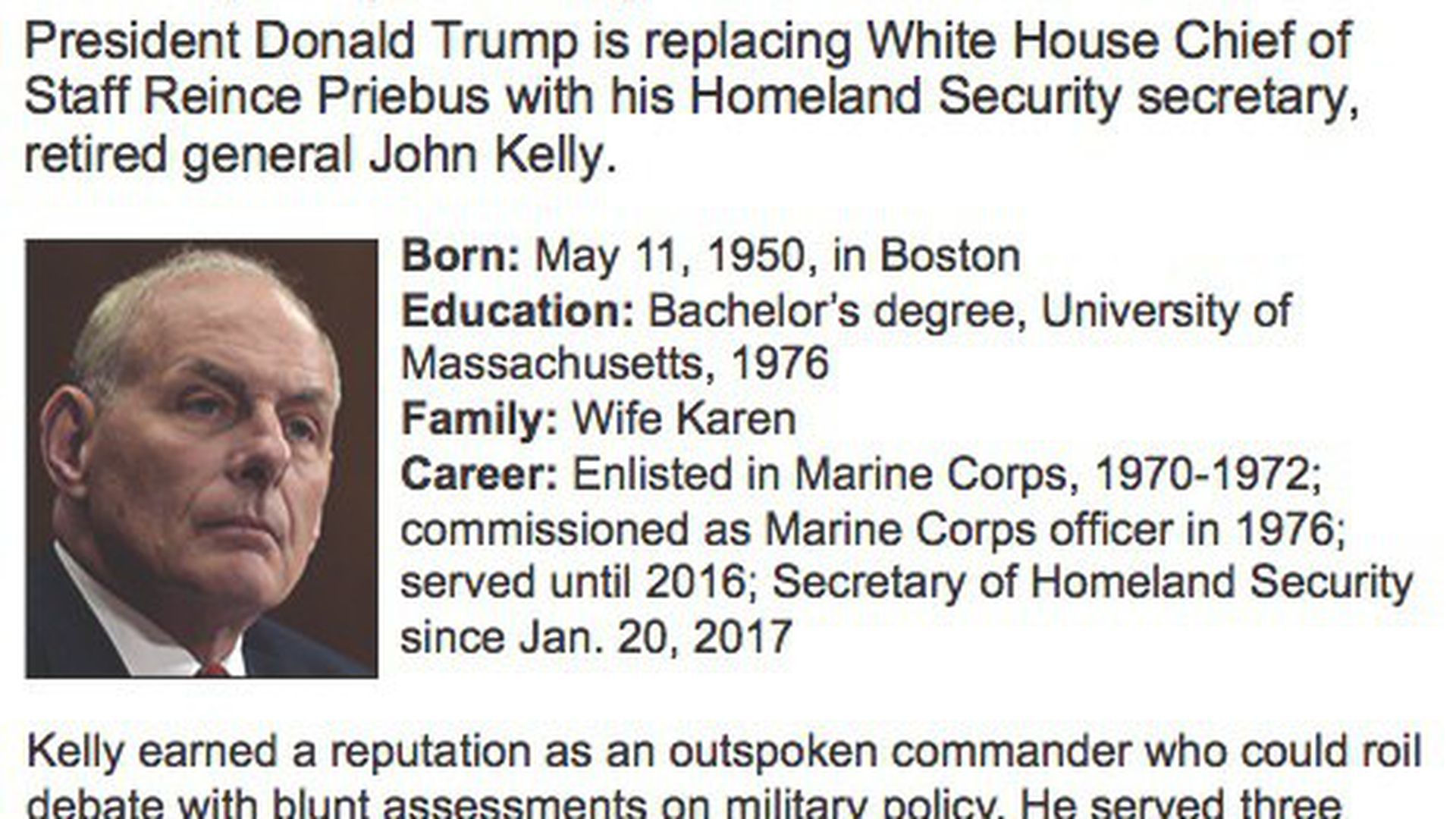 2. Two paragraphs say it all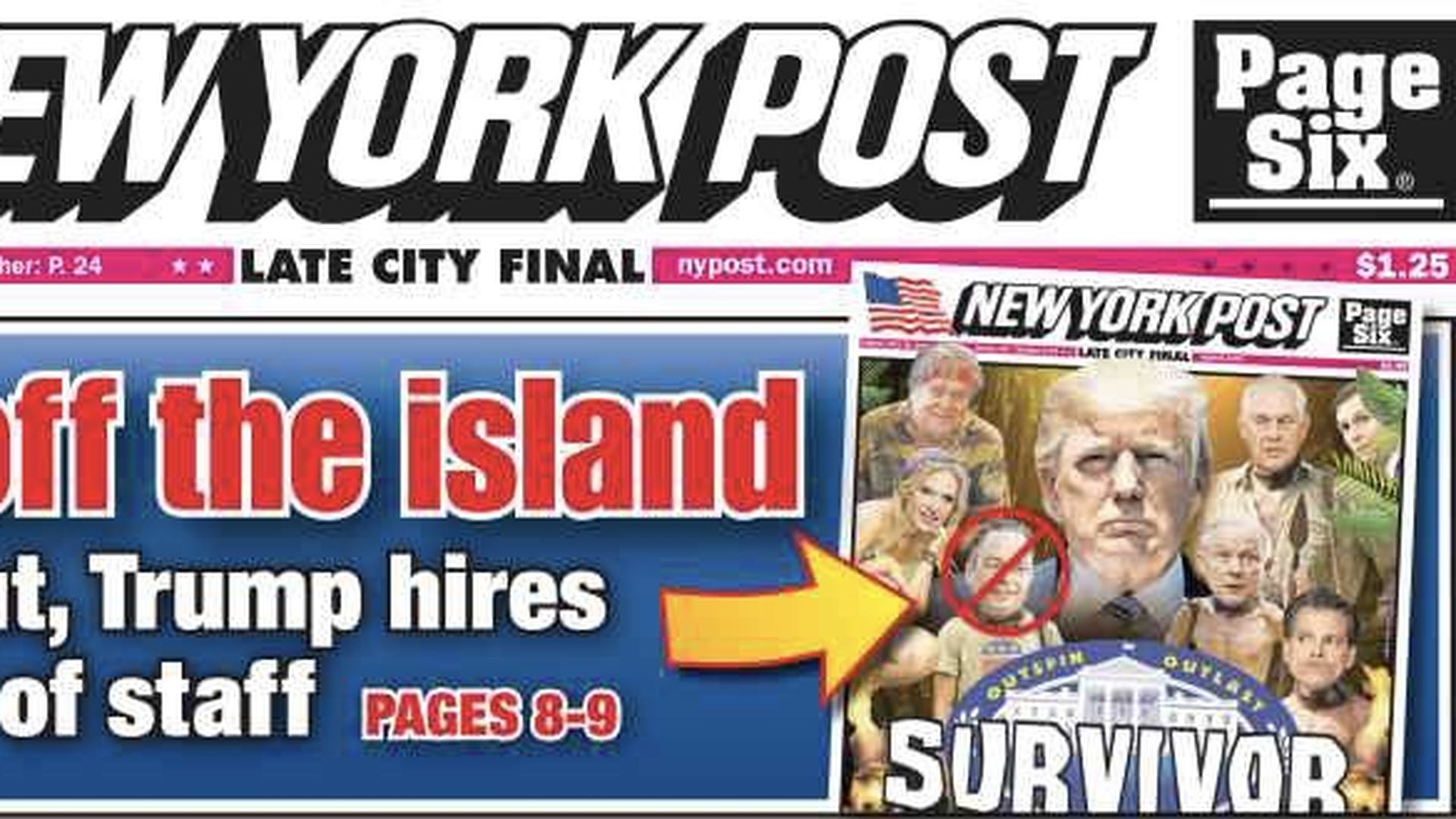 WashPost lead story: "Trump had long questioned the depth of Priebus' loyalty, often remarking about how ... Priebus encouraged Trump to drop out of the presidential race after [the 'Access Hollywood' tape]. The senior official described Priebus' counsel that day as 'a stain he was never going to remove. The scarlet 'A.H.'"
"Trump's demeaning of Priebus came through in other ways, too. At one point, during a meeting in the Oval Office, a fly began buzzing overhead, distracting the president. As the fly continued to circle, Trump summoned his chief of staff and tasked him with killing the insect, according to someone familiar with the incident. (The West Wing has a regular fly problem.)"
3. North Korea could hit Denver, Chicago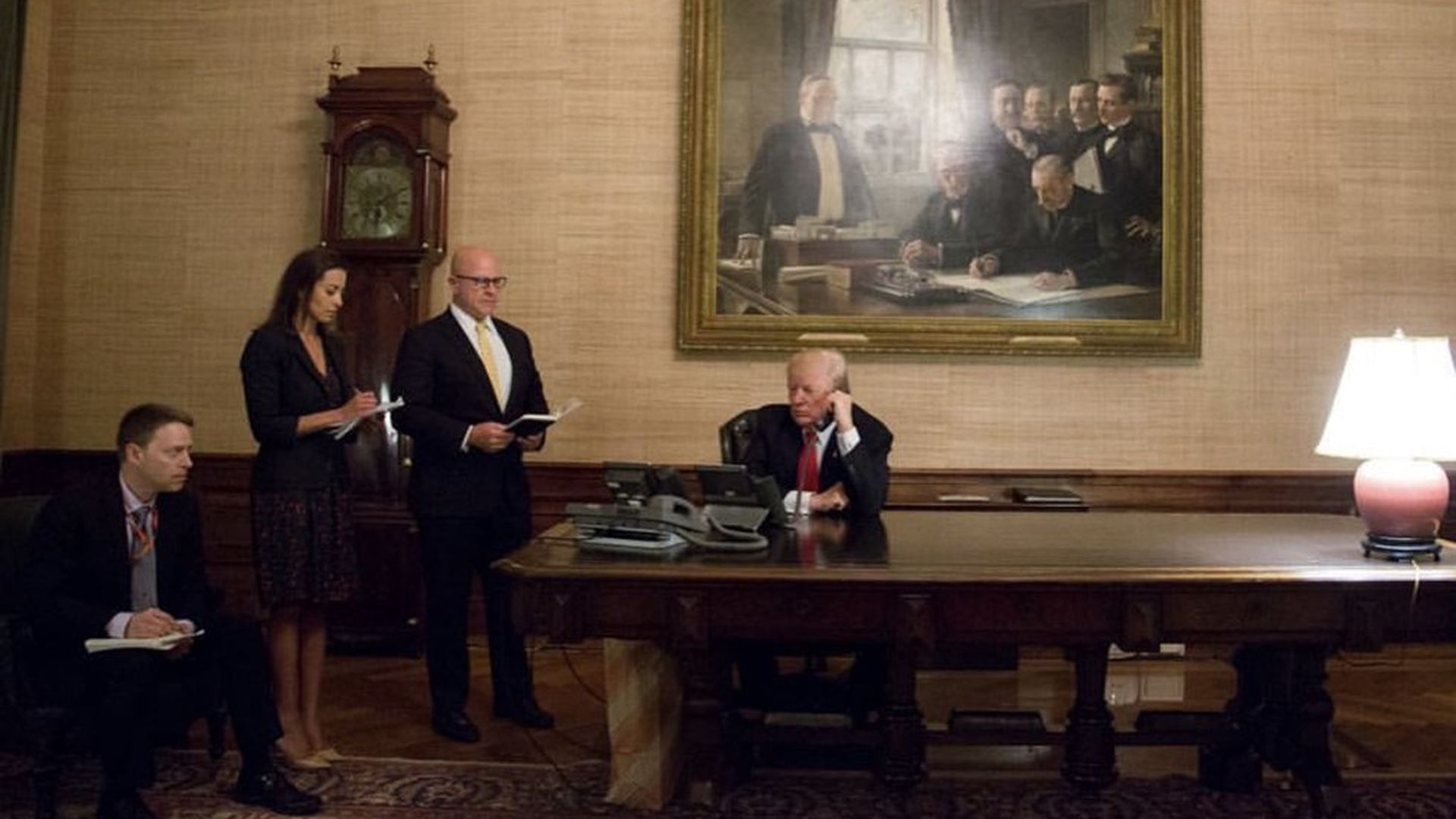 "North Korea Missile Test Could Put Denver in Range" — Wall Street Journal front-pager (subscription):
"North Korea test-fired an intercontinental ballistic missile more advanced than the one fired earlier this month, underscoring Pyongyang's rapid gains in technology and intensifying a standoff with Washington."
Why it matters: "The new missile would be able to fly more than 6,400 miles ... That would put Los Angeles, Denver and Chicago within range."
4. If you only click one thing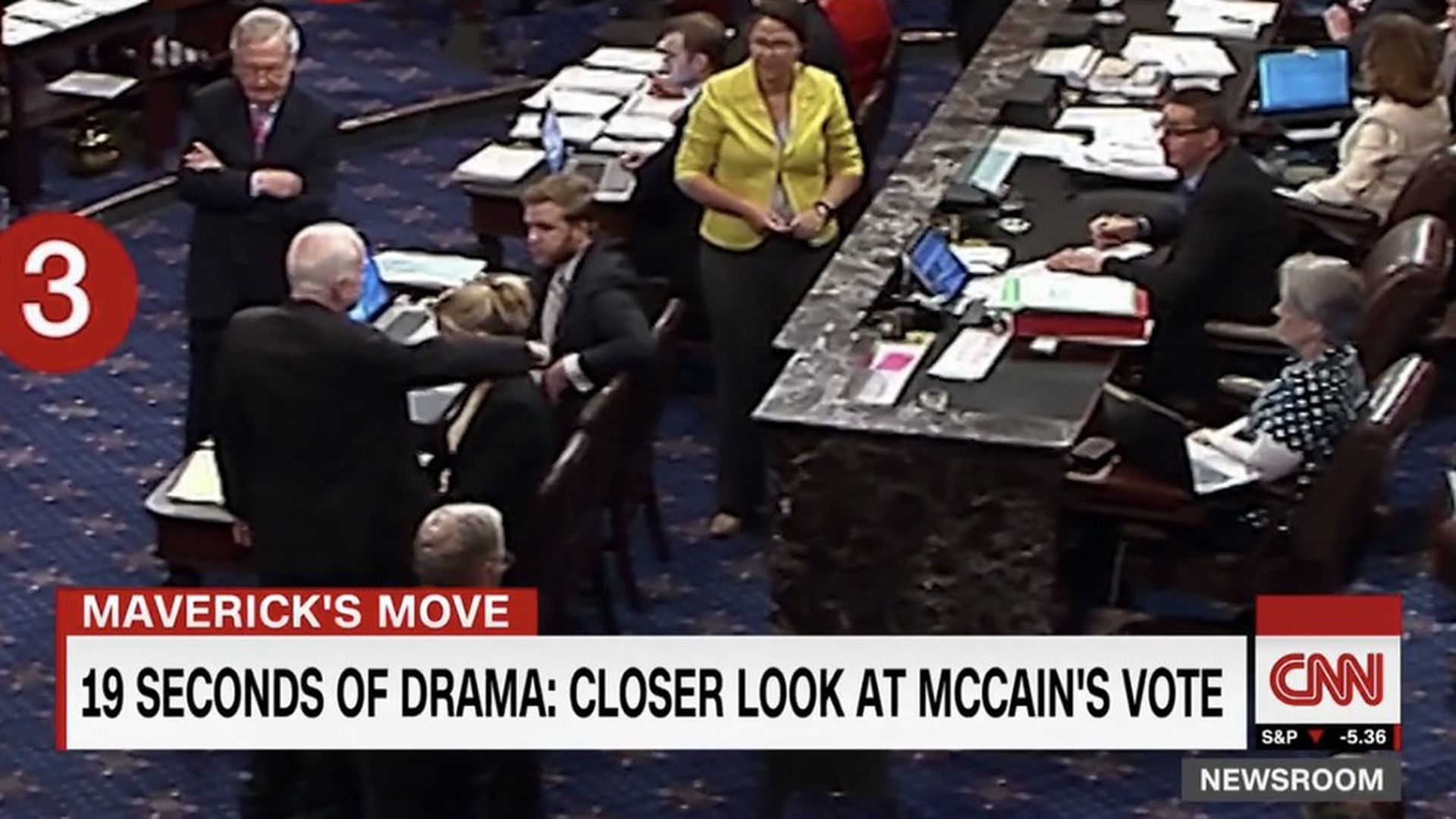 McCain's maverick moment ... Amazing CNN video gives a second-by-second breakdown of the wee-hours death of the Republicans' health-care repeal plan, one of the most dramatic moments in Senate history: "1:29 a.m. [yesterday]: Senator McCain reenters the chamber. ...
"McCain waves his hand to get the attention of the Senate clerk, pauses for just a moment, and gives a dramatic thumbs-down. ... Audible gasp on the Senate floor, and then commotion. ... Republicans like Senator Marco Rubio stare in disbelief ...
"Senator John McCain turns around and walks back to his chamber desk, all alone."
Watch it; will give you chills.
P.S. Axios' Caitlin Owens emails me: "Heard at House [Republican] conference meeting [yeseterday] morning, this was the reaction to the health care bill: 'Lots of Senate blaming. Lots of McCain blaming. But a surprising number of members [standing] at the mike in conference blasting Trump.'
"One called him an 'embarrassment.'"
5. U.S. economy: sluggish but durable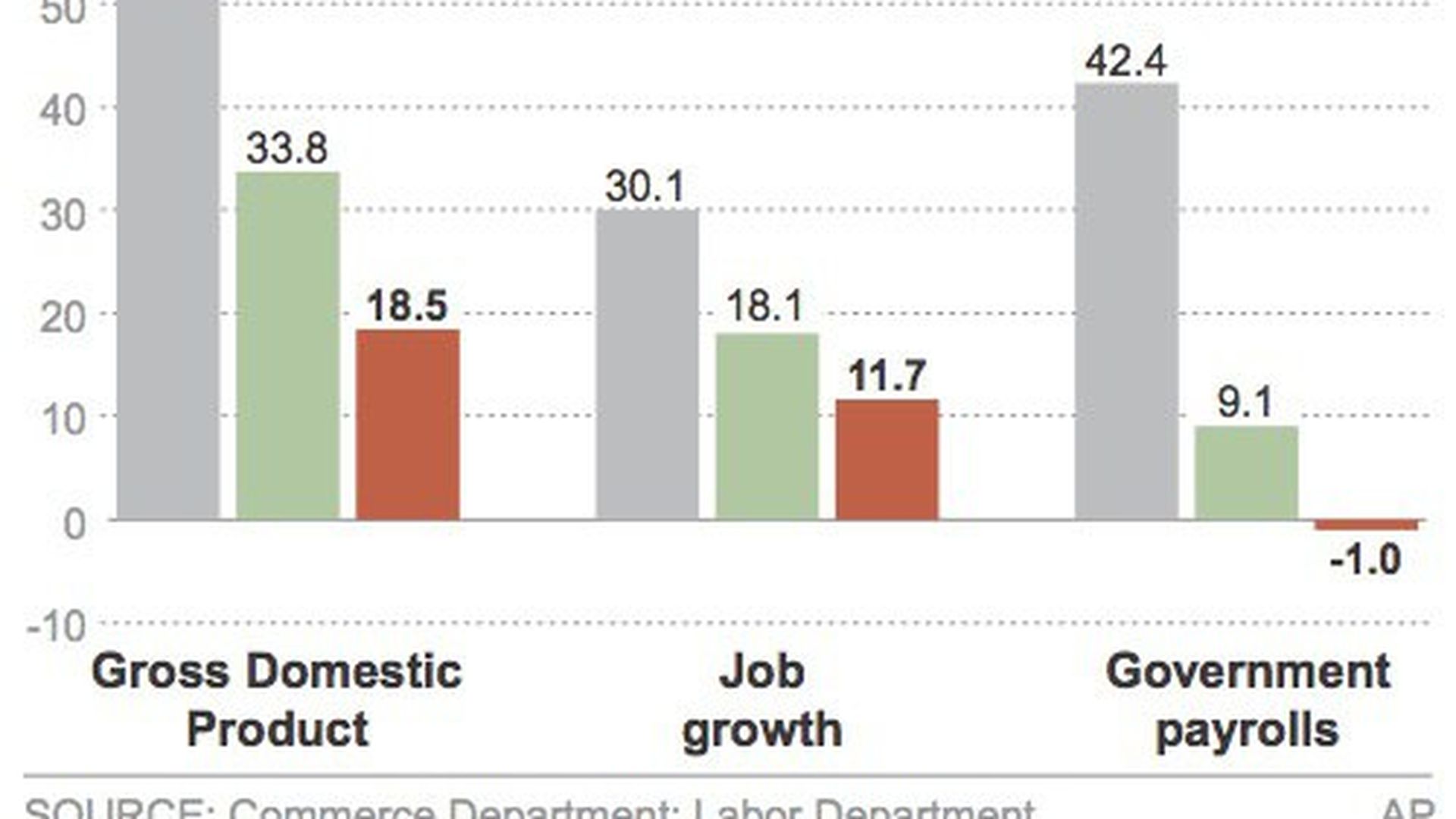 "The U.S. economy acquired an exclusive label [yesterday]: Recession-free for eight full years ... the third-longest economic winning streak in American history" — AP Economics Writer Paul Wiseman:
"Despite its longevity, ... [i]t's the weakest economic recovery since World War II."
Why it matters: "[T]he economy is hardly the disaster that ... Trump insists he inherited. Employers have been hiring steadily, month after month, since 2010. A majority of Americans now enjoy unusual job security."
But, but, but ... "[T]he expansion has been hobbled by a slow-growing labor force and by a puzzling slump in worker productivity, which is the amount of output produced, per hour worked."
6. Worth the click: Axios busts out a drone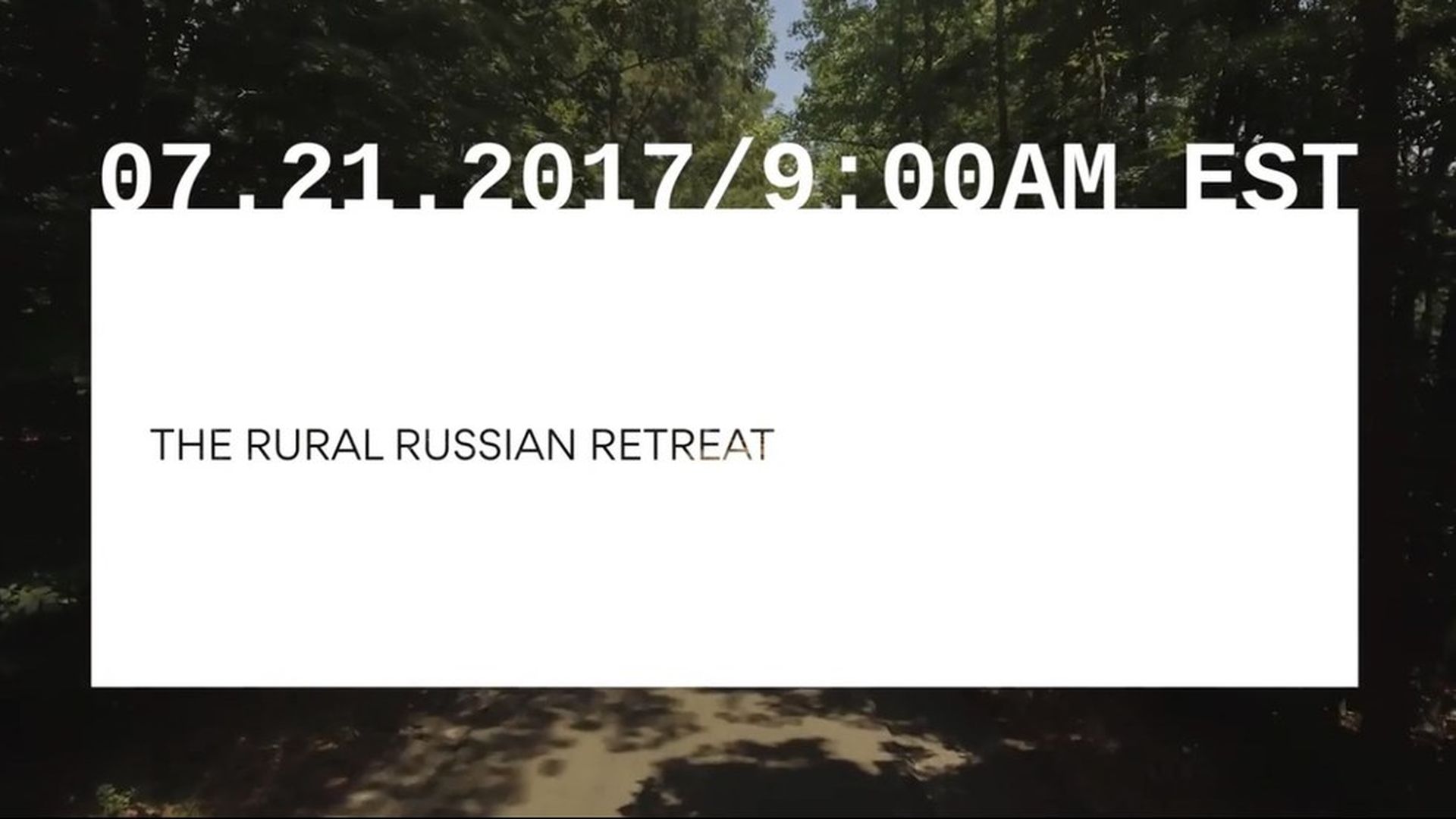 7. Trump in his own words: "Don't be too nice"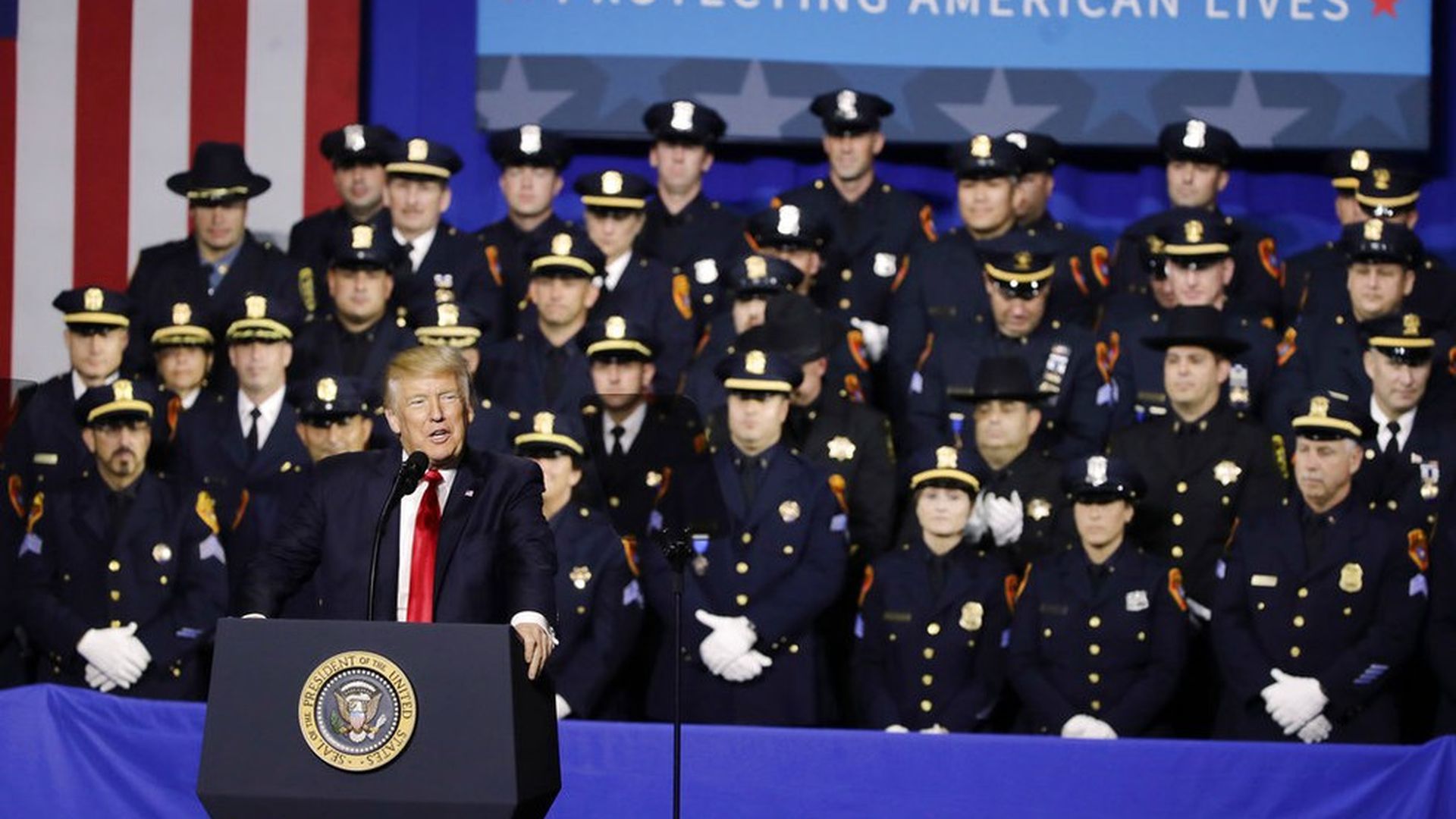 On Priebus' last trip as chief of staff, Trump speaks to law enforcement officials about the street gang MS-13, in Brentwood, N.Y. (Suffolk County, on Long Island):
"I saw some photos where Tom's guys [Immigration and Customs Enforcement acting director Tom Homan] — rough guys. They're rough. I don't want to ... say it because they'll say that's not politically correct. You're not allowed to have rough people doing this kind of work. ...
"[J]ust like they don't want to have rich people at the head of Treasury, OK? (Laughter.) Like, I want a rich guy at the head of Treasury, right? Right? (Applause.) I want a rich guy at the head of Commerce. Because we've been screwed so badly on trade deals, I want people that made a lot of money now to make a lot of money for our country. ...
"[W]hen you see these towns and when you see these [gang] thugs being thrown into the back of a paddy wagon — you just see them thrown in, rough — I said: 'Please don't be too nice.' (Laughter.)
"Like when you guys put somebody in the car and you're protecting their head, you know, the way you put their hand over? Like, don't hit their head and they've just killed somebody — don't hit their head! I said: 'You can take the hand away, OK?' (Laughter and applause.)"
8. David Bradley to staff: "Not My Everyday Memo"
"David G. Bradley, the chairman and owner of Atlantic Media, is ... selling a majority stake in The Atlantic to Emerson Collective, an organization led by philanthropist and investor Laurene Powell Jobs," The Atlantic's Gillian White writes.
"Bradley will retain a minority stake in The Atlantic and will continue as chairman and operating partner for at least three to five years. ... Emerson Collective will most likely assume full ownership of The Atlantic within five years."
Why it matters, from Axios' Sara Fischer: "The Atlantic, which was in the red for 10 years, now draws profit of over $10 million. Powell Jobs has been investing in digital media startups, reinforcing a trend of Silicon Valley powerhouses investing in East Coast media startups."
WashPost front page: Emerson Collective "is taking control of a 160-year-old publication respected for its writing on ideas and politics. ... Atlantic Media has endured a rough road, largely because of the digital revolution. Bradley has said he has lost more than $100 million over the past decade."
Disclosure: Both parties — Laurene Powell Jobs and Emerson Collective, and David and Katherine Bradley — are investors in Axios.
9. Twitter stock price headed to a hat size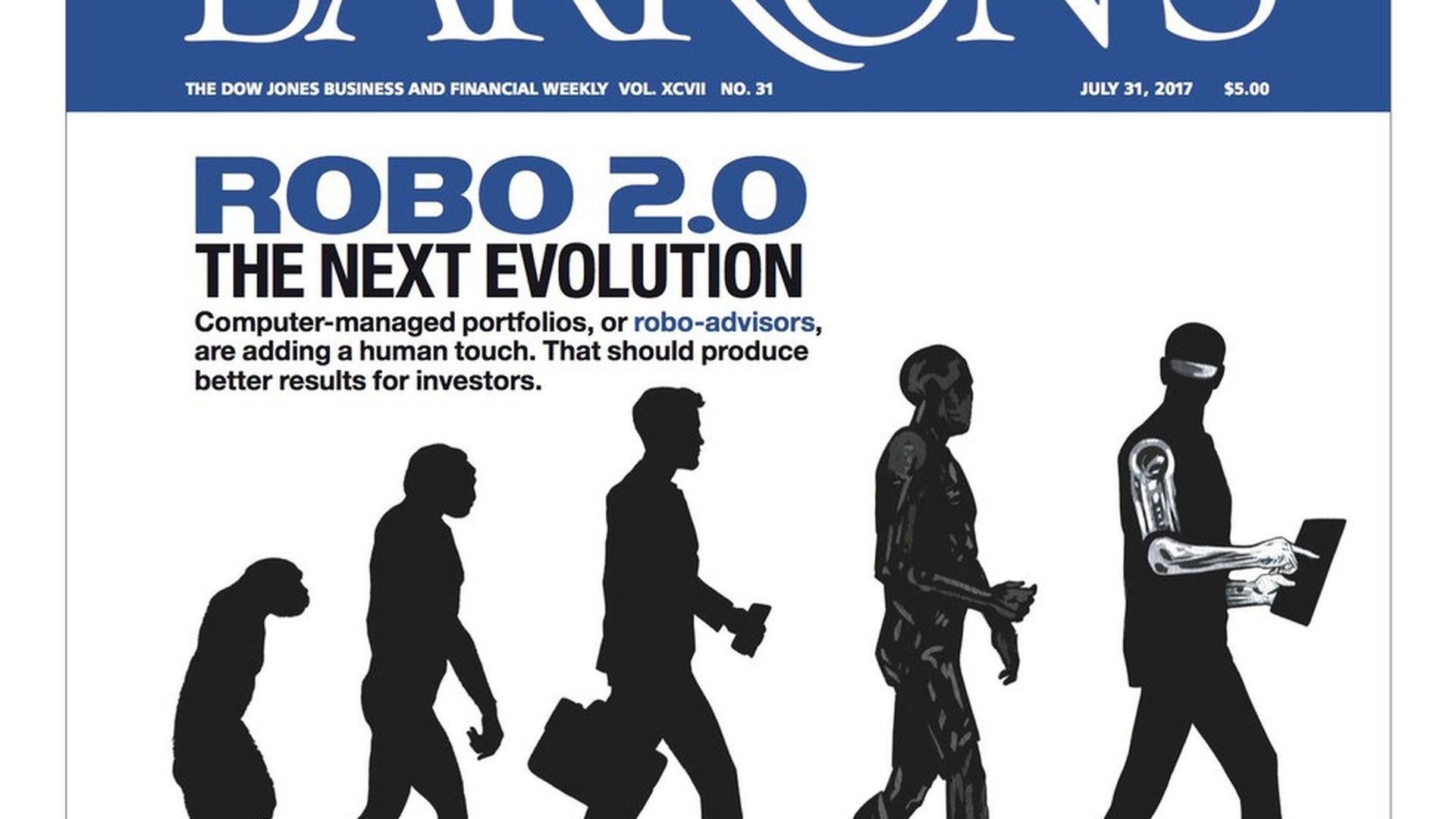 "Twitter: No Relief in Sight," by Barron's senior editor Jack Hough: "Shares soared past $70 after the IPO. Last week they fell below $17 and may be on the way to a hat size."
Be smart: "[A] markdown isn't the same as a bargain. Twitter is nearly as expensive as Facebook, whose revenue and profit are galloping higher, based on next year's projected earnings before interest, taxes, depreciation and amortization. That means Twitter must bounce back quickly, or get bought, or suffer a continuing stock-price decline, perhaps to single digits. The first two outcomes are looking increasingly unlikely." (Free link for Axios readers)
Barron's cover story ... "Rating the Robo-Advisors: As more investors turn to automated platforms, robos are maturing — and adding a surprising new wrinkle: the human touch." (Free link for Axios readers)
10. 🎶 1 lit jam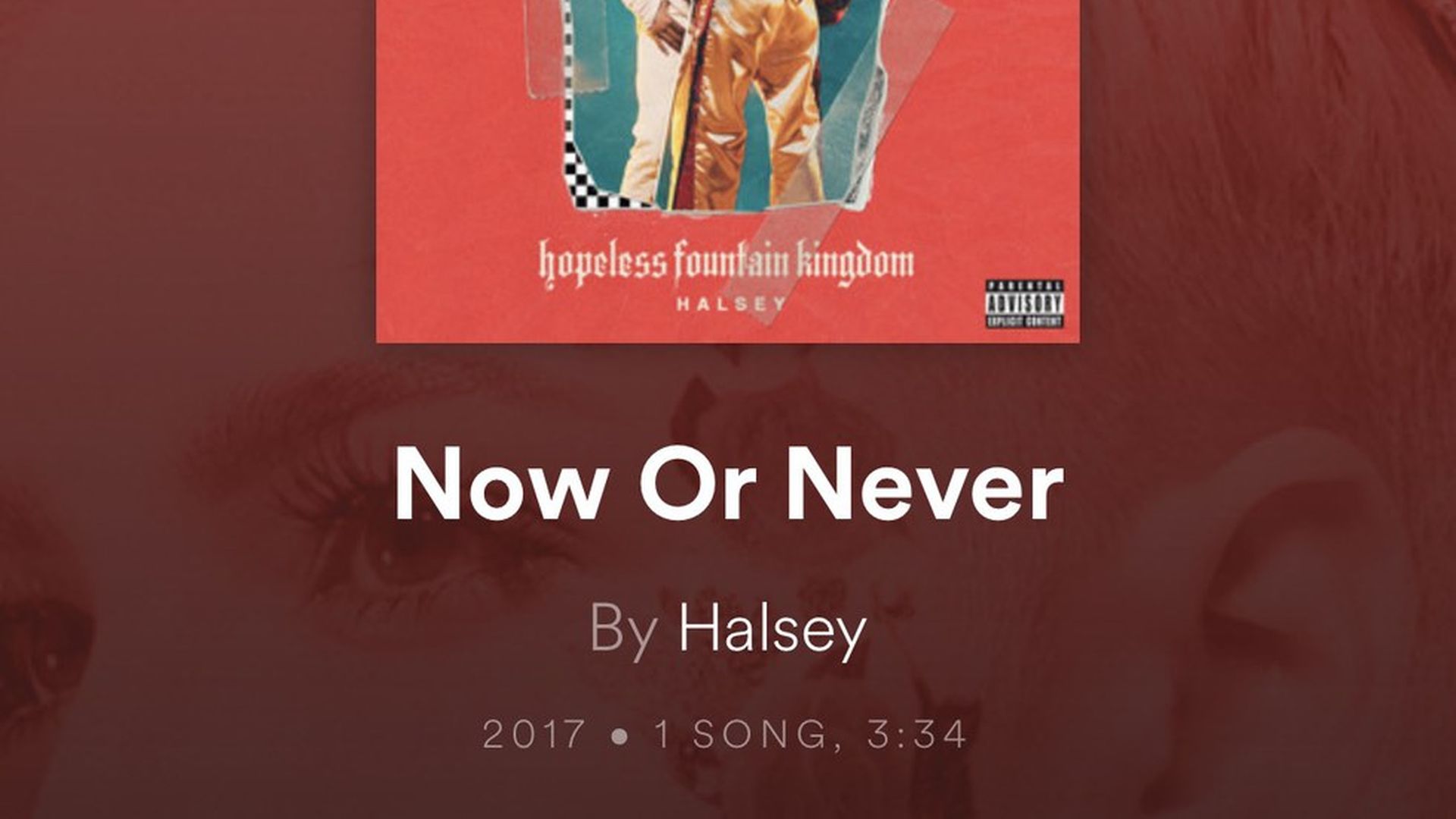 Axios' Kathleen Nisbet, a South Carolina native, writes:
"I'm on the Amtrak to NYC right now, jamming and working remotely, and I've been bopping my head to 'Now or Never' by Halsey. Her voice is incredible, the tune is catchy, and the lyrics give you all the feels. That's my smart brevity analysis of the song. ...
"I love all genres, but the songs I'm always drawn to are ones that make you feel something: songs that make you think of a memory, or a person, or a time and place. I think that's the coolest part of music, the fact that the same song can incite different emotions in different people."