September 12, 2019
🇧🇸 Situational awareness: The Bahamas said 2,500 people are listed as missing after Hurricane Dorian, although those names have yet to be checked against rosters of evacuees and shelter residents.
1 big thing: The misinformation age
Hostile powers undermining elections. Deepfake video and audio. Bots and trolls, phishing and fake news — plus, of course, old-fashioned spin and lies.
Why it matters: The sheer volume of assaults on fact and truth is undermining trust not just in politics and government, but also in business, tech, science and health care as well.
Axios managing editors Scott Rosenberg and David Nather write that beginning with this article, Axios is launching a series, "Misinformation Age," to illuminate the impact on America and the globe, through 2020 and beyond.
Our culture now broadly distrusts most claims to truth:
A majority of Americans say they've lost trust in the federal government and each other, according to a Pew Research Center survey.
That's the worst part of all, as Axios' Felix Salmon points out: Even a small amount of misinformation infects everything and makes it much easier for people to disbelieve any fact.
This didn't happen in one election:
The rise of partisan cable, led by Fox News, broke the homogenizing and unifying hold of the old TV networks.
The internet sped things up and broke them down. It gave everyone a megaphone — allowing wider participation in political dialogue, but also accelerating the spread of unvetted information and amplifying the most raucous and extreme voices.
This is the fertile ground on which bad actors today are merrily scattering the seeds of doctored videos, bogus memes and political slurs.
New twists in 2020 include smarter bots, pages and accounts that build a following before spreading deception, and a shift from mass platforms to more obscure and less monitored venues.
But it's not just the election:
Misinformation is used against our government by international criminals.
It's also used by our government, with a president whose tweets need a constant fact check.
It's used against businesses, by competitors and short-sellers who hope to profit from rumor.
It's used by businesses when the facts (climate science, tobacco research) might harm their bottom lines.
It's used against scientists when their findings clash with partisan positions.
It becomes a public health threat every time doubt is spread about vaccines.
And it's a huge problem for the media, with its growing trust deficit.
The bottom line: We won't be able to solve our problems if we can't even agree which ones are real.
2. America's sweeping tide of diversity
This article, which leads the new edition of Kim Hart's Axios Cities newsletter, is loaded with some of the most fascinating and important data points we've seen:
Since 2010, 96% of all U.S. counties saw declines in their shares of white population.
The nation's white population has grown only 0.1% since 2010, and is projected to decline over the next decade.
The big picture: America is more racially diverse than at any point in history, and racial minorities are becoming more geographically dispersed than ever.
Why it matters: Even before the 2020 Census gets underway, recent population data makes it quite clear that rapidly expanding diversity will be the overarching theme of this century's demographic shift.
What's happening: Nationally, Hispanics and Asian Americans are the fastest-growing racial minority groups.
They increased by 18.6% and 27.4%, respectively, between 2010 and 2018, according to Brookings Institution demographer Bill Frey, whose 2018 book "Diversity Explosion" outlined the country's majority-minority future.
The map above appears to have large "white" areas where racial minorities are not highly represented. But these are small, less-populated areas where the white population is stagnating, per Frey's analysis.
"In the next 5–6 years, we're going to see an actual decline in white population," Frey told Axios. "In the next 10 years or so, the 20-something population will become minority white. It's happening from the bottom up of the age structure."
3. Warren is big poll winner after first 2 debates
As 10 Democrats take the stage in Houston tonight for their third debate, Elizabeth Warren is the only candidate who has gained any real momentum in the polls over the past three months, Axios' Neal Rothschild reports.
Post-debate spikes for other candidates have been sugar rushes.
After jumping from 7% to 15% after the first debate, Kamala Harris is back down to 7%.
Julián Castro's cameo above 1% after that debate was also short-lived.
Warren's ascent from 9% to 19%, on the other hand, has been gradual and steady.
4. CEOs are the new politicians
1. BP CEO Bob Dudley says he "plans to sell some oil projects and curb the development of others to align its business with the Paris accord," Bloomberg's Kelly Gilblom writes.
Why it matters: This is "the latest sign climate concerns are starting to impact the investment decisions of the world's largest fossil fuel producers."
2. "[T]he chief executives of some of the nation's best-known companies were set to send a letter to Senate leaders [today], urging an expansion of background checks to all firearms sales and stronger 'red flag' laws," the N.Y. Times' Andrew Ross Sorkin reports.
"Doing nothing about America's gun violence crisis is simply unacceptable and it is time to stand with the American public on gun safety," the heads of 145 companies, including Levi Strauss, Twitter and Uber, say in the letter.
5. Facebook warns of "fracturing of the global internet"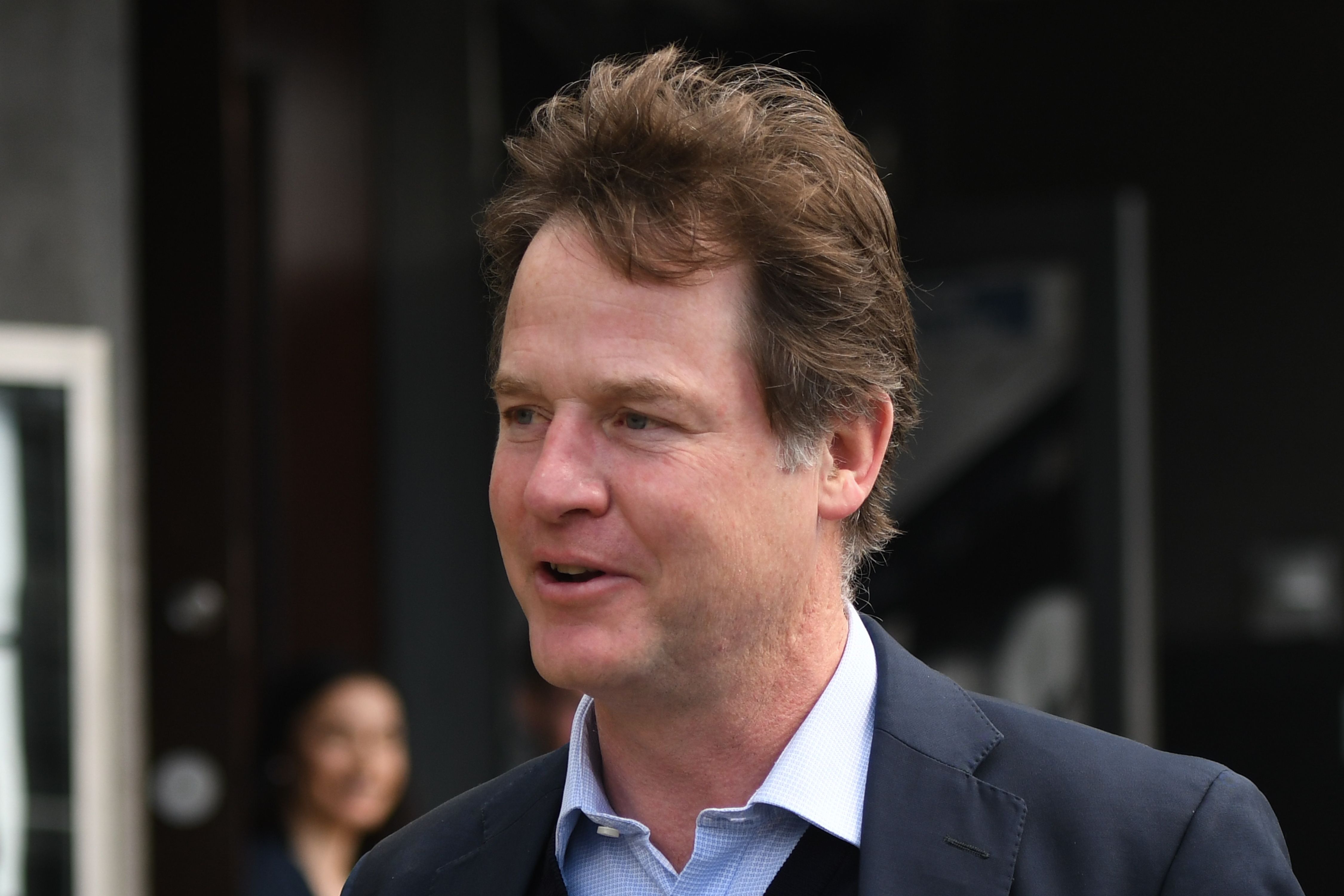 Sir Nick Clegg — former U.K. deputy prime minister, now Facebook V.P. of global affairs and communications — argued in New Delhi today that government overreach against Big Tech would further balkanize the internet:
"If we in open, democratic societies don't work together," Clegg said, "we risk sleepwalking into a new era where the internet is no longer a universal space, but a series of silos where different countries set their own rules and authoritarian regimes soak up their citizens' data."
"[T]here is no longer a single, unitary internet, but rather two 'internets' — China, and the rest of the world. The Great Firewall of China means great swaths of what we think of as the internet — Facebook, Instagram and WhatsApp included — are unreachable by its citizens."
The decisions India makes, Clegg continued, "will likely do more to shape the global internet — or end it — than those made by any other country."
"Between these two great nations, China and India, a third of the world's population would be detached from the rest of the global internet."
"And in a few short years there may not be such a thing as a global internet at all."
6. Sneak peek: Tonight's stage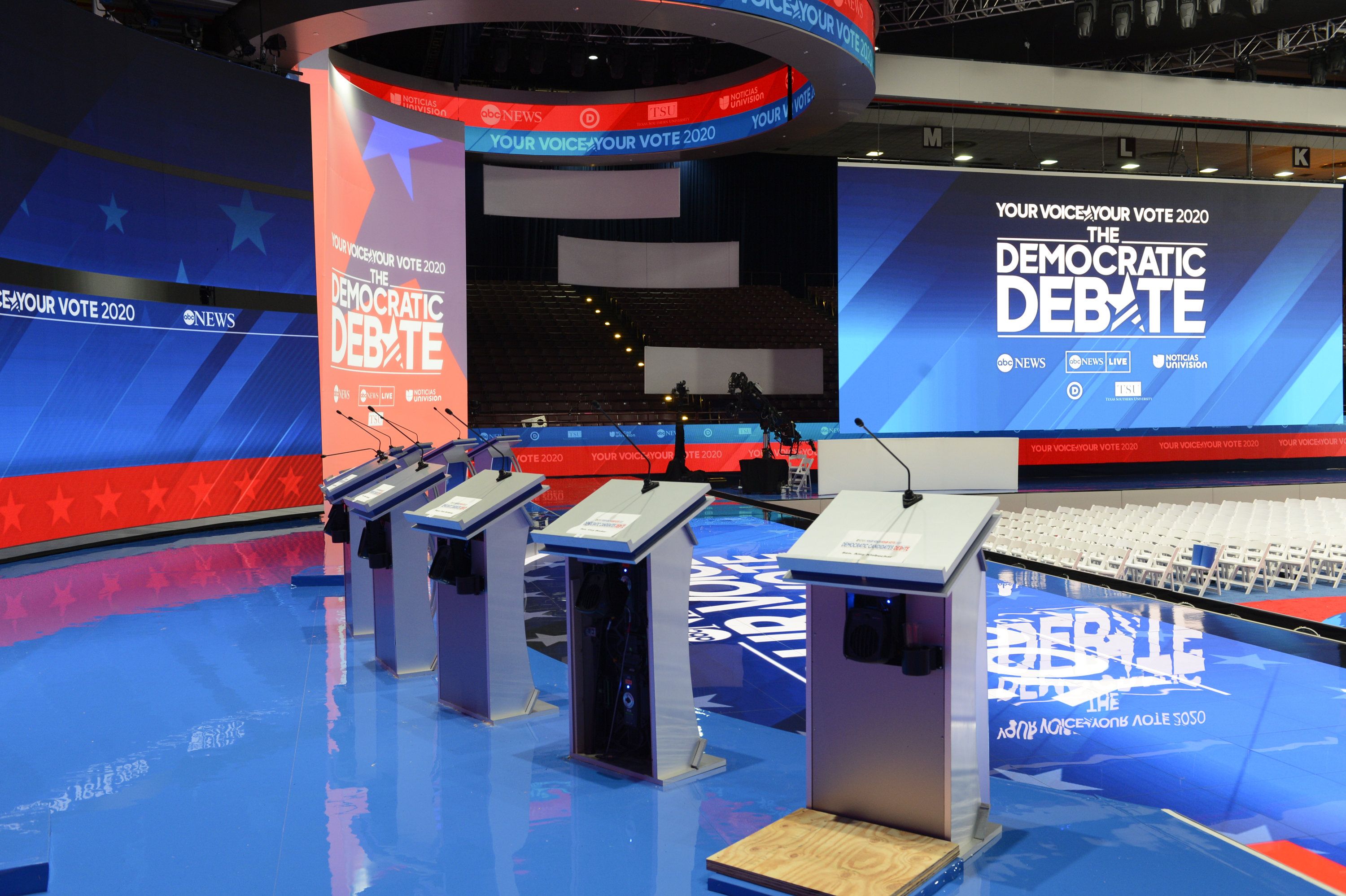 Tonight's Democratic debate, on ABC News and Univision from 8 to 11 p.m. ET, will be held at Houston's Texas Southern University, a historically black university established in 1946, when Texas was still segregated.
The auditorium has 10 screens, with 30 cameras throughout the hall and 3,500 guests in the audience.
The rules, per ABC News: "Each candidate will have one minute and 15 seconds to directly respond to questions from moderators and 45 seconds to respond to follow-up questions and rebuttals."
Candidates will give opening statements, but no closing statements.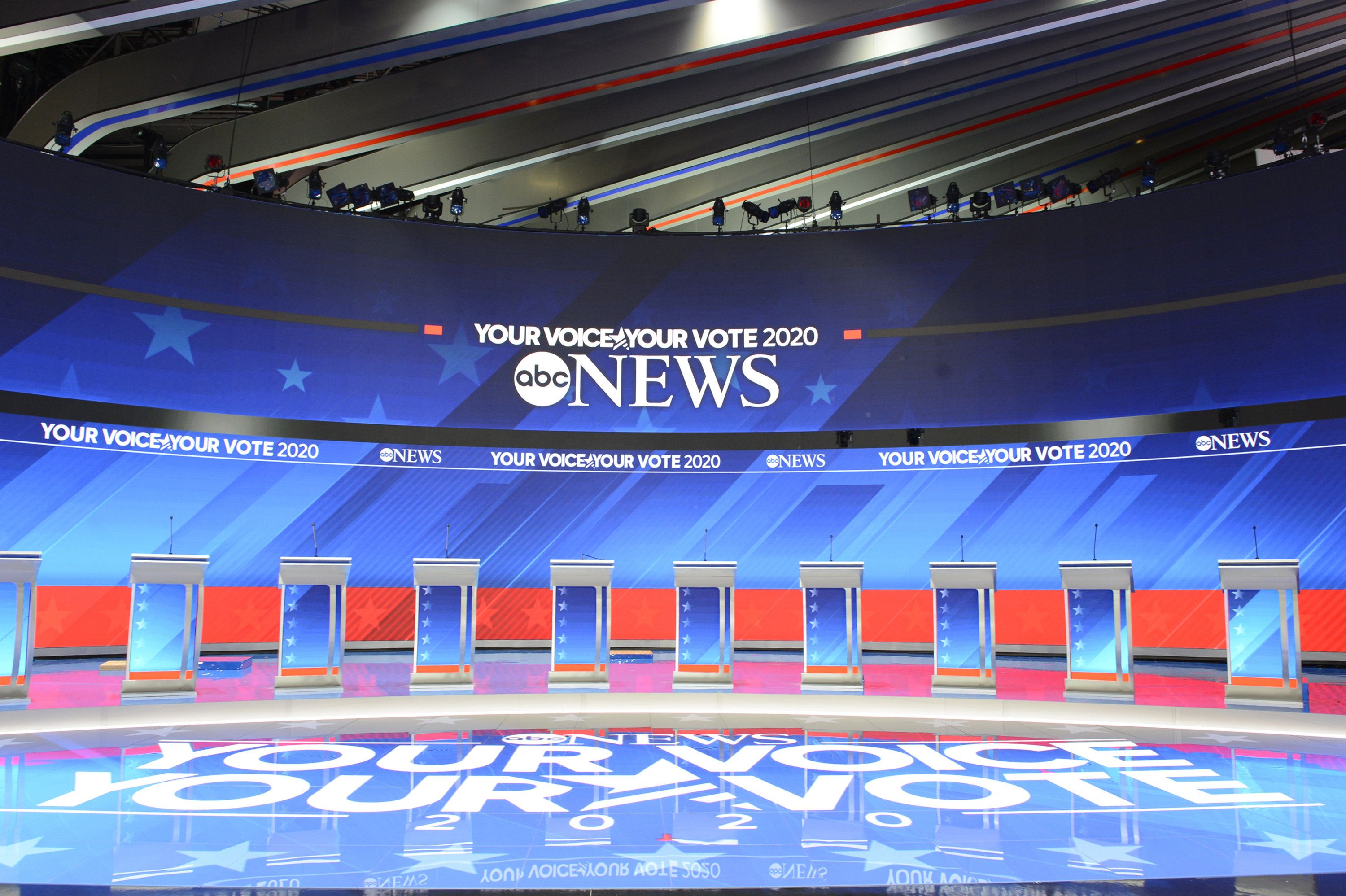 7. Axe's 1-word formula to beat Trump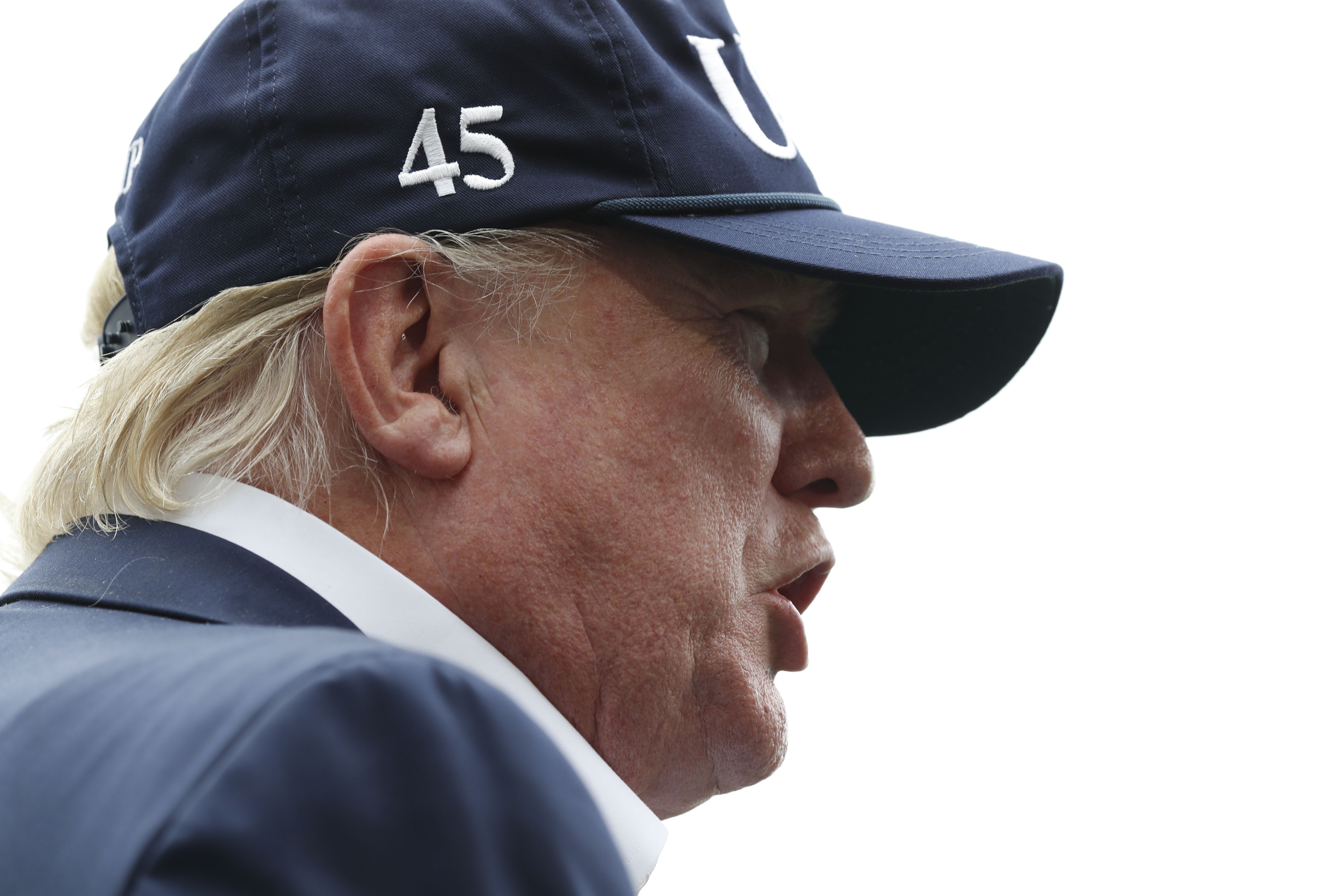 David Axelrod, senior strategist for Barack Obama's 2008 campaign, writes in the N.Y. Times, "Let Trump Destroy Trump":
Wrestling is Mr. Trump's preferred form of combat. But beating him will require jiu-jitsu, a different style of battle typically defined as the art of manipulating an opponent's force against himself rather than confronting it with one's own force. ...
There is a legion of arguments on moral, ethical and policy grounds for Mr. Trump's defeat ... But the most effective question for Democrats to get voters to ask is simply whether the country can survive another four years like this. ...
To win, the Democrats will have turn Mr. Trump's negative energy against him without embodying it themselves.
8. Sign of our times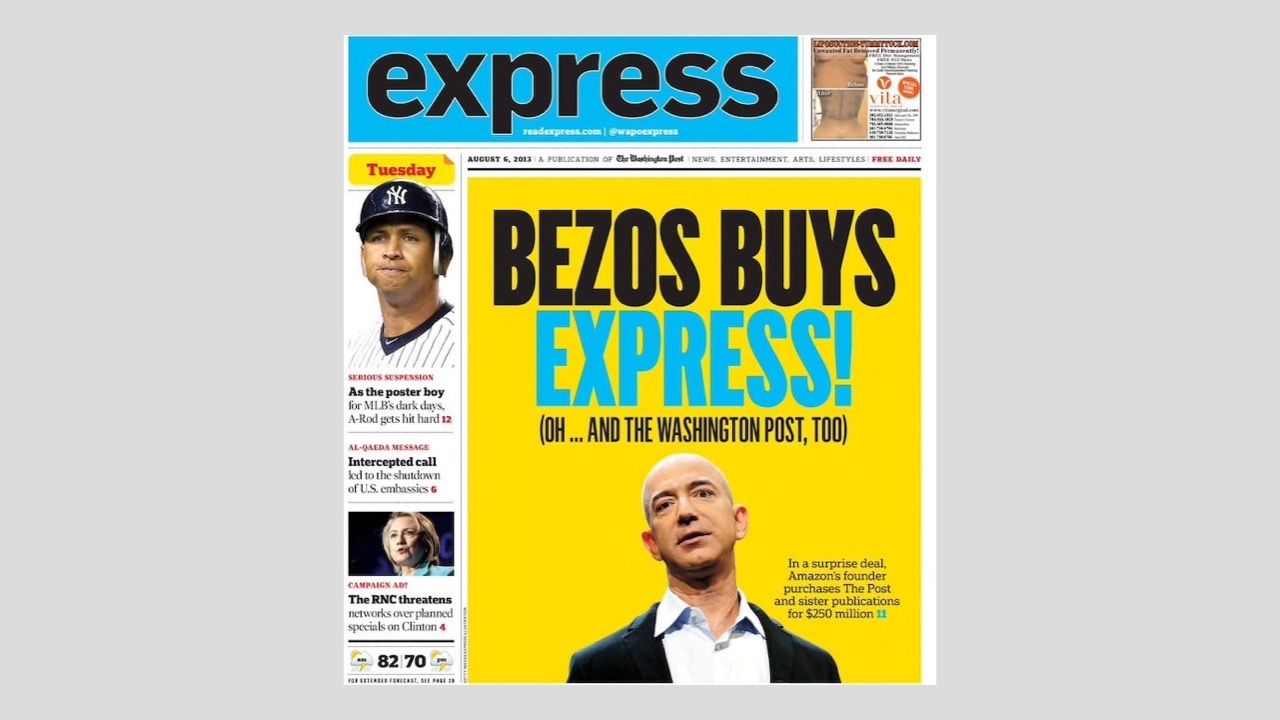 Express, the free newspaper published weekdays by the Washington Post for Metro riders, will shut down today after 16 years, the Post's Paul Farhi writes:
Circulation has fallen to 130,000 from a peak of 190,000 in 2007.
One big culprit: WiFi.
9. 🎧 What I'm listening to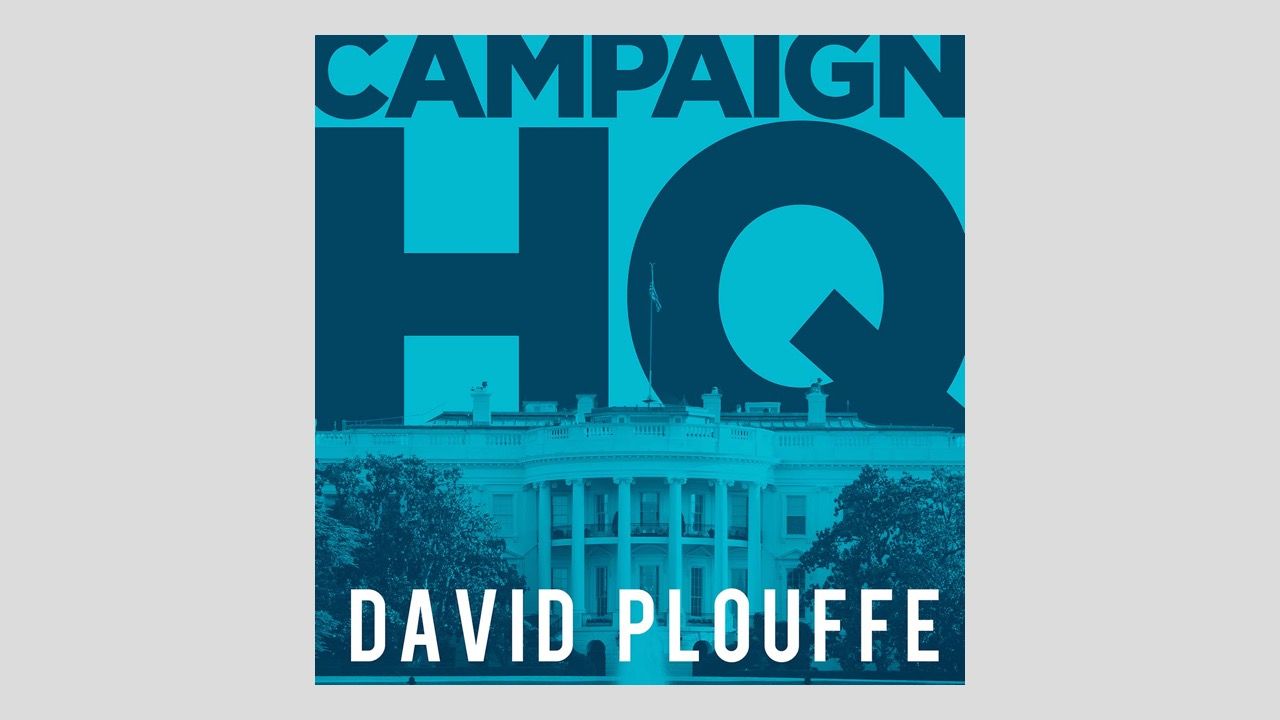 First look: Biden campaign manager Greg Schultz will be the debut guest on a new podcast from David Plouffe, "Campaign HQ," coming from Cadence13 every Thursday, beginning Sept. 19.
Plouffe, campaign manager and White House senior adviser for President Obama, tells me: "I plan to bring a practitioner's lens to the race," with "the people who are in the arena — campaign managers, state directors, digital talent."
Be smart: "There are no delegates in the Twitter primary, or electoral college votes awarded by the cable TV precincts."
10. California may allow endorsement deals for college athletes
Athletes at California colleges could hire agents and sign endorsement deals under a bill the state Legislature sent to the governor yesterday, AP's Adam Beam reports from Sacramento.
The bill allows student-athletes be paid for the use of their names, images or likenesses. It would stop California universities and the NCAA from banning athletes that take the money.
Why it matters: The law would set up a potential confrontation with the NCAA that could jeopardize powerhouse programs USC, UCLA and Stanford.
The state of play: Gov. Gavin Newsom hasn't said whether he will sign the bill.
⚾ P.S. ... Last night, MLB broke the record for most home runs in a season when the Orioles' Jonathan Villar hit the 6,106th homer, topping the mark set in 2017.
📱 Thanks for reading. Please invite your friends, relatives, co-workers to sign up here.