Axios AM
September 17, 2020
Good Thursday morning. Join Axios White House and politics editor Margaret Talev for an Axios virtual event tomorrow at 12:30 p.m. ET. Register here.
⚡An Army National Guard major said in written congressional testimony that during the Lafayette Square protests, federal officials considered a "heat ray" device that can make your skin feel like it's on fire, the WashPost reports. Read the testimony.
Never mind: Director of national intelligence John Ratcliffe has backed down and agreed to give Congress in-person briefings on election threats. —AP
1 big thing: Danger of rushing vaccine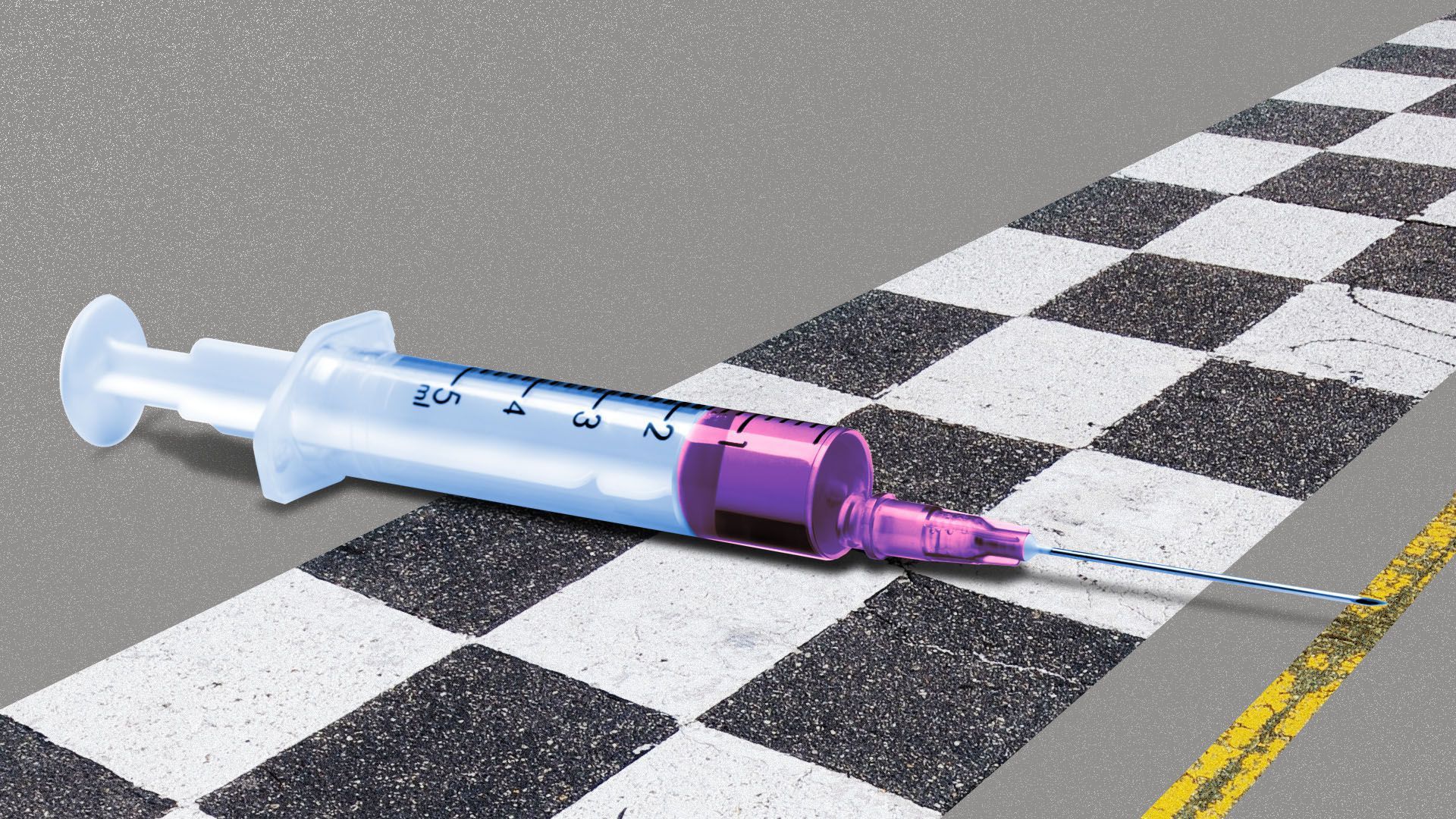 The scientific race for a coronavirus vaccine is moving at record-shattering speed. But translating a successful clinical product into real-world progress will require some patience, Axios health care editor Sam Baker writes.
Why it matters: If we get a vaccine relatively soon, the next big challenge will be balancing the need to get it into people's hands with the need to keep working on other solutions that might prove more effective.
Where it stands: Eight potential vaccines are in late-stage clinical trials. The first one could be submitted for FDA review as early as October or November, and several more could follow within just a few months.
The fear is that the understandable desire to get a safe, effective vaccine into people's veins as fast as possible could make a better or more targeted vaccine harder to come by.
The bottom line: These are all issues that need to be managed within a historically fast process; they are not indictments of moving fast. They are in many ways good problems to have.
2. Trump slaps down mask plea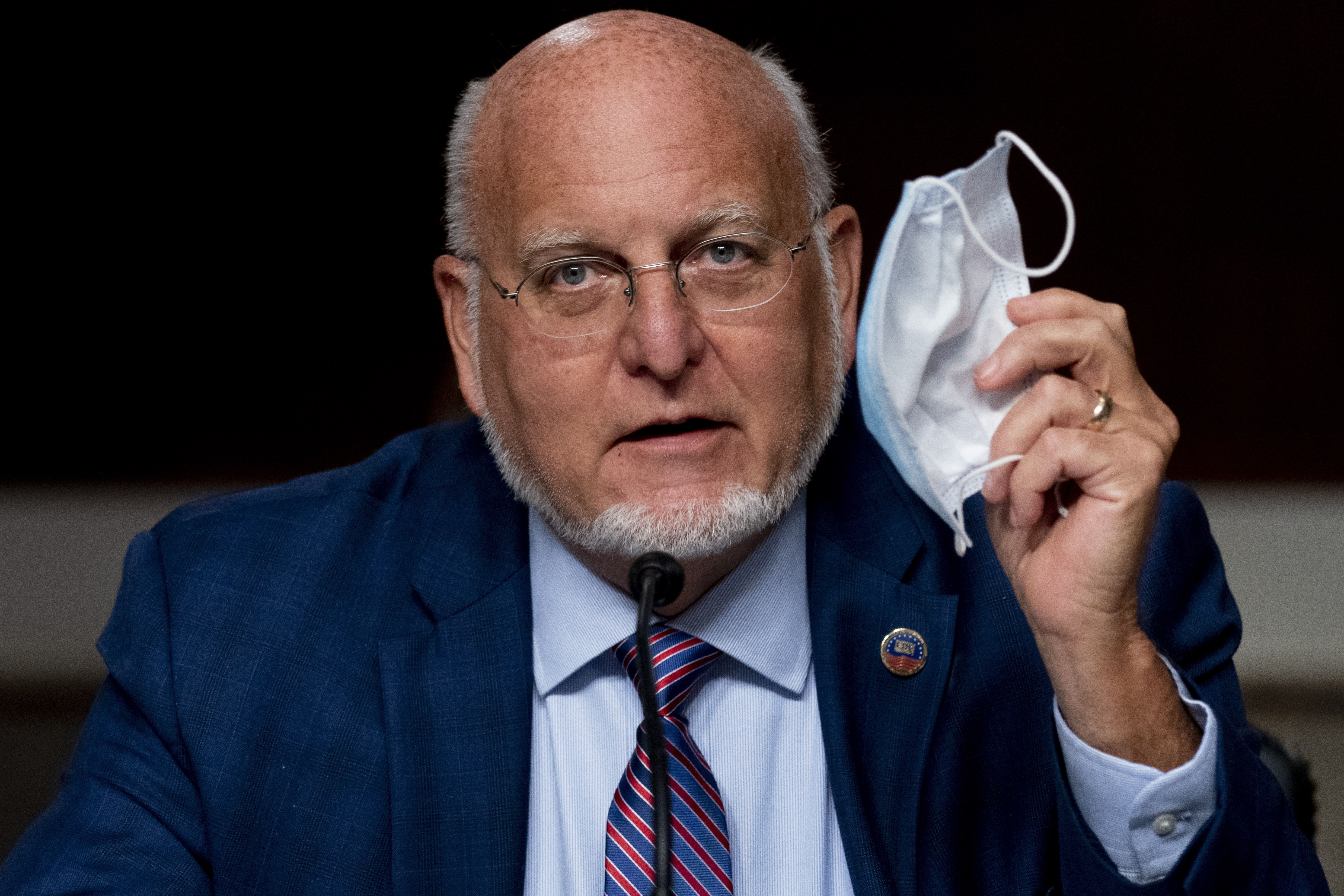 Dr. Robert Redfield, the CDC director, made an emotional plea to Americans during a Senate Appropriations subcommittee hearing yesterday:
I will continue to appeal for all Americans, all individuals in our country, to embrace these face coverings. ... [I]f we did it for six, eight, 10, 12 weeks, we'd bring this pandemic under control. ...
[W]e have clear scientific evidence they work, and they are our best defense. I might even go so far as to say that this face mask is more guaranteed to protect me against COVID than when I take a COVID vaccine.
At a White House briefing later, President Trump said Redfield had been "confused" about the vaccine timeline he gave senators (Q2 or Q3 next year for widespread distribution): "I called him ... 'Why did you say that long?'"
Trump also undercut Redfield's mask advice: "[T]he mask is a mixed bag. There are some people — professionals — ... that don't like the mask, because of the touchiness and the touching and then you're touching everything else."
Reality check: See Redfield's plea above.
3. 📚 Obama book right after election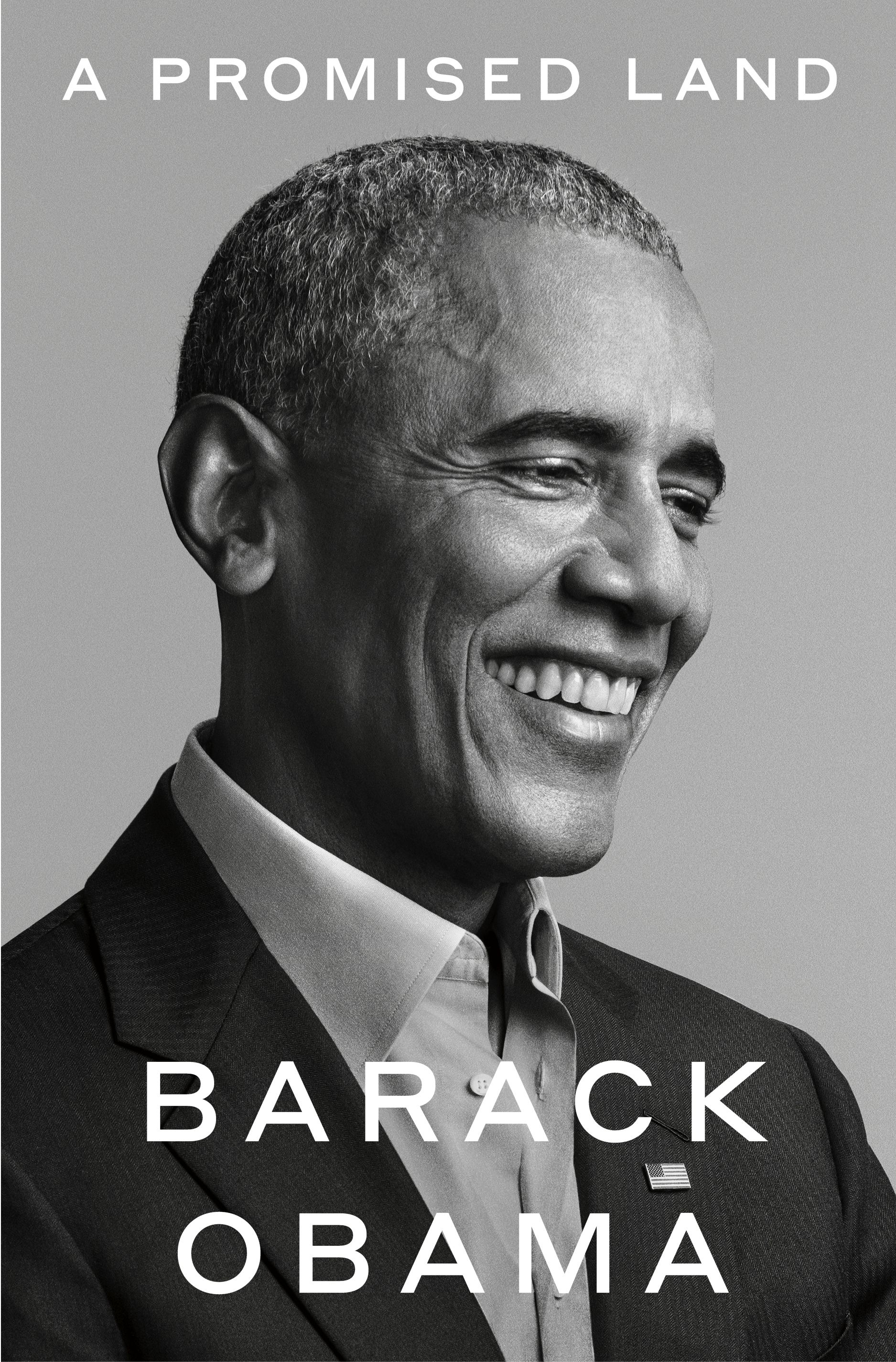 President Obama's memoir will be published in two volumes — with a 768-page Volume 1, "A Promised Land," out Nov. 17 in 25 languages, the publisher announced this morning.
What I'm hearing: The long wait for the book has been a running joke with former Obama aides, but they tell me it's worth the wait.
Obama is a graceful, thoughtful writer who cares about the words — and has two previous bestsellers, "Dreams from My Father" and "The Audacity of Hope."
I'm told the ferociously competitive Obama knows he's unlikely to outsell Michelle Obama's "Becoming," which was the biggest selling U.S. book of 2018, and remained on the N.Y. Times bestseller list for well over a year.
In his memoirs, Obama "brings readers inside the Oval Office and the White House Situation Room, and to Moscow, Cairo, Beijing, and points beyond," the publisher says.
"We are privy to his thoughts as he assembles his Cabinet, wrestles with a global financial crisis, takes the measure of Vladimir Putin, overcomes seemingly insurmountable odds to secure passage of the Affordable Care Act."
The print edition, including two 16-page photo inserts, sells for $45.
The digital edition is $17.99.
The audio edition is $40 for download, $65 for CD.
4. Our weekly map: Cases rise in 17 states
Virus infections ticked up slightly this week, because of scattered outbreaks in every region of the country, Axios' Sam Baker and Andrew Witherspoon report.
Where it stands: The U.S. has been making halting, uneven progress against the virus since August. Overall, we're moving in the right direction, but we're often taking two steps forward and one step back.
There's no clear geographic trend at work. Since the mid-summer surge across the Sun Belt subsided, new outbreaks have been driven largely by one-off, localized events, like college campuses reopening.
5. How NYC could bounce back
The pandemic's destruction in New York City could clear the way for a future resurgence, Axios' Felix Salmon writes from Manhattan.
New York, like San Francisco, entered 2020 with one overarching problem: It was far too expensive a place to live and work.
The pandemic fixed that particular problem, with deals now possible for both commercial and residential rents.
The catch: New York's main driver of both new business formation and population growth has historically been international immigration.
And all this means less revenue for the city.
6. Exclusive poll: Suburban fright helps Trump
White suburbanites who feel "very safe" at home are more likely to favor Joe Biden, while those who feel only somewhat safe move toward President Trump, Margaret Talev writes from Survey Monkey polling for Axios.
Why it matters: The findings help illuminate Trump's use of safety as a wedge issue ahead of the election — and why he's fanning fears of violent protests bleeding into the suburbs.
There's "a clear connection between anxiety around security, and support for Trump over Biden," says SurveyMonkey chief research officer Jon Cohen.
White suburban women who feel "very safe" prefer Biden by about a 20-point margin, the survey finds. Biden's lead disappears among white suburban women who say they feel only "somewhat safe."
Between the lines: Black Americans feel less safe than white Americans, whether in urban, suburban or rural areas, the survey finds.
7. New pressure for West to scale up forest management
The catastrophic wildfires in parts of the West are a product of climate change, but also decades of failure to use controlled fire to reduce fuel load, Axios Future author Bryan Walsh writes.
Why it matters: Warming temperatures in the years ahead will only intensify the climatic conditions that can lead to massive wildfires. That puts more pressure to scale up land management techniques that can clear overgrown forests before they ignite.
Reality check: Scientists have no doubt that major factors in the wildfires are unusually high temperatures and dry weather that can be traced back to climate change.
"What we're seeing this year is more in line with what our climate models suggested wouldn't happen until the middle of the century," says Matthew Hurteau, an ecologist at the University of New Mexico.
But President Trump does have a point — shared by most wildfire experts — that how we've managed forests in the West also plays a role in the size of the infernos.
Forests are more dense today. As warmer, drier air evaporates water that would otherwise be available to vegetation, forests are also drier.
What's happening: Many of the forests in the West, especially around the Sierra Nevada mountains of California, had adapted to burn regularly.
Studies indicate as many as 11.8 million acres of forest burned annually in pre-European settlement times, in part because Native Americans regularly made use of what are now known as prescribed burns.
But that shifted in the 20th century, when a culture of absolute fire suppression was exported to the U.S. from Germany, where temperate forests are less dependent on regular fire.
More people means more pressure to suppress wildfires to protect homes.
8. Snowflake is largest software IPO ever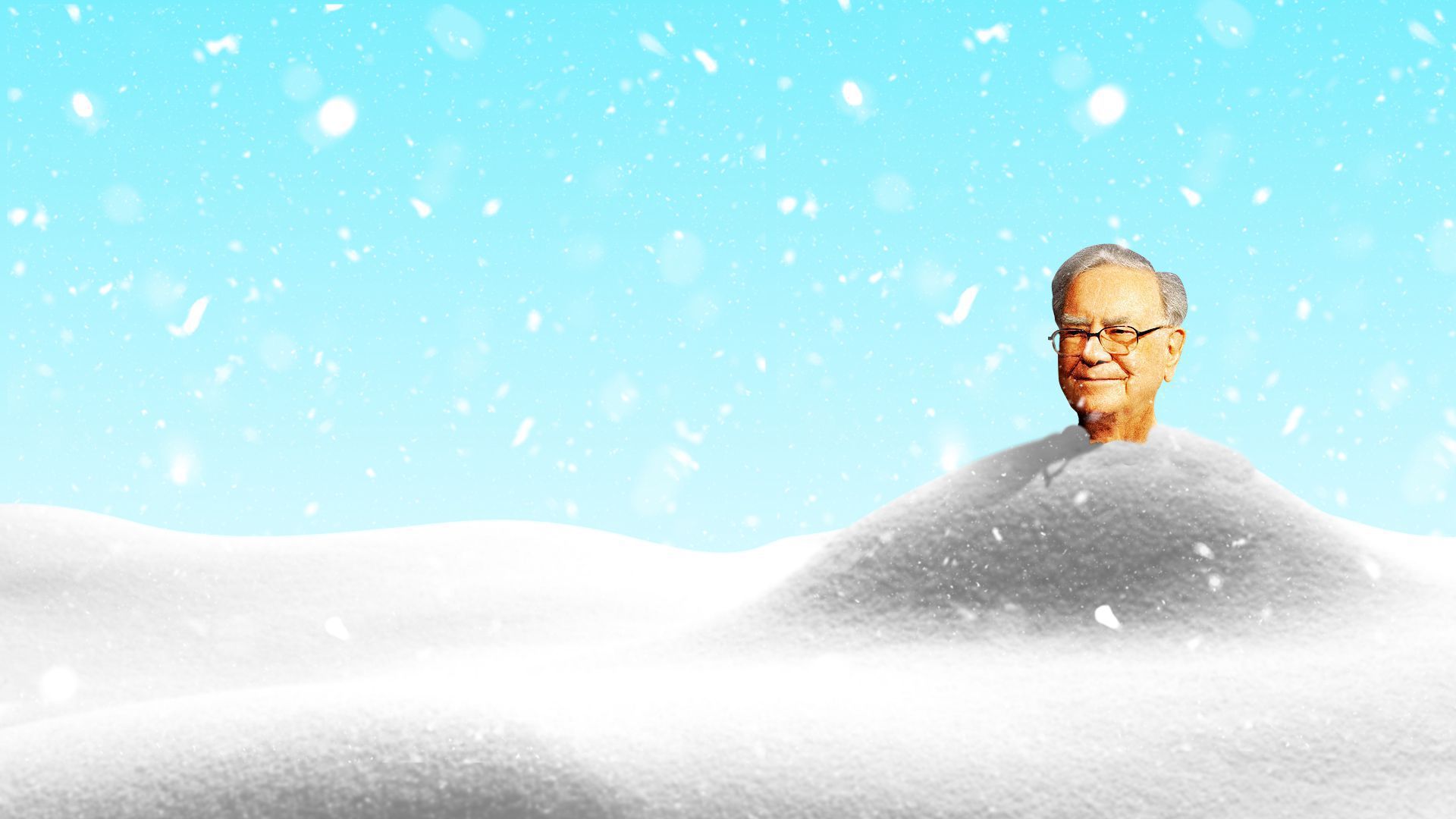 Trying to make sense of tech stocks right now is a fool's errand. But even amongst the froth this one stood out, Axios' Dan Primack tells me:
When data management company Snowflake went public yesterday, it opened at an eye-popping $245 a share — more than double its listing price.
Why it matters: A company in a competitive market, which lost more money than it generated in sales during its last fiscal year, is valued at over $70 billion. 
The best explanation might just be the halo effect of Warren Buffett's Berkshire Hathaway, which invested big in Snowflake stock alongside the IPO.
It's the first time Berkshire has bought into any tech IPO, let alone an unprofitable one.
Go deeper: Early Snowflake investors talk about the beginning of the business, by Axios' Kia Kokalitcheva.
9. Where Trump is winning
Swing-state polls and national polls may be rough on President Trump, but he's winning on the bestseller list.
On the N.Y. Times hardcover nonfiction list for the week of Sept. 27, released yesterday, most of the titles are connected to politics. And that's before Bob Woodward's "Rage" — sure to lead next week's list.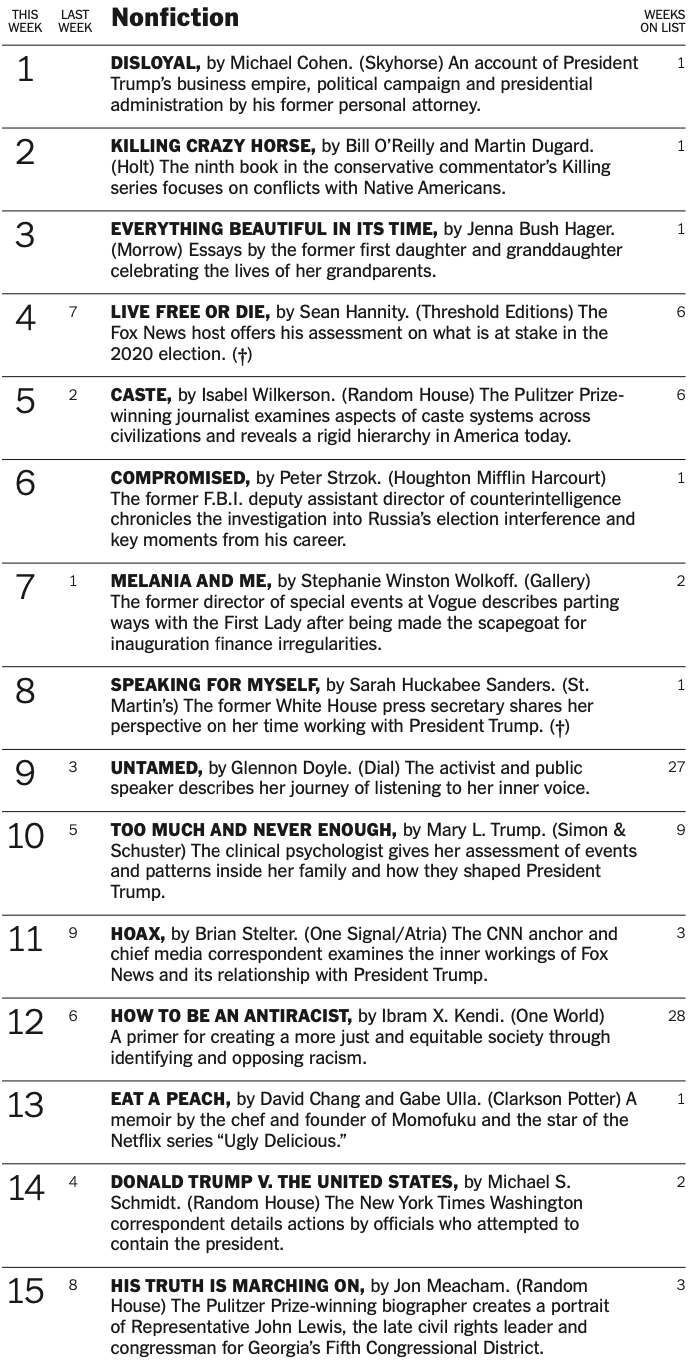 10. Big Ten's reverse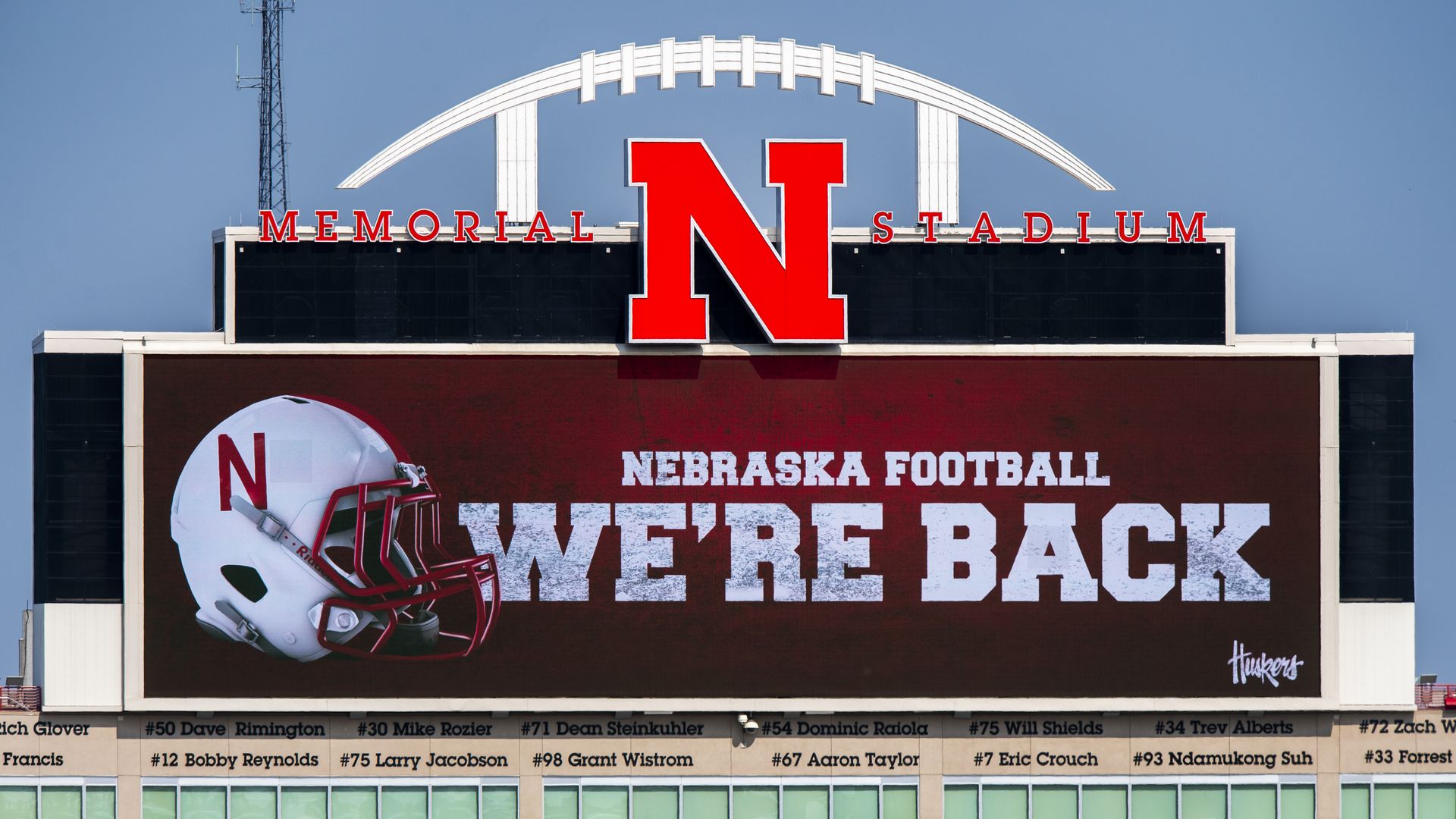 The Big Ten conference — which includes powerhouses Ohio State, Michigan and Wisconsin — voted unanimously to open football season the weekend of Oct. 23-24, AP's Ralph Russo writes.
"Let's goooooo!!!" Ohio State quarterback Justin Fields tweeted.
The decision came after pressure from coaches, players, parents and President Trump, who now has moved on: "[T]here's no reason why Pac-12 shouldn't be playing now."
📱 Thanks for joining the Axios AM breakfast table. Invite your friends to sign up here!