Good Wednesday morning. If you're out and about in D.C. this morning, join Jim VandeHei and Chuck Todd for an 8 a.m. conversation with House Majority Leader Kevin McCarthy and other guests at the Carnegie Library, 801 K St. NW. Outside cameras and correspondents welcome. Dip into the Axios STREAM for an exclusive look at McCarthy's Innovation Agenda.
https://www.axios.com/newsletters/axios-am-4a56f1b5-44e4-467d-a088-b7157907463d.html?chunk=0#story0
1 big thing: The odd-couple summit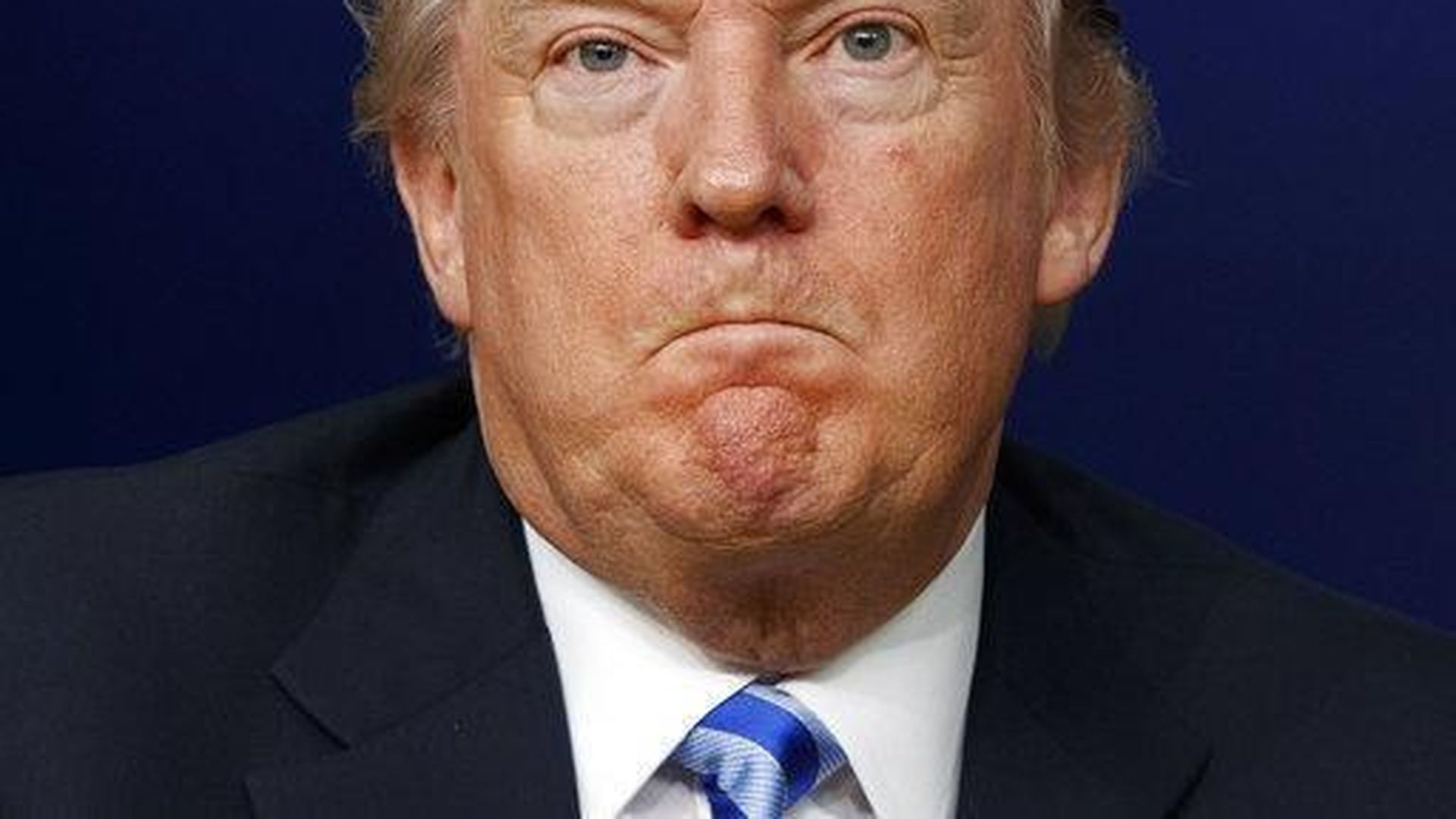 White House insiders tell me that when the president meets the other most powerful man in the world, China's Xi Jinping, at Mar-a-Lago tomorrow, expect Trump to be cordial in public, tough(ish) in private.
Trump plans to tell Xi behind the scenes that he plans to stick up for the country in a way that his predecessors didn't. But for the cameras, Trump will play the cordial host — his natural state.
Trump isn't expected to make as big a point of human-rights issues as some of his conservative backers would like.
Axios' all-terrain Jonathan Swan, after his "Morning Joe" debut, jumped on a White House summit preview call late yesterday, where senior officials said Trump's primary purpose will be to "put a framework in place" to help the two leaders work through their disagreements on everything from trade to North Korea. Other takeaways:
Trump has little interest in dealing with global warming. When a reporter asked the officials about the subject, they quickly pivoted to North Korea.
South China Sea incursions: An official said it was "no secret" that Trump was "disturbed by the activities that took place under the last administration."
Swan's read: Trump loved dealing one-on-one during his real estate career, and we wouldn't be surprised if he elevates more of the conversations with China to the leader-to-leader level.
And, as Axios AM told you when we broke the story of the Mar-a-Lago summit, there won't be any golf.
Chaser ... About an hour after an official on the call warned North Korea that "the clock has now run out and all options are on the table," Pyongyang fired "a newly developed powerful ballistic missile."
https://www.axios.com/newsletters/axios-am-4a56f1b5-44e4-467d-a088-b7157907463d.html?chunk=1#story1
2. Number of the day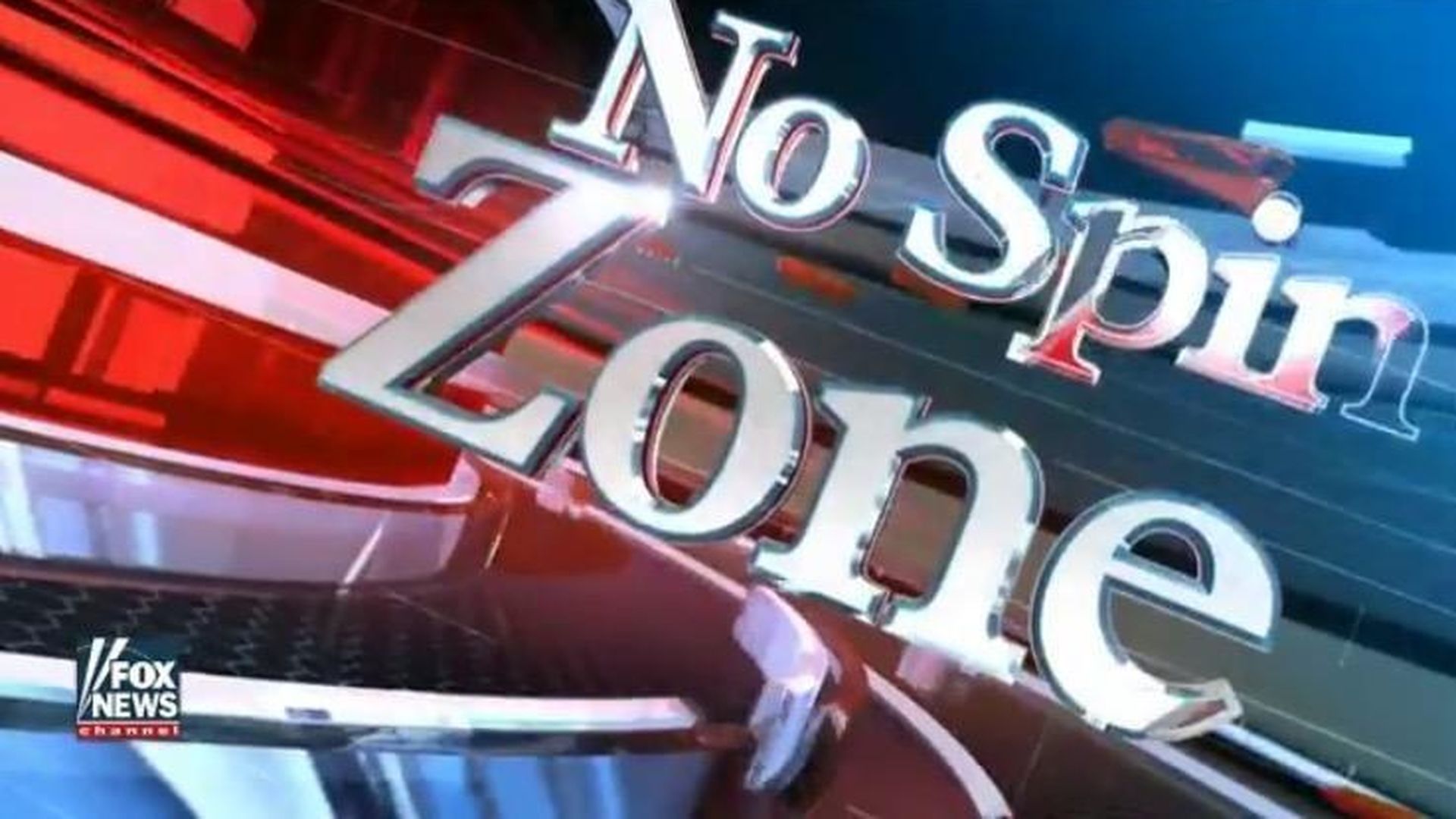 21: number of companies to pull ads from 'The O'Reilly Factor' in growing backlash, per CNN's Tom Kludt.
Why it matters ... WashPost front page, "Advertisers flee O'Reilly over harassment claims," by Paul Farhi: "Collectively the advertiser retreat, which seemed to grow in a chain reaction throughout the day, represented the most significant threat to O'Reilly seen during his long, successful ... career ... A similar but slower retreat by advertisers led to the demise of Glenn Beck's highly rated Fox program."
The takeaway ... "Advertisers are the new media watchdog," by Axios' Sara Fischer: "If we've learned anything from recent advertising controversies it's that when united, advertisers can force publishers to make changes."
https://www.axios.com/newsletters/axios-am-4a56f1b5-44e4-467d-a088-b7157907463d.html?chunk=2#story2
3. Ivanka Trump on being "complicit"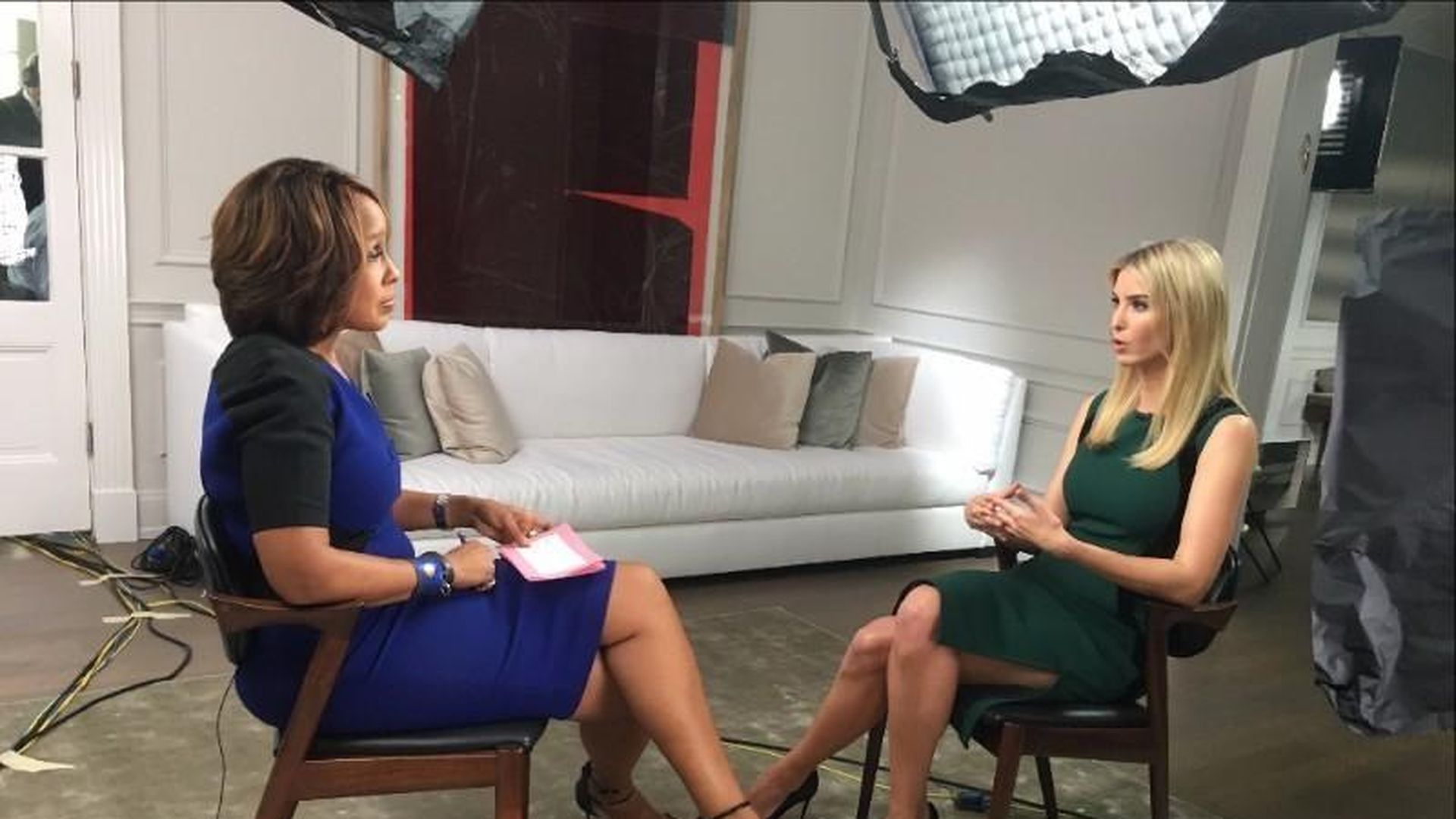 Ivanka Trump to Gayle King of "CBS This Morning," re the harsh "Saturday Night Live" sketch saying her perfume would be "Complicit":
"If being complicit ... is wanting to be a force for good and to make a positive impact, then I'm complicit. I don't know that the critics who may say that of me, if they found themselves in this very unique and unprecedented situation that I am now in, would do any differently than I am doing ... I hope time will prove that I have done a good job and much more importantly that my father's administration is the success that I know it will be."
On why she doesn't publicly speak out on issues ranging from Planned Parenthood and gay rights to climate change: "I would say not to conflate lack of public denouncement with silence."
On ways to make your voice heard: "In some case it's through protest and ... going on the nightly news and talking about or denouncing every issue in which you disagree with. Other times it is quietly, and directly, and candidly ... So where I disagree with my father, he knows it, and I express myself with total candor. ... I respect the fact that he always listens. It's how he was in business. It's how he is as president."
https://www.axios.com/newsletters/axios-am-4a56f1b5-44e4-467d-a088-b7157907463d.html?chunk=3#story3
4. Pic of the day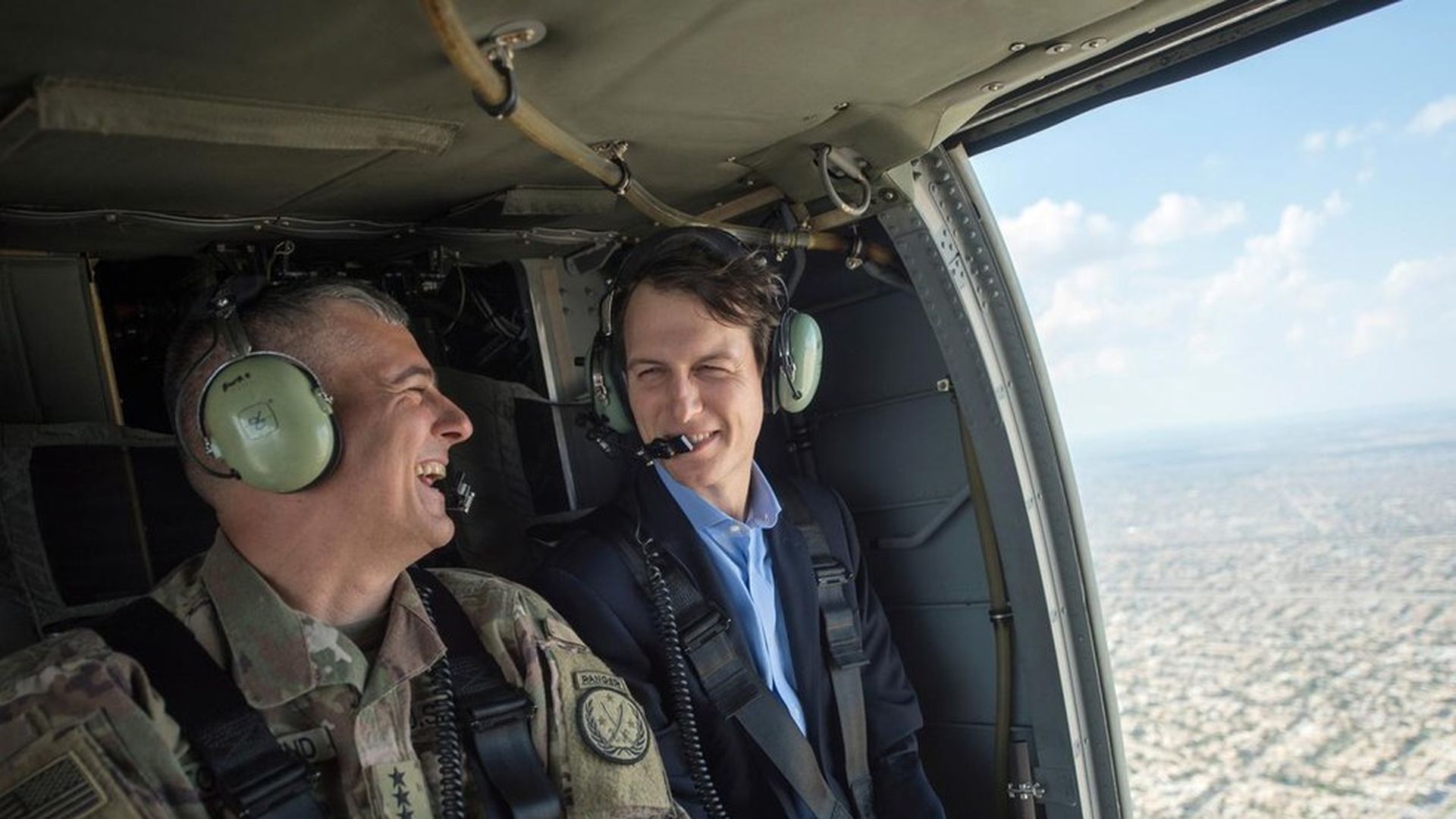 "In Iraq, ... Jared Kushner, upbeat on Mosul," by Reuters' Phil Stewart at Qayyara West Airfield, Iraq: "Speaking after lengthy battlefield reports from Iraq's military, Kushner sounded upbeat about the campaign and said the partnership between U.S. and Iraqi troops was 'very impressive' ... signaling White House interest in longer-term U.S. military assistance."
"I hope the victory that you have in Mosul in the near future will not just be a victory for the American and Iraqi troops but it will be a victory for the world."
https://www.axios.com/newsletters/axios-am-4a56f1b5-44e4-467d-a088-b7157907463d.html?chunk=4#story4
5. Children killed in Syria "chemical attack"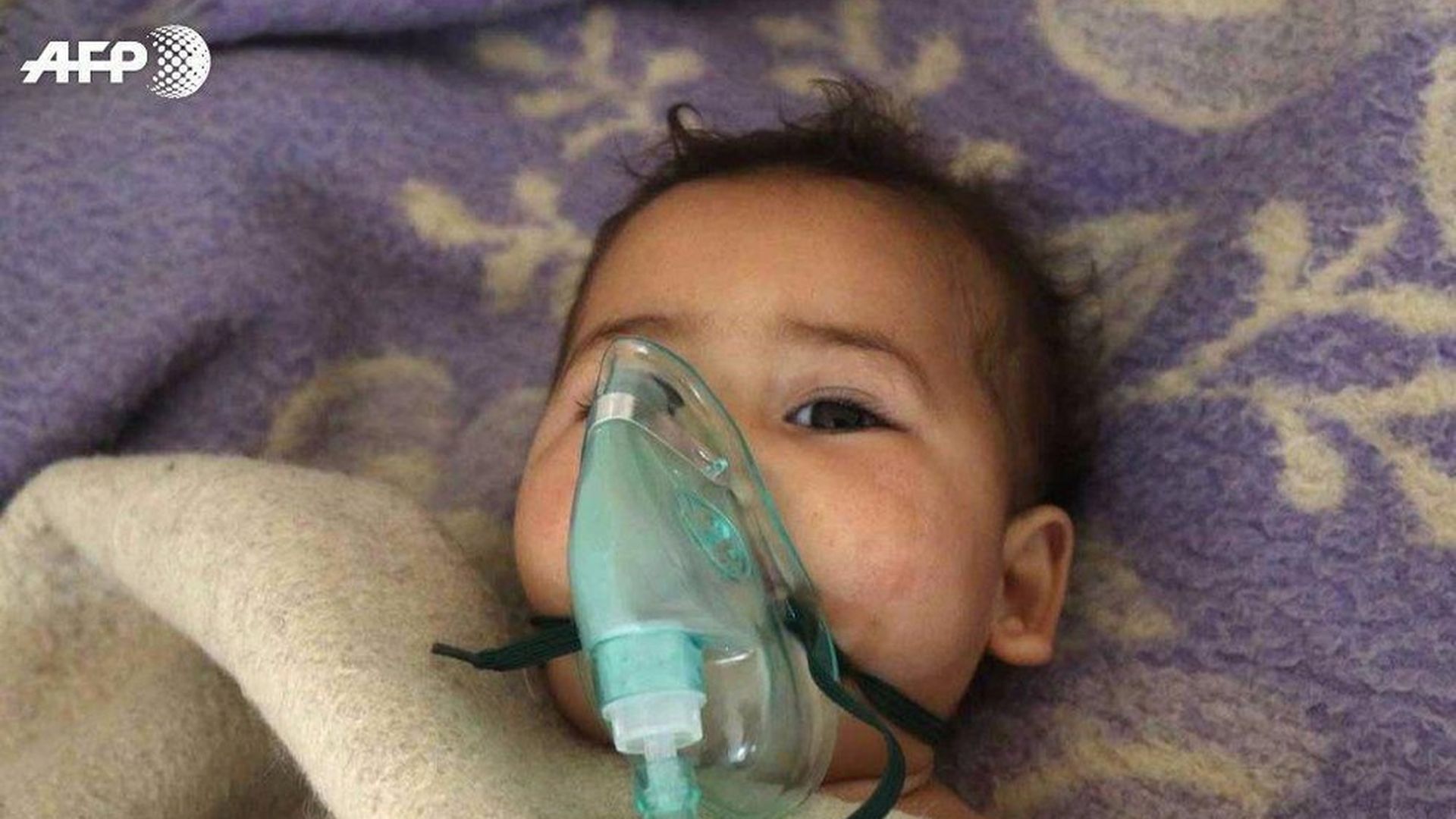 Breaking ... "A suspected chemical attack that killed at least 58 civilians in rebel-held northwestern Syria has prompted widespread outrage and calls for international action."
But ... "Russia defended its ally Damascus on Wednesday in the face of an international outcry over a suspected chemical attack that killed scores of civilians, saying a Syrian air strike hit a 'terrorist warehouse.'"
Story behind this photo, by AFP's Mohamed Al-Bakour: "The first thing that hits you is the smell ... Children are lying on beds and medics are frantically trying to save them. ... They are putting oxygen masks on the children. It's mayhem -- the children crying, the medics barking orders."
https://www.axios.com/newsletters/axios-am-4a56f1b5-44e4-467d-a088-b7157907463d.html?chunk=5#story5
6. Susan Rice: "There was no spreadsheet"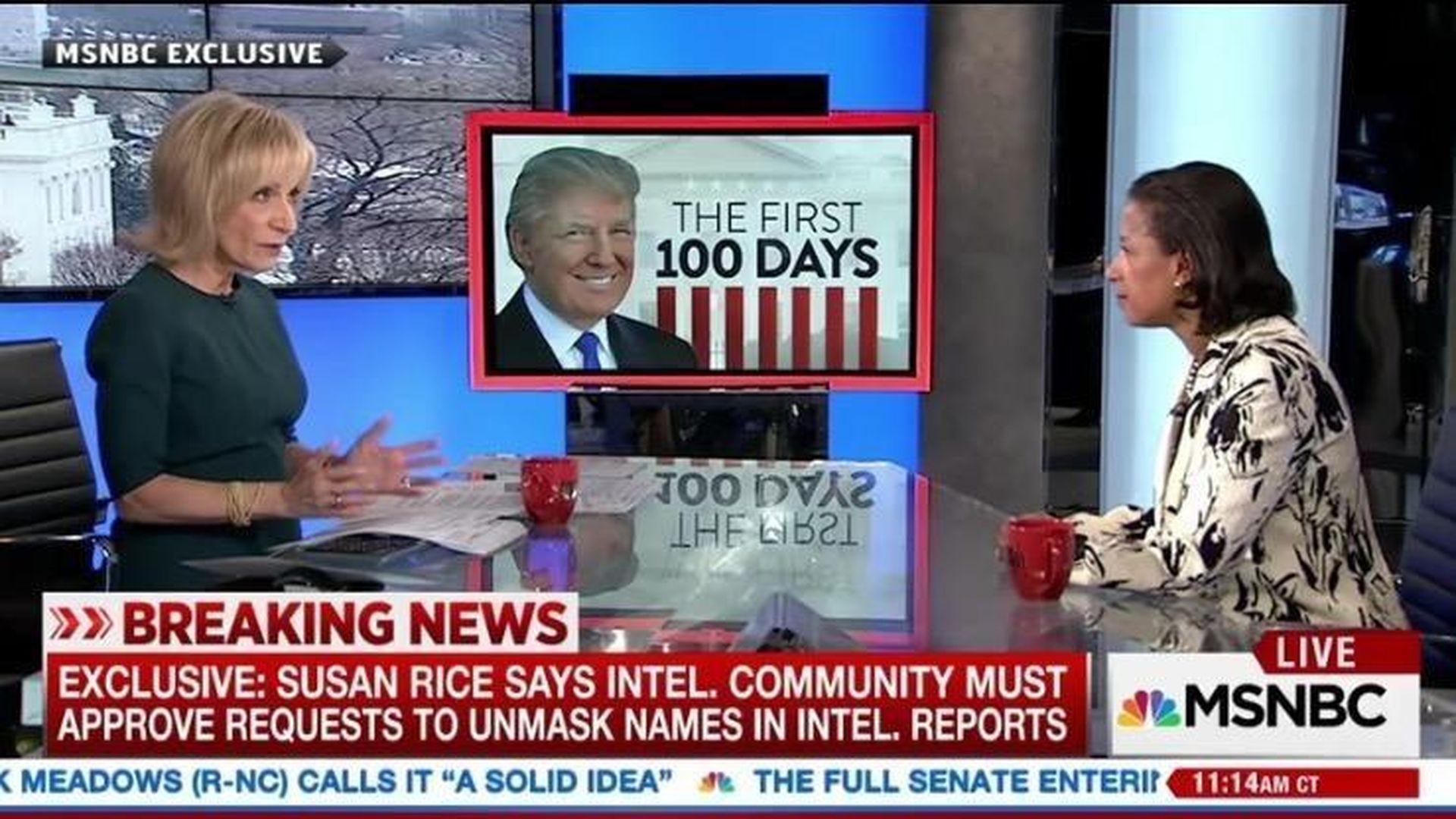 Susan Rice to Andrea Mitchell on MSNBC: "The allegation is that somehow the Obama administration officials utilized intelligence for political purposes ... That's absolutely false. ... I leaked nothing to nobody and never have and never would."
Sen. Tom Cotton (R-Ark.), on Hugh Hewitt radio show: "Susan Rice is the Typhoid Mary of the Obama administration foreign policy. Every time something went wrong, she seemed to turn up in the middle of it."
Wall Street Journal front page: "House Panel Wants Rice to Testify."
https://www.axios.com/newsletters/axios-am-4a56f1b5-44e4-467d-a088-b7157907463d.html?chunk=6#story6
7. Jamie Dimon on "d​e-globalization"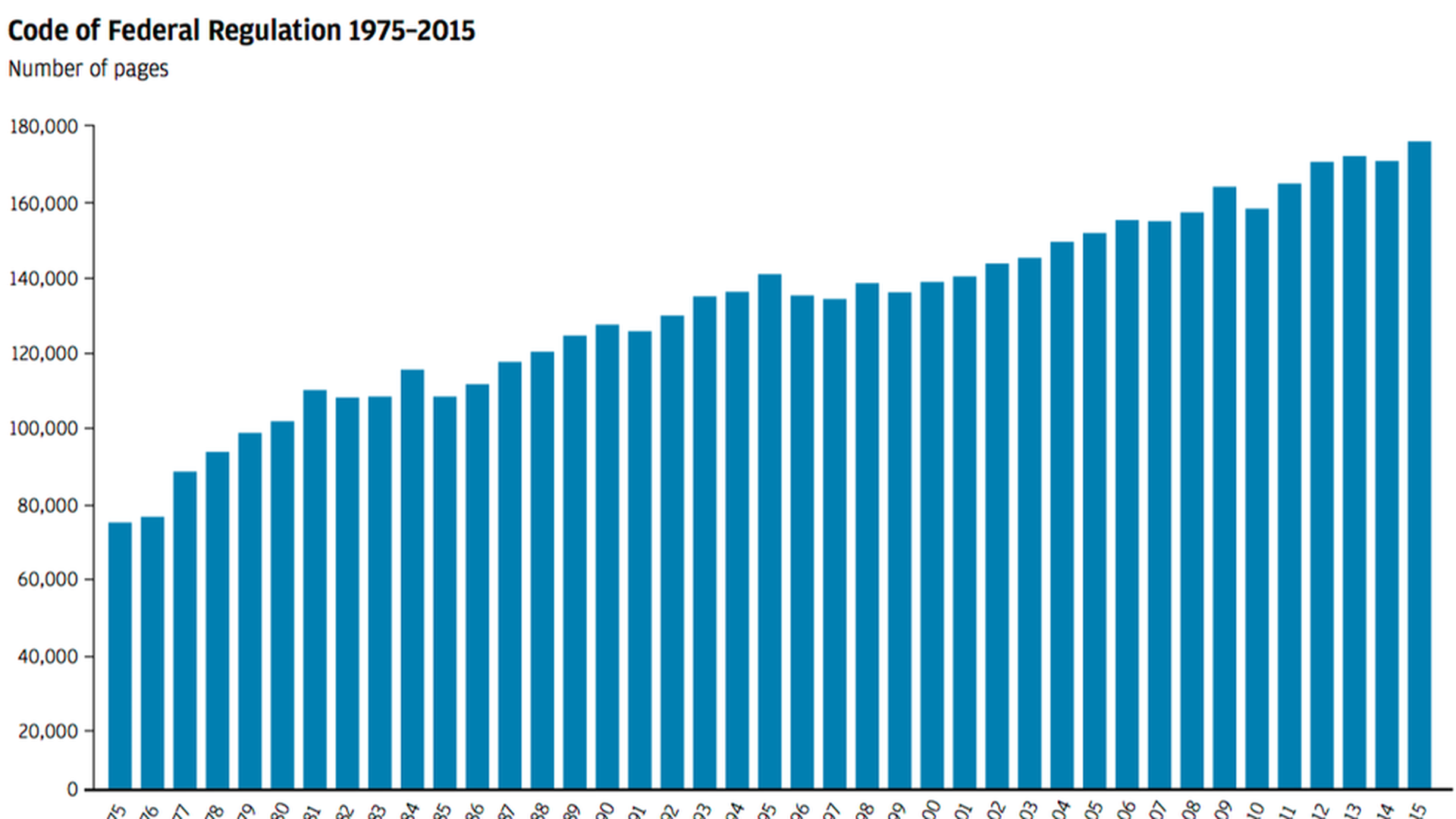 Worthy of your time ... In an annual tradition that gets the attention of Warren Buffett and other moguls, JPMorgan Chase CEO Jamie Dimon yesterday published a 45-page letter to shareholders. Key points:
On the bank's "biggest geopolitical risks": "De-globalization, Mexico and China. Anti-globalization sentiment is growing in parts of the world today, usually expressing itself in anti-trade and anti-immigration positions."
"Since 2010, when the government took over student lending, direct government lending to students has gone from approximately $200 billion to more than $900 billion – creating ... a population that is rightfully angry about how much money they owe."
"The lack of economic growth and opportunity has led to deep and understandable frustration among so many Americans."
"It is understandable why so many are angry at the leaders of America's institutions, including businesses, schools and governments – they are right to expect us to do a better job."
No. 1 "Most Read" story on Bloomberg: "Dimon Warns 'Something Is Wrong' With the U.S."
https://www.axios.com/newsletters/axios-am-4a56f1b5-44e4-467d-a088-b7157907463d.html?chunk=7#story7
8. Quarterly profits strongest since 2011
"U.S. companies are poised to report their strongest quarterly earnings in years, another sign that the stock-market rally could have further to run," per Wall Street Journal front-pager by Akane Otani:
"Analysts expected earnings for S&P 500 companies to grow by 9.1% overall in the first quarter from a year earlier, as of March 31, which would mark the highest growth since the fourth quarter of 2011, according to FactSet. Still, analysts have trimmed their profit expectations since the start of the year, and disappointing results could stoke concerns that stock-price gains have outpaced earnings growth."
https://www.axios.com/newsletters/axios-am-4a56f1b5-44e4-467d-a088-b7157907463d.html?chunk=8#story8
9. Paragraph du jour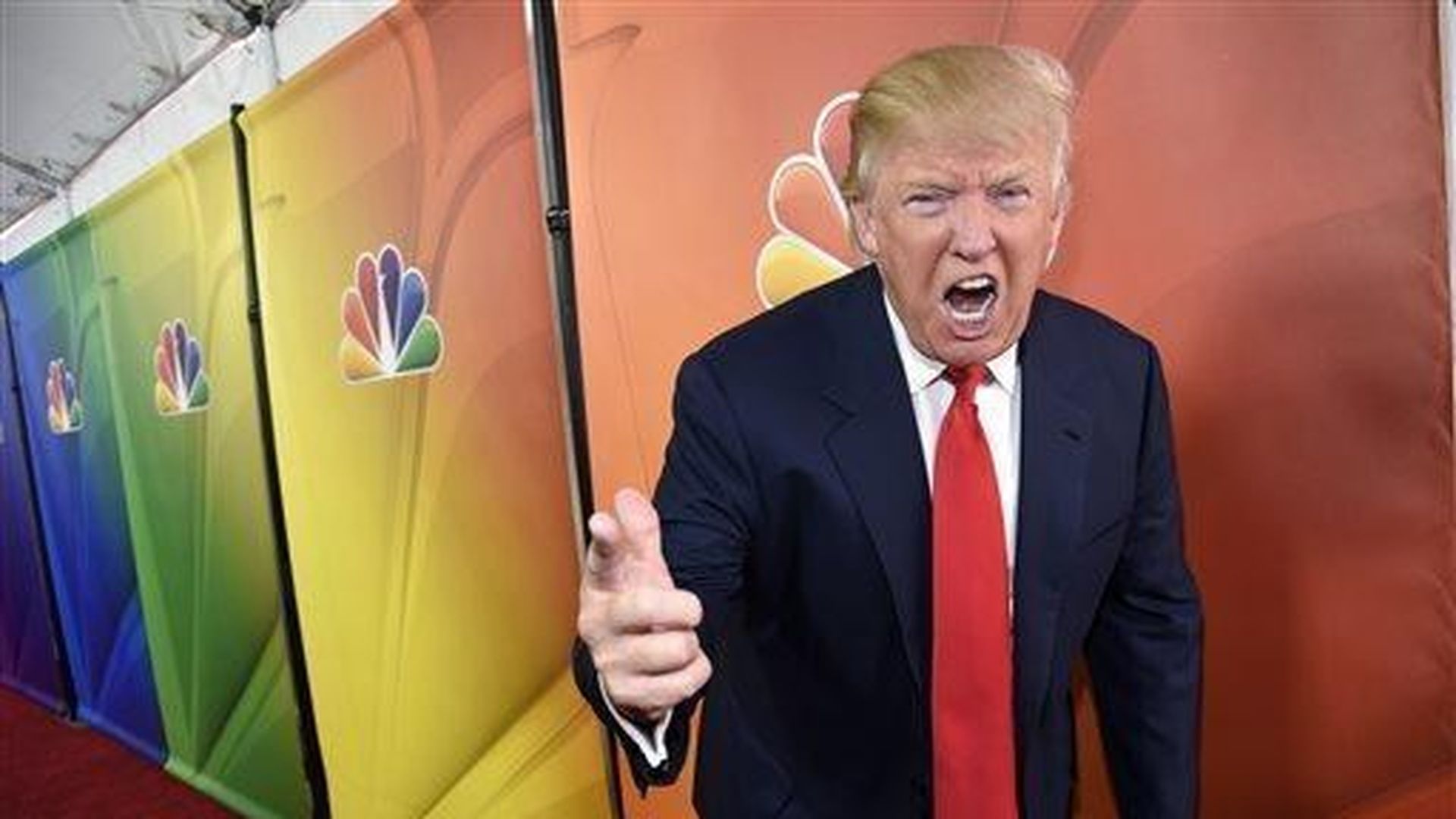 Forthcoming N.Y. Times Magazine cover story, "CNN had a problem. Trump solved it: Inside the strange symbiosis between Jeff Zucker and the president he helped create," by Jonathan Mahler:
Having Trump as "talent" [on "The Apprentice," when Zucker was president of NBC Entertainment] came with certain obligations. There was the weekly phone call, during which Trump would boast about his latest ratings or complain about the performance of the shows leading into "The Apprentice." When Trump wanted to create a scripted fictional show called "The Tower" — like "Dynasty," only about a group of models who live in a Manhattan skyscraper — Zucker instructed his development team to buy the pitch and hire a writer, even though he never intended to put it on TV. (Even before there was a script, Trump had a casting demand: They had to hire real models, not actresses.) When Trump told reporters, incorrectly, that "The Apprentice" was the most popular show on TV, Zucker would roll his eyes and laugh. "Jeff got a kick out of it," [his top reality-TV executive, Jeff] Gaspin says. "It was just television."
Sentence du jour: "CNN's Last-Supper-size panels have become a hallmark of its political coverage."
https://www.axios.com/newsletters/axios-am-4a56f1b5-44e4-467d-a088-b7157907463d.html?chunk=9#story9
10. 1 surprising thing
"Nevermind The Russians, Meet The Bot King Who Helps Trump Win Twitter," by BuzzFeed senior technology reporter Joe Bernstein:
At 7:23 on Sunday evening, the conservative internet personality Mike Cernovich tweeted that ... Susan Rice had requested the 'unmasking' of Americans connected to the Trump campaign ... At 7:30, the owner of the Twitter account MicroMagicJingle™ [now suspended] noticed, and began blasting out dozens of tweets and retweets about the story. ...
MicroMagicJingle™ is the latest incarnation of MicroChip, a notorious pro-Trump Twitter ringleader once described by a Republican strategist as the 'Trumpbot overlord.' ... By 9 a.m. Monday, [#SusanRice] was being tweeted nearly 20,000 times an hour ... [B]y 11 a.m., 34,000 an hour. ...
MicroChip said that he is a freelance mobile software developer in his early thirties and lives in Utah.