https://www.axios.com/newsletters/axios-am-491a981b-4d67-474b-9a61-6170fbaed604.html?chunk=0#story0
1 big thing: Trump's 7 months of self-destruction
President Trump, with at least two years of full Republican control of government at the national and state levels, has systematically damaged or destroyed his relationship with — well, almost every group or individual essential to success.
This has left him on an island inhabited by a shrinking band of true-believer voters, who can help win an election, but can do nothing to help him exploit the power he's wasting:
Yesterday's mass exodus of CEOs from his outside business councils was an unusually abrupt sign of the 210 days of rot and erosion in his support.
A vivid demonstration of the sudden abandonment of Trump, via CNN's Brian Stelter: Shep Smith said he couldn't get a single Republican to go on Fox News to defend Trump. On MSNBC, Chuck Todd said he "invited every single Republican senator on this program tonight, all 52," plus a dozen House GOPers. None would do it. On CNN, Kate Bolduan said bookers called 55 Republicans, and only one said yes.
Why it matters: Trump's undisciplined and incendiary style has left the most powerful man in the world with few friends — not one in the United States Senate, for instance.
Trump started with a pretty clean slate but has methodically alienated:
The public: Gallup has his approval at 34%, down from 46% just after the inauguration.
Republican congressional leaders — Senate Majority Mitch McConnell in particular.
Every Democrat who could help him do a deal.
The media.
CEOs.
World leaders.
Europe.
Muslims.
Hispanics.
African Americans.
The intelligence community.
His own staff.
And who's happy?
Steve Bannon.
Saudi Arabia.
Breitbart.
David Duke.
Be smart: The presidency is a lonely job. But Trump is unusually isolated because he thinks he needs no one besides himself. As one of his most ardent defenders told me: "He's just not as good as he thinks he is. And no one can tell him."
https://www.axios.com/newsletters/axios-am-491a981b-4d67-474b-9a61-6170fbaed604.html?chunk=1#story1
2. Bannon's 7 months of self-destruction
In chief strategist Steve Bannon, to steal the words from the song in "Hamilton" fittingly called "Burn," Trump has married an Icarus, who has flown to close to the sun.
Axios' Jonathan Swan posted a deeply reported channeling, "What Steve Bannon thinks about Charlottesville":
Bannon saw Trump's now-infamous press conference not as the lowest point in his presidency, but as a "defining moment," where Trump decided to fully abandon the "globalists" and side with "his people."
Per a source: "Steve was proud of how [Trump] stood up to the braying mob of reporters."
Then last night, the liberal American Prospect posted an interview with Bannon that he clearly didn't think was an interview:
Swan explains: "Bannon ... admired the author's stance on China, and so called the journalist, Robert Kuttner, ... to discuss his piece. Apparently Bannon never thought that the journalist might take his (very newsworthy) comments and turn them into a story. It's Anthony Scaramucci all over again (minus the curse words.)"
AP: Bannon told Kuttner that "there's no military solution to the threat posed by North Korea, ... despite the president's recent pledge to answer further aggression with 'fire and fury.'"
Swan's bottom line: "The piece gives Bannon's enemies ammunition at a time he's extraordinarily vulnerable. They've been saying he's a leaker, a self-promoter, 'President Bannon,' etc. This interview plays right into their hands."
Be smart: Bannon's power grabs, back-biting, and grandiose America First fantasizing have left him, along with Trump, similarly isolated on a similar island — though much more content and authentically pleased with his lot.
https://www.axios.com/newsletters/axios-am-491a981b-4d67-474b-9a61-6170fbaed604.html?chunk=2#story2
3. Jared and Ivanka's 7 months of frustration
The N.Y. Times reports: "Trump's venting on Tuesday came despite pleas from his staff, including his daughter Ivanka Trump and her husband, Jared Kushner."
It was just one of the ways that Trump has rejected the advice of the two people who had the most promise of being persuasive.
Axios' Stef Kight reports in "Oops, dad did it again!": "A clear pattern has emerged when President Trump does something highly controversial or deeply offensive to large chunks of America. Within 24 hours, a story is leaked about how Ivanka and Jared are disappointed or tried to stop it."
Why it matters: "Jared and Ivanka provided some hope for some on the left who hoped the duo would have power to dissuade President Trump from some of his most extreme promises."
P.S. N.Y. Times Quote of the Day ... Bill George, former chief executive of Medtronic and Goldman Sachs board member: "These executives cannot live with customers thinking they are in cahoots with someone who supports white supremacists or neo-Nazis."
https://www.axios.com/newsletters/axios-am-491a981b-4d67-474b-9a61-6170fbaed604.html?chunk=3#story3
4. The conversation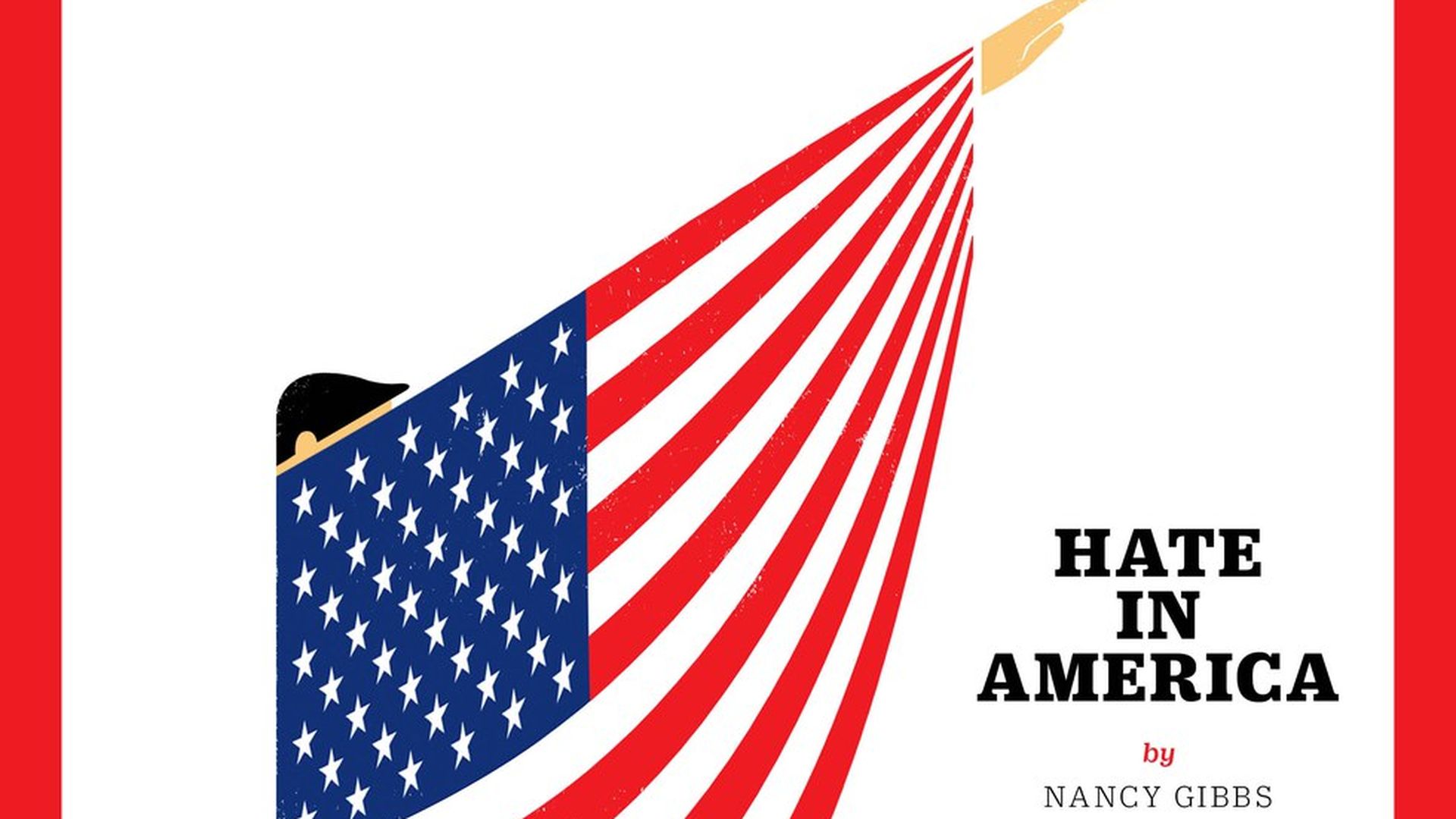 TIME Editor-in-Chief Nancy Gibbs: "Most successful leaders, certainly most Presidents, preach an American gospel about freedom, justice, imagination, ambition. ... Instead of summoning our better angels, [Trump] strums deep chords of grievance and resentment: The world is not a community; it's a business. If you're not winning, you're losing. And anyone who invests in a common good or a shared sacrifice is a sucker."
Axios CEO Jim VandeHei on CNBC's "Fast Money": "I don't know how he fixes it anymore, because it's him. This isn't Steve Bannon. ... This is Donald Trump for the last 70 years. He isn't going to change"
Jon Meacham to Nicolle Wallace on MSNBC: "History ... gives you a sense of what symptoms recur ... and what habits of mind and of heart have mattered for ... great leaders ... They learn from their mistakes. They're able to look at their own history and ... the history of the country."
More Meacham: You need an "ability to look within, admit that when you are wrong, which is the hardest thing to do in human life ... But the great ones are able to do it. And so, his disdain for history is both limiting and, in fact, he's unilaterally disarming in terms of knowing what to do."
https://www.axios.com/newsletters/axios-am-491a981b-4d67-474b-9a61-6170fbaed604.html?chunk=4#story4
5. Least surprising story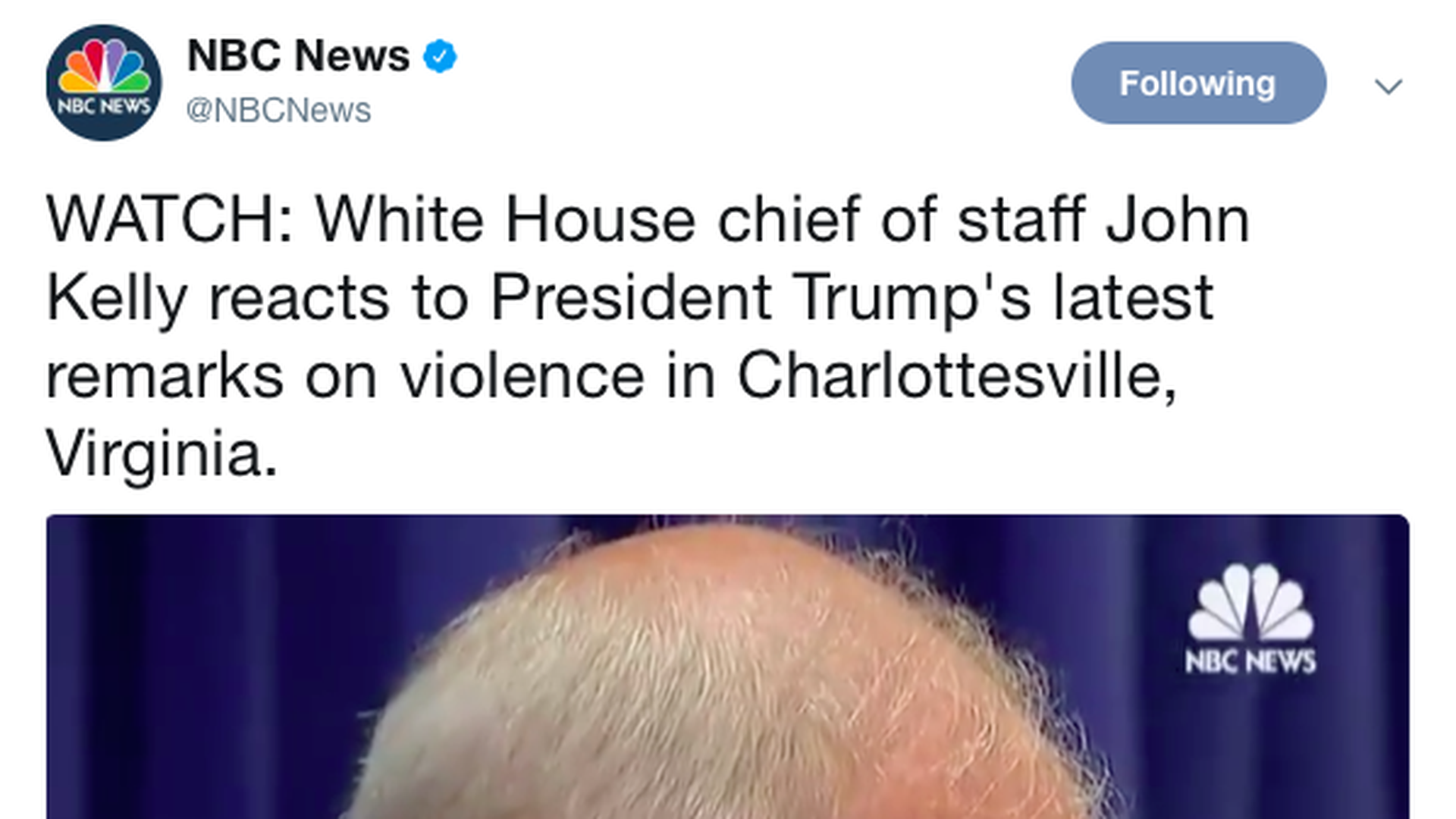 In his third week as White House Chief of Staff, retired Marine four-star general John Kelly is dismayed by Trump's lack of control, per WashPost's Ashley Parker and Bob Costa:
A Republican operative and unofficial White House adviser: "The Kelly era was a bright, shining interlude between failed attempts to right the Trump presidency and it has now come to a close after a short but glorious run ... Like all people who work for the president, he has since experienced the limits of the president's promises to cooperate in order to ensure the success of the enterprise."
The chief's changes: "Kelly routes all calls to and from President Trump through the White House switchboard, where he can sign off on them. He stanches the flow of information reaching the president's desk. And he requires that all staff members — including Trump's relatives — go through him to reach the president."
But, but but: "Longtime Trump campaign associates have been left out of the loop and unable to build a rapport with Kelly. He has shown little interest in courting them or in seeking out their advice about how to improve the president's standing. Phone calls go unreturned or handled in a friendly but curt fashion by his top aide, Kirstjen Nielsen, who came over with Kelly from the Homeland Security Department."
https://www.axios.com/newsletters/axios-am-491a981b-4d67-474b-9a61-6170fbaed604.html?chunk=5#story5
6. Hope Hicks rising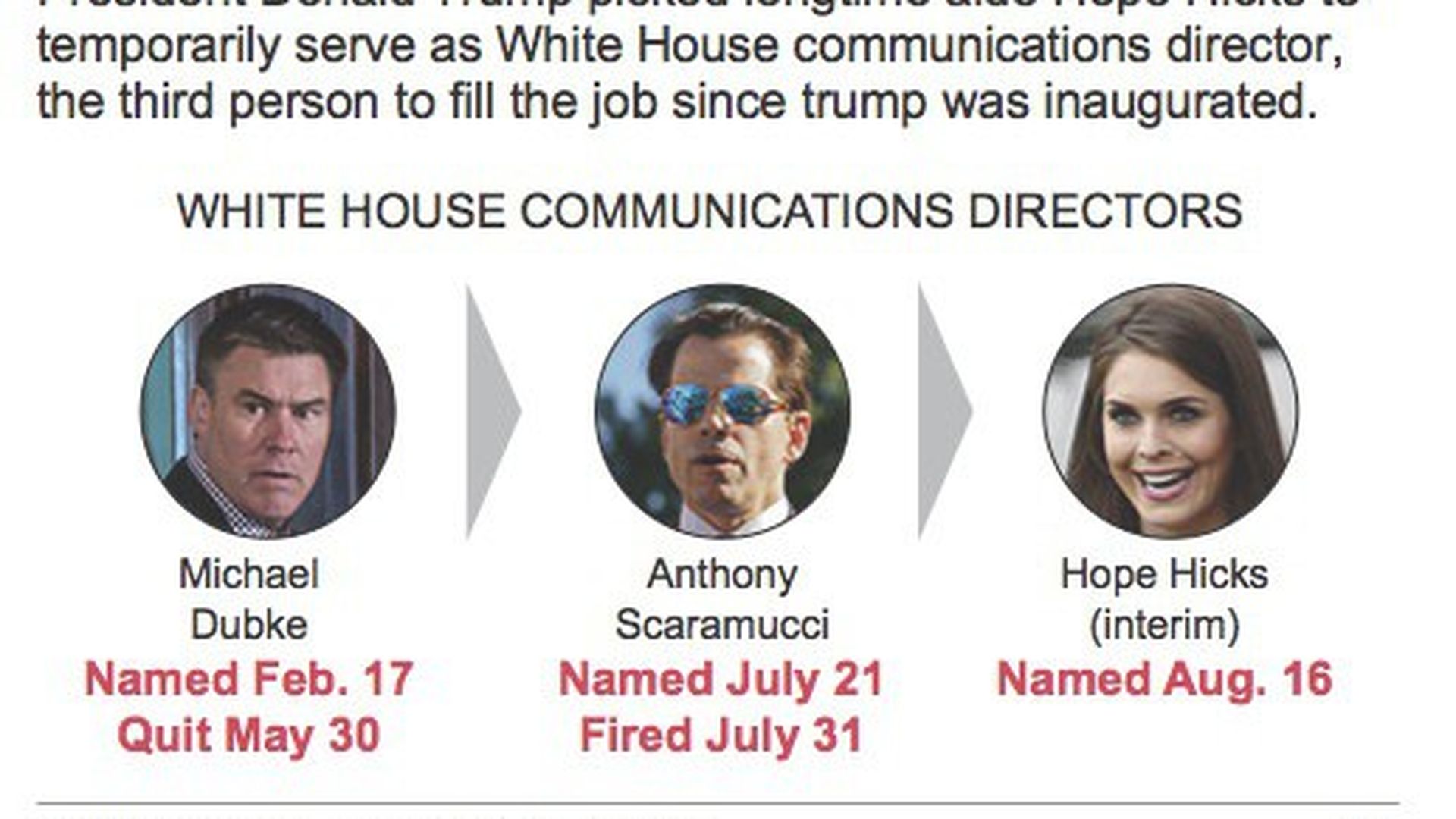 Hope Hicks — White House Director of Strategic Communications, with an office just outside the Oval — is expected to take over the duties of the White House communications director on an interim basis.
Why it matters, from Axios' Jonathan Swan: "People who really know Hicks inside the White House say she is chronically underestimated due to her age and past career experience, but she gets Trump in a way others don't due to the experience of the grueling campaign."
https://www.axios.com/newsletters/axios-am-491a981b-4d67-474b-9a61-6170fbaed604.html?chunk=6#story6
7. What the President is reading
Shot ... 10 AP reporters put together a package of Trump-supporter voices from around the country, "Trump's die-hard supporters show no signs of straying" (second headline: "Trump's ardent backers support him more than ever"):
"They wash their hands of neo-Nazis and wag their fingers at leftists. They denounce a press corps they see as biased and controversies they view as manufactured. But in the frenzied blame game over the deadly violence at a rally of white supremacists, Donald Trump's loyal base is happy to absolve the president himself."
Chaser ... "Republican leaders dance around Trump remarks," by AP's Steve Peoples and Tom Beaumont: "One after another, the nation's most powerful Republicans responded to President Donald Trump's extraordinary remarks about white supremacists. Yet few mentioned the president."
"Few top Republican officeholders defended the president in the midst of an escalating political crisis. Yet they are unwilling to declare all-out war against Trump and risk alienating his loyalists. And as the 2018 elections begin to take shape, the debate over Trump's words appears to be taking hold in GOP primaries."
https://www.axios.com/newsletters/axios-am-491a981b-4d67-474b-9a61-6170fbaed604.html?chunk=7#story7
8. Poll du jour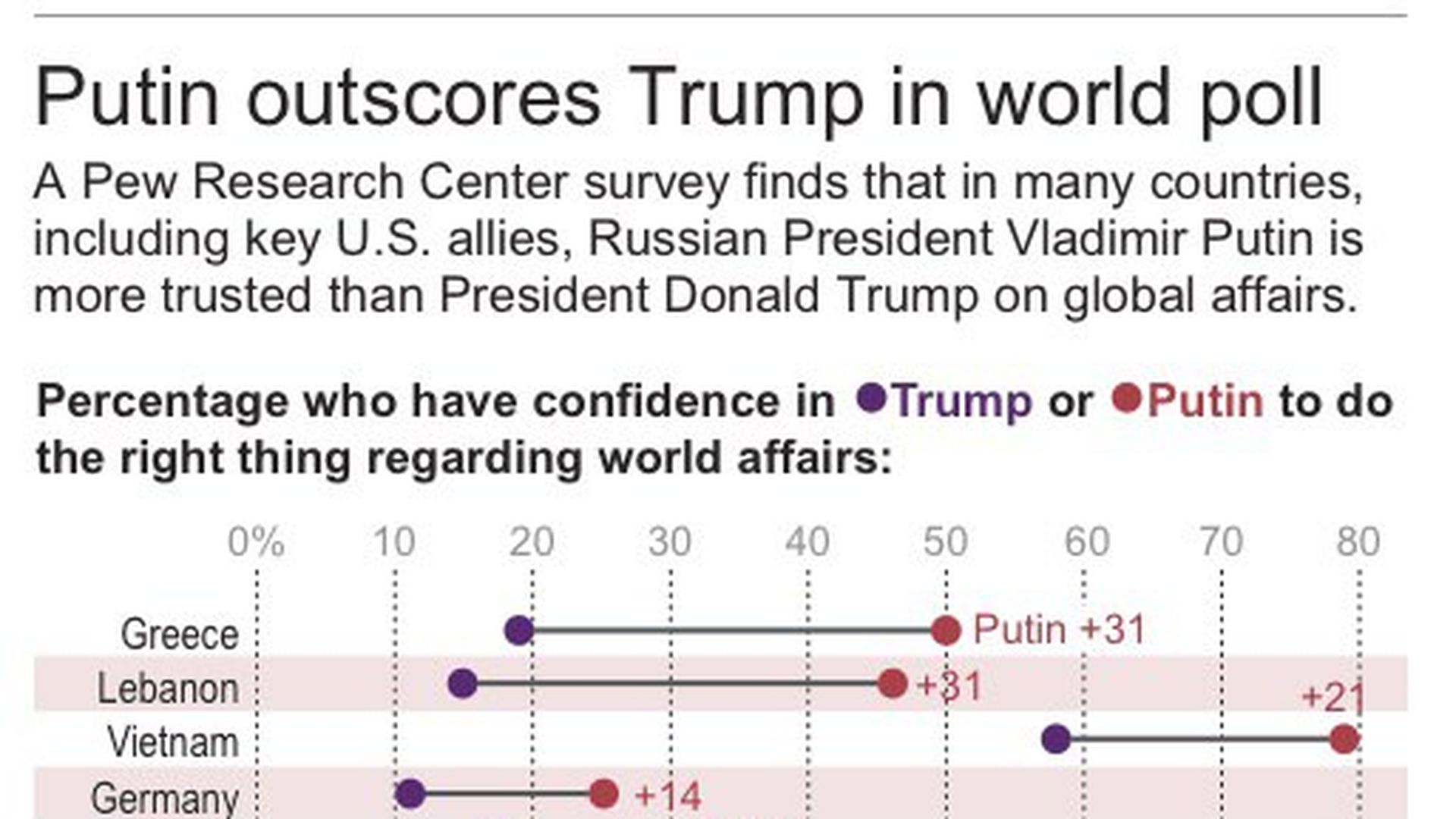 https://www.axios.com/newsletters/axios-am-491a981b-4d67-474b-9a61-6170fbaed604.html?chunk=8#story8
9. Global 40 under 40
https://www.axios.com/newsletters/axios-am-491a981b-4d67-474b-9a61-6170fbaed604.html?chunk=9#story9
10. 1 (formerly) fun thing
"On late-night TV, Trump's no laughing matter anymore," by CNN's Bill Carter: "Charlottesville sparked an unmistakable outpouring of comedic rage."
NBC's Seth Myers: "We shouldn't have to shame or press the President of the United States to say Nazis are bad."
ABC's Jimmy Kimmel "offered a thorough, and passionately sincere, recital of how Trump 'screws up royally every day, sometimes two or three times a day. Every day there's something nuts!' ... Kimmel's list [was] 17 items long."
CBS's Stephen Colbert, on Trump's shot at CNN's Jim Acosta: "Sir, you see how you condemned CNN right off the top of your head with no script? Next time, like that — but with Nazis."