Coming Sunday evening: the debut of Jonathan Swan's new week-ahead newsletter, Sneak Peek: what's coming on both ends of Pennsylvania Avenue, plus Sunday-show keepers.
https://www.axios.com/newsletters/axios-am-42b995c4-956c-4a65-921f-810d24971be2.html?chunk=0#story0
1 big thing: A Republican intervention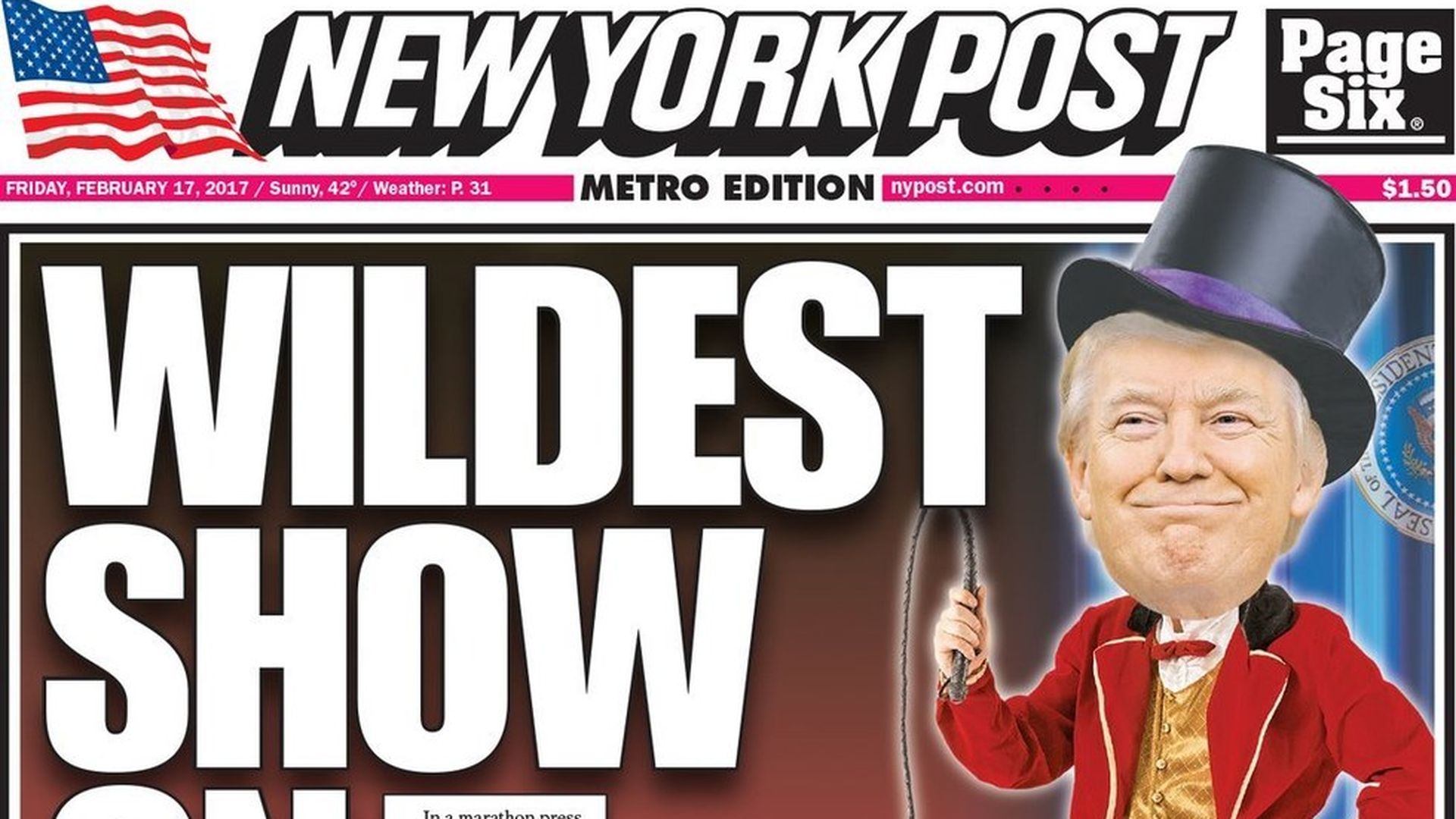 Top Republicans tell us they're as rattled as ever by President Trump and his White House -- and want an intervention. Their gravest long-term concern (beyond the Russia scandal): Trump's devil-may-care effort to run the free world in the same improvisational, family-focused style that worked so well with for his campaign and business.
Candidate Trump, with hardly any staff and prep, was agile and authentic. Key Republicans think President Trump, with hardly any staff and prep, seems small or lost. A strategist who works closely with the administration said: "The entire West Wing staff sat in an unplanned press conference in the middle of a Thursday. Every time I turn on cable news, I see literally everybody from the chief of staff on down sitting in the president's press events like interns trying to get into the background of a photo shoot."
Candidate Trump electrified crowds and inoculated himself from criticism by blaming the "dishonest" media for every mishap. President Trump seems a little unhinged tweeting his mornings away and whining about "fake news" as his legislative priorities flounder. "These guys have a golden opportunity to make massive change, and they're squandering it with all this silliness," said one of Washington's top lobbyists. "Because at the end of the day, it's all about him."
Candidate Trump stoked his base with relentless attacks on establishment Republican like John McCain. Now, the McCains of the world have the power to strike back, rhetorically and substantively. It's no secret Trump has very few authentic admirers among Senate Republicans. This could bite him badly when it comes to the Flynn/Russia investigation.
But, but, but ... Like the campaign, Trump has zero interest in changing any of this and firmly believes he's off to a strong, if not stellar, start.
Parallel Universe: winning bigly ... To Trump, this will feel laughably familiar to the Republican establishment whining when he announced, when he won the nomination, when he stumbled in debates, when he surely couldn't win the presidency. He truly believes this had been the best start to a presidency in history, and no one around would ever disagree to his face.
The stock market is soaring: You need to go back to LBJ to see a spike like during the first month in office.
His polls looks good, some even great, to his eyes. Drudge had Rassmuseen's 55 percent approval rating leading his site yesterday, and several other polls showed Trump near 50. Even the worst polls -- Pew has him at 39 -- show his support with Republicans exceeds Reagan or the Bushes.
And he can still sell out The Show. Every network cut in to show his press-bashing press conference, and Floridians will pack an airport hangar in Melbourne with Trump-loving on Saturday at 5 p.m. for his first post-election rally -- 1,354 days before the 2020 election.
Why this matters: Why do you think? He won't change.
New communications director, per CNN: Mike Dubke -- a founder of Crossroads Media, a media-placement firm in Alexandria, serving American Crossroads, other Republican groups, and corporations -- is expected to be named White House communications director.
Dubke is a founding partner at the Black Rock Group, a graduate of Hamilton College, and a Buffalo Bills season ticket holder.
https://www.axios.com/newsletters/axios-am-42b995c4-956c-4a65-921f-810d24971be2.html?chunk=1#story1
2. Trump's 10 beauties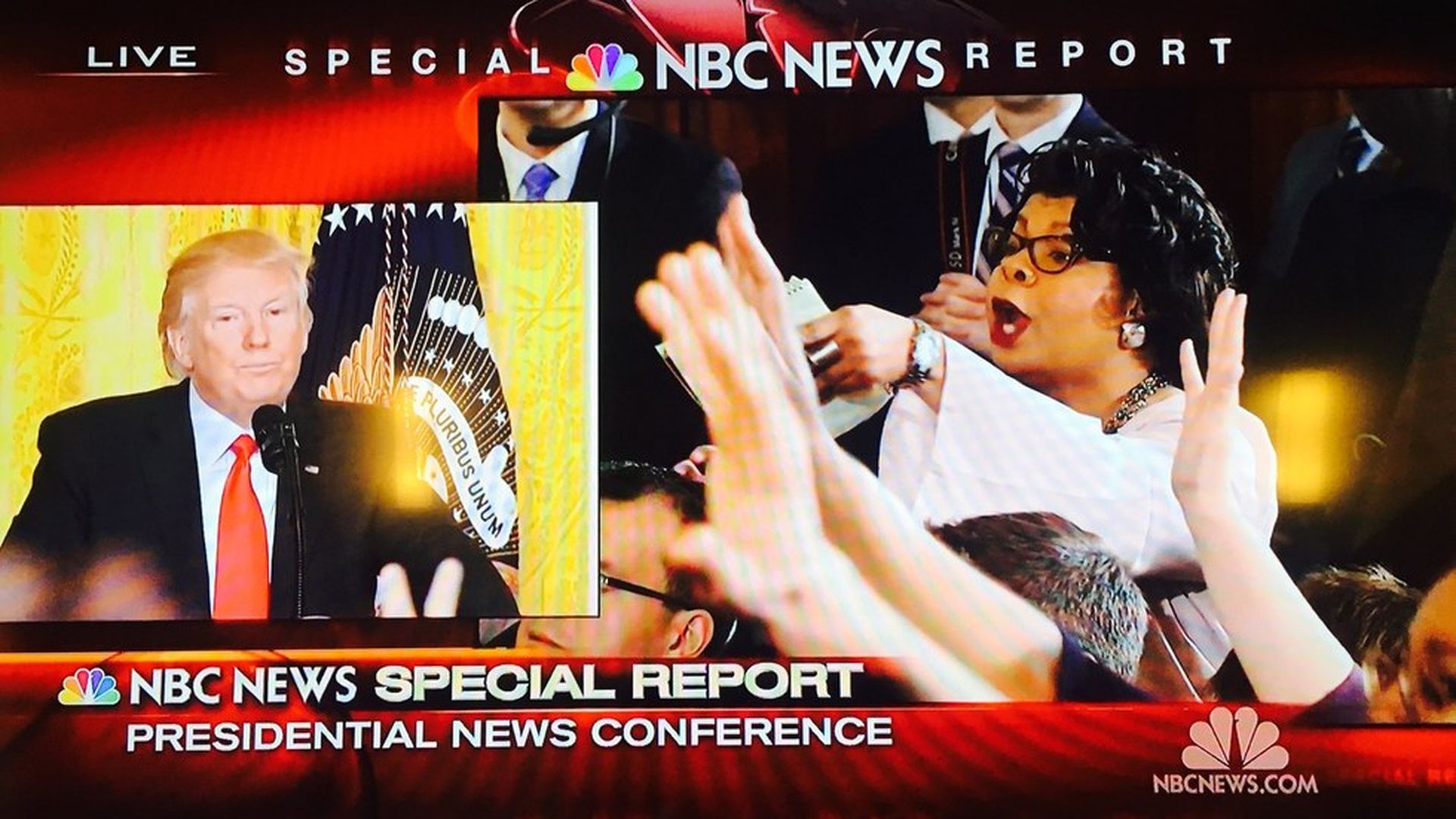 https://www.axios.com/newsletters/axios-am-42b995c4-956c-4a65-921f-810d24971be2.html?chunk=2#story2
3. Truest column words written this morning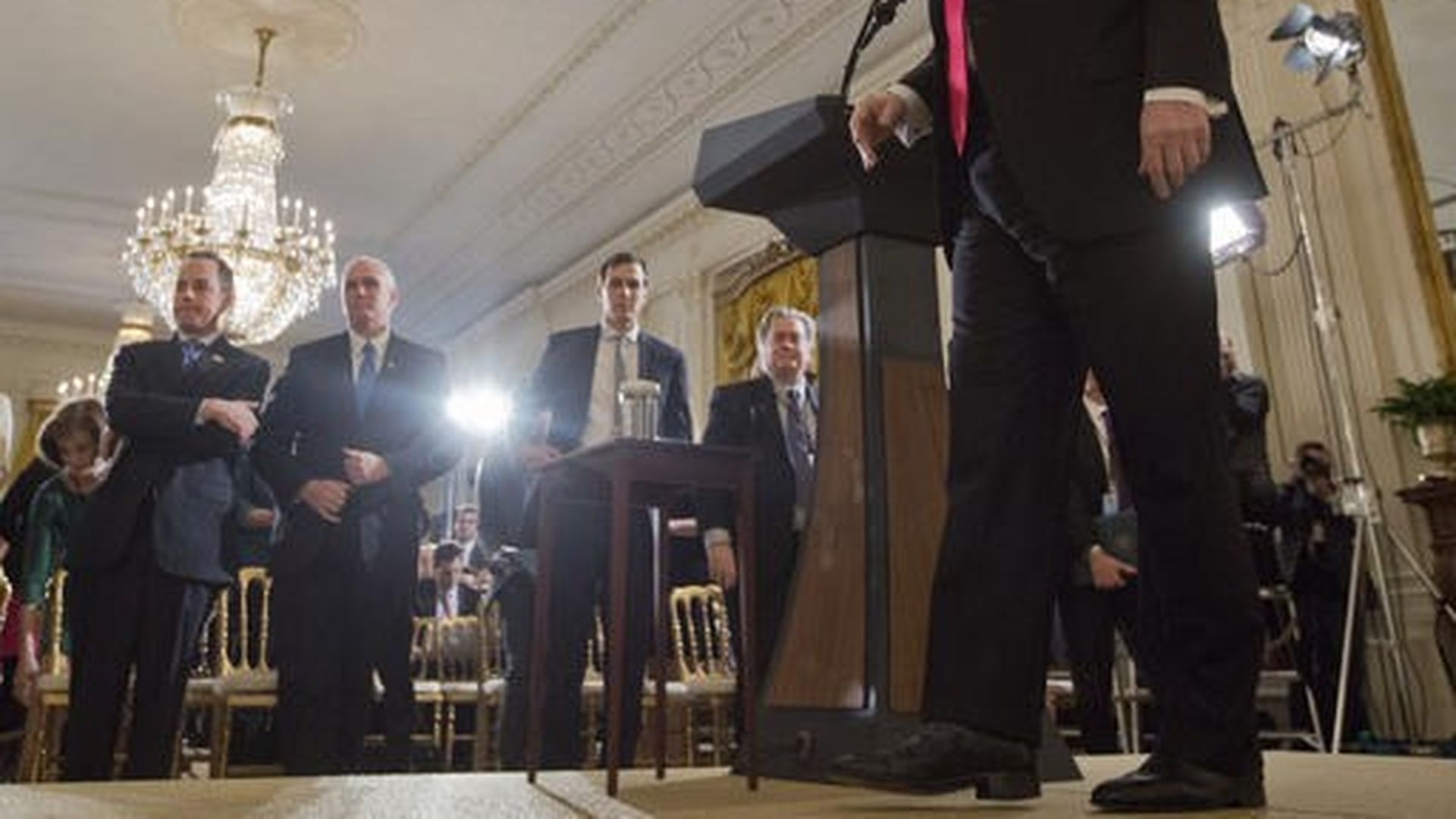 David Brooks column, "What a Failed Trump Administration Looks Like" (in the paper: "When Government Breaks Down"): "Bannon has a coherent worldview, which is a huge advantage when all is chaos. It's interesting how many of Bannon's rivals have woken up with knives in their backs."
"Michael Flynn is gone. Reince Priebus has been unmanned by a thousand White House leaks. Rex Tillerson had the potential to be an effective secretary of state, but Bannon neutered him last week by denying him the ability to even select his own deputy."
"Bannon looms. With each passing day, Trump talks more like Bannon without the background reading."
Sentence of the day: "Judging by his Thursday press conference, President Trump's mental state is like a train that long ago left freewheeling and iconoclastic, has raced through indulgent, chaotic and unnerving, and is now careening past unhinged, unmoored and unglued."
Runner-up: "We're about to enter a moment in which U.S. economic and military might is strong but U.S. political might is weak. Imagine the Roman Empire governed by Monaco."
https://www.axios.com/newsletters/axios-am-42b995c4-956c-4a65-921f-810d24971be2.html?chunk=3#story3
4. Axios interview: Secretary DeVos
Education Secretary Betsy DeVos met Jonathan Swan a week into her job:
On the federal education budget: "There's clearly an opportunity to slim down the department in some ways. I don't know if that will ultimately significantly reduce the overall expenditure, but it may, it may help incentivize states in other ways."
On changes in schools during her tenure: "I expect there will be more public charter schools. I expect there will be more private schools. I expect there will be more virtual schools. I expect there will be more schools of any kind that haven't even been invented yet."
In her ideal world, the federal government has any a role in education? "It would be fine with me to have myself worked out of a job, but I'm not sure that — I'm not sure that there will be a champion movement in Congress to do that."
https://www.axios.com/newsletters/axios-am-42b995c4-956c-4a65-921f-810d24971be2.html?chunk=4#story4
5. Slumping agenda: Which hockey stick?
It's not just health reform that's floundering ...
"Meager Gains for Republicans On Bold Legislative To-Do List" -- N.Y. Times A1, above fold, by Jennifer Steinhauer: "The inactivity stems from a lack of clear policy guidance — and, just as often, contradictory messages — from the Trump administration, which does not appear to have spent the campaign and transition periods forming a legislative wish list."
Chris Krueger of Cowen Washington Research Group, in his D.C. Download, "Tax Reform in Jeopardy": "The legislative year could well be a hockey-stick -- nothing and then everything in late Q4. It could also be an inverted hockey-stick -- nothing and then shutdowns and debt ceiling fights with nothing on taxes."
Fareed Zakaria WashPost column, "A circus with lots of noise, little action": "For many people, the bargain of the Trump presidency was that they would put up with the freak show in order to get tax reform, infrastructure projects and deregulation. That may still happen, but for now at least, reality TV is in overdrive, and not much is happening in the realm of serious policy."
https://www.axios.com/newsletters/axios-am-42b995c4-956c-4a65-921f-810d24971be2.html?chunk=5#story5
6. The conversation: "The deep state"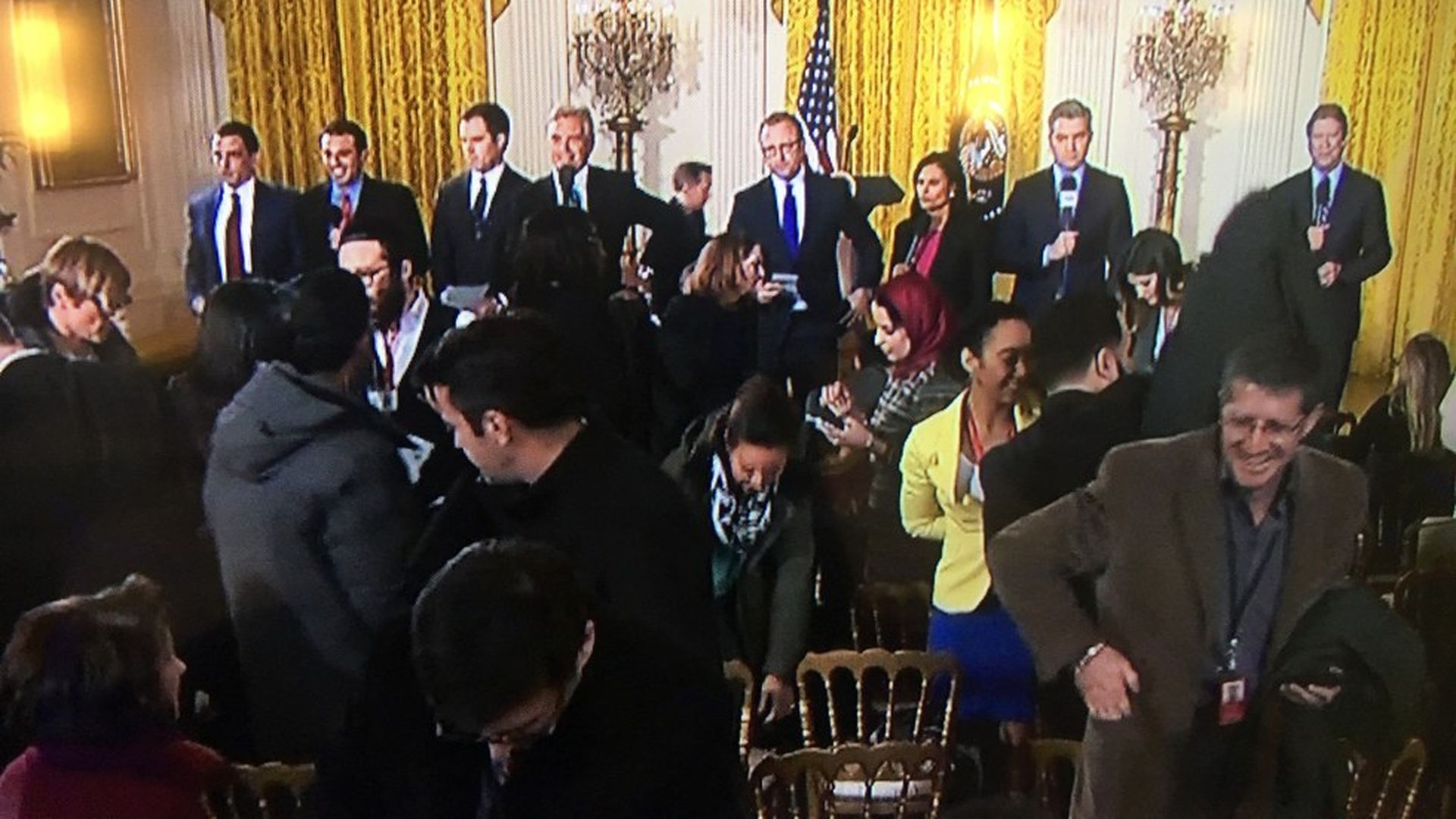 Longtime Washington watchers are talking a lot about the beast Trump is rousing, partly unwittingly -- the bureaucracy, the intelligence services, and all the hidden powers of permanent Washington. A great piece on this in The Times this morning as a "The Interpreter" column by Amanda Taub and Max Fisher, "Echoes of a 'Deep State' as a Culture of Conflict Gains New Intensity."
Using the decapitation of Flynn as a case study, the authors point to "growing reliance on leaks and other tools of bureaucratic resistance":
"This risks entrenching a culture of bureaucratic warfare that is adversarial and dysfunctional by default — not quite a Turkish-style deep state, but not a healthy democracy either."
"Though the deep state is sometimes discussed as a shadowy conspiracy, it helps to think of it instead as a political conflict between a nation's leader and its governing institutions."
"That can be deeply destabilizing, leading both sides to wield state powers like the security services or courts against one another, corrupting those institutions in the process."
https://www.axios.com/newsletters/axios-am-42b995c4-956c-4a65-921f-810d24971be2.html?chunk=6#story6
7. Zuck's manifesto
Mark Zuckerberg posted a 5,700-word manifesto, "Building Global Community," saying the wo most discussed concerns this past year "were about diversity of viewpoints we see (filter bubbles) and accuracy of information (fake news)."
Recode's Kara Swisher Kurt Wagner call it his "letter addressing fake news and saving the world" -- using Facebook "to help fix everything from polarization to terrorist attacks":
"A number of his visions include the use of artificial intelligence technology to monitor what is happening on Facebook, which should attract some level of scrutiny from privacy advocates. ... Zuckerberg mentioned bullying and harassment and even a suicide that was livestreamed on the Facebook platform — which he said in an interview disturbed him greatly — as the types of things he thinks AI can help prevent.
"'Right now, we're starting to explore ways to use AI to tell the difference between news stories about terrorism and actual terrorist propaganda so we can quickly remove anyone trying to use our services to recruit for a terrorist organization,' he wrote. 'This is technically difficult as it requires building AI that can read and understand news, but we need to work on this to help fight terrorism worldwide.'"
https://www.axios.com/newsletters/axios-am-42b995c4-956c-4a65-921f-810d24971be2.html?chunk=7#story7
8. Trending ...
Big in business ... "Buy American" is back, per Axios' Chris Matthews: The UAW is resurrecting its "Buy American" campaign, with UAW leader Dennis Williams telling the Detroit Free Press: "No company … can survive without the market of the United States of America."
But the problem of identifying what is exactly "American" is hasn't gotten any easier since the 1980s, during the campaign's heyday. Foreign automakers build much of what they sell in the U.S. here, while American firms are often using Mexican labor for part of their supply chains.
Tops in tech ... "Why [Attorney General] Jeff Sessions scares tech companies," by Axios' Kim Hart: "Sessions has gone after the tech industry for hiring high-skilled foreign workers and resisting law enforcement surveillance requests. Pile on Donald Trump's populist disdain for big companies and suspicion of some dominant tech platforms, and antitrust experts ... say Silicon Valley has reason to be worried."
"Companies are struggling to figure out Snapchat," by Axios' Sara Fischer: "Snap ads could very well be more effective than third-party studies give them credit for, but ad buyers don't have confidence in the data."
https://www.axios.com/newsletters/axios-am-42b995c4-956c-4a65-921f-810d24971be2.html?chunk=8#story8
9. 1 weird thing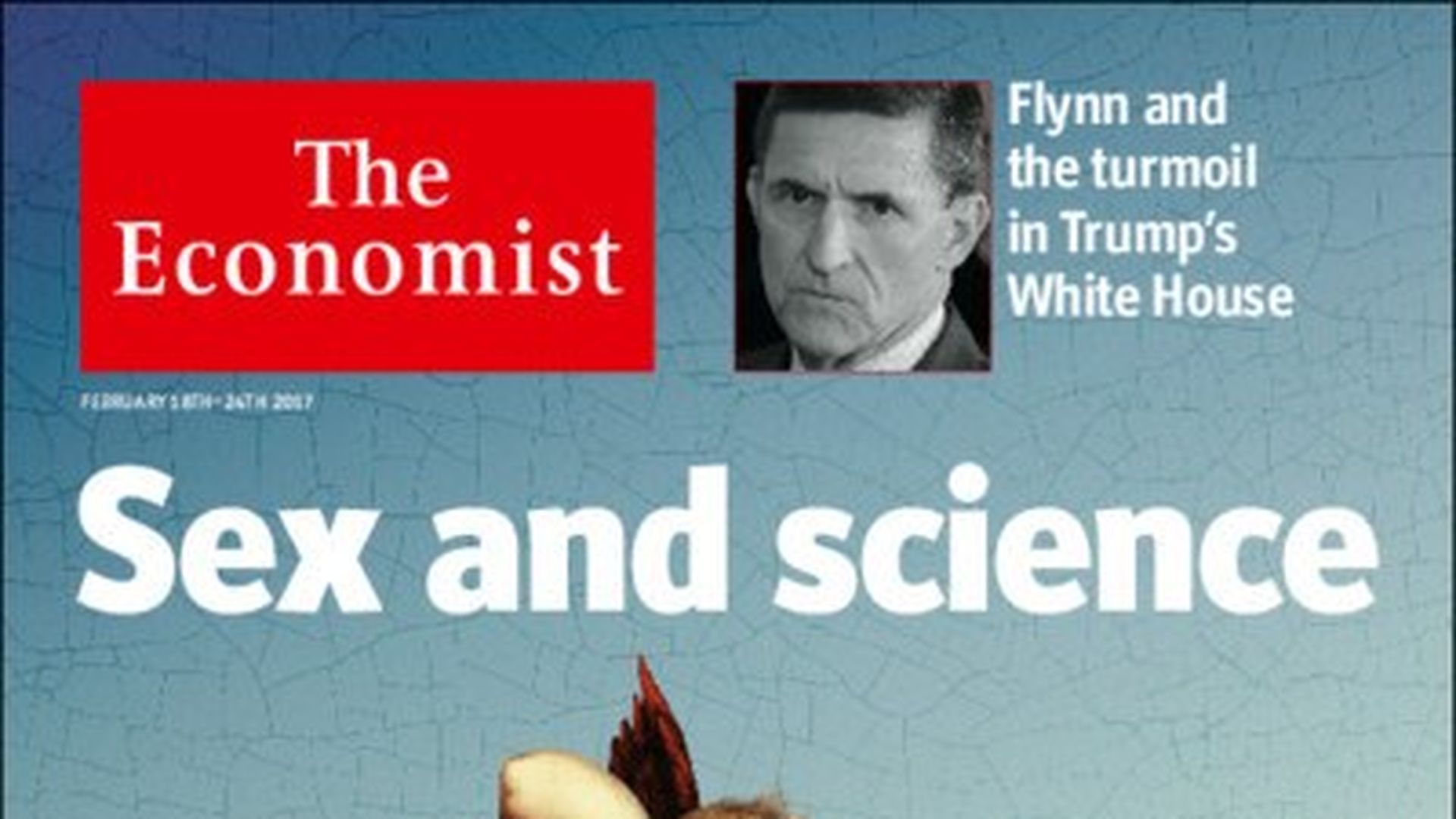 The cover story of the new Economist says we might soon make babies without sex! "The world may soon face the possibility of eggs and sperm made from putative parents' body cells (probably their skin) rather than in their ovaries and testes. Such methods separate sexual intercourse from reproduction."
When I interviewed Walter Isaacson on Monday for Axios' forthcoming "Smarter. Faster" video series, gene editing was one of the first topics he mentioned when I asked the big ideas he's obsessed with Four key points from the Economist cover story on reproductive tech:
"The first gene editing will eliminate genetic diseases in a way that now requires embryo selection—an advance many would applaud."
"[B]reeding babies with new traits and cloning other people raises questions of equality and of whether it is ever right to use other people's tissues without their consent."
"Should bereaved parents be able to clone a lost child? Or a widow her departed husband? Should the wealthy be able to pay for their children to be intelligent and diligent, if nobody else can afford to do so?"
"Commissions of experts will need to search for answers; and courts will need to apply the rules—to protect the interests of the unborn. They will be able to draw on precedents, such as identical twins."
https://www.axios.com/newsletters/axios-am-42b995c4-956c-4a65-921f-810d24971be2.html?chunk=9#story9
10. 1 fun thing