Axios AM
April 05, 2018
🌝 Good Thursday morning!
Launching tonight ... Dave Lawler's twice-weekly @AxiosWorld newsletter: Give us two evenings a week, and we'll give you the world! Sign up here.
1 big thing: The case for extreme worry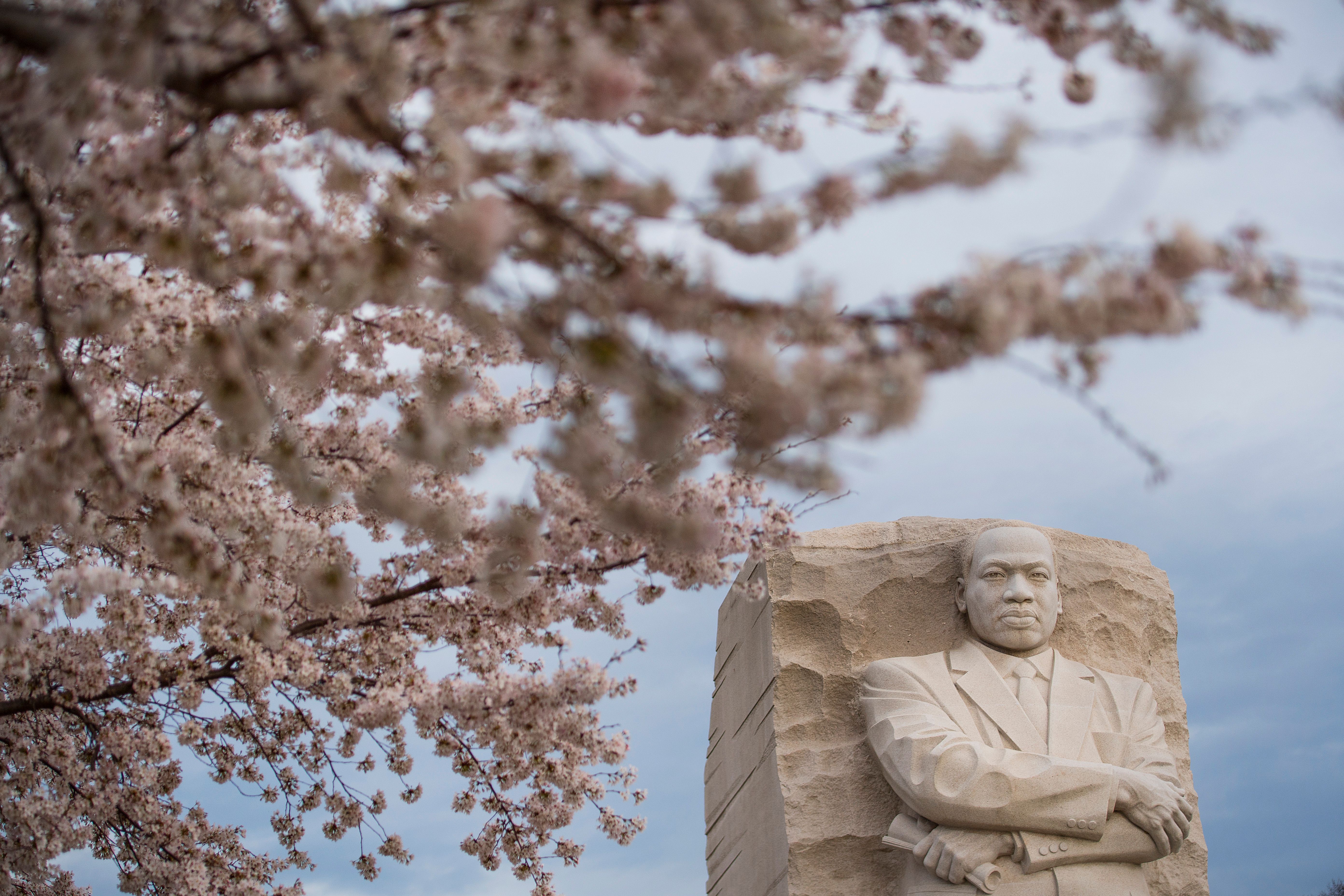 To White House insiders, this is the most dangerous phase of Donald Trump's presidency so far, from the brewing trade war with China that he denies is a trade war, to the perilously spontaneous summit with North Korea:
Checks are being ignored or have been eliminated, and critics purged.
The president is filling time by watching Fox, and by eating dinner with people who feed his ego and conspiracy theories, and who drink in his rants.
Both sides are getting more polarized and dug in — making the daily reality more absurd, and the potential consequences less urgent and able to grab people's serious attention. 
Be smart: Trump's closest confidants speak with an unusual level of concern, even alarm, and admit to being confused about what the president will do next —  and why.
This is different than a few months ago, when they were more bemused and supportive.
Ian Bremmer, president founder of the Eurasia Group, tells me that a key point in his forthcoming book — "Us vs. Them: The Failure of Globalism," out April 24 — is that variations on these worries extend across the globe:
In places that include China and Russia, chief rival powers to the U.S., technology is "empowering top-down authoritarianism as liberal democracy weakens."
Bremmer, in a letter to clients, also makes a smart counter-case about Trump, who has had three foreign policy wins:
His first big trade deal, with South Korea.
His success in applying pressure to North Korea, and getting China to join.
His strikes on Syria in response to chemical weapons use by Syrian President Bashar al-Assad.
In all three cases, Bremmer points out, Trump "managed to accomplish something that previous administrations had not":
The formula: a combination of spontaneity and unpredictability, and Trump's willingness to accept risk "in challenging a previous status quo in policy; and his acceptance of advice on actual policy implementation from experts."
Bremmer says that's a more powerful combination than Trump opponents are generally willing to admit."
But, but, but: Bremmer, after making those points, notes the greater dangers of this approach — a fear shared by many inside the White House.
2. Why Scott Pruitt still has a job
How has EPA Administrator Scott Pruitt hung on through the increasingly lurid coverage of his ethics in office? AP this morning says he's finally in trouble, with the White House refusing to defend his conduct:
"In a marked change in tone, the White House says President Donald Trump is not OK with recent revelations involving the embattled head of the Environmental Protection Agency."
"For his part, EPA Administrator Scott Pruitt is denying he knew about big raises given to two of his closest aides and insisting he did nothing wrong in renting a bargain-priced condo tied to an energy lobbyist."
Not good. But Pruitt, perhaps the most activist member of Trump's Cabinet, has survived more waves of problematic stories than traditional Washington would expect.
Axios' Jonathan Swan explains that Pruitt's allies are back-channeling three messages to Trump to try to save Pruitt:
This is really about ideology, driven by folks on the left who don't like Pruitt's aggressive deregulatory agenda. Don't let the left take him out. 
If you fire him, you're setting yourself up for endless trouble. The left — and the mainstream media, according to these allies — won't be satisfied once they get Pruitt's scalp: They'll just move onto the next cabinet secretary.
Much of his bad press is due to vengeful leaking. (This argument isn't getting much traction inside the White House).
Swan's bottom line: If there are legitimately bad facts still unreported, then it's hard to see how he survives.
3. Zuck preps for Hill by blitzing press
As Mark Zuckerberg preps for debut appearance before Congress next week, the once media-shy Facebook CEO has given numerous interviews and held an hour-long conference call with reporters yesterday, Axios' David McCabe and Sara Fischer report:
COO Sheryl Sandberg is all over television, and the company has been flooding reporters' inboxes with announcements of new privacy-centric changes.
Why it matters: By rolling out privacy updates and interviews with apologetic executives, the company is trying to give Zuckerberg material he can use to save himself when he faces fired-up lawmakers.
But, but, but: The new revelations about the scale of Facebook's privacy scandals are giving critics on Capitol Hill more to work with.
The game plan is to create a highlight reel of privacy and accountability improvements for Zuckerberg to play for lawmakers next week, including:
Reining in the ways that third parties can access its data.
Cracking down on Russian operatives.
Clarifying privacy settings, and creating a page for users to see a bird's-eye view of their data.
Updating its terms of service to spell out more clearly what data its services collect.
The company is also trying to minimize any surprise disclosures that Zuckerberg could be forced to reveal at the witness table:
Yesterday it released the official number of users that could have had their data exposed in the Cambridge Analytica fiasco (as many as 87 million, up from media estimates of 50 million) — and hinted that an even greater number of users could have been subject to similar privacy lapses.
4. Tweet du jour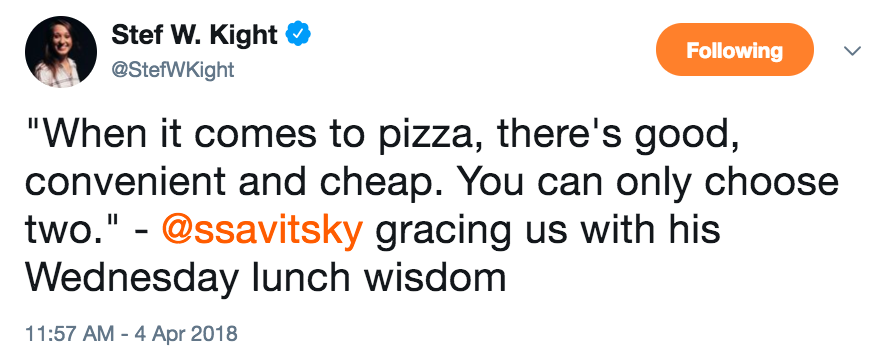 P.S. Shane Savitsky, who edits Axios AM, notes that his Pizza Precept doesn't apply to New York.
5. Tariffs could help Democratic candidates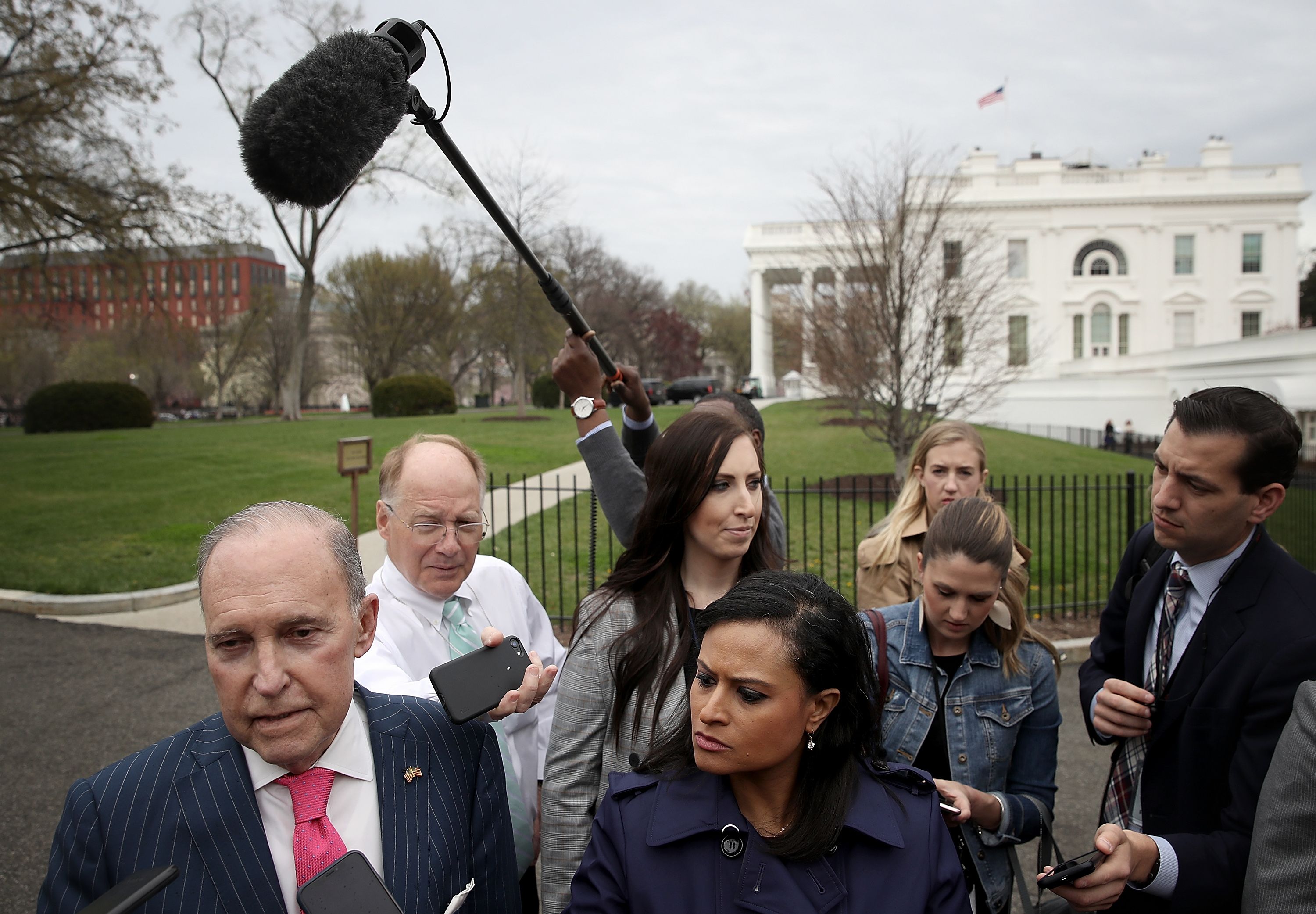 "The impact of retaliation by China could drown out the GOP message that tax cuts are delivering prosperity, which the party is counting on to save their majorities in the House and Senate," per Bloomberg's Sahil Kapur.
And China's threats of retaliation are scaring farmers in the GOP's rural base and across Trump country, creating a potential drag for Republicans in November's midterms. Bloomberg's Josh Green:
"Trump won eight of the 10 states with the largest soybean acreage, all of them in the Midwest."
"Many of those same states are now host to some of the country's closest races for Senate (Missouri, Indiana, North Dakota) and governor (Ohio, Michigan, Iowa, Minnesota)."
An exception ... The WashPost's Erica Werner writes from Akron that Ohio workers love the tariffs despite their potential effect on statewide politics:
"Although few argue that Ohio's steel production industry can be restored to its glory days, steelworkers here hold out optimism that some idled facilities could be restarted and some jobs brought back."
But there are signs of a pullback ... N.Y. Times 2-column lead, "White House Edges Back From Brink of Trade War: Hints That Tariffs on China May Never Go Into Effect," by Ana Swanson and Keith Bradsher:
"It remains unclear whether China will bend to the pressure and make significant changes to its economy — or whether the White House strategy will instead tip the two nations into a trade war that could harm both countries."
"Producers of American goods like soybeans, pork, [airplanes,] automobiles and semiconductors depend on access to the Chinese market both for exports and production and say they are fearful about a conflict."
6. SUV/pickup nation: Carmakers step away from the car
"GM to stop production of the Chevrolet Sonic, Ford plans to end U.S. sales of Fiesta and Taurus amid Detroit's broader exodus from passenger cars," the Wall Street Journal's Mike Colias and Christina Rogers report on A1 (subscription):
"[S]mall cars have fallen out of favor amid low gasoline prices and efficiency improvements in SUVs. Now, large sedans also are on the chopping block."
Killer stat: "Sedans, coupes and other car categories accounted for 37% of U.S. sales last year, down from 51% in 2012."
7. Six months ago today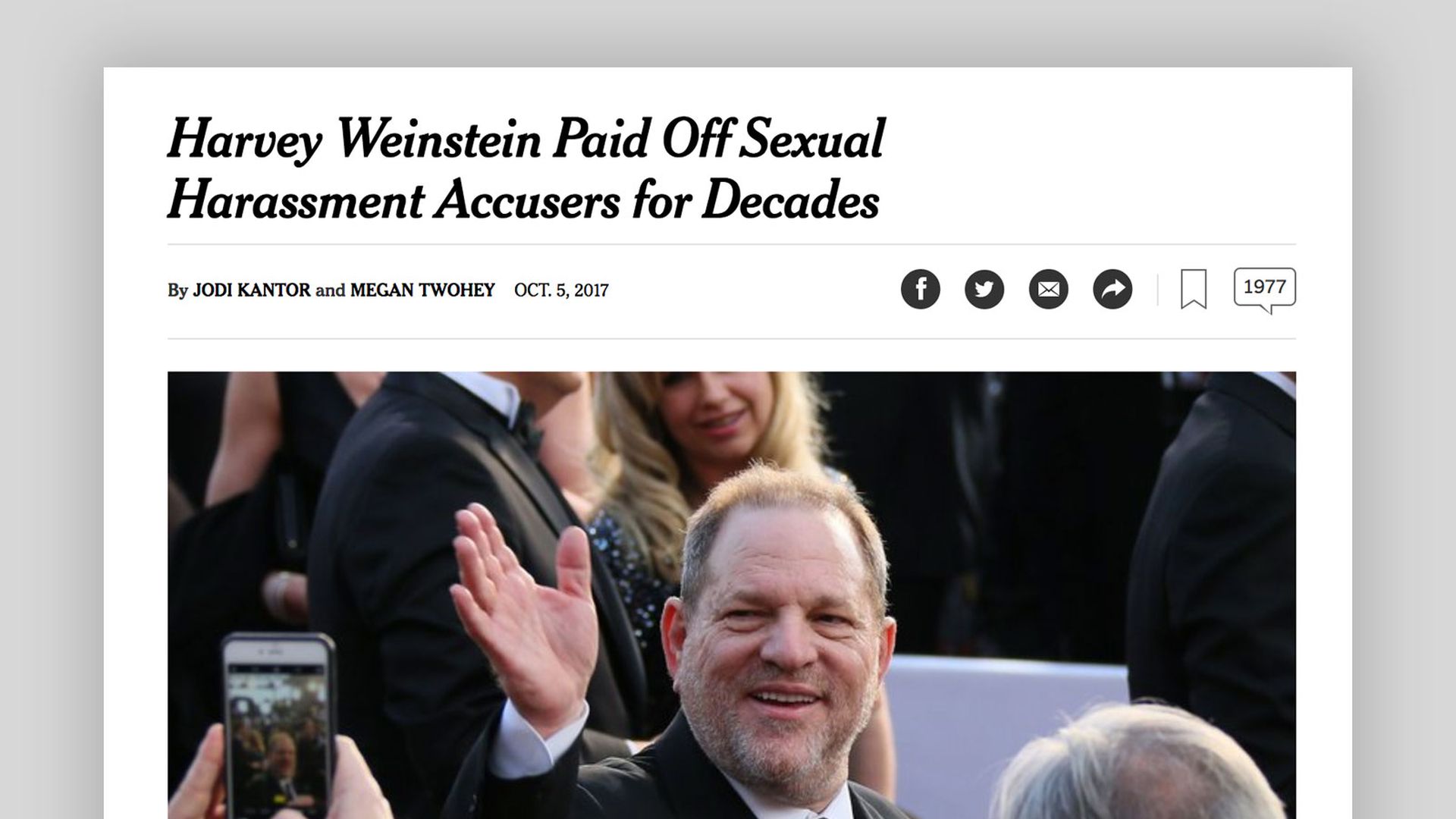 Today marks six months since the N.Y. Times posted its Harvey Weinstein bombshell ... Since then, #MeToo has left a lasting impact, AP's David Crary reports:
The movement "has toppled scores of men from prominent positions and fueled a national conversation about workplace sexual harassment."
Why it matters: "There is ... ample evidence that the movement has some staying power ... as lawmakers across the nation enact an array of anti-harassment legislation, corporate America roots out bad behavior in the workplace and more women feel emboldened to speak out."
"And the movement has the potential to guide the conversation surrounding the midterm elections, as evidenced by the record number of women getting into politics in 2018."
8. Parting shot
"Russia brazenly and implausibly denies its actions, and we have failed to impose sufficient costs. The Kremlin's confidence has grown, as its agents conduct their sustained campaigns to undermine our confidence in ourselves and in one another."
— Lt. Gen. H.R. McMaster, to the
Atlantic Council
, in his
last public remark
s as national security adviser
9. "The autocrat's ascent"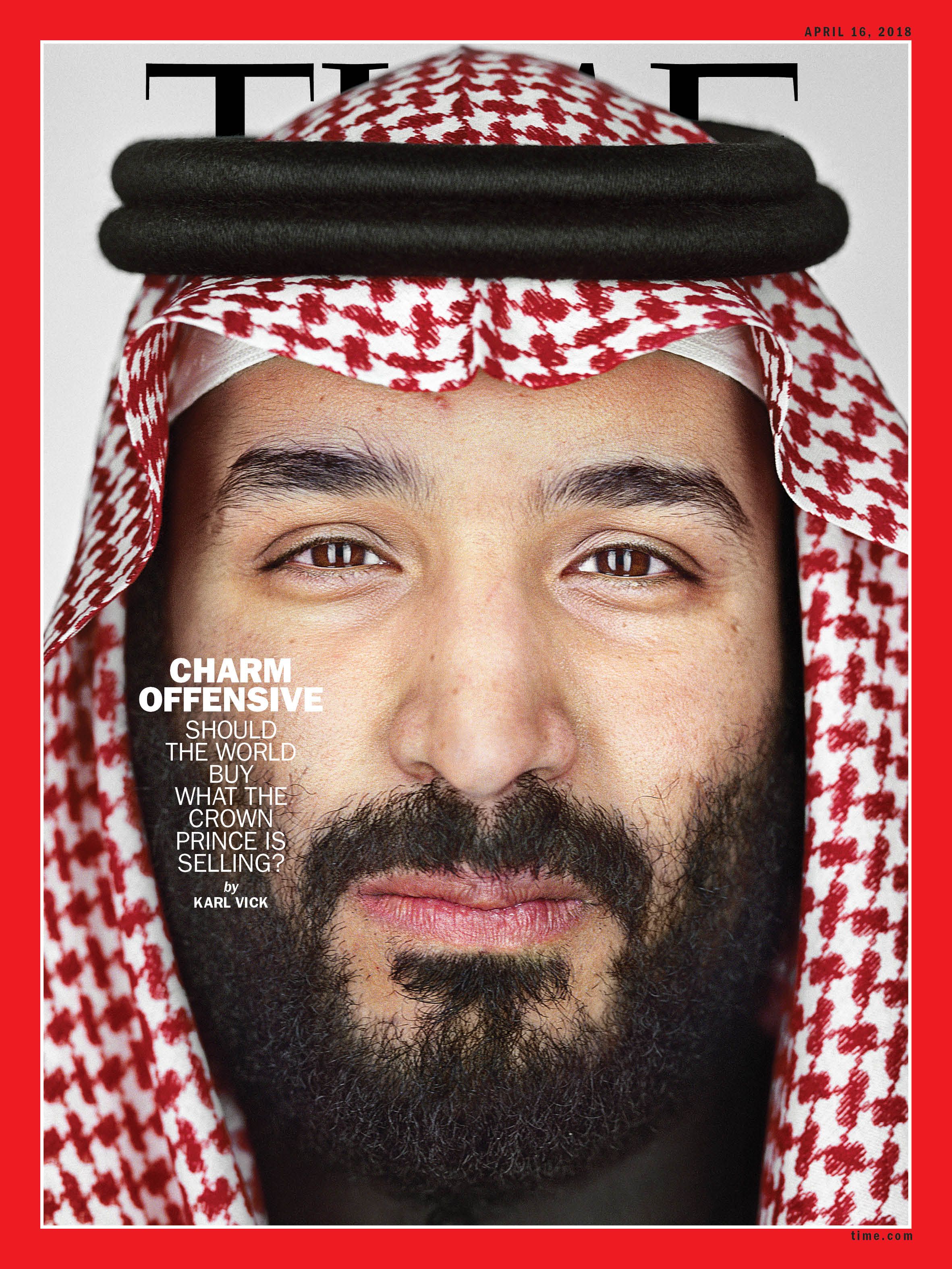 "Saudi heir Mohammed bin Salman is pitching his plan to disrupt the Middle East" — TIME cover story by Karl Vick:
"By the time 32-year-old [crown prince] departs, he will have visited five states plus the District of Columbia, four Presidents, five newspapers, uncounted moguls and Oprah."
"America has not seen the like since Soviet Premier Nikita Khrushchev arrived in September 1959 in a Tupolev 114 with cracks in the fuselage to knock around the country for 13 days."
"Bin Salman's ride is a Boeing 747 with God Bless You emblazoned under the cockpit in Arabic and English."
"To outsiders, the most obvious danger is from bin Salman's impulsiveness in foreign policy."
"The challenge is to reconcile that, and the iron fist he shows rivals at home, with the charming fellow flying around the U.S."
"For all the contradictions, few come away from an encounter with bin Salman unaware of the force of his personality, intellect and devotion to change."
10. 1 job thing
The N.Y. Times' Kyle Spencer introduces us to the "homework therapist":
"Via Skype, email and text, and during pricey one-on-one sessions, they soothe cranky students, hoping to steer them back to the path of achievement."
"They respond to texts and emails and often send their own, nudging students to finish a homework assignment or stay positive before and during a big exam."
"Parents in New York generally pay between $200 and $600 for regularly scheduled in-person sessions that range from 50 to 75 minutes."
"This on top of the hefty fees New York mothers and fathers already pay to help their children get ahead, or just stay on pace, from coaching for kindergarten gifted and talented tests, to subject tutoring, SAT prep and help with writing their college essays."
☕️ Thanks for reading! See you on Axios.com ...